Click our quick links to navigate our guide
If you're planning a house renovation this year, whether you're tackling your home's exterior or interior, a single room or a whole house renovation, you'll want to be on the ball when it comes to sourcing reputable retailers and tradespeople.
Our sourcebook of the top renovation essentials covers everything you'll need (and everything you'll need to know) to achieve your desired outcome, with expert advice and Real Homes-approved recommendations. Our renovations' sourcebook also includes everything from bi-fold doors, driveway supplies and landscaping materials to windows, lighting and kitchens.
For more tips on planning, costing and designing your renovation, check out our expert guide on house renovation. If you're dealing with a period property, you might find our tips on how to renovate a Victorian house useful, too.
And when you're done, visit our House extension suppliers: a sourcebook for the top 50 extension essentials to get that part of your renovation sorted, too.
Exterior repairs
Why you can trust Real Homes Our expert reviewers spend hours testing and comparing products and services so you can choose the best for you. Find out more about how we test.
Before you can begin thinking about the exterior decoration of your property, you'll need to think about repairing any existing damage. This is particularly important if it's structural damage.
Do you need to repair brickwork? If so, you'll need to think about sourcing new or reclaimed brickwork. You'll want to take this time to ensure the framework of your home is structurally sound, too, whether the chimney or an old timber frame.
1. Best new brickwork sources
When choosing bricks to tackle exterior repairs, you'll want to think about the colour of your existing bricks and mortar, as well as the size, texture and the type of bond that will work best. While in isolation all these factors may seem to have a small impact, in combination they'll have a significant effect on the overall aesthetics of the brickwork. Let's face it, bricks aren't exactly something that you can change easily further down the line.
When making a decision, you'll want to think about how suitable each kind of brick is for your area, as well as the overall style you're looking to achieve.
Our guide to how to repair old brickwork teaches you how to spot damaged brickwork with a simple maintenance check, and how to repair damage to avoid potential structural issues further down the line.
As a general rule, the following types of brick are commonly used in each area of the country:
Orange bricks are typical of the Lincolnshire region;
Red bricks are more common in the North;
You'll tend to find creams and yellow bricks around Cambridgeshire and London;
If you're in the Midlands, it could be blue bricks.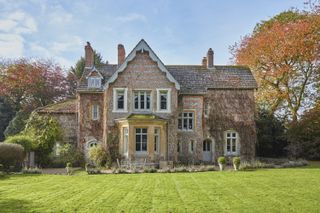 That said, the age and style of your home could be more effective in determining the kind of brick to suit your extension.
For Georgian properties, avoid anything too malty; for farmhouses ensure your choice isn't too mechanical or with precise, tight joints.
If you're looking for an affordable and cost effective solution, clay bricks are your closest ally. Suitable for modern construction, they promise long-term sustainability and little maintenance for up to 150 years.
When it comes to sourcing bricks, try:
2. Best reclaimed brickwork sources
While it's not the cheapest option available, sourcing reclaimed bricks is a great option if you're keen to ensure your renovation works are in-keeping with the rest of your property.
While this would be the ideal route for many, it's worth noting that sourcing consistent reclaimed bricks in large quantities can be a challenge, so consider opting for a mixture of reclaimed and non-reclaimed if you're planning a large extension. Also be aware of the fact that reclaimed bricks may not have been finished to the same standard as newly produced bricks.
As well as trying local reclamation companies, start your search for reclaimed bricks at:
Find out how to create a feature brick wall as part of your renovation project, too.
3. Best roof and chimney repair sources
Chimneys tend to be one of the more neglected aspects of a home, despite having the potential to cause disastrous damage, should parts of the masonry come loose and fall from the property.
Whether you're planning on using your fireplaces or not, it's worth taking the time to check your chimney is structurally sound, particularly if you're taking on a renovation project, anyway.
Use our guide on how to repair a chimney for tips on what to look for as well step-by-step instructions for tackling everything from a blocked flue to damp and leaks.
If you discover that the damage is greater than anything you can tackle yourself, we'd recommend reaching out to the following companies for further advice and expert repairs:
Once the damage is corrected, find out how to maintain a chimney and fireplace in future, too.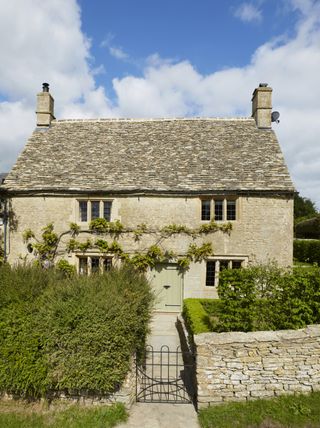 4. Best timber frame repair sources
If you're renovating a period property, chances are it'll have a timber frame, even if there is no timber visible. In addition to often forming the integral framework, timber posts and beams also serve as a desirable aesthetic feature and must be treated with care to ensure their longevity.
Common problems can include damp, fungal attack, beetle infestations, frame movement and sagging beams, all of which are discussed in detail in our guide to how to maintain and repair an old timber frame.
In the instance that you discover any structural damage that needs repairing, or if you'd prefer a professional's opinion, it's always advisable to seek the advice of a surveyor or structural engineer with a specific understanding of buildings of a similar age and type. We'd recommend the following: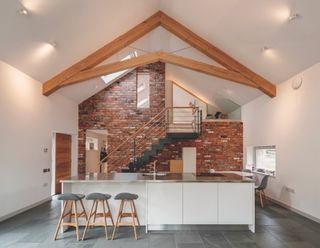 Exterior decorating
Next, it's important to think about the external finish of your renovation. Are you looking to use reclaimed brick or stone cladding for a more authentic finish that suits your period property? Or will a contemporary timber or metal cladding better suit the style of your home? Either way, you might need to work alongside an architect or architectural technologist who will help you make the best choice, and if you're making dramatic changes, you may need to speak to your local council about planning permission.
5. Best timber cladding sources
A popular choice for cladding, in part due to its versatility, timber offers the potential for a variety of stylish finishes. Dependent on your taste, shingles, traditional-style weatherboarding for a New England-inspired finish or something more unique are certainly achievable options.
Another significant benefit of timber cladding is its affordability, with softwoods ranging from £10 per square metre, or up to £50 per square metre for more durable hardwood options. It's advisable to treat wood if you're keen to lessen the effects of the weather – namely, fading – and improve the thermal properties.
Weigh up your options when it comes to cladding with our ultimate guide to exterior render and cladding. If you do decide to opt for timber, we'd recommend working with Oakwrights or Vastern Timber.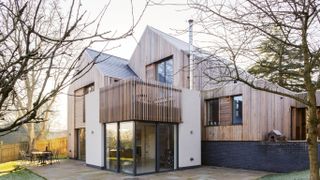 6. Best wood look-a-like cladding sources
If you like the idea of wood, but not the idea of maintaining wood, wood-effect cladding could be the alternative you've been looking for. These fibre-cement boards are designed to look like real or painted wood, meaning you won't sacrifice the finished effect you desire, and are just about maintenance- and rot-free.
You can expect to pay a little more than you would for softwood cladding – somewhere around £65 per square metre – though this cost will be offset in the long-run by the lack of regular maintenance required.
Start your search at Cedral and James Hardie.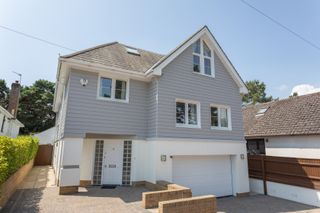 7. Best stone cladding sources
If you're renovating a period property or tackling a barn conversion and want any additions you may be making to remain in keeping with your home – either because of personal preference or planning requirements – you may wish to opt for stone cladding.
Stone can either be used as a self-supporting, ground-bearing skin or in the form of skin slips – slim pieces of stone attached to a metal base using render to give the appearance of an authentic stone finish.
While this is a more expensive option, it's worth the investment if you're determined to achieve a cohesive finish that will stand the test of time.
If you've decided stone cladding is for you, we recommend Norstone and Stamford Stone Co.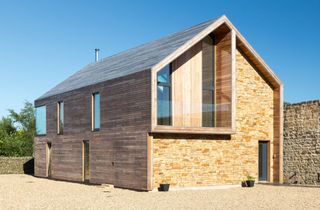 8. Best metal cladding sources
Synonymous with contemporary builds and extensions, metal cladding adds a distinctly modern and often industrial feel to a renovation, though its use is not as common as you might expect, mostly due to cost. If you're set on using metal cladding, you're likely to need the advice and assistance of an architect who can help you navigate design-related problems – and the best metal to choose.
Options for metal cladding include aluminium, zinc, stainless steel, Corten (a pre-weathered steel) and copper, with a variety of textures and finishes available to achieve a specific desired effect. Try Kloeckener Metal for specialist, case-specific advice.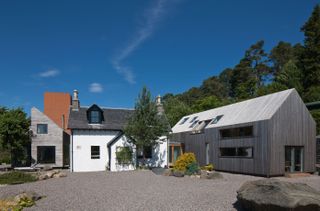 9. Best brick slip sources
Brick slips may be the best option if you're renovating on a smaller budget, but don't want to compromise when it comes to a more traditional finish that's in keeping with your property. Thin and lightweight – somewhere between 20-25mm deep – these thin slices of brick are easily fixed to a backing panel using adhesive.
To create the desired, realistic finish, mortar is then inserted into the gaps to achieve the pointed look. You can expect to pay from £50 per square metre, depending on whether you opt for reclaimed or handmade finishes.
Travis Perkins are a one-stop-shop for building materials, including brick slips.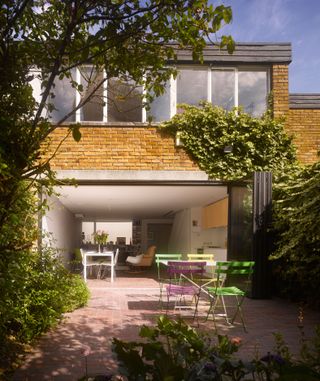 10. Best render sources
If you would prefer either a more contemporary smooth, textured or patterned finish for your home's exterior, it may be worth considering render. Which, in addition to providing a desirable aesthetic finish, like cladding, can also be effective in improving the insulation of your home. Plus it can be combined with cladding for a contemporary finish.
While render can be successfully applied to both old and new properties, you'll need to think carefully about whether the type of render you opt for will suit the age of your property. A lime render is better suited to older properties or an authentic look; silicone-based renders, with breathable, flexible and low-maintenance properties, tend to look more contemporary so will better suit a modern home.
There are many render types – find out more about choosing the right render in this guide.
If you're considering render, factor a total of just under £60 per square metre into your overall budget. While it's possible to render walls on a DIY basis – our beginner's guide to rendering talks you through step-by-step – it may be worth seeking out expert assistance or advice if you're not confident about completing the work yourself or need some reassurance.
Go to Sto, Knauf, Marmorit, Weber for monocouche renders; try K-Rend (K-Lime) and Baumit for lime-based monocouche renders. Sto, Marmorit, Weber, Baumit, Dryvit, Wetherby, Permarock and K Rend are all companies that supply insulation/render systems.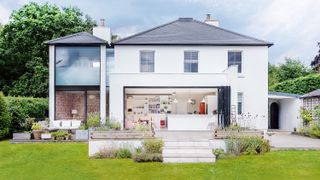 11. Best external paint sources
If you're looking for an alternative to render and cladding; or an easy and affordable way to update the look of your home's exterior and add value to your property, it's worth considering painting.
An effective solution, whether you're looking to improve the appearance of ugly brickwork or dirty pebbledash, there are a range of shades of masonry paint to choose from depending on your desired finish.
While white and grey are popular options, it's also possible to choose something a little brighter – especially if you live on the coast.
Dulux Weathershield Masonry Paint is our most highly recommended finish, and we're big fans of Sandtex, too.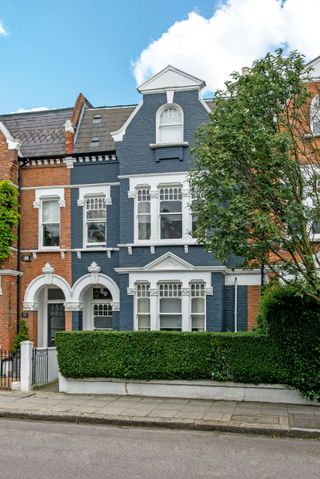 Driveways and landscaping
While driveways and landscaping are often further down the list of priorities when tackling a renovation, it's often these details that can make all the difference to the finished feel of your project.
So, whether you're planning an overhaul of your driveway to match a newly renovated home exterior or are looking to landscape an overgrown garden to suit your contemporary extension, you'll find plenty of information for planning and designing and sourcing tradesmen and materials in the following section.
For more advice, take a look at our guide on how to plan and design a driveway. We've got specialist advice on how to create a garden design too, along with plenty of garden landscaping ideas and advice.
12. Best block paving sources
Block paving is a popular option for driveways and front gardens given its smart finish, durability and variety of finishes available.
Usually made from moulded concrete blocks, clay bricks or natural stone, paving can be permeable to allow water to drain away. It's also worth checking whether your material of choice is slip-resistant and whether it requires sealing before making a final decision.
Think about what kind of material and what design will best suit the style of your property, shades of terracotta and grey are amongst the most popular.
If you're a handy DIY-er, use our guide to how to block pave a driveway for tips on creating your desired finish. Alternatively, seek out the expertise of our recommended sources: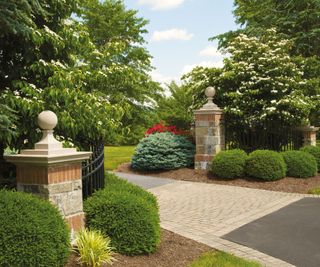 13. Best gravel sources
Gravel or pebbles make for an affordable and more ecologically friendly driveway surface, due to the fact that they retain rainwater rather than sending it to the drains. It's also possible to find gravel in a variety of colours and sizes, and it is most effective when used with a cellular grid to keep it in place.
That said, it will require regular maintenance, both in terms of the stones being swept and replaced regularly. It's also not a suitable option for sloping sites.
In addition to working as a suitable driveway material, gravel also makes a lovely addition to a garden. Read our guide for tips on how to lay a gravel path. Find out how to choose the best gravel for your garden, too.
For reputable gravel sources, try B&Q, Travis Perkins and Stone Warehouse.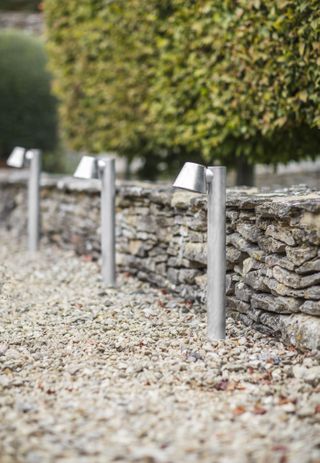 14. Best concrete and asphalt sources
While not the most attractive of options, concrete and asphalt are low cost, durable and low maintenance options that will make a driveway look smart enough, though these materials are probably better suited to a contemporary-looking home.
Concrete and asphalt are also worth considering if you're looking to transform a sloping driveway. Bear in mind, though, that both materials can fade and stain and cracks can appear as a result of tree roots or freezing weather.
If you decide a concrete or asphalt driveway is the option for you, the next step is getting in touch with companies experienced in handling these materials. Many of them deal with concrete floors for interiors, too. Dares Surfacing is in the South West; then try The Concrete Flooring Contractors, CFS Concrete Flooring, Lazenby and Contemporary Concrete Floors.
15. Best resin bound gravel sources
Achieving a similar effect to gravel, resin-bound gravel driveways are an option worth considering if you're dealing with a sloping driveway. It's also a viable option if you're looking to replace a pre-existing concrete driveway.
A single-stone layer is created by applying a film of resin onto the driveway surface before scattering clean, dry aggregate on top. Permeable options are available in a variety of colours and textures, making it easy to find a solution that fits the style and design of your home.
For experts in all things resin-bound gravel, we'd recommend:
16. Best self binding gravel sources
Another great alternative to loose gravel, self-binding gravel looks natural, is permeable and is suitable for gentle slopes. Plus it's an affordable option that doesn't need replacing as often as regular gravel.
For more information on self-binding gravel, try Stone Warehouse and DCM Surfaces.
17. Best decking sources
Decking is a popular and stylish garden addition that can effectively establish a link between indoors and outdoors, while providing space for outdoor dining and seating.
You'll want to think about what size decking will look best in your garden – this is generally determined by the size of your garden as well as how you intend on using the space. In order to comply with permitted development rights, you'll also need to ensure your decking doesn't occupy more than 50 per cent of your space.
Traditionally, decking boards are laid horizontally in order to create a fuss-free finish that can be either rustic or contemporary depending on your choice of material and stain. You might also think about laying boards diagonally across the joists, though
While it's possible to lay decking yourself – use our guide to how to install decking for step-by-step instructions – it's also possible to get professionals in for the job, which is especially recommended if you're laying decking onto anything other than a flat site.
We'd recommend the following companies if you're wondering where best to source materials and tradespeople:
Find more expert decking ideas in our specialist guide full of inspiration.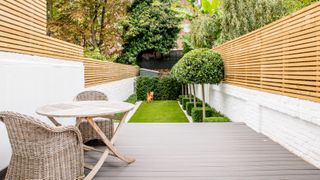 18. Best astro turf sources
A maintenance-free alternative to a lawn, astro-turf requires minimal attention all-year-around.
For a natural looking astro-turf, you can expect to pay between £25 and £40 per square metre on top of the cost of getting it fitted by specialists. Bear in mind that blades of natural glass aren't all one-shade, so you'll benefit from choosing an astro turf with variety.
Take a look at our alternatives to laying a lawn for more information on astro-turf, as well as other garden landscaping options.
Suppliers such as Easigrass can recommend local fitters.
Doors and windows
Bi-fold doors, sliding doors and steel frame window and door units are popular additions to a home and can make all the difference to the finished look of your renovation project.
Whether you're looking for a stylish and contemporary aluminium finish, or something a little more traditional like timber, this next section talks you through the window and door options available, as well as specialist glazing solutions, window treatments and recommended retailers.
19. Best rooflight sources
Offering up to 40 per cent more light than traditional windows, rooflights are designed to flood a space with light, creating that bright and spacious feel that many of us attribute to modern living.
There is a range of options available dependent on your needs, as well as the style of your property. These include fixed flat rooflights that are low maintenance and non-opening; electronically controlled rooflights; lantern rooflights constructed from timber or powder-coated steel; and conservation rooflights, which are best suited to period properties or conservation areas.
Find out which style of rooflight might best suit your home in our guide to choosing rooflights. It includes expert tips, as well as plenty of inspiration.
In terms of getting work started, we'd recommend looking into Velux, Roofglaze, Glazing Vision, The Rooflight Company and Cantifix as companies to work alongside.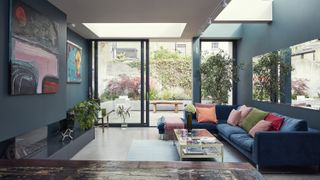 20. Best aluminium bi-fold door sources
A popular option for kitchens and extensions, aluminium bi-fold doors add a distinct, contemporary feel to a space, while flooding it with natural light.
As well as its aesthetic appeal, aluminium has the added benefits of being durable, easy to care for and strong enough to allow minimal frame dimensions. That said, it is a more expensive option than wood, with a £480 per square metre budget a guide price.
Like the idea of aluminium, but wondering if there are any alternatives? Take a look at our guide to choosing the right bi-fold or sliding doors for your home.
If you're sure it's the style for you, we love what can be achieved with the help of: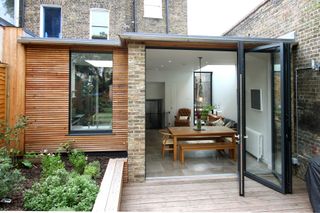 21. Best timber bi-fold door sources
If you're renovating a period property or have more traditional interiors taste, bi-fold doors made of an engineered hardwood timber are an option worth considering.
This said, it is important to be aware that timber will require regular maintenance – repainting or staining – to prevent twisting and warping, and because of the width of timber frames – although slimmer ones are starting to come on to the market – they won't let in as much natural light as narrower, aluminium alternatives.
Want more inspiration? You can browse: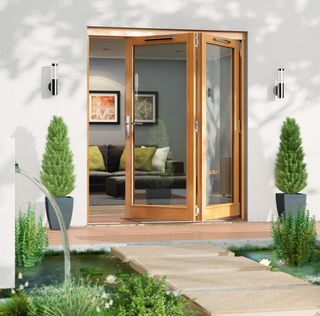 22. Best composite bi-fold door sources
If you like the idea of a timber finish without the hassle of maintenance, you may consider composites as an alternative.
A timber frame clad in powder-coated aluminium on the outside to ensure weatherproofing, with a natural wood finish inside, means you won't compromise on style or durability.
Apeer is a good place to find good quality composite bi-fold doors, as are Kloeber, Idealcombi and ID Systems.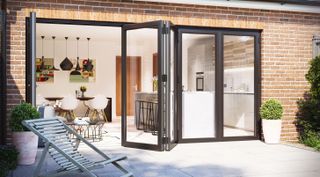 23. Best sliding door sources
If prioritising a view is an integral part of your renovation plan, sliding doors are an option worth considering, as a lack of framing compared to folding doors promises uninterrupted vistas. While most sliding doors don't offer a 100 per cent opening, they can provide half, two-thirds or three-quarters openings which will work perfectly in a larger space.
As with bi-fold doors, we'd recommend checking out: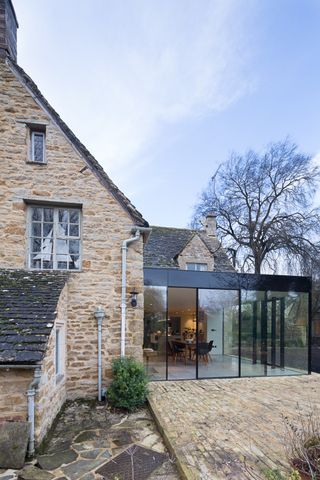 24. Best sliding pocket door sources
If you like the idea of sliding doors, but want a completely uninterrupted view, it may be worth considering sliding pocket doors, instead. While you will have to compromise a little when it comes to the amount of solid wall within your space, a pocket does promise 100 per cent, uninterrupted views.
Try Glideline for external pocket doors. Eclisse and IQ Glass make great internal sliding doors, too.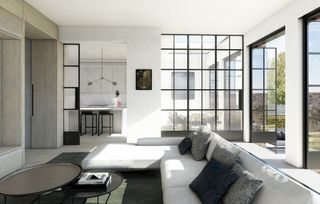 25. Best metal window and door sources
Stylish options that are equally suited to a period property as a contemporary home, metal windows and doors are a firm favourite among renovators. Sleek frames ensure plenty of light floods a space, all while adding an industrial edge that complements almost any scheme.
With a variety of colours and finishes available, there is a multitude of options on offer. Take a look at our specialist guide for tips on choosing the best metal doors and windows for your home.
In terms of reputable companies, you can't go wrong with Crittall, Velfac and Alpine Aluminium.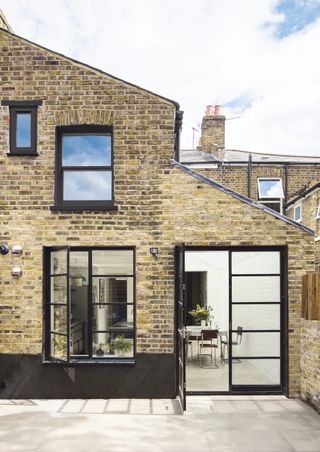 26. Best sash window sources
While it's unlikely that you'll ever need to replace existing sash windows – a repair job will usually suffice – new models may be required if you're extending or reconfiguring your space as part of a larger renovation project. Equally, you may look to make repairs in order to reduce draughts and, in turn, your energy bills if you're renovating a period property.
You can expect to spend from £250 per sash if reconditioning and adding new draught seals is required; up to £1,200 for a complete box sash replacement if your windows are beyond repairing.
If your sash windows are in good enough condition and you're simply looking for easy fixes to make your home more energy efficient, you may benefit from reading our guide to how to repair timber windows.
We'd recommend Ventrolla as a one-stop-shop for all things sash window repair and replacement, too.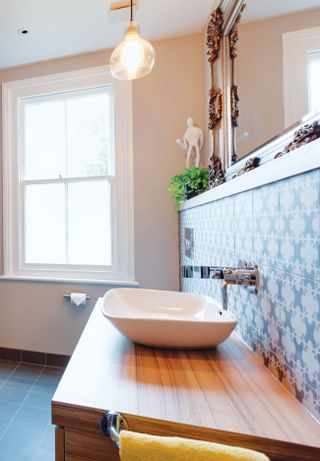 27. Best casement window sources
Casement windows are one of the most popular options in the UK given both their timeless style and practicality – particularly from a fire escape route perspective.
Available in various sizes and materials, you can expect to spend anywhere between £200 and £1,500. Generally, uPVC tends to come in at the more affordable end of the spectrum, while wood and aluminium can prove a little more expensive. That said, these more premium materials are worth the investment if you're not willing to compromise when it comes to a stylish and contemporary finish.
When it comes to sourcing casement windows, we'd recommend Everest, Anglian Home and Timber Windows.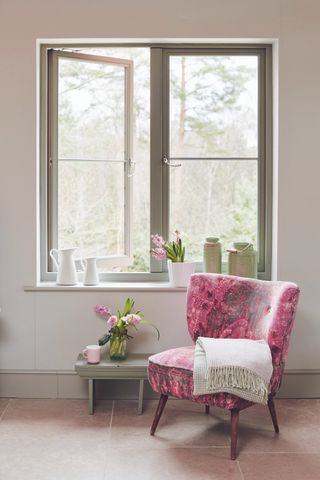 28. Best leaded window repair sources
Dating back as early as the Middle Ages, leaded windows are not only a popular addition to many period properties, but historically significant architectural features that require specialist care and attention.
It's likely you'll come across leaded windows if you're taking on a period property renovation and so you'll need to think about how best to tackle them. Our guide to how to maintain and repair leaded windows is a must read if you want to know what kind of damage to look out for and (if found) how best to tackle it.
Your best bet when it comes to leaded windows is contacting: Steve Sheriff Stained Glass Specialists, Roman Glass, Morning Glass Designs or Cornwall Glass.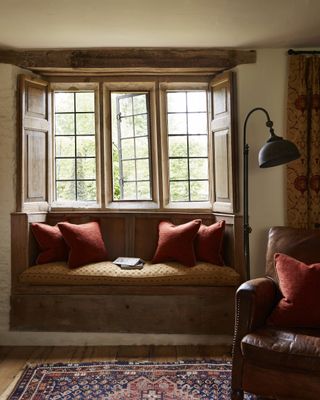 29. Best front door sources
As well as serving a functional purpose, your front door can say a lot about your home, enhancing its overall exterior look and feel, while hinting at what's to come on the inside.
You'll want to start by thinking about what kind of front door best suits the style of your home. Materials such as uPVC are at the more affordable end of the spectrum and offer great thermal performance, though it's not aesthetically appealing to all and the variety of styles and colours can be limited.
At the more premium end are stylish, solid hardwood front doors, which can be bespoke and make a fitting addition to a period property. This high-quality option is likely to last for years to come and will require maintenance throughout the years. Our guide to how to restore your front door can help with this, as well as guiding you through the process of restoring an existing front door that requires some love.
Other options include glass reinforced plastic composite, which starts from around £90 and veneered timber, which is a more affordable option at around £250.
Use our guide to how to choose a new front door to create a stunning entrance to your home and set the tone for what's to come. Our front door design ideas and traditional front door design ideas provide plenty of inspiration, too.
When it comes to sourcing a new front door, the following retailers offer a quality solution: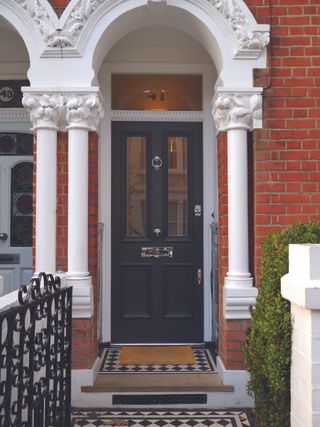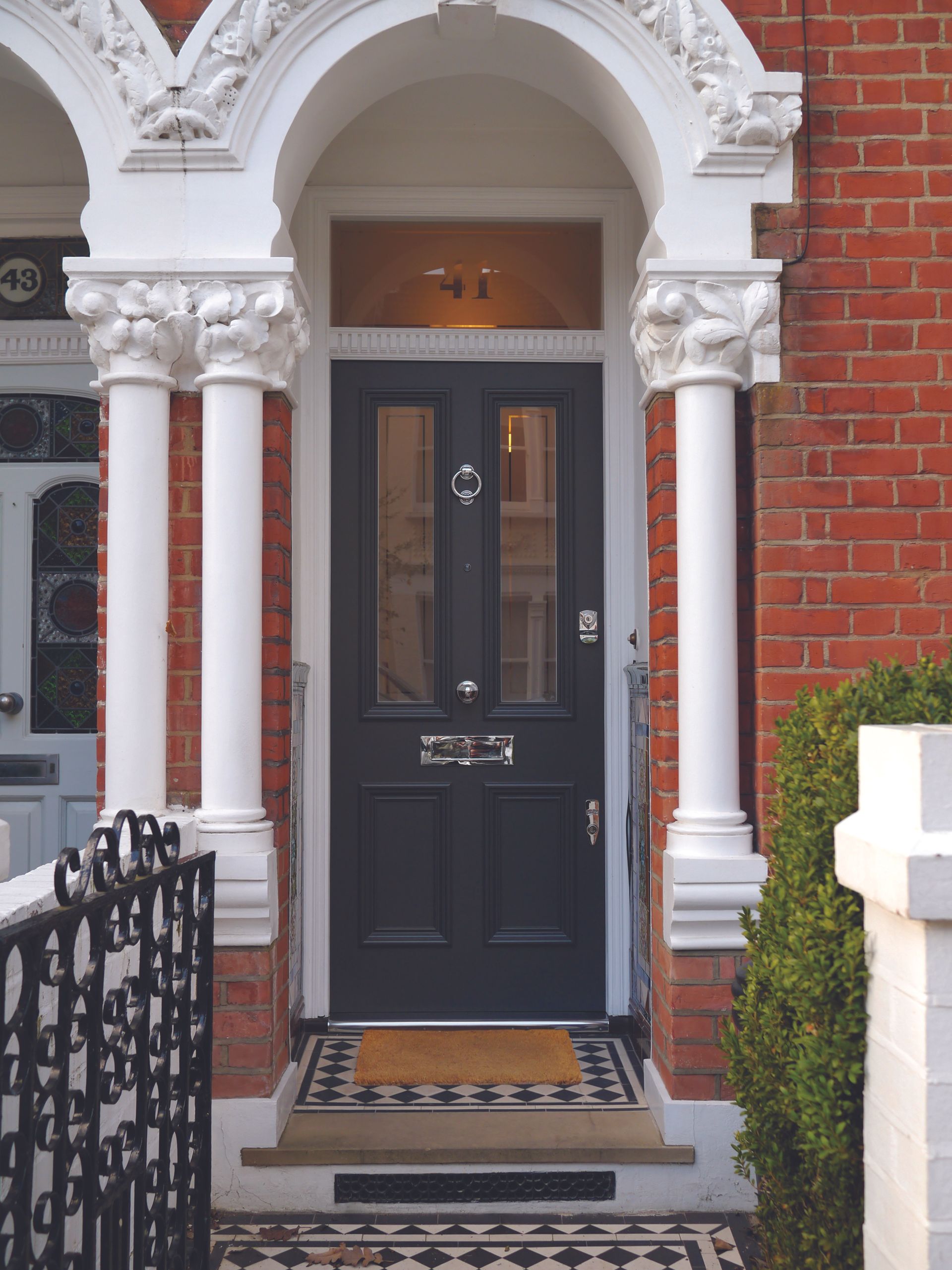 30. Best internal door sources
If you're taking on a partial or whole house renovation, you'll likely need to consider whether new internal doors are required and if so, what kind will work most effectively. This may mean choosing something that's in keeping with the rest of your home or alternatively a little more special to connect your old space with the new. If you're planning a loft conversion, you may be required to replace internal doors with fire-retardant models, too. You can check this with your building control officer.
If you're struggling to know where to start, our buyers guide to internal doors has lots of handy tips, tricks and advise to ensure you choose the best option.
We'd also recommend Premdor, JB Kind, Jeld-Wen and Urban Front as companies to work with.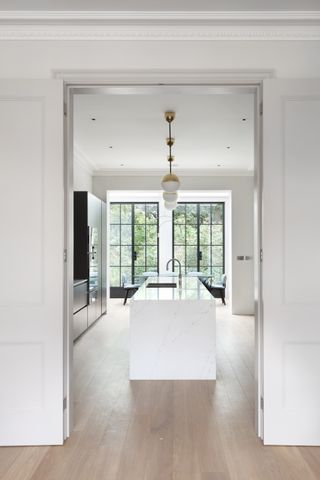 31. Best window treatment sources
While glazed homes with plenty of light are popular criteria amongst home renovators (and for good reason), it's important to think about the practicalities of opting for this kind of design. Enter window treatments...
As well as offering privacy and protection against the elements (no-one wants their extension to feel like a greenhouse), window treatments can also act as an additional safety measure, discouraging criminal opportunists from having a browse of whatever your home has to offer – we've all seen that Crimewatch advert.
Venetian blinds make for a popular option as, when drawn, they offer minimal light and design disturbance. The versatility of Venetian blinds also makes them a suitable option for many window types. Interested? Browse our buyers guide to Venetian blinds for tips on choosing the right style for your extension.
If you're looking to dress French, bi-fold or sliding doors there is a variety of other options available. From roller blinds to Roman blinds, temperature controlling thermal blinds and motorised options for tall spaces, find inspiration with our practical and pretty door treatments. If your extension has a glazed roof or roof windows, you'll also want to check out our buyer's guide to blinds for roof windows. Then there are shutters and of course curtains perfect for shutting out the blazing sun during the warmer months.
Use our various guides to find a company with a style you like, but for gorgeous, ready-made window treatments, try: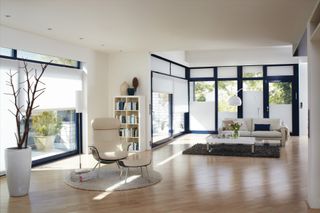 Electrical and lighting
When renovating your home you'll need to think practically about lighting and electrics. From telling you how to prep effectively for the addition of a new extension to planning lighting for an altered layout and putting safety measures in place, this next section ensures you've thought of everything when it comes to the electrical and lighting requirements of a renovation project.
32. Best ambient lighting sources
When it comes to choosing lighting for your home, you have three main types to aim to include: ambient, accent and feature lighting.
Ambient lighting generally serves as the main source of light within a space and is responsible for how warm (or cool) a room feels, as well as its depth. How much natural light your space gets should play a big part in helping you determine what kind and how many sources of ambient lighting your rooms require. If you have a large, light and spacious-feeling extension, for example, you will need fewer light fittings or spotlights than a north-facing living space with a single window, which will naturally be darker.
Accent and feature lighting (see below) are both used to create a practical lighting scheme (think directed kitchen spotlights over prep surfaces) and one that's good looking (we're talking a feature pendant over a dining table, for example).
If you're planning lighting specifically for a newly renovated kitchen or kitchen extension, our kitchen lighting ideas will be invaluable. We've got a similarly brilliant inspiration in our living room lighting ideas piece too.
Once you've sourced all the information you need, we'd recommend trying Wickes, B&Q or Lighting Direct for the basics.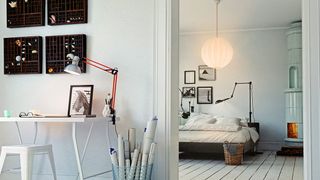 33. Best task lighting sources
Perfect for poorly lit areas, task lighting illuminates low-lit spaces where specific tasks are performed – clue is in the name, right? This can include lighting under cabinets to illuminate worktops, in cupboards and set into the kickboard in a kitchen, for example. In a bedroom, it would include bedside lamps or lighting within a fitted wardrobe.
Thinking about how (and at what time of day) you'll be using a space is the key to successful task lighting. Our bedroom lighting ideas and hallway lighting ideas can help.
We love the versatility and smart-capabilities of the Philips Hue Strip Lights; perfect for lighting under cabinets. For good-looking task lighting, try Holloways of Ludlow, Christopher Wray, Pooky and John Lewis.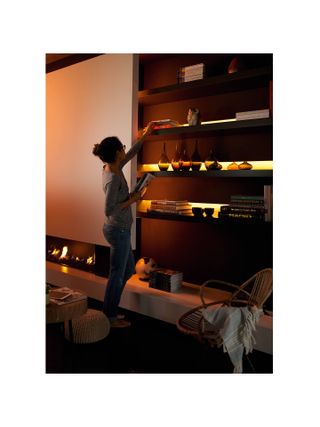 34. Best feature lighting sources
In addition to illuminating your space for practical reasons, lighting can also be used to make a striking focal point within a room.
Stylish lighting positioned above a kitchen island tends to be a go-to option for feature lighting in a kitchen for example, drawing the eye and adding dramatic interest to a space. Feature lighting also functions as a handy design tool in an open-plan home, creating subtle zones without compromising the open and spacious feel.
Browse our pick of the best kitchen lighting for options that might work in your space. Or try Pooky, Habitat, Broughtons Lighting, Holloways of Ludlow or Swoon Editions for gorgeous feature lighting.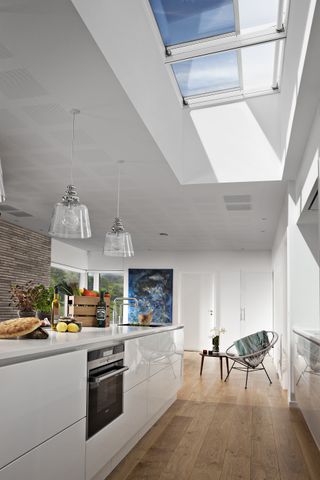 35. Best zoned circuit lighting sources
If part of your renovation project involves extending or redesigning an existing layout to create an open plan space, you might consider the benefits of zoned circuit lighting, which allows you to control different aspects of your lighting independently, enhancing the overall experience of your lighting scheme.
You'll want to think about how you use your space and which lights you might want to have switched on at the same time. It makes sense, for example, to have the kitchen on a separate circuit to the living or dining room in an open plan room so that lighting can be used to reflect the mood in each individual space.
The larger your open plan space, the more zones you'll have to think about. The number of circuits will vary depending on how you use each space.
You'll find more handy advice on zoned circuit lighting, as well as other lighting considerations in our guides to how to plan kitchen lighting and how to plan living room lighting. A combination of advice from the two will help you effectively plan an open-plan scheme.
Lighting Direct offer expert advice on how best to zone lighting in each area of your home.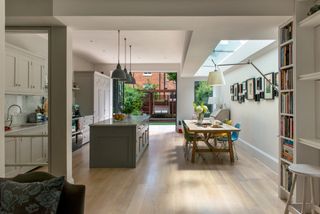 36. Best staircase lighting sources
Your home renovation may mean restoring or even replacing a staircase entirely, during the process of which you might consider how best to light the space.
Factor lighting in during the early phases of your design project, particularly if you're looking for something unobtrusive, which will require installation before plastering.
You'll need to decide whether your staircase lighting is intended to be decorative or functional or both. Options include step lights, under-step lighting, recessed marker lights, spotlights and LED strip lighting. Find out more about each in our staircase lighting ideas.
You'll also benefit from the expertise of John Cullen Lightingand Brilliant Lighting if you do opt for staircase lighting.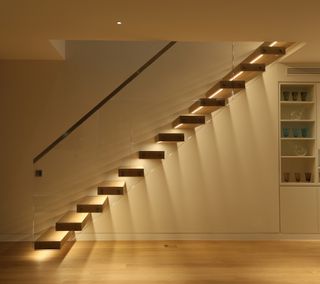 37. Best heat detector and fire alarm sources
Renovating your home means rethinking fire safety plans and procedures, which is especially important if you're extending, renovating or reconfiguring a kitchen.
Developing technologies have meant a significant improvement in the state of fire detection equipment and a move from smoke detectors over to heat detectors in some kitchens (check with your local council's building control, a heat detector may be a requirement in your kitchen extension). Usually mains-wired, heat detectors recognise and respond to significant changes in the temperature of a space, meaning they're less likely to go off if you've burnt your toast, but will detect a fire quickly.
Best heat detectors include Kidde HD135F Fyrnetics Hardwire and BRK Brands HD6135FB Hardwire Heat Alarm with battery back-up.
For a smoke detector only, we like the Nest Protect 2nd Generation Smoke and CO Detector, which allows you to monitor your home from afar and can be synced with other products in the range.
38. Best home security system sources
You might also want to consider updating your home security system during the process of renovating – this is particularly recommended if you're opting for a glazed extension as part of your project, live in an area with high crime rates or know the contents of your home are of significant value.
While having a good old-fashioned burglar alarm is a good start, with or without police monitoring, you can also keep your eye on your home via smart doorbells and cameras. We'd recommend you start by browsing our specialist feature, do you really need smart home security cameras? to find out why you might want to protect your home from intruders. Our guide to the best home security systems to protect your home talks you through the best options on the market, taking into account different needs and budgets.
Start with ADT and Yale for whole house systems; for indoors, we like the Amazon Blink (see our review) and also the Canary all-in-one Security System. Complete with a sleek design and high-quality camera, this piece of kit wouldn't look out of place positioned throughout the house. If it detects anything out of the ordinary, expect to be notified via a handy app.
Heating and insulation
Similar to lighting and electrics, you'll need to think about how you plan on heating and insulating your newly renovated home and whether the system you currently have in place is equipped for taking on a larger home if you're extending.
Covering everything from radiators and underfloor heating to insulation guaranteed to save energy (and money) in the long term, find everything you need to know about heating and insulating in this section. We've got plenty of source recommendations, too.
Find more tips on how to insulate your home in our handy guide.
39. Best replacement boiler sources
Renovating your home may require you to replace an existing boiler, investing in an option that's more energy efficient or better suited to heating a larger space or a home with changing needs. This will not be the case for all renovations, particularly those on the smaller side, but if you're installing vast amounts of water-fed underfloor heating or adding a large extension that includes a kitchen and utility room, this is likely.
Rather than seeing a new boiler as an additional expense, consider it an opportunity to make the most of up-to-date technologies and an investment in efficiency. We want to help you choose the best boiler for your home, so we've put together an essential guide to boilers. Happy reading.
If you decide you will need a new boiler, we'd recommend contacting experts at Worcester Bosch, Vaillant, Warmflow, Fuller Heating, Nibe and Windhanger UK.
40. Best lag pipe and hot water tank insulation sources
Lagging water tanks and pipes is an effective means of reducing heat loss and, ultimately, helps you spend less money on heating water with the added benefit of it staying warmer for longer.
A budget-friendly option, you can expect to pay around £15 for a hot water cylinder jacket, which is relatively straightforward to fit and should save you between £20 and £80 a year, depending on previous levels of insulation.
Similarly, pipe insulation – a foam tube which covers exposed pipes between your hot water cylinder and boiler – costs around £20 and will save you between £3 and £7 annually.
An easy insulation solution, you can pick up hot water cylinder jackets and pipe insulation from Wickes and ScrewFix.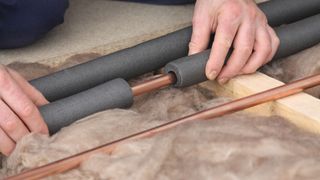 41. Best loft insulation sources
According to The Energy Saving Trust, a quarter of heat is lost through the roof of an uninsulated home, making loft insulation an option worth considering as part of a renovation project. If your loft is easy to access, this is an easy DIY you can complete yourself.
Consider the following options when insulating a loft:
If you're working with regular loft joists, using rolls of mineral wool insulation is an easy option. Simply lay the first layer between the joists and the next at right angles to cover the joists. Ensure insulation is at the recommended thickness of 270mm, which can save as much as £10 to £20 a year on heating bills.
If you intend on using your loft for storage, it won't be possible to simply lay boards over the insulation between the joists. Instead, you'll need to fit timber battons across the joists, or buy purpose-built plastic legs that fit on and support the new floor.
Alternatively, you might also consider using rigid insulation boards, which involves two layers of 50mm extruded polystyrene laid between the floor joists, plus 18mm flooring grade tongue-and-groove chipboard.
If your renovation project includes a loft conversion, you'll want to think about insulating the roof, rather than the floor. Solutions include incorporating a multilayer foil and bubble wrap insulation or, if the roof is also being replaced, fitting roof insulation between and over the rafters, which leaves more useable space within the loft.
Read our essential guide to roof insulation for more information, then try Travis Perkins, B&Q and OVO Energy for more expert advice and materials.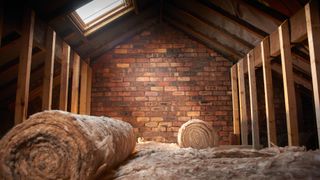 42. Best solid wall insulation sources
Solid walls can be insulated from either inside or out, depending on your preference and budget – and what's permitted by your local council.
Internally, insulation boards can be fitted to the wall or a stud wall can be built and filled with insulating material. This is one of the most affordable wall insulation methods and will cost around £4,000 to £13,000, though you will sacrifice some internal space.
Alternatively, you might consider insulating solid walls from the outside, where insulating material is fitted to the external wall and then covered with a decorative layer such as render or cladding. For this reason, it's worth factoring external insulation into your renovation plans early on. Expect to pay between £8,000 and £22,000 for installation.
In terms of savings, it's not uncommon for solid wall insulation to knock £155 off the energy bills for a mid terrace and up to £415 for a detached house.
When it comes to sourcing solid wall insulation fitters for period homes, try Ty-Mawr, Aran Services Limited, Westville, Alba Insulation or C Hanlon.
43. Best cavity wall insulation sources
If you're renovating a home that was built in the early to mid 20th century, there's a chance it may come with cavity walls – this is two wall 'skins' separated by a hollow space in between – in which case you might consider cavity wall insulation as a means of increasing the energy efficiency of your property.
This insulation is usually made from mineral wool, polystyrene beads or foam insulants and will cost from £370 for a mid-terraced house to £720 for a detached house. Homes with cavity wall insulation tend to make a saving of £90 to £250 annually.
Read our essential guide to cavity wall insulation for more expert advice and information. Visit the Energy Saving Trust for impartial advice on sourcing cavity wall insulation fitters.
Look at the Insulation Store for products; try Kingspan, too. Consult the following specialist companies for more:
44. Best floor insulation sources
Particularly important if you live in a period property or a home with lots of original wooden flooring, floor insulation can make all the difference to the warmth of a house while dramatically reducing energy bills.
There is a variety of options available, depending on the type of wood flooring your home has, as well as your budget.
Suspended timber floors can be insulated by placing rigid insulation boards between the joists, supported by nails or timber battens.
Creating a breathable membrane over the top of the joists can prevent draughts while ensuring a room is properly ventilated.
If there is a cellar or void beneath, it may also be possible to insulate a timber room from beneath, but in most cases it will be required to lift the floorboards in order to correctly insulate.
Many newer homes have concrete flooring and it will be required to raise the floor level in order to make necessary adjustments – this can be a more costly option.
If you're renovating a period property, take a look at our guide to how to insulate floors in old homes for expert advice.
If you're looking for a reputable insulation supplier, we'd recommend Baumit, Dryvit, Greentherm Solutions Ltd, Sto, Permarock and Kingspan.
45. Best underfloor heating sources
While many people still consider underfloor heating to be a luxurious addition to a homes, it's more affordable than you might think and offers some incredible benefits, the main two being cost-effectiveness and the flexibility a lack of radiators will offer your space. Plus, who doesn't love the idea of cosy feet..?
When it comes to choosing underfloor heating, there are two main options to choose from: warm water underfloor heating or electric underfloor heating.
Warm water systems are made up of 1.6cm pipes buried into the floor screed and finished with a covering of your choice. The most energy efficient system available, those with warm-water systems also benefit from low running costs and the ability to control heating in zones. Warm-water systems should be considered early on in the renovation or extension planning process.
If you're keen to avoid raising floor levels, for whatever reason, or simply wish to heat a single room with low installation costs, it may be worth considering electric underfloor heating instead. This simply involves linking the system to an existing electrical system and controlling it via a thermostat. In addition to being suited to retro-fitting (meaning it can be added at a later date if you don't have budget for underfloor heating at this stage), electric systems are also considered more affordable to install. That said, their running costs are greater than those of a water system.
There's a lot to know when it comes to choosing an underfloor heating system, luckily our complete guide to in-floor heating explains everything.
Looking for reputable underfloor heating installers? We like: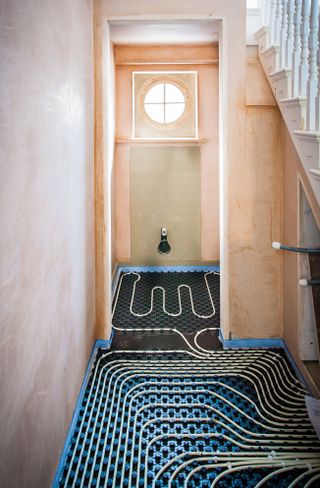 46. Best radiators sources
If you're opting to heat your newly renovated home with radiators – either replacing old models or making additions to an extension – as is often the case, you're about to find out that there are many more options available than you might have previously realised.
The first thing to consider is fuel type; are you looking for a solution that's plumbed in, or might an electric radiator be a better solution for your space?
Once that's decided, you'll want to think about design. Are you fixed on the idea of an original, cast iron radiator? Or might a modern, yet equally striking, replica – complete with all the 21st century functions – better fulfil your requirements?
If you're looking for something a little more contemporary, you'll be spoilt for choice with designs available in aluminium and stainless steel and a variety of different shapes; horizontal, vertical and column to name but a few.
You'll want to choose a radiator with the best design, model and fuel type for your space and our comprehensive guide is a great starting point. After that, check out The Radiator Company, Screwfix, Soak and Bisque for a variety of designs and heating solutions. Major DIY stores and plumbers' merchants are a good option for those on a budget, too.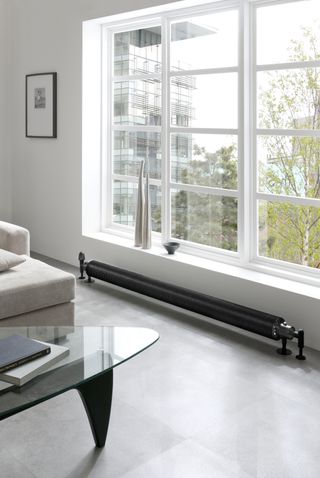 47. Best fireplace reopening sources
If you're renovating a period property, one of the original features you may be lucky enough to come across is a fireplace. Take time to consider whether your space could benefit from the addition of this feature, either on a functional or purely aesthetic basis.
In most cases, it will be obvious whether or not there was once a fireplace in your house: in properties dating pre-1939 there will be a chimney breast with alcoves to the side.
If you run your hand along the face of the chimney breast, you may be able to feel a line from the lintel or fireplace opening. Knock the wall, and you will hear a difference in sound between the solid wall and covered section.
Find out how to embrace this original feature using our guide to how to reopen a hidden fireplace.
Once it's open you can think about a redesign that complements your home's interior. Use our traditional fireplace design ideas for inspiration, as well as our guide to how to tile a fireplace which provides step-by-step instructions for a stylish, DIY restoration.
If you're not confident carrying out this restoration alone, find advice and support from Turner Baker.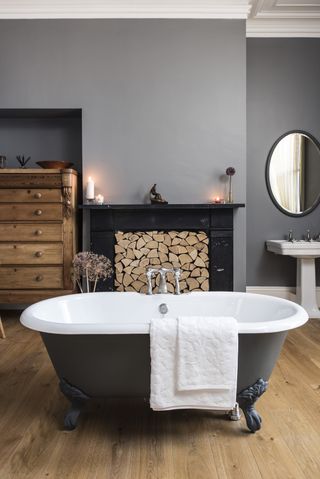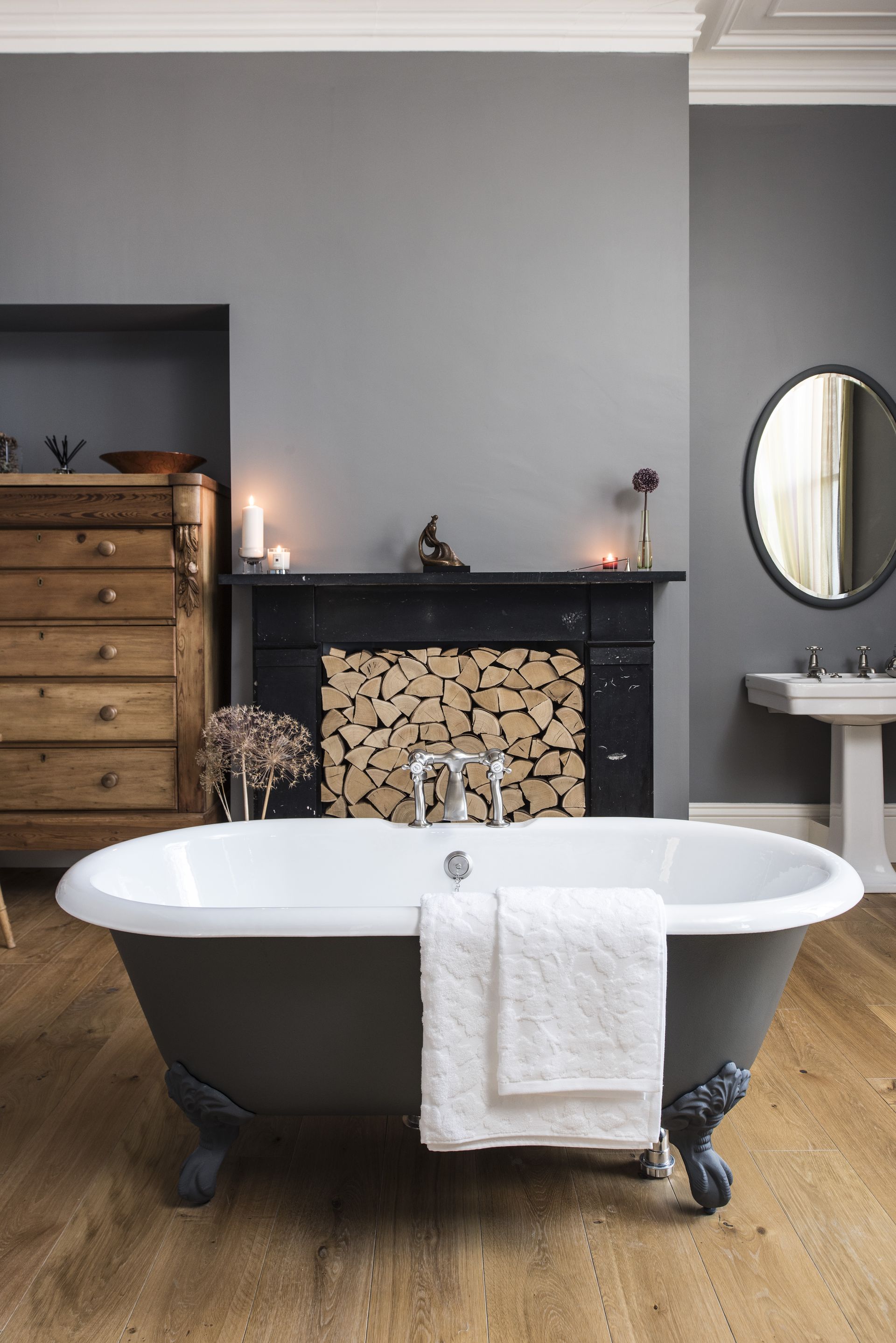 48. Best stove sources
The perfect addition to a stylish renovation, whether in the living room, kitchen or built into an extension, stoves create the warm and cosy feel that so many of us crave during the winter months. While wood-burning traditional burners are particularly popular options, you'll need to ensure you buy one that's approved by Defra. There is also a vast selection of gorgeous contemporary multi-fuel options on offer, too, if your interiors taste is more modern, or if you want a (mostly) maintenance-free stove.
Want more tips on how to choose a stove? We've got plenty over in our guide. Our pick of the best woodburning and multi-fuel stoves? They're right here.
Brands we love? Charnwood, ACR Heat Products, Morsø, Hunterstoves, Stovax and Percy Doughty.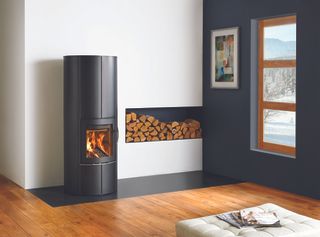 49. Best acoustic panelling sources
Sound insulation for a renovation won't be essential for everyone, but is an option worth considering if you're extending a tightly packed terraced house or are planning on using your new found space as a cinema room, studio or space to regularly entertain guests.
Acoustic panelling is installed in between the two outer walls, so it's imperative that you make a decision about it during the early planning stages. We'd recommend working with Soundstop or Sonata Acoustics to achieve your desired finish.
Smart home and audio visual
An element of renovation planning that wouldn't have existed 10 years ago, smart home and audio visual systems are now more popular than ever and can make daily life easier and more practical than you might have imagined.
From implementing the best smart home system into your newly renovated home, to planning sound systems and choosing the best TV for your space, this section of our renovation essentials guide covers everything you'll need to bring your home into the 21st century.
50. Best smart home system sources
If you're planning a modern renovation, chances are you'll want to equip it with modern technology. Enter smart home systems.
With the capacity to connect everything from your television to your thermostat, smart home systems are designed to make life easier and more efficient. Controlled from your phone, tablet or with the sound of your voice, such systems allow you to maintain control of your home from near or far.
With the world of smart home tech expanding on a daily basis, there's a myriad of smart home solutions available, depending on your requirements. Our favourite brands include Nest for heating and security; Hive for heating and lighting; Philips for smart lighting. Amazon Echo-enabled devicesand Google Home enabled devices are also worth investigating as part of your smart home suite. Find a CEDIA professional for help with installing home technology.
Our handy guides to equipping your home with smart technology talk you through the best of the options:
51. Best TV sources
Whether you're still into traditional television and have big love for the BBC or have made the switch to online players such as Netflix or Amazon, a TV is still considered an essential in most households.
If you're intending on having a cosy snug or living area, you may be considering investing in a new model that suits the space and makes the most of up-to-date audio visual technology. With so much choice on the market – OLEDs, LCDs and smart TVs – it can be tricky figuring out which model is right for you.
Luckily we've put together a series of handy guides to help you choose the best TV.
In terms of where to buy a TV, you really can't go wrong with the guarantee offered by John Lewis & Partners.
52. Best surround sound system sources
Often increasing the size of a home and with an airy, open plan layout, renovations are often planned with hosting in mind.
With this in mind, you may wish to consider investing in a second-to-none sound system; something that will enhance your experience of watching a film or perfectly project music throughout your space during a party.
The Sonos Playbase 5.1 Home Cinema System, with its sleek and compact design, is designed with quality in mind and promises to provide deep, clear Hi-Fi sound. Read more about it (along with our thoughts on other equally magical systems) in our guides to the best surround sound speakers and home theatre speakers, too.
Flooring
When planning a renovation, it's important not to overlook the importance of flooring. Serving both a practical purpose and altering the aesthetic feel of a space, flooring is integral to achieving your desired finish.
Whether you think you like the idea of wood, stone, concrete, porcelain or really don't have a clue, we'll talk you through the pros and cons of each of your options, providing plenty of design inspiration, practical advice and recommended retailers who'll get you one step closer to your dream renovation.
53. Best wood flooring sources
If you're wondering how to choose the best wood flooring for your home renovation, you've come to the right place. Providing the perfect canvas for an array of interior trends and styles, wood is not only stylish, but also easy to clean and maintain, making it the perfect candidate for most modern homes.
Hardwoods are a great option for busy or family homes that see a lot of footfall, as they're much more durable and hardwearing than softwoods. Oak, maple and cherry are great choices with guaranteed longevity, though they can be more expensive. Alternatively, a soft wood, such as pine, is more budget friendly, though it will require more regular maintenance. Either way, solid woods are an authentic option that will enhance the value and aesthetic appeal of your space.
Like the idea of a stylish solid wood? Read our guide to the best solid wood flooring for everything you need to know. After that, try the following wood flooring brands:
If you're blessed with lovely, original wood floorboards in your property, you might consider how best to restore them, rather than opting for new, replacement materials.
Sanding wooden floorboards is the go-to solution for many, as it's the easiest way to give original (or reclaimed) wooden floorboards a new lease of life and is DIY friendly. Use our guide to how to sand wooden floorboards for step-by-step instructions.
If your floorboards are poor quality or you want the texture of wood without the stripped back feel, you might consider painting wooden floorboards, instead. Another DIY friendly renovation project, our guide to how to paint floorboards provides all the tips and tricks you might need.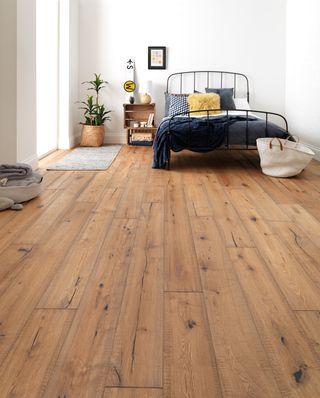 54. Best engineered wood flooring
Alternatively, choose the best engineered wood flooring you can comfortably afford for a long-term flooring solution that has the appearance of wood without the required maintenance.
While engineered wood comes with a slightly heftier price tag, this is usually offset by an attractive manufacturer's guarantee – anywhere from 10 years to a lifetime – meaning you're likely to save money in the long term. Laid side-by-side, you won't notice the difference between real and engineered wood.
Check out Kersaint Cobb, The Natural Wood Floor Co, Carpetright, The Natural Wood Flooring Company, Indigenous, Kahrs and Devon Devon for gorgeous flooring solutions.
55. Best stone flooring sources
If you're seeking timeless, durable design, you might consider stone flooring, which is especially attractive if you're planning a kitchen renovation or extension, open-plan or otherwise.
Ranging anywhere from £30 per m² for slate, granite, limestone, travertine and other more affordable stones, up to £500 per m² for more high-end solutions such as marble, stone flooring suits a variety of budgets and has the added benefit of increasing a property's value.
What makes the difference, when it comes to stone flooring, is its finish. While flamed, polished and pillowed finishes will achieve a sleek and glossy look, you may wish to opt for brushed, honed or tumbled finish if you're looking for something a little more natural or rustic.
Like the idea of stone flooring? Browse our guide to choosing real stone flooring for all the info, advice and inspiration you could ever need. Seriously. Or use our guide to maintain and repair existing stone flooring.
If you're set on stone flooring and want to start the hunt for your dream stone, check out our recommended retailers: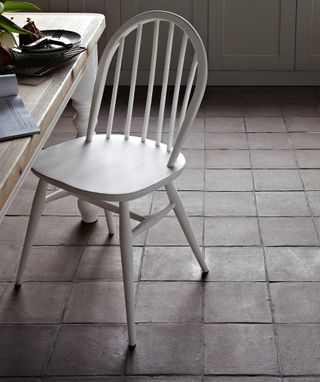 56. Best ceramic and porcelain flooring sources
Water-resistant, hardwearing, easy to clean and compatible with underfloor heating, ceramic and porcelain tiles are a budget-friendly flooring solution (expect to pay from as little as £30 per m²) suitable for throughout the house.
Potential wear should be the deciding factor when choosing between ceramic and porcelain; softer and more porous ceramic is better suited to spaces exposed to less traffic, while porcelain can withstand much more rigorous daily use. Whatever tile choice you make, watch out for its PEI (Porcelain Enamel Institute) rating, as this determines suitability for use. The closer the rating is to five, the harder-wearing and more appropriate for heavy traffic areas.
Find more tips on how to choose ceramic and porcelain floor tiles in our handy guide. Then, start browsing for your dream tiles. We'd recommend checking out: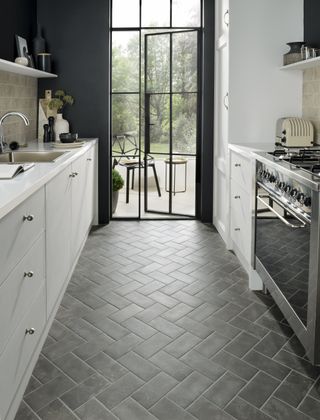 57. Best concrete and resin flooring sources
Choosing flooring for a contemporary home renovation? Concrete and resin are on-trend, practical solutions perfect for a home with a distinctly modern or industrial-inspired feel.
Ideal if you're planning an open-plan space, poured concrete ensures a feeling of continuity while still allowing for successful zoning within your space. Relatively similar price wise (expect to pay upwards of £100 per m²) the main difference between concrete and resin is the finish. Concrete tends to have a more natural appearance and is available in a variety of finishes depending on your taste; smooth and polished or rugged, brushed and raked.
More tips on choosing concrete and resin flooring (as well as plenty of inspiring homes that have used them) over in our guide to choosing the best resin or concrete flooring.
In terms of reputable companies to achieve you dream concrete floor with? Try Grey Matter Concrete. For resin, go to Senso.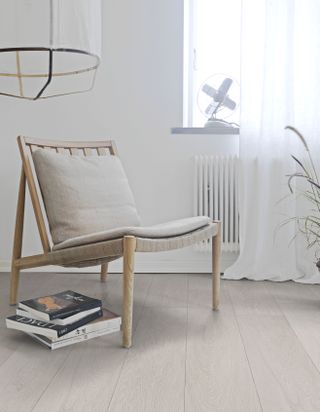 58. Best encaustic floor tile restoration sources
Characteristic of Victorian and Edwardian hallways, encaustic floor tiles make a standout addition to a home, irrespective of whether your interiors style is contemporary or more traditional.
While these durable, clay tiles are designed to stand the test of time, they do require some maintenance along the way. Or, if they've been mistreated, a full restoration.
So, whether you're tackling a hallway renovation and have noticed the odd loose tile or simply want to give your old, encaustic tiles some love use our guide to how to restore and clean encaustic floor tiles for step-by-step instructions.
Noticed a few sections are missing? Or want more help with restoring an old, encaustic floor? Try Fired Earth, Walls and Floors and Original Style for replacement pieces.
Decorating
While making decisions about the structural aspects of a renovation is undeniably important, decorating also plays a large part in achieving your desired finish and is the stage of a project that many people look forward to the most.
If you're unsure about whether you should be painting or wallpapering, opting for light and bright white scheme or moody interiors, we're pointing you in the right direction with our gorgeous design ideas and expert buying guides.
59. Best plaster restoration sources
During the process of restoring a period property, you'll want to treat original plaster finishes with care. Unlike modern materials, old plaster tends to have a textural undulating quality that's flexible and allows the wall to breathe.
You'll want to look out for cracks, bulges and loose plaster, as well as saggy ceilings, damp patches and areas where plaster sounds hollow when tapped. Should you notice any of these signs, it's important to act before proceeding with later stages of your restoration project.
While plasterwork is easily repaired and may look simple to an experienced DIYer, in reality it requires a lot of skill and as such it's always best to call in a plasterer who has plenty of experience dealing with old buildings.
Use our guide on how to repair plaster for more expert advice. We'd recommend using Checkatrade to find a reputable local plasterer who specialises in old plaster.
60. Best plaster moulding restoration sources
Similarly to original plaster, you'll want to think about restoring any original plaster mouldings – this includes cornicing, ceiling roses, skirting, dado and picture rails – before you can paint them, particularly as they're often smothered in layers of paint build-up.
Requiring little more, in terms of equipment, than a paint stripper and scraper, this is a DIY job that requires a little effort, but will make the biggest of differences to the overall finish of your room.
Our guide to how to strip and repaint original plaster mouldings talks you through the process step-by-step.
61. Best architraves restoration sources
Careful restoration of features such as architraves and skirting boards can make all the difference to the overall finish of your scheme, giving your space a smart and professional finish.
While some renovation projects may call for buying new, chances are you'll achieve your desired outcome by restoring what already exists. This is a DIY task that can be carried out by anyone with a paintbrush, our guide to how to restore architraves and a little patience.
Try Wickes, B&Q and Dresser Mouldings for new architraves, or the tools to tackle a renovation successfully.
62. Best paint sources
Whether you're renovating the whole house or a single room, it's likely that you'll need to choose paint at some point during the decoration process. There's more to this process than simply choosing a shade you like, however, as you'll need to choose a paint that suits the function of your space.
In a kitchen or bathroom, for example, you'll need to opt for something that stands up to rigorous use and is perhaps even stain or water resistant and wipeable (for obvious reasons). Our top choice is the Dulux Easycare Kitchen Matt Emulsion Paint, which is easy to apply and dries to a practical, wipe-clean finish. Want to consider a few more options? Check out out pick of the best paint for kitchens.
In other rooms of the house that are less likely to come into contact with water, there's less need for such a specialist paint formula – a paint brand like Dulux or Crown are both go-to, reputable brands. Other brands to try include Valspar and, of course, the perennially fashionable Farrow & Ball and Little Greene, although these paints are more expensive than the DIY stalwarts.
As for colour, if you're not sure where to start, we're here to help with a specialist guide focusing on how to choose the perfect paint colours for every room in your home.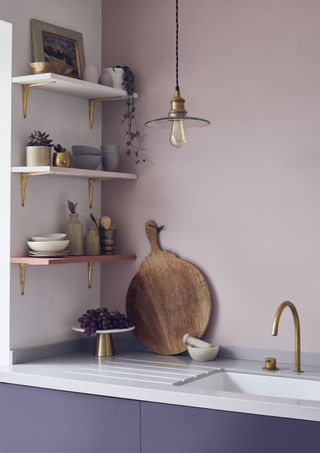 63. Best period home paint sources
Whether you're undertaking a sympathetic renovation of a period property or simply want to mix traditional and contemporary styles into your scheme, you'll need to think carefully about what paint you opt for.
For an authentic scheme, you'll need to take the time to effectively research the history of your home and interiors styles that were popular at the time. Alternatively, as is popular with many restoration so period properties, you might consider opting for a variety of versatile neutral and tonal shades, such as whites, creams, greys and taupes, which provide the perfect backdrop for changing interiors' tastes.
There's no shortage of paints available, whether you're looking to replicate historic shades and ingredients, or reap the benefits of modern-day formulas, on-trend hues and colour-matching solutions.
Use our guide to how to choose paint to decorate a period home for more insight into choosing the correct colour palette for your home. Then, once you've gathered together some ideas, consider the following brands for paints that are perfect for period renovations.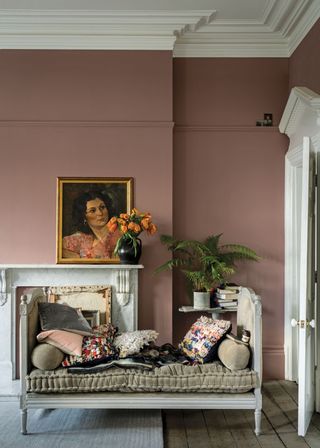 64. Best wallpaper sources
Wallpaper is another easy and popular decorating option that can help you achieve your desired outcome. From rustic looking brick-effect wallpapers to bold prints perfect for a feature wall, you're guaranteed to find something that suits the style of your home as well as your interiors taste.
Need inspiration? We've put together lots of gorgeous guides to help you find the wallpaper of your dreams. You're welcome...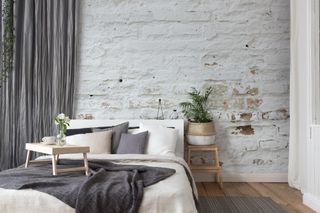 If you're wondering about our go-to wallpaper brands, we're happy to recommend Little Greene, Graham & Brown, John Lewis & Partners, GP & J Baker, House of Hackney and Wallpaper Direct; MuralsWallpaper are a must if you're looking for a gorgeous mural, too.
65. Best wall tile sources
If you're renovating a kitchen, bathroom or another area of the home that's likely to regularly come into contact with water, you'll need to think about protecting your walls from damage. Though there are many options available, for many people this means choosing wall tiles.
Select from ceramic tiles, which offer an enormous choice of designs, manmade tiles, such as porcelain, which are tough and affordable or natural materials, like marble, which promise a unique finish. Think as well about tile shape and size, which will make a major contribution to the final look of your room.
Our guide to how to choose the best wall tiles talks you through the options available and is designed to ensure you make the right choice for your home, while our step-by-step instructions on how to tile a wall are the perfect accompaniment if you're a handy DIYer.
Once you've had a read, we'd recommend starting your search with the following tile manufacturers: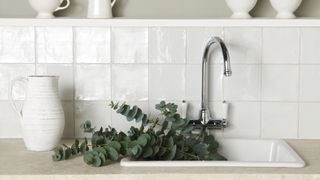 Staircases
While staircases are often fixed additions to a home, with little opportunity for major change, there are instances in which renovators may be required to tackle either a staircase renovation, or complete redesign – perhaps most likely following a loft conversion or when adding a mezzanine.
The type of staircase you opt for will likely be determined by the style of your home, as well as the space available. For example, timber or stone staircases are most likely to work in a period property, while renovations of more contemporary homes may allow for something more unique, such as glass, metal or concrete.
Use our guide to how to design a staircase as a basis for your planning – it's full of expert advice and information. There's plenty of inspiration in our staircase design ideas, too.
66. Best timber staircase sources
The go-to material for staircases, timber is sturdy, reliable, versatile, and can be designed in a traditional style to complement period properties or with a distinctly contemporary feel.
While, for many homeowners, it's preferable to leave timber staircases stripped back with nothing but a stain to add colour, some may prefer to paint their staircase white or grey and style with a runner for a timeless look.
Alternatively, you might create a unique, stylish finish by painting or using stickers the risers.
Use our guide to how to paint stairs for plenty of ideas and inspiration. If you're in need of a new timber staircase, try Jeld Wen, Richard Burbidge, Neville Johnson, Travis Perkins and TK Stairs.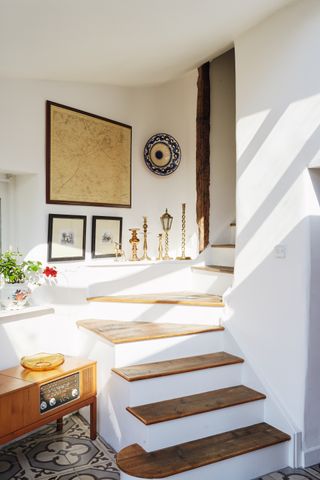 67. Best glass and acrylic staircase sources
A stylish addition to a contemporary renovation, toughened safety glass or acrlic can be used to create barely-there stair treads or glass balustrades, adding a light and spacious feel to a room.
In order to provide slip-resistance, remember that all stair treads must have an embossed top layer. This option is a little more expensive, but it's worth the investment if you're confident you'll like the look of glass for years to come.
We'd recommend Bisca, Aalco, Neville Johnson and Pear Stairs as experts in contemporary, glass stairs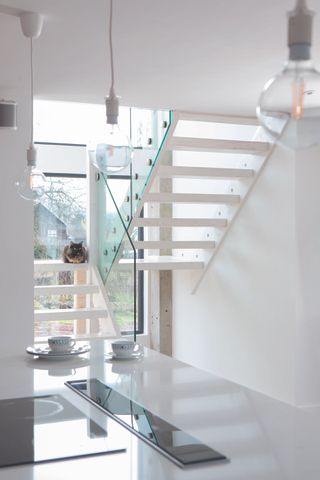 68. Best metal staircase sources
Perfect if you're renovating a space with an industrial feel – think loft-style apartments – metal staircases are unapologetically simple and much less heavy in their appearance than other materials.
That said, it's important to ensure you choose the right style for your space, as it's easier than you might think for a metal staircase to look a little too industrial.
If you're really after that reclaimed look, it might be worth sourcing a second-hand metal staircase on eBay or at a reclamation yard, though remember that finding a staircase that sits perfectly in your space may prove challenging. For an off-the-shelf solution, try Neville Johnson or StairFactory.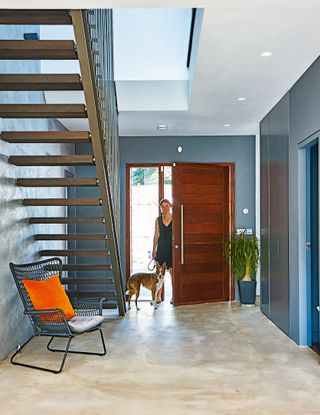 69. Best concrete staircase sources
Slightly impractical in most homes and likely to take up too much space, concrete staircases are an option generally only considered if part of your renovation project involves a basement conversion.
That said, in the right space – preferably one with plenty of natural lights – they can make a stylish, contemporary addition that's sure to stand the test of time.
If you're set on having a concrete staircase, we'd recommend consulting Milbank or Wright for further information and guidance.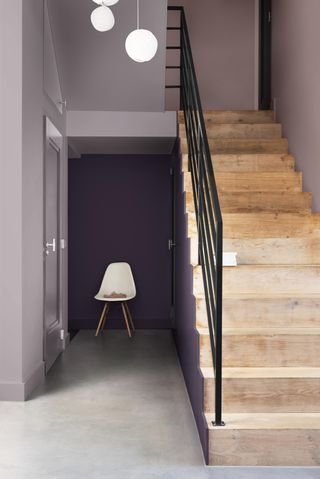 70. Best floating staircase sources
If you intend on creating a focal point with your staircase, it may be worth considering a cantilevered (or floating) staircase, with treads which look as though they are defying gravity entirely.
Though they're most commonly found as part of a contemporary interior, they're equally suited to period properties if supporting walls are structurally sound and designed in a manner that's in keeping with the rest of the property – timber treads are a popular option.
If you're considering designing a floating staircase, we'd recommend contacting experts at Bisca for expert advice and guidance.
71. Best spiral staircase sources
Similar to floating staircases, spiral staircases are effective in making a striking focal point within a space and as such make the perfect centrepiece for a grand hallway or leading up to a mezzanine in an otherwise open plan space.
It's also worth considering a spiral staircase if you're a little short on space, as this design of staircase is a little more compact.
For more advice and information relating to spiral staircases, we'd recommend trying Stairs & More, Spiral Stairs Direct and Bisca.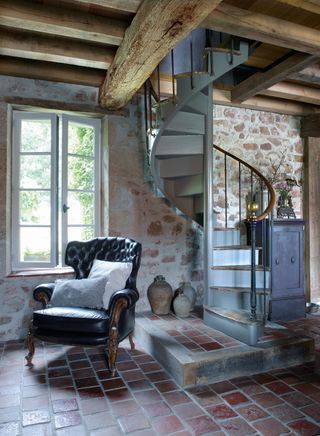 Kitchens
New kitchens and kitchen extensions make up a large percentage of renovation projects, with many homeowners looking to design spacious, open plan solutions perfect for family living and entertaining guests.
If you're planning a new kitchen, you'll want to browse our pick of the best kitchen designers, fitters and retailers as well as our specialists advice features and design guides, which provide plenty of inspiration whatever your taste. Find it all below...
72. Best kitchen sources
Designing a new kitchen as part of your renovation project? If so, you'll likely be thinking about what kind of kitchen you'd like and how it will work as part of the overall design of your space.
We'd recommend establishing a clear image of your dream kitchen before consulting professionals about the practicalities of your design and working to find solutions.
While aesthetics are important to many of us, it's essential that you don't overlook the functionality of the space; how you will use it on a daily basis and whether it will suit your taste for years to come. We've written a step-by-step guide on how to plan and design a kitchen to ensure you get the process right from start to finish.
Top of many a 'most wanted' list, kitchen islands are a dreamy addition that many people prioritise when renovating a kitchen; whether as part of an extension or otherwise. Providing the perfect link between kitchen living room and in an open plan extension, kitchen islands not only create a striking design feature, but also provide handy preparation and storage space if designed correctly.
For a truly gorgeous kitchen, try deVOL, Herringbone Kitchens, The Callerton Kitchen Company, John Lewis of Hungerford, John Lewis, Plain English, Magnet, Martin Moore, Burlanes, Mowlem & Co, Neptune and Harvey Jones.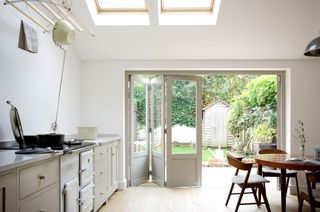 Wondering about the best bar stools, too? Pull up a chair and browse our pick of the best.
73. Best budget kitchen sources
When many people think 'kitchen', they think 'expensive', but that simply doesn't have to be the case, as proven by our easy ways to design a stylish kitchen on a budget.
While fitting a kitchen is never going to be the cheapest home renovation you take on, it's not ridiculous to expect to achieve a gorgeous result for less than £5,000, especially if you're prepared to shop around and complete some of the work yourself. Use our guide to cutting the cost of a new kitchen for more tips.
For a budget-friendly kitchen, we love Ikea (especially if you opt for custom finish fronts from Plykea). Also try Howdens and British Standard, the sister company of Plain English.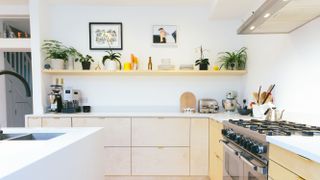 Bathrooms
Whether you're planning a bathroom redesign as part of your renovation or working a bathroom into an extension, you'll need to think carefully about how you intend on using this new found space. Will it function as an en suite connected to an extension-born additional bedroom? Or form a handy downstairs toilet?
From stylish bathroom design ideas to our pick of the best recommended retailers and bathroom fitters, this section cover everything you need when designing a bathroom as part of a renovation project.
74. Best bathroom sources
If you're opting for your dream bathroom redesign, or adding a new en suite as part of a larger extension, you'll want to think about where your bathroom is going to sit within your newly renovated house during the early stages of planning.
How you intend on using an additional bathroom should be at the forefront of your planning, but you will also have to consider how much space you realistically have to play with.
If you're looking for a luxurious master en suite where you can enjoy evenings winding down, it makes sense to prioritise a larger amount of space for your bathroom so that it can accommodate a large, roll top tub, for example. Or, perhaps you just need an extra toilet or shower room to suit the needs of a larger family.
If you're unsure where to get started when it comes to how to design a bathroom, our handy guide is a great place to go.
For stylish design inspiration, you may want to check out one (or all) of our features: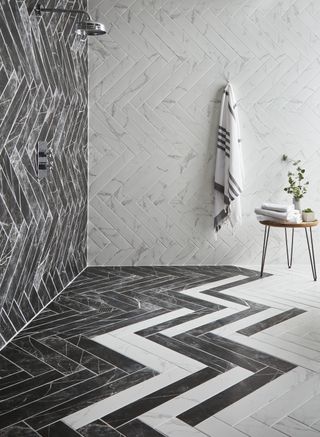 Once you've browsed our handy guides, you'll want to start thinking about reputable brands and bathroom fitters who can help you achieve your desired outcome.
We'd recommend working with DIY stores and Victorian Plumbing (if you're on a budget); Albion Bath Company and Barber Wilsons & Co for traditional fittings; CP Hart and Bathstore for contemporary fittings.
75. Best budget bathroom sources
If your bathroom is on the smaller side; you're renovating a bathroom as part of a larger project and are prioritising your budget elsewhere; or simply want to add a small and understated bathroom loo, the process of designing a bathroom may be slightly different to that of a larger or more luxurious space.
When it comes to renovating a bathroom on a budget there are easy tips and techniques you can take advantage of in order to make the most of your money.
A couple of ideas include painting a bath in order to give it a new lease of life, using on-trend paint effects in order to add interest to a space for a fraction of the price and creating the illusion of space and light with mirrors and neutral schemes.
Take a look at our budget bathroom design ideas for more inspiration. You may benefit from reading out guide to how to design a small bathroom, too.
When it comes to sourcing a budget bathroom, we'd recommend Ikea, B&Q, Homebase and Travis Perkins.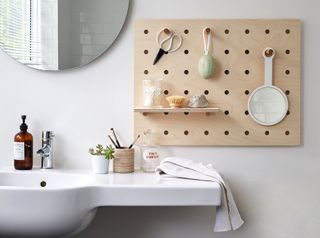 Looking for more extension advice and inspiration?