Looking for an honest Amazon Blink XT2 home security camera review? It's getting cheaper and easier to keep a closer eye on your home, from any location, thanks to the best home security systems. And now tech giants, Amazon, have released their own answer to home security in the form of the Amazon Blink home security camera. But is it worth the hype?
Jason Orme, homes, construction and interiors expert and writer has been testing their system for the best part of a year; here's what he thought.
ALL NEW Blink Outdoor | £99.99 on pre-order from Amazon
Built to withstand the elements, the Blink Outdoor is a security camera which will help you protect your home indoors or out, come rain or shine. It's wire-free, battery-powered and shoots in Full HD. The motion detection can be customised using the Blink Home Monitor app, and it can also be used with supported Alexa-enabled devices. This item will be released on October 22, 2020. Only available to UK and Ireland customers.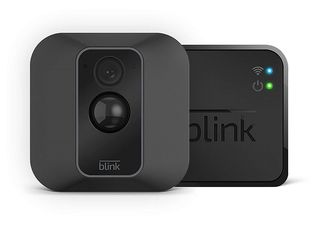 Installing the Blink home security camera
Why you can trust Real Homes Our expert reviewers spend hours testing and comparing products and services so you can choose the best for you. Find out more about how we test.
I set up a four-camera system on a relatively large detached house. The Sync module is the heart of the system and needs to be connected into a wall socket, where it picks up the home Wi-Fi network. Once initialised (it took less than a couple of minutes) you can start adding cameras. I chose my locations (two inside, two outside, for which I used the weatherproof XT cameras which come complete with night vision) and set them up one at a time.
Again, the simple four-step process took less than five minutes. You can mechanically fix the cameras to the wall (best for external cameras) but we found internal cameras were best left completely unfixed, so they could move around as required. All in all, within 30 minutes all four cameras were set up.
Blink's system runs off a simple app, and once installed and logged in, it allows me to see all four cameras in a single view.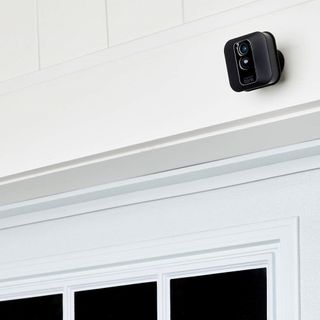 How easy is the Blink home security camera to use?
Once set up, the individual HD cameras can be armed or disarmed with a simple slide button from the app. If an armed camera detects movement, it sends a notification to the user's phone, and records the relevant snippet for immediate viewing.
As the app develops and becomes more sophisticated, it allows you to control variables such as sensitivity to movement, which would be perfect for families with pets who don't want to be informed every time the dog moves.
There are two main ways in which we have found the Blink system useful. Firstly, to give us peace of mind while away from the house for any length of time (no notification, no problem). More relevantly for us, it has allowed us to check in on the house if we're away – Blink is a perfect solution for families looking to be able to keep an eye on the dog while at work, or the teenager while away for the weekend.
Is the Blink good value for money?
The system offers exceptional value for money compared to the more traditional security set ups, and compares favourably to the other brands, offering similar wire-free installations.
What else should you know about the Blink home security camera?
The external cameras are great, but need to be discreetly placed (as they are clearly a bit of a flight risk if spotted by passers-by) and they also need to operate within the confines of the home's Wi-Fi range. This limits the options for external positioning, although we found no problem placing them on the front and side of the house.
The battery life is a real plus point for these cameras. A set of two AA batteries will need replacing on average every two years – brilliant efficiency considering the benefits over hard-wiring.
If they're not fixed, the internal cameras can easily get moved or knocked and put out of position. So best to hide them away from the high traffic areas of the house.
Is the Blink home security camera worth buying?
The whole system, from set up to the use through the app is brilliantly simple and easy to operate. It has become a useful part of our lives – not just in terms of giving video protection of the home in our absence, but for ensuring that grandparents really are looking after the children in the way they claim…
It would be very difficult to find a better value, simple to install and use system elsewhere on the market.

Looking for more smart home advice?