Do you need to restore your front door? A natural hardwood front door can over time start to look a little shabby and tired. Cracks and flaking paint on the frame don't do your home exterior any favours, and the letterbox and door knocker might have started to look tarnished. In many period properties, plastic door bells may have been added to the front doors, which will also bring down the overall look of what should be a welcoming and stylish entrance.
Preparation is the key for this DIY job. Once you have scraped off the old finish, filled the cracks, dealt with the gaps and banished the grime, a few more hours of waxing, rubbing and brushing will make your front door restoration job a lot easier.
Find out more decorating advice, tips and how tos on our dedicated hub page.
You will need:
1. Revive the front doorstep
Strip any flaking faded paint from the doorstep, ready for a new coat. Rather than use a general-purpose stripper, I like a product formulated to remove a specific finish, such as NB- 510 from Strippers Paint Removers.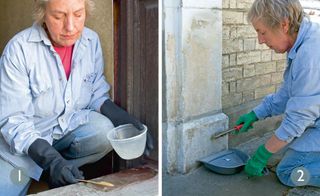 2. Repair the front door case
Remove all loose and flaking paint from the door case. A brass brush can be useful for this job but a steel brush will scratch soft stone. A steel scraper can be used with care – hold at a slight angle to avoid digging into the stone. Fill cracks and gaps with lime mortar (sand and lime putty mixed).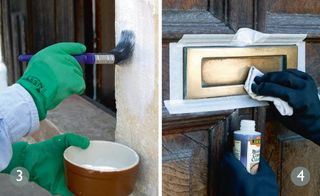 3. Apply limewash to the stone
Modern masonry paint prevents old stone 'breathing'. Instead I used ready-prepared limewash, spraying the stone with water before applying. Paint on three to four further coats and allow a day in between for limewash to dry. Wear protective goggles as limewash splashes can damage eyes.
4. Polish brass door furniture
Protect the wood by fixing masking tape around the edges of the letter plate. Tarnished metal can be cleaned using Liberon's Brass & Copper Cleaner rubbed lightly with very fine steel wool. Rinse and dry. Maintain shine with Liberon's Brass & Copper Polish. Finally, protect with a film of clear wax polish.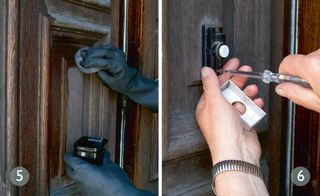 5. Clean off grime and old wax
: Get rid of old wax finishes, dirt and grime from the wood door. Soak a wad of fine steel wool (0000) in Liberon Wax & Polish Remover and gently wash the wood following the grain. Wait a few minutes and wipe away the dirt with a clean cotton cloth. Keep changing the face of the cloth so you take the dirt off.
6. Put on new bell push
Remove plastic bell push and replace with one suitable for a period house. We found a Georgianstyle brass model at Dartington Steel Design. Electric doorbell systems work off either a mains or battery power source. If yours is run from mains electricity use an electrician to carry out modifications.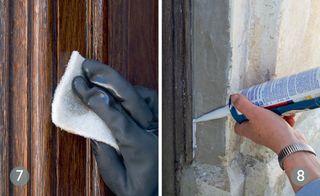 7. Condition the door with oil
Apply Liberon Pure Tung Oil with a brush or cloth. Allow the oil to penetrate and wipe off any remaining on the surface after 30 minutes (surplus oil will turn sticky). For oak doors and exposed wood apply four coats allowing 24 hours in between. Rub gently with fine steel wool in between applications.
8. Seal gaps against the rain
First, ensure surfaces are clean, dry and non-greasy. Place the sealant nozzle against the gap between woodwork and masonry ensuring it touches both sides. Apply by squeezing trigger and running cartridge slowly along the gap. If necessary, while sealant is still wet, smooth finish with a wet spatula.
Read more: