Our staircase lighting ideas and tips are here to provide practical advice and design inspiration, whether you're designing a staircase from scratch, want to incorporate a staircase revamp into the process of designing a hallway or are looking for practical lighting solutions in a poorly-lit space...
When stepping up your staircase ideas, it's important to take time to consider whether your lighting is intended for decorative definition or more functional purposes. If it's the former, be particularly careful not to overdo it.
Whilst it's important to ensure that a staircase is sufficiently lit, opting for a solution that's subtle and simple tends to achieve more elegant results. Ideally, staircase and landing light ideas should aid the transition from one space to another, so ensure that brightness is similar to the rest of your home.
Staircase lighting ideas that are warm and inviting
'Introducing the perfect lighting will not only brighten up the space but also elevates the atmosphere by creating an eye-catching and ambient mood,' says Kerry Laird, interior designer at Fishpools.
'Exposed bulbs are a great way to avoid overcrowding in a narrow stairway. Not only do bare bulbs exude character, but they also add vintage charm. Additionally, exposed bulbs are extremely versatile and will suit most color schemes.'
'If you're looking to create a statement but don't have high ceilings for something as grand as a chandelier, why not looking to wall lighting as an alternative?'
'On a practical note, wall lighting is great for illuminating a specific area like artwork. Choose a slim light for smaller stairway as a sleek addition to a minimalist space or to work effectively as a spotlight style to draw attention to hanging pictures and ornaments.'
1. Suspend your lighting at different heights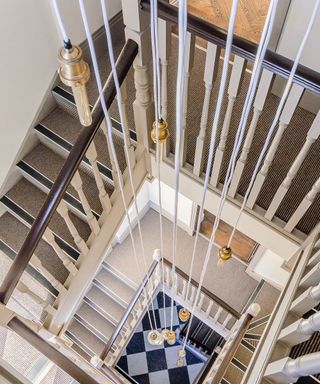 Create a striking display using different shaped bulbs suspended at different heights or use lighting flex cables in an array of colors to add interest. We love these Industville vintage Edison style lightbulbs hung up high through the center of the stairwell, as you look down to the monochrome checkered hallway flooring.
2. Use multiple sources of light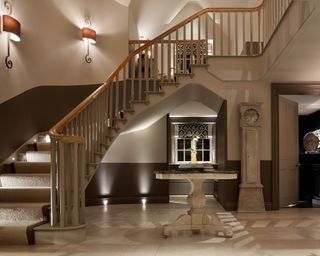 'If you've got a three-metre high ceiling in a more traditional hallway, pendants will help lower the ceiling and stop the space from feeling cavernous and dark at the top,' says Hazel Park, senior lighting designer, John Cullen Lighting.
'Again, we layer lighting. In a large hall there may be several artworks, which can be lit with directional downlights or specialist picture lights such as our Wallace picture lights. And decorative wall lights often play a part in large halls.'
'For a wide and roomy hall such as in a grand country property, the starting point is often highlighting architecture. Here a staircase can be sculptural and a focal point. We could use skirting lights to light the stairs or an LED strip underneath each tread to create a back glow. We also add light at the top of these staircases, to draw your eye upwards.'
3. Go for a trio of lights in differing sizes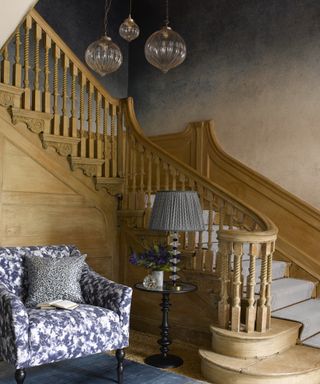 Teardrop, inverted rose, Mongolian street light – however you describe the shape of these Aquila lights by Pooky – you can't deny that they encapsulate the essence of Art Deco chic and are a very striking staircase lighting idea. Here, two larger and one smaller fixture is used to create atmosphere in this hallway.
These glass pendant lights are blown by mouth, into a mould, by skilled craftsman which makes this staircase lighting feel extra special and artisan. The smoked glass detail complements the grey lampshade and cushion on the armchair.
4. Narrow stairs need downlights and floor washers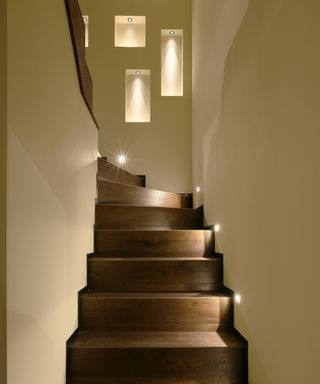 If your stairs are on the narrow side, this can often present a challenge when it comes to staircase lighting ideas. But one expert can advise...

'Narrow staircases are difficult to light. Here we have added niches downlit with miniature Lucca 30 downlights and layered this with Cazalla floor washers, creating a dramatic scene to guide your way up the stairs.⁠' says Parsons.
5. Go for a sky-scraping chandelier light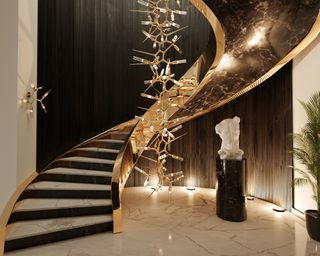 If you want to create a luxurious lighting look that is classy and still classic in your modern entryway – do so with a chandelier.
Inspired by the Shard in London, this wall and ceiling light combo by Portuguese design studio, LUXXU both have modern silhouettes – and are each a work of art in themselves. Made from gold-plated brass and crystal glass, they radiate luxury and opulence.
Combined with marble stair treads, a male bust figurine and black fluted walls, this is dreamy and desirable design like we've never seen before.
6. Emphasize texture and materials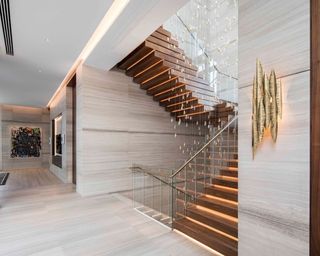 This staircase lighting design is all about the glitz and glamour. A cascading assortment of glass ornaments fall from the ceiling like a waterfall adding texture and interest to the center of the stairwell.
'To maximize the impact of this stunning staircase, we choose to conceal a warm white Contour LED strip under each stair tread,' explains Sian Parsons, senior lighting designer at John Cullen Lighting.
'This adds drama to the staircase but also highlights the wonderful stone texture of the walls and the decorative centerpiece at night.⁠'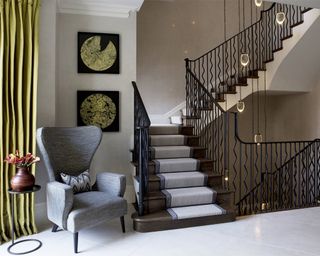 7. Light up multiple floors or flights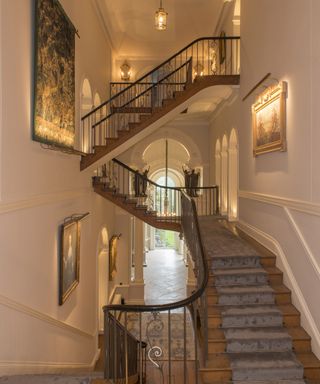 Whether you wanted to save energy, or don't want to shop for lots of fixtures, you may have only chosen to light your hallway or landing.
Staircase lighting on different levels opens up a world of opportunities when it comes to layering your lighting and creating an ambient mood. It also means you won't be searching for the nearest source as a lamp or switch won't be too far away.
8. Use lanterns for an exotic look and feel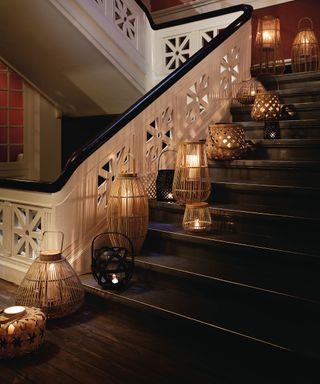 Balmy nights, warm climates and exotic interiors are just some of the things we love about being on holiday. But if you want to create an ethnic-inspired aesthetic when it comes to your staircase lighting ideas, look to lanterns.
Whether you choose tea light candles or LED faux lights – we recommend the latter when children and pets are around for a Moroccan-style mood. Especially with that stencil-effect balustrade.
9. Plan your lighting when designing a staircase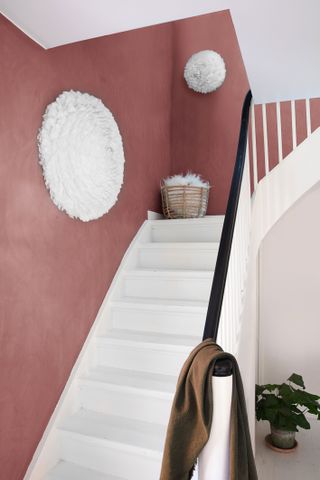 If you're designing a staircase, it's important to ensure that you plan your lighting at an early stage. This is particularly important if you want the lights to be unobtrusive, as trimless styles need to be installed before plastering.
Another key consideration is fixing points. Whether you're lighting from above, at tread level or in the wall, factoring the lighting into your plans is really important in achieving the desired effect.

This gorgeous Umage lamp with ethically-sourced goose feathers is just what you've been looking for if your staircase lighting ideas are in need of a touch of elegance and style.
It is perfect for wall mounting and can very easily be assembled to fit as a ceiling light as well; two uses, one lamp - perfect! Give your guests something to light up about with this stunning design.
10. Illuminate a dark staircase with under-step lighting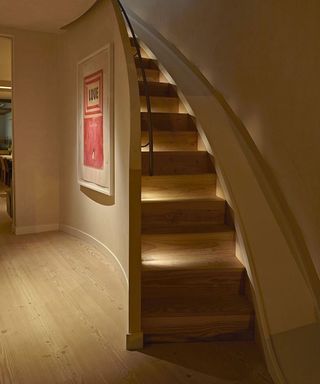 If your staircase has lipped steps, using strip lighting is a subtle and attractive way of illuminating dark staircases that see heavy footfall. A little more complex to install, this style may require the assistance of a professional for correct fitting. However, the final effect is worth the extra effort.
11. Take measures to avoid glare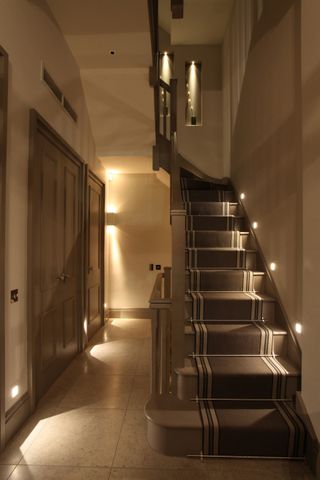 A common mistake when installing staircase lighting is to forget the potential glare that will be caused when walking up the stairs. Well-designed marker lights will avoid this by being well recessed into the wall.
12. Illuminate recessed walls to create a design feature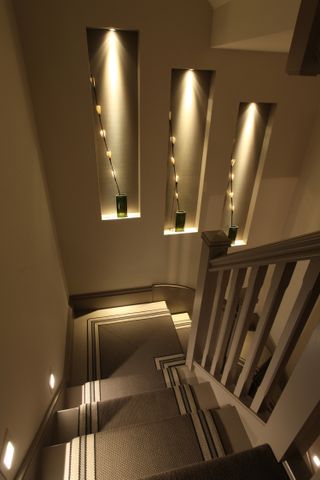 Illuminating recessed wall spaces is an effective way of creating an attractive design feature while lighting a staircase. Use spotlighting to cast shadows throughout the space and illuminate a simple, stylish feature. We love this example, where spotlighting is used to light up minimalist-looking faux flowers.
13. Light the underside of open riser staircases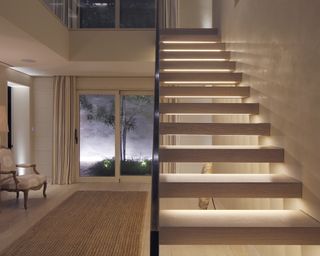 Looking for lighting solutions for open riser staircases? Hiding a contoured LED strip on the underside of a riser means that they remain out of sight when unlit, but create a soft, floating effect when illuminated. The shadows cast below the risers create a subtle and attractive finish.
'For open riser staircases, the light source can be hidden from view under each tread,' says Luke Thomas, creative director, John Cullen Lighting.
'When not illuminated John Cullen's Contour LED tape recessed into the underside of the step is invisible, but when lit it creates a beautifully soft floating effect. This lights the tread below as well as casting wonderful shadows under the staircase.'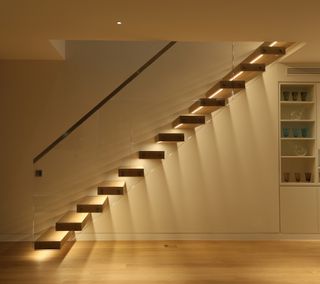 14. Or light the underside of a spiral staircase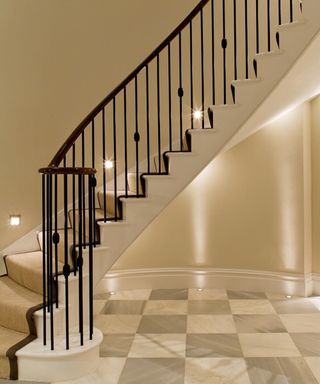 If you have a spiral staircase rather than an open riser you can still light it from beneath to make it even more of a focal point in your hallway.
We love how under-lights have been used to create a feature of the underside of this sweeping staircase. Again, we see a checkered floor, but this time it's been given a light grey and white marble makeover.
15. Choose wall lights to decorate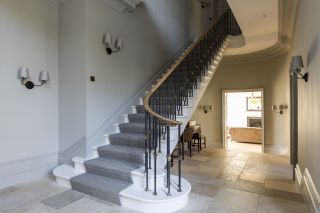 If you are after something more decorative than just spot lights and strip lights then instead opt for a few simple wall lights. Pick a design that won't protrude too far from the wall and won't look too much if you have a number of them going up the side of your stairs.
16. Tackle the challenges of a sloped ceiling
'Stairs run through the four floors of this Kensington Townhouse so continuity throughout the lighting design was key,' explains Parsons.
'The ceilings were sloped so options for lighting were limited. We selected low glare Lucca 30's to graze light over every other step to create a pathway up to the top of the house. At the top of the stairwell our Contour LED strip were incorporated into the scheme to avoid harsh wall lights and create a soft light at night.'⠀
17. Add wall lights into wall paneling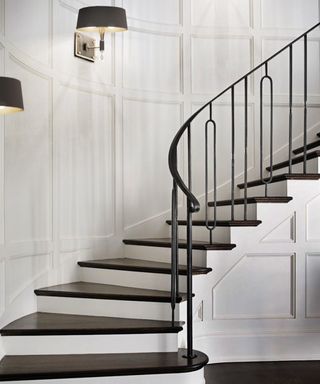 This Miles wall lamp was inspired by one of the most influential and acclaimed figures in the history of jazz and 20th-century music namesake.
With a classy, intriguing contemporary silhouette, Miles mid-century modern wall sconce is the perfect staircase lighting idea, as it will suit exquisitely in your interior design. Simple and sophisticated, several of these fixtures have been placed on the wall paneling to further escalate this monochrome scheme.
How can I add lighting to my stairs cheaply?
'Fairy lights are not just for Christmas,' explains Lucy Kirk, creative and photography manager, Lights4Fun.
'They're also for staircases. If you've got a staircase in your house or office that's looking a bit drab, add a bit of sparkle in under ten minutes.'
'Starting at our power socket at the top of the staircase, we ran one string of lights down the handrail and another string down the inside of the staircase, twining the lights around the banister and then trailing the last ten bulbs along the foot of the bottom step. Easy!'
'The best advice we can give you is plan it out. Make sure you've got enough cable to cover the whole staircase, otherwise you might find yourself running out of bulbs halfway through, which in our experience is really annoying.
'For our staircase, we used two sets of our 8m indoor fairy lights with 100 bulbs per string, so 200 LED bulbs in total. You can experiment with different bulb spacing to get a more subtle or more "full on" effect, but this is one situation where we tend to err on the side of "more is more". If you don't have a power socket near your staircase, choose a set of lights with a generous lead cable between the transformer and the first bulb, or go for battery fairy lights instead.'
'You can also play around with colour. We chose these warm white fairy lights to fit in with the neutral, cosy décor, but for a more modern look you might want to consider an ice white LED – this would look especially cool if you have a metal handrail or glass balustrade. If you're feeling bold, go big with colour – imagine a staircase lit by bright pink fairy lights. Yes please.'
'Lighting your staircase with fairy lights isn't just about the aesthetics either. It sure looks pretty, but it's also super practical – LEDs use a tiny amount of electricity (see our buying guide on energy efficient LED lights) and, unlike traditional filament bulbs, will always remain cool to the touch.'
'So you can leave your staircase lights on all night as a nightlight alternative without fear of a) scorch marks on your carpet or b) frighteningly high electricity bills. No more risking your life as you stumble downstairs in the middle of the night for a glass of water, no more waking everyone up by turning the big hallway light on.'
How do I choose the right light for my stairs?
'Most people don't think about the colour temperature of their lighting, but it's one of the most crucial considerations. You need to look at the Kelvins or Ks. Many people just pick one that's 3000K or higher, which is actually a cold light,' says Park.
'This makes it impossible to create the warmth or ambience that you're after when you enter a hallway. We recommend choosing lights that are 2,700K – which is a warm white.'
'Another important technical detail of LED lighting is the CRI of each light. CRI stands for Colour Rendering Index, and is about what happens when you shine light onto a surface.'
'For example, if you shine light at an artwork or fabric you want to see its truest colours, rendered 100%. The best light for this is natural daylight, which has 100% CRI. So, we recommend lights which offer 90 CRI or higher. Lower than that and the colours appear distorted.'
How can I light a large staircase?
'You might also consider a decorative pendant dropping through the staircase, which adds to the drama of a large space,' says Park.
'A trailing pendant could highlight a table with flowers below in a more interesting way than a simple table-lamp. Accenting a feature such as this helps to give body to the centre of the space, which could otherwise feel flat. We can even integrate tiny spotlights into the pendant, to particularly accent areas of what is beneath. In a grand space you may want to consider a decorative pendant with the "wow factor".'