When it comes to choosing the right curtains for your windows and doors, it's not just about adding colour and interest to a room with pattern and a good-looking design – you need to consider your room's, and your windows', practical needs, too.
So why are you hanging curtains? Are they for blocking out the light – particularly important in children's bedrooms – or are they needed to make a street-facing room more private? Do you have a particularly draughty hallway that could benefit from a curtain over the door or a north facing living room that needs a sheer window treatment to let in light? Are they to make your window the focal point of the room? Or to make the room look larger – or smaller and cosier?
The answers to these questions will inform your fabric choice, the curtain design, how you choose to have them finished and how they will hang. Use our guide to choose the best curtains for your windows and doors – and find many more window treatment ideas and advice features on our dedicated hub page.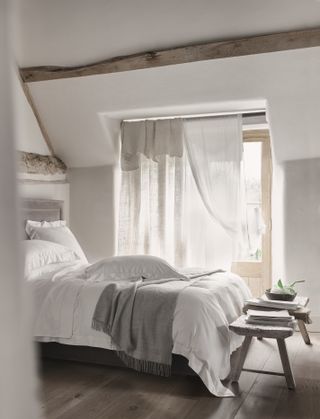 Measure up for your curtains
Why you can trust Real Homes Our expert reviewers spend hours testing and comparing products and services so you can choose the best for you. Find out more about how we test.
Ensuring your curtains fit, not just length-wise but also widthways is vital. All of the above, including fabric choice and the practical functions you need your curtains to perform, will effect how expansive your curtains will be – check out our guide to measuring up for curtains for more on that.
Choosing curtain fixings
Curtain tracks have a looped cord to pull the curtain open from one end, making them a practical solution for larger windows or bay windows. As you aren't always having to handle the fabric they also help keep curtains cleaner than other fixings.
Curtain poles are really versatile as they will take any kind of heading. They work best on straight windows but some do come with bent sections that would be suitable for curved windows. Follow our guide to putting up a curtain pole to get yours right.
Adjustable rods can also be used to hang sheer or voile curtains. They can be tension rods that push into the window recess or just mounted like a curtain pole to sit above the window frame.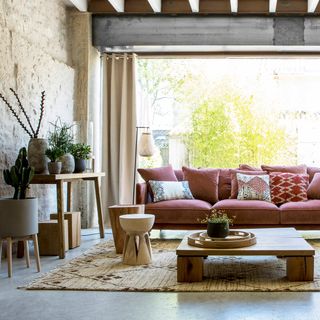 How will you hang your curtains?
Curtains can attach to poles and tracks in different ways (known as the headings) and these will affect how they hang – and which room type they will suit.
For contemporary or laid-back room schemes, tab tops, eyelets and tie tops are all informal curtain headings.
Eyelet or tab top headings will cope with the weight of heavier, more luxurious fabrics, such as velvet or wool, with ease. If you are going for a large pattern repeat, tab top or eyelets will allow the curtains to sit flat against the wall when pulled closed, showing off the pattern to its full potential (tightly pleated headings will lose a proportion of the curtain's pattern within the resulting folds). Tie top headings suit sheer or pretty, country cottage-style curtains.
However, these heading types may not be smart enough for the look you're going for, in which case you might want to opt for neater options. The tight regularity of pencil or pinch pleat curtains work perfectly in a formal or traditional room.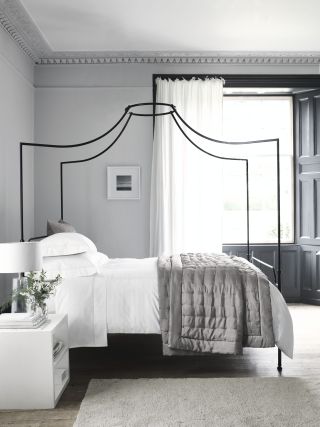 Create the illusion of space with curtains
If you're working with a small bedroom or small living room, fitting long, floor-to-ceiling curtains a few inches higher than your window will emphasise the height of the room, making the windows (and hopefully the space) feel taller. Maximise the effect but choosing fabric with a light-coloured vertical stripe.
Or, choose a broad horizontal stripe for your curtain fabric. At a broad window in particular, this can make a room feel wider.
In all cases, ensuring the curtains can be pulled right back beyond the window frame will allow as much of the window to be shown off as possible, framing it as a focal feature and enhancing the feeling of space within the room.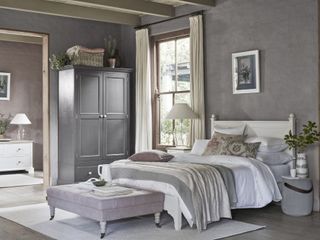 Layer curtains with blinds or shutters
If you love the look of light, breezy curtains, but are not so keen on the bright orange street lights that keep you awake at night, or you want to create a feeling of luxury within a room, combine curtains with Roman blinds or roller blinds or shutters (use our guides to find out more about choosing these).
Pick neutral toning colours for both for a subtle, elegant look. Or choose an accent shade from either your patterned curtain or blind fabric for a plain contrast to the pattern. Or, in a room with few other design details, mix and match patterns in toning colours for a scene-stealing window treatment.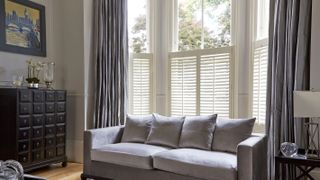 Match curtains and soft furnishings
Using the colour and fabric design of your window treatments can establish the colour palette for the entire room. Why not steal some tips from this traditional bedroom by Neptune and pick out a throw and wall paint colour that perfectly matches your curtains?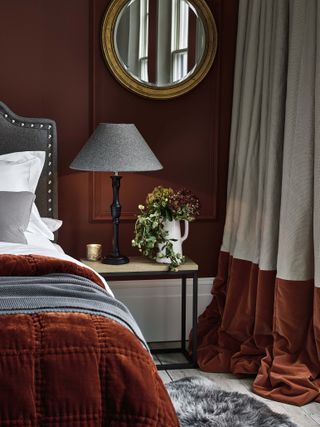 Choose blackout curtains for children's bedrooms
In children's bedrooms, blackout curtains are the best option, especially if they have a street facing room. We love the sweet, floral design of these blackout curtains from John Lewis – and there are plenty of matching accessories in the range.
Find the best blackout curtains in our buyer's guide.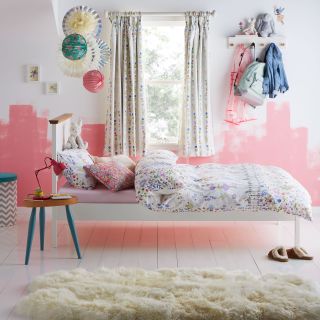 Keep in the heat with thermal linings
If you live in an old property and the windows perhaps aren't as insulated as they could be, consider investing in curtains that have a thermal lining. Hillarys' curtains all come fully lined, but you can opt to add an extra thermal layer for extra cosiness. They work perfectly here on a large window and we can't get enough of that Oriental-style print.
Find lots of pretty window dressing ideas for period homes in our design guide.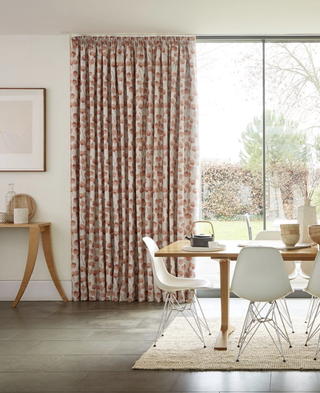 Use café curtains as a practical window treatment
A half curtain or a café curtain can be a great solution if you need privacy but still want to let in plenty of natural light. This kind of window treatment is also super easy to DIY. Pick out your favourite fabric and cut it to the length of your window, then hem the bottom edge and create a channel at the top to fit the rod. (Or you could just recreate this look by buying sheer curtains from Ikea or H&M and trimming them to size.)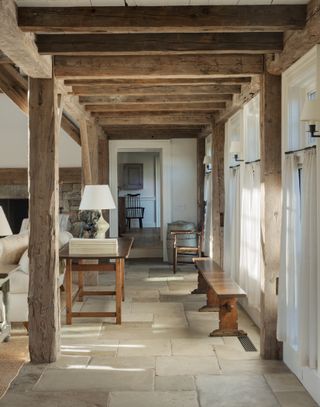 North facing bedroom? Opt for sheer curtains
Designing a north-facing room scheme? Getting the right window treatment is key to making it feel bright and welcoming, despite a lack of direct natural sunlight. Heavy curtains that lap over the edges of a window are only going to block out the little amount of light coming in, so either fit a pole that allows you to pull them back right past the window frame, or pick out a curtain that's light in both fabric and colour, as seen in this bedroom. For a similar look try these voile curtains from Dunelm.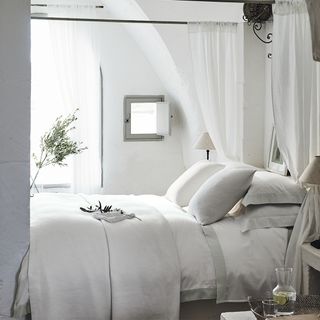 Cover a draughty door with a curtain
Heat often escapes through the gaps around doors, letterboxes and keyholes when it's chilly outside, so a curtain that can be pulled across the door at night or during cold weather will help trim heating bills as well as look stylish. Hallway curtain by Vanessa Arbuthnott.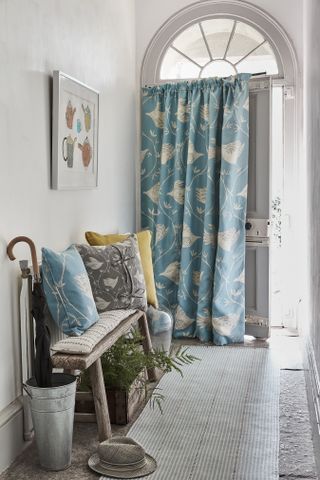 Curtains aren't just for windows and entrance doors, they're also ideal for dividing adjacent rooms or zoning areas in a large or open-plan space.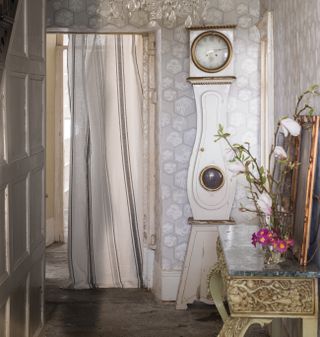 Replace cabinet doors with curtains
We told you curtains shouldn't only be reserved for windows. And while curtains might not be the most practical window treatment for kitchens, we love how they have been used in this curtain by Vanessa Arbuthnott kitchen as a substitute for base unit doors.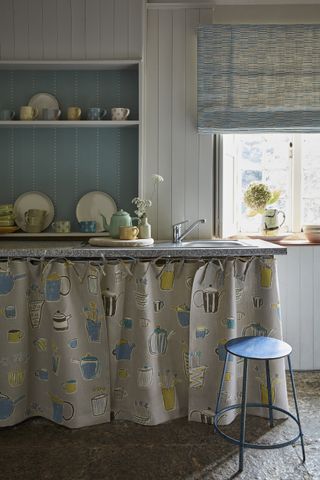 Looking for more window treatment inspiration?