These bathroom paint ideas will have you updating your space in no time. Because, gone are monotonous bathroom color schemes and vanilla decor features of times past – it's time to be more adventurous with your space. And, as paint offers one of the quickest, cheapest and most effective ways to makeover a space, we thought we'd compile the most inspiring painted bathroom looks for you to copy, in your own home.
Keep scrolling for our vibrant roundup, and for tons more delightful decor updates and inspiration be sure to check out our bathroom ideas feature.
If you need more practical tips on bathroom design we've got you covered over in our advice feature so make sure you check that out too.


1. Go for a dramatic blue black scheme
In a bathroom with a high ceiling and good natural lighting, a deep, inky wall color will look elegant. Painting bathrooms is a good time to experiment and use color blocking to make the room feel loftier still, with the lighter colors from picture (or dado) rail upwards, and pick a pale, reflective material, such as marble tiles, for the flooring. Want a really contemporary feel? Paint the ceiling too (just check out our guide to how to paint a ceiling before you start).
2. Create an inviting space with warm bathroom paint ideas
If your bathroom faces north or has a small window, it's likely to suffer from poor natural daylight, and may feel cold and unwelcoming as a result. You can fix this with a good bathroom paint idea choice: deep spicy shades calmed by muted naturals will make a bathroom feel instantly welcoming. Ensure the bolder shades have earthy rather than citrus tones, and match them with flooring in a natural material and furniture in dark, richly grained wood for a look that oozes character.
Love this bathroom paint idea? You will love our orange room ideas (promise they aren't as garish as they sound).
3. Love trad blue? Add a contemporary twist with a two tone wall
Love the trend for ombre paint effects (where one color gradually fades into another)? It's the perfect way to give your bathroom a hint of subtle colour - and if you have paneling on your bathroom walls, it's a breeze to achieve, either with a whole selection of tester pots, or by carefully diluting your paint color with white as you go along).
Check out more of our awesome ombre paint ideas.
4. Mix coral with grey for a vintage bathroom paint idea
Pink continues its surge in popularity, making its way from traditional bedrooms for girls to living spaces in the last few years, and now for painting bathrooms. How to get the right shade of pink? For vintage style bathrooms like this one, picking a strong bathroom paint color like a coral tone and matching it with a muddy green-grey creates a look that's both bold and easy to live with. Want to see more pink bathrooms? Keep reading down... (or check out our whole feature on pink room ideas).
5. Choose a grey white for a warm finish
Whether your bathroom lacks natural daylight, is tiny and needs a space-enhancing paint color – or you just love white walls – painting bathrooms totally white is an easy win. You can buy a bathroom paint that's practical, without worry about your color choice, and be safe in the knowledge that it'll last for years. Then, all you need to do is invest in gorgeous-looking bathroom storage and accessories to brighten your space.
6. Be on trend with yellow bathroom paint ideas
If yours is a contemporary bathroom and you're a big fan of bright, bold feature walls, why not embrace the trend for yellow bathroom paint ideas? Keep it to just one wall or go all out and paint the entire room, bath included if you fancy!
7. Paint woodwork in an inky shade
Dark, dramatic wall colors are migrating out of living rooms and bedrooms and into bathrooms, too – and with good reason: they look elegant and are the perfect backdrop for showing off shapely sanitaryware and pretty accessories. For plastered walls, pick a matt finish for a contemporary appeal; for a woodwork or paneling, go for a mid-sheen paint finish, which will help bounce light around the room. Invest in good bathroom lighting, too.
Check out more of our black bathroom ideas if that bathroom is your vibe.
8. Paint shutters to match walls
Loved the pink in the bathroom paint idea above? Here's another way to include it in your bathroom paint color scheme – but with a more traditional finish. The palest of pinks on the walls could look somewhat wan, but with the shade on the shutters, chosen to be a few tones darker, the room looks layered and interesting.
9. Try green bathroom paint ideas – with caution
We love this bathroom paint color, but if you're considering venturing a green paint color like this on to your walls (and even ceiling), do it with these tips in mind:
Your reflection will look a little green unless your mirror is very close to a window.
If the room is light-starved, a white ceiling and white woodwork, matched with a pale-colored floor, will make the room feel brighter.
Despite being a vintage-feel shade, this green looks great matched with more contemporary fittings; choose linens and fuss-free accessories to best complement the color.
Make sure your artificial lighting mimics daylight as much as possible so that the room doesn't look murky at night.
10. Paint a roll top bath
Not quite brave enough to paint your walls in your favorite bold shade? If you've installed a paintable roll-top bath, you can get the best of both worlds by changing the color of its underside as often as you buy a new set of towels to match. Keep the walls in a neutral shade and you'll never run out of complementing shades...
11. Choose a strong blue for a contemporary twist on a period feel
If your bathroom has large windows, lucky you because so many bathroom paint colors will work. You can afford to go for a deep shade, with no fear of loss of daylight – just keep all the other surfaces, from sanitaryware to woodwork, white and bright. This vivid royal blue bridges the gap perfectly between contemporary and trad – perfect for a modern take on a period scheme.
12. Go for oatmeal and add colour with accessories
Bathrooms can feel cold and unwelcoming if they're decorated in pure white – but add a hint of creamy brown to the bright white and you have a warm, neutral shade that makes the room glow even on dull days, and definitely under lamplight. And, if you want to switch up the colors in the room, you can do so with an ever-changing array of colorful towels.
13. Pick an easy-to-live-with aqua bathroom paint idea
Blue can be a cool shade that's not best suited to a bathroom – although is often a go-to choice. But you can get it right if you choose a warm shade of blue, in other words, one that has a decent helping of yellow in its makeup. A fine example is teal: lighter teals being better suited for making small bathrooms feel larger and lighter, deeper shades creating a more dramatic finish and a great contrast for white sanitaryware.
14. Experiment with blue black for a hotel feel
Inspired by the bathroom paint color schemes you've seen in boutique hotels? You can achieve this look yourself with a deep, dark, inky shade for walls, but keep ceilings and floors white to help bounce light around – and add texture and glamour with artworks, gilded mirrors and, if there's space, an armchair (although you can add similar luxe with a deep pile bath mat and fluffy towels).
15. Want a country-style feel? Choose a pale sage green
If you're after a country-style feel, picking a bathroom paint color in a natural shade, and matching it with wood and a soft, creamy white, will give you the desired effect. A whole room of pastel green could be a bit much so pinch this trick and only paint a quarter of the way up the wall so the pastel color doesn't overwhelm the space.
16. Quick bathroom paint idea? Paint your bathroom door
Want to give your bathroom a splash of color but don't fancy committing to painting any walls? Try painting the door instead. We love how this deep blue (try something like Farrow & Ball's Stiffkey Blue) looks in this clean, all-white bathroom, adding just the right amount of color to stop the space from look too clinical.
Check out how easy to can be to paint an interior door yourself with our step-by-step guide.
17. Go for a stylish pink bathroom paint colour
We are still seeing that blush millennial pink everywhere, and while with love it on our nails, our clothes and in the form of a cocktail, painting a whole room in that Barbie-ish shade might be a bit much. So opt for a more grown-up duskier version – we love Farrow & Ball's Setting Plaster or Benjamin Moore's First Light. Pair it with darker fixtures too, these pale pinks work so well with a really dark blue.
18. Combine bathroom paint colour with wallpaper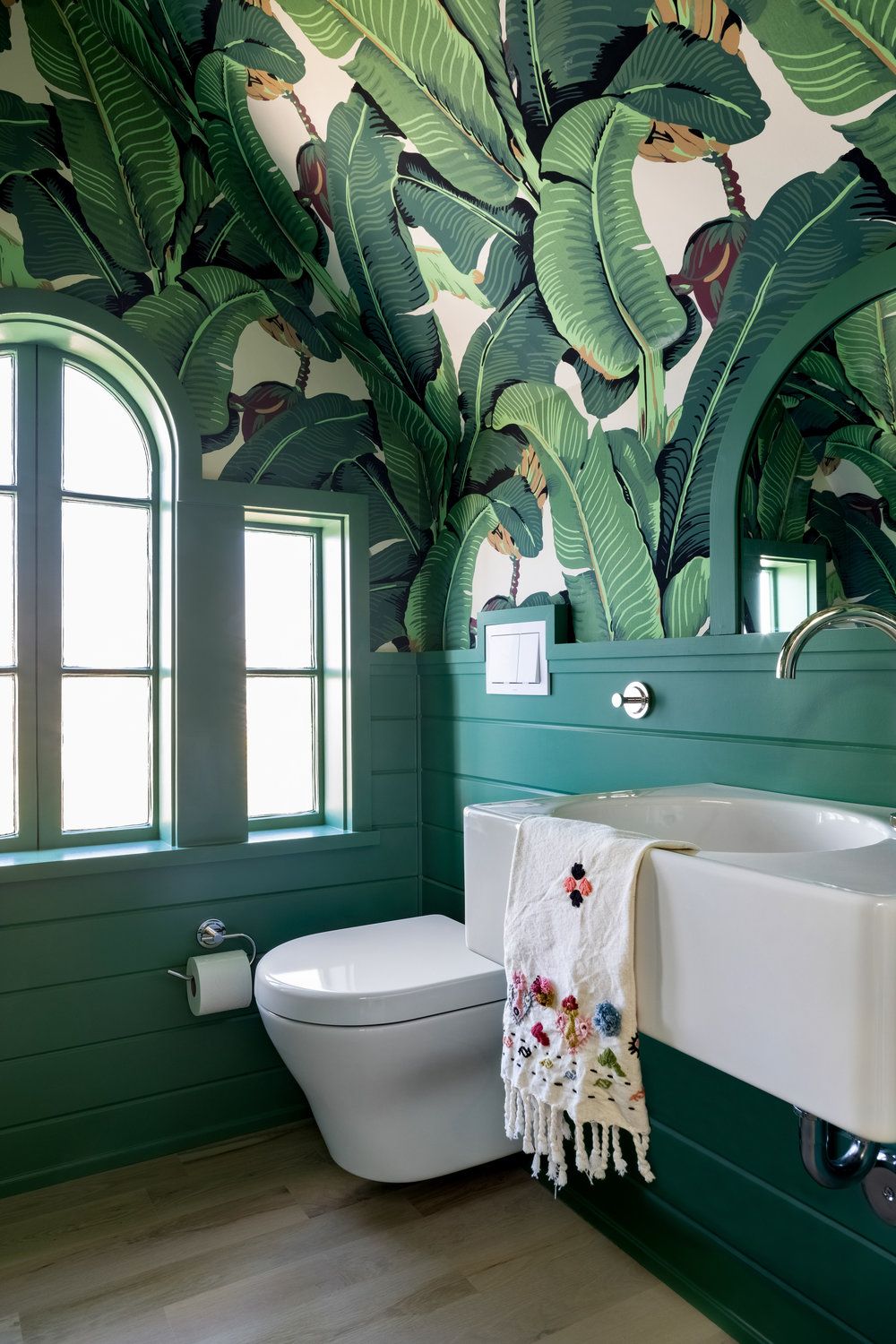 That's it. We are done. We have found the coolest bathroom paint idea ever. How can you look at this bathroom and not want to copy some aspect of it? We love how the teal paint works with the banana leaf print wallpaper, but you could pick your fave paper and get a color match for a hue that's within that and achieve a similar effect.
19. Add a chic softness with a lavender bathroom paint
Offt, pale lavender and gold? So dreamy, especially in a bathroom, it's just such a soft but very chic look that will work in any size space. Our fave lavender paint is Farrow & Ball's Calluna, it's super pale so if you are a colorphobe, just try it! Promise you won't regret it, just warm it up with some cream and coppery golds.
20. Add touches of subtle color
It's okay to not want full on color in your bathroom, sometimes a block of color can be all that's needed to revamp a space. And in this case, the dusky pink painted basin unit is the focal point of the bathroom and the rest of the scheme can be designed around it.
Because the walls are white you can add in color in other areas – the tones of the exposed brick wall and the patterned flooring all add to this light and airy bathroom.
21. Mix inky blues and crisps whites
We've shown you how darker tones add a dramatic feel to a bathroom before, but how about mixing one with a fresh white? This inky shade looks stunning teamed with the white painted brick work, sanitaryware and basin worktop. It adds a modern twist to this kind of look and the walnut effect mirror and basin unit add in an extra color that visually warms up the bathroom space a treat.
22. You can't go wrong with grey
Remember a few years ago when grey was all the rage? Well it never faded away… so you can still be super cool and use this versatile color in your bathroom. A lighter shade will help to bounce light around a low ceilinged space and here, the vertical lines of the tongue and groove help to give the illusion of height – we also love that the window frame is painted in the same color, it gives a contemporary feel to a period property.
Love this bathroom? You can find plenty more grey bathroom ideas over in our full gallery.
23. Create a pretty pastel scheme
For a north facing bathroom it's a good idea to choose a warming shade and if you're normally a fan of off-whites why not consider a stone color? This creamy sandstone is enough to warm up a space whilst still retaining a light feel. Add in a couple of other pastel shades like mint and blush and you'll have a really pretty scheme.
24. Don't be afraid to use red
Warm shades like red offer a more cocoon-like feel to a space, and if you have a large bathroom that doesn't feel cosy then consider upgrading your wall color. There are many shades of red, some have a blue hint, others more orange, go for one that sits in the middle – a blue hint will make the room feel colder. Keep the woodwork white for a smart finish and add in accessories in shades of grey, coral or taupe to soften the overall look.
25. Pair together similar tones
We mention above that lavender is a great colour choice for a bathroom and one way to take this further is to add a darker shade from the same colour on another wall - like this deeper more mauve shade on the right. It adds depth to a room and is a great way to zone different areas – like the paler hue is the bath area for example. Then a further color is added with the floor tiles that creates the decorative aspect contrasting against the flat matt walls.
What are the best paint colours for small bathrooms?
Light paint colors are best for small bathroom spaces as they will make the room feel bright and more spacious, but if you get lots of natural daylight in the room, there's no reason not to go for an inky or bold shade, provided you ensure artificial lighting is good enough to keep the room well-lit at night. The light cast by the wall color is important too when painting bathrooms so be sure to visit the space at different times throughout the day, to see how this changes, so that you can take this factor into consideration.
Which paint finish should you choose for bathrooms?
The paint finish in a bathroom needs to be moisture-tolerant, as this is (obviously) a humid space prone to splashes and the occasional drenching. That doesn't completely discount an emulsion paint, especially if the room is well ventilated, but if you do opt for this finish, be prepared to redecorate more frequently.
For an even simpler life, choose wipeable bathroom paint that is mould-resistant and appropriate for the surface you're using it on, whether the walls, woodwork, furniture or even the floor.
To help you out we've rounded up the best bathroom paints.