Searching for the best scented candle to buy this autumn? Whether it's for yourself or as a gift, our fragrance expert can help. She has tested a load of candles, from the likes of The White Company, Jo Malone and DW Home, and these are her favourites just below.
We love a scented candle just as much as the next person, in fact, we believe that home fragrance is the cherry on top of lovely home decor. A candle can help set the mood and atmosphere of space, plus a delicious-smelling fragrance can put your mind at ease, energise a dull room, or add to seasonal celebrations.
Choosing a candle is all down to personal preference as some of us might prefer a fresh fragrance while others will be a fan of floral scents, or warm or spicy candles might be more of their thing. Whether you're looking for a subtle, striking, or in-between scent, we've rounded up a shortlist of the best candles that are brilliant for lighting at home. We've tried, tested and we approve of every single one of the 19 candles listed below. We can't promise this decision will be easy...
Which is the best scented candle?
Why you can trust Real Homes Our expert reviewers spend hours testing and comparing products and services so you can choose the best for you. Find out more about how we test.
Which candle wax is best?
From testing a bunch of candles, and speaking with a few experts, we know our stuff when it comes to candle wax. Our favourite candle wax has to be soy, though it's not as easy (or as affordable) as you'd hope to come by. If you're on a budget then paraffin (otherwise known as mineral wax) is your best bet.
Here's a quick comparison of the two types of wax from Interiors and Home Expert, Stephanie Goldstone, from The Fragrance Company (opens in new tab).
Soy: Eco-friendly, better for your health, melts faster, not easiest to clean but offers a longer burn
Paraffin/mineral: Common, holds a lot of fragrance, normally cheapest, easy to clean from a vessel, clean burn but leaves behind soot
24 of the best scented candles
(opens in new tab)
1. Yankee Candle Witches Brew
Burn time: 110-150 hours
Size: 623g
Notes: Cinnamon, patchouli, jasmine, vanilla
Wax: Premium-grade paraffin wax
If you're not one to fan-girl over Autumn, let alone Halloween-scented candles, don't be surprised if Witches Brew takes you under a smell spell. Whether it's the mesmerizing potion of patchouli, woody cinnamon, and clove, or the dark wax in the clear jar, it's a subtle nod to the spooky season if you're not for full-on dramatic decor. When Christina lit the wax, it did tunnel (a common problem with paraffin-based candles) but on consecutive burns, it sorted itself out.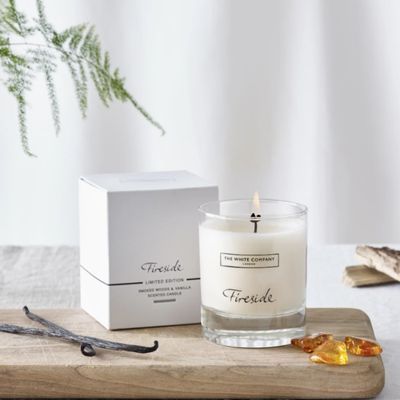 (opens in new tab)
2. The White Company Fireside Candle
Burn time: 33 hrs/ 70 hrs
Size: 140g/770g
Notes: Smoked Woods, Birch & Amber
Wax: Mineral
The ultimate scented candle for autumn, this candle imitates the fragrance of a roaring fireplace. It's cosy, warm and the perfect addition to a living room. It's poured in the UK and comes in a classic glass vessel and it comes in a range of sizes. We buy it year after year, and guests always comment when it's burning.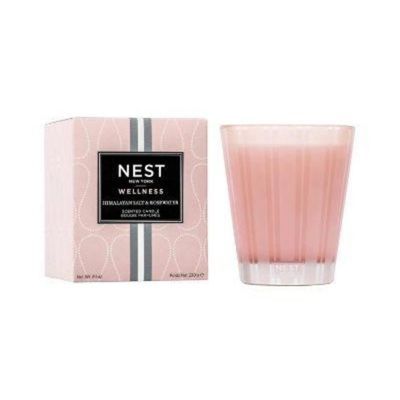 3. Nest New York Himalayan Salt & Rosewater candle
Burn time: 50-60hrs/75-100hrs
Size: 230g/600g
Notes: Floral
Wax: Paraffin
This has to be our favourite candle for year-round use. Not only does it look luxurious, but it smells incredible. We tested the three-wick version and it floods an entire room with its fragrance. It even offers a clean burn, too. We love using it in our bedroom, but it works well in living rooms and hallways, too. It comes in a luxury pink-tinted glass vessel that's frosted with stripes.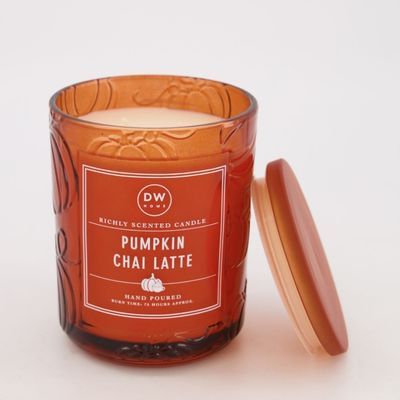 4. DW Home Pumpkin Chai Latte
Burn time: 56hrs
Size: 765g
Notes: Pumpkin, vanilla, nutmeg, ginger
Wax: Coconut, palm, paraffin
We recently picked this up in our local TK Maxx, and to say that it smells like autumn and Halloween would be an understatement. It's spicy, warm and simply just the perfect combination to burn once the weather is cold. Its fragrance also floods a large room with ease. Not to mention it's huge, it has two wicks and its large orange glass vessel will be sure to make a statement. The vessel is also etched with pumpkins and would look lovely as storage after use.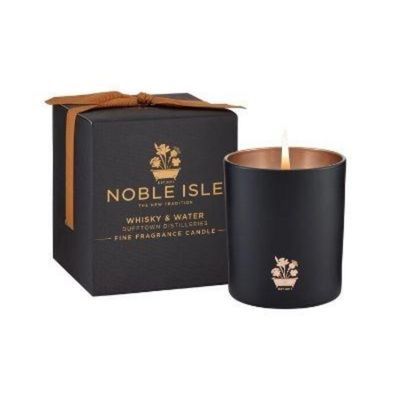 5. Noble Isle Whisky and Water Candle
Burn time: 35-45hrs
Size: 200g
Notes: Whisky, tonka bean, amber
Wax: Mineral
When we say that Noble Isle's Whisky and Water Candle is spicy, we truly mean it. It's also powerful so that you can smell it before it's even lit. It's great for lighting in the autumn, as it's nice and warm and impressively fragrant. We love it for a larger room, or a home office as it's quite a serious scent. The vegan formula definitely isn't one for lighting in summer or spring, whilst it sits inside a matte black glass vessel.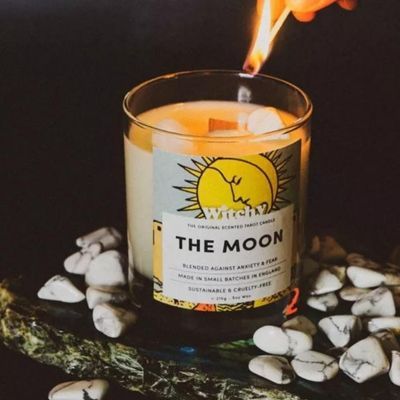 6. Witchy The Moon Tarot Candle for Anxiety & Fear
Burn time: 50hrs
Size: 215g
Notes: Ginger, Cinnamon, Vanilla
Wax: Soy
Searching for another candle for autumn? This warming blend can fill an entire room with its impressive fragrance. Plus, it boasts an even burn and we say to light it inside a hallway, bedroom or living room, simply because it's wow-worthy. It's never too heavy, and the cinnamon doesn't take over. With an FSC-certified wick, it's even made using soy wax and is vegan and cruelty-free. Inside the wax sits two ethical crystals that will need to be removed once the wax has melted.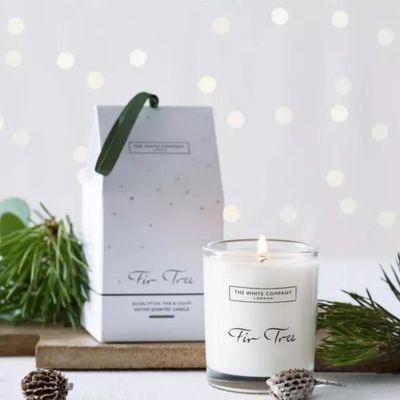 (opens in new tab)
7. The White Company Fir Tree Candle
Burn time: 5hrs - 135hrs
Size: 14g - 1555g
Notes: Eucalyptus, pine, cedar
Wax: Mineral
The White Company's Fir Tree candle is, without a doubt, our best pick for winter. Why? It smells like your Christmas tree, but better – and 10 times more fresh. Though wintery, it still manages to give off a slightly ozonic fragrance to leave your rooms smelling fresh. We definitely suggest placing it in your living room, otherwise, it works great in a hallway to greet your guests with a festive fragrance.
This candle currently isn't sold on The White Company website as it is out of season. Check back later in the year for a link to buy.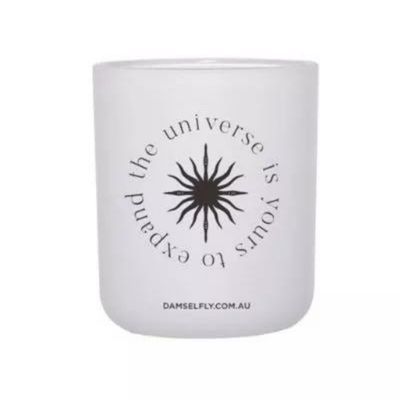 8. Damselfly Grace Universe Candle
Burn time: 60hrs
Size: 300g
Notes: Vanilla, clove bud, citrus, florals
Wax: Soy
This incredibly gentle yet sweet fragrance has the ability to fill a room from corner to corner, and we think it's the ideal scented candle for use almost anywhere in your home. We love it for spring and summer, whilst it burns super clean. It's made using soy-based wax with a burn time of 60 hours and two lead-free cotton wicks.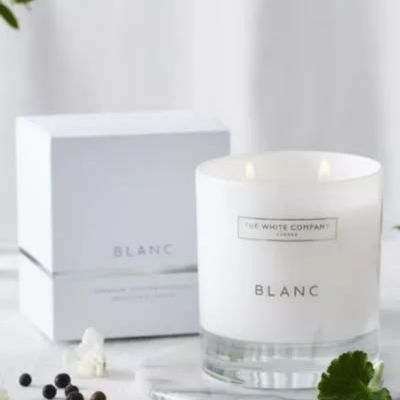 (opens in new tab)
9. The White Company Blanc Scented Candle
Burn time: 55hrs
Size: 280g
Notes: Geranium, juniper and patchouli
Wax: Mineral
Blanc has to be our favourite crowd-pleaser scent from The White Company. Light this candle at any time of year, and in any room in your house, to wow guests and complement your interiors. This subtle fragrance is a crispy floral fragrance that fills an entire room, and we love the two-wick size the most. It works well in living rooms or bedrooms, and it burns clean though you can expect some soot around the corner of the elegant vessel.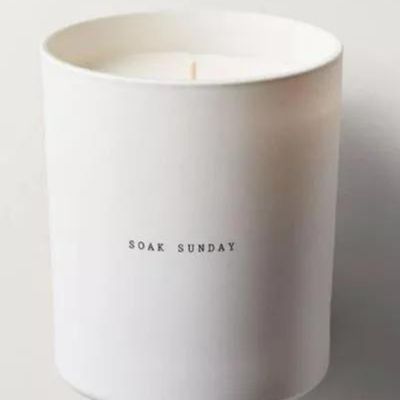 (opens in new tab)
10. Soak Sunday Cleo's Paradise Honey & Oat Scented Candle
Burn time: 35hrs
Size: 230g
Notes: Vanilla, honeycomb, gently roasted oats
Wax: Unsure
This exquisite blend will be sure to impress all year round – in both looks and design – as it's a fitting yet subtle blend of honey and oats with an impressive throw performance. We'd recommend confining it to your bedroom, hallway, or living room as it's too nice to use in a bathroom or kitchen. We've had guests comment on the scent of this candle, whilst we love the simple yet stunning white glass vessel that this candle is poured inside. It burns clean though you'll need to trim the wick often.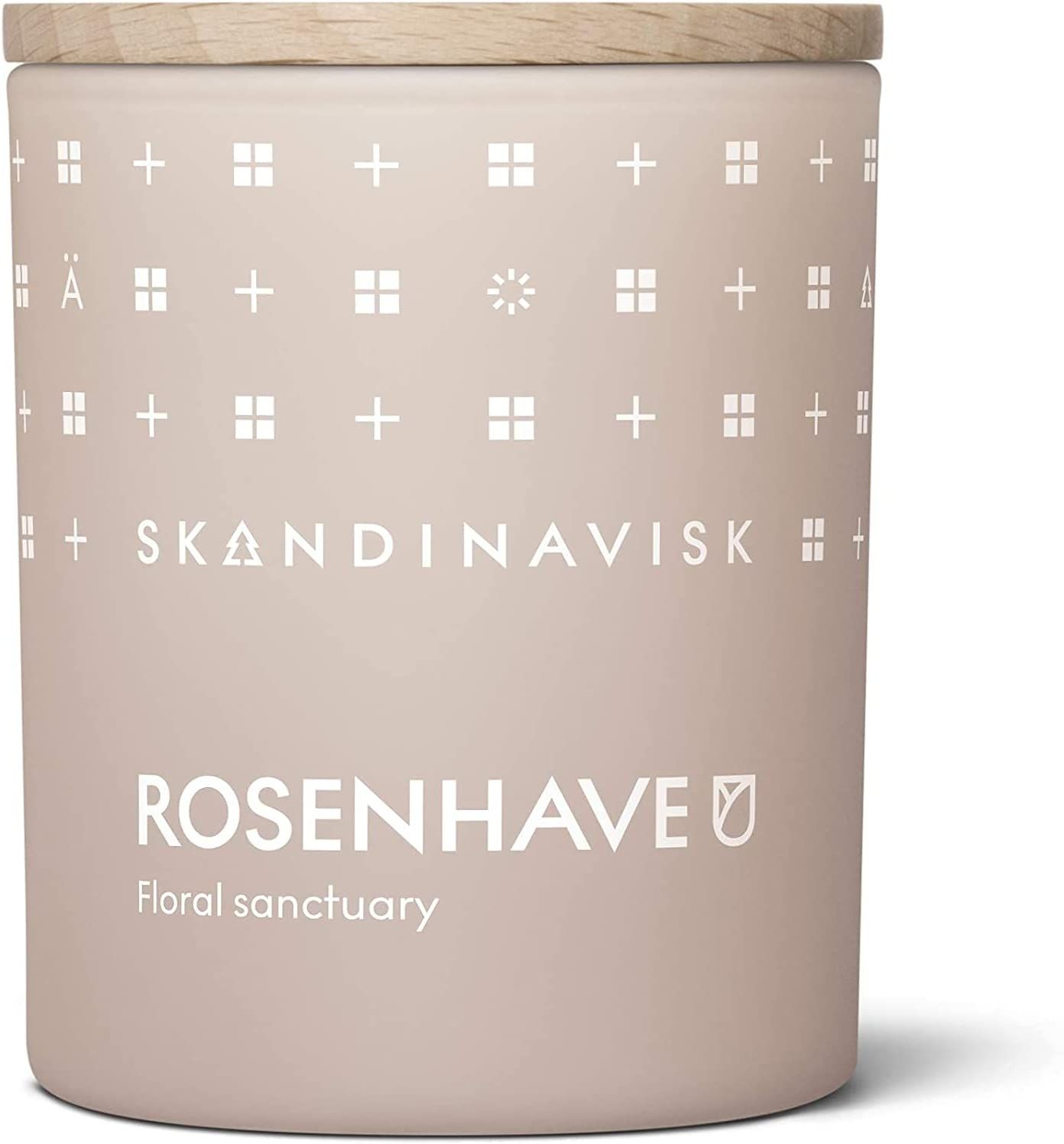 11. Skandinavisk Rosenhave scented candle
Burn time: 20hrs/50hrs
Size: 65g/200g
Notes: Alba rose, elderflower, blackcurrant buds, lily of the valley
Wax: Swedish rapeseed oil
This floral fragrance is eco-friendly and perfect for summer and spring, thanks to its delightful floral aroma. Perfectly subtle yet still fragrance, it sits inside a pink recycled glass vessel that's decorative, with a wooden lid to prevent dusting. It's vegan, cruelty-free and organic, and it burns clean.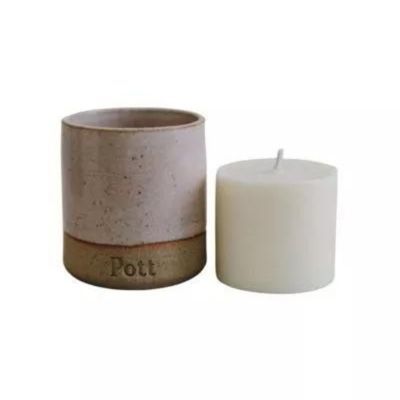 (opens in new tab)
12. Pott Candle Scented Candle
Burn time: 20hrs/60hrs/70hrs
Size: 80g/290g/600g
Notes: Various
Wax: Rapeseed and coconut
This eco-friendly and handmade candle encourages you to reuse the same candle vessel (known as a Pott). Our favourite scent has to be the 100 per cent natural Mint fragrance as it's herbal yet creamy and inviting, plus it burns clean. The idea is that you can switch up your fragrance as the seasons change, and candles are scented using 100 per cent natural essential oils.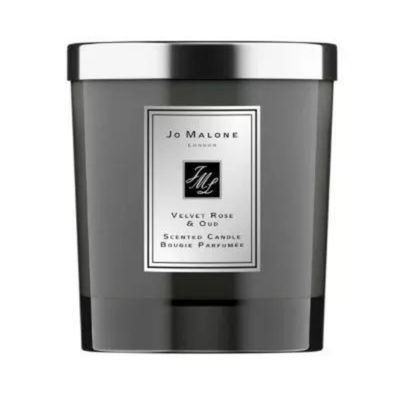 13. Jo Malone Velvet Rose & Oud Scented Candle
Burn time: 45hrs
Size: 200g
Notes: Damask rose
Wax: Soy
This gorgeous candle is serious without ever being too floral. It's an elegant blend of rose and smoky oud wood, making it classy and unique in comparison to other floral fragrances. Though it is strong and sometimes it can scent a room without even being lit. It comes with a lid to conceal its fragrance and to act as a protective plate when the candle is burning. Crafted with natural cotton wicks, we tested the limited edition version which had black wax. It gets top points for luxury.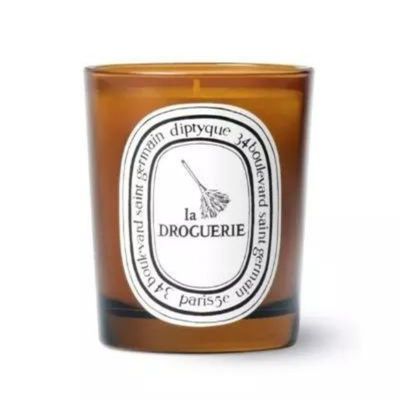 14. Diptyque La Droguerie scented candle
Burn time: 60hrs
Size: 190g
Notes: Basil, mint, tomato leaves
Wax: Paraffin
Made in France and designed to banish odours in your kitchen whilst cooking, this candle is scented with basil, mint and tomato leaves. Light it 30 minutes before you cook and blow it out 30 minutes after to be wowed. It offers an impressively clean burn from start to finish, and its amber glass vessel looks super luxurious. From the deliciously delicate piece of fish you've just made for guests, to the rather unpleasant smell of your deep fat fryer doing its magic, it can tackle any task.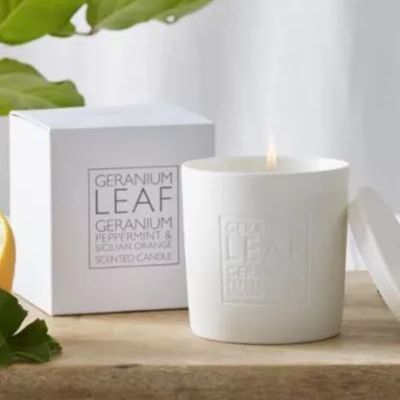 15. The White Company Geranium Leaf Candle
Burn time: 40hrs
Size: 210g
Notes: Geranium, peppermint, Sicilian orange
Wax: Mineral
This herbal home fragrance is uplifting and anything but subtle as it's a unique citrus blend with added herbs and fruits. It's ideal for placing in a kitchen or bathroom, whilst it's better suited for smaller spaces and can definitely be used year-round. Filled in the UK using high-quality mineral wax, it sits inside an elegant white ceramic vessel, complete with a lid. Though it burns clean, just bear in mind it leaves behind a little soot.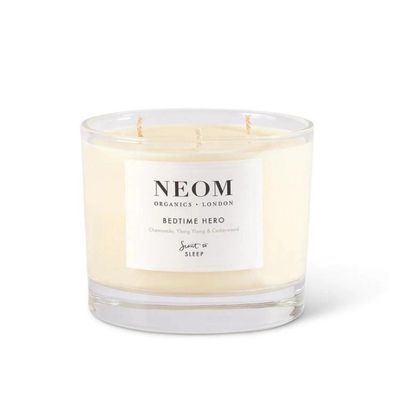 16. Neom Bedtime Hero Scented Candle
Burn time: 50hrs
Size: 420g
Notes: Chamomile, ylang ylang, cedarwood
Wax: Vegetable
Light this candle for a couple of hours or so before you sleep to get you there peacefully. Fragranced with 11 essential oils to soothe, this fruity yet sweet smell is designed to fill a bedroom from corner to corner. It burns super clean and is soot-free, though you'll want to keep your wicks trimmed at all times as they tend to curl. You might want to avoid lighting it in smaller bedrooms, however, as it can be quite strong.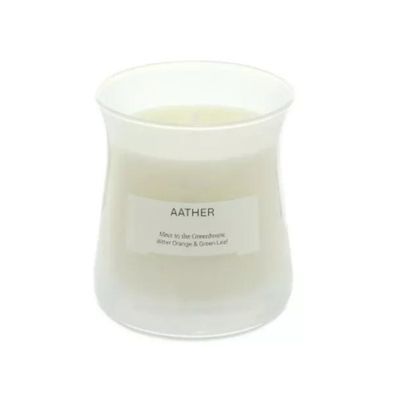 (opens in new tab)
17. Aather Meet in the Greenhouse Bitter Orange & Green Leaf
Burn time: 55hrs
Size: 220g
Notes: Bitter orange
Wax: Beeswax
Aather's beautifully shaped Meet in the Greenhouse smells like fresh air but even better, with a twist of bitter orange with underlying woody notes for good balance. This is why we say it works best in hallways, to flood a fresh combination scent through all of your rooms, subtly. You can really light it anywhere including in a living room on a coffee table, or even in a bathroom or kitchen to give off a fresh fragrance. Just avoid smaller rooms as its blend might be overpowering. It burns evenly from start to finish but this candle did leave behind soot when we used it at home.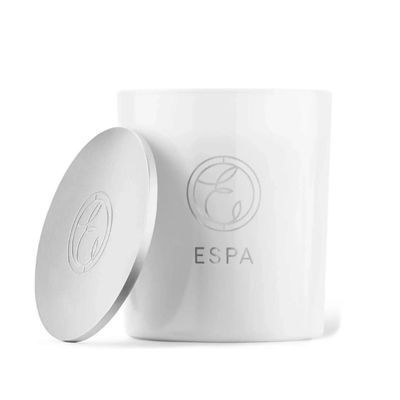 18. ESPA Restorative Candle
Burn time: Unsure
Size: 200/g/410g
Notes: Rose, orange, lavender, palmarosa
Wax: Soy
This ESPA candle is scented with essential oils and is ideal for lighting in springtime. Whether you want something to burn whilst doing your spring clean or as you take a dip in the tub, this candle can do the job at hand. We love it. With both floral and sweet nods, this ESPA candle can fill an entire room, no matter its size. It's never too sweet or too heavy. Poured inside a white glass jar with a metal lid for standing atop.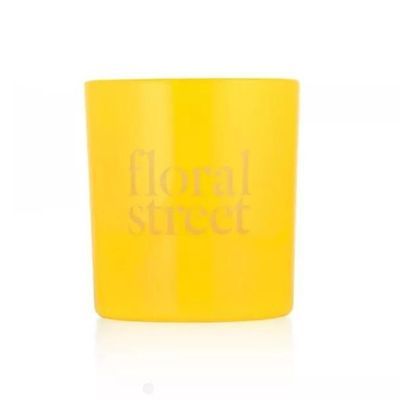 19. Floral Street Vanilla Bloom Candle
Burn time: 40hrs
Size: 200g
Notes: Vanilla, plum, ambroxan amber, cashmere
Wax: Soy
This candle is warm, creamy and best of all: not too powerful once lit. We think this is a candle you can light at any time of the year, whether during summer on a cold evening, or in the winter for a welcoming effect. It sits inside a yellow glass vessel so as to stand out as much in looks as it does in scent. Floral Street is vegan, cruelty-free and sustainable and all of their products are responsibly made.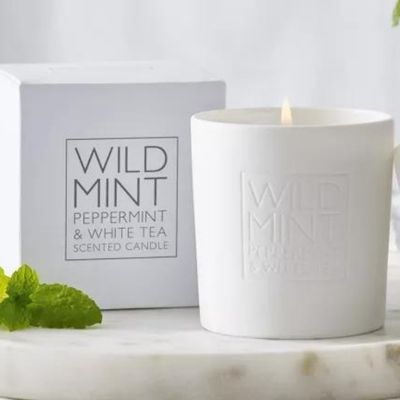 (opens in new tab)
20. The White Company Wild Mint Candle
Burn time: 45hrs
Size: 210g
Notes: Wild mint, tea, peppermint
Wax: Mineral
Another refreshing candle on our list, The White Company's Wild Mint is a bestseller for a reason. It's unobtrusive while also being the perfect fresh fragrance for your kitchen. That being said, it also works great in a bathroom or hallway. Just avoid lighting it in small rooms as its herbal scent may become overpowering. Unlike other The White Company candles, this fragrance is housed inside an elegant white ceramic container, with a lid. It burns clean, although watch out for soot in the vessel as it may produce some whilst burning.
(opens in new tab)
21. Yankee Candle Soft Wool & Amber
Burn time: 65-75 hours
Size: 411g
Notes: Jasmine, white amber, vanilla
Wax: Premium-grade paraffin wax
What distinguishes this Yankee Candle scent from the rest of their collection is a comforting fragrance that feels like you've wrapped yourself in a cozy knitted throw or jumper. If you've been put off by sweeter scents from the brand in the past, consider this 'cleaner-smelling' wax which fills the room with neutral notes of gentle white flowers, without feeling overly feminine or sickly. Definitely one for if you want to celebrate the colder months, but don't like overtly seasonal fragrances. Looks right at home in your living room, or as a nice welcoming surprise in a guest bedroom.
(opens in new tab)
22. No 01 — Bergamot, White Rose, Oakmoss by Siblings
Burn time: 60 hours
Size: Makes one 10oz candle
Notes: Bergamot, rose, geranium oakmoss, musk
Wax: An eco-friendly coconut blend wax
Move over candle-making workshops. When the nights get cold and you're not feeling social enough for Zoom or IRL craft sesh, this is a great DIY candle kit for having some me-time. All you need to do is remove the lead-free cotton wick and wooden wick holder from the bag, microwave the open bag of wax for around two minutes, place the wick into your chosen vessel, and carefully pour the hot liquid in. Et voila, a non-paraffin wax candle, that you created yourself. Smells like you're steeping a fragrant middle-eastern tea! Ooh, and after you're done with the biodegradable bag, pop it in your compost bin.
(opens in new tab)
23. Polkra x Katie Scott candle in Ondine
Burn time: 45 hours
Size: 600g
Notes: Smokey oud, spices, and antique leather furniture
Wax: Beeswax and rapeseed

Autumn (aka the spooky season) is the prime time to dress our home in creepy crawlies. But, instead of decorating your home with gross bugs, choose this gothic-chic candle that goes gung-ho on the entomology trend. Painterly fauna and florals envelop this hand-illustrated candle which is filled with smokey oud-scented, ethically-sourced ingredients from England. Yes, it's on the more expensive side, but you can easily refashion the pot into a beautiful vessel for pens, flowers, plants, or makeup brushes! Adds dark drama in a contemporary scheme, but we can definitely see this suiting a Victorian period home, with stained glass windows.
24. Berries, Peach and Bergamot by Hampton & Astley
Burn time: 50 hours
Size: 235g
Notes: Ripe blackberries, sweet peaches and citrus
Wax: Beeswax and soy wax
Fresh and fruity scents aren't just for Spring! And while peaches aren't a fruit we'd associate with Autumn, when paired with jammy berries and a squeeze of zesty bergamot, this harmonious combination just works. It's a great respite to the usual spicy, gingerbready aromas we're more familiar with this time of year. Because of its clean(er) nose, we lit this candle while indulging in a bubble bath. The fresh fragrance (derived from essential oils) enhanced our self-care experience so we can imagine it would make a great gift too. We love the heritage feel of the branding, complete with rose gold stag and fawn. The mirrored silver-plated metal lid is the cherry on top of this already premium-looking product.
---
Real Homes review process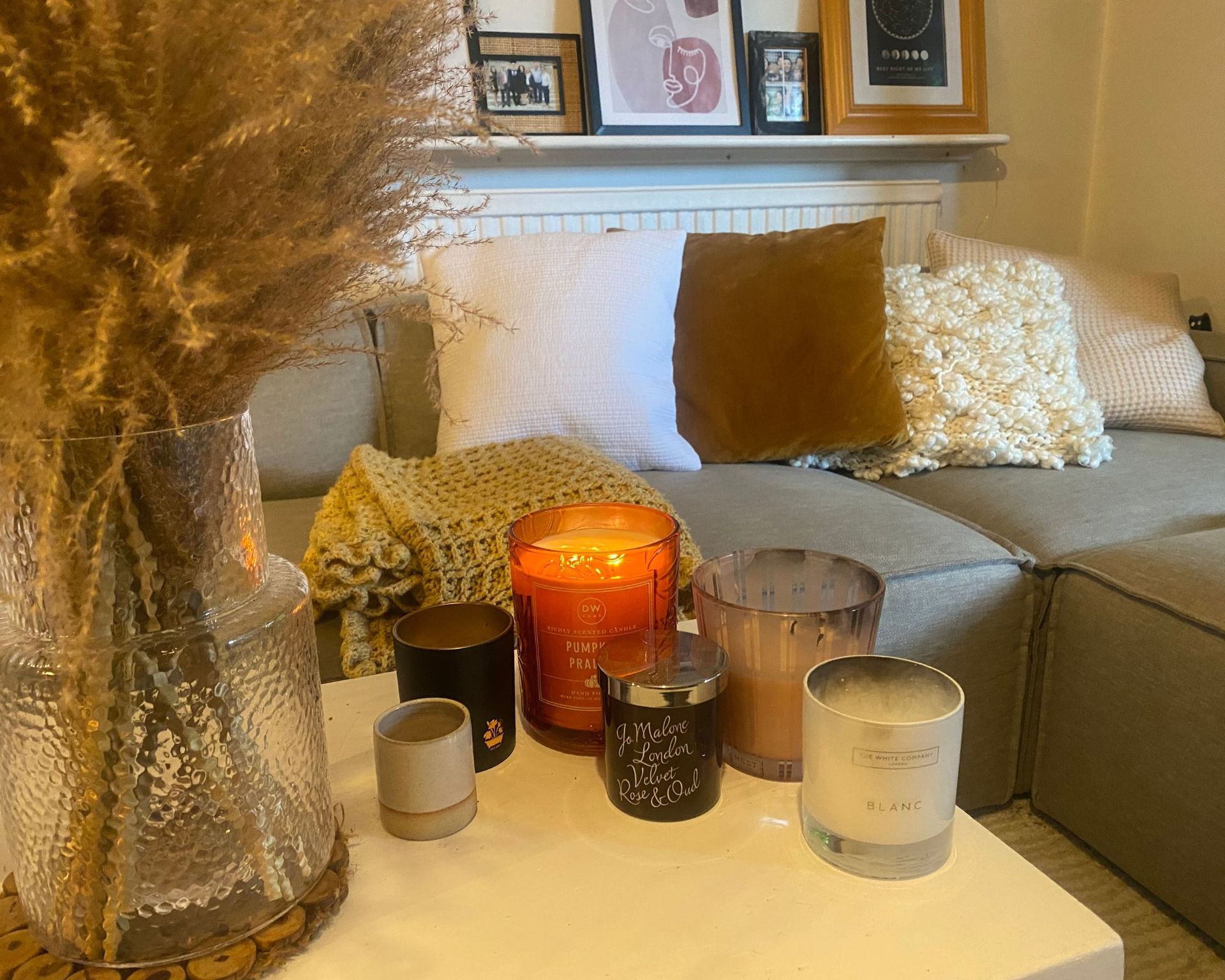 Each and every one of these candles in this guide has been tested by a member of the Real Homes team. We try to test these candles until they've burned half way, whilst considering everything from their throw ability to how clean they burn, and of course: their scent and packaging. We've had hands-on experience with 30+ candles, so the ones in this guide are the best of the best.
Whilst testing these candles, we are aware of our environmental impact which is why we've also written a guide on what to do with leftover candle wax, and how to reuse a candle jar.
For more info on how we test products here at Real Homes, you can visit our about page. Meet our main candle tester below.
Annie is our main home fragrance tester, and she has a love for anything that will help her home smell nice — and disguise odours her two pets might muster. She lives in a spacious 2-bedroom flat in South East London and whilst testing these candles, she's sure to move them around her home. She's forever on the lookout for new scents and loves anything warm and spicy. In the summer, she prefers fresh fragrances.
Her favourite candles she's ever tested have to be Nest New York's Himalayan Salt & Rosewater candle (opens in new tab), for year-round use. And for autumn and winter, she's obsessed with The White Company's Fireside fragrance (opens in new tab).
Christina is our cleaning expert, and while many of the supplies on the shelves come in attractive scents, some sprays and solutions leave a strong, chemical odour. So, after a day of scrubbing and elbow grease, she loves nothing more than lighting a scented candle to fill the room with fragrance.
Her favourite candle at the moment is the Yankee Candle in Soft Wool & Amber (opens in new tab). She's not usually a fan of sweet scents but is pleasantly surprised by the way it burns in her Scandi living room, displayed on a DIY wooden ladder shelf. Hygge in a jar. She's also recently tested the Yankee Candle in Witches Brew (opens in new tab) and was very pleasantly surprised by the lightly-spiced scent.
The most recent sample she received was the No 01 — Bergamot, White Rose, Oakmoss (opens in new tab). She found the do-it-yourself process novel, and is impressed by the complex portfolio of scented wax that Siblings has.
How to know which scented candle I should choose?
"When scenting your home, the most important thing to note is what season it is" explains Interiors and Home Expert, Stephanie Goldstone, from The Fragrance Company (opens in new tab). "You want to create an ambience that either emulates the season, or completely juxtaposes it. For example during the winter seasons you want to create warmth with home fragrances, and for summer you want to create light, and airy freshness like being at the beach" she adds.
"Autumn is perhaps the most versatile scents of them all, complementing many different fragrances. It's at this time where you want to bring in earthy and natural fragrances and add subtle hints of sandalwood and ylang-ylang."
"Winter is the most scent-worthy time of the year! For winter home fragrance, opt for light pine, cinnamon, vanilla, and Neroli citrus for that warm and cosy feeling that will truly make you feel like you're living in a winter wonderland." We've rounded up some Christmas candles to tackle this task.
"Spring is the time of year when you're excited to be venturing outside again. Bring that excitement indoors by complementing your home with fresh scents of floral and notes of citrus. Fragrances such as lavender, jasmine and patchouli are great options."
"Summer breeze and beach holidays never cease to put you in a good mood, so bring that same mood into your home with light, fruity, and floral scents. Aromas such as coconut, geranium, gardenia, and a favourite of mine rose are all great staples. "
After this, your next consideration should be where your new candle will live...
For the living area, it's best to consider your aesthetic or decor. You can pretty much go for any scent in this room, from floral to herbal and even spicy. We would recommend going for a scent to match the season, and avoiding any heavy woody or spicy scents in the spring and summer. However, you do want to go for a strong scent, to fill each corner of this room especially if you spend a lot of time in here.
For kitchens it's best to reach for something lighter and airier; the last thing you want to do is compete with food aromas, so we suggest a herbal or ozonic aroma.
For a bedroom you'll want to opt for an aroma that's lavender or vanilla-based; you'll want to calm your senses and create a peaceful oasis. Anything scented with essential oils is also a great option for a bedroom.
3 things to consider when buying a candle
It's all too easy to be guided by price when it comes to buying a scented candle but the most important things are quality, burn time and fragrance. Think about the scent you want to fill your room with – something soft and subtle, calming and soothing or something that packs a punch? Some lose their smell too quickly so read buyers' reviews to see what others think of their purchase before you buy.
1. Consider the wax used
Soy wax candles are better for your health, as they burn cleaner and produce much less soot than paraffin versions. This helps keep your space pollution-free and is kinder on pets, too as well as avoiding stains building up on walls over time.
2. Consider the vessel
Your new candle will, righly so, be on display in your home. With this in mind, you'll want to choose a candle with a lovely vessel, that won't be an eyesore in your room. Avoid coloured vessels if your home is neutral and muted. Moreover, if you want to be able to give a candle as a gift, look for a design that comes in an attractive tin, box or jar with a luxe look. Candles are great accessories for room revamps or bathroom makeovers so choose the packaging carefully.
3. Consider the burn time paired with the price
Some large candles only have a short burn time, surprisingly enough. This is all down to the number of wicks, plus the type of wax and even the vessel plays a part in this. Consider the price of your new candle against its size and burn time. If it costs £50 and burns for 10 hours, you're paying £5 per hour to burn your candle. Just something to bear in mind if you light candles for long periods, or you like to light candles a lot.
Another way to fragrance your home is with a reed diffuser. These are safer to use than a candle, plus they emit a constant fragrance.
Browse more candles from our favourite brands...
Otherwise, you could always have a crack at learning how to make homemade candles.