Internal doors can often be a let-down to the overall finish of a scheme; failing to complement other decorative or design choices.
This may be because original doors may have been replaced along the way with plain versions that don't complement the house's period features. Or, in more recently built properties, they may look like ugly relics of another decade.
Replacing internal doors with a more stylish option needn't be a puzzle, though. Just use our guide to internal doors for everything you need to know.
And for all things doors – from restoration to painting – visit our dedicated hub page.
Which door style should you choose?
Why you can trust Real Homes Our expert reviewers spend hours testing and comparing products and services so you can choose the best for you. Find out more about how we test.
Think about the way in which the door will work both with the style of your interior and furniture, and elements such as the staircase and flooring, or any mouldings. This approach can work well in homes that retain plenty of original features.
That's not to say you have to match, however. Interior doors can create a standout feature by the choice of timber colour or grain pattern, or with colour.
If your home's architecture or interior is contemporary, a flat (aka flush) door can be a great complement, echoing sleek minimalist lines, as in the kitchen below.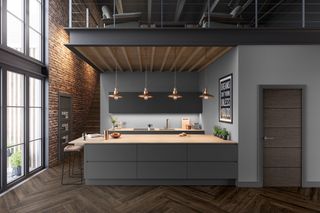 A panelled door, on the other hand, has more detail and depth, and can be either contemporary or traditional in effect.
If your home's Victorian and you want to reinstate features with original style, look out for classic panelled door designs or shop for salvage doors that can be trimmed to fit.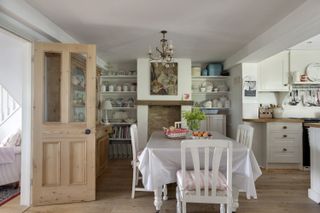 Tip:
Be aware of what exactly you're buying when you invest in new internal doors. Does the price cover just the door itself, or is it a doorset, including frame, architrave and hinges and so on? Check, too, if the handle is included in the set. If you're retrofitting, a separate door can be all you need, but a new opening will need a doorset.
How to buy period doors for a traditional look
Old doors are best thought of as antique furniture – after all you wouldn't discard a 200-year-old table just because it has a damaged leg. If well maintained, a door can last for centuries and should be relatively easy for a joiner to repair.
When you're choosing a door, a key consideration is the thickness, as the thicker it is, the more stable it is likely to be. Not all internal doors are made of solid, real timber, so be sure you know what you're buying. With hardwoods, check that the pattern of the grain and colour is what you want. If you opt for oak, remember that the appearance of English or European oak differs considerably from American white oak.
Some salvage yards offer a wide selection of internal doors. Before you buy any door, new or reclaimed, ensure that it is not cracked or warped. Beware of doors that have been commercially stripped to remove paint by dipping in caustic baths; this can result in shrinkage and distortion and may loosen joints and raise the grain.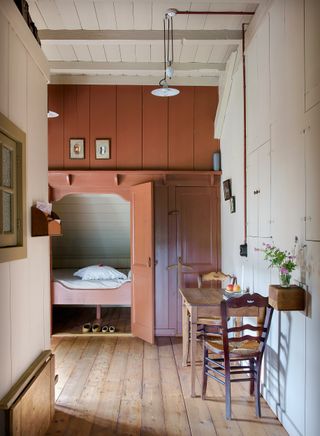 In the past, doors made of hardwoods such as oak or mahogany would have been polished but, contrary to popular belief, the 'traditional' look of stripped pine is historically inaccurate since cheap and knotty softwoods were either painted or 'grained' so that the surface resembled hardwood.
Try to avoid cutting doors down to fit an opening as it will spoil their proportions and weaken them. Before you decide to cut the bottom off a door to allow for the height of a new floor covering, remember that such irreversible changes are likely to outlive the flooring material.
Doors often stick but think twice about trimming the edges during damp weather or after building work where 'wet' trades have been busy as they may settle down once the atmosphere becomes drier and the heating is turned on. Heating can cause panels in doors to shift and crack so it is worth giving them time to acclimatise before decorating.
Can you put contemporary doors in a period home?
The home police won't come knocking if you use contemporary doors in an older home – although if your property is listed, you may need consent to change doors as they could be of historic value.
Other than in listed buildings, using contemporary doors can be a successful decorative strategy. Choosing those made from a material used elsewhere can be a good way to tie them into the rest of the interior, as can choosing handles and hinges that chime with other fittings.
Going for pale woods such as pine and ash can also be a good way to complement an older home, letting you select a more minimalist door style that doesn't jar.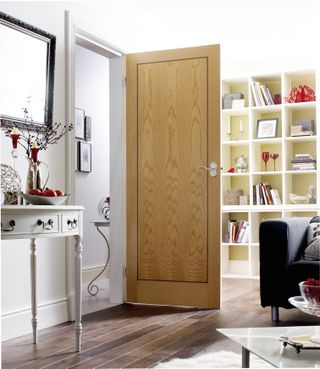 What are internal doors made from and what looks can you create?
Internal doors can be solid or hollow. Hollow doors are generally cheaper. On the downside, they are less robust.
Solid doors are heavier and, on the whole, more expensive but provide superior thermal and sound insulation. A solid core is usually surrounded by timber veneer. An engineered core makes the structure more stable because it's designed to resist warping in response to humidity.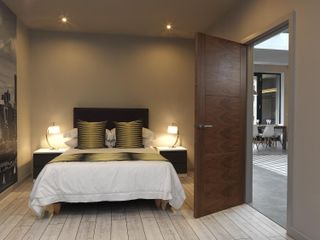 When it comes to the look, think about whether you prefer wood (or the appearance of it), or a painted finish.
A wood finish will introduce the warmth of a natural material. Light and mid-toned woods such as oak have enduring style, but if you're after a more eye-catching effect, consider richly coloured woods such as walnut.
Painted doors – or buying a ready-to-paint version and finishing it yourself – are frequently white, but there's no reason not to consider a finish that's dramatic or colourful. Bear in mind that painted designs can also reproduce the look of wood grain – a budget-conscious alternative to a wood-veneered door.
Find out how to paint a door perfectly in our guide.
Are glazed internal doors a good solution?
Internal doors with glazing are an excellent way to 'borrow' light from other spaces to keep the interior of a room as light-filled as possible. A door can be fully glazed or only feature glazed sections either horizontally or vertically, and there are glazed styles to suit both contemporary homes and older properties.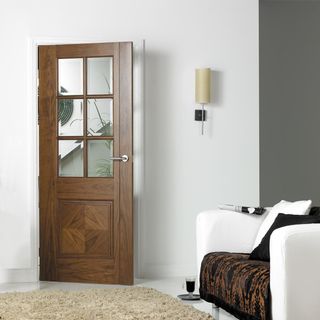 The glazing itself can be clear but there are also various styles of obscure glass, which will allow in light but retain an element of privacy.
There are glazed fire doors (see below) available as well.
Bear in mind that glazed doors are best used in the living spaces of a home, or in master suites. No one will thank you for leaving them with a bedroom in which they're on show.
Which doors are best to divide through rooms?
If you're dividing two rooms or creating an open plan layout, there's an opportunity to add stylish internal doors between the two spaces. You'll want to choose between glazed and solid versions.
Glazed doors
Create a stronger link between rooms using glazed doors. One room will be on view from the other, even when the doors are closed, which can also make both rooms feel bigger, as you can see further, as well as brighter.
Solid doors
Though solid doors won't have the space-stretching effect when they're shut, they're a great option if you want to spend time in more intimate, closed-off spaces and don't like the distraction of seeing what's going on in the other room.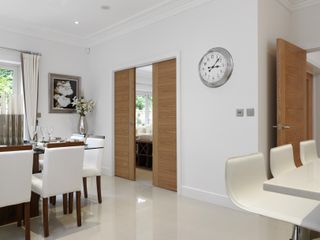 In terms of design, you might consider the following:
Bi-folding internal doors
Easy to open and close, as well as space-saving, bi-fold doors make a stylish addition to a home with a contemporary feel.
Double doors
While double doors are an option for some homes, do make sure you have enough room to open both wide when you want to fully connect the two spaces to avoid cluttering up one or other of the rooms.
Sliding doors
Sliding doors are another great option for dividing a room, though it's worth bearing in mind that sliding doors won't allow you to fully open the two spaces to one another.
That said, glazed versions will leave two spaces visually connected, which may be the effect you're aiming for. Consider them to divide a large bedroom into dressing area and sleep space, for example.
Barn doors, like this Grange Sliding Barn Door from Jeld-Wen, are another option if you're designing a space with a rustic feel.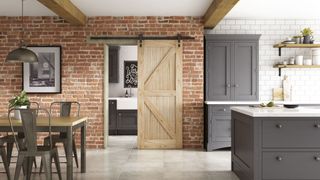 Pocket doors
Sliding away into a cavity in the wall, pocket doors are a space-saving option that'll allow two spaces to be fully open to one another. They are, however, more complicated to fit than other door styles.
Metal-framed glazed door systems
As well as dividing two rooms, metal framed glazed doors add a distinct industrial edge to a space. See our guide to metal doors and windows for more info.
Frameless glass doors
Perfect for maximising light flow, frameless glass doors maximise light flow when closed, and can slide into a pocket in the wall for a fully open doorway.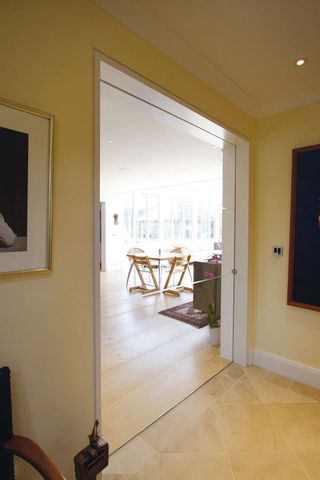 When do you need to fit fire doors?
Fire doors delay the spread of fire from one part of a home to another. Closed, they're a barrier to stop the fire's spread and open they provide a way to escape. They are tested and classified according to the resistance they offer to flames and smoke over a specified time – generally 30 or 60 minutes. This can be checked on the label found on the top of the door, which should also state the manufacturer's name and its unique traceability code.
Building regulations specify when a fire door is required – for example for homes of more than two storeys, or when you convert a loft. Integral garages also mean a fire door is necessary.
In addition, all essential ironmongery such as hinges, closers, locks and latches must be CE marked and fire protected otherwise the fire door will not be fit for purpose if a fire breaks out. Any small differences in detail, such as glazing, apertures, intumescent strips, door frames and ironmongery may significantly affect the rating.
Although not required, some people like to fit fire doors elsewhere – think from the kitchen, for instance.
Bear in mind that you will pay more for a fire door, and that it must be correctly fitted to enable it to do its job in the event of a fire, so call on a professional who's experienced in fitting them. As well as using the correct hardware and adding the certified strips, they will ensure that there is no more than a 3mm gap on the top and sides of the doors, and no more than 10mm gap on the bottom to the flooring. When fitting doors, it is essential to follow the instructions provided with them.
Should you opt for a painted door?
Painted internal doors have the advantage of being simple to refinish over time so that they come up looking as good as new. They also make it easy to change the entire look of a room as part of a redecorating project.
Opting for a painted door also allows you to match wooden window frames and door to give rooms – and even the whole interior – the consistency that makes a home look more designed.
Go for gloss paint for high sheen, satin for a more subtle sheen or the flatter effect of eggshell.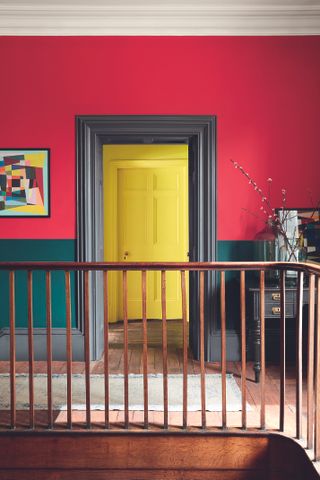 Which door colours are on trend?
If you're looking for a neutral finish, grey's a fashion-forward option for doors and will enhance the contemporary credentials of a room scheme – see our grey bedroom and grey living room ideas for inspiration.
Just like for walls, almost black, deep navy and rich green are also up-to-date options for painting doors. Try matching the door to a wall painted in one of these shades to create an uninterrupted cocoon that'll feel super snug rather than breaking up the wall shade with a block of white. Browse our dramatically moody room schemes for more ideas.
Alternatively, how about going bold in a 1980s-inspired yellow that'll create a sunny accent for a space, like in the hallway above?
Read more: