Choosing a traditional front door design for a period home is one of the most important elements of a house renovation: it creates an important first impression while also protecting your home from the outside world.
From authentic wooden planked structures to four-panelled Victorian doors in every colour of the rainbow, traditional front door designs are many and varied. With so many different colour, style, glazing patterns and design options, choosing the entrance to your home can be overwhelming. So whether you're simply looking to experiment with a bold new shade or are seeking to replace your whole door, take a look through our collection of the best front doors for period homes.
Find out more about renovating a house in our dedicated guide. And if you're considering repair rather than replacement, check out our expert guide on how to restore your front door to help keep yours in good condition.
1. Pick pastel paint for the perfect cottage feel
A wash of lavender, periwinkle or sage green adds a gorgeously quaint and fresh finish to a cottage home. Pastel is perfectly complemented by rustic flowerpots and a thatched roof – it is the perfect way to create that dreamy country finish. If you fancy a weekend DIY project, you can paint your door yourself, or buy one that has been pre-painted.
It is also worth noting that pastels are gaining increasing popularity in leafy urban areas, since their calming tones offer an antidote to counteract the grey shades of busy city life. Find out more about maintaining period front doors in our guide.
2. Increase kerb appeal with a bright colours
If you want your home to stand out, painting your front door in a strong, bright colour such as cobalt blue, rich reds or bright yellow will certainly increase your home's kerb appeal. Opt for a colour that not only complements the outside of your home but also reflects your interior style to create harmony between the inside and out.
For more advice about how to paint a front door, see our expert guide.
3. Celebrate your home's heritage with a reclaimed door
Look to reclamation yards and specialist dealers for a wide variety of authentic front doors. Reclaimed wooden doors are particularly stunning as patina and age adds a rich character to the door and to your home. It is also the most environmentally friendly option when it comes to replacing doors as it is a great way of recycling and saving energy. Find out more about how to choose a front door for your home.
If you opt for a reclaimed front door, inspect it closely to ensure the wood is a not warped, cracked or showing sign of rot. Ensure that the doors are all stored inside and have not had to brave the elements which can also damage the door. Try SalvoWeb (opens in new tab) for a salvage yard near you.
The biggest issue with a reclaimed door is going to be will it fit? Height, width and depth all need to be considered. Should a suitable size be unavailable, most doors can be trimmed by up to 25mm without an adverse effect.
4. Add character with personalised details and wrought-iron hardware
A simple way to revive a tired old front door is to update the hardware. Door knockers are a quaint way to add some personality to your front, they are best placed at head-height. Opting for an original, reclaimed piece is more likely to be unique but replicas give you greater flexibility at a fraction of the cost. Find further inspiration on our how to choose door knockers advice page.
Numbers and name plaques also add character to your home and help to make it stand out from neighbours. Depending on font, design, position and size, a plaque can set the tone for your house. Elegant script on a wooden plaque would look perfect on a country cottage, while bold chrome serif numerals will always shine on a Georgian panelled door.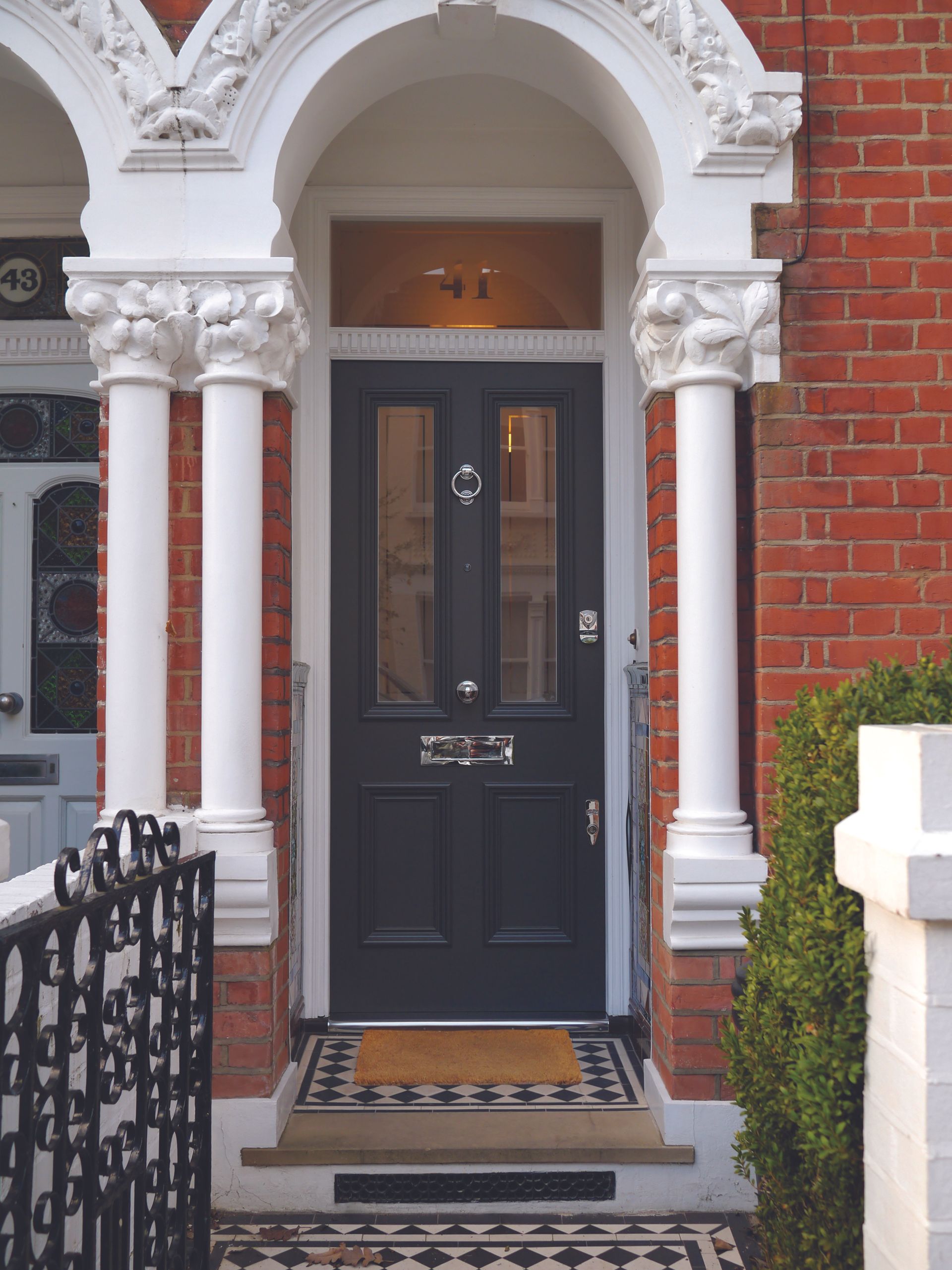 5. Let in the light with glazing
Hallways have a reputation for being quite dark rooms, however glazing offers the perfect solution. If your front door leads on to a locked porch, then you have a little more flexibility with regards to clear glazing which can provide a bright finish to your home.
However, if your front door leads onto a hallway, obscured glass is a must. Opting for smaller windows, above head-height, enables you to have clear glass without compromising your privacy though it does limit the amount of light let in. For larger windows, patterned, etched, and frosted glass are all viable options and can add an influx of pattern as well as light. A specialist glazer will be able to discuss the options with you to help you find the perfect fit for your home.
6. Make your Victorian home beautiful inside and out with stained glass
Think about the interior as well as the exterior, your front door has two sides after all. Opting for stained glass designs not only increases your privacy while let in light but adds a beautiful, elegant burst of colour both inside and out. It's simplicity helps to maintain a clean finish in this mostly white hallway while it externally, adds a colourful facade.
7. Take a traditional route with classic panelling
The panelled door is a classic feature of Georgian and Victorian properties. With elegant lines and symmetry, it complements and mirrors the architecture of the building. Windows are often added in the frame above the door, enabling light to flood the hallway without compromising on privacy.
Though popular with 17th and 18th century homes, this elegant style of door and can look equally stunning in terrace and cottage properties.
8. Look for a specialist designer for more specific period projects
Stuart Interiors (opens in new tab) (below) specialise in traditional joinery techniques from the medieval period to the 18th century.
'From the court of Henry VIII and the pinnacle of the English Renaissance, one of the great icons of design is the linenfold panel,' says Peter Russell of Stuart Interiors. 'We have harnessed the design and emblazoned it on the main entrance door of this Tudor revival home.'
Made in solid quarter sawn oak and polished to reflect the period, age will only improve its appearance. Made to order it can be designed to fit any size required.
9. Embrace original architectural features
Alternately painted black brick work draws attention to the sleek, glossy door, making it a focal point of the exterior. Dark hardware creates a sophisticated finish to this renovated mill house. The dark details are brightened by the climbing roses which frames the structure and creates a welcoming entrance to Tina and Simon Jones' home.
10. Take note of the neighbours
If your home is part of an elegant Georgian terrace or part of a series of quaint identical cottages, it's worth considering your neighbours' designs. If everyone else has black doors against a white frontage, it may be advisable to follow suit.
However, if your street is home to an array of pastel or bright shades, embrace the rainbow with a complementary shade.
11. Go traditional with timber
This beautiful, traditional front door has a distinctly ecclesiastical feel with its distinguished and intricate panel detailing. The example shown is manufactured in Engineered European Oak and finished in a Dark Oak Stain. It is paired with black period ironmongery and leaded glass to complete the look. The homeowner described her new door as her pride and joy!
12. Add life to neutral doors with colourful planting
Paint isn't the only way to add colour to the front of your house. Bedecked in wisteria, climbing ivy, hanging baskets and potted displays, breathe life into this country cottage, and the glossy black planked door provides a rich backdrop which illuminates the green of the foliage.
13. Choose an on-trend Georgian style to complement a 18th century home
Six-panelled doors were the go-to style of the Georgian period. Usually plain in design, it was the ornate surrounding porch that indicated wealth. Although usually grained or painted in darker hues, bright blue became increasingly popular towards the end of the century with green shades also gaining traction throughout the period.
14. Admire the stunning craftsmanship of artisan Arts and Crafts front doors
The desire for simpler forms and craftsmanship led Arts and Crafts designs to pair simple plain plank designs with more elaborate iron hinges and latches. Leaded and stained glass were also fashionable throughout the period.
15. Create an Edwardian style statement with an ornate porch and door combo
Add flair to your kerbside with an ornate porch, this metro tiles and candy-cane pattern of exposed brick and plaster immediately draws the eye to the stunning front door, from Cotswood Door Specialist (opens in new tab). The unassuming sage shade is brought to life with stained glass detailing.
16. Discover the benefits of sustainable doors with Accoya
It is important to choose a door material that is hard-wearing and is designed to last under continual use and when expose to the elements. Accoya is a particularly durable and stable timber which comes with a 50 year anti-rot guarantee, making it perfect for a wide variety of period home styles. Discover a wide range of Accoya door at The Sash Window Workshop.
For further inspiration explore: