It's essential to be aware of the cost of an extension if you're thinking about building on to your home rather than moving to a new house altogether.
The total cost of extending is made up of many elements including the size of the addition, whether it's on one or two storeys, and whether it can be achieved under permitted development or requires planning permission.
Other factors that influence the final bill when you extend a house include the costs for fitting out interiors, the design of the extension, the materials used, and which professionals you work with.
To help you assess what you might pay, we've put together a guide to all the costs of extending. And we've included advice on how you can make your money go further, whatever house extension you have in mind.
The cost of an extension: building work
If you're extending a house, you can get a comprehensive extension cost calculation using our free extension cost calculator, but for a rough idea of what you might have to budget for your house extension costs, see below.
For planning and costing a single storey extension, expect to pay the following:
Building work costs depend not only on where you live and the team you've hired, but on the results you're after. Expect to pay around £1,500 to £1,900 per square metre for an extension of basic quality; £1,900 to £2,200 per square metre will give you a finish of good quality; and £2,200 to £2,400 per square metre will allow you to achieve excellent quality.
In total, for an extension of 4m x 5m, the build cost would be around £30,000 and upwards for an extension of basic quality; you will pay from around £38,000 for a good quality build; and it will cost you from £44,000 for an extension with an excellent finish.
These costs do not include professional fees (more on this below), which can cost around 10 to 15 per cent plus VAT. With these extra costs added, the lowest price you will pay for a 4m x 5m single storey extension would be just under £40,000 and up to £58,000 for an extension of excellent quality.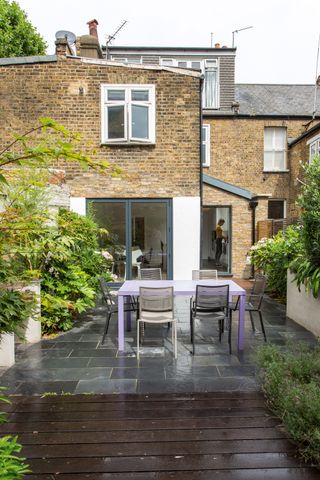 For planning and costing a double storey extension, expect to pay:
Labour costs do vary around the country; these, along with the design quality, build spec and quality of materials will all affect the final price of your two storey extension. But as a rough idea, expect to pay per square metre for two-storey extension: £1,320 to £1,620 for basic quality; £1,620 to £1,860 for a good quality finish; and £1,860 to £2,100 for excellent quality.
As for double storey extension costs compared to single storey, note this advice from Andy Simms, construction consultant at MyBuilder, 'While it may seem intuitive that the ground floor is the more labour intensive element because of the groundwork and foundations that must be completed, there are a number of additional costs involved in a second storey that are not applicable to a single storey project.
'Using scaffolding, working at height, increased structural integration with the original building, changing the roof – all of these factors serve to ultimately balance out the cost.'
As with a single storey extension, the cost of fitting out your two storey extension will depend on the rooms within it – for example, a living space or bedroom will be cheaper to furnish than a new kitchen or bathroom.
'As a very rough rule of thumb, costs should be split into 50 per cent for construction and 50 per cent for the interior,' says Hugo Tugman, founder of Architect Your Home . If you do not want to compromise on the size of what you are building when extending a house, you may be able to make considerable savings on interior finishes.
It is important that you get quotes from at least four builders as it is almost certain that each of the builders will provide different costs for exactly the same work using the same materials. If you only approach one or two builders, you run the risk of only obtaining high quotes, rather than getting an idea of an average.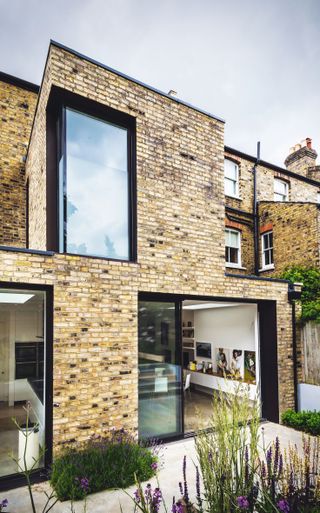 Additional extension costs to factor in
Architects' fees for are usually between three and seven per cent of the total construction cost. Expect to pay around £2,700 each for planning drawings and construction drawings. Find architectural technologists on CIAT, and architects via Architects Register or RIBA.
Structural engineers' fees start from £800 (if roof joists and foundations are specified).
Surveyors' fees – necessary if a survey of the existing house is required – from £800.
Planning fees in England are £206.
A certificate of lawful development (recommended if extending under permitted development rights for extensions) costs £103.
A request for discharging planning conditions costs £34.
Building control charges (vary according to your extension's size) are between around £400 (for an extension of 10m sq) to around £750 (for 60 to 100m sq). Check with your local authority to find out the fees that apply for different sized extensions in your area.
A party wall agreement (if needed) is typically around £1,000.
Project management costs also need to be factored in. Your building contractor or architect will charge 15 to 20 per cent – this on top of the net cost of labour, materials and overheads. Find out how you can save money if you project manage an extension or renovation yourself.
VAT at 20 per cent of the labour, materials and services. If your individual sub-contractors turn over less than the VAT threshold, they won't charge you any VAT on labour, which can result in big cost savings.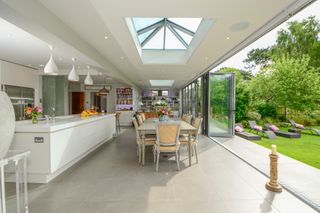 Plastering or dry-lining and painting is around £85 per square metre.
Bi-fold or sliding doors cost around £2,400 to £3,000 on average.
Additional fees may include a tree report (from around £200); a flood risk assessment (from around £350); an ecology report (from £400); an archaeological report (perhaps several thousand pounds); a historic building report, likely if your home is listed.
Interior fit-out costs (see below).
What does an extension's interior fit out cost?
The costs for the interior fit out of a single storey extension or two storey extension will largely be dictated by the room types you're adding – a kitchen extension will be more expensive than a living room; adding an extra bathroom will be more costly than another bedroom or a home office, for example.
'A high-end interior with a kitchen included is going to add another £15,000 to £20,000, depending on the size,' says Thomas Goodman, construction expert at MyJobQuote. 'If you're adding a bathroom too, that could be another £3,000 to £9,000 on top.'
The cost of adding heating will depend on all sorts of variables. Extending an existing central heating system may only need a few days' work by a plumber, at around £150 per day (excluding materials).
Underfloor heating will be more expensive, but is worth considering for a large, open-plan kitchen diner, if you are building an orangery or adding a conservatory. Electric underfloor heating is a cheaper installation choice, some elements of which you can do yourself, but will be more expensive to run than water-fed underfloor heating, which has a more expensive installation cost. You may also need a new boiler; expect to pay around £2,500.
Planning permission fees for extensions
The planning fee for a residential single storey extension in England is £206. If you are extending under permitted development (see more below), you may want to apply for a certificate of lawful development, which will cost you £103; the fee for discharging planning conditions is £34 per request.
Permitted development fees for extensions
If you are planning to build an extension under permitted development rights, study the criteria carefully and apply for a certificate of lawful development from your local authority. This only costs £103 and you will then have the paperwork in place to prove that your extension did not require planning permission.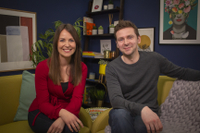 What is the cheapest way to build an extension?
If you're on a tight budget, there are many different route you can take to curb extension costs. Here are 30 ways to stay on budget from the outset, through to the finished result.
1. Do your sums then cut the cost of an extension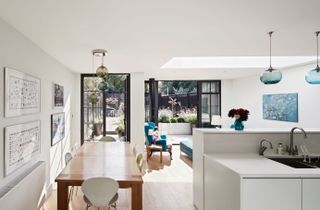 Save money by extending at the best time of year
Timing your extension for good weather is one of the simplest ways to cut the cost of an extension. Why? Because bad weather causes delays, which can mean increased labour costs, rejigged schedules and, if you're renting while you extend, increased rental accommodation costs, too.
Weather damage from the wind and rain can up your costs, too, and what started as a simple loft extension can become a complete redecoration job for all the bedrooms below if rain penetrates tarpaulins.
When to extend? Try to line yours up for when you know there tend to be prolonged periods of dry weather where you live. Avoid weeks when frost is an issue, too.
Before you consider what you need to trim off your extension budget, work out exactly how much you need to spend to get the extension using the information above, including the interior fit out costs, then when you're happy it can be achieved, go to a trusted local estate agent and ask how much your home might increase in value with your proposed project in place. Ideally, your extension should add more £££s to your home's value than it cost. Bear in mind that larger extensions will be more cost-effective than small extension ideas but will, of course, cost more, and could push your home past the ceiling value of the street. The importance of balance when it comes to budget versus profit potential can't be exaggerated.
2. Consider building an extension with a simple design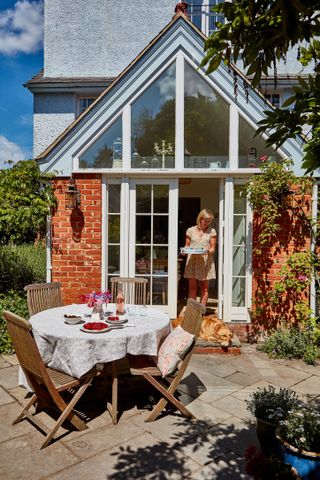 Curves and corners are costly to build, so keep your extension design as simple as possible. Opting for a rectangular or square footprint for a single storey extension is the best way to reduce the cost without compromising on the build's quality.
'Anything that requires specialist skills or custom-building costs more,' says Thomas Goodman.
3. Keep interior fit outs simple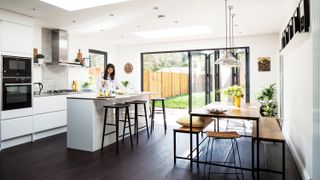 Interior fit out costs can be kept down, too. 'There are many great flooring alternatives now that are more cost effective than wood such as Amtico or more premium laminates or herringbone vinyl, for example,' says Robert Wood, MD of Simply Construction Group. You can also choose more affordable lighting and fixtures, such as kitchen units
Planning your project carefully and in great detail before work starts – right down to the position of electrical sockets and lighting controls – and avoiding making changes as you progress will also keep kitchen extension costs and those for other rooms under control.
4. Plan ahead in detail to extend a house cheaply
Spending time planning the smallest of details can save you money and limit the cost of an extension further down the line. By specifying everything from light fittings and socket locations to flooring and wall colours at the outset, you'll save money on the cost of making alterations or snap decisions at a later stage.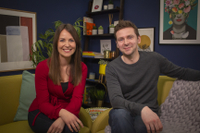 5. Stick to the agreed design to reduce house extension costs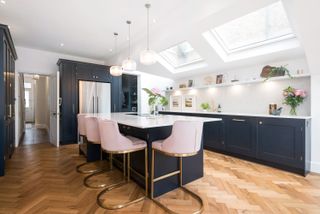 Don't make changes to the design if you want to cut the cost and extend for under £50,000 or create the best house extension in a different price band.
'It's important to stick to the plan and design you've agreed, as any changes will cost money,' says surveyor Steven Way. 'Have a proper building contract with an itemised budget and an order of works in place, which will help save you money in the long run.'
6. Go off-the-shelf not made-to-order to extend cheaply
Design the build around off-the-shelf products, such as standard-size doors and windows. Avoid any products that have to be made to order; instead, choose materials that are readily available and easy to use with all building extensions. So, stick to cast concrete for the sub-floor; concrete blockwork for the walls; brick, render or timber cladding; and a softwood timber roof structure. Try rooflights instead of dormer windows and interlocking concrete tiles for covering the roof.
Make sure, though, you don't cut back on quality whether you are building a glass extension or a different type. 'Cutting costs with poor materials will only cause more problems later down the line,' says Thomas Goodman. 'So, spend well on the main structure of the building, including walls, roof, windows and insulation.'
7. Use affordable cladding to create a contemporary look for less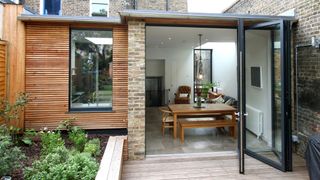 Yes, you can cut extension costs by being a bit clever with claddings and renders. Because, cladding or rendering the exterior of an extension built with a timber frame or block work will work out much more affordable than facing it with brick.
Ideal for giving an extension a contemporary finish, it can suit both modern homes and period properties. Bear in mind that some cladding materials will need more upkeep and maintenance than others.
8. Build a timber frame extension to cut costs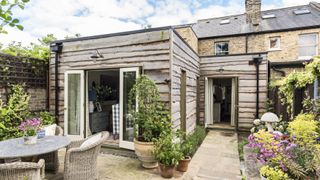 Building a timber frame extension can help cut extension costs as although the materials can work out a little more expensive than building with block work, the speed of the build can make up for that in lower labour costs.
Better still, timber-frame extensions can be finished to look no different to one constructed from block work, so aesthetics don't have to be a consideration.
Expect to pay from around £1,800 per square metre.
9. Cut the cost of an extension by avoiding complicated groundworks
If possible, avoid complicated groundworks, such as building near to trees or drains and sewers, or other buried services, as these will increase groundwork costs. Remember, though, that if you live in a period or character property, your choices will be limited.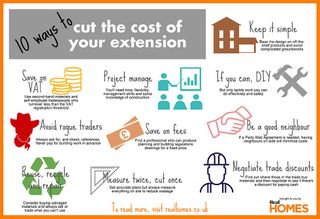 10. Project manage yourself to reduce your building extension cost
A builder will add 15 to 25 per cent on to the total cost of labour and materials to cover their time for managing the project. So you can save on the cost of an extension by effectively taking on the role of project managing an extension.
This will mean liaising with your designer/architect and your local authority's building control department, finding and hiring tradespeople, directing the work and supplying all of the necessary materials, plus scaffolding, skips and so on.
Though time-consuming, it can be very rewarding. To do it well, you need time and flexibility, plus confidence, management skills and some knowledge of construction. The job may take longer to complete overall, but the savings can be enormous.
11. DIY the less-skilled jobs
As well as saving on project management fees by DIYing, you could take on some other tasks to make your extension budget go further.
'Consider taking on the less-skilled jobs,' suggests Thomas Goodman. 'Do the prep work such as ripping out old fittings to save on labour costs. And go for flatpack kitchens and DIY-friendly flooring such as luxury vinyl that you can fit yourself.'
12. Get the timings right to keep down the cost of an extension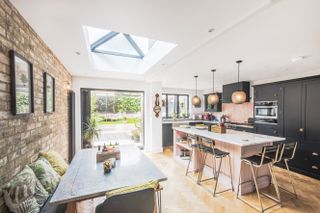 Whether you're project managing or just ordering your own materials to save money, getting the timings of deliveries right to save on wasted labour costs is vital. 'A site with no one working on it is costly, so materials need to arrive in plenty of time,' advises Steven Way, practice principal at Collier Stevens Chartered Surveyors.
13. Save on VAT to cut back on extension labour costs
Most extension work will attract VAT at 20 per cent on labour and materials, but if you use self-employed tradespeople who each turnover less than the threshold for VAT registration, you will not be charged this tax – saving on labour costs. Second hand materials sold by private individuals on the internet will also be free of VAT.
Some types of work attract reduced-rate VAT at in any case – upgrading insulation and extending a building that's been empty for two years, for example.
14. Get next door to sign a party wall agreement waiver
If you are building on or near the boundary of a neighbour, your extension will need to comply with the party wall act. If a party wall settlement is required, it will cost around £1000 per neighbour; more if they use their own independent surveyors, which they're within their rights to do, and for which you foot the bill.
You must notify your neighbours in writing about your extension plans eight weeks before you start. If you can get them to write back that they do not object or complete a party wall agreement waiver, you can avoid using a surveyor to arrange a party wall settlement and save on fees.
It pays, therefore, to keep neighbours on board with your project, discussing plans and being considerate about any concerns they have.
15. Save on extension costs by building under permitted development rights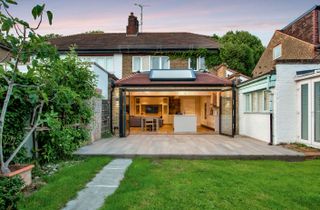 This will instantly save you spending on planning fees and costs. While it is a false economy not to invest in design, some designers know how to keep down costs, while others only produce very complicated, if beautiful, plans that are very expensive to build. For a simple, low-cost build, find an architect, architectural technician, chartered surveyor or structural engineer who will produce planning and Building Regulations drawings for a fixed, all-in price. Look for a track record in designing low-cost projects.
If your extension can be designed to fall within your permitted development rights (see www.planningportal.gov.uk), no planning application will be required. This will save the planning fee of £206. Find out if your project needs planning permission in our guide.
The above extension built under permitted development transformed the awkward ground floor layout of the home Louise and Dave Brown share with their two boys. 'Our house had a weird L-shaped half open-plan design,' says Louise. 'You'd come in the front door and there was only one way to access the rest of the ground floor through the living and dining room. It was like a corridor. The house had a conservatory at the back – a lean-to design that was about 40 years old. In summer it was way too hot and in winter it was freezing.'
16. Comply with building regulations to reduce the cost of an extension
Building regulations are often confused with planning permission but they are distinctly different and even if you're building under permitted development, you must comply with them. Doing so means paying building control fees, which you can't avoid. What you can avoid, however, is the cost that will be heaped upon you if you ignore the rules and are made to undo and redo the work correctly at your own expense by your local building control department. A good builder will always be on top of this but do spend time checking yourself – and ensure all the paperwork is signed off at the right stages of the job. The buck stops with you.
17. Avoid cowboy builders if you're extending a house cheaply
There are plenty of cowboy builders (as in any trade) and they may vastly underestimate costs — through incompetence or, possibly, deliberately to secure a job. They may then ask for more money for changes or extras. They could even demand some or all of the money up front, leaving you with no comeback if they fail to complete the work to satisfactorily.
To find a reliable builder, always ask for references – and check them. Never, ever pay for building work in advance; pay only for work that has been completed and that you are happy with.
For a small project, pay when the job is finished. For an extension, agree payments at set stages, or interim payments based on a verifiable list of labour and materials used up to date. Never hand over money for materials in advance. If a builder does not want to supply materials, buy them yourself.
18. Measure twice, cut once
Making changes or mistakes that waste labour and materials is a major factor in the final bill for many projects. Measuring everything on site, rather than off your plans will help reduce wastage. Having accurate, scaled plans in the first place will help.
'To avoid wasting money, take your time with the planning and design stages of your extension,' says Thomas Goodman. 'Don't start building until you are completely decided on details such as window positioning, as this type of alteration will be costly once work has begun.'
In fact, the more time spent at the design stage, visualising the end result, the more problems can be anticipated and headed off. Accurate and complete design will ensure that you have services, such as plumbing and wiring, in the right places, get floor levels right between rooms, and ensure that doors are hung to swing in the most space-efficient direction.
Once you have made up your mind, stick to it; changes always incur extra costs as already mentioned, and often in ways that don't reveal themselves until much later.
Over-ordering materials can also waste money, but it's better to have slightly too much than to fall short and have problems making up the difference. This will incur delays and extra delivery charges; worse, you may not be able to find the exact same thing again.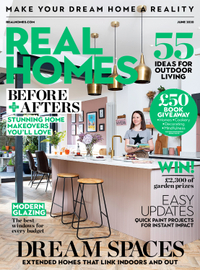 Get Real Homes magazine delivered direct to your door and your device
Can't get to the shops but don't want to miss out on the latest issue of your favourite homes magazine? Don't worry as when you subscribe today you'll get every issue of Real Homes magazine delivered direct to your door and your device.
From stunning completed projects to the latest decorating ideas you can try in your own space, you'll find plenty to keep you entertained and inspired inside each issue. Don't miss our special deal – subscribe to our annual print and digital bundle to enjoy big savings.

19. Reuse, recycle and repair to save on extension costs
Existing materials can be reused rather than thrown in a skip. Old floorboards, doors, radiators, towel rails, kitchen units etc. can all be revived and reused when building an extension as all they need is to be cleaned up, and given a new finish.
Reducing wastage will also reduce costs for skip hire and disposal.
20. Buy secondhand to save on the cost of an extension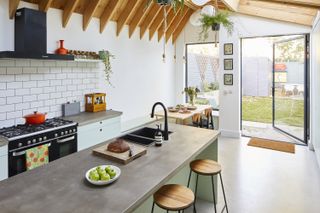 Buying salvaged materials – on the internet or from salvage yards – can be a lot cheaper than buying new. It will also introduce instant character. Second-hand items that offer good value include roof tiles, bricks, internal doors, timber floorboards, fireplaces and roll-top baths. Some people even hunt through skips - although you must ask the householder before removing their waste.
21. Sell what you don't need
Can't reuse or recycle existing materials? You'll be surprised what you can sell – from bathroom fittings to old kitchen cabinets. Advertise on local Facebook groups or Gumtree.
'Removing bricks from the old part of your home to make way for your new extension?' asks Robert Wood. 'Why not sell them onwards? Reclaimed London stock bricks can be worth around £2 each, for example.'
22. Negotiate trade discounts to extend a house cheaply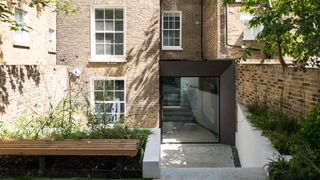 Find out where those in the trade buy their materials and aim to get the same wholesale/trade prices. Always negotiate and see if there is any discount for paying in cash – making sure you get a receipt. Bulk-buy from a single supplier for a further discount and ask about reduced delivery costs. Buying end-of-line deals will save you a fortune, especially on items such as carpets, units and appliances.
Getting the best deal will often mean moving away from the big brand names and finding equivalents without the price premium. If you are clever, however, you can save on price without compromising quality.
To keep down costs, stick with a basic specification – so go for carpets for floors and standard white sanitaryware, for example. And think radiator-based heating, too. 'There are some great modern or traditional radiator designs now, which will work out cheaper than installing underfloor heating in your extension,' says Robert Wood.
23. Limit the relocation of services
When you're extending a house, consider the position of fittings, for example, a new toilet. If yours can be placed in a convenient position for the existing soil stack, you'll save on labour costs.
24. Maximise space with a mezzanine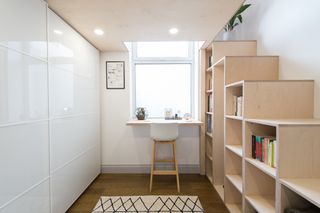 Provided your ceilings are high enough, a mezzanine area could provide extra space for sleeping, with room beneath for a home office or just a quiet nook to relax in. If you're wondering how to add value to your home, this is a great option. Scandinavian Loft designs, creates and installs bespoke solutions to fit your space, with a standard or custom-size bed. The lofts come in a range of different materials and finishes including mdf, birch ply and metal and in your colour choice or with natural varnished oil. Customise your design with safety rails, bedside tables, ladders, stairs, storage, LED lighting and electrical sockets.
This birch ply mezzanine loft with stair storage costs from £6,000, from Scandinavian Loft.
25. Find a problem-solving builder to cut the cost of an extension
If you want to keep costs down, it's important to find a builder with both experience and an ability to think around problems. This isn't always easy, but with good research locally, you will find a builder (or project manager) who can think on their feet. When you're comparing quotes, don't just ask about extension costs; quiz your prospective builders, too, about their experience, how they've overcome problems, whether they work with a fixed team or a shifting workforce, and whether they have access to surveyors or architects. The answers will all help inform you of their experience and abilities.
26. Visit the site regularly to better control extension costs
Visiting the site to ensure the work is moving along well is a must during extension work. Doing so will allow you to ensure the project is moving along well, that there are no supply problems that your main contractor hasn't told you about, that the workers themselves are happy – and turning up – and that the schedule is being stuck to. There is a caveat if you're looking to cut the cost of an extension: don't use these visits to make changes that will up the price in the long run.
27. Choose a team with experience in extending cheaply
When you have early meetings with architects, surveyors, structural engineers and even builders, ask about their experience in working on low-cost projects and make your budget clear from the start. If they are happy to proceed on that basis, ask if they can produce planning and building regulations drawings for a fixed price.
Find the team you need at: Royal Institute of British Architects, Chartered Institute of Architectural Technologists, Royal Institution of Chartered Surveyors and The Institution of Structural Engineers.
28. Always consider alternatives
Could you avoid the cost of extending and consider a garage conversion or loft conversion instead? Both are brilliant options to transform dead space into more useful living space, which is what many of us are looking for at a time when we're spending more time at home. Both are likely to be cheaper than building a new extension from scratch, food for thought.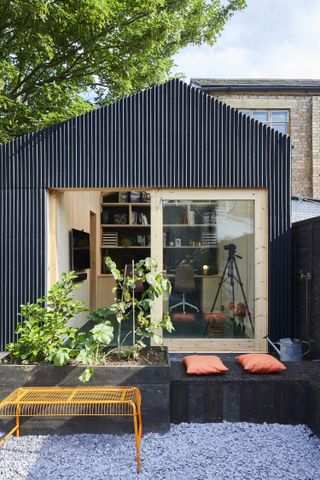 You could even consider adding a garden building, which makes for a sound home office upgrade if you've been working from home for the past few weeks, and due to continue this way for the foreseeable future. You'll be (we can't promise) largely uninterrupted by the chatter of family life and it will help separate work life from time spent at home with others too.
Architect Richard John Andrews designed the above garden studio for his practice in East London and self-built it with his assistant for just £12,500, using a timber frame modular system with sheets of plywood. It's clad in lightweight corrugated fibreglass panels, topped with a polycarbonate roof and has bespoke timber sliding doors.
29. Such as adding a bedroom over an attached garage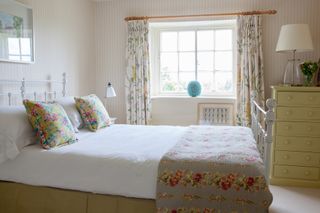 Assuming the garage's existing foundations can take the load, building a room on top is much more cost-effective alternative to building a new extension – plus you won't be sacrificing garden space to gain a new room.
Check with an engineer or surveyor about structural challenges, and hire a designer and a good builder to ensure that the new room feels like a natural part of the original house inside, and looks like it's original from outside, too.
Expect to pay from around £15,000 to £25,000 for this type of extension; building regulations and planning permission both apply.
30. Talk to an estate agent first
Before you even begin to think about extending, talk to a trusted local estate agent about the knock-on effects of it on the value of your property overall. Most will be available over the phone. Forever home or investment for a quick buck – whatever your future intentions, you'll want to ensure that the spend you have planned does not exceed how much value you'll add to your home with the extension. Breaking even in a forever home isn't terrible; coming out in profit with an investment property is ideal; spending more than you increase the value of the house by is never a great idea.