Our Philips Hue Lightstrip review will help you decide whether to take the plunge into investing in this super popular smart lighting solution. Aiming to cut through the jargon and deliver an honest, to the point, summary of the Philips Hue Lightstrip, we've enlisted the help of James Peckham to discover whether they're worth your money, or not.
Covering everything from what the Philips Hue Lightstrip is, to what it does and how you might expect to use it in your home, this review covers all the bases. So, keep reading.
Then, when you're done, we'd recommend you compare the Philips Hue Lightstrip to our pick of the best smart bulbs. Yep, we're aware they're not exactly smart bulbs. But, they're as good as.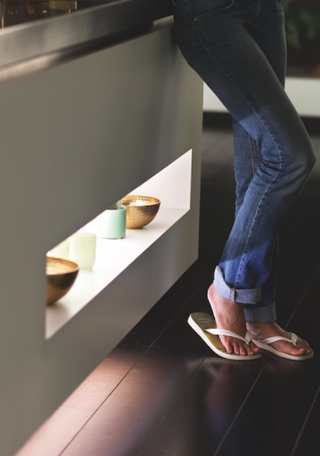 Philips Hue Lightstrip specs
Why you can trust Real Homes Our expert reviewers spend hours testing and comparing products and services so you can choose the best for you. Find out more about how we test.
Size: the original Lightstrip is 2m long, 1.4cm wide and 0.5cm deep with a sticky back that allows you to easily attach it to areas in your home. If you need the Light Strip to be shorter, you can cut the kit to the exact size you want.
Brightness: we found the white light to be bright enough to see in your home (it's 1600 lumen which is around average for most bulbs), as well as providing aesthetic lighting in your chosen room.
Colour: the lights include over 16 million different colours, which is pretty impressive.
Installation: it is quite easily removable, but we wouldn't recommend moving it around too often, so have a long think about where you want to place it before you do.
Philips Hue Lightstrip design
The Lightstrip from Philips Hue is one of, if not the most versatile product we've seen in the Philips Hue collection, which also includes the Philips Hue Starter Kit and the Philips Hue Go. It's exactly what the name suggests , a strip of lighting that you can put around furniture, under cabinets and in a variety of other places in your home.
Connecting Philips Hue Lightstrips
While you can't currently buy longer Lightstrips for larger jobs, you can attach separate 1m-long extensions. They are easy to connect, and it's possible to link up to eight of them, giving you a total of 10m to play with.
The whole strip will work as if it's one device, so if you change the colour the entire strip will do it simultaneously. We like how this can fit in so many locations around your home, but just remember you will need to attach the cable to a power socket and that may ruin the look a little.
Philips Hue Lightstrip smart features
To use the smart features provided by the Philips Hue Lightstrip, you'll need a Philips Hue Bridge. This is a connector that comes in the Hue Starter Kit (or you can buy it alongside the Light Strip if this is your first foray into Hue products) and it's how your lights connect to the internet.
When connected, the Bridge will work differently to a lighting system that simply turns on or off. The ability to control lighting from your smart phone or smart speaker will open up a variety of other features.
Do you really need the Philips Hue Bridge?
While the the Lightstrip is useful for lighting your home with white light without these smart features, if you want to make the full use out of it we'd recommend connecting it up to a Hue Bridge.
You'll be able to control your lights from an iOS or Android phone using the Philips Hue app, or you can use your Amazon Alexa, Google Assistant or Apple Siri smart assistant. Read reviews on each if you haven't committed to a smart assistant yet.
What smart features are on offer?
Wondering what smart features you can expect from the Philips Hue Lightstrip? here are some of our favourites:
Set mood lighting
Want the lights to set a mood on an evening? Ask Alexa (or any of the other assistants) to turn your Hue lights green and she'll be able to do that. You can ask the assistant to make them brighter, warmer and a variety of other features too.
Create light schedules
One of the best elements of the Hue system is the fact you can set your lights up on a timer or turn them on by pressing a button within the app. It means you can have your lights on when you're away so it looks like someone is home, or you can have them on ready for when you return home at night.
It's a useful feature that allows you to turn them on anywhere in the world and give yourself some peace of mind that it's acting to deter burglars.
Enhance your home cinema or gaming experience
One particularly interesting feature with the Hue Lightstrip is the fact you can sync it up to a variety of games, movies and music to give innovative lighting around you while you're playing, watching or listening.
Say you've run the light strip around your computer desk, you can then connect it to an app called Hue Sync that with tailor your lighting to whatever's playing on your monitor. It means the lighting will switch to darker shades when a physically dark scene in a movie comes on, and get brighter when similar happens in the film.
It can sometimes make the experience more immersive, but this experience doesn't work for everything and currently it's only easy to set up on your Mac or PC. We'd love to see this feature soon come to smart TVs and games consoles so you can do a similar thing around your TV set.
Running the light strip along the bottom of your TV cabinet is still an interesting idea though and you can choose your own lighting this way to light up whatever you're watching on screen that evening.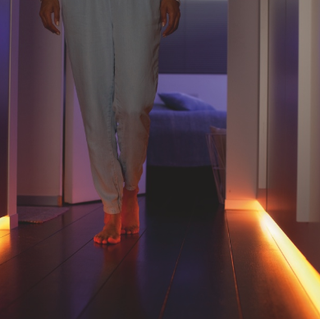 Verdict
Looking for more Philips Hue info and reviews?
At first, the Philips Hue Lightstrip looks like it can only be used for specialist scenarios. It's true this isn't the perfect option to replace your actual lighting in your living room or kitchen, but it's one of the most versatile smart lighting products we've ever seen.
Connecting this to your kitchen cabinets, behind a TV or even alongside part of your bedroom allows you to create some fascinating scenarios for your lighting and makes it one of our favourite smart lighting products we've used.
If you're looking for an artistic way to light your home, the Lightstrip may be the way to go allowing for a variety of different options and you can really get creative with where you place it. This won't be a must-have for everyone, but once you've got an idea this can be a great way to make it happen.
Looking for more smart tech reviews and buying guides?