Considering an extension or conversion? Several different professions offer architectural design services for homeowner projects such as these. However, to undertake the process of design and to produce planning and construction drawings, most people choose either an architect or an architectural technologist. Find out how to find the best professional for your project – and how to work with them.
What does an architect do?
The term 'architect' is protected by law, which means that only professionals who have successfully completed seven years of training and are registered with the Architects Registration Board (ARB) can legally call themselves an architect.
Architects are trained in creative design as well as the practical aspects of construction, so they are able to offer their clients a complete service, from design concept right through to the supervision of the construction process.
Most architects become a Chartered Member of the Royal Institute of British Architects (RIBA).
Both the ARB and RIBA have strict codes of conduct, so members must maintain the utmost level of professionalism. You can search for architects in your area, refining the results by project type and specialism and then take a look at the practice's websites to see previous examples of their work.
What does an architectural technologist do?
The Chartered Institute of Architectural Technologists (CIAT) describes its members as 'specialists in the science of architecture, building design and construction'.
Technologists bridge the gap between the creative side of building design (often undertaken by architects) and construction design, providing the detail required to turn creative ideas into buildings.
To become a member of CIAT, technologists need to have either an accredited degree, Higher National Diploma (with specific and additional units) or the S/NVQ4 in Architectural Technology.
Should you choose an architect or architectural technologist?
Architects and technologists offer different and complementary skills, so in many practices, an architect handles the creative design and planning process, while technologists produce construction drawings and the specification; structural design is usually done by an engineer.
If you have firm design ideas, or are undertaking a garage conversion, loft conversion or cellar conversion or a simple extension, a technologist may be a good choice. If you want an innovative extension, an architect may be your first choice.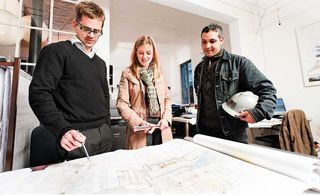 Finding the best professional for the job
Experience is the most important qualification to look for in a designer. Choose someone who specialises in the project you are undertaking and who can work to your scale, style and budget.
Meet a few designers and their previous clients before deciding who to hire. Get a feel for what they will be like to work with and whether they will listen to you, or impose their ideas. Ask when they can start and how much they will charge, including all disbursements, for the services you need.
It can be useful to choose an architect with a good track record with the local planning authority, as reputation can carry some weight in planning decisions.
Once you've made a shortlist of prospective architects, visiting their studios should be your next step. It's a great way to get a first impression of the practice, gain a sense of trust and see examples of similar projects they've worked on.
Expect the first meeting with whoever you choose to be free, then agree the terms and fee structure in writing, and ensure they have sufficient professional indemnity insurance.
A good architect will always visit your property and assess the viability of the project before giving a fee proposal and not just give you a quote over the phone. They'll also allow you access to previous clients so you can hear what it was like to work with them first hand.
Who will manage your project?
Most architecture practices will offer an all-in service and take care of everything from planning to completion, while others may offer the design only, in which case you'll be responsible hiring a project manager or taking on the project management role yourself. You'll be responsible for managing the work, organising planning permission and trades on site, as well as ordering materials.
The option of which route to take is entirely yours, so do which suits you and your budget best. If your project is straightforward, you can work with an architectural designer on drawings and take on the rest of the project elements yourself, working with your chosen builder to create the final result.
It's good to know that an architectural designer is different from an architect, as the former won't have had the same level of training or be registered with the ARB, but both will be able to offer a design service with relevant knowledge of structural feasibility and regulations.
Making design decisions
It is possible to design a house yourself, but the scope is likely to be limited to what you understand in terms of structural feasibility, planning restrictions and how to work within the constraints of your property type. When looking at designs, try to imagine yourself in the space and consider its orientation and layout, and think about how this will work in practice.
Always work with a qualified architect to get the most of your property's potential, but have your own ideas and an understanding of what's possible, too.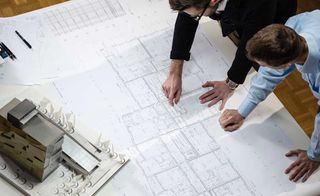 Drawing up a contract
Every project, regardless of its size or level of involvement from your architect, should have a contract drawn up before any work commences. This will be dependent on the brief, so if you are only employing an architect to obtain planning consent, the contract will only be to that stage.
Your contract should be broken down into each stage, specifying exactly what drawings are included, fees, planning applications, number of meetings and who is responsible for what. A contract should always be bespoke to a project. Make sure you read the whole document through properly and don't just focus on the cost.
Meeting regularly with your architect
If your architect is on board for the whole project, not only the design stage, having regular meetings throughout is key to ensure you're kept in the loop with progress and any issues that may arise.
Meetings at certain points in the project are usually included in the fee, but if there's something you're unclear about, make sure to ask as soon as you can and don't let the issue drift on. If you have a good relationship with your architect, they'll be happy to answer any queries you have.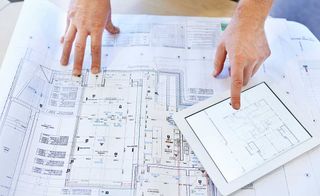 Budgeting for architectural fees
Expect to pay between eight and 12 per cent of the overall construction cost for a good architect. So, on a £300,000 project, you might pay between £18,000 to £28,000 for an architect to be on hand from plans to completion.
The cost will depend on the scope of the brief and standard service won't usually include interior design and project management, but will include administering the building contract to make sure you're not overpaying the builder, if you're not handling this area yourself. Most architects work with preferred contractors, so you'll benefit from this previous experience, too.
More on making your project successful: