A kitchen extension is a project that's at the top of many homeowners' wishlists. Gaining more space, creating room for dining as well as preparing food, achieving a more sociable arrangement and taking advantage of garden views could all be reasons to plan a brand new room.
Surprisingly, kitchen extensions don't require you to give up very much of your outside space to create a room that meets all your expectations. Just building out by a little at the back of your home, going out into a side return, or perhaps opting for a combination of both can give you the space you've dreamed of.
For many people, it's a kitchen-diner extension that will transform life at home as you extend a house – or your addition could be part of a plan to create an open-plan layout downstairs. But whatever your goal, our kitchen extension guide has all you need to plan your fabulous new room, and we've got plenty of inspirational schemes for you to browse, too. Get in the know by scrolling down, or use the jump links to navigate to the section you need. Happy planning!
Once you've discovered how to plan a kitchen extension with our expert tips, then you'll need to look into kitchen extension costs so you can budget better. And you can use our free extension cost calculator to find out how much your project is likely to set you back also.
Jump straight to the section that interests you
The practical bits of building a kitchen extension are about appointing a builder or architect and getting planning permission, but before you start, you really should get a feel for how large the extension will be and you can do this by working out what you need from it.
When it comes to how to plan a kitchen extension, you'll be able to come up with your ideal design by considering your existing surroundings and what you have to work with. Determining how you will want to use and enjoy your extension once complete will help you decide on what the room's layout should be.
You may have some dead garden space to work with, an old conservatory or room in the side return, and these are all great starting points for your kitchen extension design. Think about how you will use your new space throughout the seasons, how to make garden access easy, and the best ways to bring in more natural light too. Whether you're thinking about an L-shaped, small or side-return extension – we have plenty of kitchen extension ideas below to help inspire you.
From there, it's all about the budget and we have plenty of advice on managing costs for when it comes to building a kitchen extension below too.
So keep scrolling to take a look at our kitchen extension advice, and to make sure that yours is designed and planned properly from the start. Be sure to use our ultimate guide to extending a house for further practical planning advice and costing information.
How to plan a kitchen extension
The amount of space you need for your kitchen extension will depend on how you plan to use it, so start here. There's no point in spending money on an extension that is too small. Too big isn't always a bonus either – a room that's out of proportion to the rest of your home or mostly empty (and therefore soul-less) isn't an asset either.
Generally, the kitchen is the heart of family life and the room we spend most time in – cooking, eating, socialising, working and relaxing – and so an open-plan (or semi-open-plan) space is often the best way to use the new extension.
The key to creating the perfect open-plan kitchen is getting the space and the layout right first, before deciding on kitchen units, design details and decoration later. Find out more about how to design an open-plan kitchen to get the interior layout right.
Read more below about designing a kitchen within an extension, but before you do, write a list of all the features that you already have in your kitchen, then add the features and appliances that you wish to add to the space.
Kitchen extension essentials:
Kitchen as proportion of extension
Breakfast bar
Dining area as proportion of extension
Seating area as proportion of extension
Walk-in larder
Separate utility room
Store room
Outdoor dining area immediately outside
Decide where to place the kitchen extension
If you're looking to create an additional space for a large, open plan family kitchen, the first step is to assess which area of your home will benefit the most from being extended.
There are lots of options with kitchen extensions. You could extend at the rear or side of your home to gain extra space; in a terraced house, a side return extension might be all you need to be able to create the kitchen of your dreams. In a townhouse, it may make sense to do a basement conversion, with a light well leading up to the garden.
Small extensions to a house may not need planning permission if they fall within the definition of permitted development. Larger extensions, or additions to a flat, always need planning permission. Alterations to a listed building always require listed building consent, whether or not the work is permitted development.
Extending to the rear of your property? No extension should overly compromise the garden, so try to find a balance between creating a workable space indoors and retaining as much outdoor space as possible.
A good architect will help and advise with this, but if you're unsure, try to visit as many homes with extensions as possible to see what works, and what doesn't. Check out our feature on creating an indoor-outdoor living space, too.
Take an overview of surfaces and finishes
If you're intending something spectacular instead of a standard finish on surfaces, make the decision early on in your kitchen extension plans, as design mistakes are costly and a retrofit is a real headache. Enhancing the indoor/outdoor vibe can be achieved using brick slips that match the bricks of external walls, while some porcelain floor tiles can be used inside the kitchen as well as on the patio. Consider an alternative to a plastered ceiling. Design-wise, slatted wood appears to elongate the space and the timber brings warmth to cabinetry in cooler shades.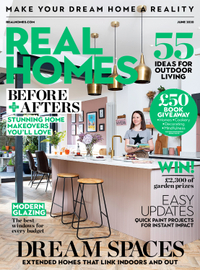 Get Real Homes magazine delivered direct to your door and your device
Can't get to the shops but don't want to miss out on the latest issue of your favourite homes magazine? Don't worry as when you subscribe today you'll get every issue of Real Homes magazine delivered direct to your door and your device.
From stunning completed projects to the latest decorating ideas you can try in your own space, you'll find plenty to keep you entertained and inspired inside each issue. Don't miss our special deal – subscribe to our annual print and digital bundle offer today for just £39.99 – a massive saving of 52%.
Find a good architect for your kitchen extension
Once you've decided where you'd like your extension to be located, consult a RIBA-registered architect to find out what can be achieved.
You will need plans and construction drawings for the builder, and to show compliance with building regulations.
Work with an architect or architectural technologist to provide these. 'They can also inspire you with design solutions that you may not have considered,' says Hugo Tugman, founder of Architect Your Home. 'Hire someone who specialises in homeowner projects and get them to do a small amount of paid-for work, such as a sketch design, to see if they are the right person for the job.'
Decide how much involvement you want them to have. 'Some only offer a full service, also overseeing construction,' says Alan Cronshaw of Acronym Architecture & Design. 'Others offer a partial service, ending ties after planning and building control approval are gained.'
Find an architect via the Architects Registration Board or an architectural technologist at CIAT.
Put the kitchen extension out to tender
With the plans in place, you can go ahead and find a builder and a reliable contractor to tender for your extension work. Consider personal and professional recommendations, as well as looking via trade bodies such as the FMB (Federation of Master Builders).
Arrange to meet at least three contractors and, to obtain estimates, send them the plans, construction drawings and specification documents, plus the contract you want to use, so they can quote as accurately as possible.
Do you need planning permission for a kitchen extension?
If the work is classed as permitted development, you won't need to apply for planning permission, but you may wish to apply for a certificate of lawful development, which proves the project is legal. If you do need planning permission, you will have to apply to the local council, and may need additional reports. Whichever route you are taking, you will need building regulations approval. It may be necessary to issue a party wall notice if you are building on or close to the boundary with a neighbour.
How long will a kitchen extension take?
It depends on the scale of the project – including if there are difficulties accessing the site, how bespoke the kitchen extension is and how well run your schedule is. You can expect a small kitchen extension to take between 10 to 12 weeks, while a large kitchen extension could take up to six months. Some will be quicker, others slower. Remember that these timings do not include the planning and design phases of your project.
Designing a kitchen extension
Designing a kitchen extension is all about the detail, and for this you might need help: from an architect, a builder and, without doubt, a kitchen designer. But don't just think about looks – design your kitchen extension equally for functionality. There are lots of places where you can find inspiration and kitchen extension ideas and we've included plenty below, plus here's how to tackle kitchen extension design for the best results.
Prepare a detailed kitchen extension design brief
Let your designer know what you want. 'A common mistake is to brief your architect with a set of constraints without talking through the possibilities,' explains architect Hugo Tugman. 'When I work with a homeowner, I discuss the brief and sketch designs around their kitchen table, to involve them and ensure that what I am creating fits their needs and lifestyle.'
A good architect will come up with creative ideas and solutions you might not have thought of. For example, the usual bi-fold doors could be replaced with a single door, and drama created with a huge window that soars up into the apex of the roof, and a slot window with views onto the garden, like the linear kitchen above, from £20,000, Harvey Jones.
How will you access your kitchen extension?
'As one of the principal spaces in your home, the kitchen should ideally be accessible from the main hallway and not through another room,' says property expert Michael Holmes. 'Typically, extensions are added to the side or rear of a property to maximise links with the garden as well as create extra space internally.'
Ideally, this transition should be as seamless as possible, something which can be achieved by good layout planning, and matching interior detailing and materials, including flooring and skirting boards, for example.
You may be able to achieve the best space possible by remodelling the existing interior layout, perhaps removing internal walls to link two rooms together, or by converting and linking an integral garage.
For advice on garage conversion our guide can help.
How will you access the garden from the kitchen extension?
The transition from inside your new kitchen extension to the outside needs to be as seamless as the transition from the original part of the house to the new room. This means putting exterior doors to the garden in a place that looks natural and is practical, both inside and out.
Bi-fold or sliding doors that lead straight on to a patio or deck will help you make the most of the indoor-outdoor relationship within the space, creating a more successful finish.
Think about the visual transition between the two spaces, too. Whether you have swathes of fixed glazing or install folding sliding doors, ensure you situate them to make the most of the views of the garden.
Use our guide to choosing bi-fold and sliding doors to find out more and browse these folding and sliding door design ideas for inspiration.
Consider the kitchen extension's glazing elements
With its location, and access from inside and out sorted, consider how much glazing you want to include in your kitchen extension. This will help you make the most of light, but should be done in conjunction with planning the different zones for cooking, dining and living, plus any utility space – since the more glazing you have, the less wall space will be available for cabinets.
Consider the extension's orientation, too. If it's south-facing, you might want to consider limiting the glazing to avoid over-heating. You can find more light filled extension ideas in our feature.
Consider a conservatory kitchen extension
This is a popular way to bring lots of light into a kitchen extension. What to bear in mind, other than ensuring you comply with planning laws and building regulations? Ensure the glazing is up to the job – both in winter and summer – of keeping the kitchen at the right temperature; if you're going to have remote controlled blinds fitted, bear in mind that they will gather dirt and grease from cooking over time so need to be easily cleaned; leave enough solid wall for fittings and fixtures to be positioned; make sure any entrances and exits to the room aren't going to interfere with the cooking zones; and give the best views over the garden from any dining or living space.
Want more conservatory ideas? We can help.
Think about the kitchen extension's exterior
Consider how your planned extension will look from outside. Just as you might match the detailing and materials inside to those of the original house to create a seamless transition from the existing space to the new, choosing materials that match those of your home's exterior will make the new extension blend successfully. Or, perhaps you might like to site your new kitchen in a traditional-style orangery, or go for contrast, such as with a glass box extension, for a contemporary finish?
Where to locate the kitchen within the extension
Generally, the kitchen/cooking area will be in the darkest part of the new room. This might seem counterintuitive, but for most of us it's preferable that the living and dining areas are nearest the garden – meaning the cooking area will be away from the light. These are the important zones for taking advantage of natural daylight – plus it makes more practical sense for the cooking/prep zones to be well away from kitchen doors (particularly if kids will be whizzing in and out of them).
Putting the kitchen at the end of the room that's nearest to the original part of the house gives you some scope for incorporating a utility room behind it. You could divide the old room up to create a narrow utility hidden behind the kitchen, saving space in the new extension for living and dining. The bonus? Not only have you gained a utility space that's value-adding in every sense, but you've taken some of the noisier appliances out of the kitchen extension.
See our utility room ideas for more inspo.
Plan the kitchen layout
Once you have the space that you want designed, you can start thinking about the kitchen layout – our ultimate guide to kitchen design is a helpful starting point. It is worth consulting two or three experienced kitchen designers for their ideas. Make sure you give them a clear brief of what you are trying to achieve, but listen to their advice in terms of layout to suit the space, such as designing a galley kitchen, going for an L-shaped kitchen design or a U-shaped kitchen layout. Or introducing a kitchen island or appliance wall.
Generally, though, as we've said above, it's best to site the kitchen towards the back end of the extension, nearest the original part of the house, with living and dining spaces nearer the brighter, garden end of the space.
Other things to consider include:
Will you have floor to ceiling cabinetry to hide away a small utility room or will you factor in a separate utility room?
Will building cabinetry within an adjoining hallway to match that of the run of units into the kitchen allow for useful under stairs storage or a concealed under stairs cloakroom?
Will you choose integrated, hidden appliances for a streamlined look or will they be on show?
Will you use the extension as an opportunity to incorporate features such as rooflights or a vaulted ceiling, or both?
As for practicalities, a good designer will understand the importance of function (ergonomics) and incorporate all the appliances you have specified. Once the basic layout is agreed, you can finalise details like the style of the kitchen cabinets (see our gallery for ideas) and drawer fronts, worktops and kitchen splashbacks. You can also get down to final details, such as the sink and taps, or even boiling water taps.
Don't miss our feature on kitchen interior design to get these last details just right.
When you have finalised your layout and chosen your supplier, the designer will be able to produce detailed wiring and plumbing plans so the builders can put the services in place during the building phase. You can then have the plastering and decorating work done and the flooring laid, ready for the kitchen installers to arrive.
Budgeting for a kitchen extension
With plans in place, you can work out how much you can afford to spend on each element of your kitchen extension, and make alterations to plans if your budget won't allow for certain design elements. Prices will vary depending on the work you carry out, but as a guide:
Building work: plan for between £1,200 – £3,000 per m² and upwards;
New kitchen: expect to spend between £17 – £200 per m²; find more on new kitchen costs in our guide
Painting and tiling the walls will cost between £50 – £100 per m² if you use a contractor;
Flooring will cost between £25 – £100 per m².
Building regulation costs depend on what work is involved and the overall area of the proposed project, but expect to pay upwards of £200.
Are small kitchen extensions worth the investment?
Planned carefully, a small kitchen extension can have a major impact, allowing you to rejig the layout of your existing space to create a whole new room, with space for dining and living as well as cooking.
Our guide to side return extensions is a good place to explore how you might expand and extend a smaller space sideways, like in the kitchen below; a small single storey extension (check our comprehensive guide on that, too) to the rear of the house can give you flexibility, too. The key is to get the kitchen's layout just right.
20 kitchen extension ideas and photos
Even on a small budget, you can up your home's value and transform the look of your space, allowing for open plan living and beautiful design, all with a kitchen extension.
Whether you're looking for small kitchen extension ideas, to create a modern kitchen diner or to kit out a 1970s semi or a Victorian terrace, be inspired by our selection of beautiful spaces below, many of which cost less than £100,000.
1. A bright and spacious kitchen for £84,000
Emma and Julien Barber spent more than a year looking for a new home after living in a 1920s semi in Swindon for 10 years. They'd viewed several houses that weren't right for them before realising that they could create the space they needed and the house they wanted where they already were.
Their new kitchen is minimalistic, clean and uncluttered, with bi-fold doors that open out onto their lovely garden.
The whole renovation cost £84,000, with the bulk being spent on the kitchen extension – this worked out much cheaper than the cost of moving. Complement your natural light with a little help from our kitchen lighting ideas.
2. A contemporary open plan and light filled space
Extending to the rear helps create not only a beautiful open plan space, but it also makes the most of a small garden, creating a seamless indoor-outdoor transition.
Marble counter tops, sleek lines and copper accents create a luxury feel in this kitchen, while the exposed brick wall and wooden dining table make this an inviting space for entertaining family and friends.
For the best ways to style copper kitchen accessories look no further than our feature.
3. A modern kitchen extension for £60,000
Originally, this kitchen was impractically small for the four-bedroom detached house that it serviced and the growing Lewis-Pierpoint family. They made good use of the third of an acre that their house is set in, taking out a chunk of the vast garden in order to extend their tiny kitchen.
High-gloss blue units and contemporary white surfaces bounce light around the room from the bi-fold doors opposite the kitchen island, making it the perfect place for family dinners. In total, £60,000 was spent on creating the perfect family kitchen.
Want a cheaper extension still? Find out how to build an extension for under £50,000.
4. A £66,000 kitchen extension filled with antiques
When Angela Hart and Richard Rush first laid eyes on this Regency cottage, they knew the small galley kitchen wasn't going to be big enough for them. As part of a two-storey extension project, the couple knocked through the downstairs bathroom and extended into the garden.
They didn't want to spend a fortune on a kitchen that would, inevitably, be tired and out of date in 15 years, so they opted for antique furniture that was cost effective and would last a lifetime. For about £66,000 they created a quirky kitchen that would stand the test of time.
Find out more about planning a double storey extension in our guide.
5. An L-shaped kitchen filled with character
Easy flow of movement is crucial in all rooms and most especially in a kitchen, which is why an L-shaped design can work so well. This kitchen extension is zoned to perfection – the L-shaped space with kitchen island for cooking and dining area close by – which makes for a fluid and refined finish.
We also love the unique touches to this design in the wall hangings and photographs as they add personality to what is still a very modern and clean space.
6. Extending a galley kitchen for £78,000
Like many 1940s homes, this one had a tiny kitchen that was far too small for a property of its size. The solution was to extend and open out the back of the house with vast bi-fold doors. Minimalist white units, along with white walls and ceiling, make the room feel even bigger than it already is. The use of dark wooden flooring and a charcoal feature wall creates contrast and enhances the space. Despite its size, this single storey extension was achieved for just £78,000.
Find out more about planning a single storey extension in our guide.
7. £98,000 for an industrial kitchen in London
This five-bedroom Victorian terraced house in south London had masses of potential for a kitchen extension. There was a lot of dead space in the side return, and an old conservatory at the rear of the house that could be put to better use. An L-shaped extension was proposed to the local planning department, and a month later, the owners were ready to go.
A row of rooflights flood the room with natural light, and big French doors at the rear open the new space out onto the garden. As the house had no remaining original features, the industrial styling fits right into the blank canvas. A spend of £98,000 transformed the original, ugly kitchen into a beautiful, industrial space.
Check out these inspiring industrial style kitchen design ideas.
8. An £85,000 side return extension
Owner Pippa Mundy's approach to renovating her Cardiff home included stripping it back to uncover interesting features, along with being flexible about her plans when she hit a speed bump. It has resulted in a truly interesting kitchen, with a reclaimed wood island at its heart.
Extending into the side return allowed for the inclusion of glazing across the roof, helped greatly by the triple-pane glass doors at the rear of the kitchen. The quirky extension was created for £85,000.
Find tips for building a side return extension in our practical guide.
9. Maximising light for £78,880
Getting a home with the kitchen of your dreams doesn't necessarily mean trawling the estate agents. For Frazer and Frieda Furlong, it meant patiently saving up for a decade so that they could craft the light-filled extension they'd always dreamt of.
Including the creative use of colour and pattern contrasts against contemporary units and warm woods in their kitchen extension plans, while the whole room was brightened by rooflights and solid wooden sliding doors too, resulted in a dynamic and inviting finish. The exterior contrasts with the rest of the building, as it is rendered in a modern blue, with silver decking leading down to the garden. Spending £78,880 has given the Furlong family exactly what they wanted.
Find more information and ideas for creating a light-filled extension in our guide.
10. A £72,000 kitchen diner extension
Ian and Gillian Roberts bought this home with the intention of carrying out a complete renovation in 2008. Then the family was shipped off to Hong Kong for Ian's job before the project could get underway. On returning, the family were faced with either a massive renovation project, or another move.
Instead of taking the easy option, they jumped into the renovation. Their kitchen, now situated in an extension that used to be dead garden space, is a modern, bright kitchen diner extension. It is filled with light by a glazed wall at the end, and large rooflights above. The kitchen extension cost about £72,000.
Find out more on house renovation in our comprehensive guide.
11. A family kitchen extension costing £58,000
When Paul Reid took his partner, Elaine, to view this 1960s detached house, the galley kitchen was a far cry from what she had pictured. The units were falling apart, it was brown and mustard and was only serviced by electricity. It was a nightmare from the 1970s, unaltered and out of date.
The couple went for a streamlined look with their final design, opting for contemporary, eye-level ovens and curved units. They may have spent a little extra on essentials like worktops and units, but saved overall by adapting their design and cutting out appliances that they didn't need. From an unattractive galley kitchen they have created this luxurious space for just £58,000.
For more family-inspired ideas and more kitchen design advice check out our dedicated page.
12. A small kitchen extension costing £74,424
After an ambitious two-storey extension to Nicola Wilkes and Stuart Davies' 1960s home left them squeezed for funds, the couple had to get creative when it came to designing a new kitchen at the end of their renovation project.
Rather than going all out, the couple put some clever small kitchen extension ideas into play and spent the money where it mattered, and made the most of their space space. The basics were kept plain and simple with reasonable kitchen units and worktops. The money went on the finishing touches to add a sense of luxury with the light fittings, tiles and furniture making the biggest impact on the space. The whole project cost £74,424 and the result was a simple but impactful Scandinavian style kitchen extension.
For help on choosing the best kitchen tiles check out our guide.
13. A London kitchen extension costing £68,000
Having viewed a lot of beautiful houses in the Finsbury Park area, Emily and Angus Grierson decided this was the place for them. The problem was, they didn't want to move into a perfect house that had been pre-renovated by someone else. They wanted to do it themselves.
When this house, ripe for extension, came up for sale, they snapped it up and picked up their tools, ready to turn it into their home. The building grew out into the garden and the extension housed the new, open plan kitchen – a bright and colourful space, perfect for the couple's needs. The project cost them £68,000.
14. £95,000 side-return kitchen extension
Mel and Alex Walker purchased this three-bedroom house in south-east London, recognising that it had a lot of potential. The side-return wasn't utilised and presented the perfect opportunity for an extension. Fortunately, an architect worked out of the same office block as Alex, so they enlisted him to help with their project.
The plan included a dining area next to the kitchen and a pitched roof; that way they could incorporate Velux windows, which, together with the bi-fold doors, would bring in copious amounts of light. To create their perfect extension, the couple spent £95,720 – not an unreasonable sum for such an incredible house.
15. A gorgeous grey kitchen extension
In this Lambeth extension, large skylights maximise the amount of light flooding in to help brighten up the covered kitchen space. The minimalistic sliding door and window better highlight the dining table and central kitchen island – which exude contemporary Scandinavian kitchen vibes – while the grey colour scheme helps keep the space cosy and a little industrial looking. For more grey kitchen ideas take a look at our edit.
16. A kitchen extension for a Victorian semi
Building a side extension allowed Mike Martin and his wife Sasha to create a kitchen extension that gave the couple and their three children a kitchen-diner fit for the 21st century. The north-facing addition has both bi-fold doors and a large box window in the side wall to maximise the light in the new open-plan room.
The kitchen design includes a central kitchen island as the main food preparation area; it's home to the oven, hob, sink and dishwasher as well. Meanwhile, the opposite side of the island is a breakfast bar and includes storage.
The room's dining area is directly connected to the garden and there's even room for armchairs to create a casual living area in the new room.
17. A colourful kitchen extension into a side return
Hilary Satchwell and her husband Richard Robinson lived in their home for over a decade before they extended into the side return to create a multifunctional kitchen-diner extension. The extension isn't large, but the modest extra square meterage has allowed the family to create a flexible kitchen, dining and living room all in one. Hilary's a fan of bright colours, and the kitchen reflects her taste.
To avoid the feeling of being overlooked, the couple didn't opt for rooflights, but instead chose big windows and doors on either side of the new room for a light-filled extension.
18. A kitchen-diner with a great garden connection
As part of their project to add space and light to their 1930s semi, South African couple Veerusha Diah and her husband, Yogesh Bhoola, added a kitchen-dining-living extension. Veerusha's aim was to be able to slide open the doors of the extension and step straight into the garden.
The house had a basement so the couple added a basement conversion to their plans, creating a new floor flush with the terrace. They also extended to the side to add a utility room.
A large kitchen island faces the garden, and the room's cabinetry is made from plywood for a finish with a clean simplicity.
19. An £85,000 wraparound kitchen extension
Stuart Fyfe and Matt Davey opted for a wraparound kitchen extension for their Victorian terraced home in order to create a room that's light and airy – and fabulously sociable.
The design includes an island with a breakfast bar where friends can sit and chat, and there's room to seat 12 in the new dining area. They chose bi-fold doors for the new room that open up to the secluded garden, and the room's now perfect for entertaining with room for up to 100 people at a squeeze!
20. An ultra-contemporary kitchen extension
The couple who own this Edwardian terrace took down a run-down old kitchen extension and replaced it with a modern version to create the open-plan kitchen, dining and living space they were after.
The pitched roof of the kitchen extension creates maximum internal height for the space, and the room has a picture window in the dining area that creates a fantastic garden view, along with sliding doors to open the extension to the garden.
The black kitchen is sleek and contemporary, and designed to look like the work of a joiner for an effect that's striking and individual.