We simply can't overstate the importance of investing in the best mattress you can afford. A great night's sleep boosts energy, improves focus, and, with the help of the right mattress, can even alleviate aches and paints. It's fair to say, we're big fans of a sleep upgrade in the form of the perfect mattress for you (and your budget). To help you out, we've done the hard work and research to bring you our very favourite buys, from foam and hybrid to pocket-sprung mattresses.
Ready to get started? Let us walk you through our top mattress buys available. If you like what you see, don't forget that many mattresses come with a trial so you can try before you buy, so to speak – which means that you could have up to one entire year until you commit to anything more long-term.
Prefer to hang onto your mattress a little longer? No worries: you may want to read our best mattress topper guide so you can upgrade your mattress, for less.
Best mattress 2022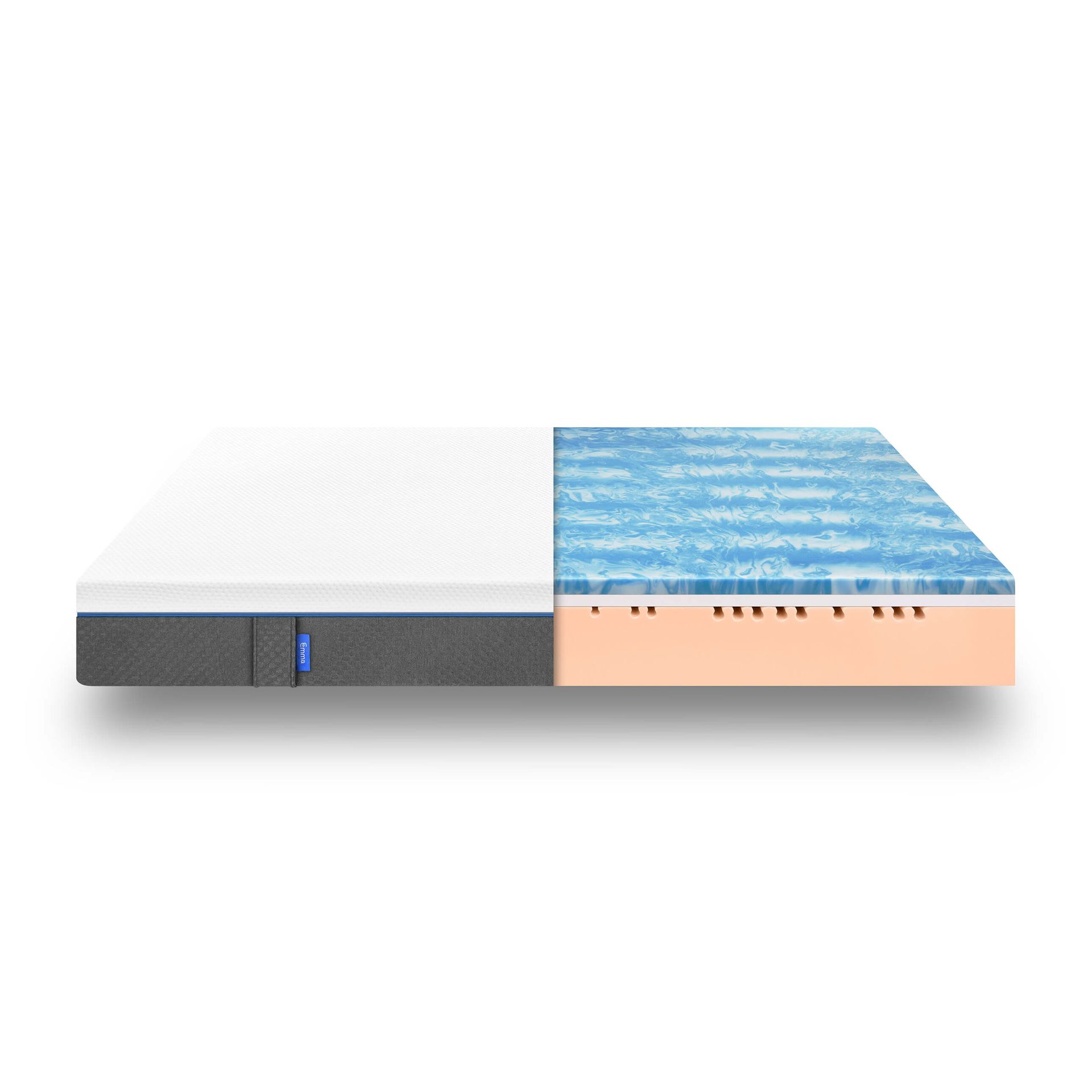 The Emma mattress is the best mattress you can buy. It's one of our top picks and well suited to those who tend to move lots in their sleep.
The verdict
It's easy to switch positions, and comfortable in whichever position you favour for that matter. We'd rate it towards the firmer end of medium, but it's certainly not rock solid. The mattress is evenly supportive across the entire surface, so there's plenty of room to spread out.
Construction
The top layer is an elastic foam called Airgocell, which brings you pressure relief. The memory foam layer is next and, like all memory foam, keeps you comfortable in any position. The base is made from Cold Foam that supports the above layers, as well as you.
The breathable, removable top cover can be washed at 60 degrees, which is going to bust dirt better than the standard 40 degrees. Handles make it easier to manoeuvre.
What do you get for your money?
A newly expanded 200-night sleep trial, no questions asked 10-year warranty, and free delivery, usually within one to three working days.
Read the full Emma Original mattress review.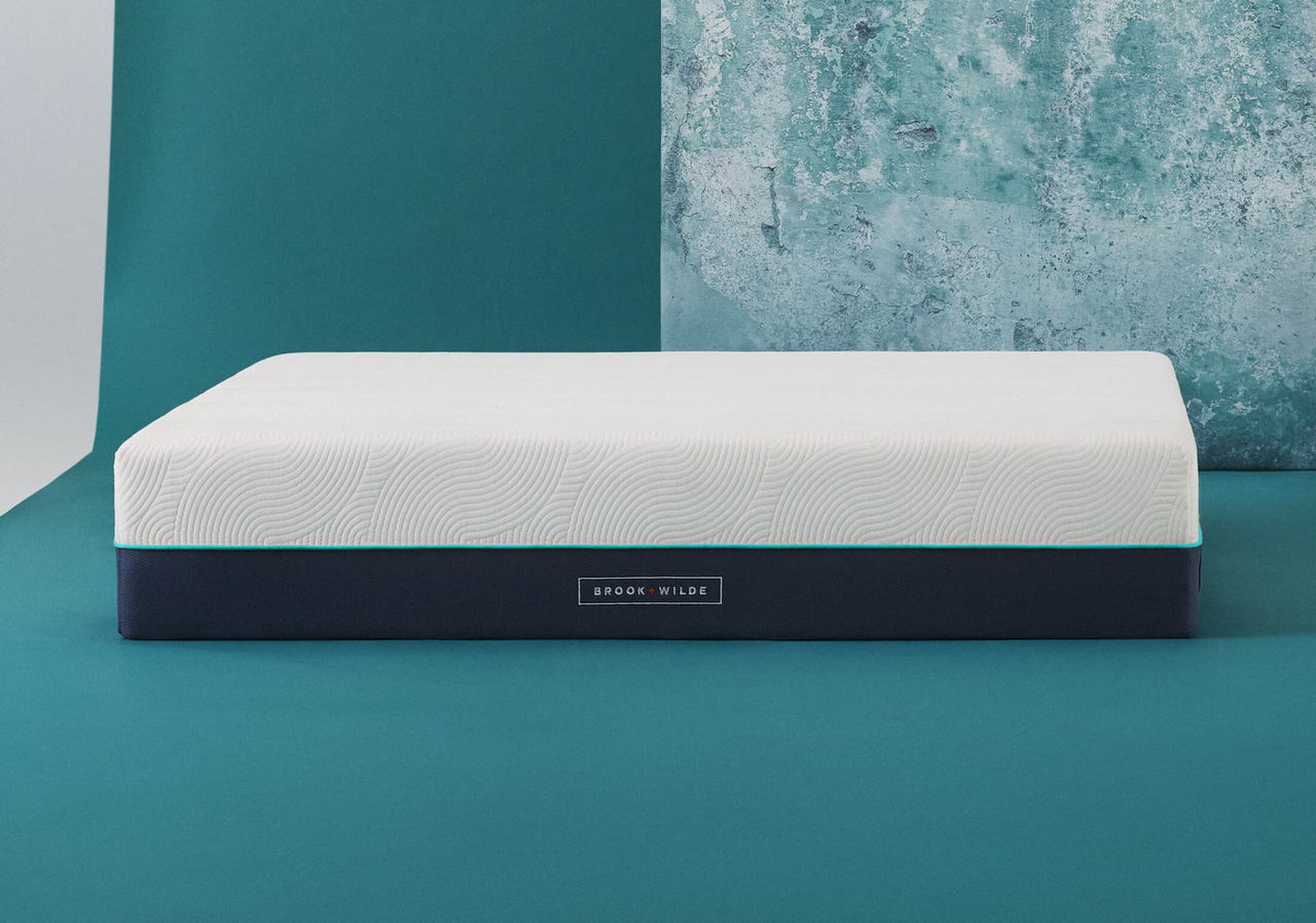 This is Brook + Wilde's mid-range mattress, but nothing about it is average in our eyes. Though you do need to fork out a fair bit to buy, the comfort is amazing and we would definitely recommend it to anyone with the budget.
The verdict
All sleepers can find a mattress they want in this range. You can choose your preference of comfort feel (tensions): Soft, Medium, Firm, or Extra Firm. Our reviewer is a side sleeper and found the Medium tension spot on. The only people who won't like it are those with bed frames from certain well-known European furniture companies – it only comes in UK sizes.
Construction
There are eight wonderful layers to the Elite Mattress which combine a breathable memory foam protector, open-cell structure memory foam layer for temperature regulation, a layer of 2,500 mini pocket springs and a further 1,000 larger pocket springs in another layer to give a bit more push back. These are separated by the wave tech layer mentioned before and the whole thing sits on a support base and anti-slip layer to keep your mattress firmly in place.
You certainly get what you pay for and the Elite's eight layers of comfort offer a luxurious flumpiness that is a dream to sleep on. No overheating, no tossing and turning, and an instant give from the memory foam layer which is missing in some competitors.
There is a unique layer of foam with 'wave technology' which offers added depth near the head and shoulders to improve spine alignment. Hips and legs are also gently cradled with just the right amount of sinkage for full lumbar support.
What do you get for your money?
A 100-night comfort trial, 10-year guarantee and free delivery. The delivery guys will help you to carry it up the stairs and the after-sales team will call you after a few days to see how you're getting on with your new mattress.
Read our full Brook + Wilde Elite mattress review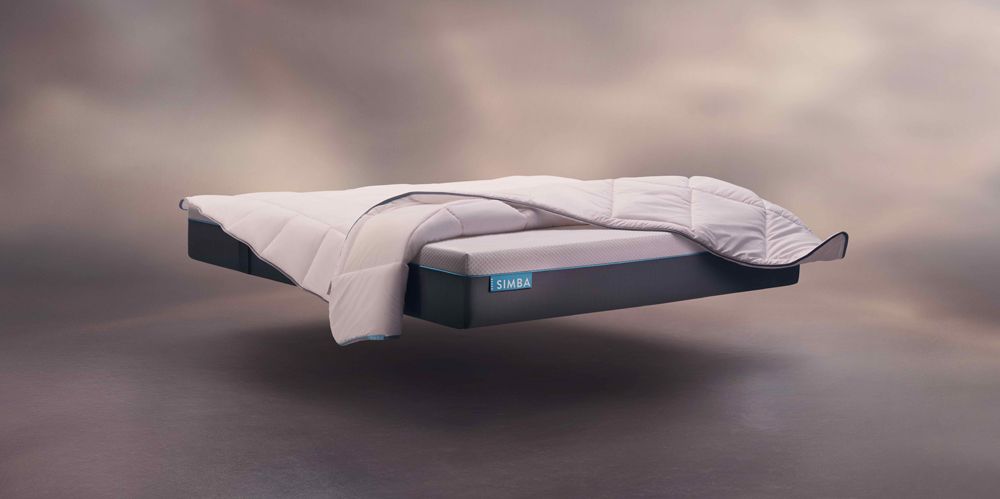 The Simba Hybrid Pro is at the premium end of mattress prices when compared to the others in this guide but our reviewer loved it (and still does) so it is one that we can highly recommend. Being of medium firmness, this mattress is best suited to side or front sleepers since they can sink in (a little) for unrivaled comfort.
The verdict
After the first week or so our reviewer and her partner were fully adjusted to sleeping on the mattress. There was also very little motion transfer and there was a good balance between sinking into the mattress so your shoulders aren't too squished (when sleeping on the side), to equally being very well supported.
Not only is it a hybrid mattress with springs and foam but it is also naturally temperature regulating which is good news for hot sleepers. Our reviewer isn't a hot sleeper and this mattress was tested during the winter months, but it is worth noting that at no point did she wake up during the night overheating which can tend to happen when the heating is on.
Construction
There are an incredible seven layers built-in to this mattress which all work together to give you a dreamy night's sleep. A point of difference compared to the Simba hybrid mattress (opens in new tab) is that it has a hypoallergenic cover that is super-soft, comfy and breathable, but is not removable, although there is a zip underneath (again the Luxe can be removed and washed). It also has a natural wool layer which is naturally temperature regulating and two wonderful layers of up to 5,000 25mm, individual conical pocket titanium alloy Aerocoil™ springs for better body weight distribution.
To make up the total number of layers here is also an open-cell foam layer, high definition foam with edge support, and a zoned support base.
One of the layers in the mattress is a wool layer (more on this later) which sets this mattress apart from the others in this guide. Vegans might want to consider the Simba Hybrid Luxe (opens in new tab), another tried and beloved option, if they want all the layers (and more) but no wool – the Luxe features bamboo wool instead and an extra layer of springs.
What do you get for your money?
Every Simba mattress comes with a ten-year guarantee, free delivery to most addresses in the UK, and free returns if you decide the mattress isn't quite right for you during the 200-night trial.
Read our full Simba Hybrid Pro mattress review
Save up to 40% in the Simba Sale (opens in new tab)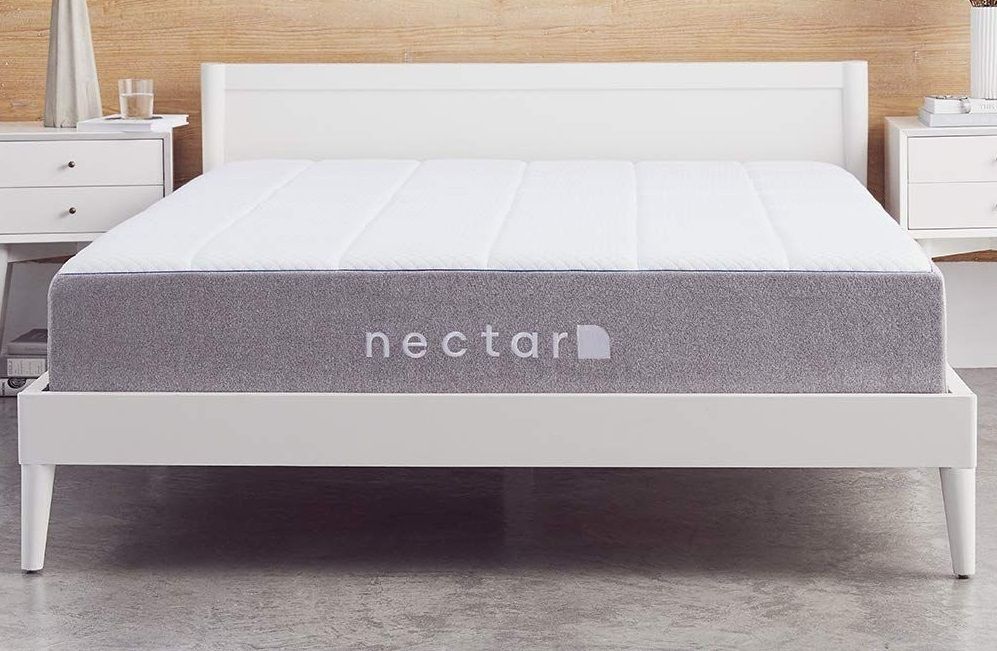 This trustworthy and affordable foam mattress won't lose its firmness even after a whole year's use. And with a 365-night trial, you can certainly put that to the test.
The verdict
Thanks to its foam filling, the Nectar Mattress will make your joints feel cushioned from night one. With regards to motion transfer, the Nectar is as good as any memory foam, and if sliding into your other half during the night is a massive bug-bear, this is the best find for you. On the firmness front, the Nectar is rated 5.5–7.5 on the website, which the company claims is 'just right'. It's also not too firm – nobody wants a mattress that is too firm, trust us.
Construction
There's nothing especially unusual about the Nectar's construction. It has an Adaptive Cooling Cover designed to draw away heat from your body and circulate fresh air every time you move. It features a decent layer of proper memory foam which is nicely aerated, and then pressure-relieving foam that deals with contouring to your curvy bits. Finally, the seven-zone base foam provides more contoured support plus depth.
What do you get for your money?
The Nectar comes with an unprecedented 365-night trial period. And, if that's not enough for you, it also comes with a Forever Guarantee so it's a good choice if you are more risk-averse.
Read our full Nectar mattress review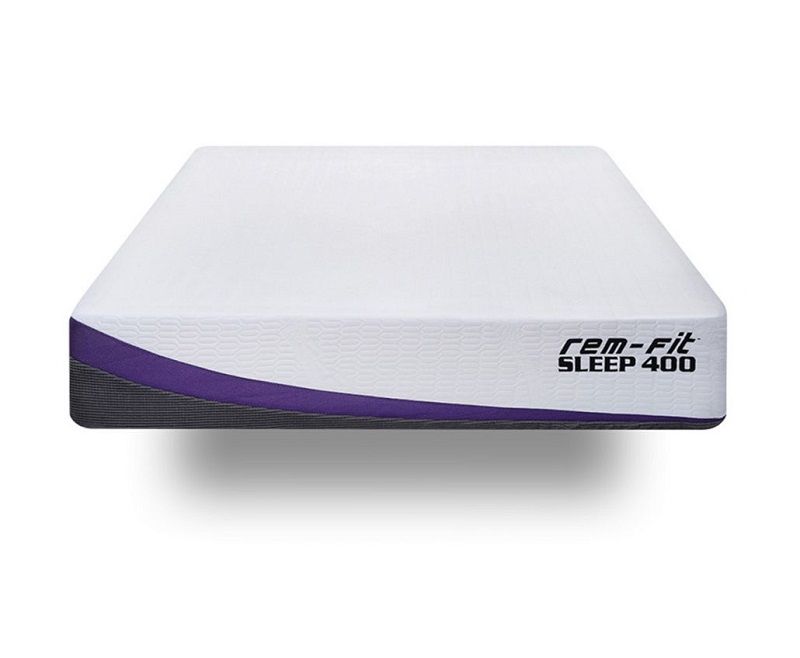 The Rem-Fit 400 is a hybrid mattress that is both comfortable and supportive. This mattress would be a treat for all sleepers, whether you're a fan of memory foam or not. It will comfortably withstand a combined weight of 40 stone, too, so if you're closer to 20 stone your sleep position will be fully supported – even tight up to the edge of the bed.
Although our reviewer was initially unsure, according to the Ts & Cs at Rem-Fit they recommend that you sleep on your new mattress for a minimum of 30 nights to allow enough time for your body to fully adjust, which gives some comforting encouragement to pursue (it's worth it, honest).
The verdict
Our reviewer tested it throughout the summer months when there were some temperature highs and lows. The mattress didn't cause any overheating. And even if there was some restlessness, you wouldn't know it because the motion transfer is great – you wouldn't even know your companion is there (unless they steal the bedsheets from you).
Construction
For a hybrid, there's nothing too out of the ordinary with this mattress. The first layer of the mattress (out of five) is the Re-AX breathable cover which encases the 25cm-deep Hybrid. It's removable and machine washable, too, which will make caring for the mattress nice and easy.
It uses a combination of cool open-cell memory foam and 2000 premium pocket springs, plus foam encapsulated the side walls with edge-to-edge support for a very supportive base to lie on at the end of each day.
What do you get for your money?
A 100-night sleep trial with no quibbles if you're not completely satisfied; 15-year full replacement guarantee at no extra cost and free next-day delivery (when you order before 1 pm).
Read our full Rem-Fit 400 Hybrid mattress review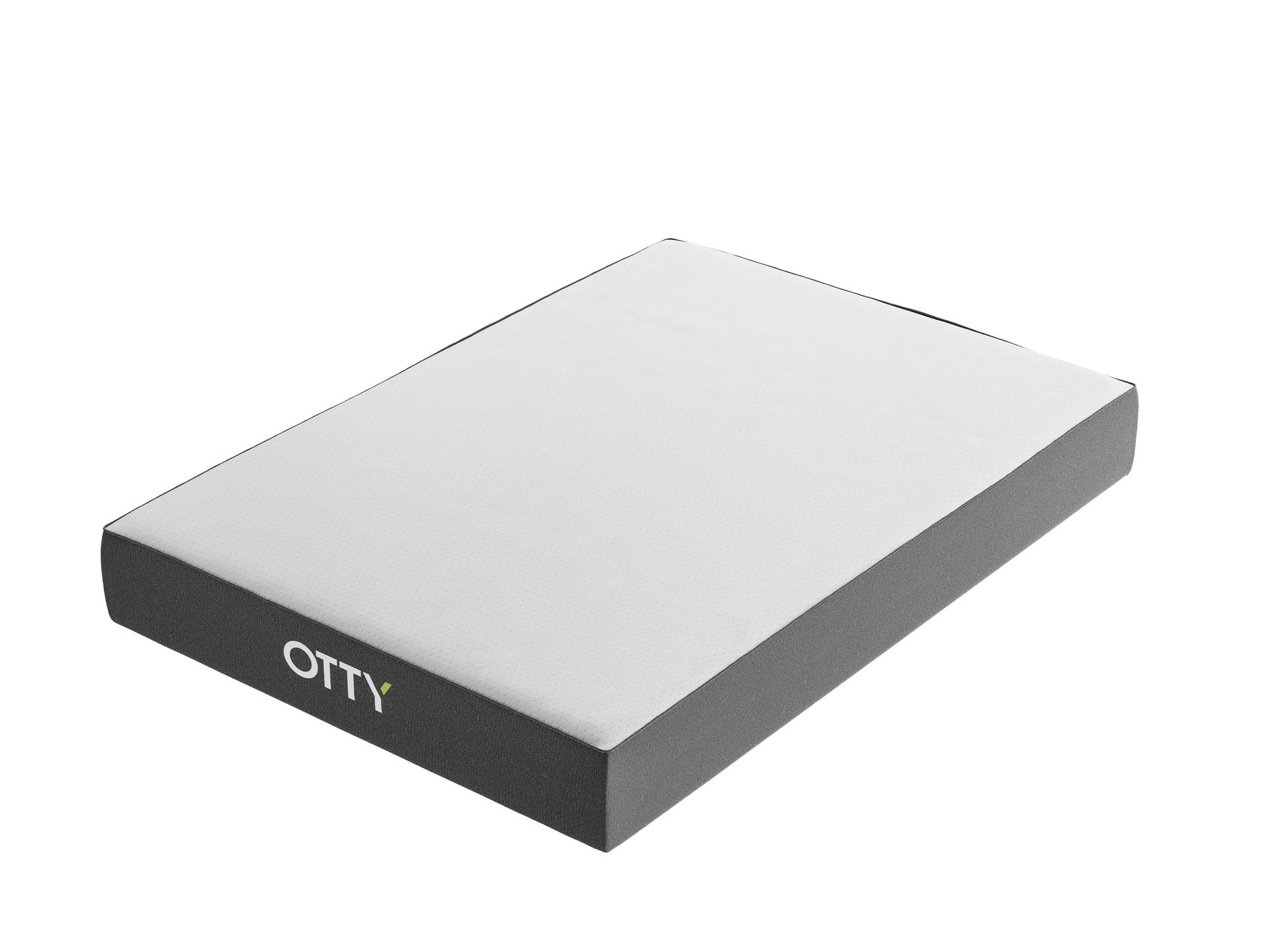 The Otty Original Hybrid is a super comfortable sleep that our tester loved, and it's one that is very reasonably priced for what you get. While it is one of the cheapest 'branded' bed-in-a-box hybrid mattresses out there, this fact is never reflected in the quality feel or sleep experience.
The verdict
More robust than many memory foams, the lengthy springs provide just the right levels of bounce and support – it's not too soft, nor too hard. That would be perfect then. Except there is a small amount of motion transfer but certainly not as much as you'd get from a full-on pocket sprung and nothing to really blot its copy book. The best in a box for memory foam lovers, we think, and perfect for space-hogging partners.
The cooling technology inside this beast is the stuff of legends – no exaggeration. Night sweats = a distant memory. The cover is removable and washable.
Construction
A layer of Cool Blue Gel memory foam keeps you cool (and it works), and a layer of reflex foam brings support. The 14cm tall pocket springs are where this mattress stands out from the other hybrid mattresses, which tend to go for short or conical springs. Then there's the requisite solid foam base that protects it from your bed base and generally prevents sinking.
What do you get for your money?
A 100-night trial, 10-year guarantee and free delivery.
Read our full Otty Hybrid mattress review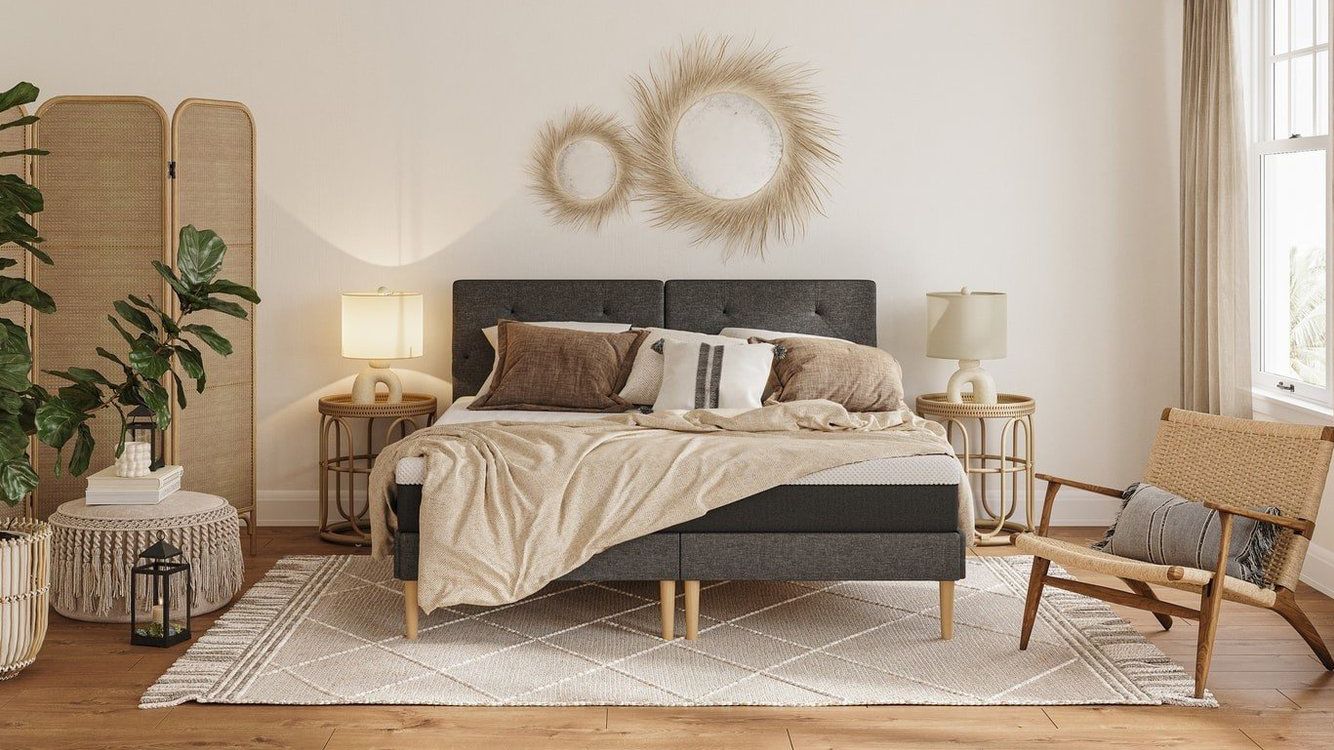 It's not every day we say that a mattress suits every kind of sleeper, but the Emma Premium mattress lives up to this bold claim. You'll especially love it if you're a side sleeper – though it's also extremely comfortable for front and back sleepers, too.
The verdict
As a hybrid, the Premium has a combination of memory foam and springs, but the former isn't overwhelming: in fact, it has the pleasant feel of a traditional pocket-sprung mattress, perfect for anyone who's undecided on a foam mattress. It's pretty firm, which we found helped with aches and pains and supported key pressure points. This is thanks to a new-generation aerated foam, called Airgocell that also aids cooling and breathability – something missing in regular memory foams.
The Premium didn't quite live up to the Emma Original on motion transfer, thanks probably to the latter's all-foam construction. However, this is only really an issue if you and your partner are at very different body weights – or night-time schedules.
Construction
Alongside the top-secret Airgocell formula, this mattress also comprises of memory foam, which moulds to your body's contour; 'cold foam', which helps stabilise the springs below; the aforementioned springs, which offer targeted support; and a base foam later, which stabilises and adds height.
What do you get for your money?
An impressive 200-night sleep trial, plus a 10-year guarantee.
Save up to 53% in the Emma Sale (opens in new tab)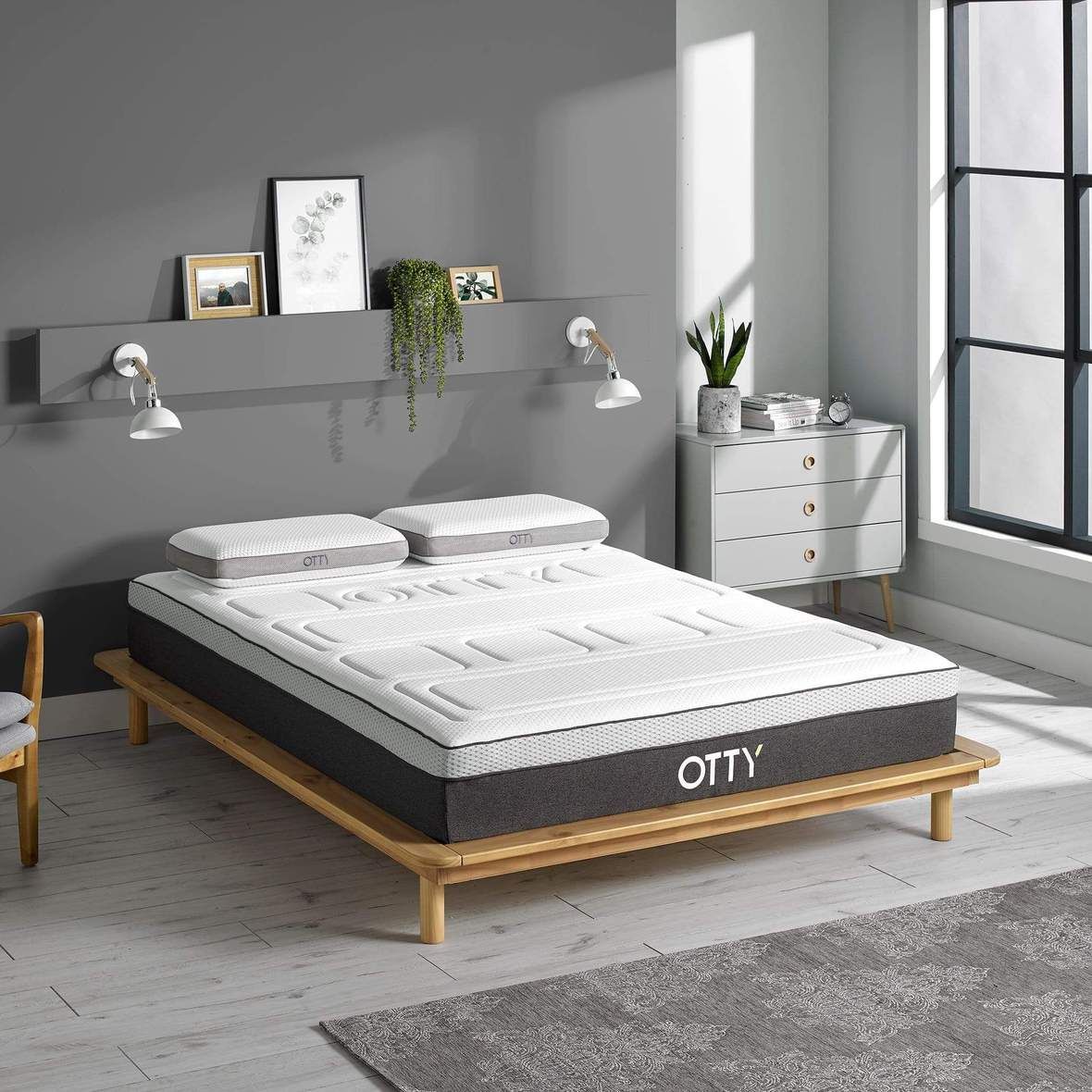 Do you struggle with hot sleepless nights, in summer and beyond? Then the OTTY Pure Bamboo and Charcoal mattress might be for you. This mattress stays cool even on sweaty summer nights, so it's a top pick for hot sleepers, with the hybrid design adding extra breathability.
The verdict
The OTTY Pure is a very breathable mattress. It had no trouble keeping our reviewer warm through a cool spring, but it also helped her sleep quite comfortably through the summer heatwave. That's all thanks to the charcoal, which claims to regulate temperature, and the airflow system, which keeps the mattress fresh.
It's also great if you want a mattress that's a little on the firmer side, but with a supportive and squishy top layer. Our reviewer had been experiencing a lot of lower back pain prior to testing – enough to make getting out of bed or sitting at her desk difficult – but she noticed that the pain lessened when she started sleeping on the OTTY Pure. She said: When I'm away from home, I genuinely miss the support it gives.' She found the mattress to be supportive as a side sleeper, and it was also very comfortable when lying flat.
Construction
At 25cm, the OTTY Pure mattress has the same depth as the OTTY Original – that is to say, pretty thick. It has a removable cover for an added layer of protection, but note that it is dry clean only.
It also uses up to 2,000 encapsulated pocket springs, as well as two memory foam layers, compared to the Hybrid's one.
What do you get for your money?
A 100-night trial and a 10-year guarantee.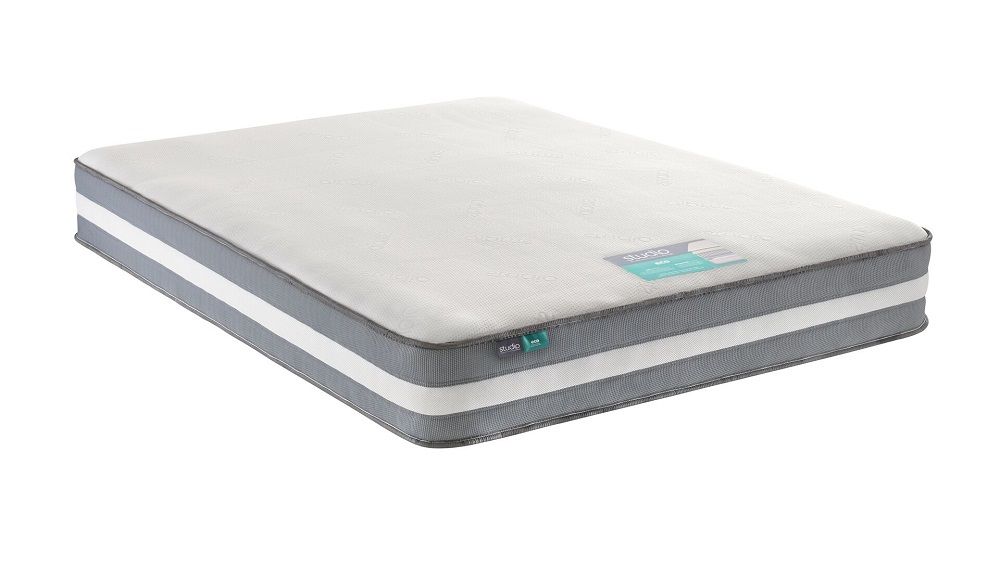 If you're looking for a mattress that uses recycled materials then the Silentnight Studio Eco Hybrid Mattress is IT. And bonus, it's remarkably affordable. All sleepers, including children, will appreciate this mattress thanks to the handy cooling layers. It's a good choice for the environmentally concerned, too, since it contains eco fibres made from recycled plastic bottles.
It also includes magic cooling properties which Silentnight refers to as 3D breathable fabric technology. This allows the air under your body to circulate, keeping you cool in summer and warm in winter.
The Verdict
First impressions at bedtime were not great BUT the longer our reviewers lay, the comfier they felt, and were both went off to sleep unusually quickly and slept right through. If you're sleeping next to a partner who thrashes around somewhat during the night then you won't be too disturbed on this mattress.
The firmness of medium/firm is perfectly pitched, and you really wouldn't want it any firmer. And the weight was distributed as expected with the surface evenly tensioned and you can use the full width of the mattress to sleep comfortably on.
Construction
Along with the cooling layer is a single layer of 1000 mini pocket springs that provide balanced but responsive movement.
What do you get for your money?
A full manufacturer's guarantee against defects for five years, plus a 60-night comfort exchange guarantee.
Read our full Silentnight Studio Eco Hybrid mattress review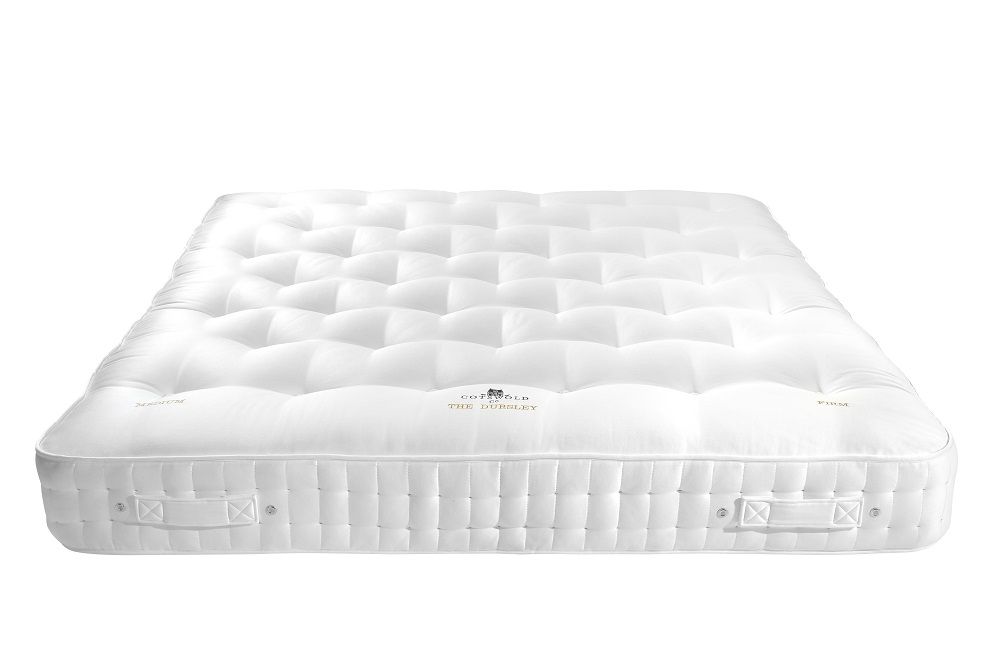 If you're looking for a handcrafted, natural mattress then your search can end here. The Cotswold Company Dursley is a firm mattress, which made for a good comparison against its memory foam rivals, and is also a good alternative for you to consider. It's also available in a medium firmness too.
The Verdict
It is best for back sleepers because of the firm tension, along with fidgets and sustainability advocates. Admittedly, our reviewer is a side sleeper who found the mattress to be true to tension. A couple of pillows to prop up the head and a cotton quilted mattress protector really helped to soften the feel of the mattress. Yet when rolling onto the back during the night, any aches and pains were soon stretched out and it felt like lying on a cloud thanks to the pillow-top surface.
The tension is consistent across the mattress which meant that you could barely feel any movement from a restless partner. And being made from natural materials would mean that in any month of the year the mattress, and your body, will be able to breath and be naturally kept cool.
Each mattress is handcrafted so each mattress is unique. There's some beautiful detailing such as the hand stitching which you can see everywhere across the mattress; the edges for support, the handles for easy turning, and the hand-tied pure wool tufts (our reviewer's favourite).
Fillings
There are five layers to The Dursley which are all made from natural materials. This includes a wonderful combination of British wool from Dartmoor, 100 per cent pure Egyptian cotton and 1200 Comfort Intelligence pocket springs.
What do you get for your money?
An eight-year guarantee plus the option of free delivery.
It's worth noting that there's no trial period with these mattresses so if you aren't happy with your new mattress you are unable to return it due to hygiene reasons.
Read our full Cotswold Company Dursley mattress review
How we tested our best mattresses
The Real Homes' mattress review process is editorially independent and not influenced by any third parties. All of our picks have been reviewed by at least one member of the Real Homes team, so we can assure you this: they're good.
Our reviews are based on the real-life experience of using these products at home. The products are given to us free of charge. Often times can keep the mattresses, which gives us the opportunity to return to our reviews for updating, so you can keep up-to-date with how it's fared over a period of time.
You'll find big-name brands like Emma, OTTY and Simba here, and we've put them through their paces over not just a couple of nights, but several weeks, even months. When evaluating mattresses, we take into account value for the money, construction, comfort, and support, with various tests in place to consider factors like edge support, motion transfer, and spinal alignment. Now we understand that mattress firmness is subjective, so we also ask each reviewer to be transparent about their sleep habits, as well as invite others to lie on it and share their impressions.
For more insight into our hands-on review process, refer to our Real Homes review guidelines.
How to choose the best mattress
Buying a new mattress really is an investment. They can often set you back a few hundred pounds, sometimes even exceeding the thousand-pound mark, and should last you a good number of years. We spend a lot of time in bed so choosing the best mattress for you is so important. Here's what to look out for:
Work out your sleep position: side sleepers tend to need softer mattresses (think memory foam or hybrid) than back or front sleepers, or they suffer from achy joints;
Are you heavy or light? Heavier people tend to find firmer mattresses comfortable; lighter people need a softer mattress they can sink into a little;
What's your preference? If you're light but love a hard mattress, go with it, no matter what we say;
Fidgety? Fidgety partner? 'Good motion transfer' is the phrase you're looking for in a mattress – most of those below have that (memory foam or hybrid mattresses usually more so than trad sprung mattresses);
Back pain sufferers? Look at memory foam or a hybrid (which is foam over springs);
Allergy sufferer? Consider latex as a filling (although memory foam/hybrids will be good for you too, as will one of the money-saving best mattress protectors;
Sweaty sleeper? Find a mattress made of breathable materials: most of those below have this type of filling;
Budget: not everyone can splash out, which is why we've included a range of mattresses to suit all spends; PLUS our clever widget works out the best prices every day.
Considering a new mattress? If you haven't replaced yours for seven years (or more), or if you're at the point where you are waking up in the morning feeling feeling achy or uncomfortable, now is the time for an upgrade. Follow our comprehensive guide to how to choose a mattress for a better, more restful night's sleep as you seek new ways on how to fall asleep fast during these longer nights.
Free mattress trials
We'd never advise anyone to buy a mattress without trying it first. Back in the day, that meant hitting the shops and lying on mattresses in-store but honestly, the days of buying a mattress in-store are far behind us. Now, you can safely shop online and take advantage of the free trial with no quibble returns. As the majority of the mattresses we've reviewed come with super handy 100-night/more sleep trials and/or one year to 10 year warranties, you're sure to find an option that has you covered.
Best mattress for your sleep position
Are you a back sleeper, a side sleeper or stomach sleeper? Purchase your next mattress to suit how you sleep, and you'll be pain and ache free in no time.
Side sleepers can experience achy joints, especially around the hips and shoulders. Opting for a softer mattress you can sink into is the way to go, with medium-soft the most recommended comfort grade. Other than our overall list topper, the Emma mattress, we rate the Simba Hybrid for side sleepers (it has cured our ed-in-chief Lucy's chronic neck and back pain) and the Casper Hybrid; we also really like the Rest Assured Richborough mattress.
Front sleepers might experience sore pressure points in the ribcage, knees, and elbows, as well as what's alarmingly called 'general spinal discomfort'. You will find a firm mattress that supports you but has give for these sensitive points most comfortable. Our all-round best bet is the Sealy Activ GelTex, a medium mattress with a winning spring and latex construction. We also like the Silentnight Risborough Mira Pocket.
Back sleepers need to go for a middle ground for maximum comfort: not too soft, not too firm. Our favourite for back sleepers is the Eve mattress; it's also a good buy for side sleepers who prefer a slightly firmer sleep surface.
You also need to consider how things like your pillow impacts on your sleeping position and mattress choice, too. Use our guide on how to choose a pillow for your sleep position to get that right.
Choosing the right firmness
One of the most important things to think about when purchasing a new mattress is getting the right firmness for you. Often it is down to personal preference and whether you prefer a soft or firm feel; you just need to be confident that you have the correct support for the way that you like to sleep. Your weight plays a part, too: heavier people will find a harder mattress more comfortable than lighter people, who will usually fare better on a softer mattress. Here's a rough guide to what should suit you:
Soft medium: Ideal mattresses for side sleepers, as they let your shoulders and hips sink into the mattress while supporting the rest of your body;
Medium: If you sleep on your side but prefer the feel of a firmer mattress, choose medium support;
Medium firm: If you change position from your side to your back this is the best option;
Firm: If you prefer to sleep on your back or sleep on your stomach, choose a firm mattress, which will give you just the right amount of support;
Extra firm: Sometimes called an orthopaedic mattress, extra firm mattresses offer a very firm level of support.
How to do a quick mattress comfort test
If you are testing out a range of mattresses in-store, you can check if it might suit you by lying down and sliding a hand beneath the small of your back. If your hand slides in easily, the mattress is too hard; if you can't slide your hand in at all, it's too soft.
Bear in mind, though, that the base you'll be putting the mattress on will affect how the mattress feels at home. For example, a sprung divan will make a mattress feel softer than a solid divan or slatted base.
Is that rushed showroom test not assuring you that your new mattress is right for you? Or perhaps you're buying a new mattress online? This is where those 100-day, no quibble return policies come into their own – so double check what your retailer is offering when making a decision.
Best mattress types
There's a mind-boggling array of material used in the best mattresses but it's important to state that no one particular type is better than another; it's much more about what you'll find comfortable. Here's a quick rundown of the mattress types available:
Memory foam moulds to your body's shape, and gives plenty of support, making it perfect for side sleepers or anyone with back pain. Newer memory foam mattresses have breathability built in – so look for this as a feature when buying. It's also good for allergy sufferers. Our top choices are the Tempur Sensation Elite and the Eve mattresses.
Hybrid mattresses/sprung memory foam mattresses are constructed with a pocket-sprung base and a memory foam top layer, so you'll get the responsiveness of springs plus memory foam support. Good for allergy and back pain sufferers. Our favourites are the Simba Hybrid and the Otty Hybrid.
Latex is durable and breathable; it tends to be on the firmer side, and is ideal for allergy sufferers thanks to its anti-microbial properties. It's also a very durable material and can be expected to support you soundly for years. For a good combination of latex and pocket springs, we like the Rest Assured Richborough mattress (opens in new tab); we also like the Naturalex GELTECH mattress if you often find yourself getting hot and sticky in the night.
Pocket sprung mattresses, made from individual springs in pockets of fabric, provide lots of support, whether you prefer a soft or firm sleep surface. They can also come with different levels of support on either side of a double for partners who prefer different levels of firmness. Our favourite is the Rest Assured Richborough Pocket Latex.
Open sprung mattresses are cheaper and lightweight, but less supportive and responsive; choose them for guest rooms.
Natural mattresses such as The Cotswold Company Dursley (opens in new tab) should not include foam; rather, look for only natural fillings such as cotton, hemp, and flax, and it should provide an alternative to the chemical fire retardants that are used in other mattresses. A mattress that calls itself natural needn't be low-tech: advances in pocket spring technology mean that the days of squeaky, massive springs are over; new models use thousands of micro-springs that rotate as your body moves, so you should, at least in theory, be as comfortable sleeping on your natural mattress as on a foam or hybrid mattress.
Mattress sizes
This will often be determined by the bed that you already have. However, if you are starting from scratch and looking to get a new bed and mattress then a good place to start is with the right size.
If you are sharing a bed with a partner a double is usually sufficient, but if you are someone who requires more space or is often disturbed in the night, then it may be wise to go up a size. Ideally, your mattress should also be wide enough to allow two of you to lie side by side with your hands behind heads, without your elbows touching. Our guide to how to buy the best beds is useful in helping you to choose the right option for both your home and your lifestyle.
As for mattress length, it should be 10cm longer than the tallest person sleeping in it. So, if you're a strapping 6 footer, you'll be looking at a king size mattress as a minimum.
The mattresses in our list range from 18cm to 30cm in depth. See how high your bed is and check the overall height of your bed isn't going to be an issue (especially if your bedroom is in a loft with sloping ceilings).
Below are the most common UK standard mattress dimensions:
Single: 90cm x 190cm
Small double (often called a queen): 120cm x 190cm
Double: 135cm x 190cm
King: 150cm x 200cm
Super king: 180cm x 200cm
Consider special features
It's useful to consider whether the mattress you're purchasing has any added features such as:
A cover that zips off for easy cleaning;
Handles for turning;
Allergy UK approval;
Temperature regulation – see our pick of the best mattress cooling pads for more.
Should you buy a mattress in a box?
Mattress in a box? Yes, it's a thing. Where once, we'd decide whether a mattress was right for us by spending just a few minutes on it in a shop (fully clothed, obviously), now you can have yours posted out to you.
Why not? It makes sense. Why spend (or, we think, waste) your time trying mattresses in an overheated store when you can order a mattress in a box, have it delivered within days, then use the 100 day free trial that most of the best boxed mattress companies will give you to decide if it's the right mattress for you? And if it isn't, you can get either an exchange or, in many cases, a full refund with no hassle returns policies.
Made from innovative materials that can be rolled into a surprisingly small box (think fridge-sized), these mattresses can be easily hauled upstairs and simply unfurl to regain their shape after just a few hours.
Our top choice of all the mattresses in a box is the Otty Hybrid, which offers superb levels of comfort for all sleep positions, but particularly side sleepers.
Right up there too are the Casper (opens in new tab), the Simba Hybrid mattress and the Casper Hybrid (opens in new tab). Also in our top 10 mattresses in a box is the Emma Original.
Cost of a new mattress
Seems like an obvious thing to consider but with so many wonderful, incredible mattresses out there which all promise to deliver something similar (a decent night's sleep) it can be easy to get swept away with the dreams of the best, BEST mattress out there. They can be mega money or, like the OTTY mattress (opens in new tab), needn't cost a lot for a supportive yet comfortable night's sleep.
It's definitely worth keeping a look out for any mattress sales, discount codes and deals so you can save a bit of money. Bookmark our cheap mattress sales page for the top offers and some Real Homes exclusives.
When to replace your mattress
The Sleep Council (opens in new tab) says that after seven years your current mattress may not be offering adequate support. This will depend on the quality of the mattress in the first place and how much use it has had, but if your mattress is nearing that age it is time to check if you need a replacement.
If the mattress doesn't spring back to its original shape when you get off; has lumps and bumps; is dirty beyond cleaning; or is in any way uncomfortable it is time for a new one.
Top tip: if you're wondering when the best time to buy a mattress is, early spring and summer is when we tend to see the latest releases, but what's even more certain is that online is where you'll find the best prices. To make life even easier for you, we keep this page up to date all year long so that it feeds the best prices available, for the best mattresses out there on the web right now.
Of course, taking good care of your mattress is key to making sure it lasts. Find out how to clean a mattress with our expert guide.
You've reached the end of the page. Jump back up to the top ^