Staircase ideas can be so simple and effective. That's because essential maintenance can easily go unnoticed week-after-week. And, before you know it, you're horrified by the state of your steps.
So if the many scuff marks on your baseboards have shuffled down the to-do list, the runner has run down to its last threads and the banisters taken a battering – it's time to pay them some attention – sharp.
Once the foundations are in place, a stylish staircase can add so much to your home and can be a really fun and easy area to decorate.
Staircase ideas that are stylish
Whether your stair spruce up is big or small, takes just a weekend, or a little longer, you're sure to find the inspiration you need for your own home.
The staircase is usually one of the first things you'll spot in an entryway so it makes sense to make yours beautiful. 'Stairs are an important feature of any house,' explains Elaine Penhaul, director of Lemon and Lime Interiors.
'A quick and relatively cheap way to make this space appear bigger is to have a feature light fitting at the top of the stairs to draw the eye up. This needs to be modern and light; glass, chandelier-like fittings work best.'
1. . Match your stair paint color to living room furniture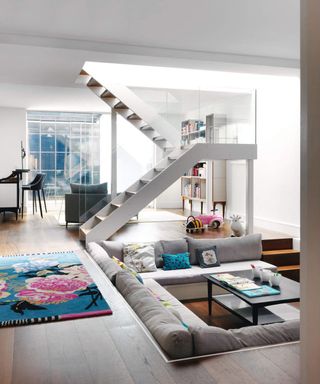 A grey and white lounge can be a modern and contemporary hub of the home – and doesn't this cool sunken sofa and central staircase prove it.
To create a sense of seamlessness in this open-plan living room layout, choose a color for your staircase that's a similar shade to your furniture. It'll really help to create a sense of flow and cohesion throughout the separate spaces.
And if you're painting yourself, make sure you know how to paint a staircase properly for the professional finish.
2. Create a family-friendly activity zone by the stairs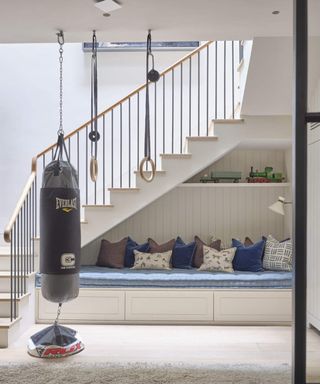 Unless you live in a tropical area, the chances are you're not going to have 365 sunny days that you can make the most of exploring the outdoors. So, it's worth investing in some bright and sunny stairway ideas for grey and rainy days.
This under the stair storage seat is perfect for cozying up with a book. We love the country feel with the shiplap decor and blue and white cushions.
Below the seating, we suspect there's extra hidden storage for books and toys, and if there isn't... We wouldn't think twice about adding it in.
3. Install a glass banister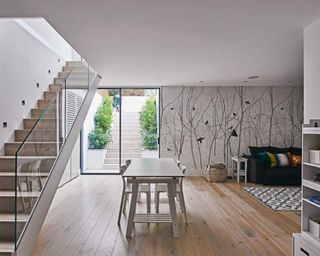 Like mirrors, reflective glass staircase railings can help make your hallway appear larger. If you still like the traditional wood look, try a glass banister with oak on top, or for a contemporary hallway, look go for chrome fittings.
Light walls, pale wooden flooring and considered furniture all help to reinforce the idea of a larger space too, so keep a hawk eye out for these home buys at your DIY or department store.
4. 'Widen' your stairs with strategic mirror placement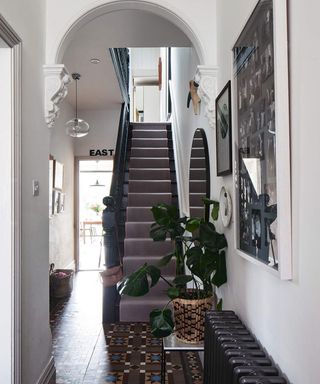 Aside from the functional benefits of including mirrors in your hallway decor (because who can resist one last check of an outfit before heading to dinner?), mirrors can also help create the illusion of enhanced space and light.
If you look at the reflection in the round, black-framed mirror, you can see some 'extra steps' that have magically appeared, therefore tricking the eye into thinking the length of each stair tread is longer than it actually is.
5. Optimize dead space with shelving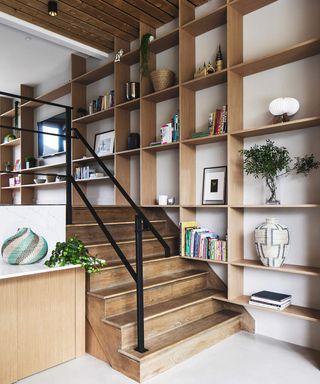 More often than not, the space on the other side of staircase balustrades are left bare. Sure, you might be inclined to create a small gallery wall, or install some staircase lighting, but have you ever considered creating a shelfie on your steps?
This gorgeous wooden fixture is a fab way to display vases, pictures, and books you'd want to showcase. Make it stand out even more with some compact spotlight downlighting or LED strip lighting to highlight your favorite pieces.
6. Take five with a built-in bench on the staircase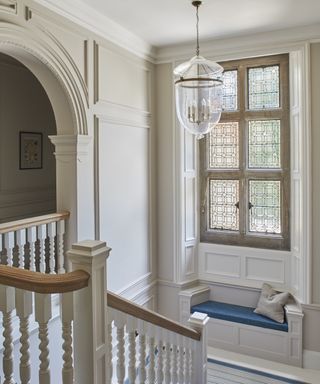 If you've got a set of stairs that have a landing, make sure you're utilizing the space to its full capacity. A lovely way to do this with a window seat.
Other than popping on your shoes or reading a book in this quiet nook, the seat can be reimagined into a hallway storage idea.
For example, it's the perfect place to politely remind the kids to take their clean laundry up to be stowed away in their closet.
7. Paint your staircase in a dramatic color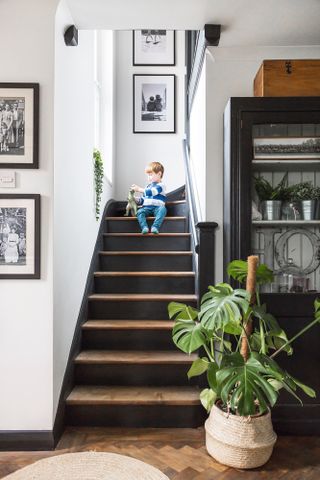 Thinking about it, lighter colors don't really make sense on a staircase, so going for a darker shade not only looks gorgeous but is a practical move too when you're working on a new staircase design or even renovating yours from scratch.
Keep things looking warm and less dramatic by leaving the wood exposed at the top of each step. You could even try using paint, but just on the top, as there's something particularly lovely about chalky black, white and wood.
8. Or contrast a dark hallway with lighter stairs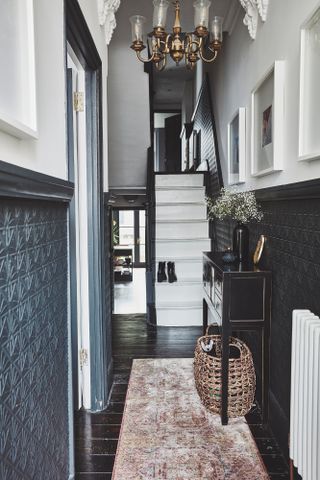 We love how this dark and dramatic hallway is a bold twist on traditional Victorian style, but the space has been brightened it up by painting the upper walls and the staircase a bright white.
Then the touches of gold and the pinkish hues in the entryway rug warm up the space.
9. Be brave with a bold staircase idea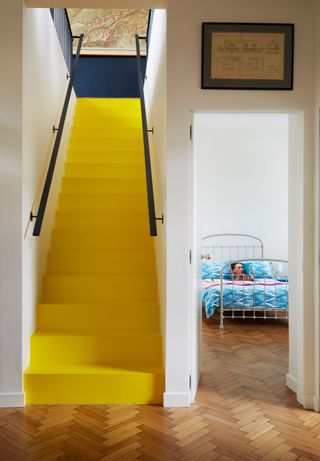 Colorful staircase ideas in modern hallways are everywhere right now and we're all about it.
Stairs can work almost like feature walls and be the perfect small place to add a pop of color. Whether you're opting for a pastel pink, muted sage green-grey or a sunny yellow like in this super cool converted schoolhouse, we admire your bravery – and we like your style.
10. Add a stair runner for style and comfort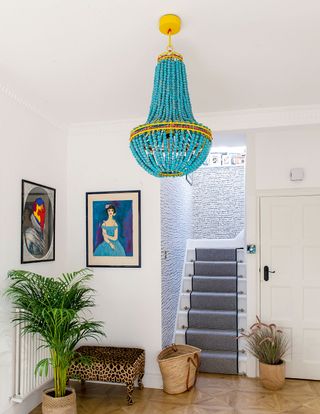 One for those who just wants to dabble in changing up their stairway without committing to a full repaint, we present to you: the staircase runner.
By no means innovative, sure, but they're gathering steam in the interiors world as homeowners – of Victorian houses in particular – play around with color schemes and borders.
Can we also just appreciate this amazing chandelier too, please?
11. Add a gallery wall to your staircase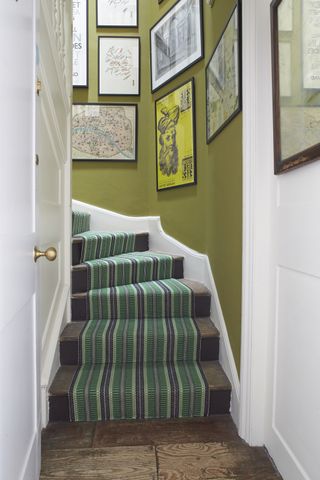 No matter how small your staircase, you will have room for a gallery wall. It's such an easy way to add some color into a space that doesn't have much in the way of decor.
Pick a color scheme for a cohesive look or, for a more rustic feel, hang a mix of prints, posters, maps, postcards, whatever you like the look of and can pop in a frame on the wall.
Also loving this olive green paint too, definitely going on the list of potential staircase paint colors.
12. Create a home library next to your staircase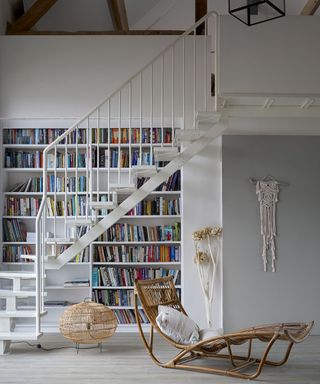 Hallways are a tricky one for storage – the never-ending pile of shoes, bags and letters in our homes are enough to make Marie Kondo cry.
So we're loving this staircase idea – a home library for magazines, comics, books, novels and more.
It's certainly a bit of motivation to get into bed a couples of hours earlier, and to break away from our usual blue light-emitting tech devices.
13. Use stair stickers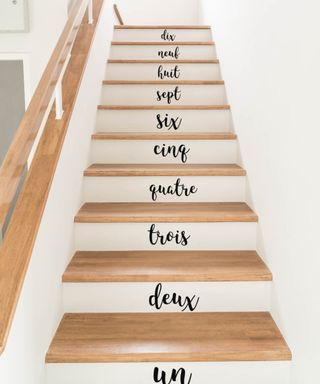 Whether you're on a tight budget, want a weekend project or are renting but looking to upscale your decor, updating risers with stair stickers is a great option.
You can get so many designs online (try Amazon or Etsy they have some lovely affordable design). They are easy to use too, they come with instructions, but really all your need to do is cut them to size and stick them down – even a DIY novice could do it.
14. Paint a faux carpet runner on your stairs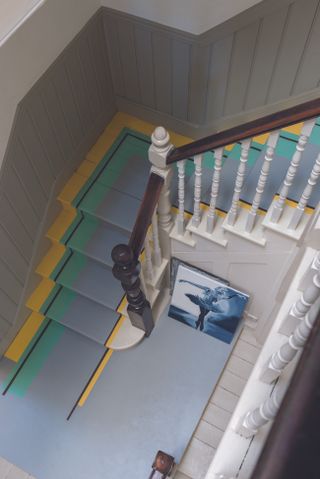 Revamp your hallway with the latest staircase paint ideas like creating a colorful runner effect. Chances are that by the time you reach the top (or bottom depending where you started), you'll be sorry you ever started this project, BUT the results are definitely worth the effort – and all you need is paint, brushes and masking tape.
15. Color block all the way up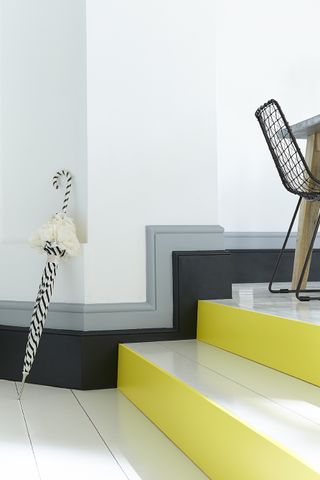 We love the use of color blocking on this staircase. The bright yellow stair risers really pop against the grey and black painted baseboards (another decorative element not to overlook).
15. Go for a modern traditional staircase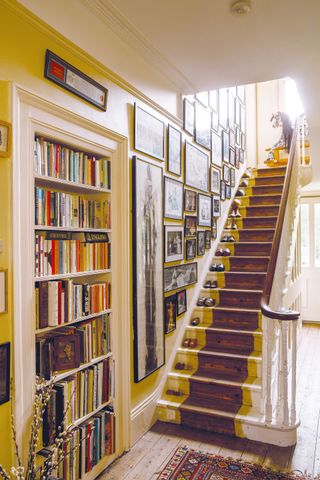 If your home is a historic property and you want to give a contemporary nod to its era, painting the stairs – treads and risers – but leaving where the runner might once have sat as varnished wood is one way to do so. It's a practical and durable option, too.
16. Jazz up your bannisters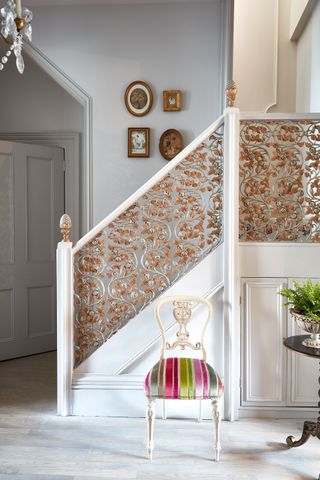 If banisters, banister posts, newel posts, spindles... or any other element is being replaced or created from scratch, why not do your best to make it a decorative element all of its own?
Commissioning your own is, of course, the best way to get the look you want, but in period properties in particular, there's no reason not to opt for a salvage yard find or two to lift your staircase makeover.
17. Lay a bold runner to enhance your staircase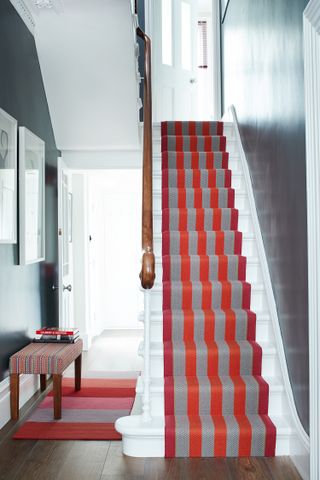 In entryways where you've chosen hard flooring, a runner on the stairs can help to reduce noise and feel soft and comfortable underfoot, too.
Plus, picking bold stripes like this design will create a visual trick – that of lengthening the staircase, perfect in a small hallway.
18. Match your stair carpet to the hall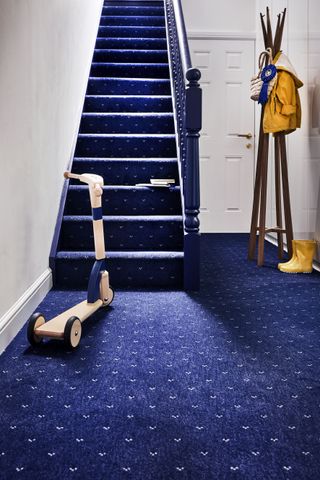 If you've got young kids, patterned types of carpets may be a kid-friendly option. But that doesn't mean that your staircase dreams have to go out of the window.
Matching the carpet's color to the bannister and spindles and skirting is one way to go for a co-ordinated look and feel. As is choosing a dark-toned, patterned carpet that can disguise dirt and mess, and stand up to the wear and tear.
How can I decorate my staircase cheaply?
'Beyond simply carpeting, the easiest thing that you can do is jazz up your stairs with some paint or some wallpaper,' says Iain Aitch, contributing writer for Rated People.
'If your stairs are good enough to show off without carpeting, you can sand the wood and give them a splash of brightly-colored paint. You can afford to be bold on stairs, especially if they're not part of a room.'
'Lining the risers with wallpaper is a great way to use up all those lovely samples you have been hoarding for something and a mish-mash of different colors and designs can work really well if you work with a neutral color for the rest of the staircase.'
How big should a staircase be?
'The staircase layout and proportion should be designed in relation to the space you have available. The last thing you want is to walk into your front door and trip over the bottom step.' says Richard McLane, founder and design director, Bisca.