Looking to transform the exterior of your home? Cladding your home in a new material is a fool-proof way to completely transform the exterior of the property, increase its kerb appeal and consequently raise its value.
If you're not satisfied with the exterior of your home, and have always loved the clean look of contemporary houses, then a simple rendering could completely transform the look. Alternatively, if you want a traditional look, brick slips or wood cladding could add authentic appeal.
Take a look below at what options are on the market and find exactly what you need to fit your budget and create the look that you want.
Do you need planning permission to add exterior finishes?
Changes to your home's exterior appearance may be subject to planning rules set down by your local council – so always check with it first. However, it is possible that cladding changes fall under permitted development.
However, this does not apply on listed buildings and on any house on specially protected types of land, within a National Park or AONB – you will need to apply for planning permission in these cases.
Which cladding material is right for your home?
Your budget, the look of other houses nearby, or what your local council approves will all influence the material you choose for your exterior. Bear in mind that prices vary widely, depending on the intricacies of a particular job, and that many suppliers will only work directly with trade, meaning you may have to hire a building company or architect to achieve the finish you want.
How much do different exterior finishes cost?
Timber composite cladding – £105/m2
Fibre cement weatherboarding – £65/m2
Softwood timber cladding (painted or treated) – £50/m2
Hardwood timber cladding – £90/m2
Heat-treated timber cladding - £80/m2
Tiles (concrete) – £40/m2
Tiles (slate) – £100/m2
Natural stone – 100/m2
Artificial stone – £70/m2
Metal – £50/m2
PVCu cladding – £50/m2
Brick - £60/m2
Brick slips – £50-60/m2
Rendering – £60/m2
Masonry paint (three coats) – £15/m2
Cladding your home with brick slips
Exterior brick slips are lightweight, thin – usually 20-25mm – slices of brick, often fixed to a backing panel with adhesive. Mortar is then inserted into the gaps to create a realistic, pointed look. Ranges include reclaimed and handmade finishes, and you can expect to pay from £50 per square metre including metal lath substructure and mortar joints.
Choosing wood cladding for your home's exterior
Whether in the form of shingles, traditional-style weatherboarding for a classic New England look, timber cladding is a popular choice. There is a wide range, with hardwoods and softwoods, starting at around £10 per square metre for untreated pine, to £50 per square metre for something more durable (including treatment/paint).
Wood can be treated to lessen the colour fade that the weather inevitably brings and to improve its thermal properties. Regular maintenance may be required for softwoods, so it is probably worth investing in one of the hardwood options.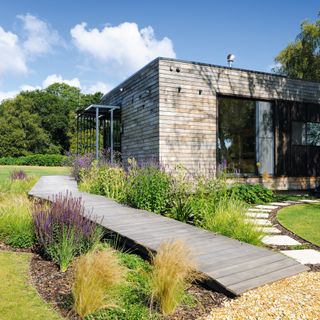 Wood effect cladding offers the same look as popular timber cladding options, but requires less maintenance. They are usually pre-painted fibre-cement boards, which are designed to look like wood. These are highly durable and are available in a wide range of colours. Expect to pay around £65 per square metre, fitted.
Rendering your home's exterior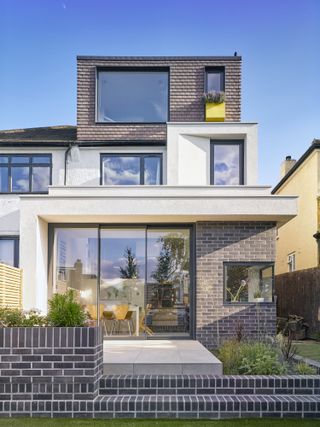 Rendering: this can be applied to create a smooth, textured or patterned finish, and comes in a wide range of colours. It can help improve your home's insulation and can be applied to both old and new properties.
Consider the type of render you use carefully – lime render will suit old, historic buildings, while new, silicone-based renders are flexible, breathable and low-maintenance. Modern renders are a big improvement on the concrete renders widely used until recently. Prices typically start at just under £60 per square metre.
Fixing uPVC cladding to your home's exterior
uPVC cladding, whether is be in the style of larchlap or weatherboarding, is one of the cheapest cladding materials. It is available in both white and coloured finishes, but is prone to discolouration over time.
Investing in a high-quality version that comes with a fixed-period discolouration guarantee will ensure you have a durable and maintenance free exterior. Expect to pay around £50 per square metre including fitting.
Fitting metal cladding panels to your home's exterior
Exterior cladding panels are ideal for contemporary homes to create a streamlined look and a low-maintenance finish. Available in a range of materials, including vitreous enamel or metal, they will cost anything from £50 per square metre, depending on the material and chosen finish.
Top tips for exterior cladding and render:
Subscribe to Real Homes magazine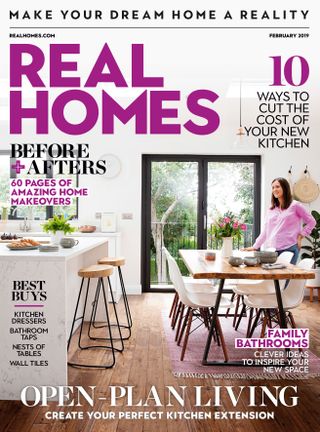 Love your daily dose of Real Homes? Then why not subscribe to our magazine to see our newest content first? Packed with fabulous readers' homes, trend features, project advice and easy updates, you'll wonder how you ever lived without it.
Depending on the material you use, exterior cladding is usually fixed to a house with timber battens or a steel frame, which is attached directly to the structural walls.
Applying cladding or render is the perfect opportunity to improve your home's insulation. Using render to do this tends to be less expensive than using cladding.
The cladding you choose may have a rainscreen, which is a breathable weatherproof system that allows water to drain away, reducing the chance of condensation building up behind it.
Consider the finished look carefully. Do you need to clad or render the whole house? Treating just the upper or lower half of a property and painting the rest might be sufficient.
Before you buy, check the warranties offered by the manufacturer, and that your building insurance provider is happy with your choice of material.
Cladding comes untreated, pre-treated, stained or painted, with the unfinished options being the least expensive.
Looking for a money-saving option? If you're an experienced DIYer, you may be able to make a good job of fitting timber cladding or applying textured rendering yourself. Otherwise, look for a firm that offers an installation service.
More on transforming your home's exterior