Whether you like the idea of a minimalist inspired hallway with a space-enhancing colour scheme and light, airy feel or want to make a statement with a bold modern wallpaper, there's something to suit all styles...
If you want to completely revamp your hallway before you start decorating, have a read of our guide to designing a hallway before you get started.
1. Stick to neutrals for a space-enhancing colour scheme
Create the illusion of a bright, airy space in a small hallway by sticking to a neutral colour scheme. Maximise natural light with white walls, a large mirror and furniture that (almost) blends in to the rest of the scheme if you like the idea of a spacious, minimalist inspired hallway. Find more tips to lighten a dark hallway in our dedicated feature.
Find the best grey hallway design ideas for an on trend look – and see all our hallway paint colour schemes for a wider choice.
2. Pattern clash for a striking, maximalist hallway
Pattern clashing is a design option worth considering if you're looking to make a statement in your hallway. If you like the idea of an on-trend maximalist look, combine brightly coloured, patterned wallpaper (we love these beautiful botanical wallpapers) with a hallway rug, lampshade and soft furnishings that are equally eye-catching.
The trick to success is ensuring that, no matter how clashing the patterns, the tones remain similar. If you need any more tips check out these 10 ways to mix patterns and prints. Find more inspiration for the big, bold maximalism trend, too.
3. Add depth to your hallway with contrasting colours
If you want to add depth and interest to a hallway, consider interspersing dark shades amongst a lighter scheme. If you're worried about a dark colour overwhelming a narrow space, couple with a row of pendant or spotlights to create the illusion of a longer and lighter space. A deep sage green or grey are on-trend options that would work nicely.
We love this combination of the shades Cool Arbour, Grey Moss and Wood Ash, all from Little Greene.
4. Inject colour with an accent feature
If you like the idea of experimenting with bright colours but can't commit to an entire hallway, consider incorporating a happiness-inducing shade into your space with a bold accent feature.
Add character and texture with a stylish runner, an eye catching light fitting and leafy house plants – perfect for encouraging a fresh feel.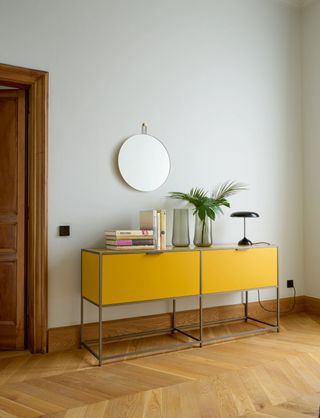 5. Choose vintage floral wallpaper for a spacious period hallway
Vintage-inspired floral wallpapers are a timeless addition to a spacious period hallway, particularly where natural light is in abundance. Perhaps surprisingly, intricate repeat-patterns can lead to a slightly more subtle finish than a larger print.
If you want more advice on choosing a patterned wallpaper for your hallway, or any room in your house, have a read of our guide to choosing patterned wallpaper.
6. Choose a stylish geometric floor for a contemporary feel
If you want to create a stylish, contemporary feel to your hallway, consider investing in on-trend geometric floor tiles. This clever design creates the illusion of space and complements an otherwise neutral colour scheme. Combine with Mid-century furniture if you don't want your hallway to feel overwhelmingly modern.
7. Prioritise storage solutions
If the priority for your hallway is maximising functional storage solutions, find options that are visually appealing as well as practical. A stylish hallway bench with shoe storage or an aesthetic coat stand are great examples. Style with house plants, artwork and a stylish runner.
8. Create a unique look with bold patchwork tiles
Hardwearing and low-maintenance, tiles are the perfect solution for homes with heavy footfall. A patchwork tiled floor works equally effectively in contemporary homes as it does in period properties, particularly if paired with a cohesive colour scheme. To recreate this look, choose a mis-matching combination of encaustic designs with a modern twist.
Find similar designs at Domus Tiles.
9. Create a focal point with striking lighting
If you're blessed with high ceilings, create a striking focal point and add height to a room with a stand-out hallway light fitting. If your style is more traditional, consider opting for a glass chandelier. However, the same effect will be achieved with something more contemporary – see more hallway lighting ideas.
10. Consider colour blocking for an on-trend hallway
Colour blocking is one of those on-trend paint ideas for a hallway that works effectively even in small spaces, elevating them from an often forgotten space to a spot that's unique and inviting. The key is not to be afraid of bold shades, but to choose tones that can compete equally. We love this combination of bright greens and the occasional pop of red.
Looking for more hallway inspiration?