Best small kitchen appliances: Quick menu
As someone who reviews small kitchen appliances for a living, it's a blessing and a curse. On the one hand, I love trying and testing new things, but on the other hand, there's only so much room in my cooking space. The latter is something that my husband loves reminding me of, every single time I get another delivery. Yes, I have my story down but no, I will not be sharing any behind-the-scenes footage of our one-in-one-out policy.
Try telling me to get rid of my small coffee maker, I dare you. On a serious note, if there was one incredible gadget that made my java, juice, fries, and frothed milk, I'd buy it today. But for the time being, my husband and I have compromised on these six appliances. Because happy wife = happy life, right?
Cuffed up or not, if you live in a small space (say a tiny apartment, dorm, or houseshare), these compact kitchen appliances are affordable and stylish enough to be displayed on the coziest of kitchen counters, especially if you're short on storage.
Small kitchen appliance deals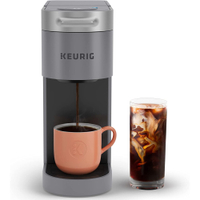 1. K-Slim + ICED™ Single Serve Coffee Maker | Was $129.99 Now $103.99 (save $26) at Keurig
Give your coffee some ice ice baby with 20% off this hot and cold beverage maker. This clever machine automatically adjusts the brew temperature starting hotter to help extract full flavor, then cooling it down so there's less ice melt. All in under two minutes too!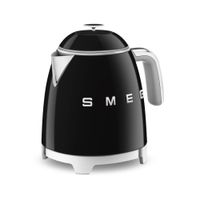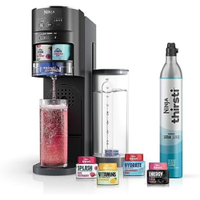 3. Ninja Thirsti Drink System |Was $179.99 Now $139 (save $30) at Walmart
Bored of plain water? Then why not mix things up a little with this slimline soda maker? With 17% off at Walmart, you can personalize your flavor and fizz level to ensure you hit your H2O target for the day.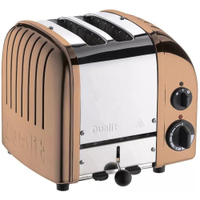 Best small kitchen appliances for compact schemes
Why you can trust Real Homes Our expert reviewers spend hours testing and comparing products and services so you can choose the best for you. Find out more about how we test.
The quick list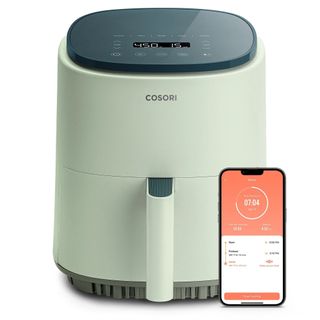 Best small air fryer
1. Cosori Lite Smart Air Fryer
Price: $99.99
Size (in.): H12.8 x W10.8 x D10.8
The Cosori Lite air fryer is a great purchase for small households. Available in three colors (gray, white, and sage green), it stands out from other compact convection ovens, with the matte finish suiting modern spaces. Silicone "feet" on the crisper liner are great for ensuring the plate is strapped in, but they also provide a soft cushion so there's no friction between two metal surfaces.
See more on the Cosori Lite Smart air fryer below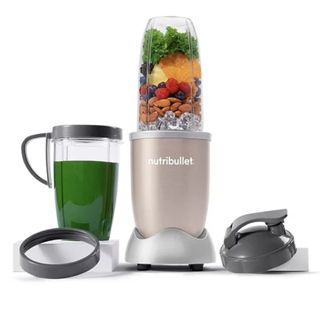 Best personal blender
2. Nutribullet Pro 900 Personal Blender
Price: $99-109.99 (depending on finish, save $5 at Amazon)
Size (in): H15.94 x W12.01 x D7.72
The NutriBullet Pro 900 is the brand's most powerful bullet blender, and it really did the trick when we used it to make smoothies. From frozen fruit to tough kale stems, it's up to the task of making even the trickiest smoothies. The design is simple and easy to use, simply press the blending cup down onto the base after screwing on the blending lid and twist.
See more on the Nutribullet Pro 900 personal blender below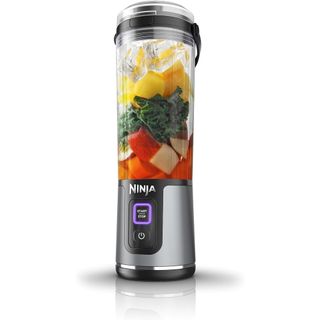 Available in 6 colors
3. Ninja Blast Portable Blender
Price: Was $59.99 Now $49.99 (save $10) at Amazon
Size (in): H10.709 x W3.543 x L3.543
If you want to live your best Hailey Bieber life, but don't want to spend $17 bucks a pop on an Erewhon-style smoothie, this portable blender is for you. Our reviewer noted that it's possible to load her ingredients ahead of time, and then whiz up your drink while out running errands. It's light enough to not feel clunky, compact enough to fit into your handbag, and so much more affordable than buying pre-made or store-bought protein shakes and green juices.
See more on the Ninja Blast Portable Blender below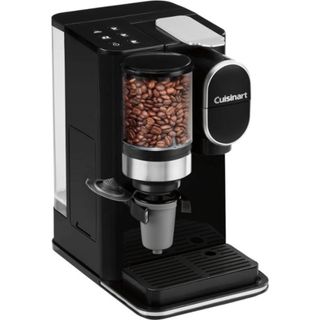 Accepts all coffee types
4. Cuisinart Grind & Brew Coffee Maker
Price: Was $149.95 Now $99.95 (save $50) at multiple retailers
Size (in.): H12.6 x W7.28 x D11.02
The words 'small' and 'bean-to-cup coffee maker' seldom go together in the same sentence. And even when they do, small is catered towards, a medium-sized space in our opinion. So the award for teeny tiny bean grinder and brewer goes to Cuisinart for their DGB-2 machine. This 3-in-1 model accepts whole beans and ground coffee, and you can even use your favorite pods. It definitely gets a place in our guide for versatility.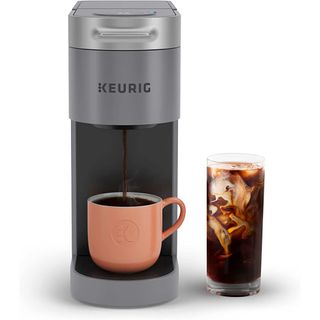 Best small iced coffee maker
5. Keurig K-Slim + Iced coffee maker
Price: Was $129.99 Now $79.99 (save $50) at Keurig
Size (in.): H12.14 x W4.76 x D15.2
Is every day a toss-up between hot and iced coffee? Well, I have some good news! You can have both without having to fork out money on two machines. There are tons of different flavors to try with over 200 K-Cup varieties (and counting). This dorm-friendly drink maker quickly brews three sizes of coffee, including 6 ounces over ice, and is easy to set up and use.
See more on the Keurig K-Slim + Iced coffee maker below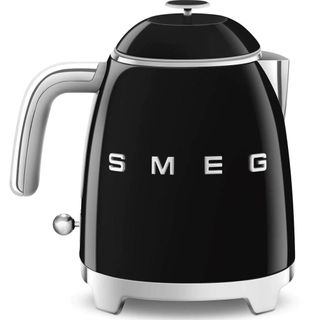 Designer
6. Smeg KLF05 Mini Kettle
Price: Was $190, Now $149.95 (save $40.05) at Amazon
Size (in.): H7.87 x W7.87 x D5.98
Indulging in something designer can feel a little much at times, but when you see how often you'll use this mini kettle, you'll be inclined to make the investment. The small size might also reduce your water and energy bills in the long run, so it's a win-win in our eyes.
See more on the Smeg KLF05 mini kettle below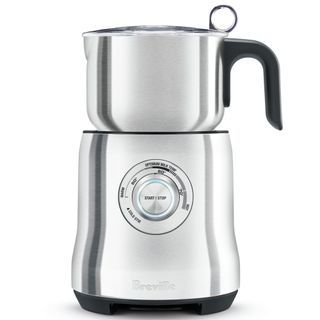 Milk mustache maker
7. Breville BMF600XL Milk Frother
Price: $159.95
Size (in.): H10.3 x W6.4 x L6.1
While most milk frothers can only froth enough milk for one beverage at a time, you can make up to three cups of milk in this pick, making it the go-to gadget when you have guests. We thought it was super simple to use and it works with two interchangeable "discs," to create a silky or frothy milk mouthfeel. It's made with stainless steel throughout and uses an induction heating element that creates micro bubbles, so it's a top-notch choice for creating velvety hot chocolate, too.
See more on the Breville BMF600XL milk frother below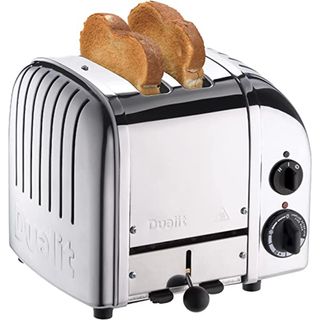 Practically unbreakable
8. Dualit Classic 2-Slice Toaster
Price: $259.99
Size (in.): H9 x W8 x D10
I could eat toast for breakfast, lunch, and dinner, but that doesn't justify a bulky bread browner. Instead, this tiny toaster will do the job of thawing and crisping bagels and sliced loaves to satisfactory levels. If you're looking for a new appliance because a cheap one malfunctioned, this is justification to buy something that's built to last (and worth every penny).
See more on the Dualit Classic 2-Slice Toaster below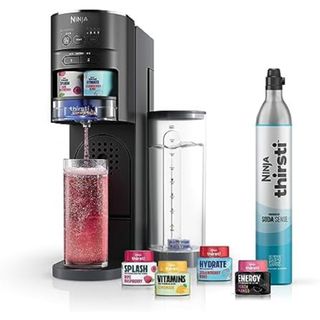 As seen on TikTok
9. Ninja Thirsti CO2 Flavored Water Soda Machine
Price: Was $179.99, now $149.98 (save $30.01) on Amazon
Size (in.): H16 x W8.76 x D13.97
Forget flat soda and having to recycle plastic and metal packaging. With the Ninja Thirsti, you can create up to 20 different types of seltzer/still drinks, and even mix your own combos. From fruity flavors to vitamin-enriched varieties, this is the coolest way to increase your water intake.
The best small air fryer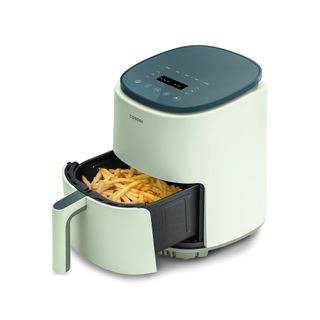 Buy it if
💕 You're tech-savvy and want to show off your party tricks: Connect to the Cosori app and start cooking with your phone.
💕 You're sick of browsing black and stainless steel models: The Cosori Lite comes in some contemporary colors including truffle gray, white, and sage.
Don't buy it if
❌ You have a large family or lots of people to feed: A 4-quart air fryer is considered to be on the larger end of a "small air fryer," but if you're looking to feed more than three people, some might go hungry.
The bottom line
✨ Cosori Lite air fryer If you're the hostest with the mostest and the trendsetter in your group, this is the air fryer for you. Where most air fryers are black or stainless steel, the Cosori offers some muted pastels for your modern kitchen. And, while you're busy keeping your guests' glasses full, you can also start cooking (as long as you've got your phone in your hand or are near a smart home device).
The Cosori Lite 4-Quart Smart air fryer is the convection oven I chose to keep for my compact galley kitchen. In my opinion, it's best for small families or couples thanks to its smaller capacity and it comes in three muted colorways to suit all kitchen countertops. This small air fryer is even roomy enough to fit a whole 3.5-pound chicken, so your poultry doesn't have to play Twister if you're short on oven space.
The smart control system lets you start cooking, monitor your food's progress, find recipes, and more all from an app on your phone. And, when we have guests around, voice-activated cooking is my party trick (you just need to sync it up with your smart speaker).
Read our Cosori Lite review for more snug-but-chic speak of this machine.
Swipe to scroll horizontally
Cosori Lite review

| Attributes | Notes | Rating |
| --- | --- | --- |
| Design | A 4-quart boxy design with rounded edges, available in three matte shades | ★★★★★ |
| Price | Under $100 | ★★★★★ |
| Testing | Performs well with handy shake prompt halfway through cooking | ★★★★★ |
| Features | Voice-activated cooking, compatible with Cosori app | ★★★★★ |
The best personal blender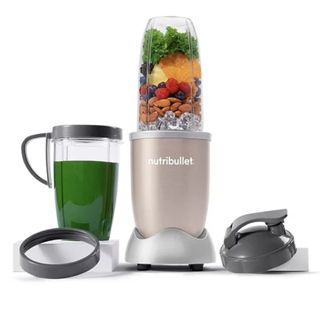 Buy it if
💕 You want a simple-to-use blitzer: As far as blenders go, this personal device is pretty easy-going. Simply add your ingredients to the cup with a little liquid, twist on the bladed lid, and push down to operate.
💕 You don't like smoothies with bits: Depending on how long you blitz your fruit and veggies will dictate how textured your beverage is. The same goes for sauces and dips like salsa and hummus.
💕 You need to tackle tough ingredients: Whether you want to grind coffee beans or chop up almonds — this blender has your back.
Don't buy it if
❌ You want more than one blending mode: Simplicity is a blessing and a curse. If you want a pulsing setting to coarsely chop something (say, soft herbs), you'll have to do this manually.
❌ You have a family who wants in on smoothies: the 32-ounce cup will only make two large smoothies.
The bottom line ✨
The NutriBullet Pro 900 is a 2-in-1 smoothie maker and food processor for small apartments. Whether you're making a protein shake, homemade dips for dunking tortilla chips and pita bread in, or your own spice/curry blends — this mini-but-mighty appliance can help to prep breakfast, lunch, and dinner.
The NutriBullet Pro 900 is the brand's most powerful bullet blender, and it really did the trick when I used it to make smoothies. From frozen fruit to tough kale stems, even the most lump-prone ingredients won't make it past this gadget.
The design is simple and easy to use. Press the blending cup down onto the base after screwing on the blending lid and twist. I left it to blend until I was happy with the consistency and then twisted it back to the neutral position (where the motor should stop).
Seeds, berries, and a tough pineapple core were traceless with this top-choice blender after churning for one minute. My finished smoothie was very creamy with no fiber residue. Cleaning-wise, the blending cup can go in the dishwasher, but the blade can't.
Swipe to scroll horizontally
Nutribullet Pro 900 test results

| Attributes | Notes | Rating |
| --- | --- | --- |
| Design | A sleek vessel with nine matte and seven classic metallic colors | ★★★★★ |
| Price | Priced at $99–$109.99 | ★★★★★ |
| Performance | Effortlessly blitzes hard ingredients including nuts, coffee beans, celery, and ginger | ★★★★★ |
| Features | A 900W motor base with extractor blade, two lids, two 32-ounce cups, and two cup rings | ★★★★★ |
The best portable blender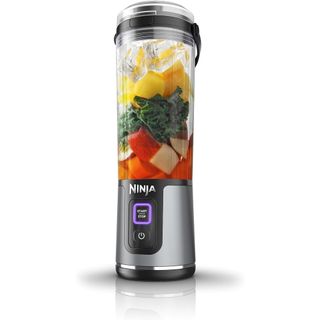 Buy it if:
💕 You want a smoothie maker that you can use on the go: With the Ninja Blast, you don't need to decant a pre-made smoothie into a leaky cup and hope for the best while it's in your bag.
💕You don't want to wait until you've got home from the gym for your protein shake: Simply add your powder to the vessel and fill it with water after your workout.
💕You want to stay healthy on vacation or on the road: This is a great way to get your five-a-day while traveling.
Don't buy it if:
❌ You're expecting it to perform like a conventional blender: It makes smoothies and shakes, but it's not magic.
❌ You want to blend thick or hot ingredients: It might struggle with hummus, or thick peanut butter (though we admit, we haven't tried.
❌ Drinking a beverage with the motor ruins the aesthetic: Unfortunately, that's one of the design faults.
The bottom line
✨ The Ninja Blast Portable Blender is a great little gadget for smoothie lovers, gym enthusiasts, and anyone looking to save a little money on pre-made beverages. It comes in an array of different colors including Black, Passion Fruit, Cranberry, Denim Blue, White, and Forest Green.
It might seem a little counterintuitive to include two small blenders in this guide, but they serve two different purposes. While the Nutribullet can grind spices, make pestos, hummus, and thicker sauces — this two-button on-the-go appliance can help you to shake up your smoothie/juice bar-spending habits.
It's lightweight, looks good, and can be charged using a USB-C power cable (N.B: The first charge takes two hours). And, before you think it's just for healthy virtuous people, our review said that it could (hypothetically speaking: wink wink) be used to make frozen margaritas to enjoy with your picnic in the park.
Functionality-wise, the flip-top lid means that you can sip with ease, and in between guzzling, you can hold it with the hinged carry handle. As with more and more food-grade products these days, it's made with a ribbed BPA-free plastic vessel, so you don't need to worry about toxic chemicals leeching into your drink.
On the whole, it's easy to clean. You can drop a little dish soap and warm water into it and whizz away, but be sure not to submerge the motor in water if you are handwashing it. The fact you can't remove this part is one of the reasons why our reviewer didn't give it five stars.
The best bean-to-cup coffee maker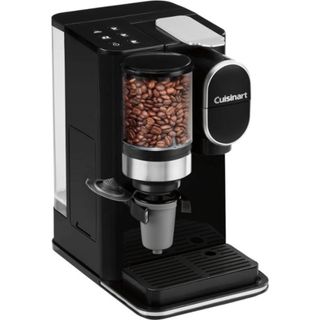 Buy it if
💕 You want fresh-tasting coffee, but you have zero Barista skills: The automatic grinder and programmable machine does all the work for you.
💕 You want unlimited choice: With over 200 K-Cups and bottomless bean options in your supermarket, online, and available via independents, you can pick based on your coffee preference.
Don't buy it if:
❌ You enjoy the art of making coffee: If you take pride in playing about with advanced settings, this might be too simplistic a machine.
❌ You want a machine with a milk frother: You'll have to buy a separate appliance.
The bottom line
✨ Combining convenience with a conical burr grinder, the tri-functional machine is your ticket to a shop-quality brew on a budget. It's essentially a pod, drip filter, and bean-to-cup coffee maker rolled into one.
Bet you the first thing that springs to mind when thinking of a bean-to-cup coffee maker is something clunky with lots of bells and whistles, knobs, and a milk frother that you practically need a science degree for? Well, that's not the case with the Cuisinart DGB-2 Grind & Brew Coffee Maker.
If being able to speak lots of languages means you're multilingual, then this machine is multibeangual. Yup, totally made that word up, but hopefully, you get what I mean. The ability to switch between roasted cherries, pre-blitzed beans, or capsules is a game-changer and means that you can chop and change your coffee whenever you want. So much choice!
Naturally, grinding coffee is a noisy job, but it's expected with this appliance. And, if you use the eco-friendly reusable cup, it is a little hot (but so are disposable filter papers). Lastly, there isn't a warming plate, but the coffee dispensed is hot and delicious, so I can't imagine you'll need this feature, anyway. Personally, I just pre-fill my cup with boiling water from my faucet or kettle.
The best small iced coffee maker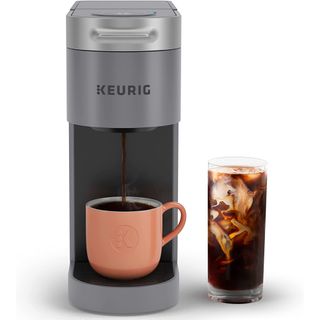 Buy it if
💕 You switch up your order based on the weather (or your mood): There's no need for more than one machine with this 2-in-1 coffee maker.
💕 You don't like diluted iced coffee: This coffee maker adjusts the temperature so you don't end up with a brew that's weak.
💕 You want an affordable way to replicate your fave cafe order: Keurig collabs with popular brands like Starbucks, Dunkin' Donuts, Gloria Jean's, and more so you can create a drink dupe. There are 200 options to choose from.
Don't buy it if
❌ You don't care for iced coffee: There are better hot coffee makers on the market.
❌ You do like iced coffee, but in large quantities: This only makes six ounces of cold joe at a time.
❌ You don't like the color of this machine: It only comes in one color.
The bottom line
✨ The Keurig K-Slim + ICED single-serve coffee maker will slowly heal your wounded wallet, saving you money on regular trips to the coffee shop. Grab yourself some syrups, milk, and a can of whipped cream and the world is your oyster!
You'll no doubt recognize Keurig as one of the most famous coffee machine brands out there. But if you're after the best Keurig appliance for personal use (perhaps in a home office), this is the perfect small coffee maker.
Keurig's pod coffee machines are some of the most versatile out there as the brand works with coffeehouses like Starbucks and Dunkin' to bring out new flavors so that your tastebuds will never get bored. As well as making conventional hot coffees, you can also switch things up in summer with a chilled drink.

Read our Keurig K-Slim + ICED Single Serve Coffee Maker review for more information.
Swipe to scroll horizontally
Keurig K-Slim + ICED Single Serve Coffee Maker

| Attributes | Notes | Rating |
| --- | --- | --- |
| Design | A neutral gray design with a removable 46-ounce water tank | ★★★★★ |
| Price | Under $100 | ★★★★★ |
| Performance | Flavored varieties taste a little weak, with Classic Black tasting best | ★★★★★ |
| Features | Brew over ice function stops coffee from tasting too diluted | ★★★★★ |
The best small electric tea kettle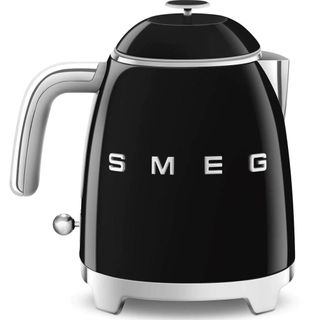 Buy it if
💕 You love an Italian-inspired mid-century design: Smeg can be a little pricey, but if you look at it from a cost-per-use angle, it's value for money.
💕 You don't want a heavy kettle: This weighs a little over two pounds.
💕 Time is of the essence when it comes to making tea: This little buy boils water fast.
💕 You're after an energy-saving kettle with boil-dry protection: This will switch off when it gets to the right temperature.
💕 You live with left and right-handed people: The swivel base doesn't discriminate.
💕 You don't want your small kitchen to be cluttered with wires: This kettle has built-in cable management.
💕 You're sometimes a Klutz: This kettle has anti-slip feet for safety and stability so you can avoid burning yourself.
Don't buy it if
❌ You don't care for brand names: This designer tea kettle comes at a cost.
The bottom line
✨ The Smeg KLF05 mini kettle is that little bit of quiet luxury in your small kitchen. Available in seven core colors, it's an essential that will add retro vibes to any cooking space. The smaller capacity means that you won't waste energy boiling too much water.
We haven't tried the petite version of the popular Smeg kettle just yet, but we do love the normal-size version — and the only difference between them is their capacity. With a smaller design comes a lighter weight (just 2.2 pounds!), and it boils your water even faster. Winning!
I personally love the look of the Smeg kettle, but it might on the spendier side depending on budget. If a huge tea kettle isn't a necessity (for example, if you live alone or with one roommate or partner) this will totally cater to your needs. It costs less than the original, and it only boils three cups of water at a time. This means less electricity usage and less water wastage in a two-person household. My colleague Annie has had hers for years and she raves about it. In fact, she's so set on the fact that Smeg appliances are amazing, she invested in the toaster, blender, hand blender, and even the fridge to match.
Swipe to scroll horizontally
Smeg KLF05 mini kettle test results

| Attributes | Notes | Rating |
| --- | --- | --- |
| Design | A lightweight and luxury design from the Italian brand | ★★★★★ |
| Price | Under $150 (star knocked off as it's at the higher end of the market) | ★★★★ |
| Performance | This 1,400-watt electric tea kettle is designed to minimize both water wastage and energy consumption | ★★★★★ |
| Features | Double walled stainless steel ensures water temperature is preserved, while exterior is cooler to touch | ★★★★★ |
The best small milk frother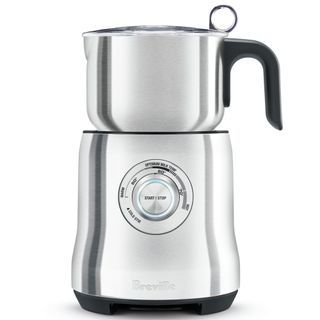 Buy it if
💕 You don't want to spend ages rinsing out hot milk: The lid and whisk can be popped in the dishwasher so you only have to handwash the actual vessel.
💕 You like to switch up your sips: This milk frother comes with latte and cappuccino discs which aerate the milk to your desired consistency.
💕 You love appliances but always lose the accessories: The aforementioned discs magnetically stick to the drink-making device, so you won't be searching in all your drawers and cupboards for any missing components.
💕 You've burnt milk when boiling it in a pan: This frother has an auto-off setting to avoid those acrid-smelling accidents.
Don't buy it if
❌ You want a ice-cold frothy milk: This milk frother doesn't have a cold setting, so if the idea of warm moo juice (or a plant-based alternative) makes you gag, pick a different machine.
The bottom line
✨ The Breville BMF600XL Milk Cafe Milk Frother is a brilliant choice for households that enjoy an elevated hot beverage any time of the day. Instead of using a handheld whisk for each drink, this appliance can froth up to three cups of milk in one go to appease a trio of cappuccino, latte, and hot cocoa lovers.
Personally, I'll happily survive with a good coffee maker that just makes espresso. But many of my friends prefer to sip java topped up with a splash (or generous glug) of milk. So rather than pouring cold milk straight from the fridge, I like to give guests a coffee shop-style experience with fluffy clouds of warm milk.
Breville takes the risk out of burning milk in the microwave, and you don't need to know how to use a steam wand either. It makes the most velvety-smooth lattes and cappuccinos without the queues, daily cost, or misspelled name on your cup. It holds up to three cups of milk, but that's not the only reason why it's #1 in our milk frothers guide.
Swipe to scroll horizontally
Breville BMF600XL Milk Cafe Milk Frother

| Attributes | Notes | Rating |
| --- | --- | --- |
| Design | A stainless steel jug with ring pull design lid | ★★★★★ |
| Price | Under $160 (upper end of market) | ★★★★★ |
| Performance | Makes up to 3 cups of hot frothed milk (one star removed for lack of cold froth setting) | ★★★★ |
| Features | Latte and cappuccino discs with magnetic storage | ★★★★★ |
The best small toaster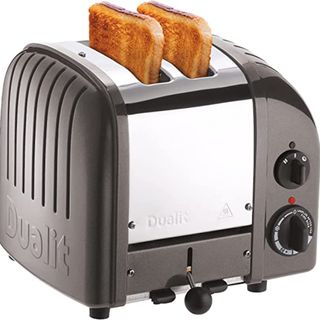 Buy it if
💕 You're in your sustainable era: This toaster is fully repairable or replaceable so you'll never go without your browned bread for too long.
💕 You appreciate true craftsmanship: This might just look like an appliance for making your breakfast or brunch staple, but it's been handbuilt by a real person.
💕 Cleaning the toaster gives you the ick: Mica mineral covers the heating element and provides a protective layer.
💕 You need toast on tight deadlines: Whether you're walking out of the door for work, need fueling before a gym workout, or after something to chew on as a midnight snack, this small kitchen appliance understands the assignment.
Don't buy it if
❌ You often overestimate how brown you'd like your toast: There's no cancel button on this toaster, so you'll need to unplug it to stop the Maillard reaction (that's the technical term for the caramelization).
The bottom line
✨ The Classic Dualit toaster is quite simply the best thing since sliced bread. It toasts fast and is designed to last the test of time. While it is more expensive than your run-of-the-mill toaster, if it malfunctions, it can be repaired or replaced.
This Classic Dualit toaster comes in a variety of colors, and the two-slice model is packed with innovative features and functions to make life simpler every day. The ProHeat elements benefit from a protective natural mineral layer (Mica) that covers the filaments, making them virtually unbreakable and easy to keep clean. There's also an extra-lift lever which is handy for removing smaller slices and things like end pieces or English muffins that don't always pop up properly.
When testing, my colleague Millie enjoyed the fact that this toaster will fit the largest of bread slices, and didn't skip out on testing the top portion of our classic slice. However, you may find that your toast burns if you run a second use immediately after the first. This is because the elements retain heat very well. It took just 1 minute and 30 seconds to reach the perfect level, making this one of the fastest toasters we've tried.
Swipe to scroll horizontally
Dualit classic 2-Slice Toaster

| Attributes | Notes | Rating |
| --- | --- | --- |
| Design | A compact design, with extra-wide slots, available in 15 colors | ★★★★★ |
| Price | Under $230 (expensive but repairable/replaceable) | ★★★★★ |
| Performance | Fast, but runs a little hot (allow time between consecutive uses) | ★★★★★ |
| Features | Bagel and defrost functions are handy | ★★★★★ |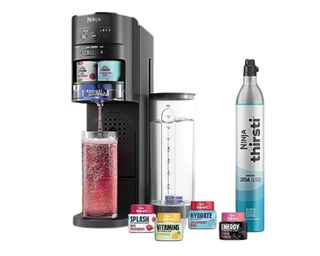 We don't know about you, but we're kind of over flat soda, and single-use plastic. Except, those multinationals and supermarkets know what they're doing by putting offers on 2-liter bottles and having cold cans at the ready. But, we think this invention might be your way to break up with those tempting beverage deals.
Unless you have a car, carrying those big containers of cola can be a struggle, so this machine allows you to make soda on the spot, without going to the store. With a 20-flavor menu (that you can mix and match), you'll never tire of trying out new combinations. And, Ninja has even pulled out the stops to create energy drink concentrates and flavorings enriched with B vitamins.
In testing, our reviewer tested out all of the carbonation levels (medium is typical of your standard seltzer, but she preferred high). And, she liked that there were two strength settings, essentially dosing the drink with a different syrup: water ratio. What makes this stand out from your Sodastream, for example, is that the syrup is mixed into the drink by the machine, rather than being poured in afterward.
Buy it if
💕 You love flavored drinks: If you find yourself putting cans and bottles into your shopping cart, this soda maker will come in handy.
💕 You hate when large bottles of soda go flat: With the ability to choose your drink size, nothing will go to waste.
💕 You like to switch things up between still and sparkling drinks: Choose between three fizz levels or avoid the bubbles altogether
💕 You're looking for eco-friendly appliances: The gas canisters are refillable and use 100% renewable CO2, plus the brand claims you can save up to 50% on canned and plastic bottled drinks when you transition to the Thirsti!
Don't buy it if
❌ You're worried about the WHO guidelines on artificial sweeteners: Many of the flavors contain sucralose
❌ You like a late-night soda, but live in a shared household or with a young family: It's a little loud.
The bottom line
✨ Buy the Ninja Thirsti if soda features frequently on your shopping list. By replacing single-use plastic bottles for you can save up to 1,000 plastic bottles over the course of the year. Choose from four lines of syrup including their Splash, Vitamins, Hydrate, and Energy varieties which each have their own benefit.
Swipe to scroll horizontally
Test results

| Atrributes | Notes | Rating |
| --- | --- | --- |
| Design | A slim black design with removable temperature-sensitive water reservoir | ★★★★★ |
| Price | Underr $180 | ★★★★★ |
| Performance | Patience needed and a little loud | ★★★★ |
| Features | Ability to personalize flavor, strength, size, and carbonation level | ★★★★★ |
Compare these small kitchen appliances
Swipe to scroll horizontally
| | |
| --- | --- |
| Small kitchen appliances | Our verdict |
| Cosori Lite Air Fryer | An attractive air fryer for those who like smart home automation |
| Nutribullet Pro 900 Blender | The market-leading personal blender |
| Ninja Blast Portable Blender | A USB-C compatible, two-button portable blender |
| Cuisinart DGB-2 Grind & Brew Coffee Maker | A 3-in-1 single-serve coffee maker that accepts beans, grounds or pods |
| Keurig K-Slim + ICED Coffee Maker | An all-round coffee maker for hot and cold drinks |
| Smeg KLF05 Mini Kettle | A mid-century modern electric kettle with energy-saving features |
| Breville BMF600XL Milk Frother | A stainless steel milk frother ideal for making cappucchino and lattes |
| Dualit 2-Slice Toaster | A sustainably-made toaster with powerful heating element |
| Ninja Thirsti | An innovative soda maker that allows you to customize flavors, fizz levels and drink size |
How we test small kitchen appliances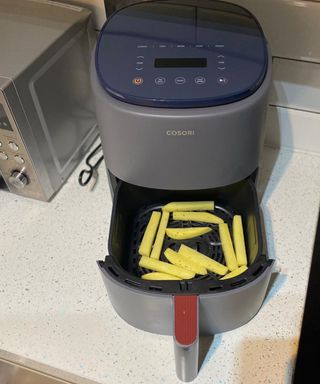 Whether it's me or another member of our ecommerce team, I can proudly say, we've tested all of these compact kitchen appliances. Most of the time, we're able to review them in our big professional kitchen, but, to offer you the most authentic experience of how they'll fit into your day-to-day life, we'll also take them home to assess the following:
Size: Can they fit into a small kitchen space (like a studio apartment or tiny kitchen)?
Energy usage: We'll calculate the wattage and cost per use
Purpose: Does it deserve a spot in the kitchen versus a similarly-functioning appliance
Meet our reviewers below:
Christina reviewed the Cosori Lite air fryer for us, and it's become a permanent addition to her kitchen countertop. She uses it on a daily basis, whether it's for cooking "hard-boiled" eggs and warming croissants for breakfast or making more substantial meals.
Annie owns the Smeg kettle at home and has used it for years to boil water for her green tea, English Breakfast tea, and pasta. It has stood the test of time, which just proves the point she lives buy: buy cheap, buy twice. She hasn't tested the mini version, but these kettles are the same apart from their size.
Millie is our former head of reviews for Real Homes. Formerly our expert for all things kitchen-related, Millie has tested many of the aforementioned small kitchen appliances in this guide, including the Dualit toaster. She liked that it could accommodate thick-cut slices of bread. The brand also gets a thumbs-up for sustainability seeing as each part can be fixed or replaced by their team.
She's also had hands-on experience with the Nutribullet blender and likes the fuss-free nature of this gadget. There's no need to clear your kitchen workspace and the blades and motor are pretty powerful when you consider the small size of the machine.
Heather Bien tested the Ninja Thirsti Drinks System for Real Homes. She'd never tried an at-home seltzer machine before, so went into testing without any expectations at all. However, she likes to consider myself a beverage barista. You'll often find her mixing syrups for her lattes or trying out new cocktail combinations, so she was all over the idea of being able to customize her seltzer down to the number of bubbles, strength, and combination of flavors.
Jaclyn reviewed the Keurig coffee maker for us and liked its simple functionality. She appreciated the slimline design, which makes it suitable for dorms, small apartments, and home offices. She also had hands-on experience with the Breville BMF600XL Milk Frother and commented on how well the interchangeable discs were to use and store onboard afterward.
Frequently asked questions
Is now a good time to buy a small kitchen appliance?
It's not only a good time — it's one of the best times. Practically, we anticipate that you'll have lots of friends and family around for the holidays, so your hosting skills have got to be up to scratch (and that involves serving creamy cappuccinos and espresso martinis, in my opinion). Though Black Friday and Cyber Week have come and gone, you can still expect to find around 20% off the best coffee makers, air fryers, milk frothers, and more.
How can I hide my kitchen appliances in a small kitchen?
Many of these compact kitchen appliances can be stowed in a kitchen cupboard or drawer. A lot of these gadgets come apart, so you can dismantle them if space really isn't on your side. Some, like the Breville milk frother, come with clever hidden storage for the accompanying accessories.
How do I maximize a small kitchen layout?
Shelving and organizational decor are your BFFs when it comes to maximizing a small kitchen space. Think about investing in floating ledges and some drawer inserts to capitalize on a compact scheme. There are a ton of affordable options on Amazon. Otherwise, opting for small kitchen appliances is also a smart idea, and seeing which appliances you can swap for smaller kitchen gadgets would be a great place to start, too.