When it comes to period doors and windows it's worth remembering that repairing tends to be far cheaper than replacing so maintenance is key. With timber frame windows and doors or it can often be as easy as a lick of paint or replacing a sash cord, for metal windows the major issues lie with rust and faulty fittings.
Think that your old windows and doors might be in need of some TLC? Follow these expert tips to ensure they aren't getting neglected.
Check for problems
he first and most simple rule of maintaining windows and doors is to inspect them regularly, both inside and out and, as soon as they show signs of needing it, giving them a coat of paint. Preparation is important so make sure all surfaces are sound and any loose paint has been removed, but be careful when using hot air guns to strip paint as the heat can easily crack glass. Check for rot and that all joints are firm. If the corner of a window needs strengthening, a simple solution is to use a metal angle bracket.
Doors are best taken off their hinges for painting to enable all edges to be properly primed and finished, including the bottom and the letter plate opening. This helps to minimise moisture penetration and swelling. Replace missing or defective putty in windows with traditional linseed oil putty, again taking care not to damage the glass. Where glass has to be replaced in sash windows, it needs to be of the same thickness and weight as the original, otherwise the sash will have to be rebalanced. Original panes with just a small crack across the corner are unlikely to cause problems.
Ensure hinges are not binding and, where necessary, oil or adjust them. At the same time, check that locks and other ironmongery is in working order. Rattling sashes can be drawn tighter together with a cam action fastener.
If windows or doors are sticking, beware of planing the edges, especially in damp weather, because the problem may be due to swollen wood. Other possible reasons include structural movement or a failed lintel.
Sticking windows may be caused by overpainting, swollen or distorted frames, loose joints or seized sash pulleys. Tallow or beeswax applied to the edges of sashes may help them to run while oil will ease pulleys. Broken or fraying sash cords should be replaced and this is relatively easy to do from inside. Always repair both cords on each sash and ensure the new cord is strong enough for the weight of the window.
Materials
Timber: Many original doors have survived because the pine used to make them before the Second World War was slow grown, resulting in highly durable timber. A variety of different hardwoods were also used, including oak and mahogany. Internally, softwoods were occasionally 'grained' to resemble hardwood.
Veneer: A thin decorative layer of hardwood was sometimes applied to flush panelled internal doors, especially in the 1920s and 1930s when it fitted well with the Art Deco look.
Glass: Clear and coloured glass was often used in Victorian doors within an upper panel or in separate panels or 'side lights' to either side. In internal doors, glass helped provide light between rooms.
Careful repairs, regular maintenance and measures to improve thermal efficiency by reducing draughts can help ensure original doors serve well into the future.
Often the first impression of our home to the outside world, a well-maintained front door is a must, like the front door on this pretty Victorian cottage
Warning signs
Structural movement in buildings, damaged or worn hinges and loose joints can cause doors to stick, while the base of doors may be affected by dampness that leads to rot and decay.
What to look for:
Peeling or cracked paintwork
Difficulty opening
Movement or shrinkage
Damaged, worn or loose hinges
Rotten or beetle-infested timber
Loose joints
Loose, cracked or damaged putty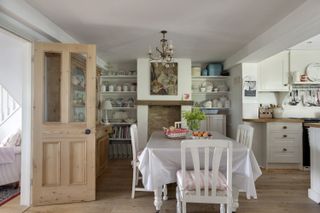 General repairs
Repairs to doors, door frames and door cases should be made on a like-for-like basis using matching materials and construction techniques.
Action:
Use the point of a penknife to locate areas of rotten wood, paying particular attention to the bottom of the door and frame
Cut out decayed or damaged areas and joint or patch in new timber
Glue loose joints with an exterior-grade adhesive
Overhaul items such as hinges and latches
Use brass or stainless-steel screws
For complicated repairs employ a good joiner
Check the condition of sills and the bottoms of sash boxes for rot. Sills may often be repaired by cutting the rotten face back to sound wood and then screwing on a new piece. There should be a drip groove on the underside of the sill.
Problems with metal windows include rust, distortion, paint build-up and failed hinges and fittings. Use wire brushes to clean off rust and then prime as soon as possible. Specialist steel window companies or, in the case of wrought iron windows, blacksmiths can make repairs.
Decorating
Doors are easily scuffed and knocked. Touching up the odd scrape can help, but external doors should be repainted every three to five years.
Action:
Prepare all surfaces carefully, making sure they are sound and any loose paint has been removed
Ensure the door's bottom and other areas of bare timber, such as within the letter plate opening, are thoroughly primed and painted to minimise moisture penetration that could cause swelling
Where major renovation is required, external doors are best taken off their hinges to enable all edges to be reached
Hardwood internal doors may be treated with beeswax polish if appropriate
After new heating systems have been installed, allow doors to acclimatise before painting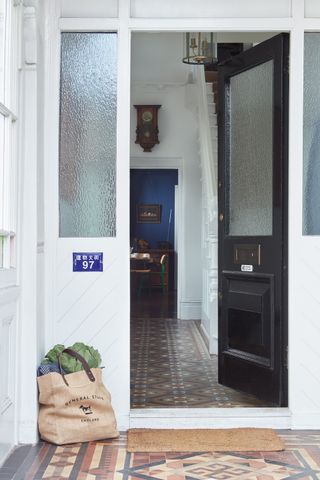 Maintaining original features is often important for those who own period homes. In this renovated Victorian semi, the door, floor and panelling are all original
Draughts and heat loss
While overhauling doors and windows, it is worth draughtproofing them at the same time. As well as the various DIY solutions available, specialist window repair companies can install inconspicuous but effective 'brush' strips in grooves routed out along the edges of the sashes. A special silicone system is available for draughtproofing metal windows.
Energy-efficiency measures to avoid draughts and heat loss should be considered with external doors.
Action:
Add draught strips to the edges and top of the door or around the frame
When overhauling doors, install draught strips into the bottom edge
Use a movable 'sausage' draught excluder made of fabric that can be laid at the bottom of doors
Install portiere rods with curtains on doors
Consider installing aerogel insulation faced with plywood within the internal panel recesses of thinly panelled external doors
Disguise the panel edges with timber beading
Check that letter plates are secure. Fit weighted fabric or a wooden flap over the inside of the opening to minimise draughts
Fit escutcheon plates with covers over keyholes inside and out
Exterior doors should be repainted every three to five years to keep them looking in top condition
Stripping paint
Paint layers built up over years cause detail to be lost or chipping to occur. However, removing paint can be time consuming and may reveal defects such as past repairs, rot and beetle attack.
Paint can be carefully removed with a scraper and liquid or paste strippers. Hot air guns are another option, but be careful not to scorch the wood or allow the heat to crack any glass within the door.
Think before having doors commercially stripped by dipping in hot, caustic baths as this can result in shrinkage and distortion and may loosen joints and raise the grain of the timber.
Contacts
Read more: