Doors help to define the different architectural styles of our homes. Georgian doors typically contained six panels, while Victorian doors often had four panels, although mass production eventually resulted in infinite variety of designs.
Materials
Timber: Many original doors have survived because the pine used to make them before the Second World War was slow grown, resulting in highly durable timber. A variety of different hardwoods were also used, including oak and mahogany. Internally, softwoods were occasionally 'grained' to resemble hardwood.
Veneer: A thin decorative layer of hardwood was sometimes applied to flush panelled internal doors, especially in the 1920s and 1930s when it fitted well with the Art Deco look.
Glass: Clear and coloured glass was often used in Victorian doors within an upper panel or in separate panels or 'side lights' to either side. In internal doors, glass helped provide light between rooms.
Careful repairs, regular maintenance and measures to improve thermal efficiency by reducing draughts can help ensure original doors serve well into the future.
Often the first impression of our home to the outside world, a well-maintained front door is a must, like the front door on this pretty Victorian cottage
Warning signs
Structural movement in buildings, damaged or worn hinges and loose joints can cause doors to stick, while the base of doors may be affected by dampness that leads to rot and decay.
What to look for:
Peeling or cracked paintwork
Difficulty opening
Movement or shrinkage
Damaged, worn or loose hinges
Rotten or beetle-infested timber
Loose joints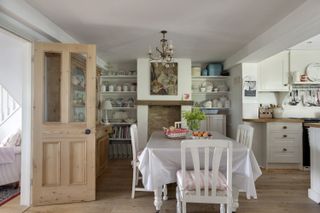 If you've installed a new heating system, allow doors to acclimatise before painting
General repairs
Repairs to doors, door frames and door cases should be made on a like-for-like basis using matching materials and construction techniques.
Action:
Use the point of a penknife to locate areas of rotten wood, paying particular attention to the bottom of the door and frame
Cut out decayed or damaged areas and joint or patch in new timber
Glue loose joints with an exterior-grade adhesive
Overhaul items such as hinges and latches
Use brass or stainless-steel screws
For complicated repairs employ a good joiner
Choosing a front door that fits the age of your home is important for an authentic look. The front door on this Georgian home is both era-appropriate and welcoming
Decorating
Doors are easily scuffed and knocked. Touching up the odd scrape can help, but external doors should be repainted every three to five years.
Action:
Prepare all surfaces carefully, making sure they are sound and any loose paint has been removed
Ensure the door's bottom and other areas of bare timber, such as within the letter plate opening, are thoroughly primed and painted to minimise moisture penetration that could cause swelling
Where major renovation is required, external doors are best taken off their hinges to enable all edges to be reached
Hardwood internal doors may be treated with beeswax polish if appropriate
After new heating systems have been installed, allow doors to acclimatise before painting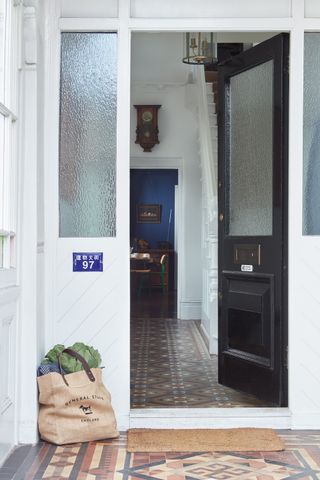 Maintaining original features is often important for those who own period homes. In this renovated Victorian semi, the door, floor and panelling are all original
Draughts and heat loss
Energy-efficiency measures to avoid draughts and heat loss should be considered with external doors.
Action:
Add draught strips to the edges and top of the door or around the frame
When overhauling doors, install draught strips into the bottom edge
Use a movable 'sausage' draught excluder made of fabric that can be laid at the bottom of doors
Install portiere rods with curtains on doors
Consider installing aerogel insulation faced with plywood within the internal panel recesses of thinly panelled external doors
Disguise the panel edges with timber beading
Check that letter plates are secure. Fit weighted fabric or a wooden flap over the inside of the opening to minimise draughts
Fit escutcheon plates with covers over keyholes inside and out
Exterior doors should be repainted every three to five years to keep them looking in top condition
Stripping paint
Paint layers built up over years cause detail to be lost or chipping to occur. However, removing paint can be time consuming and may reveal defects such as past repairs, rot and beetle attack.
Paint can be carefully removed with a scraper and liquid or paste strippers. Hot air guns are another option, but be careful not to scorch the wood or allow the heat to crack any glass within the door.
Think before having doors commercially stripped by dipping in hot, caustic baths as this can result in shrinkage and distortion and may loosen joints and raise the grain of the timber.
Contacts