Find your colour scheme's starting point
While some homeowners like to create an interior scheme from scratch, architectural features and prized collections are often the starting point for owners of period homes, and collectors of antiques and vintage. But using a single bold colour throughout can be overpowering. Instead, those passionate about the past are increasingly opting to use a variety of versatile neutral, tonal shades, such as whites, creams, greys and taupes, to keep their homes bright and create a clean backdrop to allow displays and features to stand out.
Do you want your home to look authentic – or contemporary?
'When choosing colours for a period home, think about the look that you wish to achieve. For an authentic scheme, research the style of the time. For instance, Victorians often teamed rich or muted olive greens with big pattern, such as flocks and damasks. Alternatively, bring the look up to date by mixing authentic period colours with contemporary furniture and accessories,' says Stephen Percy-Robb, managing director of Craig & Rose.
Whether you prefer neutral or bright, there's a wide choice of paints, from those replicating historic shades and ingredients, to modern-day formulas, on-trend hues and colour-matching solutions – all now containing low or virtually no VOCs (solvents released into the air as paint dries), thanks to EU legislation.
There are three general approaches to decorating a room:
coloured walls and lighter woodwork for traditional appeal;
lighter walls and darker woodwork, giving the illusion of space;
colour on walls and woodwork for a clean, contemporary look.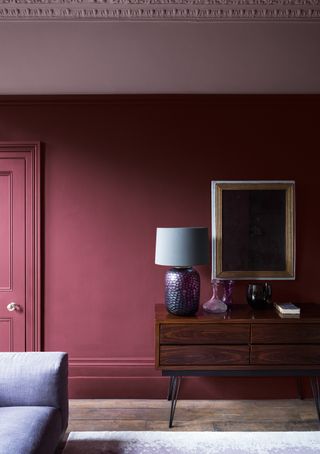 Which paint shades will suit your home best?
There are no set rules, and paint is increasingly used on ceilings, floors, furniture and architectural features to inject fun and originality.
'The tone of neutral colours can be used to create the illusion of more space. Choose white for ceilings, but an off-white on walls to make smaller period homes feel a little larger. Warmer grey-whites are good for showing off favourite pieces of art, while creamy whites create a feeling of intimacy, along with the impression of lower walls — good in properties with high ceilings. For a traditional look, paint cornice work two shades lighter than the wall colour.' Cathryn Helsby, paint expert at Earthborn.
Paints are also a great way to add interest to exterior surfaces, but will need to be durable and protective against the elements. Do your research before choosing paint for period properties, as older masonry may require specialist breathable coatings — the wrong paint can lead to irreversible damage to the building fabric. And, although professional decorators undoubtedly do a good job, painting a house inside and out, can be within the reach of a DIYer.
Painting tips
Light plays an important part in perceiving colour. Before buying a paint, move a swatch around a room to check the effect of light at different times.
It's easy to upcycle furniture with paint. Simply rub it down with wire wool, apply a primer, then a gloss or satin. Using chalk paint without primer will give a rustic look.
Know your finishes
Matt
Also known as a flat finish, matt has a powdery, unreflective appearance. With light-absorbing properties, matt paints look soft, highly pigmented, and are perfect for using on the walls of period homes and uneven surfaces to disguise imperfections.
Chalky matt
This finish is associated with increasingly popular chalk- and clay-based paints. They have an even more velvety appearance than most regular matt coatings. Providing a highly matt surface that subtly changes in the light, such paints usually have fantastic breathability and are great for walls in period homes, but cannot be wiped clean. Used on furniture, they will give a rustic look.
Eggshell and satin
Part way between matt and gloss, an eggshell finish has a low sheen and silky-smooth appearance. More durable than matt paints and resistant to steam, eggshell is perfect for using on indoor and outdoor woodwork, and in kitchens and bathrooms, due to its water-resistant, wipeable properties.
Gloss
This has a shiny, reflective finish. With a high level of sheen, gloss paints are far tougher than eggshell paint and are great for protecting wooden door and window frames and in kitchens and bathrooms. Try using on walls for a glamorous effect.
Working with neutrals
Architectural historian and colour expert Edward Bulmer describes Inferior Grey, a new shade from his Pots of Paint range of natural heritage colours, as 'the grey to end all greys, with a good weight of colour and wonderful tonality'. A black- and blue-pigmented shade, it has a chalky finish, exceptional depth, and subtle response to light
Though desirable architectural features, the high ceilings and large sash windows of some period properties can leave rooms feeling cold and uninviting. In such spaces, combining a warm neutral on walls, such as Mylands' Empire Grey Marble matt emulsion, £38 for 2.5ltrs, with white woodwork, is a perfect way to maintain brightness while also giving a cosy, calming feel
Colour & Paint has teamed up with iconic fabric house Liberty to produce a paint collection inspired by, and designed to complement, its rich heritage of fabric print designs. From the neutral minerals paint range, Slate is a light, smooth grey to give a contemporary cooling effect to south-facing rooms and provide the ideal backdrop to Liberty upholstered furniture. Priced £39 for 2.5ltrs of rich flat matt paint
Earthborn has introduced three new elegant shades of white for 2015, each with the smallest addition of colour to give subtle variations in warmth. The new additions, Hopscotch (top left), Maybe Maggie (second row middle), and Picket Fence (second row right), are all £35 for 2.5ltrs of Claypaint
Nightingale is one of Fired Earth's six new ornithology-inspired shades. A chic colour, neither grey nor black, it is particularly striking used in a masculine style of room scheme furnished with mid-century pieces. From £35.50 for 2.5ltrs of matt emulsion
Colourful choices
Not just for little girls' princess-themed bedrooms, pink can also be sophisticated, as Graham & Brown has proved here. A new addition to the paint and paper specialist's Platinum collection of heritage shades, Second Skin is a cool, hazy lavender tone, designed to complement Graham & Brown's Rose Cottage wallpaper (shown). Priced £30 for 2.5ltrs of premium matt emulsion
Muddy colours were favoured by the Victorians, but also look great today alongside contemporary tan leather furniture, dressed with lighter touches. French Mustard is new from American paint company Valspar, available at B&Q. Priced £21.98 for 2.5ltrs of matt interior paint
Crown Paints has highlighted two vivid blue-green watery shades, Aqua Source (left) and Tropical Ocean (right),in its latest Retrospective colour trend, curated to echo and complement mid-century modern design. Available in a range of finishes, the colours work particularly well with mustard yellows and cool greys
Creative ways with paint
Who needs a statement headboard when you can simply paint one onto the wall? An alternative take on the feature wall, painting a section in a contrasting shade behind the bed, as Farrow & Ball has done here in Pelt, frames the furniture and injects wit into a period scheme
Chalkboard paint is a fantastic way to make a room fun and interactive, and, thanks to Lakeland Paints, it is now available in 180 colours to suit any interior. With a super-matt finish, the paint takes all general-purpose and pavement chalks, is fully washable, and, what's more, is not limited to walls. Try using it on furniture as done here using Lakeland's Lagoon shade
Highlighting architectural features in bright tones is a playful way to bring a burst of colour to a muted room scheme. This window opening, painted in Crown Paints' Lemon Squash shade, and windowsill, in Oxygen, makes perfect ice-cream-coloured framing for a summery display of home accessories. Both paints are in the Kitchen & Bathroom range
Paint effects needn't be limited to walls and furniture:they can make a feature of flooring, too. For a playful twist on a classic look, try painting hallway floorboards in Mylands' Eaton Square (blue) and Belgravia (white), which are available as wood and metal eggshell, to create a fun chequerboard design
Outdoor updates
Make a feature of garden storage by painting it inside and out in co-ordinating colours. Cuprinol's matt Garden Shades paint in Summer Damson (exterior) and Sweet Pea give a cottage garden feel
With a subtle sheen foran attractive finish but no glare in sunlight, Marston & Langinger's exterior eggshell, shown in Fava, is breathable, low-odour and water-based
Paint is a great material for protecting and enhancing exterior walls. Dirt-resistant, breathable and waterproof, Sandtex's Ultra Smooth masonry paint, shown in Terracotta, is paired here with Pure Brilliant White exterior gloss on woodwork to give this period home a warm, inviting look