When it comes to decorating your home, paint colour is probably one, if not the, most important decision you can make. It has the potential to lighten a dark room, and it can soften glare in a very sunny space. It can warm a chilly north-facing room, or come to life in evening light. If you are feeling slightly daunted by the prospect of choosing paint for your traditional home, fear not – our guide to choosing the perfect paint colours contains everything you need to know...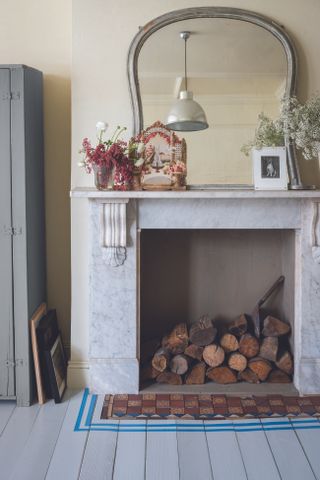 Related articles: How to paint rooms and walls: everything you need to know | The best paint brushes and rollers
Find your colour scheme's starting point
While some homeowners like to create an interior scheme from scratch, architectural features and prized collections are often the starting point for owners of period homes, and collectors of antiques and vintage items. But using a single bold colour throughout can be overpowering. Instead, those passionate about the past are increasingly opting to use a variety of versatile neutral and tonal shades, such as whites, creams, greys and taupes, to keep their homes bright and create a clean backdrop to allow displays and features to stand out.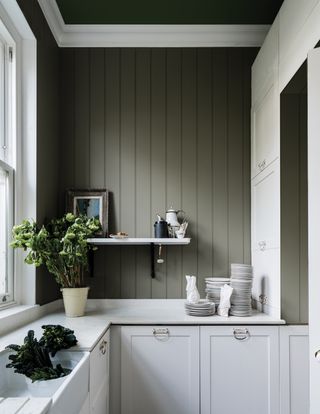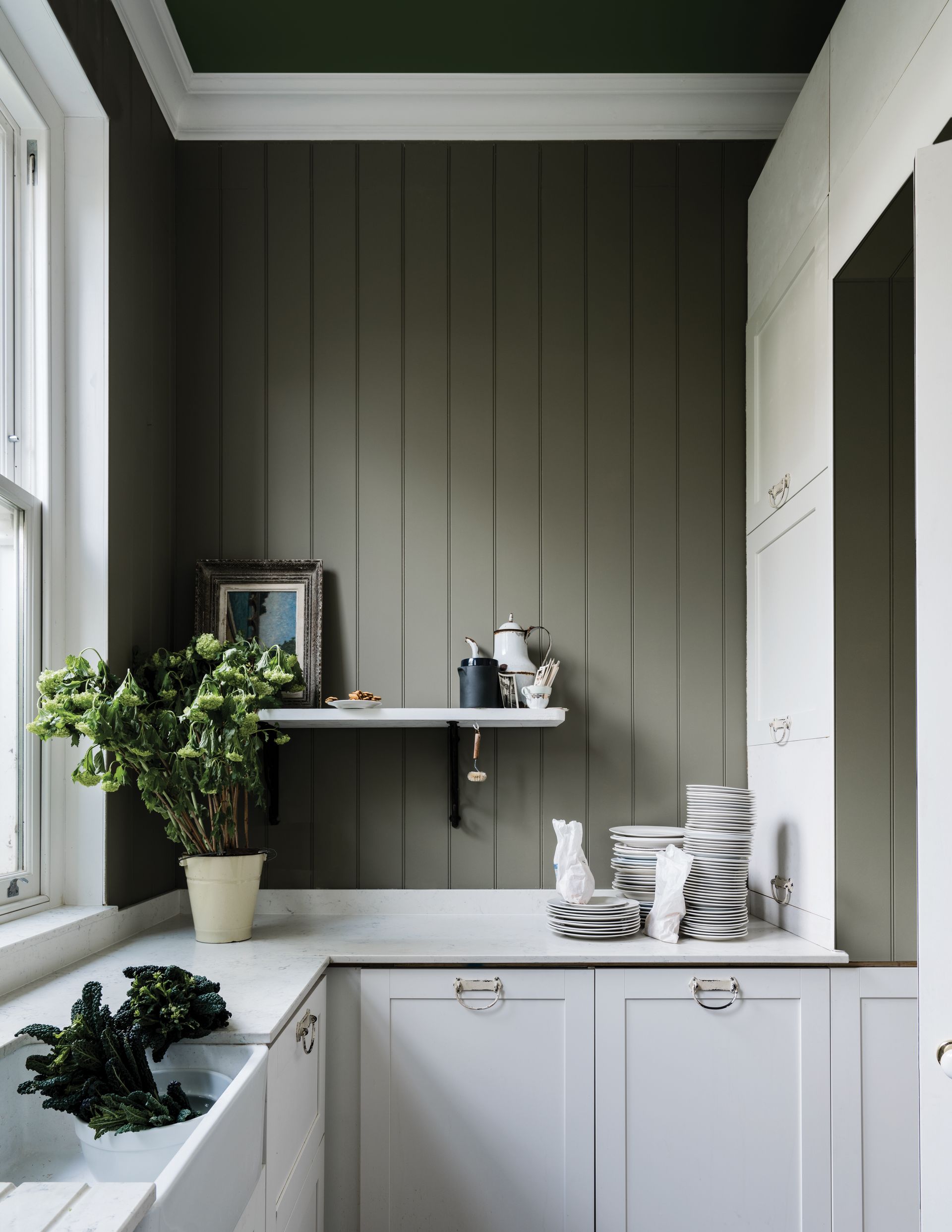 Do you want your home to look authentic?
'When choosing colours for a period home, think about the look that you wish to achieve. For an authentic scheme, research the style of the time. For instance, Victorians often teamed rich or muted olive greens with big pattern, such as flocks and damasks. Alternatively, bring the look up to date by mixing authentic period colours with contemporary furniture and accessories,' says Stephen Percy-Robb, managing director of Craig & Rose.
Whether you prefer neutral or bright, there's a wide choice of paints, from those replicating historic shades and ingredients, to modern-day formulas, on-trend hues and colour-matching solutions – all now containing low or virtually no VOCs (solvents released into the air as paint dries), thanks to EU legislation.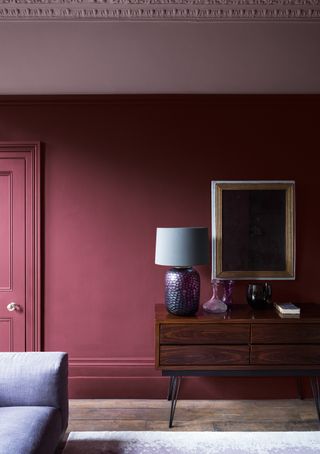 Which paint shades will suit your home best?
FREE Annie Sloan chalk paint set – perfect for upcycling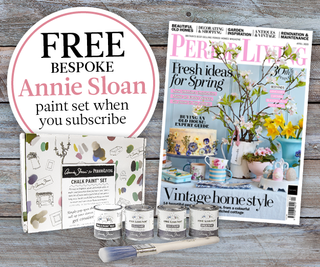 There are no set rules, and paint is increasingly used on ceilings, floors, furniture and architectural features to inject fun and originality.
'The tone of neutral colours can be used to create the illusion of more space. Choose the best white paint for ceilings, but an off-white on walls to make smaller period homes feel a little larger.
Warmer grey-whites are good for showing off favourite pieces of art, while creamy whites create a feeling of intimacy, along with the impression of lower walls — good in properties with high ceilings. For a traditional look, paint cornice work two shades lighter than the wall colour.' Cathryn Helsby, paint expert at Earthborn.
Consider the room's orientation, too. Cooler colours will typically suit south- or west-facing rooms, while north- and east-facing rooms need warmer shades to make them feel inviting. Use our guide to decorating a north-facing room for tips.
Paints are also a great way to add interest to exterior surfaces, but will need to be durable and protective against the elements. Do your research before choosing paint for period properties, as older masonry may require specialist breathable coatings — the wrong paint can lead to irreversible damage to the building fabric. And, although professional decorators undoubtedly do a good job, painting a house inside and out, can be within the reach of a DIYer.
Know your finishes
Matt
Also known as a flat finish, matt has a powdery, unreflective appearance. With light-absorbing properties, matt paints look soft, highly pigmented, and are perfect for using on the walls of period homes and uneven surfaces to disguise imperfections.
Chalky matt
This finish is associated with increasingly popular chalk- and clay-based paints. They have an even more velvety appearance than most regular matt coatings. Providing a highly matt surface that subtly changes in the light, such paints usually have fantastic breathability and are great for walls in period homes, but cannot be wiped clean. Used on furniture, they will give a rustic look.
Eggshell and satin
Part way between matt and gloss, an eggshell finish has a low sheen and silky-smooth appearance. More durable than matt paints and resistant to steam, eggshell is perfect for using on indoor and outdoor woodwork, and in kitchens and bathrooms, due to its water-resistant, wipeable properties.
Gloss
This has a shiny, reflective finish. With a high level of sheen, gloss paints are far tougher than eggshell paint and are great for protecting wooden door and window frames and in kitchens and bathrooms.
The best neutral paints for a period home
If you like to play it safe with your paint choices, there are so many beautiful neutral hues that would work perfectly in a more traditional home. Here are just some of our favourites...
1. Farrow and Ball Wevet
This delicate white has a barely there and almost translucent feel to it. Wevet is clean, understated and incredibly easy to live with. With its hint of grey, this hushed tone can be used as a four wall colour, or works perfectly on ceilings or architraves especially when paired with a darker hue.
For more of our favourite Farrow and Ball colours check out the best paint from Farrow & Ball 2019.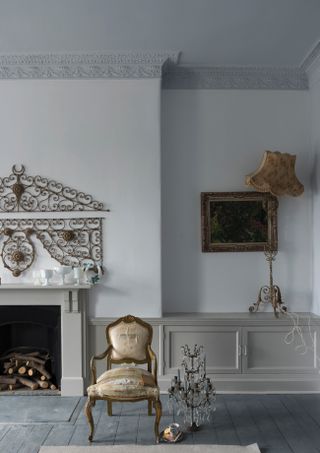 2. Annie Sloan Old White
Without any hints of pink or yellow, Old White is a cool soft white that will work with any colour palette. You can get it as a water-based wall paint, but if you are after that really velvety, ultra matte finish then Old White is also available in chalk paint.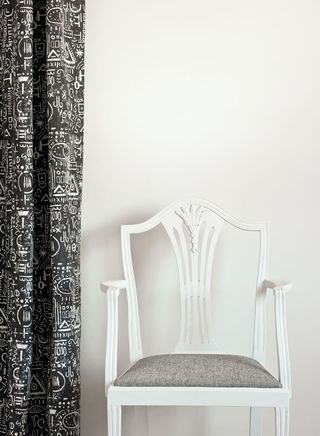 3. Little Greene Rolling Fog
If you are after a warmer neutral Rolling Fog is a beautiful soft colour, that looks lovely paired with a clean bright white as seen below in this traditional bathroom.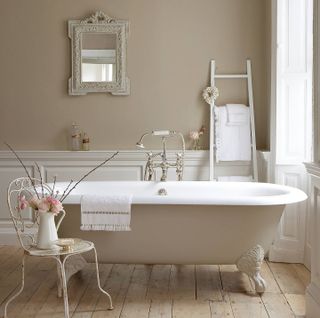 The best colourful paints for a period home
Traditional doesn't have to equal boring. If you are decorating a period property you can still have fun with brighter coloured paints...
1. Farrow and Ball STIFFKEY BLUE
A bold and dramatic shade, Stiffkey Blue works wonders on rooms that are often overlooked, such as dining rooms and pantries - but don't overlook its potential for a bathroom or kitchen, too. Consider using it as an all-over colour for a really striking effect, as shown below.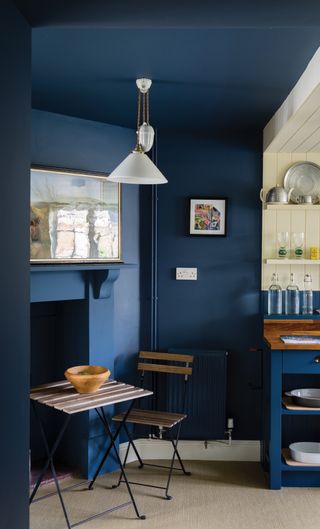 2. Paint and Paper Library PLASTER IV
It's a subtle colour sure, but it has just enough pigment to make a statement. The tea rose hue of Plaster IV would work as a whole room colour, but we love how it looks here paired with a dark grey, it just stops it looking too twee and pretty.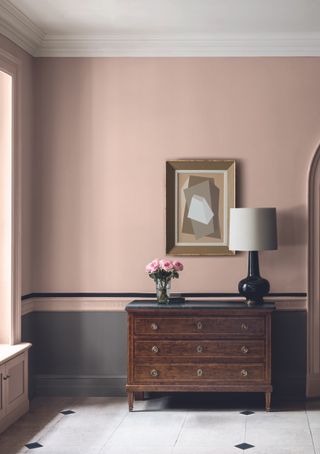 3. Fired Earth Terracotta Warrior
As the name suggests Terracotta Warrior is a strong bold colour, that would work perfectly in a north facing room as the warm tone would only enhance the cosy feel of a darker space. You could use it all over if you have a space big enough or consider just using if on woodwork or to cover the ceiling in an otherwise neutral room.
The best dark paints for a period home
Ready to embrace the dark and atmospheric decorating trend? Paint is a great way to dabble with the dark side. Here are our top three moody hues..
1. Rockett St George Portobello
New to the world of paint Rockett St Georgehas collaborated with Craig & Rose, one of the oldest established paint manufacturers in the UK, to produce a range of distinctive Rockett St George tones, shades and hues. Our favourite of the bunch is Portobello a gloriously inky black with a touch of blue which comes in either chalky emulsion, eggshell or gloss.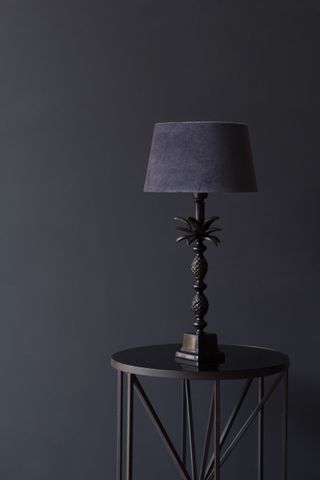 2. Farrow and Ball Railings
Blue or black? Why choose if you can have a colour that occupies a perfectly balanced space in the middle? With its unique, rich tone, it is no wonder that Railings is one of Farrow and Ball's best sellers. This colour works especially well for adding character to a study or dining room, as shown here. Why not use it on woodwork and doors, too, to up the contemporary appeal?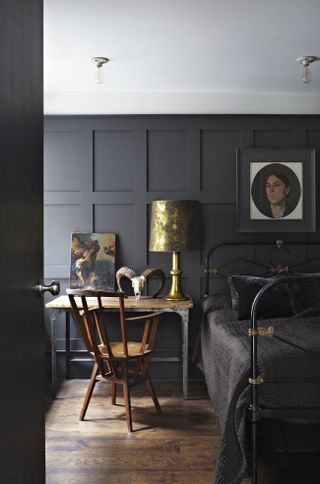 3. Little Greene Obsidian Green
A deep greeny black, this dramatic hue is the perfect option for making a statement in a hallway or kitchen, but this shade is growing in popularity and is now being using in softer spaces like living rooms and bedrooms (as seen below). Just pair Obsidian Green with lighter soft furnishings and natural wood to give the colour a lift.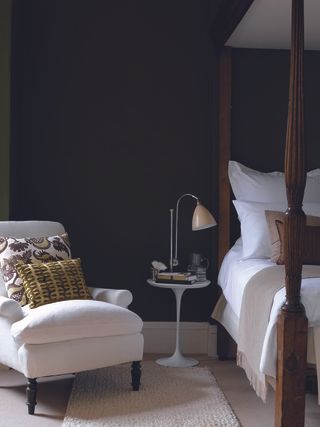 Looking for more painting and decorating advice?