With more styles available than ever before, there's a woodburner to suit every home, whether you want a traditional style, a sleek contemporary design, or a real feature. But it's not only good looks that a woodburning stove has to offer. With prices continuing to rise, the opportunity to slash your energy bills while reducing your carbon footprint is a great incentive to invest in a log burner.
They're top of many a homeowner's wishlist, and it's no wonder – top-of-the-range models can be more than 80 per cent efficient (compared to open fires at 15 per cent), not to mention that they run on wood, which is both inexpensive and sustainable.
How much will a woodburner cost?
Stoves themselves vary in price, from around £300 for a good quality, but basic model, to more than £6,000. You'll also need to factor in installation costs of £400 to £1,000, depending on the property and the complexity of the work.
Connecting a new freestanding woodburner onto an existing hearth with no building work involved could easily be achieved in one working day says.
Aspects that make the installation more difficult (and hence more expensive) are:
installing a new chimney;
relining a chimney;
installing an inset appliance;
decorative features around the appliance, such as tiles or stone, and upgrading or creating a suitable hearth.
Adding a fireplace or stove may also require new vents to be added to the room to provide sufficient ventilation for combustion. Drilling a 10cm diameter core in an external wall and adding a telescopic vent with plastic louvres inside and out would typically cost £200-£250. A large fireplace or stove might require two vents; a HETAS installer will be able to calculate the clear area of permanent ventilation necessary.
A room-sealed stove may need different alterations, as the combustion air required is ducted from outside directly into the stove and not via the room.
Woodburner heat output
Generally speaking, a pound of fuel burnt in a stove can produce three to four times more heat than on an open fire. Different models provide different heat outputs, so it's essential to check, or you'll end up with more heat than you need.
It's a good idea to discuss your requirements with a Heating Equipment Testing and Approval Scheme (HETAS) registered heating engineer while considering which woodburning stove to buy. Your engineer can also give specialist advice on the location of your stove, as well as the correct size and heat output for your home.
It is wasteful and uncomfortable to overheat a room.
A 4x4m room with probably require a four or five-kilowatt stove.
Remember that you may need a lower output stove in a very well insulated home.
Showrooms and HETAS specialists can help calculate your required output, but as a rough guide, to make your room 21°C when it's 1°C outdoors, allow for one kilowatt to comfortably heat 14 cubic metres of space. You can use online heat calculators to estimate your required heat output, such as the tool on Stoves Online.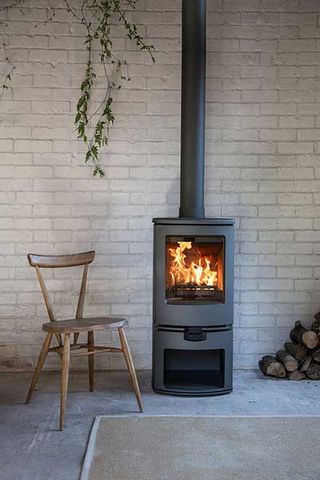 Smoke control areas
If you live in a city, you may be within a Smoke Control Area, so it is a good idea to contact your local authority. If you are, wood burning is illegal and you'll need to opt for a DEFRA (Department for Environment, Food and Rural Affairs) exempt appliance instead, designed to produce virtually no smoke and approved for use in controlled zones.
Will you be able to comply with building regulations?
With Government regulations (see Part J at Planningportal.co.uk) and Building Control to take into account, installing your new woodburning stove may seem like a complicated process.
Installation of woodburning stoves is controlled under building regulations, as is any realigning or installation of flues or chimneys. Building regulations essentially dictate the minimum criteria necessary to apply, to ensure your stove functions safely and correctly. As such, you should submit an application to Building Control before installing your stove.
Most woodburning stoves will require an appropriate flue or chimney; if you have an existing one, you'll need to get it checked for safety before installing your stove. You can hire a chimney-sweep (visit Chimneyworks.co.uk) to ensure it's in full working order. As the installation of stoves falls under Building Control, you should always enlist the services of a qualified professional to install your stove, flue and flue liner, to ensure you meet the legally required standards.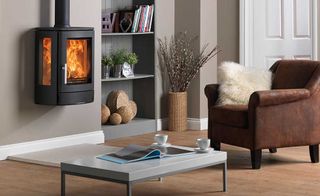 Woodburner maintenance
Woodburning stoves were once considered messy and hard work, producing a lot of ash and dirt, as well as requiring the owner to constantly go in and out of the house for fuel. Thankfully, the technology within modern models makes them much easier to operate and to clean, and the appliances now need less fuel, too.
Stoves are far easier to operate than you would think. Most stoves now have an airwash to help keep the glass clean and are easy to light and empty out the ashes from.
Recent developments have led to many stoves being 'cleanburn' – which means they are more efficient and produce cleaner smoke. Cleanburn is a term that you're likely to come across while shopping around; the process involves the introduction of additional air, which burns off some of the gases, preventing them from escaping up the flue, and producing less ash.
To keep your stove in good condition, you'll need to have your flue swept and the stove and chimney checked by a professional engineer at least once a year, or more frequently if the stove is used often.
Which wood should you use?
For woodburning stoves, the quality and type of wood burnt greatly affects the performance; the lower the moisture content of the wood, the higher the heat output and the lower the emissions and flue deposits produced.
Use light woods like beech as kindling. They burn quickly and are good for igniting logs.
Use dense woods like oak as your logs. They burn hotter and longer than lighter woods.
Seasoned (air-dried) logs are best as they will burn longer and hotter.
How environmentally friendly are woodburning stoves?
Burning wood as fuel offers a good, and far more sustainable source of energy compared to gas. When burning wood, you emit as much carbon monoxide as the tree will have consumed while growing, so it is classed as carbon neutral.
If you buy your firewood from a sustainable source, then for every tree they cut down they will replant another, and this will consume even more carbon monoxide from the atmosphere.