As efficient as your central heating system may be, and however much you love your underfloor heating, there's nothing like gazing into the flames of a woodburning stove. Our handy guide to choosing a stove provides all the intel, helping you choose a stove that not only makes a fabulous focal point for a room, but also functions as a cosy source of heat.
As if all of that wasn't enough, stoves are efficient, too. Whereas up to 90 per cent of the heat from an open fire goes up the chimney, a stove can reverse this with most of the heat reaching the room and just 25 per cent or less disappearing.
But which is the right choice of stove for your room? Browse our guide if you need help choosing between multi-fuel, woodburning or back boiler fuels, then check out our pick of the best stoves for design advice and inspiration.
Multi-fuel stoves
Why you can trust Real Homes Our expert reviewers spend hours testing and comparing products and services so you can choose the best for you. Find out more about how we test.
Multi-fuel stoves are easy to clean and offer the greatest flexibility, burning a variety of authorised fuels, such as coal, wood and smokeless fuel. As well as providing an efficient heat source, some models also heat your water and some radiators.
Multi-fuel stoves have a grate inside for the fuel to sit on, making them ideal for coal, which needs air to reach it from below to burn effectively.
Wood, on the other hand, burns best when sitting on a bed of ash, with air circulating from above. Because of these differences, a multi-fuel stove may not be optimised for burning both fuel types at the same time.
Work out what type of fuel you want to burn and what you have access to first, then base your buying decision on that.
Wood-burning stoves
Wood-burning stoves burn all types of wood. Hardwood logs are denser than softwood, giving more heat output, which is measured in kWh per bag.
Be aware that burning wet wood is inefficient and creates a lot of smoke which damages the chimney and blackens the appliance as well as contributing to air pollution. You should use dry wood that has been properly sourced and seasoned or kiln dried.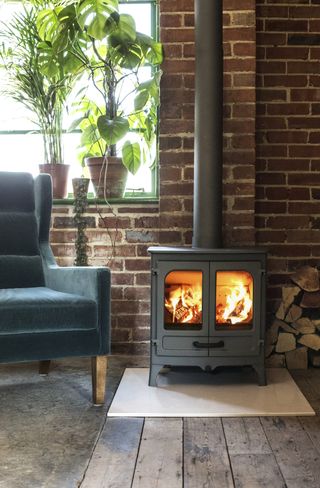 Look out for logs with the Ready to Burn logo. The scheme is backed by the government and the designation can be found on pre-packaged logs, identifying fuel that contains up to just 20 per cent moisture to reduce smoke and PM2.5 particulate emissions which contribute to air pollution.
Avoid burning the below as they can release toxic gases and cause a build-up of resin in the hearth and flue.
Pine
Fir
Spruce (and other conifers)
Salvaged or treated wood
Chipboard offcuts
Rubbish
Look out, too, for pellet-burning stoves, which use compressed wood or biomass pellets as fuel. Some can be controlled by a mobile phone and timer.
Tip:
From 2022 all new wood-burning and multi-fuel stoves must meet new Ecodesign legislation. This requires stoves to run at an efficiency of at least 75 per cent and to have smoke emissions of less than 40mg/m3. Look out for the SIA Ecodesign Ready label when you're buying.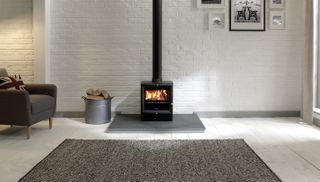 Stoves with back boilers
As an alternative central heating solution, you can specify a stove with a back boiler, although this may not be the cheapest option. This combines a boiler function with the stove to provide space heating and domestic hot water, as well as spot heating. These products, known also as boiler stoves, can typically provide between 5 and 20kW of water heating as well as the equivalent in output to the room.
A HETAS-registered installer can advise you on how to link a boiler stove to your system, which will likely be by plumbing it into a hot water cylinder.
Tip:
Stoves require an air supply for combustion to take place, so the air within the room needs to be replenished. In older, draughty homes, this doesn't tend to be an issue. However, in modern, well-insulated homes, there may be limited airflow. Room-sealed stoves with a direct air supply (where the air is taken from outside the house) can be used in this instance.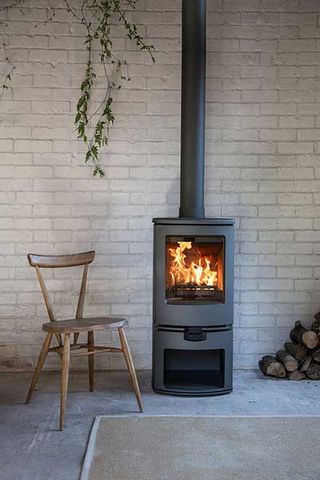 Gas and electric stoves
Gas and electric stoves provide flames, or a flame-effect, and heat, without the mess and storage requirements of other fuels.
Electric stoves are an easy, plug-in choice for homes without a chimney or flue.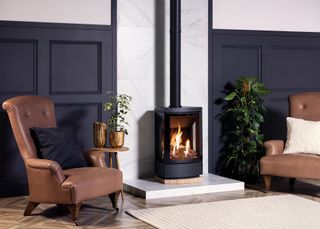 Where can a stove be fitted?
Stoves can be safely installed in just about any room in the home. If you don't want an electric stove, steel chimney systems can be fitted in most locations if there is not an existing chimney.
When it comes to the position within a room, many stoves are freestanding, so you can choose where you want to position them to get the best view of the flames and warmth. Consider locating a stove against a wall, in an existing fireplace, or in the centre of a room flued through a ceiling.
There are also insert stoves, which can be flush fitted into a wall or dividing wall or even into an old fireplace opening.
How to get the stove's heat output right
As a rule of thumb, work out the cubic metre capacity of the room (room height x length x width) and divide it by 14 (or by 20 for a modern, well-insulated home). This will give you the output in kW that you need to be looking for when viewing stoves.
Before investing, though, it's important to have a site survey conducted by a professional registered with the Heating Equipment Testing and Approval Scheme (HETAS).
Chimneys and flues: need to know
A stove is often only as good as the chimney or flue to which it is connected. Existing chimneys will need to be investigated to establish whether they're fit for purpose – they may need sweeping and should be lined. In homes without an existing chimney, there are a number of options available, such as introducing a stainless-steel twin-wall flue – these are particularly popular in open-plan and contemporary interiors.
Find out more about fireplace and chimney maintenance and discover how to repair a chimney.
Stove safety considerations
Make sure you have a flue in place to safely remove smoke, hot gases and other by-products unless your stove is electric.
Avoid positioning the stove too close to walkways and possible combustible materials.
Choose suitable fireplace materials and dimensions to match the type of stove you are installing in line with building regulations and gas safety rules.
Consider a safety guard if you have young children.
Can you install a stove yourself?
If you opt to install your stove and flue on a DIY basis, you'll need to notify your local building control department. But the simplest (and safest) route is to call on a HETAS-registered installer who will self-certify the installation. They'll also be able to deal with the building regulations for you.
Stove maintenance
A service should be carried out annually and the chimney should be swept once a year (or twice if you burn wood) – this is best done in the summer or autumn. This is also the time to check the glass seals and internal fire linings.
In wet weather, leave the air supply open to prevent corrosion from rainwater coming down the chimney.
If the glass of the chamber appears milky, it is because the stove is running too hot and needs some attention.
Find out more about how to clean your wood-burning stove.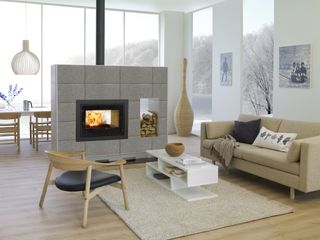 Which stove style to choose?
For a contemporary home, look for stoves with minimal detailing, dramatic curvaceous or angular shapes, and large glazed doors.
Taller, slimmer units tend to look more modern than squatter ones; while stoves with concealed back flues also look more streamlined than those with chimneys.
Choose black or steel finishes for a very minimalist room, white or cream for a traditional Scandi feel, or a colourful stove to brighten up a monotone scheme.
To add texture and interest to your space, as well as provide practical storage, consider stoves with built-in log stores, too.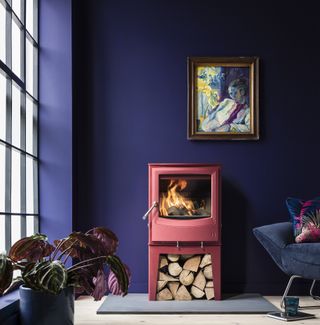 Smoke control areas and stoves
If you live in a city, you may be within a Smoke Control Area, so it is a good idea to contact your local authority. If you are, wood burning is illegal and you'll need to opt for a DEFRA (Department for Environment, Food and Rural Affairs) exempt appliance instead, designed to produce virtually no smoke and approved for use in controlled zones.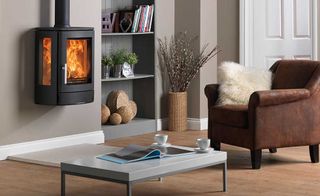 How environmentally friendly are wood-burning stoves?
Burning wood as fuel offers a good, and far more sustainable source of energy compared to gas. When burning wood, you emit as much carbon monoxide as the tree will have consumed while growing, so it is classed as carbon neutral.
If you buy your firewood from a sustainable source, then for every tree they cut down they will replant another, and this will consume even more carbon monoxide from the atmosphere.
Tip: many parts of the UK are smoke-control areas where you can't emit smoke from a chimney unless you're burning an authorised fuel or using an exempt appliance. Your local council can tell you if you live in a smoke-control area and stove suppliers will indicate if the model in which you're interested falls into the exempt appliances category. You can also check DEFRA's exempt appliances list.
How much do stoves cost?
Expect to pay anything upwards of £500 for a good-quality 5kW design – although they can cost considerably more.
The real cost, however, comes with installation, which could set you back almost as much as the stove and varies depending on the professional. Factor in installation costs of £400 to £1,000, depending on the property and the complexity of the work.
More on stoves and heating: