Basement conversions are a great way to create extra living space in built-up urban areas where outdoor space for extensions is limited. A basement, naturally closer to the main living areas and garden than a loft extension, is a brilliant way to add more practical living and entertaining space.
There are two main types of conversion – the first, and most cost effective – is turning an existing cellar into usable living space. The second is excavating a new basement, which will require more significant structural work and is, therefore, more expensive. Bear in mind that it can be much more cost-effective to add a basement if you are also adding a new extension above at the same time. However, if you have a small garden and lack living space, both can be worthwhile options.
Read on to find out how to create a basement conversion – and read our ultimate guide to extending your home for more advice and tips.
How much does a basement conversion cost?
Turning an existing cellar into habitable space by tanking and insulating the walls will cost £720 to £1,800 per square metre. Factors that will increase costs include the need to move services, underpinning, and lowering the floor level to increase ceiling height.
Constructing a brand new basement under an existing house and underpinning the walls will cost £1,920 to £2,640 per square metre for a shell space. These costs will increase if there is the need for any party wall agreements with neighbours whose boundary walls will be affected, of if there are difficult ground conditions or poor access to the site for the work to be completed.
Regardless of which option you choose, installing a light well or new external access door will cost £5,500 to £9,500 each.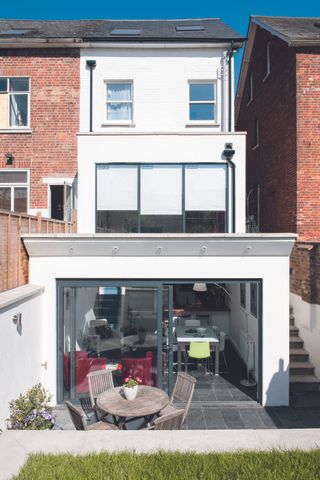 Does a basement conversion require planning permission?
Converting an existing residential cellar or basement into a living space is unlikely to require planning permission. This is provided it's not going to be used as a separate property, and that the external appearance of the original house is not significantly altered.
Major works to excavate a new basement, adding a separate unit of accommodation, and/or altering the external appearance of your house, are likely to require planning permission, even if you're converting or expanding on an existing cellar space.
In all circumstances, you should contact your local planning authority for guidance before starting any work. You can apply for planning consent yourself, or employ a professional architect or specialist basement company to apply on your behalf. They will have an insight into local planning regulations and projects in the area that have been successful.
Building regulations for basements
To ensure your new basement is legally habitable, it will have to meet building regulations by achieving sufficient levels of insulation, creating emergency escape routes and having a minimum head height, which may require structural supports, such as steel beams. Any structural work you carry out will need to be passed by a building inspector, to make sure that it won't impact on the rest of your house or your neighbours' properties.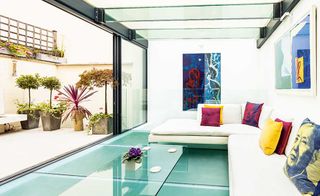 Party wall agreements for basement conversions
The Party Wall Act provides a legal framework for preventing and resolving disputes in relation to boundary walls, party walls and excavations that are near neighbouring buildings.
Unless you live in a detached house, you will need to reach an agreement with your neighbours over shared walls before converting your basement. The correct notices will need to be issued and consents obtained from all neighbours whose boundaries might be affected at least two months before work begins.
If you are using a contractor to design, manage and complete your basement project, they will usually deal with any party wall agreements that need to be reached, along with planning applications and building regulations. If not, you will need to instruct a surveyor and this can cost £700 to £900 per neighbour (you will be obliged to pay for both surveyor fees).
If you get your neighbours on board, they may consent to the work and there won't be any fees involved, but you'll need to get this in writing on a waiver form.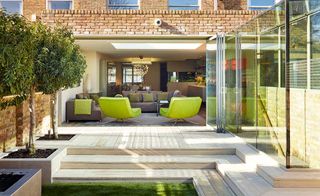 Introducing natural light to a basement
Light wells or skylights are the most obvious way of introducing light and ventilation into a basement. There are potential planning issues – notably within Conservation Areas – but there are design solutions for most situations. A small opening with a walkable grill over it can make a big difference to the feel of a basement space, and add real value. Larger openings can have a protective covering in toughened glass.
If space is limited, you could include a sun pipe that uses glass panels and angled mirrors, to bring natural daylight down into your basement. Equally clever solutions include light-ducts and hi-tech fibre-optic cable systems, where special light fittings are linked via fibre-optics to a solar collector on the roof that will track the path of the sun and feed light down to the rooms below.
Glazed ceiling panels in the ground floor above are another way to bring down borrowed light and suit more contemporary properties, while you may want to consider installing glazed doors – either sliding or bi-fold – out to the garden if the design of your basement allows.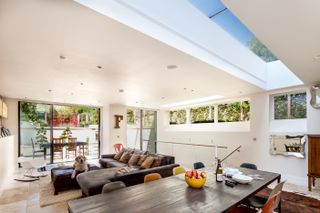 Tanking the basement
Tanking is the most common way of waterproofing an underground space. This involves applying a coating to the interior of the porous basement walls to create a waterproof barrier. This can be in the form of a membrane that is fixed to the walls or as some kind of waterproof render or sealant.
The two main methods to choose from are brush-applied tanking or a cavity membrane drainage system. Whichever you choose, products should be British Board of Agrément certified and you should receive an insurance-backed guarantee. Of course, adequate heating and ventilation will also help prevent condensation from forming.
Preventing damp in a basement
Building regulations require that all floors and walls below ground level are waterproofed, to stop damp entering a building's structure. Water penetration can be tricky to control; it's not unusual to find basements where two or three different systems have been applied – bitumen, cellar paint and/or render – but all have failed for one reason or another. Find the right solution for your basement with an assessment by a waterproofing contractor with a proven track record.
For basements where the water table is higher than usual, or in old homes where the cellar walls may be more porous, you will need to have a cavity membrane drainage system. This takes water out of the basement, either naturally or with an electric pump.
Read more on extending: