A basement conversion is an increasingly popular home improvement project. And, converting a basement could deliver the extra living space you need in your home while, if your home doesn't already have a basement, excavating underneath it can be a great alternative to building out.
The second alternative is a major project, of course, but it can be worth the time and money, adding anything from a home gym, a playroom for the kids, space for guests, a studio, a movie theater, and more to your home.
Whatever your basement ideas may be it's vital to get clued up on how to plan and design your basement conversion or remodel for the best success.
Basement conversion: before you start
You might choose to remodel and finish a basement on a budget, turning it into extra living space without breaking the bank. Digging out a brand new basement instead? Be aware that the following factors can make yours a more complicated – and costly – project. These include:
If you need to divert drains beneath your house.
If your home has solid concrete rather than timber subfloors.
If your house is sited on difficult ground conditions (clay, made-up ground, sand or marsh).
If the local water table is high, necessitating constant pumping.
If access to the site is poor.
Always check with an experienced contractor to be sure that your home is suitable for a basement conversion.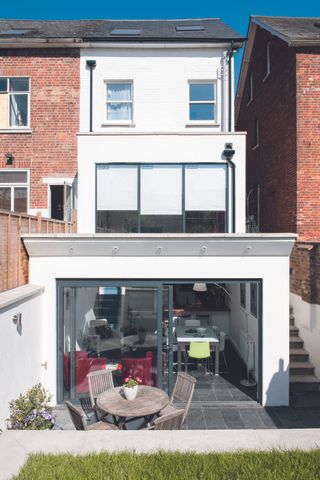 Factor in the rooms you're creating
The time taken and the cost of fitting out the interior of a basement conversion will very much depend on the function of the rooms within it. Turning it into a living area, or a home office, for example, will involve lower costs and involve less additional plumbing and electrical work than adding an extra kitchen.
And if you're considering basement bedroom ideas, you'll likely want to provide a bathroom for guests or family members along with the sleep space, which will make the fit-out a bigger project.
Are basement conversions worth it?
Whether it is financially worth converting a basement depends on a number of factors:
The cost of the work versus the value added to your home (city-central, high value areas with little available land will give you the best profit potential). Ask a trusted local real estate agent for an idea of how much space is worth per square foot in your area. You can compare this to the cost of the basement conversion.
If, of course, you are planning to remodel a basement rather than excavating a new one, your spend will be lower, and your profit potential higher.
If this is the case and it's a toss up between planning a loft extension at a similar cost, you'll need to weigh up whether you need more living space or more bedroom space.
Check your property's ceiling value with the local realtor – it's unwise to spend significantly more than you will add to your property's value on any project.
Want to do some of the work yourself to save? 'Someone handy can finish a dry basement themselves by putting up studs, drywall, a ceiling, and flooring,' says Ralph Severson, owner of interior remodeling company Flooring Masters.
'Electrical, plumbing, and adding vents to existing HVAC should be performed by professionals. Be sure to check that your furnace and AC can handle the added load of controlling the climate in your basement before taking on that task, and keep in mind that the basement will stay cooler. You will probably need to upgrade, or seek other means.
'Hire a licensed electrician for installing outlets and fixtures in the new space to keep it safe.'
Planning a basement conversion is so much more complicated than planning, for example, a single storey extension. However, much of the planning will be done for you by specialists since, unlike simpler additions, this is not a project that you can easily run yourself. These guidelines will ensure you've got all the planning that you can practically do yourself sorted in advance.
Do you need permission for converting a basement?
Knowing how to convert a basement involves being savvy about the rules. Check with your local building official to find out what's permitted in regard to converting a basement in your area. They will be able to let you know about residential building code and zoning ordinances, and the different permits you will require for your project.
Be aware of the need for safety precautions in the event of a fire. 'The concept of a fire escape doesn't just apply to second stories,' says licensed architect and renovation coach and founder of Kickstart House Mona Ying Reeves.
'It also applies to basements, and it's called "egress". Building codes will require some way for occupants to safely evacuate in case of fire, which means that you may need to dig beyond your basement to create lightwells and access for fire fighting and escape.'
Do you need planning permission to covert a basement?
In England and Wales, converting an existing residential cellar or basement into a living space is unlikely to require planning permission. This is provided it's not going to be used as a separate property, and that the external appearance of the original house is not significantly altered.
Major works to excavate a new basement, adding a separate unit of accommodation, and/or altering the external appearance of your house, are likely to require planning permission, even if you're converting or expanding on an existing cellar space.
In all circumstances, you should contact your local planning authority for guidance before starting any work. You can apply for planning consent yourself, or employ a professional architect or specialist basement company to apply on your behalf. They will have an insight into local planning regulations and projects in the area that have been successful.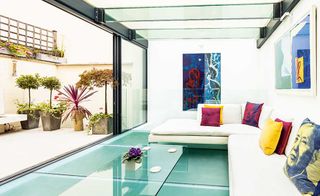 Converting a basement under permitted development rights
In England and Wales, converting an existing basement from, for example, a storage area into a habitable room can be completed under permitted development (PD) rights, unless you live in a Conservation Area or if your home is listed.
If working under PD, you may want to apply for a certificate of lawful development from your local authority; doing so will give you the paperwork to prove that your scheme met requirements and did not need planning permission.
The general PD criteria is on the government's planning portal, but check with your local council before you proceed because some areas have more restricted rights.
Building regulations for basements
To ensure your new basement is legally habitable, it will have to meet building regulations in England and Wales by achieving sufficient levels of insulation, creating emergency escape routes and having a minimum head height, which may require structural supports, such as steel beams. Any structural work you carry out will need to be passed by a building inspector to make sure that it won't impact on the rest of your house or your neighbors' properties.
Party wall agreements for basement conversions
The Party Wall Act provides a legal framework for preventing and resolving disputes in relation to boundary walls, party walls and excavations that are near neighboring buildings in England and Wales.
Unless you live in a detached house, you will need to reach an agreement with your neighbors over shared walls before converting your basement. The correct notices will need to be issued and consents obtained from all neighbors whose boundaries might be affected at least two months before work begins.
If you are using a contractor to design, manage and complete your basement project, they will usually deal with any party wall agreements that need to be reached, along with planning applications and building regulations. If not, you will need to instruct a surveyor; your neighbour also has the right to appoint their own surveyor, and you will be obliged to pay both surveyors' fees.
If you get your neighbors on board, they may consent to the work and there won't be any fees involved, but you'll need to get this in writing on a waiver form.
How deep does a basement conversion need to be?
How deep your basement conversion needs to be depends, to a large degree, on how you're going to use it. An intimate movie room or small home gym or utility area will get away with a lower ceiling height than a living space that you want to feel part of the original house.
For the latter use, expect to have to dig deep (around 13 to 15 feet or 4m to 4.5m) to get a high ceiling (around 9 to 10 feet or 2.7m to 3m). This will also allow you to put in light wells and roof lights so that you get an airy, bright feeling room, despite it being at basement level.
Waterproofing the basement
Waterproofing an underground space is vital. In remodeling an existing basement, you might tackle damp from the inside, plus installing a drain and a pump that moves water out of the basement. A vapor barrier will protect against condensation. An exterior solution involves excavation in order to install an underground drain.
For a new basement, waterproofing involves applying a coating to the interior of the porous basement walls to create a waterproof barrier. This can be in the form of a membrane that is fixed to the walls or as some kind of waterproof render or sealant.
The two main methods to choose from are brush-applied tanking or a cavity membrane drainage system.
In England and Wales, whichever you choose, products used for tanking a basement should be British Board of Agrément certified and you should receive an insurance-backed guarantee.
Of course, adequate heating and ventilation will also help prevent condensation from forming.
Preventing damp in a basement
Water penetration can be tricky to control; it's not unusual to find basements where two or three different systems have been applied but all have failed for one reason or another.
'Having a proper water retardant system designed by a waterproofing consultant or architect is essential to achieving a dry, conditioned space,' says Mona Ying Reeves. 'The moisture content and subfloor system will affect the materials you put in, too, such as whether your flooring warranty gets voided or not.'
For basements where the water table is higher than usual, or in old homes where the basement walls may be more porous, you will need to have a cavity membrane drainage system. This takes water out of the basement, either naturally or with an electric pump.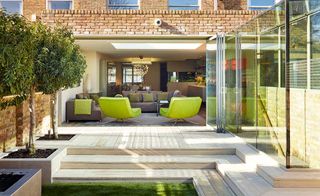 Think basement ventilation
Good basement ventilation is crucial. 'No matter if you have a sunken basement or one that's above ground, having a clear understanding of air quality will ensure that your new space is safe and healthy to be in,' says Mona Ying Reeves.
'Basements are damp. Having adequate air movement and ventilation from operable windows allows moisture to dry and prevents mold, fungus, and mildew.'
Be aware of radon gas, too. 'Get your space tested for radon, which is a naturally occuring gas that emits from the ground,' Mona Ying Reeves adds. 'Radon is odorless, but can cause long term damage to your health. You'll want to make sure you have the proper balance of sealing your basement as well as ventilating it.
Finding professionals for a basement conversion
A contractor with good experience of structural basement conversion or specialist basement conversion company will undoubtedly do the best job in converting your basement. A local contractor will not only be familiar with the rules in your area, but also with factors such as soil types, so appointing a local specialist should make the whole process smoother.
As with any other building job, recommendation from friends and neighbors is your best bet. In the UK, follow up members of trade bodies such as the Federation of Master Builders to find reliable contractors.
Look for a heating contractor with basement experience, too. 'Due to basements being more susceptible to cold, damp, and leaks, installing heating systems into a basement can be more challenging than with other areas of a home,' says Volodymyr Barabakh, co-founder and project director of Fortress Home.
'It is therefore well worth hiring a heating professional with specific expertise in installing heating systems in basements. When hunting around for the right contractor, ask about their specific experiences with basement installations and, if possible, hire off the back of a recommendation from someone who has had a basement installed themselves.'
How long does a basement conversion take?
Remodeling an existing basement, involving applying a membrane lining system, digging out the sump and fitting a pumping system will take just a few weeks.
A full basement conversion, involving underpinning of the existing house will take several months.
Live in or move out during a basement conversion?
This will depend very much on access: if there is access directly into your garden or the road outside for soil to be removed, and the existing ground floor of your home is constructed from suspended timber, it's likely that you can continue to live there while the basement is converted.
If, however, your home has a concrete ground floor which has to be removed and rebuilt, you will almost certainly have to/want to move out.
Bear in mind that larger firms will be quicker but possibly more expensive; smaller firms will be less flexible but possibly cheaper in the long run – however the conversion might take longer with them.
Ensure your contractor has all the relevant warranties in place, and draw up a watertight contract. Ensure you are explicit within the contract about when payments will be made: payment upon completion of specific parts of work rather than weekly, for example, is a better route to take.
Introducing natural light to a basement
A well-lit basement living space will add lots more value to your home than a dingy version with low headroom. Designing a basement conversion carefully is important to ensure that the new room feels like a natural part of the existing house, that it's flooded with natural light, that it doesn't feel enclosed or claustrophobic, and that each of the rooms' proportions is as good as can be.
'Walkout basements make this simple with illuminating door and window combinations,' says Caitlin Bigelow, CEO of Maxable. 'Modern clerestory windows can be another option.'
Light wells or skylights are a useful way of introducing light and ventilation into a basement. A small opening with a walkable grill over it can make a big difference to the feel of a basement space, and add real value. Larger openings can have a protective covering in toughened glass.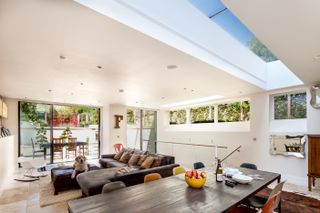 If space is limited, you could include a sunpipe that uses glass panels and angled mirrors to bring natural daylight down into your basement. Equally clever solutions include light-ducts and hi-tech fibre-optic cable systems, where special light fittings are linked via fibre-optics to a solar collector on the roof that will track the path of the sun and feed light down to the rooms below.
Glazed ceiling panels in the ground floor above are another way to bring down borrowed light and suit more contemporary properties, while you may want to consider installing glazed doors – either sliding or bi-fold – out to the garden if the design of your basement allows.
Simple tricks such as painting the walls of any lightwells in bright white and keeping garden foliage above neatly trimmed will help natural daylight travel down into your basement space, too.
Choosing doors and windows for your basement conversion
The style of any doors and windows should be matched to those of your existing home for a cohesive look – or to those of the basement's architecture if it's designed to contrast. You may have little choice about their positions, sizes and shapes, but you can get the frame materials and sightlines just right.
Go for the widest panels and the slimmest frame materials possible, especially for bi-fold doors; doing so will give you uninterrupted views into a garden or submerged patio, and will allow in plenty of light, too.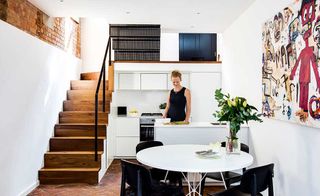 Consider basement ceiling heights
The ceiling height in a basement should, ideally, be in proportion to those of the house above. It may not match those of the living spaces on the first floor, but it should at least match those of the bedrooms on the second floor. Keeping the ceiling heights the same within the basement will help it feel well designed, too.
What is the minimum ceiling height? New homes generally have a ceiling height of 9 feet on the first floor and 8 feet on the second (although some older homes have higher ceilings), and it's preferable to use these as a minimum.
In the UK, 2.3m to 2.4m is standard, and here increasing ceiling height by reducing the floor level of an existing basement is treated as an extension and so may need planning permission.
Fitting out the basement's interior
The interior layout is an important part of designing a basement conversion. Whether you go open-plan or create a series of smaller rooms largely depends on the structure itself, available daylight at each end of the basement and your needs.
As well as thinking big picture – how you will use the room – consider the details, too. For example, matching the design of the staircase to that of the one going up to the second floor will help the basement feel like a natural part of the house. Similarly, picking features such as baseboards, moldings, doors, and flooring that echo those of the rest of your home will also make the new space feel like it's always been there.
Lastly, consider the lighting carefully. It's likely, despite your best efforts, that the basement rooms are darker than those in the rest of your home. So, ensuring the that right type of light (with daylight-mimicking lightbulbs, for example) reaches potentially dark corners as well as the main spaces and that lighting is on more than one circuit so that you can provide different light levels depending on how the room(s) are being used, is vital.
Act like you are designing a north-facing room to make the most of the natural daylight, too.