White wallpaper? Before you go thinking 'what is even the point?', we aren't talking about literally all-white wallpaper. We mean wallpaper that is bold enough to be noticed, but subtle enough to not take over a space... and it just so happens that the majority of such wallpapers happen to be predominantly white. So if you want to choose wallpaper for your rooms, but don't want anything that's too out there, keep scrolling to see our fave selection of white wallpaper designs.
Find more wallpaper inspiration on our dedicated page. And, once you've made your all important choice, check out our step-by-step guide to hanging wallpaper.
1. Fake the exposed brick look
We would all love to strip back the plaster of our walls and be met with beautiful exposed brick, but since that's not the reality for the most of us, we say fake it with wallpaper. This whitewashed wallpaper from Wallsauce looks impressively realistic, and no one need know that it isn't the real deal.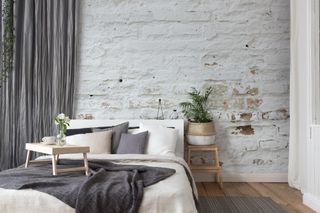 2. Choose a realistic wood effect
Who knew shiplap was so trendy? We've seen it all over Instagram recently, but covering your walls in wood can be expensive and takes an age to do. So for a quick update, choose a wood effect wallpaper instead. We know that faux wallpapers can get a bit of a bad rap, but done well they can look pretty much like the real thing. Just check out this Harlequin Drift wallpaper.
3. Wallpaper a splashback
Looking for an inexpensive way to update your kitchen super quickly? This herringbone wallpaper from Lime Lace looks just like tiles, but costs about a third of the price. Try it out as a splashback and see if any one even notices the difference.
4. Gallery wall too much effort? Try this wallpaper
We are still obsessed with gallery walls, but we get that they can be a bit of a faff to organise and get looking right. So make it easy for yourself and use this gorgeous Matthew Williamson wallpaper to achieve the look instead.
5. Create the illusion of traditional paneling
Because we can't all live in stately homes with our ornate plastered walls, velvet furniture and regal looking dog. But you can always add those opulent vibes to your home with this Cole and Son Clock Court wallpaper...
Find out more about how to use panelling (real wood or MDF) in our design guide.
6. Go for a simple monochrome pattern
Perk up a room with a graphic polka dot print. In black and white, the simple pattern has just enough contrast to make a bold statement and yet it's not so out there that it would completely overwhelm a space. We love the retro vibes of this Mini Moderns print – the wallpaper is actually based on a pegboard so has loads of lovely imperfections that stop it looking too uniform.
7. Create a library (that's not really a library)
Love reading and minimalism? Then surround yourself with this fabulous White Bookshelf wallpaper, £70 a roll, from Curious Egg. It's cleverly designed to give the illusion of books on shelves – perfect for fans of pure white interiors and tidy shelves.
8. Choose a bold floral print
This bold and beautiful floral wallpaper from John Lewis is perfect for bringing the outside in, especially during the gloomier months! Viola is a digitally printed wallpaper by Designers Guild and features romantic hand-drawn florals in muted tones on a white frescoed non-woven ground.
9. Get a subtle look with soft stripes
Sometimes all we want is a 'barely there' design, a hint of something rather than a full on wallpaper print. This gorgeous dreamy stripe is simply perfect, the colours are hints of pale greys and the design mimics draped white fabric hanging quietly, inspired by trompe l'oeil. It's called Wallpaper Drapery 4053-4055 and two other colourways are available.
10. Add some whimsy to a children's bedroom
There's a lovely simplicity about Hibou Home's Picture Perfect Portraits wallpaper. Ideal for a small child's room, it features portraits of animal characters framed in olive leaf wreaths that are inspired by traditional ancestral family portraits. There's gold leaf detailing on each portrait and you'll find Aunt Maude, the cat with the hat, and Great Uncle Algernon, the monocled hare.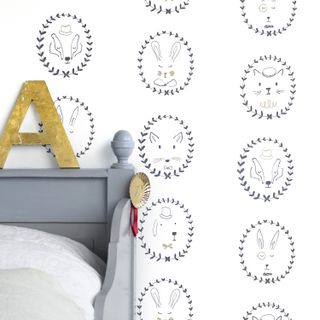 Read more: