Wallpapers are having a resurgence, and rightly so, there are some fabulous designs around now and you can literally find any subject matter you like! But what if you find them too much, too bold, and too colourful?
Look for a design that has a predominately white background, and there are plenty to choose from.
Some even have only one or two other shades as part of the design and others can be slightly bolder. One of our favourites is the book design below, it's perfect for modern settings, or be brave and opt for a big blousy floral instead. The choice is yours!
1. For book lovers
Love reading and minimalism? Then surround yourself with this fabulous White Bookshelf wallpaper, £70 a roll, from Curious Egg. It's cleverly designed to give the illusion of books on shelves – perfect for fans of pure white interiors and tidy shelves.
2. Blousy blooms
This bold and beautiful floral wallpaper from John Lewis is perfect for bringing the outside in, especially during the gloomier months! Viola is a digitally printed wallpaper by Designers Guild and features romantic hand-drawn florals in muted tones on a white frescoed non-woven ground.
3. Monochrome
Black and white is such a classic combination isn't it? And for a crisp modern scheme look no further than this beautiful non-woven, matt monochromatic Alter wallpaper by Karlie Klum. It's available from design store Limelace and really will create the ultimate focal point in any room. Also available in grey, mint and ochre.
4. Stylised floral
Celebrate the summer all year round with Arthouse's Summer Garden White Multi wallpaper. The print is purposely over-sized which creates a striking look. Team with plain accessories in the key colours from the print, like bright yellow and a pretty pink in the form of cushions and throws. It also comes with a charcoal background.
5. Pineapples!
You may have seen pineapple prints around a lot this season, it's another big trend that is set to stay for the next few seasons. Create a any eye-catching focal wall with this fabulous print, it's called Ananas wallpaper by Oostor, and is priced at £150. Crafted from non-woven paper it's printed using eco-friendly inks.
6. White bricks
Murals are a great option if you want to create something a little different. They're also perfect if you have an awkwardly shaped room as they are made to measure. This white brick mural is from Wallsauce, they have a fantastic range of designs to choose from and prices are worked out when you put in your measurements online.
7. Vintage tile
These days you can pretty much find any design you like printed on wallpaper and this striking white painted tin tile designis no exception. Based on high resolution pictures of authentic salvaged antique metal tiles found by Woodchip & Magnolia, it's a stunning wallpaper that would look great in a living room, dining room or kitchen.
8. White and blue
There's something fresh about white and blue together, and this print is perfect for a boy's room. It's called 'Brave New World' from PaperBoy Interiors and features beautifully designed robots in different shapes and sizes in a lovely chalky pale blue shade – ideal for inspiring magical imaginations! It's priced at £60 for a roll.
9. Subtle stripes
Sometimes all we want is a 'barely there' design, a hint of something rather than a full on wallpaper print. This gorgeous dreamy stripe is simply perfect, the colours are hints of pale greys and the design mimics draped white fabric hanging quietly, inspired by trompe l' oeil. It's called Wallpaper Drapery 4053-4055 and two other colourways are available.
10. Fabulous feathers
Sophisticated and elegant, this Orlena wallpaper, 111879, from Harlequin is really rather beautiful. It's part of the Paloma wallpaper collection that features metallic accents and beaded highlights. There are three other colours to choose from. It will work well in a living room or bedroom, teamed with copper and white accessories.
11. Animal magic
There's a lovely simplicity about Hibou Home's Picture Perfect Portraits wallpaper. Ideal for a child's room it features portraits of animal characters framed in olive leaf wreaths that are inspired by traditional ancestral family portraits. There's gold leaf detailing on each portrait and you'll find Aunt Maude, the cat with the hat, and Great Uncle Algernon, the monocled hare.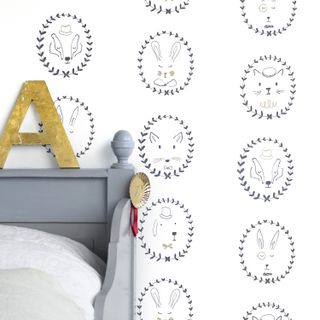 12. Little trees
Although this adorable Jack N Rose Junior wallpaper, £29.95 per roll, from Galerie Home is designed for a child's room, it could work on an upstairs landing really well. The simplicity of the print is charming and will work well in a boy's or girl's room. Team it with similar shades of blue and green in the form of accessories like cushions, rugs and painted furniture.
Read more: