Whether you want to replace an internal, patio or front door, there is a lot to consider when it comes to the many different types of doors out there. From the style, to the material the door itself is made from, to how durable it is and of course, how much it costs – there is a lot to weigh up.
When choosing the best kind of door for you, you really need to think about its main purpose. If it's an external door: A good looking, secure and weather-resistant, durable kind is a must. While, internal doors will want to be more sensitive to your home's decorative surroundings and design to make it a seamless addition to your space.
It's key to take a good look at the room you're in to understand whether it wants more natural light, to feel more connected to a patio or even the next room, or if you want to enhance space and security. Knowing this information will help you decide on the most suitable door type for you.
From elegant glass doors, to classic hardwood, hollow core or paneled door fames suited to homes of different styles and eras, you are sure to meet your home's match.
Different types of door by material
1. Glass doors
Glass doors are one of the most stylish types of doors around. As they offer unobstructed views, they are best suited to the back of the house to ensure privacy. They are easy enough to clean and maintain, and double-glazed options will be soundproof also.
You'll usually see glass panes set in a wooden frame and they do tend to be more expensive. If you choose internal glass doors, these can also make your space appear more roomy.
2. Fiberglass doors
Fiberglass is a really durable material that won't dent and that's great in windows too. It looks like wood and the other bonus of fiberglass is that you can paint or stain it to give it the look you want, whether an external or internal door.
3. Wooden doors
Wooden door types will give your home a classic look and lots of aesthetic appeal. With that they do come at more of a cost if pre-treated. They are also a little more high-maintenance and will need to be properly treated and maintained, most especially if they are exterior doors which can crack, absorb water and eventually rot. Restoring a front door is doable however with the right expertise and advice.
A bespoke, solid hardwood front door will add a touch of luxury to any home. Ideal for historic properties, a solid hardwood front door will be made-to-measure and can be designed to a large extent by the homeowner. The end result is likely to be a high-quality interior or front door type that will last for many years – but as mentioned, you'll need to be willing to look after it in order to protect your investment. Any paint or varnish will inevitably need to be re-applied as the color fades or peels away.
4. Veneered timber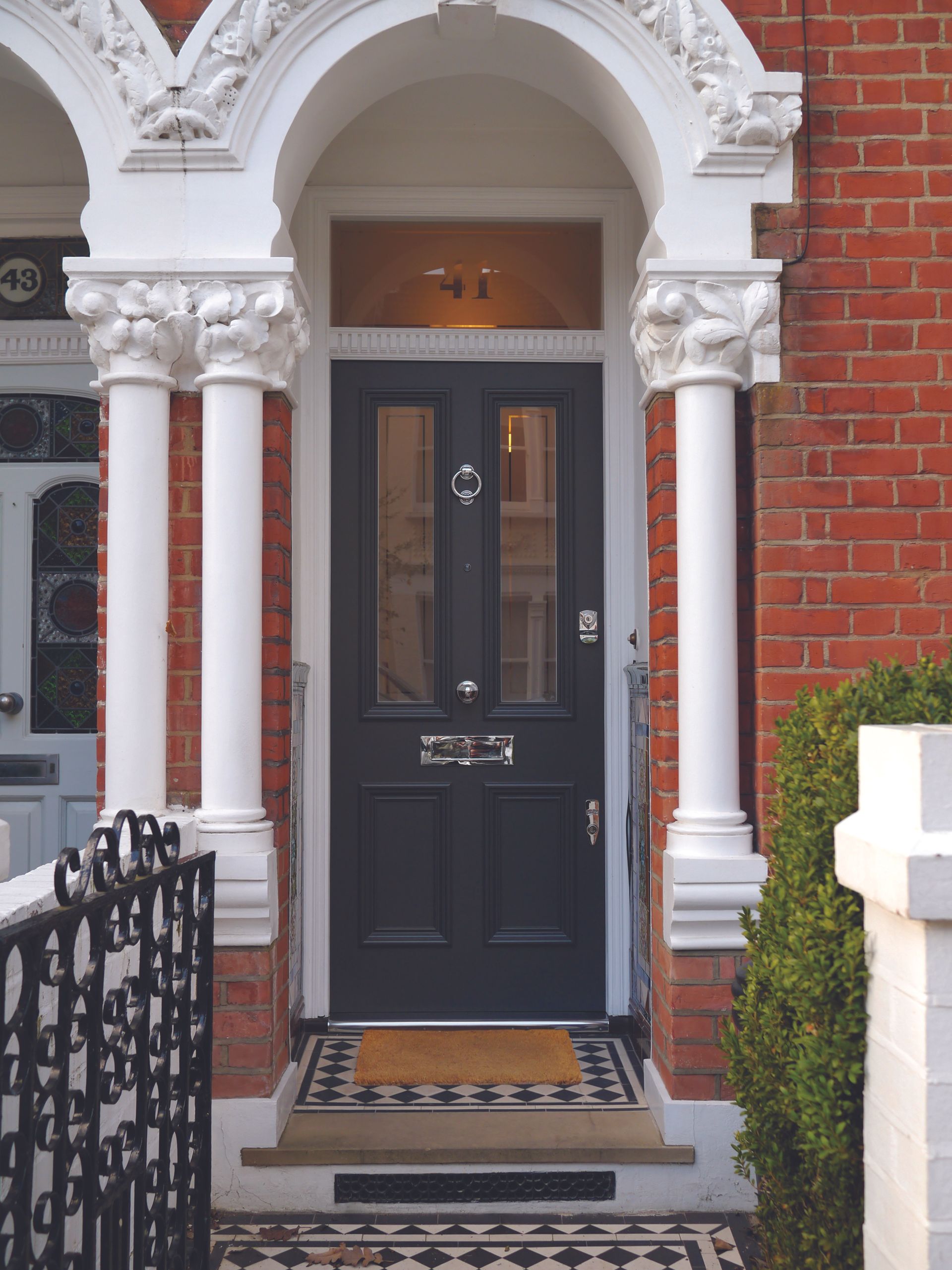 Available off-the-shelf from the large DIY retailers, you can pick up a nice-looking veneered timber door which you'd need to paint or varnish yourself. Ideal front door types, you can then see to hanging a door yourself.
A popular option amongst DIYers, the down-sides of this type of door are that you'll need to maintain this type of door with annual sanding and re-painting or varnishing; you'll need some high-quality locks to ensure it's as secure as possible; and, to keep the chill at bay in winter, you might want to invest in a draught excluder as timber doors are not known for their thermal performance.
Timber doors are also susceptible to the changing weather conditions, so you might find a timber door sticking in the frame at certain times of the year.
5. uPVC doors
uPVC is a form of plastic, however, it is essentially made completely from recyclable materials. You can paint uPVC with caution but, usually there will be no need as these door types are readily available in a number of finishes and normally at a fairly pocket-friendly price too. Making them ideal if you need a quick door replacement. They are water-resistant but not as durable as say wood.
When uPVC front doors were first introduced, they were a welcome alternative to the traditional timber front door – lower in cost and with greater thermal performance. However, not everybody appreciates the aesthetics of uPVC and the variety of styles and colours can be limited.
Usually 28mm thick, many people feel they are easy to break into, and, although there have been innovations in the uPVC sector, the popularity of the uPVC front door is diminishing.
6. Composite doors – Glass reinforced plastic (GRP)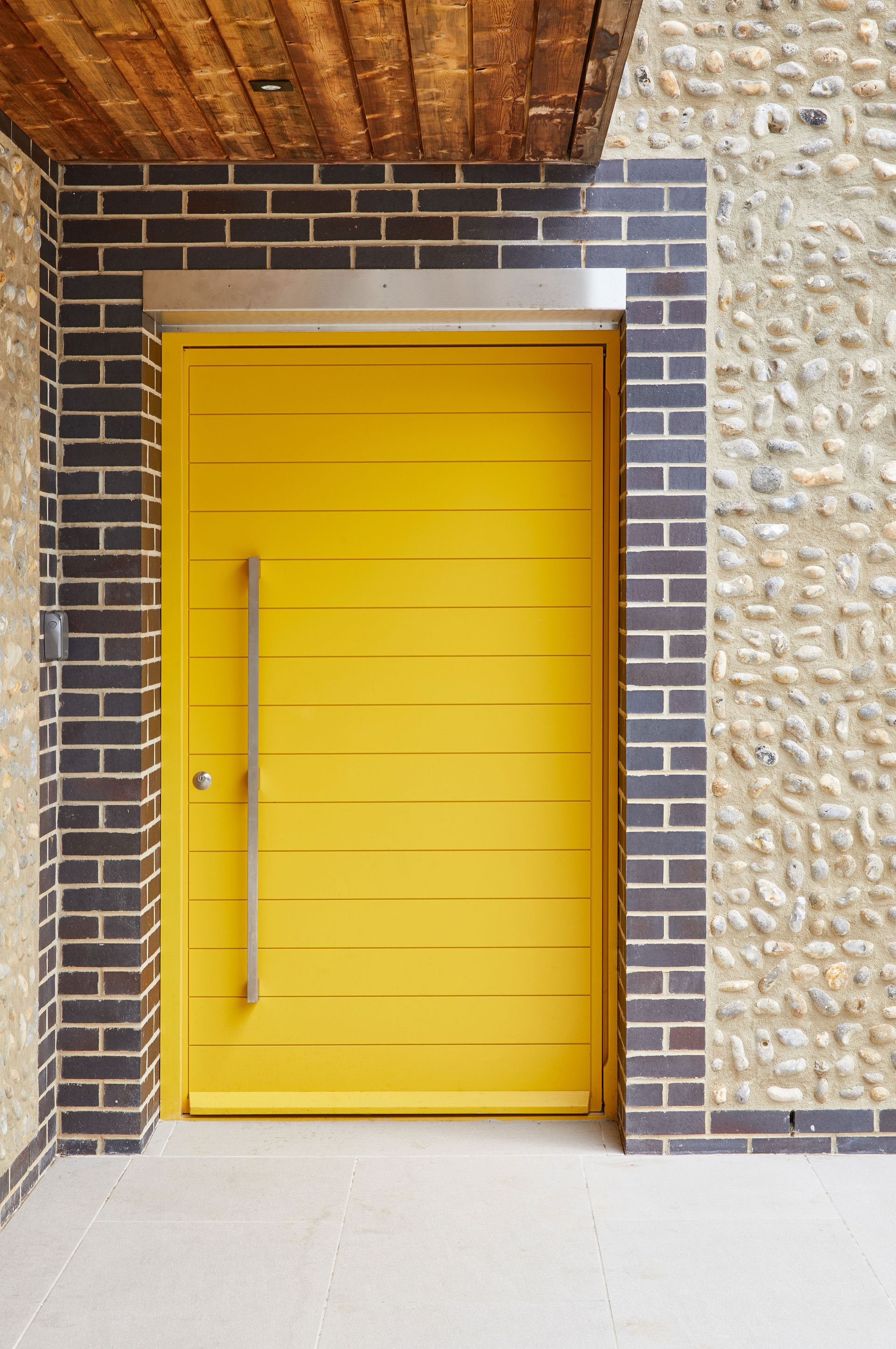 Composite front doors were introduced to the market around 10 years ago, aimed at homeowners wanting to retain the appearance of a timber door whilst benefiting from modern materials, which require less maintenance and work harder to keep out the drafts. Now they're a fast-growing option, with sales of composite doors almost doubling year on year.
Usually 44mm thick, GRP doors are the most thermally efficient, but they're not the most secure. And because color is normally applied on a white fiberglass skin, GPR doors are prone to scratches. In particular, beware of asking door manufacturers to match any RAL color, as color applied in this way is especially at risk of scratching.
Approximate starting price: £900
7. Metal doors
Steel, aluminum or other types of metal doors will give a welcome edge to a home. If completely metal, this will be one of the most functional exterior door types out there as they are very weather-resistant. The cons to full metal doors is their weight and their tendency to rust over time. You can avoid this with a good protective coating however, and sound upkeep.
On the other hand, a metal frame with lots of glazing in between makes for quite an elegant finish when used to the back of a home.
8. Hollow core doors
If you're looking for an inexpensive interior door, choosing hollow core as opposed to slab doors will ensure you enjoy all the style and functionality of a door – without the full cost. Build from composite wood usually, and with a solid center as the name implies. Good quality hollow doors will still be durable and resistant to warping or cracking.
Different types of door by style
9. Hinged doors
These are passage doors and one of the most common door types around so you'll probably be very familiar with this style. As the name implies, the door slab sits on hinges allowing it to swing open in one direction. Make sure you fit it to swing in the direction that makes the most sense for safety and ease of movement.
Adam Graham from Fixr.com adds, 'The most common door used in homes is a hinged door. Hinged doors come in a vast variety of materials and types, meaning they can work in almost any room and with any style and design. If your home already has frame and working hinges then a blank door will be required. However if not, you'll need a pre-hung hinged door that comes with a frame and hinges. Due to the amount of choice available, the cost of a hinged door ranges from $30 to $2,000.'
10. French doors
French doors are a classic. Known as double doors in the UK, they usually feature a lot of glazing and frame (uPVC/timber) making them gorgeous additions inside the home between spaces that still want to feel a slight connection – like a kitchen and a neighboring dining room. They are mounted on hinges on either side, allowing them to open fully outwards which is a good space saver if keeping them external, and sure to add a little drama.
'French doors bring an elegant design element to any room and are most popular for dining and living rooms. The double door set up allows for more open space when required or wanted. They tend to feature glass panels in many types of shapes and sizes, allowing for more light to enter a room. They have an array of different types to cater for different needs, such as sliding, single or double doors. They add value to a home, but when installed as exterior exits they can be vulnerable to break-ins due to safer, thinner glass panes often being used. Slightly more expensive than some other design styles, they cost on average $2,500 installed.' Says Graham.
See more French doors at Home Depot.
11. Pocket doors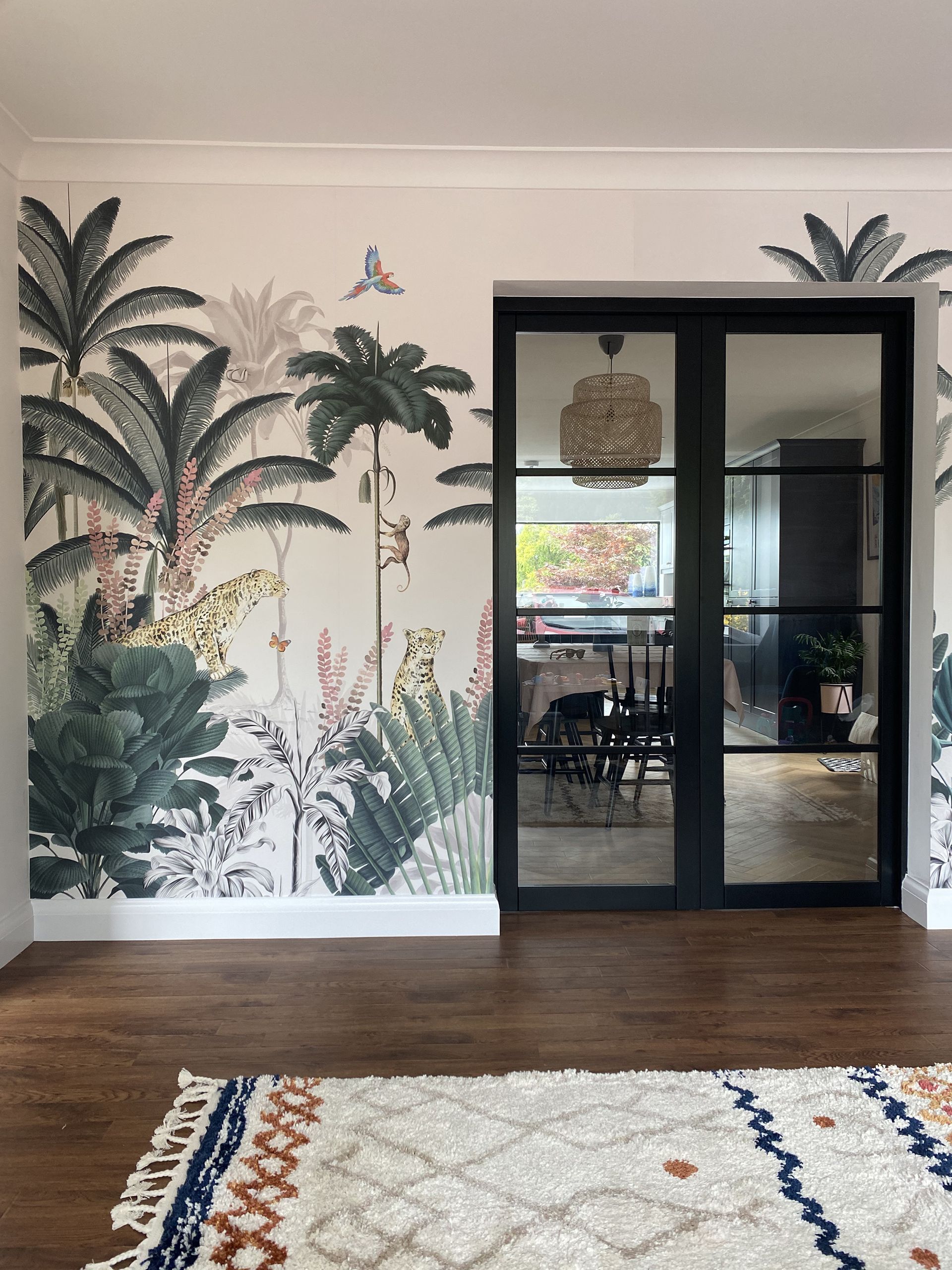 Pocket doors make great internal doors and aren't given enough credit for their unobtrusive appearance and sound functionality. You'll usually want to install pocket doors in powder rooms, over closets and in small spaces to create a more cohesive and fluid feel where it's not necessarily open-plan. They come singly or as part of a double.
'Pocket doors are popular among homeowners for two main reasons. Firstly, in reduced spaces where options of placing furniture is limited, a pocket door slides into the wall meaning that space isn't required for it to swing open. Secondly, pocket doors create an open space, giving people the option of a more open plan feel, or a cozier closed up room when shut. Another positive attribute is that wheelchair users and people with mobility issues won't struggle with narrow doorways. It is easier to install them in new buildings as already built homes may require walls to be removed and replaced, as well as electrical wiring and plumbing to be rerouted. Pocket doors cost an average of $700.' Adds Graham.
12. Bi-fold exterior door types
One of the most sought after features for home owners everywhere, bi-fold doors are modern to boot. Glazed panels concertina neatly together, usually with one regular door fitted at the end should you not want to unfold all the panels. They tend to be reserved for the back of the house where they max out space and natural light giving your home a lovely indoor outdoor feel. While they work internally also for closets and utility rooms. Bi-folds match their highly stylistic design features with practicality too meaning that prices to install these types of doors often start around $600.
'Most commonly used on wide closets, the bifold door is a popular choice. They consist of panels that fold up together when opened. Despite being used mainly as closet doors, they can be used for some wide entrances. They are typically hollow, making them lightweight for easy manoeuvring, but can be available in different materials as opposed to only wood. On average bifold doors cost between $100 and $2,000 to install.' Adds Graham.
13. Sliding doors
Super modern looking and practical also, sliding doors will generally be made of glass so they will give you big views and a wide opening. They are perfect for ventilation and will create an indoor outdoor connection when they open up onto a patio. Contrary to bi-folds, the glazed panels move over each other so that the doors open to the side.
14. Paneled doors
Paneled doors are a great design feature and also very strong and easy to maintain. David Shell, Founder and CEO of TradesmenCosts adds''The paneled door is one of the most familiar doors that you can find in every household. Paneled doors have frames made out of word and shutter panels made out of hardboard, plywood, or wood. At times, the panels can be made out of glass but wood is usually made out of wood.' They can be a little more costly and dust can get into those grooves.
15. Dutch doors
This door type can add lots of stylistic and functional value to your home. You'd usually find it at the back of a house although some people use them internally also, say between the kitchen and the lounge. 'The dutch door is one of the doors that most people know by sight. It's divided horizontally with a different panel for the top and another for the bottom. It's the most convenient choice for kitchens.' Adds Shell. It gives a warm entry and is useful for letting pets through easily also. They can be a little harder to maintain and they are more difficult to seal off so bugs can come through a little more easily if you are using yours as an external door.