Knowing how to insulate a floor depending on what type you have is essential – but the right floor insulation will mean you and your household enjoy a whole host of benefits, so it's well worth it.
The benefits of floor insulation are many – your home can be warmer and rooms more comfortable because of it. And a home with greater energy efficiency and reduced bills is a welcome improvement, too.
The floors in old homes often allow the escape of heat, but thankfully effective floor insulation can put a stop to this as well as reducing damp. And, it is possible to preserve its beauty when you're insulating a floor, so it's a project worth completing even in characterful homes.
If you're making your home a cozier place, attic insulation should also be high on your list of improvement projects if yours isn't as effective as it could be. But insulate a floor successfully first, and you'll be delighted with the gains it brings. And when you're done, why not check out our guides to the best vacuums and best steam mops, to get your floors gleaming again post-work?
How to insulate a floor for a warmer home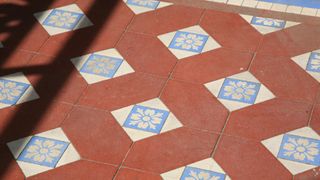 To make your home more energy efficient overall, you may want to consider insulating a floor yourself, along with adding wall insulation to ensure the whole home is covered.
But if you're not confident about this project, call in a specialist contractor to do the job for you.
'If you are going to insulate an existing foundation then you have two options: completely redo your whole flooring or temporarily pull up the flooring to insulate beneath it,' says Don Adams, general manager at Regional Foundation Repair. 'Although cheaper, the second option needs a lot more attention to ensure you don't ruin the existing floor while pulling it up. And yes, unless you have done it before, hire a professional.'
How do you insulate an existing floor?
The best way to insulate existing flooring – and the best insulation for under it – will depend on its type. Floors are constructed in two ways, either suspended or solid.
Suspended timber floors consist of floorboards nailed to joists, often carried on 'sleeper' walls of brick. It is important that the underside of a suspended floor is ventilated to avoid the build up of moisture.
'The biggest issue with suspended floors comes in ensuring that the moist air underneath is properly ventilated, because if this is not done correctly it could lead to fungus growth and timber rot,' says Mogale Modisane, CEO of ToolsGaloreHQ.
To achieve this, grilles are incorporated at the base of the walls to allow a cross draft. This often has the downside of resulting in drafts within the room.
Solid floors of brick, tile or stone were frequently laid directly on to soil in older homes, sometimes with a bed of lime mortar or sand. Consequently, they can be cold to the touch and are difficult to thermally insulate. You might also have a solid concrete floor in your home.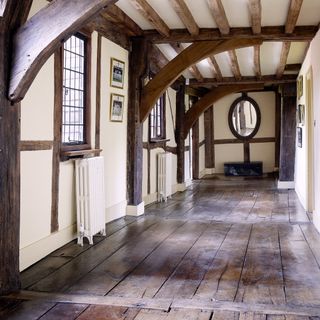 How to insulate a suspended timber floor
To insulate a floor that's suspended there are two priorities: improving the thermal insulation and draftproofing.
'As a general guide for suspended wooden floor insulation, you can use a soft insulation material like mineral wool or sheep's wool,' says Jenny Turner, product manager at Insulation Express.
When it comes to access, working from below is preferable. 'I recommend insulating suspended floors from underneath if you have access via a cellar or basement,' says David Sheppard, founder/home improvement contractor at HVAC Judge.
From below, installing insulation to improve the floor or as part of a basement insulation project is fairly straightforward.
The easiest method is to push quilt-type insulation into the spaces between the joists from below. This is supported with netting tacked into place. To provide additional insulation, tongue-and-groove wood-fiber board can be fixed to the undersides of the joists.
Insulating from above is more complex and will mean lifting floorboards. This has to be done carefully and, even then, is likely to result in damage, so isn't an option if the floor is valuable aesthetically or historically.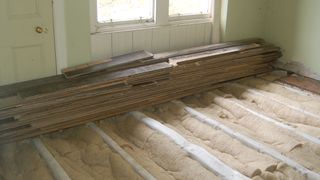 Unless major renovation work is being undertaken, it's best to lift only a small number of boards at any one time, otherwise you're likely to destabilize the joists and sleeper walls below.
By laying netting over the joists so it forms troughs, quilt insulation can be laid to fill the spaces between the joists. Another option is to use a breathable membrane and then to fill the troughs with cellulose (recycled newspaper) insulation.
Alternatively, foil-faced foam or wood fiber insulation boards can be fitted between the joists, supported on timber battens. This can sometimes be achieved by lifting occasional floorboards and sliding the insulation into place.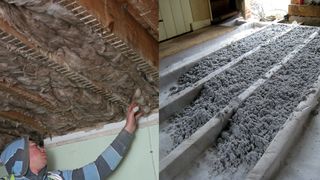 Draftproofing a timber floor
It is worth remembering that insulation on its own does not necessarily stop drafts so you will need to ensure all gaps are filled (see our guide on how to fix draughty floorboards), otherwise you'll still feel the chill and energy will be wasted because heat is being lost.
There are many draft strips designed to go between wood floorboards and you can find them in most home improvement stores. These can easily be slotted in the gaps (and they expand with movement) to decrease drafts and heat loss.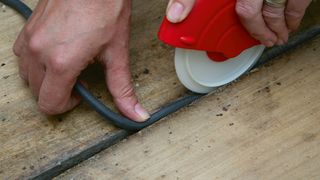 How to insulate a solid floor
You may need to insulate a floor that's solid in your home.
Yours might be an older house with traditional solid floors and, if this is the case, they may be slightly damp as the tiles, bricks or flags that form their surface are in direct contact with the ground below. For this reason the floor must be able to 'breathe' otherwise moisture will be trapped, potentially resulting in damp problems within your home.
It is no surprise that excessive dampness will make a floor colder. Where damp is evident, ensure external ground levels are lower than the floor, and drains and gullies are not blocked; also check that water pipes are not leaking.
Without lifting solid floors, it's difficult to introduce any permanent thermal insulation, but coir or other breathable floor coverings can help. Avoid covering the floor with impermeable insulation materials or rubber-backed carpets, as they'll trap moisture.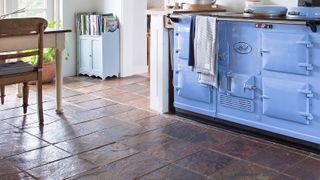 Insulating a concrete floor
Where concrete floor slabs have replaced earlier floors in old homes, they may include a damp-proof membrane (DPM) but, unless laid comparatively recently, they might not be well insulated.
Where floors do include a DPM and show no evidence of moisture, laying a floating wooden floor or thermal underlay with a carpet on top is often the easiest means of improving their thermal performance.
In other homes foam boards are a good option for concrete floors. 'Begin with a layer of sand insulation with a damp proof membrane installed on top, finishing off with the insulation foam boards then a new layer of concrete poured on top,' says Jenny Turner.
Replacing a concrete floor
If a concrete floor is being replaced because it is causing damp or other problems, limecrete offers an alternative.
This material is similar to concrete but doesn't contain cement, consisting instead of lime and aggregate, and so provides a floor slab that is vapor permeable.
Limecrete floors are increasing widely available from suppliers such as Mike Wye & Associates and Ty-Mawr Lime; they can be insulated efficiently and can successfully incorporate underfloor heating.
Top tips for insulating a floor
To insulate a floor effectively, remember to seal all the gaps between the skirting board and the floor to prevent drafts. This needs to be done before a fitted carpet is laid, as it will not be possible afterwards.
Ensure you insulate thoroughly but avoid squashing insulation material, as this will seriously compromise its effectiveness.
Consider underfloor heating if replacing a floor as this can provide a comfortable and energy efficient means of heating, especially when used in conjunction with solid floors.
Refrain from lifting an old floor without good reason, as it will never look the same when relaid and you may upset the equilibrium of the building.
Always number floorboards, flagstones, bricks or tiles with chalk if they are being lifted temporarily.
Don't inhibit the ability of a solid floor to 'breathe' by topping with impermeable layers.
Don't obstruct external air vents under suspended timber floors, as air movement is essential to prevent damp and decay to the timber.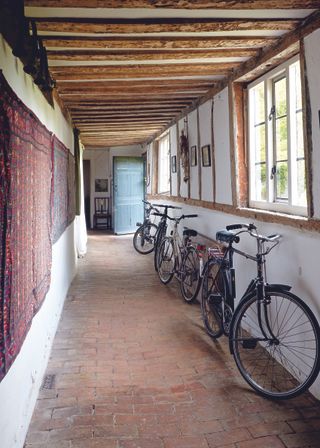 Is it worth insulating under floorboards?
Knowing how to insulate a floor can definitely be worthwhile alongside other improvements that make a home more energy efficient.
'The effectiveness of floor insulation should not be underestimated,' says Jenny Turner. 'Through floors, homes can lose around 15 per cent of heat, so by insulating your floorboards, you could seriously save on energy bills.'