Front door designs are many and varied; period-style offerings still take inspiration from basic planked structures or, variants of the classic six-panel Georgian, or four-panel Victorian door. Glazing, too, plays a key role.
When it comes to replacing an original front door, it is usually best to consider a like-for-like design. Should a more modern stance be appropriate, mix and match styles — just ensure the door still works with the architecture and proportions of your home.
1. Make a statement with colour
A bold painted door can make a striking contrast with an otherwise neutral facade. If you fancy a weekend DIY project, you can paint your door yourself, or buy one that has been pre-painted.
A modern take on early-20th-century designs, Urban Front's timber planked Como door features a large oval vision panel and can be hinged (up to H240xW104cm) or pivoted (up to H240xW120cm). Available in timber and painted finishes, it is shown here in Fireengine Red, £5,316, Urbanfront.
2. Pick a clever twist on traditional style
Period homes require choosing doors carefully to match the style of your property. If you are lucky enough to have an original door, then all you need to worry about is maintenance – and draughts. Alternatively, pick a new design that is sympathetic to period styles, but will provide better insulation from the elements.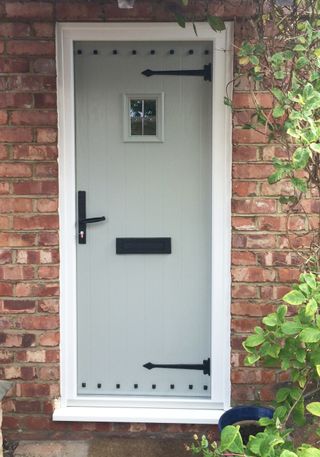 Inspired by Georgian designs, this six-panelled door from Westbury Joinery features two double-glazed units at the top to increase light levels without compromising on privacy or traditional style. Made from a combination of larch and accoya, and finished in three coats of microporous Westbury White paint, it costs around £1,900 for H210xW110cm.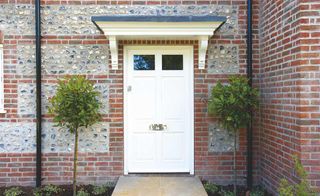 3. Choose a reclaimed door for authenticity
For historical accuracy, look to reclamation yards and specialist dealers, which can offer advice on appropriate designs for the door itself, as well as ironmongery. If you opt for a reclaimed front door, inspect it closely to ensure the wood is a not warped, cracked or showing sign of rot. Should a suitable size be unavailable, most doors can be trimmed by up to 25mm without an adverse effect.
Made from French oak, the made-to-measure Manoir arched planked door is internally ledged to ensure both faces are the same. A matching frame allows for housing within a square opening, or it can be made for an arched opening. Supplied unfinished or oiled, from £1,981 for up to H210xW90cm (bespoke sizes on request) at Broadleaf Timber.
4. Consider a sustainable bespoke design
In terms of replacement doors, off-the-shelf designs and door sets can prove an ideal solution if you're conscious of cost, but styles are restrictive and sizes standardised — unlike the entrances of many historical homes. A more flexible option for period homeowners is to go bespoke, as this offers infinite possibilities in terms of size, style and material.
This made-to-order vertical oak plank entrance door is part of Mumford & Wood's Conservation range. Crafted from sustainable, engineered timber using traditional methods, it's supplied with high-quality locking systems, ironmongery and three coats of factory-finished paint or stain. From £4,314, including sidelights, Mumford & Wood.
5. Maximise light with a half-glazed design
If your home is north-facing or low-rise and tends not to get enough light, opt for a front door design with glazing.
Jack Brunsdon & Son offer a fully bespoke service, allowing you to specify every component of the door, from material and finish to glazing and furniture. Painted in a heritage green shade, this half-glazed design is perfect for maximising light in a dark interior. From £3,500, including installation.
6. Choose a durable hardwood for your front door
Historically, pitch pine was the timber of choice for front doors. However, these days a high-quality, traditionally crafted exterior door is far more likely to be fashioned from durable hardwood, such as oak or, increasingly, accoya, a chemically modified timber that outperforms hardwood in terms of strength and stability.
All external doors should be fitted with high-security deadlocks and, in order to ensure adequate strength and protection against intruders, they should be made of a solid-core construction that is at least 44mm thick. This will also aid heat and sound insulation, as does the use of slimline heritage double-glazing.
For authenticity, timber doors can be finished and maintained using quality linseed oil, wax, or microporous paint, culminating in a weather-tight barrier that is both aesthetically pleasing and secure.
7. Choose a luxurious paint finish
Choosing quality paint for your door is crucial to achieving a polished look. If painting the door yourself, choose a durable exterior paint, such as Intelligent Exterior Eggshell by Little Greene or Weathershield by Dulux. Alternatively, choose a quality pre-painted door.
The made-to-order timber doors from The Sash Window Workshop are handcrafted from accoya or European oak. They are finished with at least three coats of factory-applied paint, or can be hand-waxed on request. Prices on application.
8. Opt for engineered wood when on a budget
If a solid wood door is out of your price range, there are plenty of engineered wood options available. Offering many of the same benefits as solid wood doors, they are made from blocks of different types of wood that have been assembled – or engineered – into a single composite material.
Standard components and bespoke traditional doors by Westbury Joinery are made using premium engineered hardwoods and finished with three coats of paint. If laminated double-glazed panels are specified, they can be finished with applied glazing bars. Prices on application
9. Look for a specialist maker for period designs
Own a period home and want the real thing, but your type door hasn't been made for centuries? It might be easier to procure a well-crafted replica than you think. Look for a door maker that specialises in period designs and traditional techniques.
Stuart Interiors specialise in traditional joinery techniques from the medieval period to the 18th century. This Tudor arched solid oak panelled door, within a heavy solid oak frame, was designed and made to order, and is finished with handmade ironwork. From £2,500 for a similar design
10. Choose a customisable design
If you don't want to spend the time – and incur the expense – choosing a bespoke front, but still want something that will go perfectly with your home design, why not go for a customisable range?
Available in almost 100 designs and in choice of 16 finishes with a wide variety of glazing options and door furniture, Everest's composite range is not just sturdy, low maintenance and energy efficient, but can also be customised to complement the style of your home. This Grove design in Everest's Chartwell Green costs from £2,000 made to measure and installed.
11. Go for a side window to match your door
A side window makes a welcoming addition to the front door area of your home. Go for a design that is mindful of security – smaller panels arranged in a pattern are best.
Sash Window Workshop create timber doors in styles from any era, including Georgian and Victorian, plus bespoke detailing to match any existing doors. Handmade from accoya with a painted finish, this 1920s-style design costs around £4,200, including the side window.
12. Add character with handcrafted detailing
If you are investing in a solid wood door, you don't necessarily need to paint it. Instead, why not go for a design that shows off the high-quality wood with plenty of detailing and a statement shaped head?
A specialist in real wood products, Broadleaf offer a selection of handcrafted timber doors in a range of designs to enhance traditional homes. Pictured is its Chateau door, which is made from solid French oak and features an authentic Tudor arched head and elegant reeded face. Made in Wales, the doors can be supplied fully sanded ready for finishing, or with a coat of Broadleaf exterior oil. A similar design up to H210xW100cm can be made to measure for around £2,775, including frame.
13. Go for a modern design in an urban home
You don't always have to have a traditional door – even if you live in a period property, but especially if your home is an urban new build. Experiment with a bold modern design in a striking colour, especially effective as a contrast to concrete and glass.
The sleek Porto door from Urban is vertically grooved and will make an effortless addition to any design.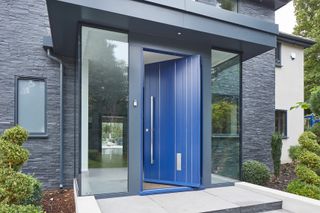 14. Choose a budget-friendly veneered door
On a budget? An impressive front door is still well within reach – just go for a veneered option. Be mindful of security, however; if you are saving on the cost of your front door, be prepared to spend a little extra on top-quality locks.
Online retailer Direct Doors offers an extensive range of reasonably priced doors at the click of a button, suitable for DIY fitting. With a solid core and American white oak veneer, this Tuscany design offers the look of solid wood at a fraction of the cost. Shown with tulip-style tri-glazing, it comes in three sizes, from £432.72 for H198xW76xD4.5cm, delivered within 72 hours.
Read more: