The most beautiful front door ideas will make a good first impression all year round. Along with ticking off important functional features, like safety, security and good structural design, when it comes to bringing that all important curb appeal, style is a must also.
Whether you're trying to copy your favorite front of house design ideas or need inspiration because you're replacing your door as part of a renovation, Brad Loveless of the Simpson Door Company notes how 'Gone are the days when a homeowner has to settle for a cookie-cutter front door,' adding how 'Today, the front door is the place to make the biggest design impact, turning a once mundane doorway into a statement-making entrance.'
We couldn't agree more...
Front door ideas for style and function
Whether you're looking to transform your house exterior to be more sympathetic to the age of your home, or adding the cherry on top of a home renovation project, we asked experts about the top trends to look out for, what kind of door is best for the front of house, and why.
1. Go minimal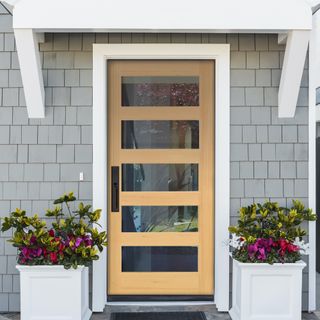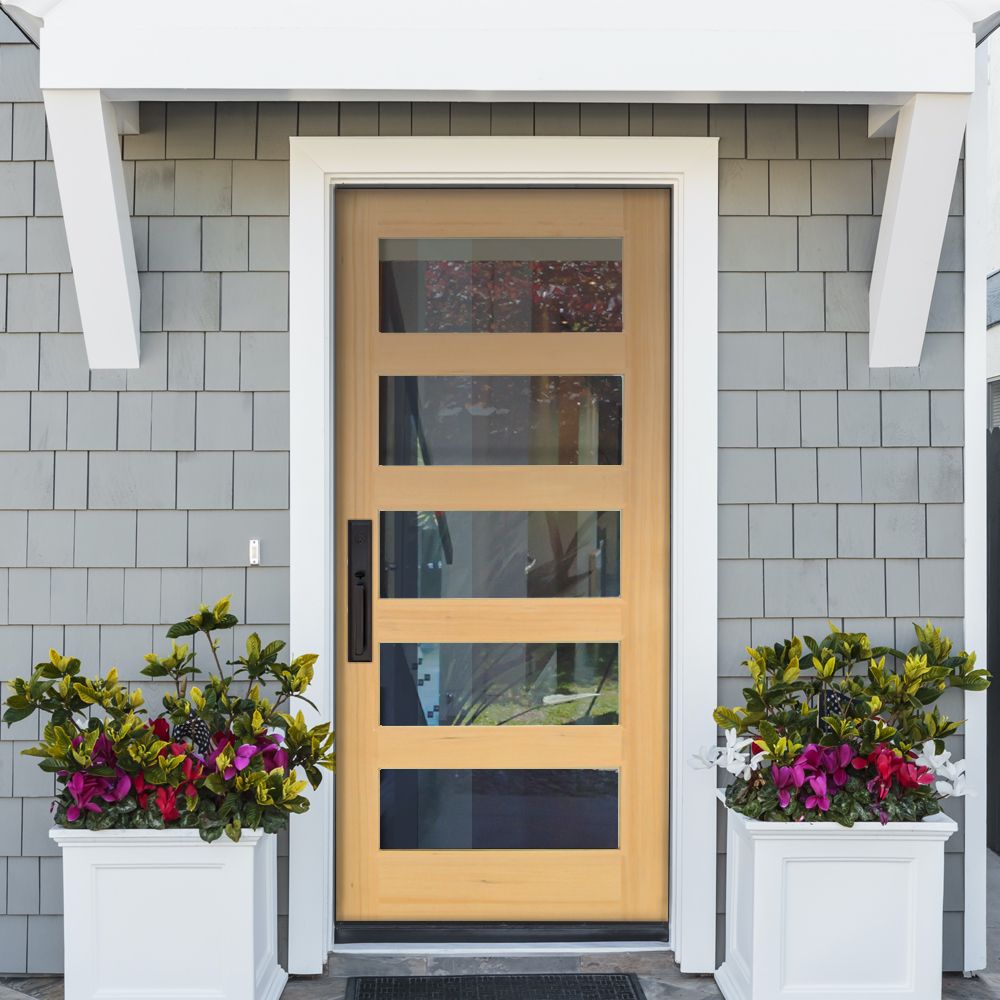 If you prefer a more contemporary and minimal interior design style indoors, we're talking clean lines, zero clutter and huge windows, reflecting that in your choice of front door design is a great way to go and will give visitors a taste of your home from the onset.
The Home Depot has got lots of options that tick off style and substance. Eliot Spritzer, Senior Merchant of Exterior Doors at The Home Depot says, 'Add chic curb appeal with the Krosswood Doors Modern Hemlock Wood Door Collection.'
2. Add inviting color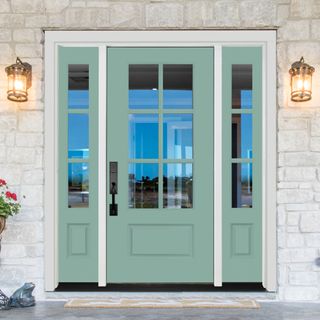 A pastel-painted or bright front door can make a striking contrast with an otherwise neutral facade. If you fancy a weekend DIY project, you can paint your door yourself. Or, if you'd prefer to buy one that has already been pre-painted, it will make things a little bit easier.
As Spritzer says, 'Pops of color add a playful element to your exterior, such as the JELD-WEN Left-Hand 3/4 Lite Eastfield Decorative Glass Blue Painted Fiberglass Prehung Front Door with Brickmould.'
3. Make a sustainable statement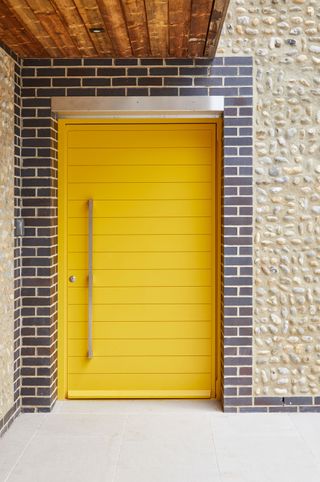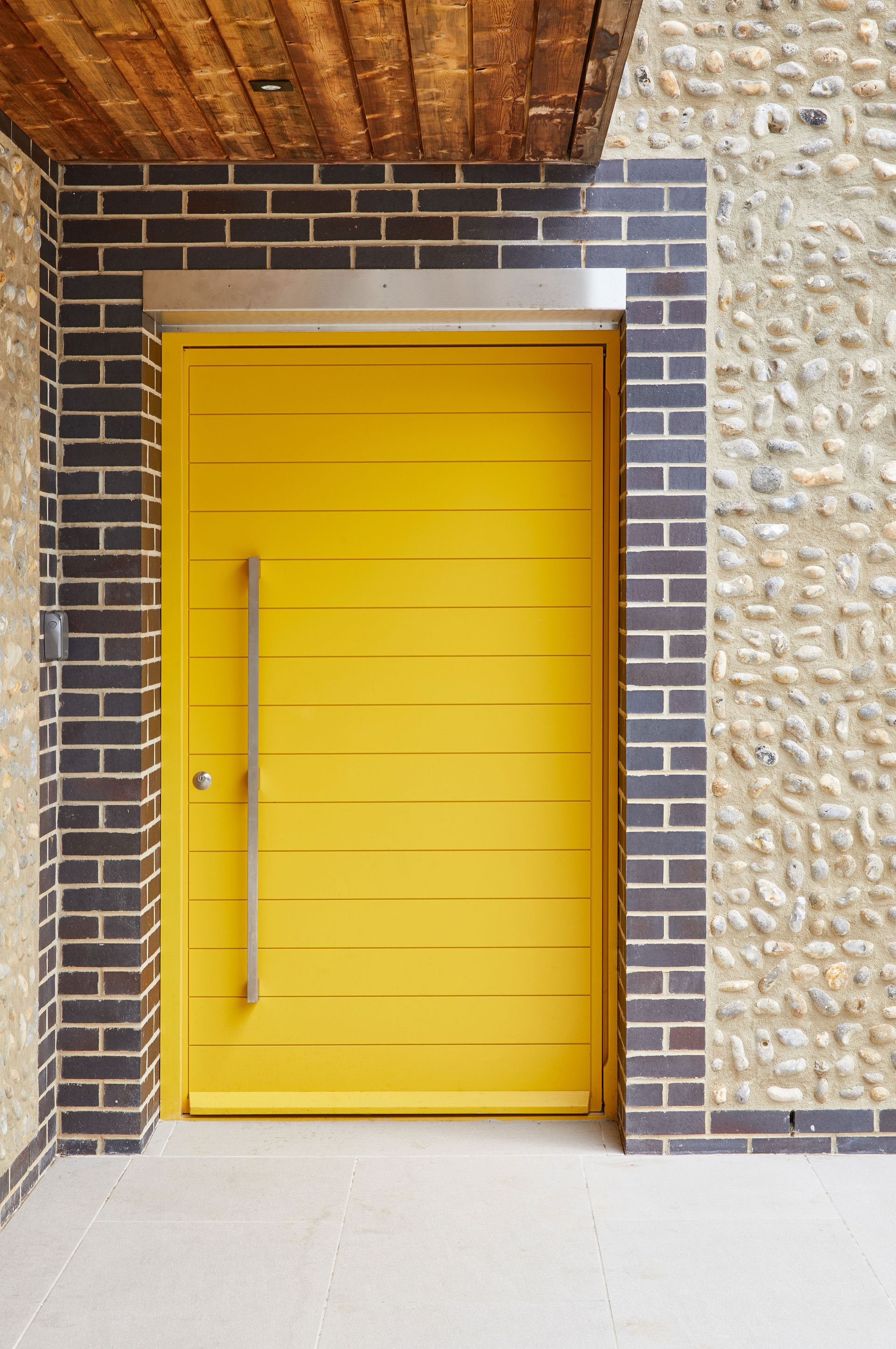 Combining a color that draws the eye with sleek horizontal grooves makes for a stand-out front door. Plus, if you're concerned about saving energy and spending less money on bills, it's worth looking into the energy efficiency of your front door before investing.
The best way to do this? Spritzer says, 'The most popular materials for an exterior door are fiberglass, steel and wood. Choose the material for your type of door based on energy efficiency, security concerns, maintenance level and the style of your home. Fiberglass doors will be the lowest maintenance option.'
The Parma Pivot Doorset is made from hardwood and steel reinforced with high-security features. Select from six finishes including iroko, European oak and American black walnut, as well as any RAL shade. Recreate this look with RAL color 1032.
Since bold and bright colors are trending for front door ideas, Spritzer adds how 'A different stain or paint color can dramatically change the look of your front door, especially if you have a natural wood finish. Stylish options like red, turquoise and yellow make your exterior pop.'
4. Choose a door with window panes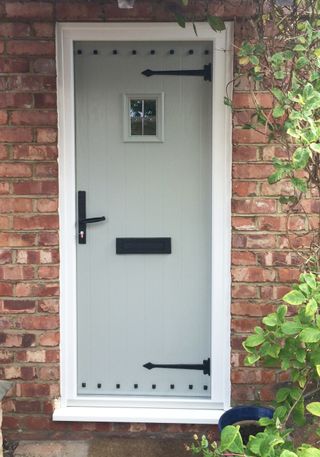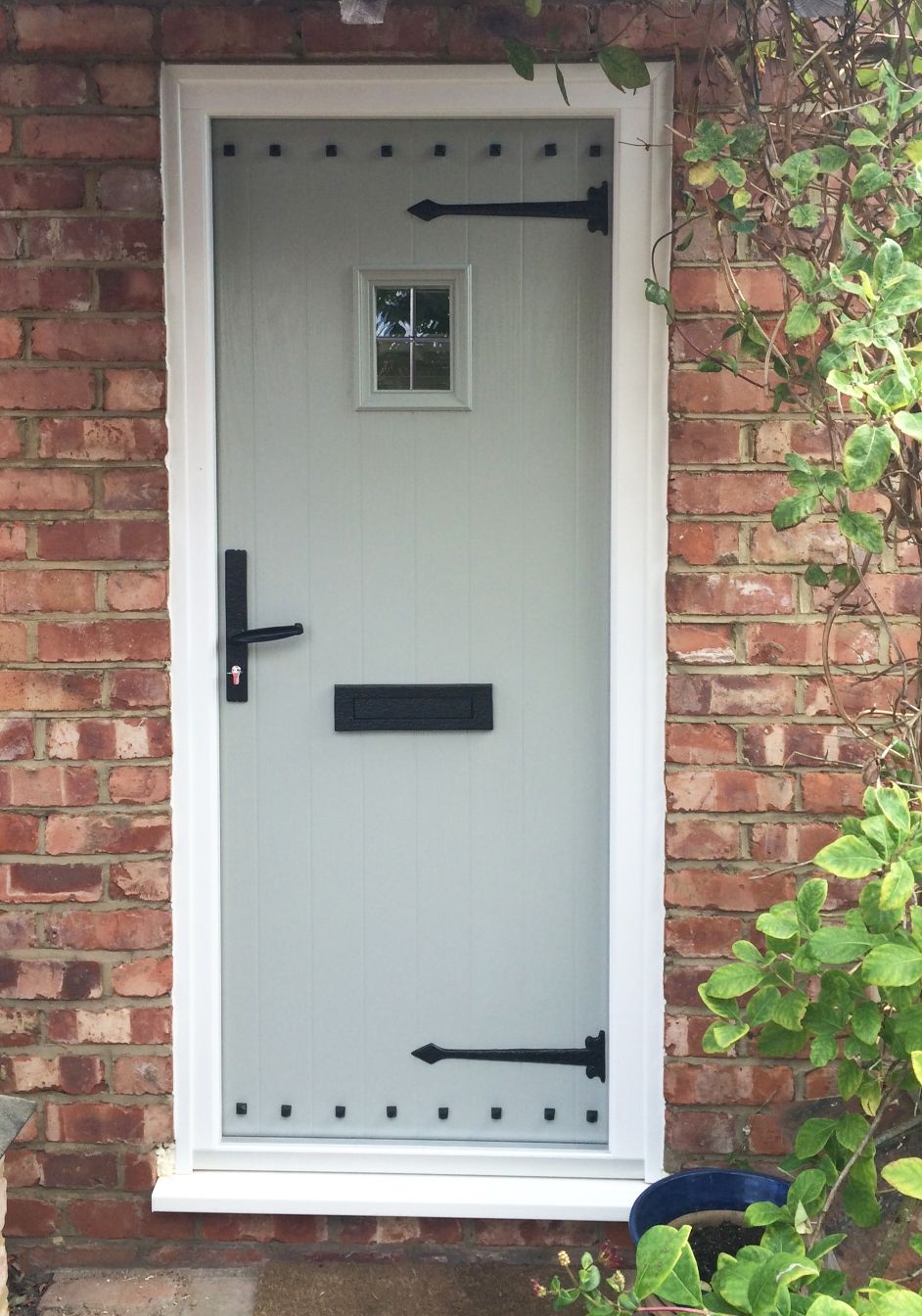 Glass inlays are trending in the front door world. And it's for good reason.
'Stained glass was a popular choice in the craftsman era,' Spritzer says. but clear or frosted fiberglass doors can modernize the look of your home. Top-half panels or multiple lite configurations let you choose the option that's right for you.
'Complement the architecture of your home with the Steves & Sons Legacy Collection Customizable Fiberglass Front Door that features eye-catching Sidelite paneling.' Adds Spritzer.
Even combining small glass inlays with a color that draws the eye and sleek horizontal grooves makes for a stand-out front door idea.
5. French doors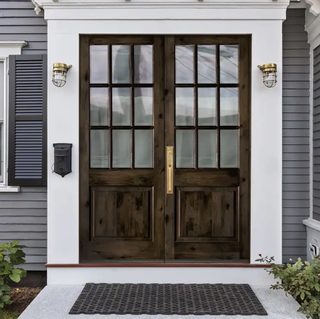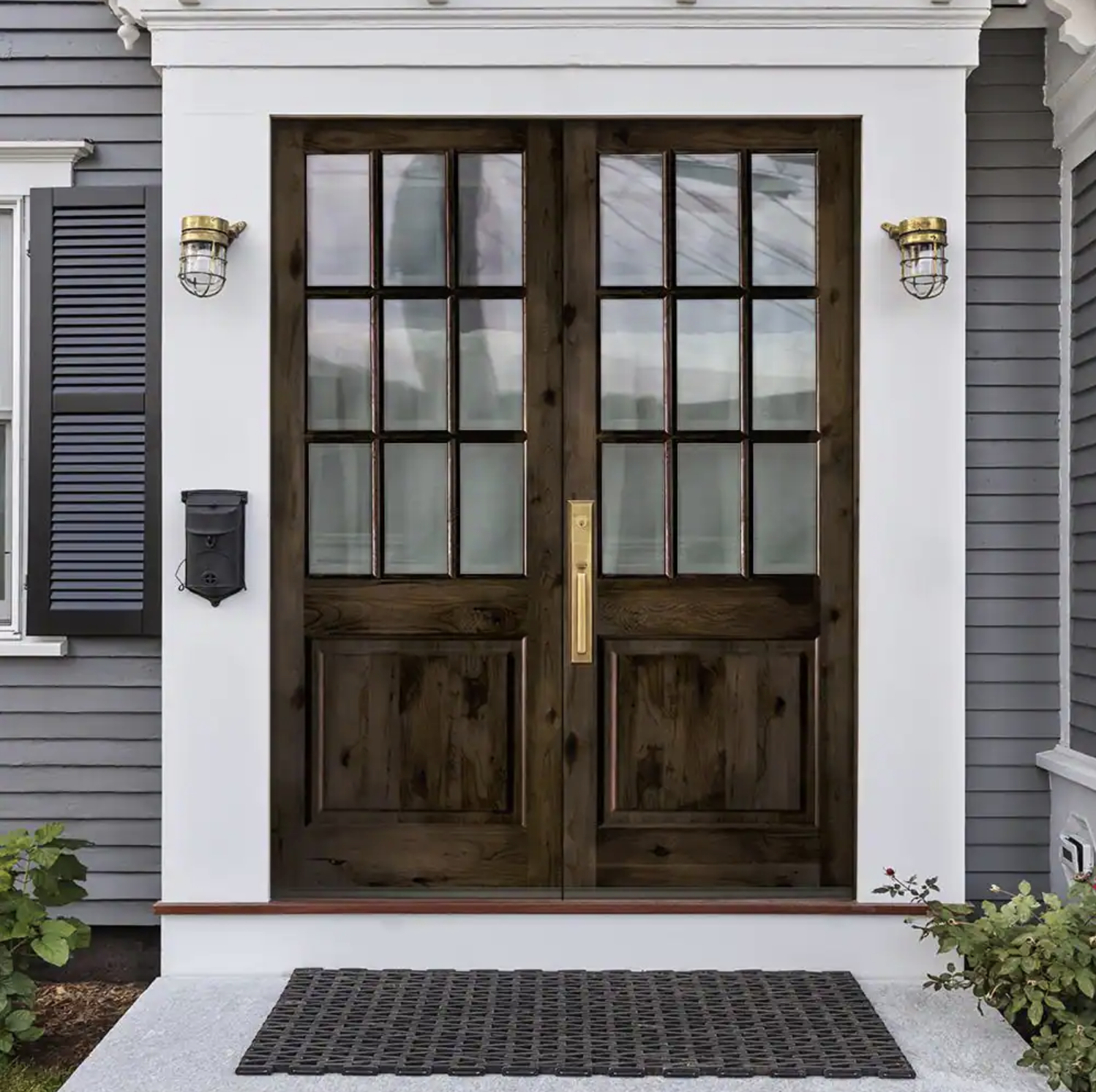 Just as their name suggests, French patio doors take their style from France. More often than not French doors are used on balconies because they are usually the width of two standard doors. This makes them well suited for smaller spaces, that still deserve a grand feel.
Spritzer says there are a number of door trends that seem to be popular right now. This includes, French doors. Spritzer explains, 'Also known as double doors, French doors are timeless and a great option for larger entryways that can accommodate the scale.' Spritzer's French door of choice? 'The Krosswood Doors Craftsman Knotty Alder Wood Clear 9-Lite provincial stain Right Active Double Prehung Front Door is a great choice for an elegant entryway,' he tells us.
6. Choose a modern design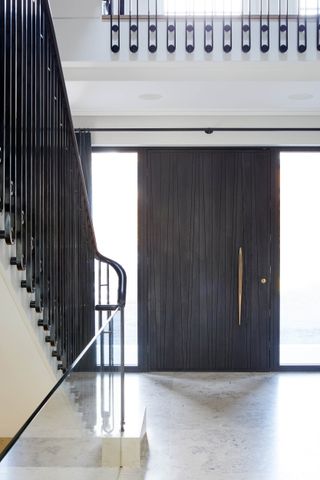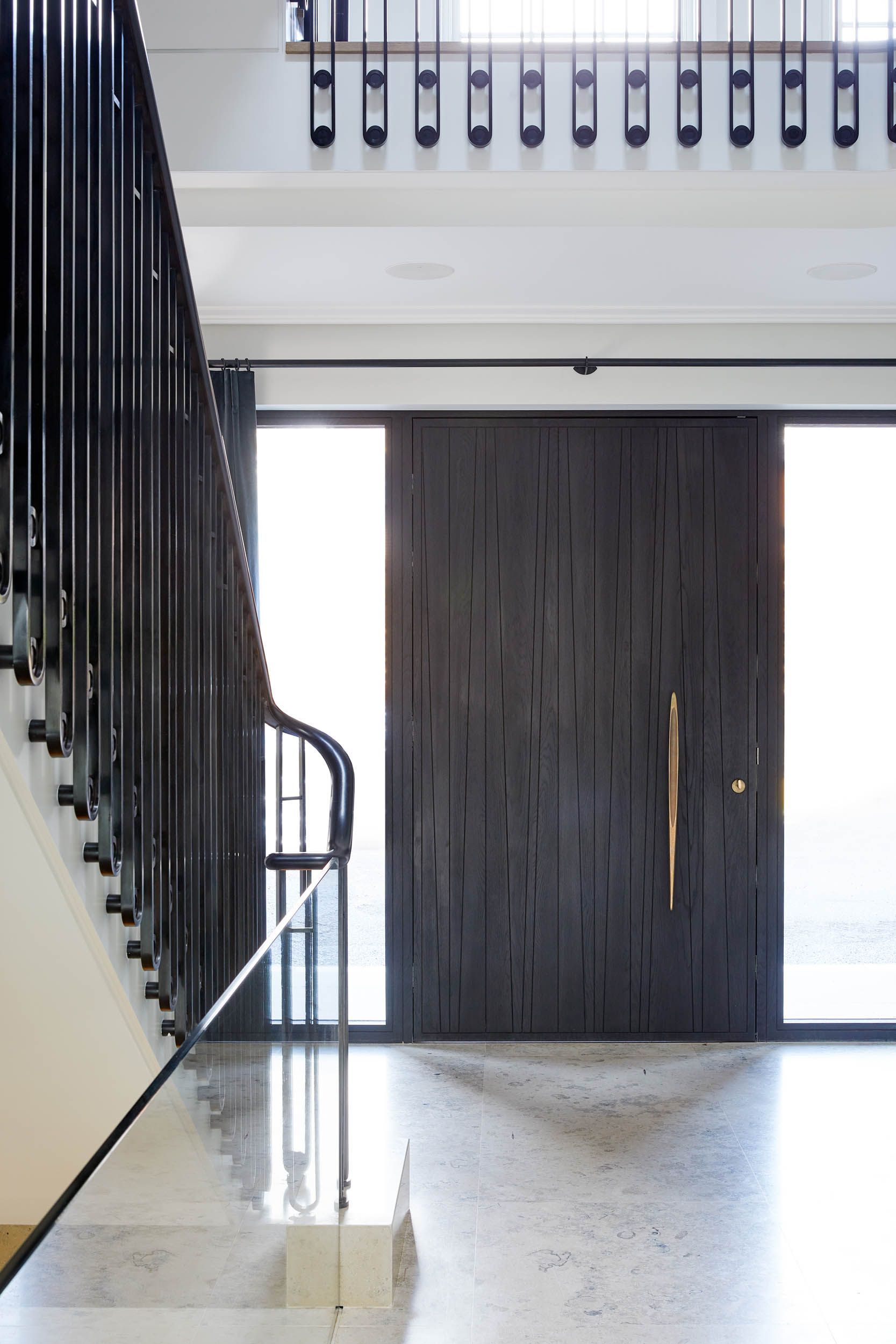 The look and feel of the front of your house will naturally dictate the front door you choose. If you've got a contemporary-looking frontage, make sure the door lives up to this style too.
Elizabeth Assaf, designer and co-founder of Urban Front says, 'At the moment, the most popular doors are more contemporary classic designs like our Milano V in Oak with an ebony oil, simple steel doors in a Rust finish and doors with concealed handles sitting in matching cladding like the Porto.'
7. Nod to your home's era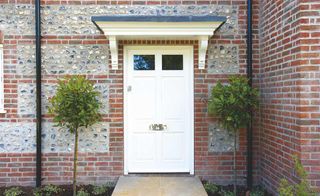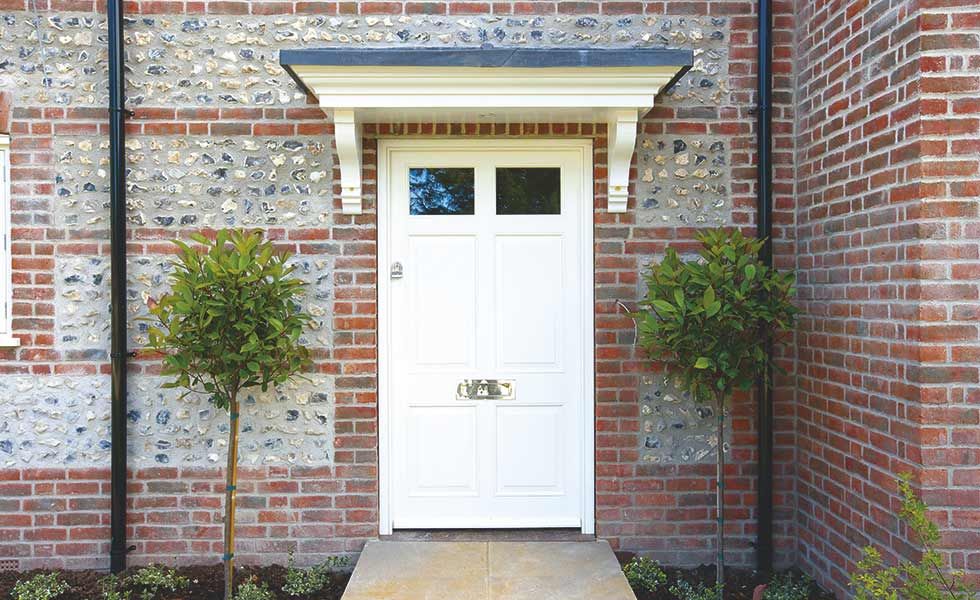 In the same breath, being sympathetic to when your home was built is worth considering when choosing your front door design. Inspired by Georgian designs, this six-paneled door from Westbury Joinery features two double-glazed units at the top to increase light levels without compromising on privacy or traditional style. Made from a combination of larch and accoya, and finished in three coats of microporous Westbury White paint, it's a stunning example of a traditional front door design that will still make for a fresh upgrade.
8. Take on texture with steel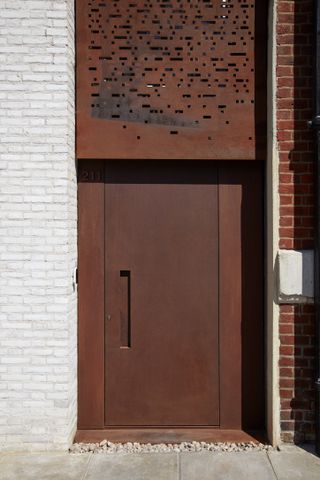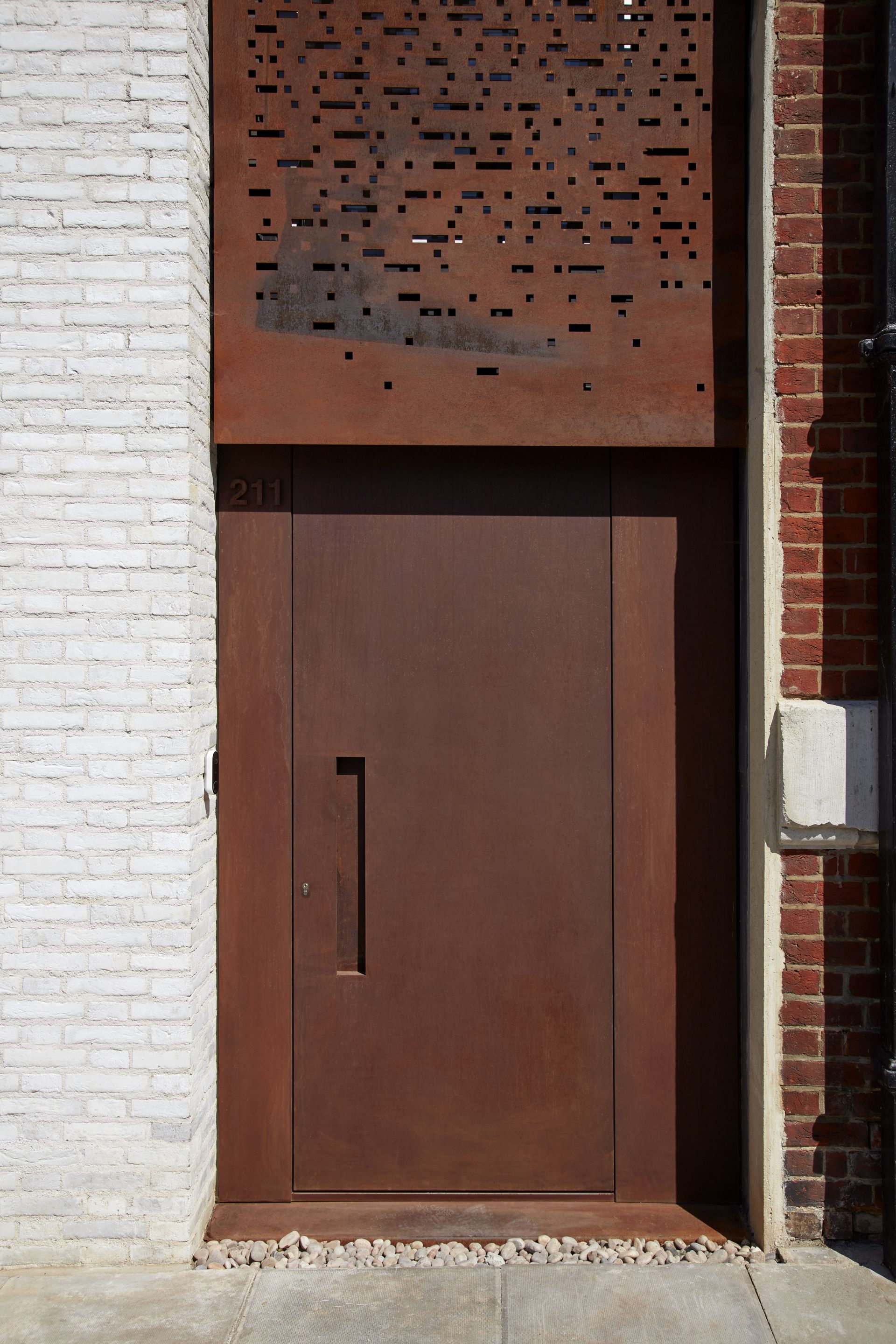 Along with the look of the door and its functional qualities, it's also important to consider the feel of the door. But why is this? Assaf says that it's crucial to make sure the door 'isn't just one dimension.'
This steel high-security steel door from Urban Front is not only extra strong, but it can withstand extreme weather conditions, it has soundproofing qualities and the metallic materials will naturally weather over time. Can you ask for much more from your front door? We think not.
9. Go large for more light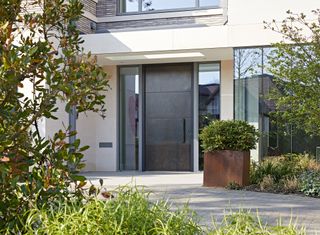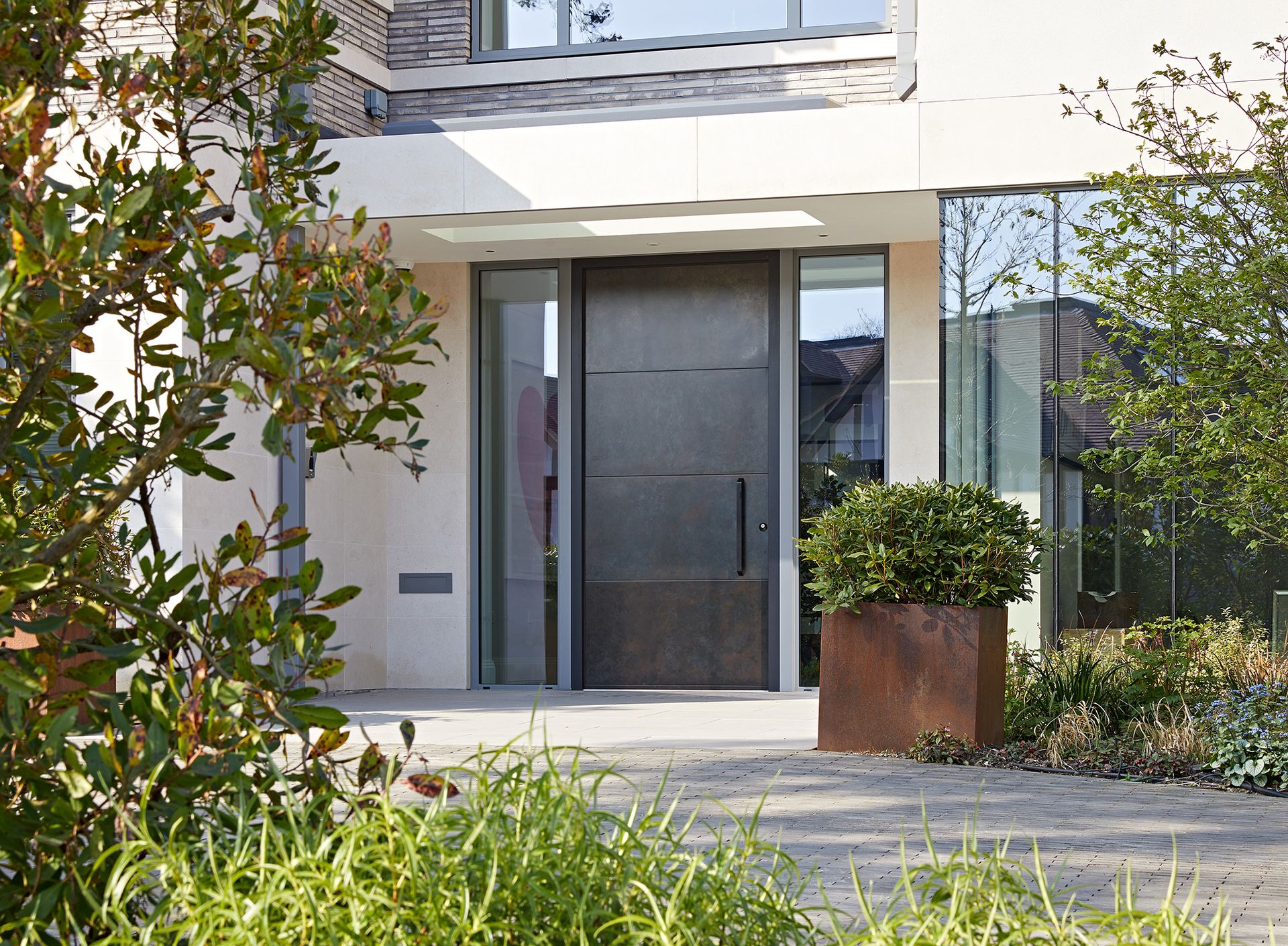 Another way to tick off style and substance? By investing in 'very large doors and lots of glass', Assaf says.
If your home is north-facing or low-rise and tends not to get enough light, opt for a front door design that incorporates glazing. This particular design idea is perfect to boost the amount of natural light you get inside your home and you'll also be able to see who's at the front door before you've even opened it. It's a win-win.
For more function, note that when it comes to accessorizing your outdoor space, lighting is key. 'Updating your exterior lighting, particularly if you have a fixture next to your front door, can boost the look of your entrance,' Spritzer says. 'One of our favorite accent lighting pieces to complement your front door is the Hampton Bay Alexandria 180° Black Motion-Sensing Outdoor Decorative Wall Lantern Sconce.'
10. Make it wooden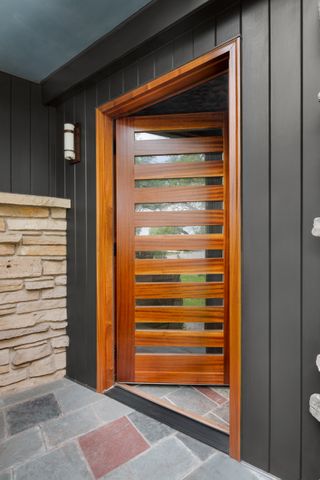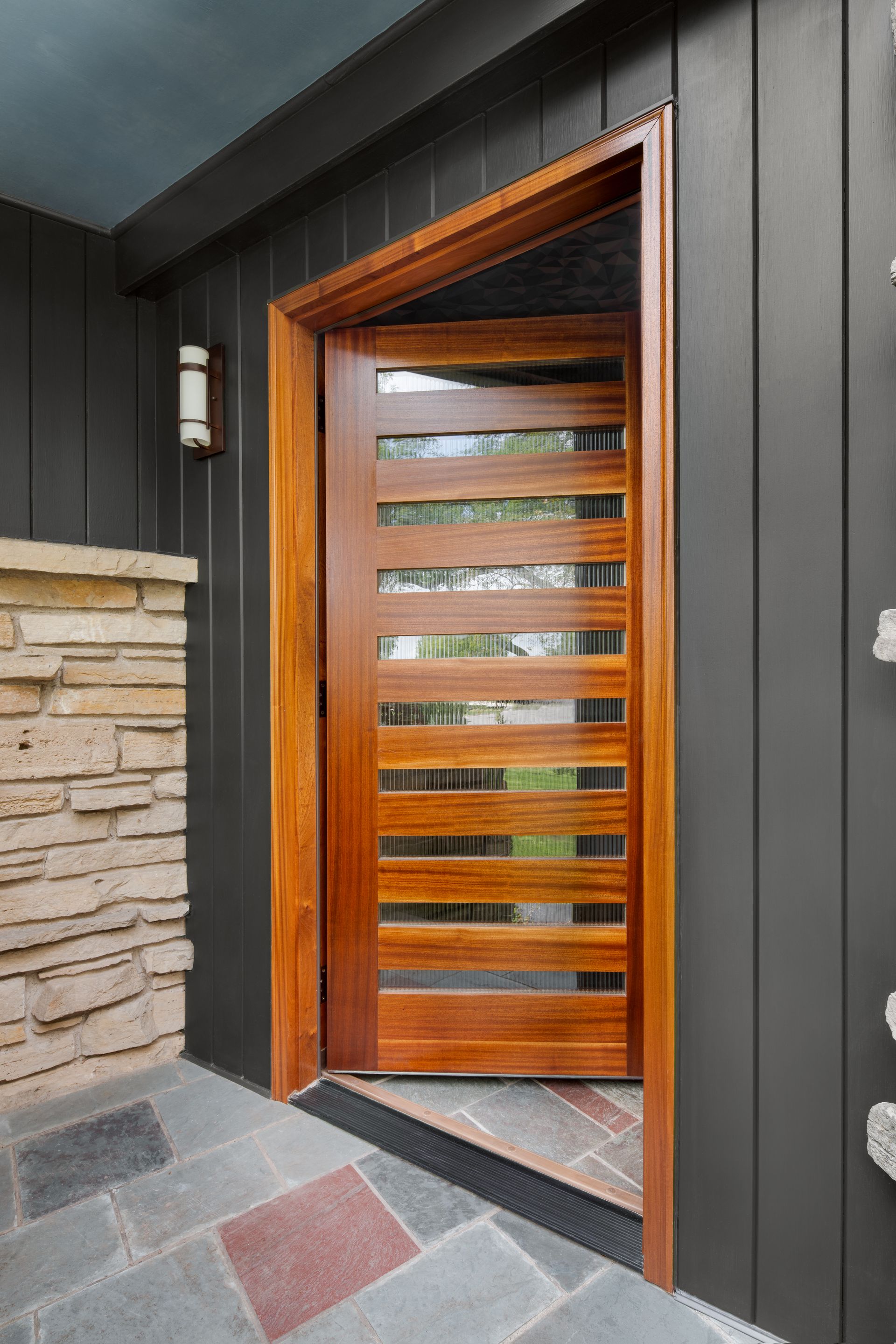 A natural wooden door adds a classic twist to any home. No matter whether it's a small space or a bigger home. And nowadays, it's not just classic styles that wooden doors come in.
Loveless says, 'A wood door makes it possible to complement a wide range of architectural styles, as it can be customized by size, shape, wood species or glass type. Plus, with advanced manufacturing techniques, proper protection and periodic maintenance, today's exterior wood doors can uphold their beauty in many types of climates and weather conditions.'
If you've already got a wooden front door, why not learn how to restore a wood door?
11. Supersize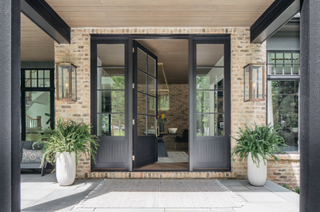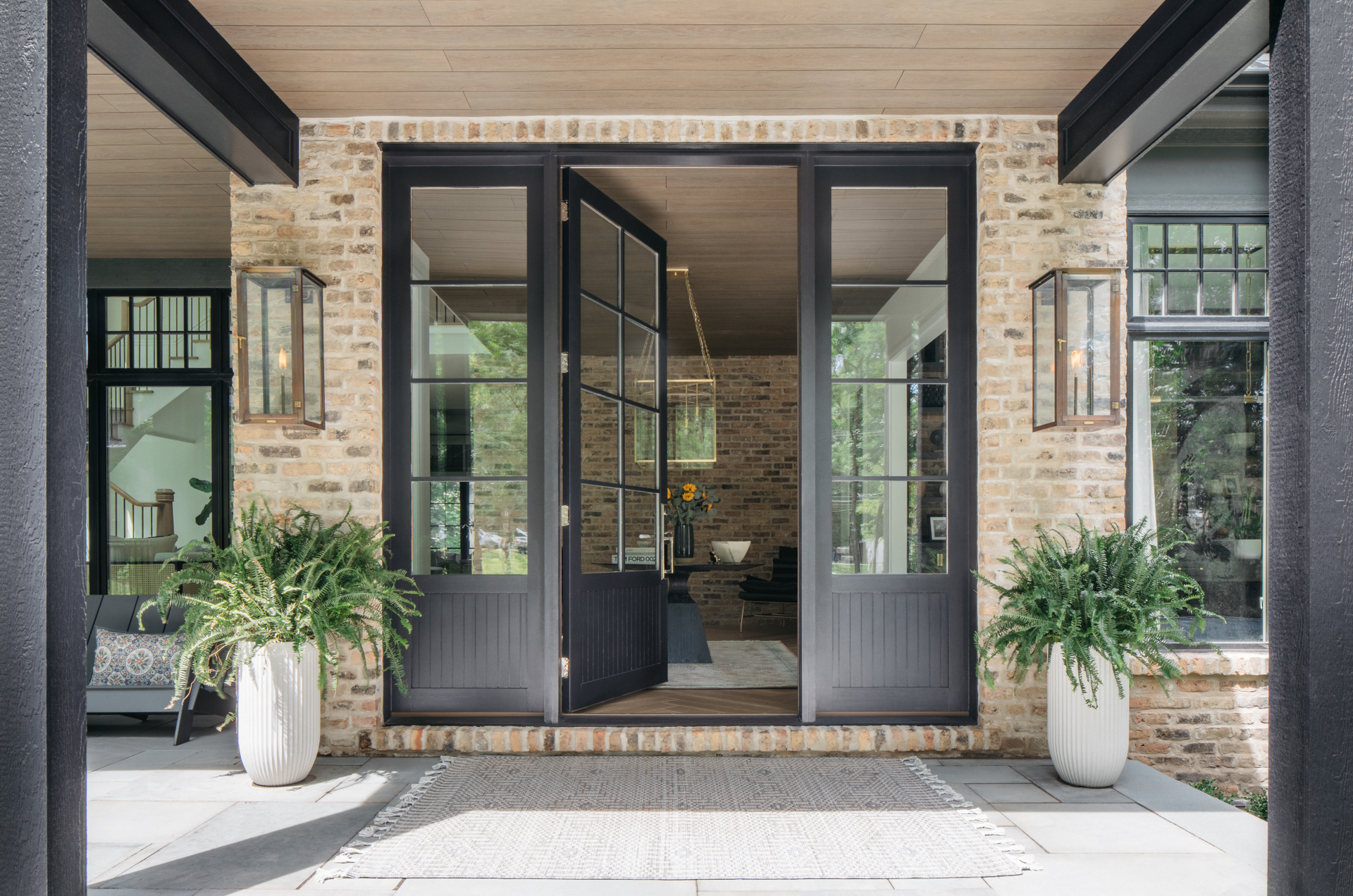 Boost your home's curb appeal in a big way with oversized custom wood front door ideas like this wooden offering from Simpson Door Company.
Loveless adds, 'While extra-large doors were once deemed near impossible to bring to life, top door manufacturers have fully embraced the challenge, rendering configurations that reach previously unimagined heights. We have extra-large doors that can span up to 8 feet wide and 10 feet tall. For a contemporary twist on the "XL" look, homeowners can look to Simpson's Monster Pivot Door System™ instead of traditional hinges.'
12. Farmhouse style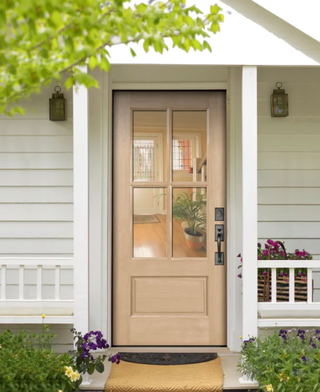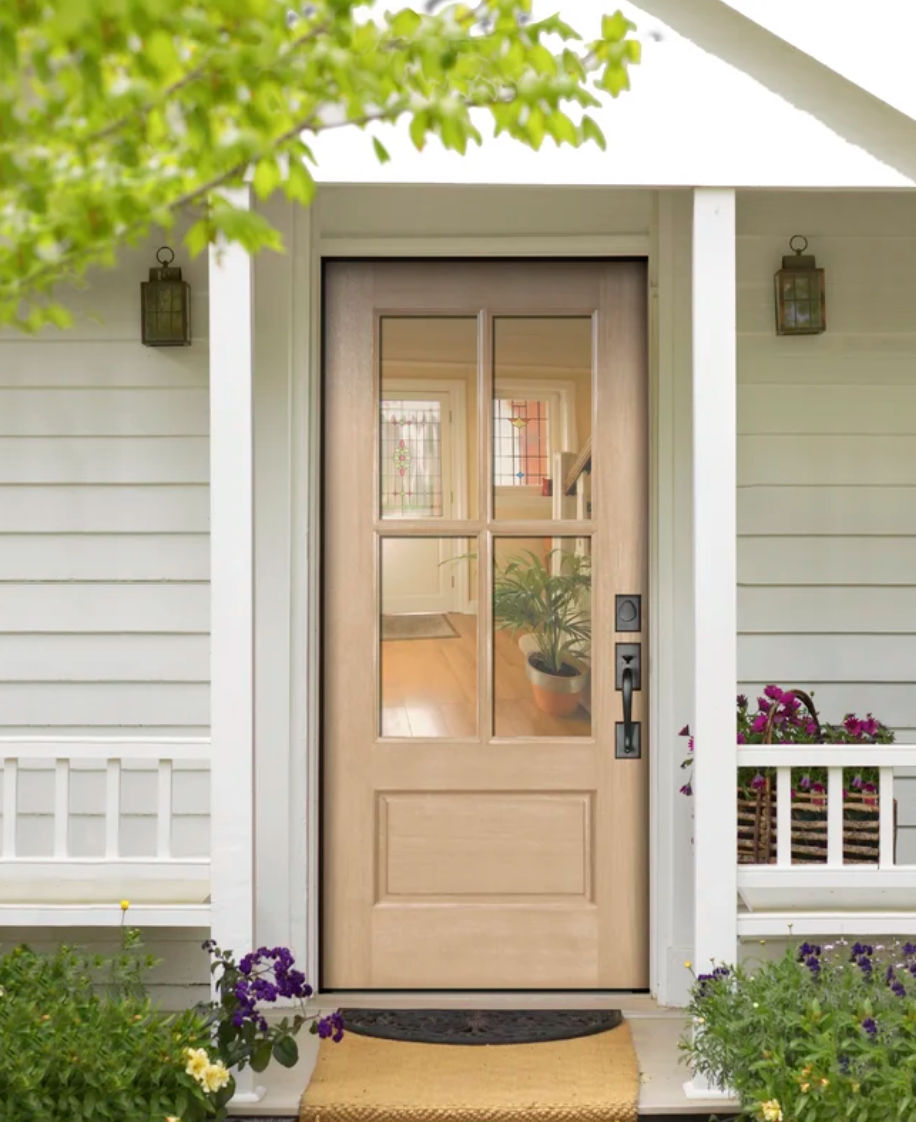 Love farmhouse decor? Coming with bucket loads of character, a farmhouse-style door is ideal for those who are looking to give the outside of their home just about as much rustic charm as the inside.
Meredith Nethery, Wayfair's category lead for hardware says, 'Farmhouse design is also having a moment, and this definitely extends to front doors. Farmhouse doors tend to be made of wood and are either stained or painted, with many including glass paneling or dutch doors that allow you to open the top half.'
Check out this farmhouse-style mahogany door which includes a door, jamb legs, brick mold, and comes with clear glass panels.
13. Add interest with an industrial style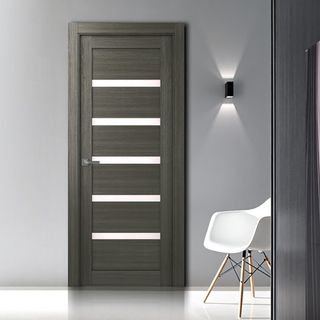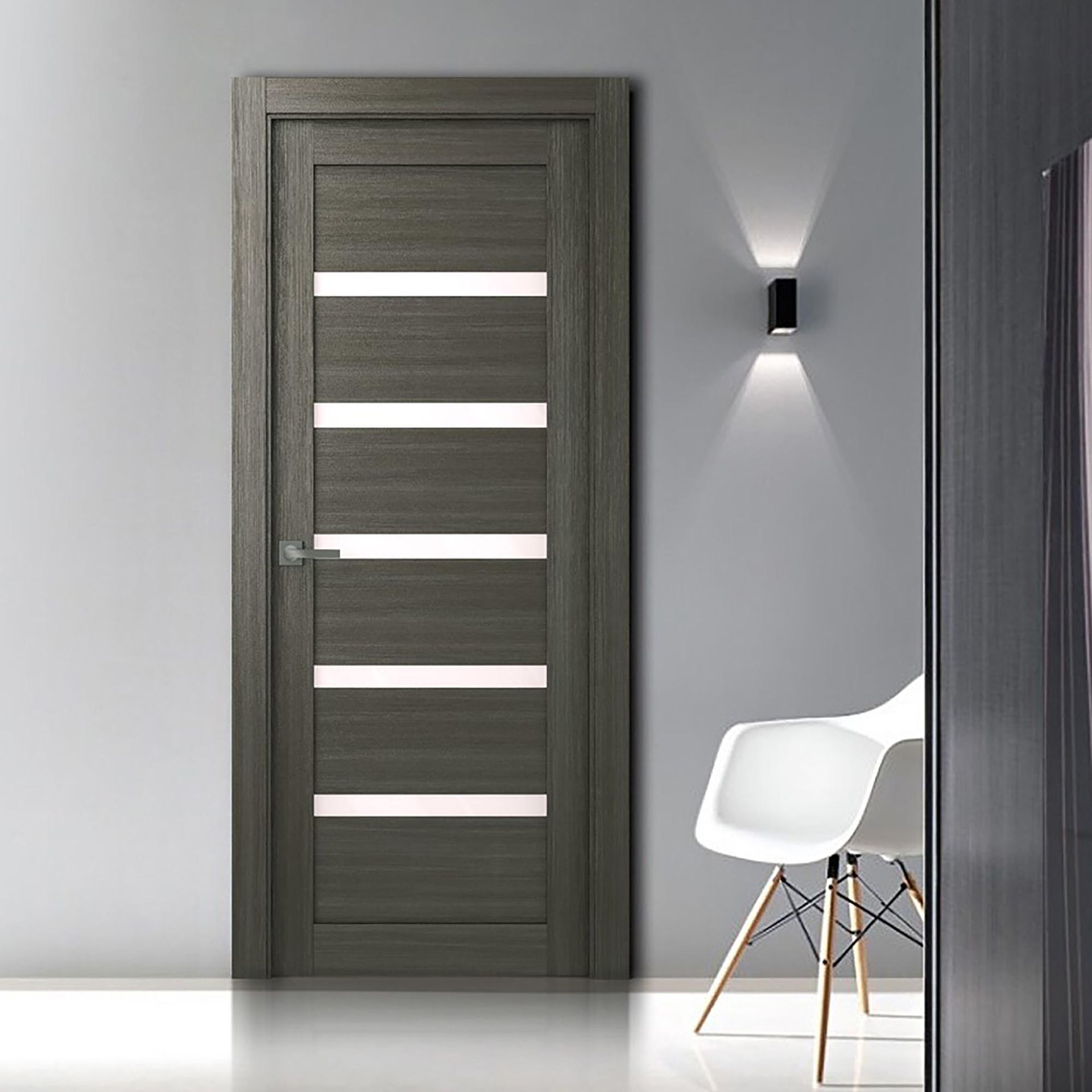 'Another trend that we're seeing is an increase in customers shopping for an industrial or modern take for their front door,' Nethery tells us. 'These doors are typically darker in color and made of either wood, metal, or a combination of both. They also tend to have sleeker, cleaner lines for those looking to achieve a more industrial or modern look.'
If industrial feels like your front door style, this wood and glass standard door from Wayfair ticks all the boxes.
14. Look for weather-tight options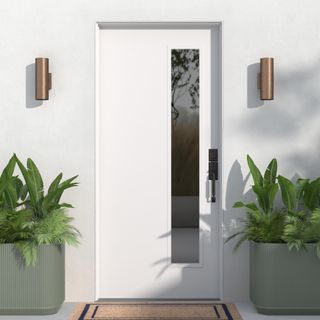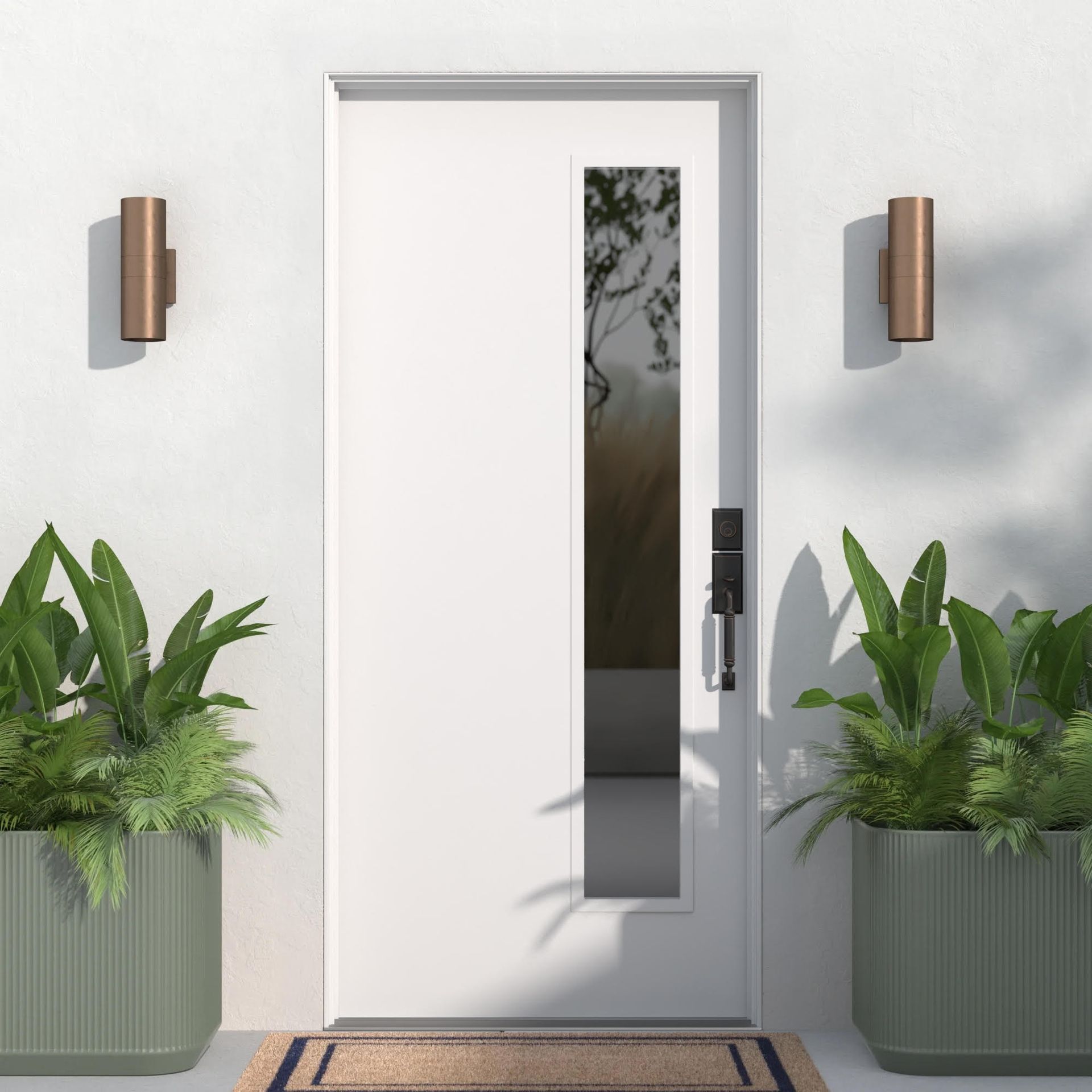 After front door ideas that fit flush to help stop drafty doors fast? Look no further than this fiberglass door from Wayfair which is virtually maintenance-free, won't dent, warp, rot, or split. It also almost eliminates air and water infiltration.
Nethery says, 'Customers may be looking for a slab door - just the door itself without any hinges, knobs, or frame - or a pre-hung door, which is already placed in a frame and can be seamlessly installed for a new construction. Pre-hung doors are also ideal for those seeking a weather-tight option or are looking to replace a damaged door frame.'
15. Choose a heritage finish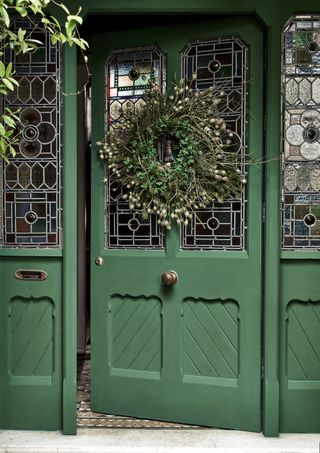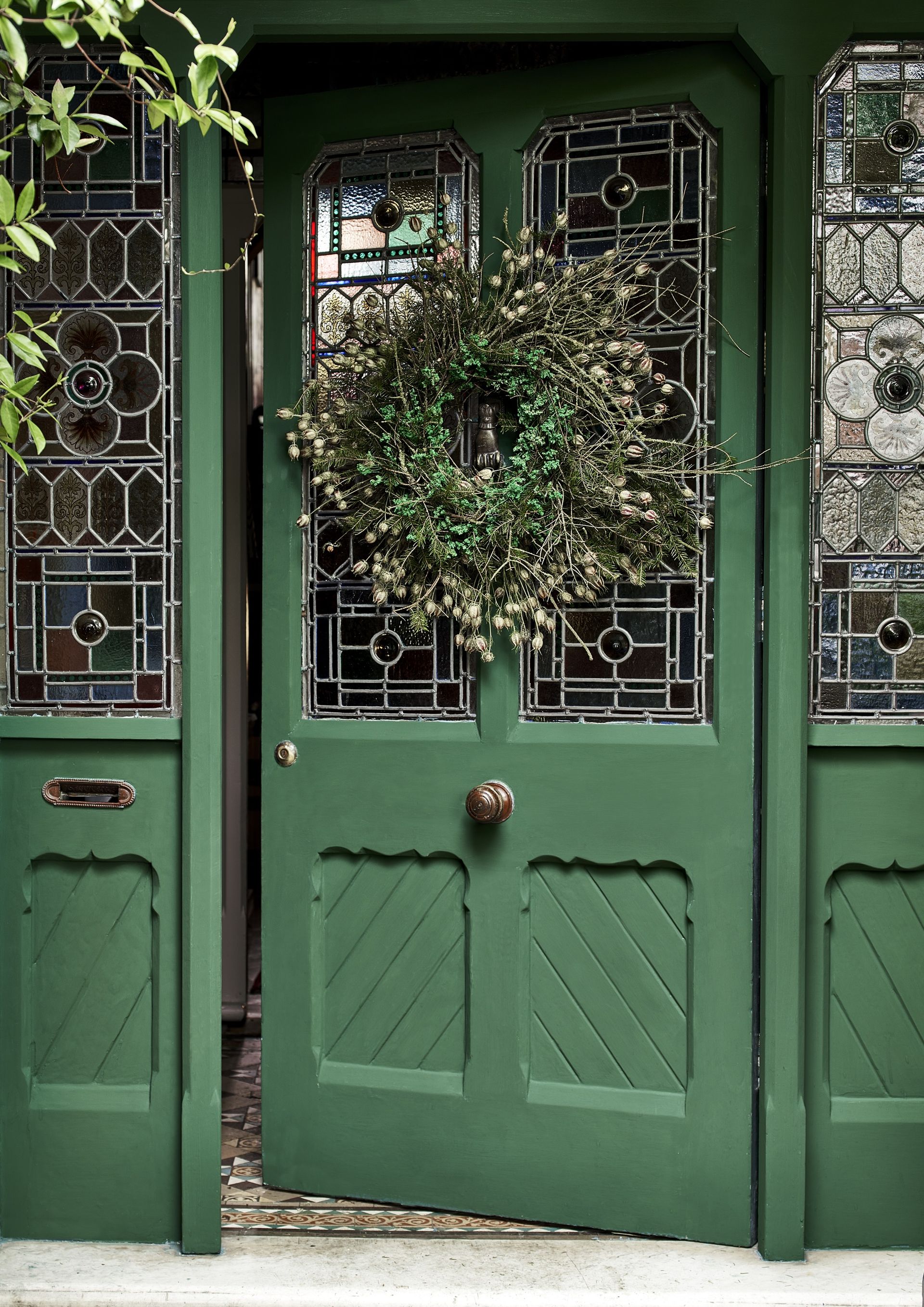 Own a period home but your type door hasn't been made for centuries?
It might be easier to procure a well-crafted replica than you think. Look for a door maker that specializes in period designs and traditional techniques. Then you could always choose a quality paint for your door to achieve a polished look. If painting the door yourself, choose a durable exterior paint, such as Intelligent Exterior Eggshell by Little Greene or Weathershield by Dulux. And once you've given it the once over, don't forget to add period features such as door knockers and brassware.
16. Contrast finishes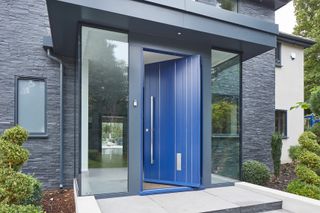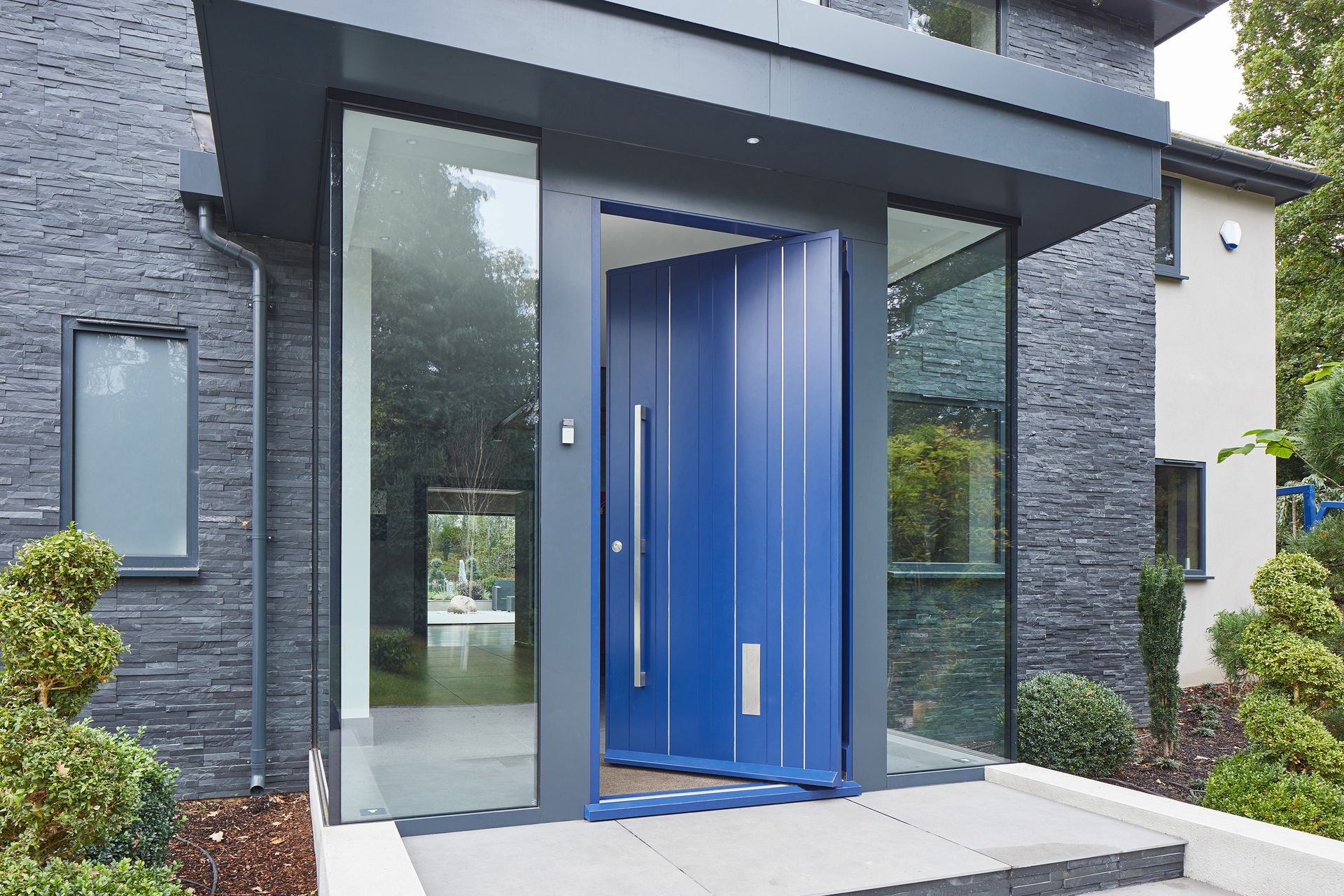 You don't always have to have a traditional door – even if you live in a historic property, but especially if your home is an urban area or a new build. Experiment with a bold modern design in a striking color, especially effective as a contrast to concrete and glass.
The sleek Porto door from Urban Front is vertically grooved and will make an effortless addition to any home design.
17. Frame your entryway with wood and steel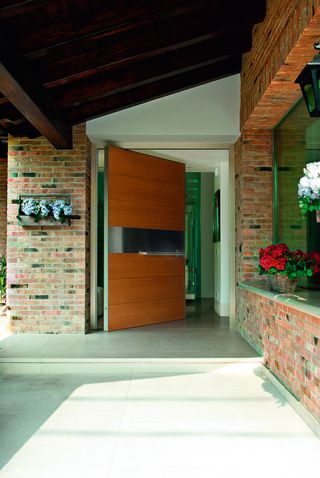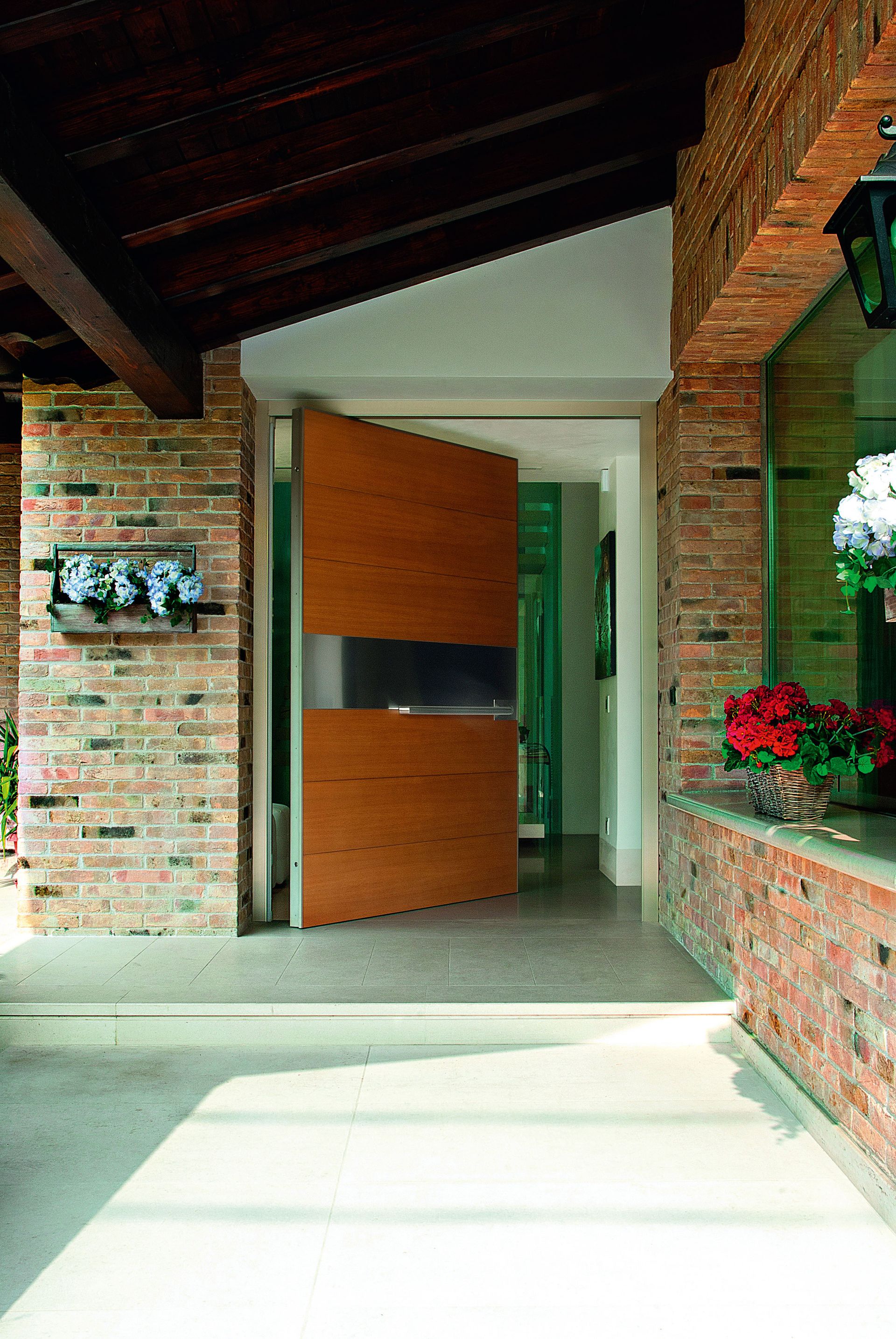 With an external finish of oak and a central stainless-steel band, this contemporary front door has a distinctly crisp look. If that's not your style, it also comes in other finishes such as marble, stone, metal and glass.
Include in a wall opening or surround with frameless glazing for a front door that makes a lasting first impression. This version is H250cm x W180cm and is from IQ Glass.
18. Invest in a sleek, high-security solution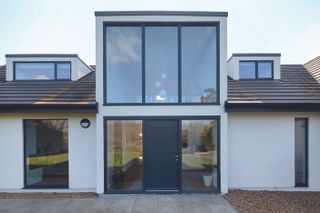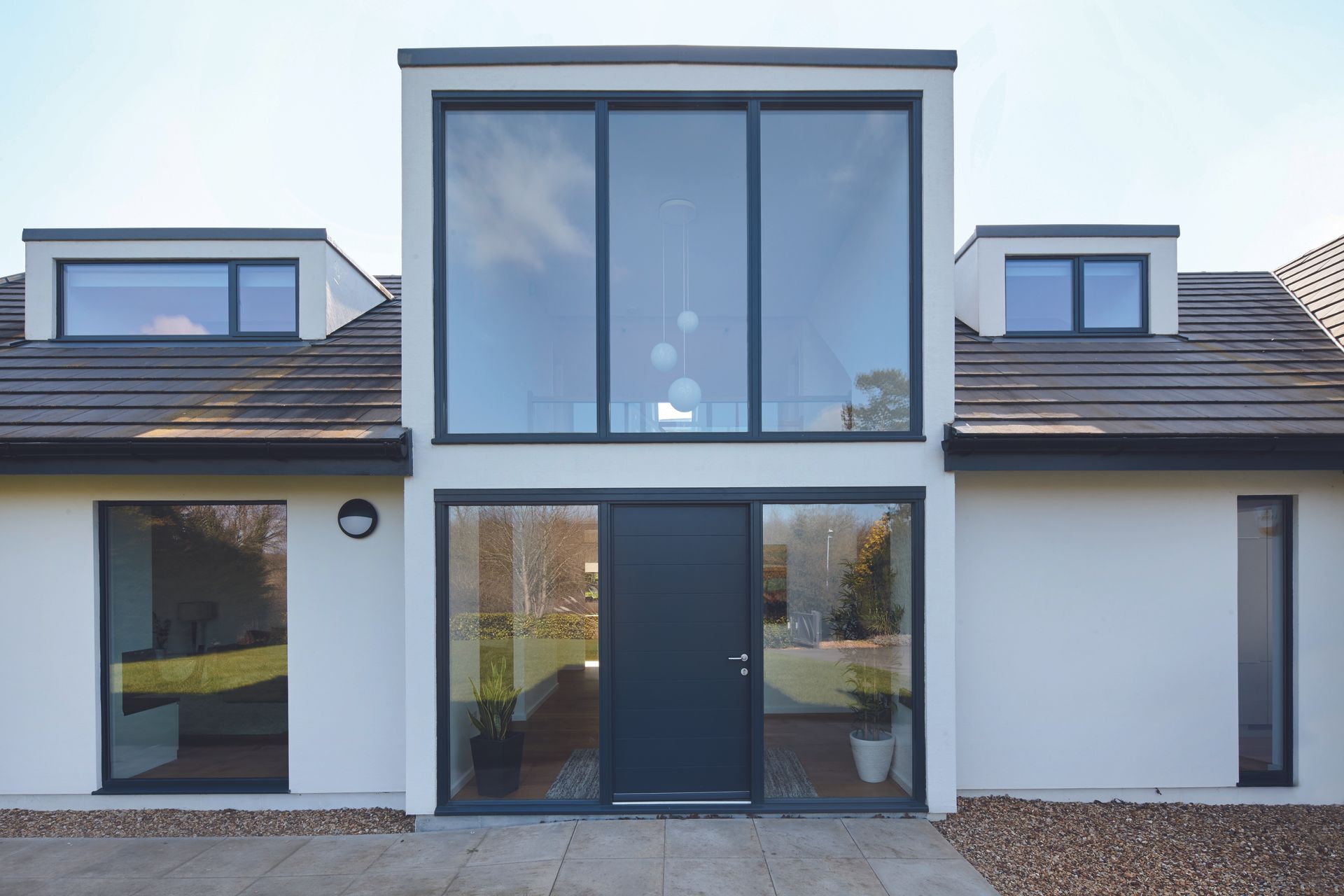 If security is top of your front door criteria, this hardwood timber FunkyFront Door from Klöeber could be the option for you. Laminated for strength, it offers the utmost in security, without compromising on its stylish and contemporary design thanks to Hamburg style panels.
19. Add drama with a black front door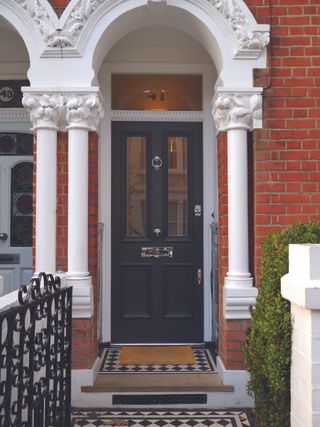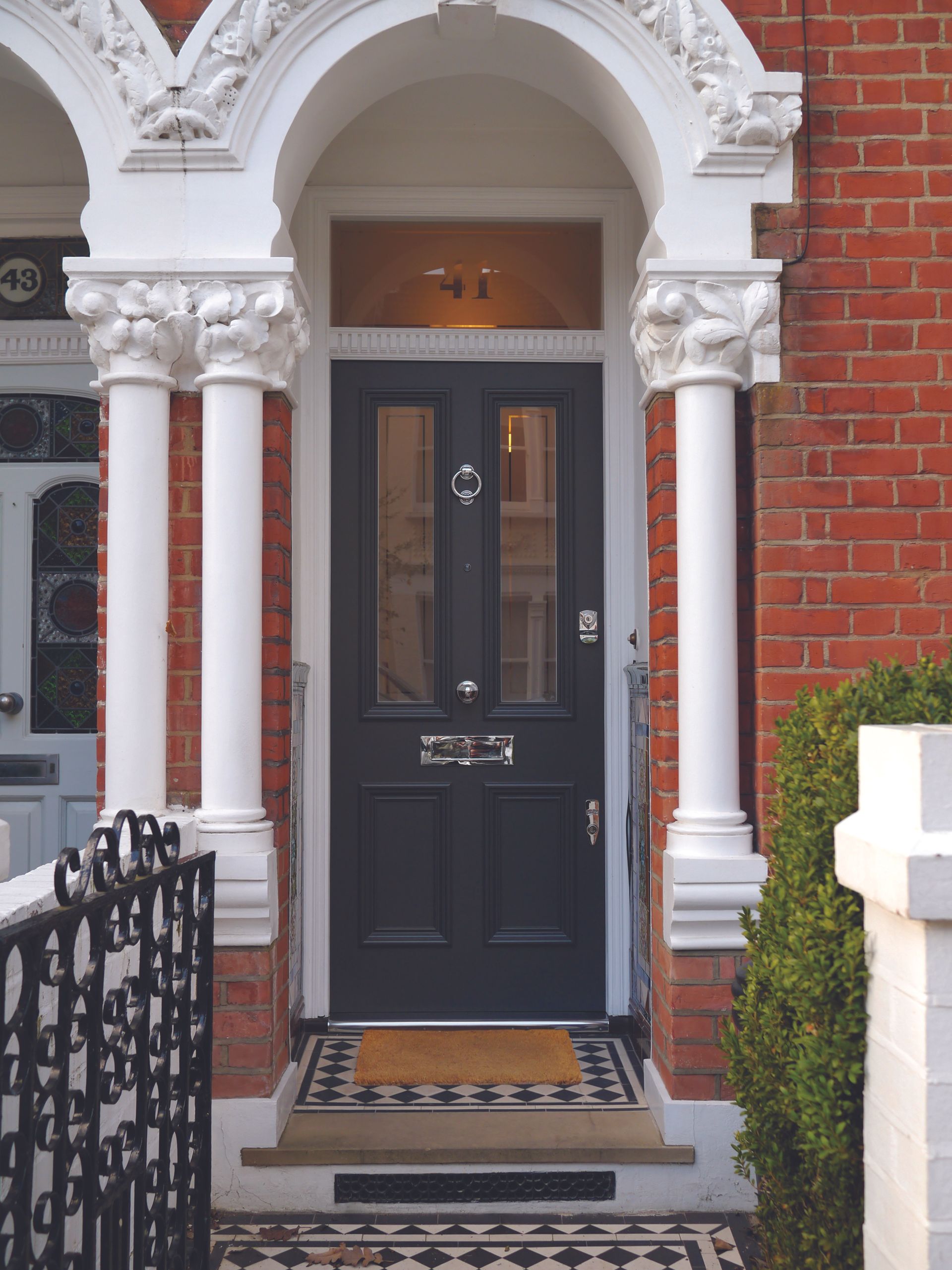 A black door is said to add value to a property and if you have a Victorian home that's lost an original door along the way, you can restore it to glory with a traditionally-inspired design like this one, sure to add a touch of drama.
The four-panel door has authentic heavy moldings and is painted in dark grey, which complements the tiled path. It has been made from solid accoya wood, which is treated to be extremely durable and stable, and is finished with smart polished chrome door furniture. From the London Door Company.
20. Welcome guests with lavender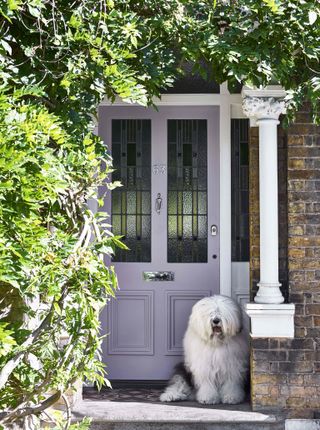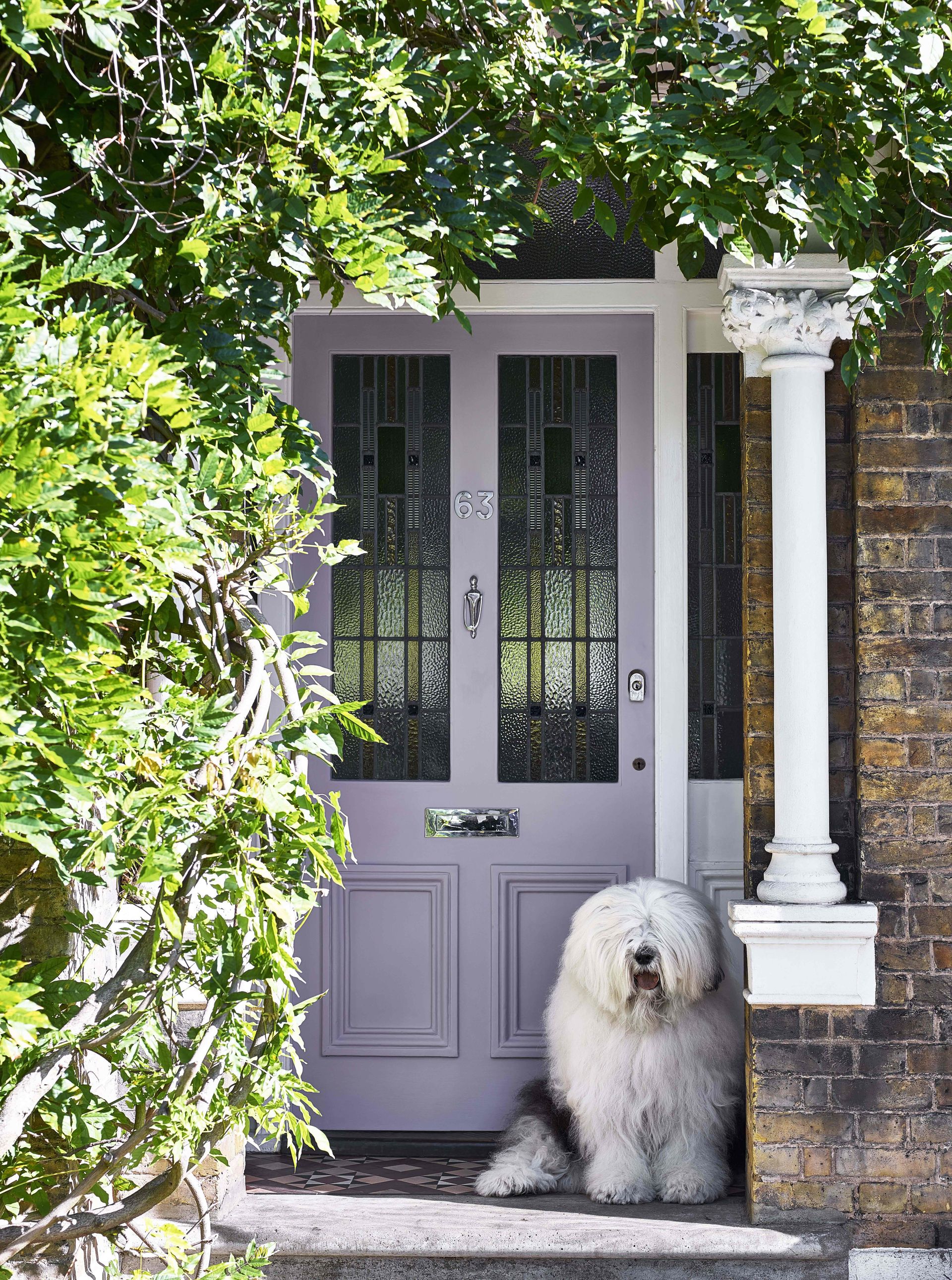 Choosing the paint color of your front door with care is a must. Lighter-colored buildings will benefit from soft, pastel shades, while red-brick or darker homes can take on a brighter and deeper color. Not to mention pastels like lavender can add a touch of sophistication.
What kind of door is best for a front door and why?
Eliot Spritzer, Senior Merchant of Exterior Doors, The Home Depot says, 'Choosing the right front door for your home is dependent on your personal style and your home's architectural design. Update your exterior and improve curb appeal with a new door in a style that complements your current design preferences. Whatever your style, updating or replacing your front door can make your home more appealing for you and your guests.
'When selecting a door, you'll need to know the "handing" of the door. An easy way to do this is to simply open the door. Stand in the doorframe with your back along the hinges. If the hand by the doorknob is your right, it's a right-handed door. If it's by your left, you have a left-handed door.
'There are two common types of exterior doors. Pre-hung doors include both the door and the frame that supports the door. Slab doors include just the door alone. Pre-hung doors are often easier to install than slab doors. Accurate measurement is key to the right fit.'
What are the most popular front door styles?
Spritzer says, 'Craftsman and mid-century are popular door styles that give homeowners a vintage-inspired look. Modern front doors have gained popularity because of their architectural details and minimalist design. Steel front door styles are still popular for their durability, security and versatility. These are great options for front doors, patio doors and back doors.'
When it comes to the best materials, historically, pitch pine was the timber of choice for front doors. However, these days a high-quality, traditionally crafted exterior door is far more likely to be fashioned from durable hardwood, such as oak or, increasingly, accoya, a chemically modified timber that outperforms hardwood in terms of strength and stability.
All external doors should be fitted with high-security deadlocks and, in order to ensure adequate strength and protection against intruders, they should be made of a solid-core construction that is at least 44mm thick. This will also aid heat and sound insulation, as does the use of slimline heritage double-glazing.
For authenticity, timber doors can be finished and maintained using quality linseed oil, wax, or microporous paint, culminating in a weather-tight barrier that is both aesthetically pleasing and secure.
Budgeting for the cost of a new front door is a must, and if a solid wood door is out of your price range, there are plenty of engineered wood options available. Offering many of the same benefits as solid wood doors, they are made from blocks of different types of wood that have been assembled – or engineered – into a single composite material.