Perfecting your kitchen design is a big and exciting job. You get to make all mood boards, order all the paint samples, subscribe to all the magazines, all in the name of research, but there's no denying that it can get a little stressful if you aren't really sure what you are doing.
Whatever your remodeling plans may be, we are here to help you when it comes to how to design a kitchen like a professional. Whatever your budget, and whatever your style, our ten steps will have the process as easy as possible.
In this feature, we take you through all the stages, from kitchen planning and finding your ideal kitchen design style, to choosing the best cabinetry, kitchen flooring and more. So, if your current kitchen is outdated and needs a drastic makeover, or if you have a blank canvas to design your new kitchen from scratch, read on for all the kitchen planning advice, design ideas and more that you need.
Looking for more kitchen decor rather than practical advice? Go to our kitchen ideas page next for heaps of inspiration.
Choosing a kitchen designer, architect or builder is a big part of the process, which is why we've put together specialist guides aiming to help you find the best professional for your project. Do take a look, and if you want budgeting advice and information on how much a new kitchen costs we can help too.
How to plan a kitchen in 10 steps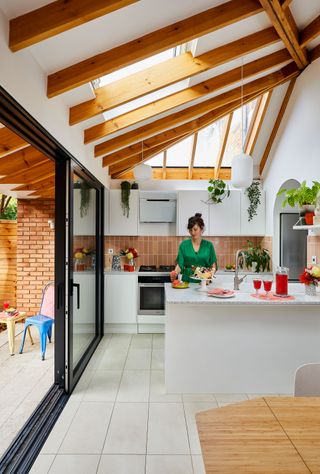 Kitchens used to be hidden-away workspaces, but today they're rooms in which we spend huge amounts of time. Not only do they need to offer the preparation and cooking facilities that suit all the home's occupants, but they must also be stylish space we want to enjoy being in.
Often, they're a zone in an open-plan kitchen diner and living space, so the kitchen's decor must work harmoniously with dining and relaxing areas as well.
Proper kitchen planning is key if you want a successful kitchen design that fulfills all your expectations, and these ten steps will get you there, whether you're doing it alone or have called in the help of an expert.
1. List the elements you want in your kitchen design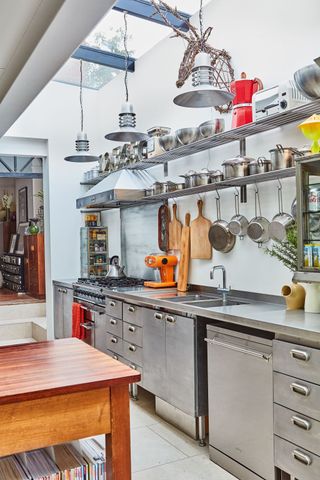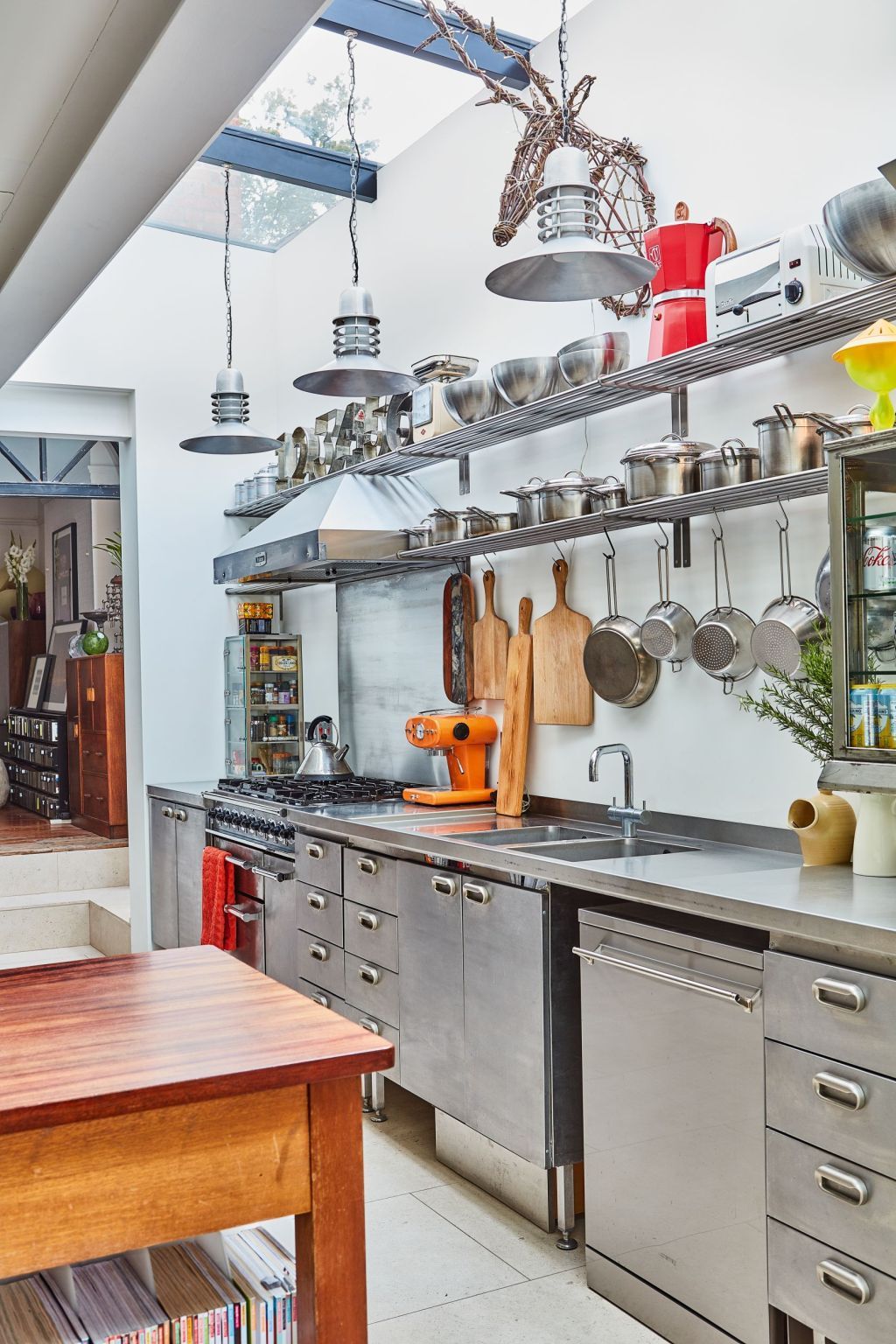 Analyzing what you currently have in your existing kitchen versus what you need and want from your new kitchen design is key. Often, it's best to do this yourself before you go to a kitchen planner or kitchen designer, using what works in your kitchen now – and changing what really doesn't. This process will also allow you to get creative, to realize if anything can be reused or recycled.
Think about your kitchen cabinets, do you want a kitchen island? Does a living area need to be incorporated? Even go into what style of sink you might want and how many appliances you need to fit in.
2. Consider the best layout for your kitchen design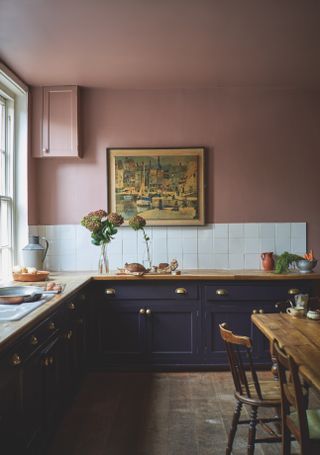 When considering different kitchen design and layout ideas, think about the following to gain a clearer picture:
How do you use a kitchen? The kitchen layout should be designed to perfectly fit your lifestyle.
Is it an open-plan space? Focus on the layout of the working part of the kitchen first, but also on its relationship with a dining table, if there is one, or – in an open plan kitchen-living-diner – the other zones.
Don't forget the working triangle. To plan the preparation and cooking space, use the design concept of the working triangle of the kitchen. The three points are the fridge, sink and hob with imaginary lines between these forming the triangle shape. The three points should be near enough to each other to make meal preparation efficient but each workstation shouldn't feel restrictive.
What will work best with your kitchen's shape? Think of the triangle imposed on the possible layouts a kitchen can take. These are galley kitchens, U-shaped kitchens, L-shaped kitchens, curved kitchens, and open plan kitchens. Keep scrolling down the page to the section that best suits your kitchen shape.
3. Draw up a detailed kitchen floorplan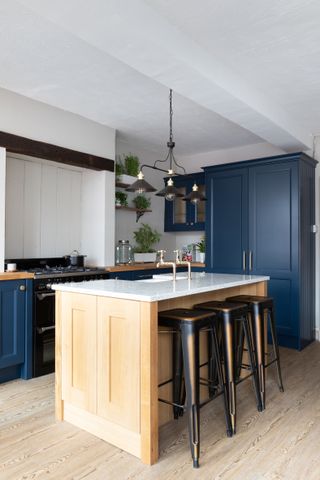 With your list done, you can begin to work up a floorplan. When you design a kitchen, it's important to understand the space you're working with. Ask a kitchen company, an architect or architectural technologist – or use graph paper and do it yourself – to carefully make scale drawings of your kitchen's floorplan.
Marking up a floorplan. Mark the exact location (to scale) of internal and external doors and windows, so you have the best flow possible between your kitchen, outside space and the rest of your house. You'll need to factor zones into your plan if you're designing an open plan kitchen too for example.
Plotting in the cabinetry and appliances. Best way to do this? With little paper cut-outs of to-scale appliances and cabinets. Failing that, use a pencil and have an eraser to hand. Once you see exactly how much room you have to work with, you can start planning how to make the most of it. It will also give you a clear idea of how much you want to spend before beginning the design process proper, ensuring you end up with a scheme you can afford – and helping you reduce excess costs early in the process if your plans don't match your budget.
We have plenty of guidance for planning a small kitchen design or creating a family kitchen too, if you want tips on creating a successfully cohesive, well-laid out room.
4. Gather kitchen design ideas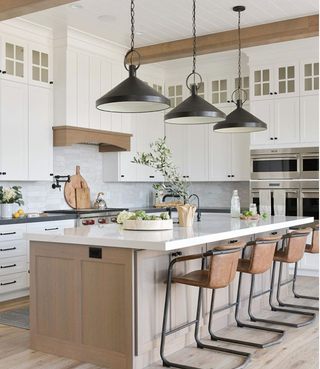 Once you've considered the starting points above, you can really start to gather your kitchen inspiration to have the end result in sight.
Finding a style to suit the practicalities of your kitchen design is vital, think about the following:
Do you want it to compliment the style or period of your home or contrast it? To match the decor of your other rooms, or to stand out? What style of units do you want to go for? How will you use color or bring texture into the room with materials?
All of these elements should be considered before any work takes place. Once you have a look in mind, you can start to put your kitchen planning into practice.
Below, are some kitchen design ideas – modern, traditional and freestanding (use these links to jump straight down to them) – to inspire you and to help you envisage how your new kitchen could look.
Modern kitchens: choose chic minimalist cabinetry for a contemporary kitchen design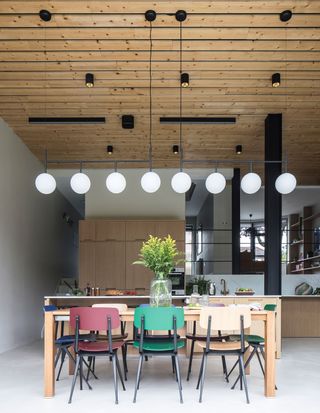 Contemporary kitchens can work in modern or period homes, but they do look most at home in light-filled, simple spaces. Think elegant, minimalist cabinetry, carefully selected color simple schemes and perhaps a few feature pieces in there too.
You'll see that modern kitchens often have fitted storage and built-in appliances to keep that minimalist look. If you want to design a kitchen that is clutter-free, a modern kitchen is the best kitchen design for you.
See modern kitchens in our design gallery for tons of inspiration.
See luxury kitchens with a contemporary edge in our kitchen design gallery – you needn't have a big budget to mimic these looks.
Traditional kitchens: choose formal, rustic or country for a period feel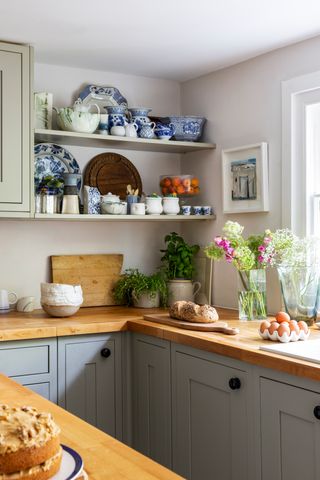 Traditional kitchens fit perfectly if you live in a period home with traditional features and lovely quirks – but can also really suit modern homes in need of a touch of character. There are plenty of kitchen styles that come underneath the umbrella of 'traditional' so you can find a style to suit your tastes.
See Shaker kitchens in our kitchen design ideas gallery if you want a classic, traditional kitchen that never dates. This kitchen design suits all styles of settings, from modern kitchen extensions to rustic country cottages. Unlike some traditional kitchens, the Shaker style is simple and uncomplicated, with no elaborate moldings or fussy decorations – a perfect blank canvas to add your own personality.
If you are designing a kitchen and want a more traditional look, see more country kitchens and farmhouse kitchens in our design ideas galleries for rustic inspiration. Country kitchens include painted designs, while farmhouse kitchens are more ruggedly rustic.
See vintage kitchens for inspiration for creating a kitchen design that's more about homespun charm. These highlight the original features of your home, like beams or original tiles, and are the perfect kitchen design if you want a space with loads of personality and coziness.
Freestanding kitchens: flexible furniture for all types of home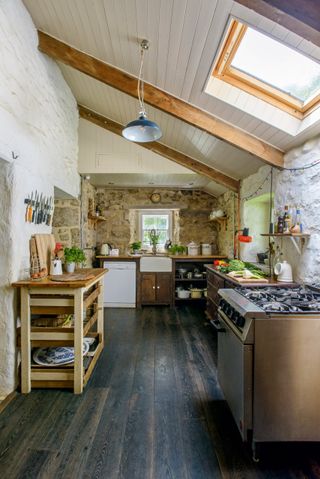 Freestanding kitchens will work in modern or period homes, and are less about that new, built-in kitchen look and more about mixing and matching one-off pieces to create a one-off kitchen design.
This kind of kitchen design takes more thought because it's not as straightforward as just choosing a fitted kitchen. Instead, you will need to design your own kitchen completely and decide on various routes:
Get the bones of the kitchen sorted by buying the key parts like cabinets and the worktops from a company that specializes in made-to-measure pieces (more expensive) or one that makes fitted kitchen furniture with a freestanding look (more affordable!).
Spend time finding pieces that will work together and fit in your space (this is very time-consuming and sometimes fruitless).
A combination of the two routes above: get the main elements from a kitchen company or designer and then source one-off pieces to give it that unique feel.
Either way, when designing your kitchen, we recommend making a list of your freestanding essentials (cabinets, dressers, kitchen islands, etc), take measurements, keep them to hand and then talk to both kitchen designers and joiners, but also to keep your eye out for suitable pieces on online markets, vintage stores and even charity shops.
See freestanding kitchens in our design gallery to get inspiration and more advice for your scheme.
5. Choose the best materials for your kitchen design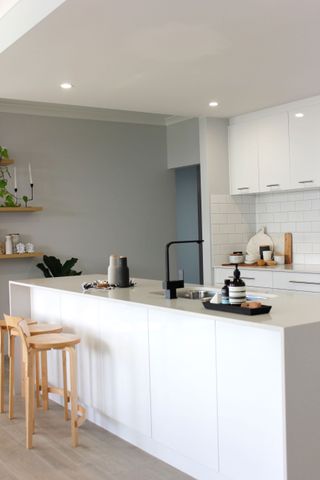 Once you know the look you want, you can start selecting kitchen units, finishes and the likes. This will mostly come down to your budget, but we will say investing in the best quality kitchen you can afford will add value to your home. And, it goes without saying that the better quality materials you choose, the longer your kitchen may last.
These materials lend themselves more to a traditional kitchen design:
Hardwood is the best and most hard-wearing material you can choose for your kitchen cabinets.
Plywood is also a good choice and often slightly cheaper than a solid wood kitchen.
If you want a sleek modern kitchen design:
Fibreboard cabinets: they are usually inexpensive but are long-lasting and give you that totally smooth surface for a chic, minimalist look.
Which materials to avoid?
Cabinets and cabinet doors that have a wood veneer tend not to last very long as the veneer layer can peel and chip. The same goes for particleboard. However, both these materials are budget-friendly so if you are trying to keep your cost at a minimum they might work for you.
For more tips on how to choose kitchen cabinets head to our guide for loads of practical advice and inspiring ideas.
6. Choose the best colour scheme for kitchen cabinets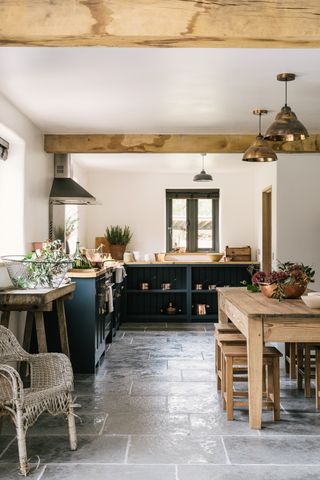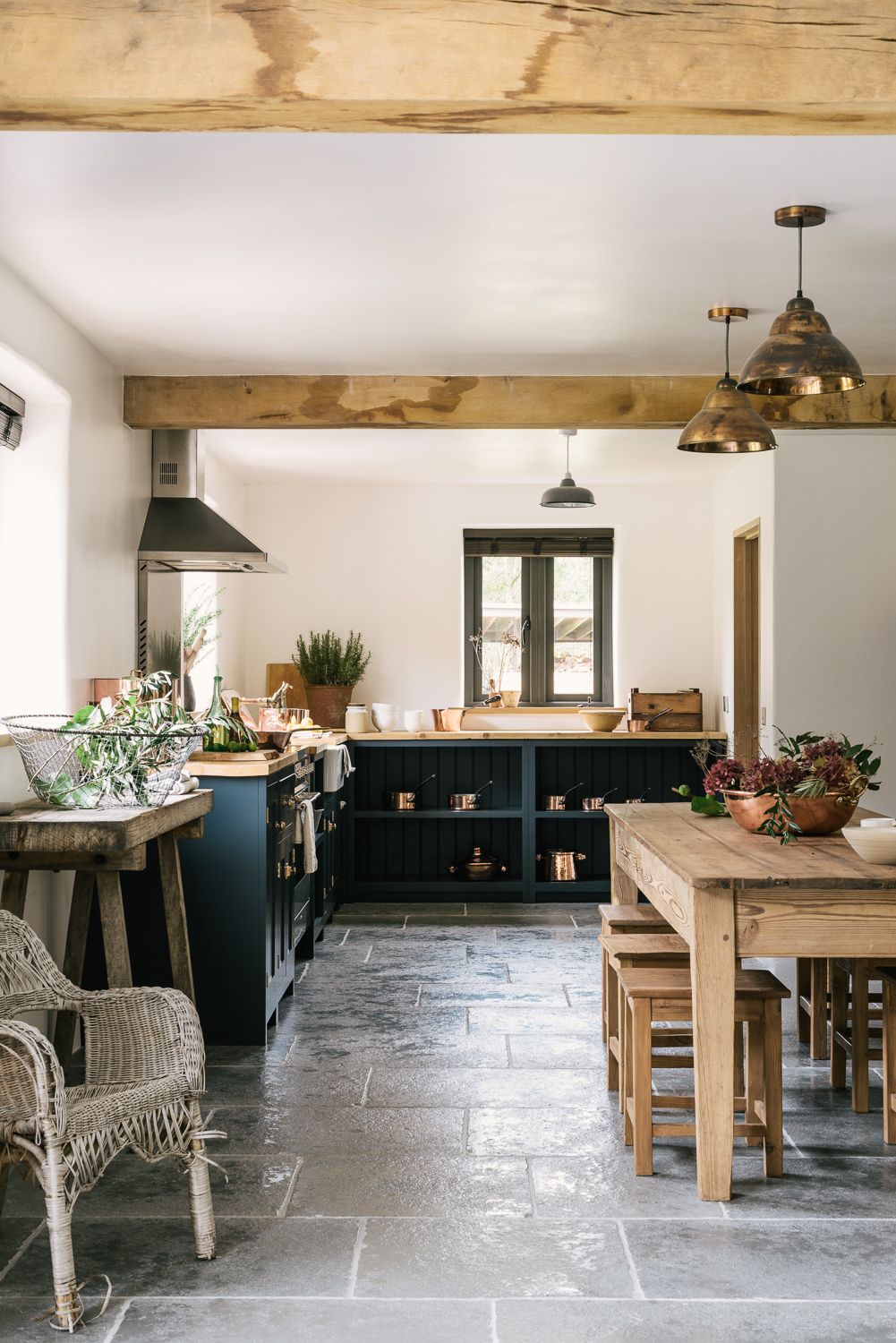 Colour is perhaps as important as the style of cupboards you choose as it will be the first thing anyone notices about your kitchen.
The most popular color choice for a kitchen is white, closely followed by cream, off-white and pale grey, and this is a good option if you want your kitchen to be a backdrop for you to add your own color and personality in decor while retaining a classic kitchen design that won't date, is easy to redecorate around in future, and which won't put off future house-buyers.
A white or pale-colored kitchen design also allows you more options when it comes to choosing decor – from kitchen tiles to kitchen flooring – as you can be bolder in your choices there. See white kitchen design ideas in our design gallery.
Grey kitchens are also very on-trend and work with both traditional and contemporary kitchens. See grey kitchens in our design gallery.
See dark kitchens – another massive trend at the moment – in our design ideas gallery, too.
If you're feeling brave or just love color, just check out our kitchen color scheme feature to get inspired.
7. Select the best kitchen worktops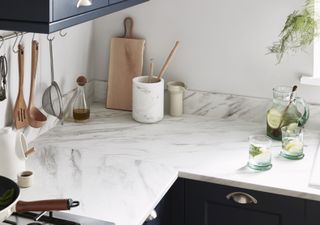 Kitchen worktops need to work with your budget as well as tastes. Laminate, at the budget end of the market, can take on the appearance of other materials and is easy to look after. Opt for the best quality you can. Wood looks warm and is pleasing to touch, but does need regular care. Natural stone can look spectacular and each piece has a unique appearance. It should be sealed. Man-made composites are hard-wearing and easy to look after.
Don't rule out more unusual materials, though. Stainless steel will create a professional look; concrete and concrete-look quartz can look beautiful and colored as well as the expected shade; and glass is eye-catching as a work-surface.
If you're not sure which kitchen worktop will work best with your new space, our guide to the best kitchen worktops talks you through the options in-depth, providing practical advice and design inspiration.
8. Choose the best kitchen wall tiles and flooring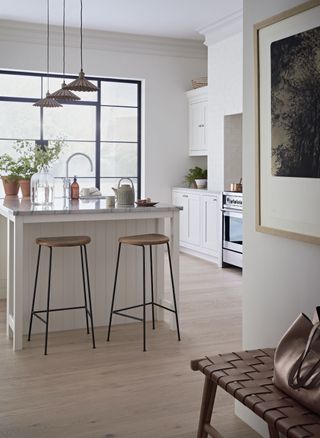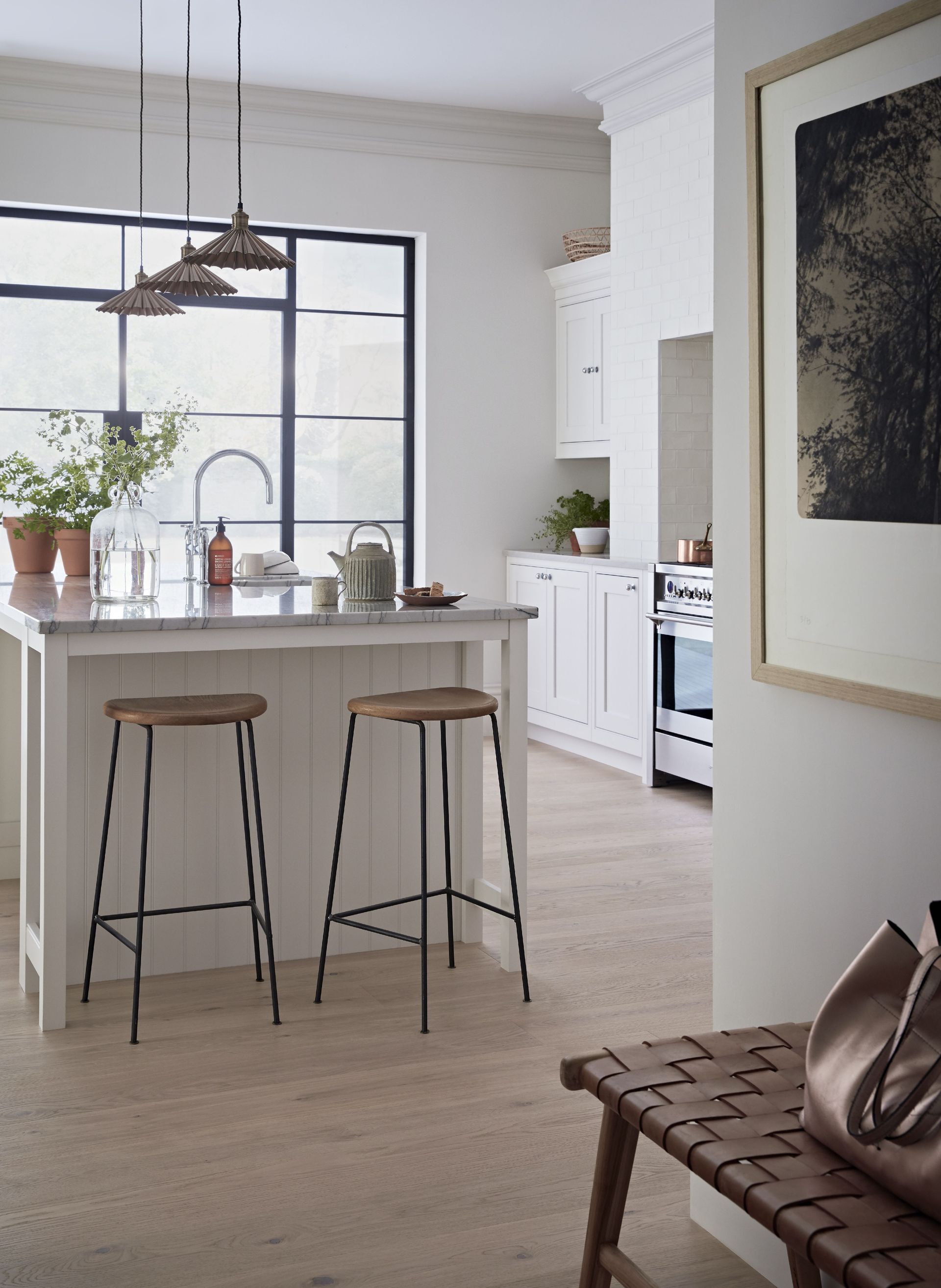 What you put on the kitchen walls is vital in a busy working space. And, it's a wise move to choose tiles around working areas. For all the know-how on choosing the best kitchen tiles, head over to our dedicated feature.
While kitchen flooring equally, has to be hard wearing to deal with splashes and high condensation. Find out more information on how to choose the best flooring for kitchens in our specialist feature; options include the following:
Tiles
Ceramic, porcelain or real stone are all possible for a kitchen. Take care requirements into consideration as well as costs. Explore your options in our guide to choosing floor tiles.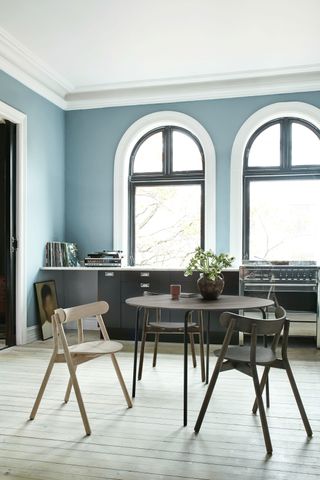 Wood
Solid wood is not generally recommended for kitchens because of the moisture in the room. Instead, we'd recommend opting for engineered wood, which has the appearance of real wood, but is designed to be stable in the conditions.
Find out how to choose the best engineered wood in our specialist guide.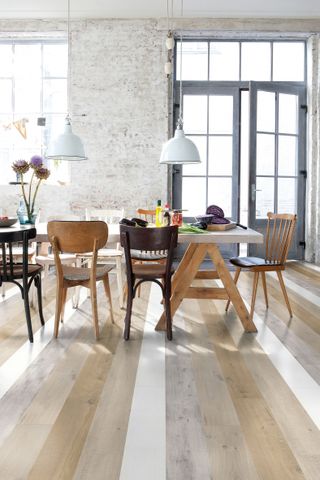 Laminate
If you love the look of wood – or tiles – laminate is a budget-friendly option that convincingly mimics the look of real materials. It's always recommended to buy the best quality laminate you can for your budget, as the cheaper options can look a little shiny.
You'll find plenty of inspiration, as well as more information on how to choose the best laminate flooring, in our guide.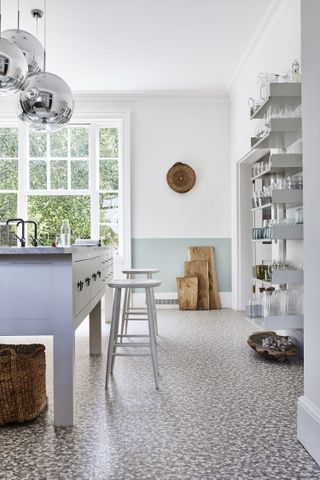 Vinyl
A budget-friendly option, vinyl not only mimics natural materials, but is also renowned for its durability, scratch resistance and easiness to clean.
Find out more in our guide to choosing vinyl flooring.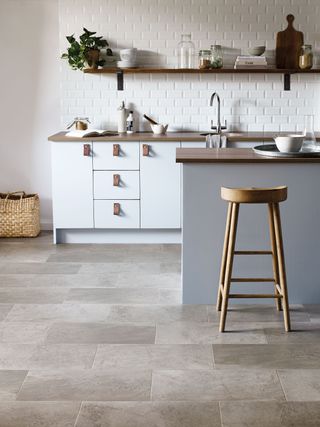 Rubber
You might also consider rubber if you're on the look out for flexible and contemporary flooring. Durable, hygienic and comfortable to walk on, it's becoming an increasingly popular option for kitchens.
As you might have guessed, we've got all the information you need when choosing rubber flooring, too.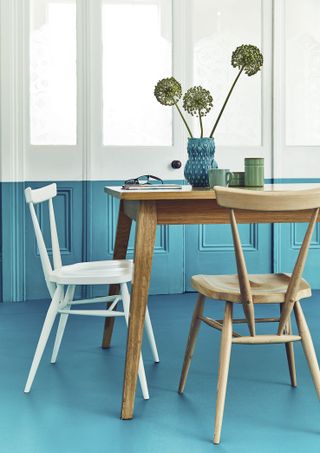 Concrete
Stylish, with a distinctly contemporary feel, resin and concrete flooring are fast becoming the flooring of choice for contemporary homes.
Perfect for kitchen floors and well-prepped bathroom floors, concrete and resin are durable and resistant to spills, dirt and stains, making them a practical material, too.
Find more tips on how to choose the best resin and concrete flooring in our specialist guide.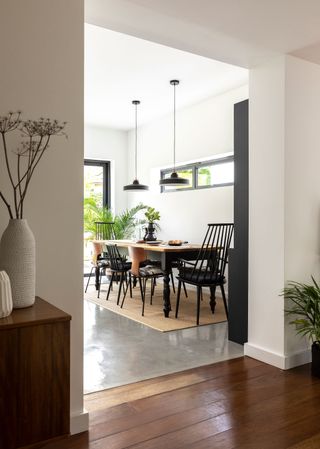 9. Design a kitchen lighting scheme to suit your space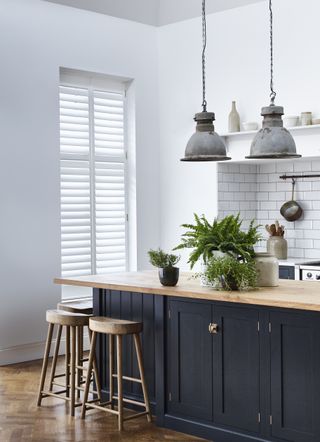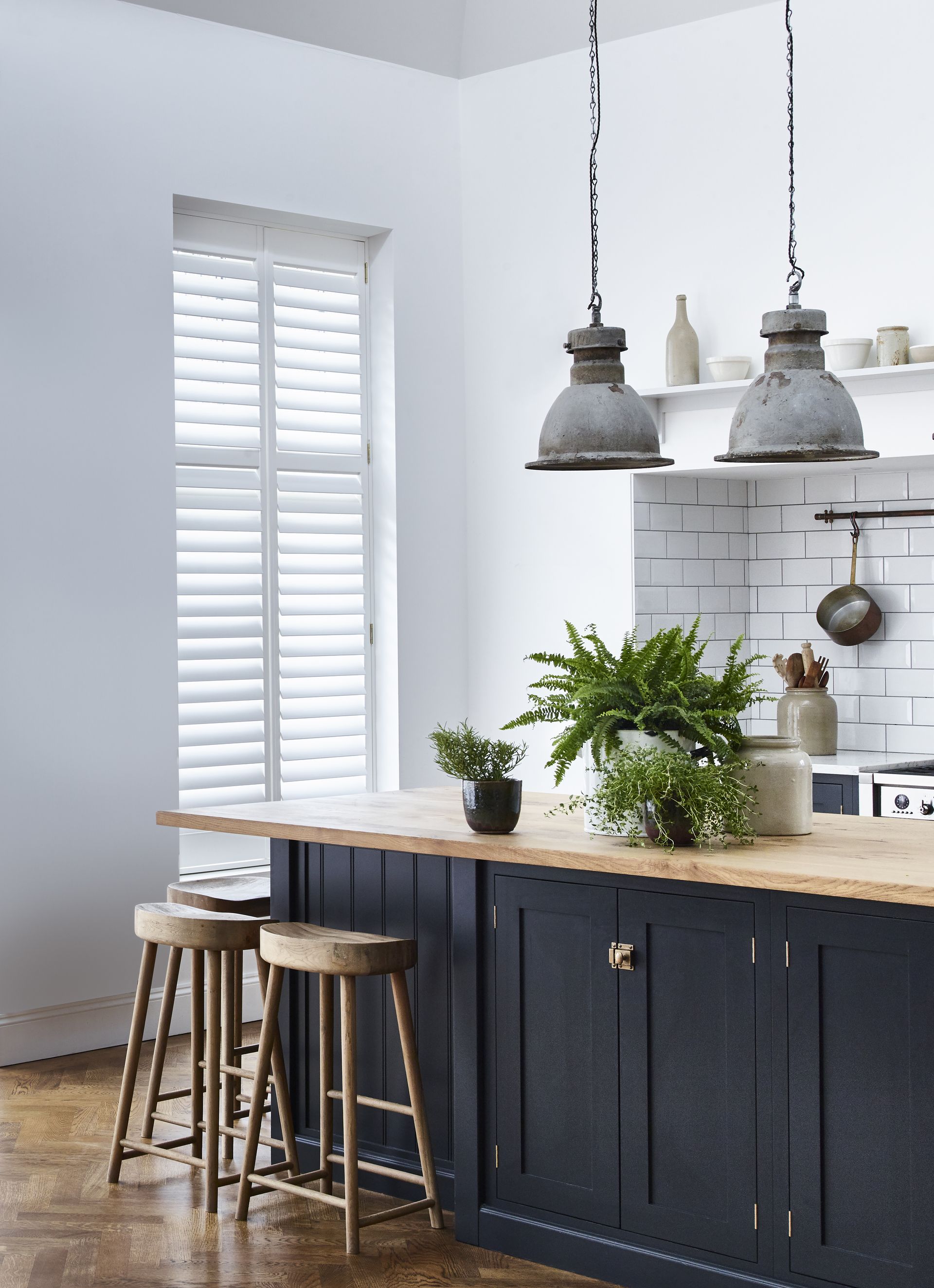 Factor kitchen lighting in early if you're determined to successfully design a kitchen. Ambient, task and accent lighting should all have their place in a kitchen lighting scheme whether it's in a separate room or part of an open-plan area.
Ambient light for a kitchen needs to be good enough for working with sharp knives and hot dishes. Ceiling spotlights can be supplemented with wall lights. Task lighting should illuminate work surfaces, cooker and sink area. It includes under-unit lights and directional ceiling spotlights. Accent lighting can include pendants for islands or a dining table, and LEDs beneath units that make them appear to float. Consider, too, lighting cabinet interiors to show off beautiful tableware placed on glass shelves. Make sure you plan in separate lighting circuits to operate the different types of light individually.
For more on how to plan kitchen lighting, check out our kitchen lighting ideas page.
10. Settle on kitchen window dressings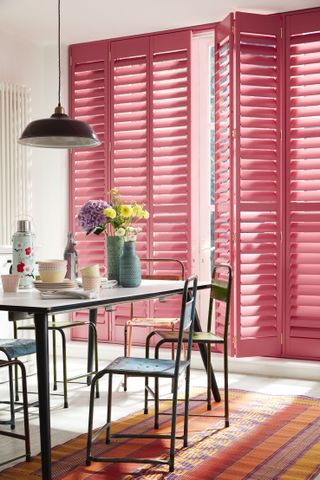 All kitchen window treatments stand up to the room's moisture, be unaffected by splashes if they're near the sink, and should be easy to clean. Explore our kitchen window treatment ideas to find the solution that works best for your kitchen design. Remember to consider the following:
Shutters work on both windows and French doors in a kitchen extension for a consistent look – browse our guide for tips on how to choose window shutters.
Kitchen blinds are practical and offer kitchen specific designs – find examples in our kitchen blind ideas.
For privacy and an option that doesn't take up space on the windowsill, window films are worth a thought. We have plenty of wonderful window film ideas, too.
Does your new kitchen need planning permission?
If you're planning to make internal structural changes to your kitchen, you won't usually need planning permission, as this is covered by permitted development.
The majority of single-story extensions are also covered by permitted development; however, certain exclusions and criteria apply, so always check with your local authority's planning department before starting work.
Even if you don't need planning permission, it may be worth applying to your local planning authority for a lawful development certificate, which proves that the work is lawful, and can be useful when you come to sell. If you are planning structural changes, make sure you use the services of an approved structural engineer – The Institute of Structural Engineers is a great place to source reputable people.
Read more about planning permission and permitted development in our specialist guides.
Who can fit a kitchen?
Many kitchen companies offer an installation service, although you can fit a kitchen yourself (our guide offers step-by-step instructions) if you're looking to cut the cost of your new kitchen.
If you do choose this option, your extractor and cooker will need to be installed by an accredited electrician, and you may need a plumber to fit your sink and water-based appliances. Due to the cost of most worktops, it's always best to ask a professional to fit these for you – mistakes can prove expensive.
Alternatively, if you're working with a kitchen designer, they may take charge of the entire project.
If you're planning on carrying out any structural work, you might need to find a reliable builder, joiner, plumber, electrician and decorator.
For each of the different trades, you should get at least three detailed written quotes – use our guide to find out how to compare quotes from tradespeople if you're looking for more information.
That said, recommendations are always the best way to find people to work with, so ask friends and family before searching online.
Bear in mind that the cheapest quote may not be the best if it does not meet all your requirements, and you need to feel comfortable with the people you choose to work with.
How much does a new kitchen cost?
It's easy to get carried away in the design process and think about budget last, but it should be on your mind at all times will planning. Set a budget and stick to it.
The cost of a new kitchen will of course depending on the size of your kitchen and the quality of everything you choose but according to Homeadvisor, homeowners spent an average of $25,440 or $150 per square foot. However, prices can increase quickly from there if you choose to add high-end features like custom cabinetry, natural stone countertops, or luxury appliances so be sure to include all of those expenses in your planning.
For more advice on how much does a kitchen cost check out our full feature.
What is the best app to design a kitchen?
Kitchen planning apps are a new and very handy addition to the world of kitchen design, we have tested out a few and really rate them. They make the idea of planning a kitchen way less daunting and frankly more exciting.
The Ikea kitchen planner is an oldie but goldie, it's more of a software for your computer than an app but if you are planning on buying an Ikea kitchen (or an Ikea carcass you are going to get new doors made for) it's the first place you need to start.
Space Designer 3D is online, so no need to download anything and is great for planning a layout and seeing how different configurations will work in your home. You do have to pay for it, but you can play around with it for free and it can help you come up with the perfect floorplan.
Planner 5Dis a free app that again is great for floorplans. Create your kitchen in miniature and play about with the design and configuration. You can flip between 2D and 3D too plus you can use the snapshot feature to 'take pictures' of your creation which we found ideal for adding to mood boards.