A living room design has to work hard. One minute they are host to movie marathons and the next transformed into a place for reading, homework and intensely competitive board games. And that means when it comes to planning living room lighting, there are quite a few different types to consider.
In general, living rooms tend to require three types of lighting: accent, task and ambient (overhead). But within those basic requirements, you are pretty much free to play fast and loose with your lighting. So whether you are looking for an elegant table lamp for a traditional living room or something a bit more statement to match your Mid-century style, we've got loads of stylish living room lighting ideas to get you inspired.
1. Keep it simple with contemporary lighting
Simple designs can often be the most striking in a modern living room, so go all out on dramatic shapes and unusual fixtures. Arc floor lights, with their elegant silhouettes and bulbous shades, are a modern classic, plus they are a great stand-in for overhead lights.
For similar a statement chrome light try Made.com.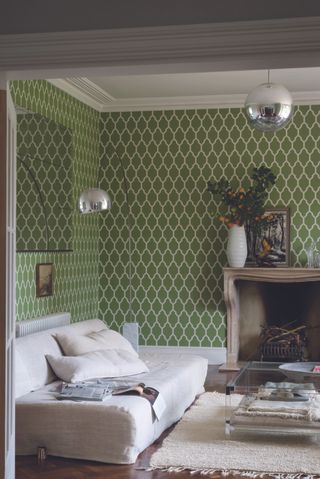 2. Soften the edges with warm wall lights
Creating a warm, even glow around the edges of your room is key, especially if you are working with a north-facing living room. Wall lights will bounce light back into the room, making it feel cosier and giving the room more depth than overhead lights.
They are also a good option if you have a small living room because they won't take up any precious square footage or clutter surfaces.
For similar, simple wall lights try Pooky.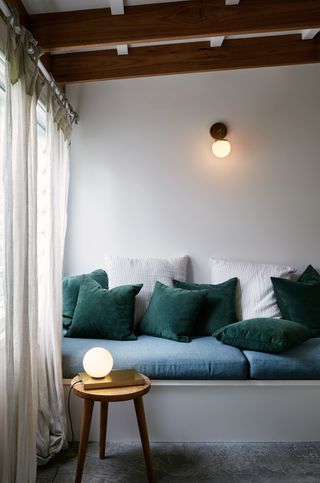 3. Traditional living room? Go for ornate sconces
Wall lights don't have to just blend into the background, if you prefer a traditional style in your living room opt for something more decorative. We love how the intricate design of this oak inspired wall light from Neptune fits perfectly in this simple grey living room.
When considering where to position wall lights, above eye level is usually best as this will avoid any glare.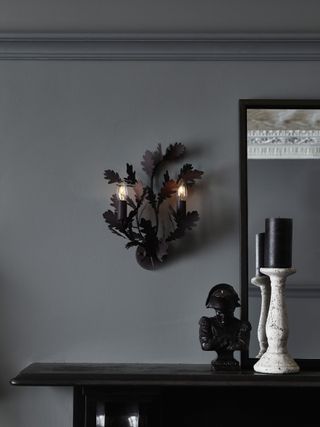 4. Make a statement with Mid-century modern designs
Want to get that Mid-century modern look in your living room? Invest in a standout chandelier or statement pendant light. Anything with oversized round bulbs and a sculptural design will inject that Mad Men vibe into your living room. West Elm has some incredible Mid-century modern inspired lighting, as does Heal's.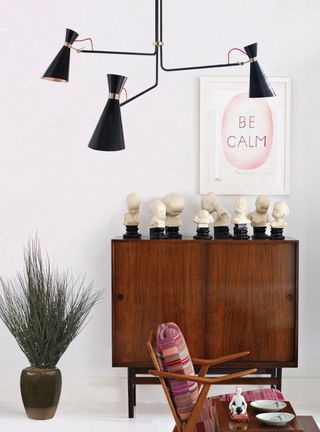 Low ceilings? Fear not, this Globe Pendant from Made.com makes a bold statement but won't touch the floor when you hang it.
5. Choose a steel pendant lamp for an industrial look
We've been obsessed with industrial style kitchens for a long time and we think we are ready to start incorporating this pared back look in our living rooms. Oversized metallic pendant lights, like this Keats Pendant from Neptune, instantly bring that vibe into a room, plus they make for great ambient lighting. Just be aware the light they produce can be harsh, so level it out with soft spot lights and warmer accent lights.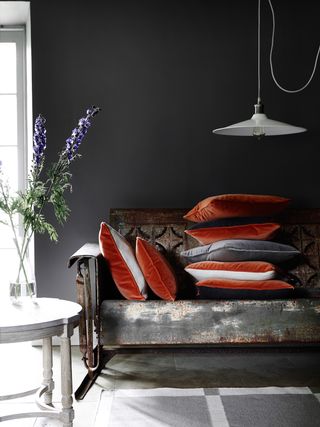 6. Create a Moroccan vibe with lanterns
Mix and match lanterns of different sizes and patterns, throw down some floor cushions, pile up plenty of textiles and transform your living room into a full on kasbah. Okay, not quite but you get what we are going for.
Lights4fun has a huge selection of lanterns which come with warm LED candles inside so you won't need to worry about the fire hazard that comes with having numerous exposed flames dotted around your living room.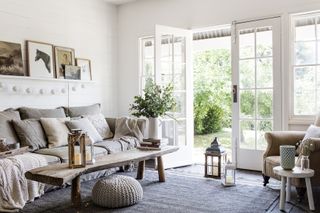 7. Incorporate functional task lighting
Specific task lighting is important in your living room if you often use it for reading or as a home office space. If you have a dedicated reading chair in your space, ensure it is well lit with a nearby floor lamp. The subtle design of this Delaktig lamp from Ikea makes it basically undetectable in this living room and the height is adjustable to suit your work space needs.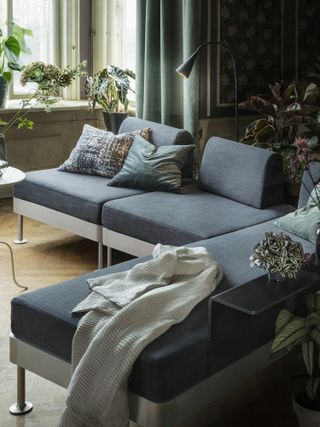 8. Illuminate a reading corner with a metallic table lamp
Still obsessed with copper accessories? Yep, us too. A simple metallic table lamp is a great way to add a contemporary edge to your living room, and it helps that they are also really functional and easy to manoeuvre, should your preferred reading spot ever change.
Find similar stunning metallic table lamps at Original BTC.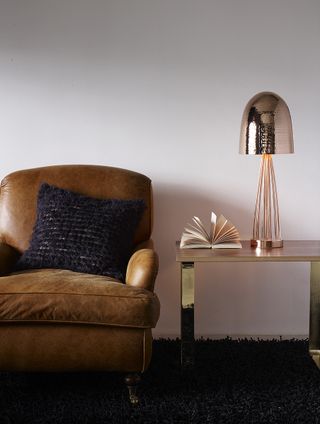 9. Create a gallery wall (with lighting)
For a really quirky take on a gallery wall, introduce some interesting wall lights. These wall lights from Curiousa & Curiousa make a bold statement but their resemblance to wall plates keeps the overall look from being too wacky.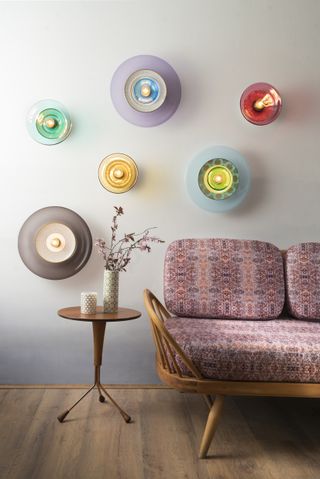 10. If in doubt, string up the fairy lights
Fairy lights: the secret weapon of any interior novice, they are most definitely the easiest (and cheapest) way to create some ambience in your living room. String them up over picture frames, along mantelpieces or around windows for some modern day candle light.
We love these festoon lights from Lights4fun. The micro fairy lights inside means that you get a warm glow rather than the bright light that you often get with carnival lights, plus the brass details are calling to us.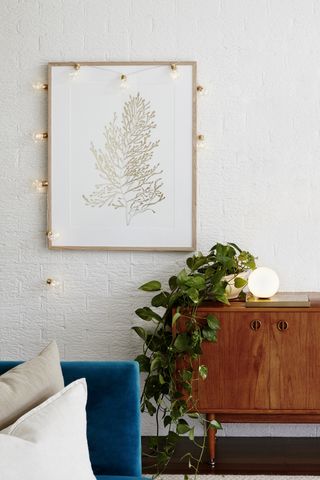 11. Embrace minimalist chic with a pared-down lamp
A statement floor lamp needn't be ornate to be effective. Go for a streamlined design and a nice, metallic finish. Voila, a versatile light that will elevate any living room design.
We love the Braque bronze floor lamp from Curious Egg. Simple and stunning.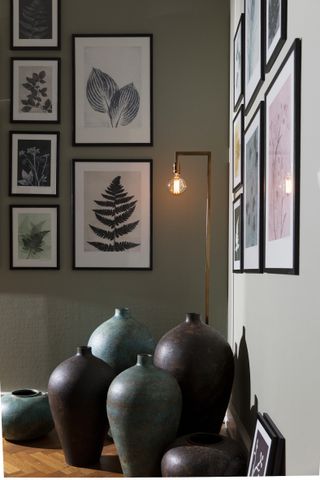 Want more lighting inspiration?