We do ask a lot of living room lighting ideas, don't we? These all important lights have to work in so many different scenarios. One minute your living room is host to cozy movie marathons and the next transformed into a place for reading, homework and intensely competitive board games. This does means there are quite a few factors to consider when looking for lounge lighting ideas.
In general, living room lighting tends to fall into three types: accent, task and ambient (overhead). But within those basic requirements, you are pretty much free to play fast and loose with your lighting.
We cover some super stylish ideas you can copy, before moving on to more of the technical side of living room lighting schemes below. If you need any more advice or inspiration, head to our living room ideas feature.
'Don't forget to layer; a common mistake is to focus on a showstopping piece and forgo lighting the rest of the room, leaving it lacklustre and without atmosphere. Contrast light and shade to create a dramatic finish. Think about lighting the space from the ground up. Wall lights, table lamps and floor lamps are perfect for layering. You can also use these to spotlight favorite objects in the room and light up cosy corners for reading and lounging.' Says Creative Director and Board Director Mary Buchanan of Där Lighting Group.
1. Keep it simple with contemporary living room lighting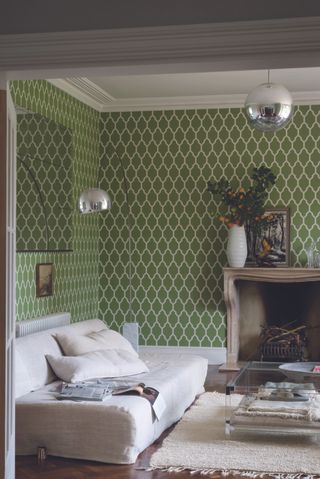 Simple designs can often be the most striking in a modern living room, so go all out on dramatic shapes and unusual fixtures. Arc floor lights, with their elegant silhouettes and bulbous shades, are a modern classic, plus they are a great stand-in for overhead lights.
2. Soften the edges with warm wall lights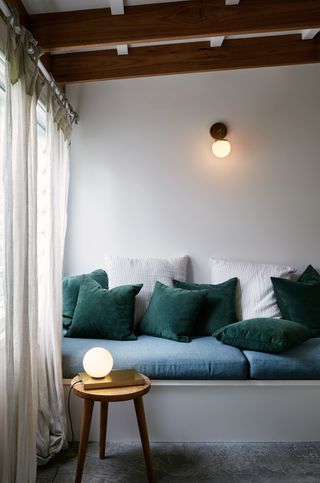 Creating a warm, even glow around the edges of your living room is key, especially if you are working with a north-facing living room. Introducing wall lights into your living room lighting will help bounce light back into the room, making it feel cozier and giving the room more depth than overhead lights.
They are also a good option if you have a small living room because they won't take up any precious square footage or clutter surfaces.
3. Need traditional living room lighting? Go for ornate sconces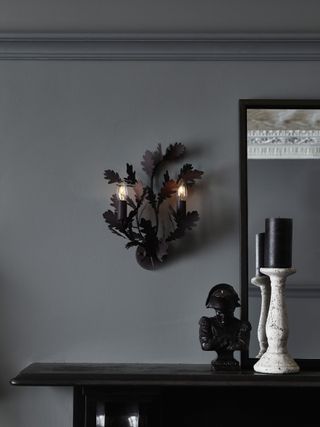 Wall lights don't have to just blend into the background, if you prefer a traditional style when it comes to living room lighting opt for something more decorative. We love how the intricate design of this sconce fits perfectly in this simple grey living room.
When considering where to position wall lights, above eye level is usually best as this will avoid any glare.
4. Make a statement with Mid-century modern designs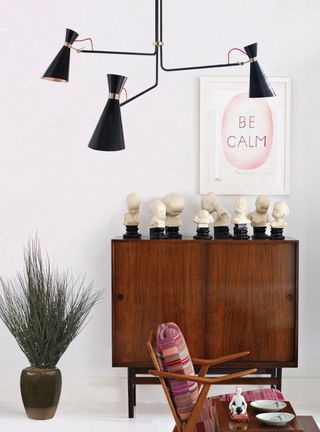 Looking for living room lighting ideas that are going to make a statement? Invest in a standout chandelier or statement pendant light. Anything with oversized round bulbs and a sculptural design will inject that Mad Men vibe into your living room.
5. Choose a steel pendant lamp for an industrial look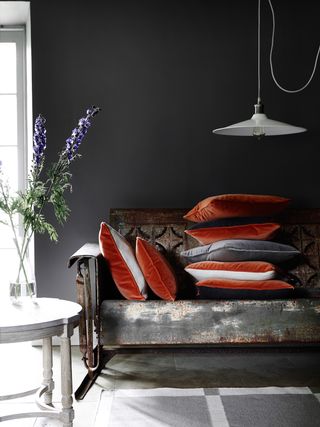 We've been obsessed with industrial-inspired interiors for a long time and love the idea of incorporating this pared-back look in our living room lighting.
Oversized metallic pendant lights instantly bring that vibe into a room, plus they make for great ambient lighting. Just be aware the light they produce can be harsh, so level it out with soft spotlights and warmer accent lights.
6. Create a Moroccan vibe with lanterns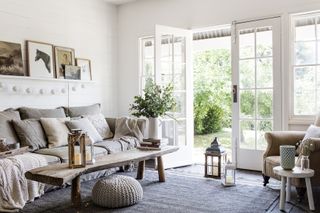 Mix and match lanterns of different sizes and patterns, throw down some floor cushions, pile up plenty of textiles and transform your living room into a full on kasbah. Okay, not quite but you get what we are going for with this living room lighting idea, right?
7. Incorporate functional living room lighting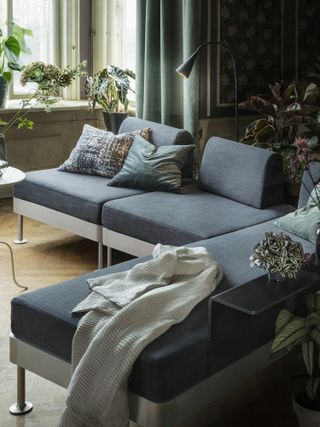 Specific task lighting is important in your living room if you often use it for reading or as a home office space. If you have a dedicated reading chair in your space, ensure it is well lit with a nearby floor lamp.
The subtle design of this Delaktig lamp from Ikea makes it basically undetectable in this living room and the height is adjustable to suit your work space needs.
8. Illuminate a reading corner with a metallic table lamp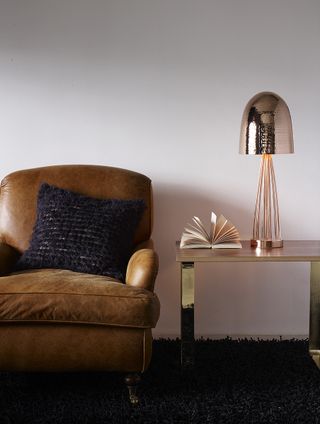 Still obsessed with copper accessories? Yep, us too. A simple metallic table lamp is a great way to add a contemporary edge to your living room lighting, and it helps that they are also really functional and easy to maneuver, should your preferred reading spot ever change.
9. Create a gallery wall (with your living room lighting)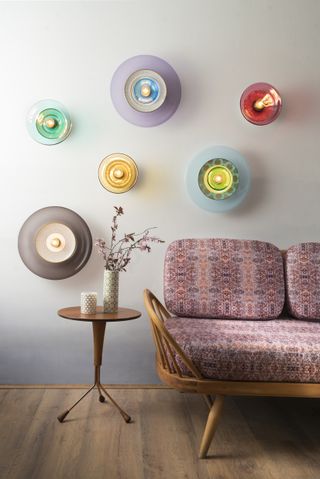 We love this living room lighting idea! For a really quirky take on a gallery wall, introduce some interesting wall lights. These wall lights from Curiousa & Curiousa make a bold statement but their resemblance to wall plates keeps the overall look from being too wacky.
10. If in doubt, string up the fairy lights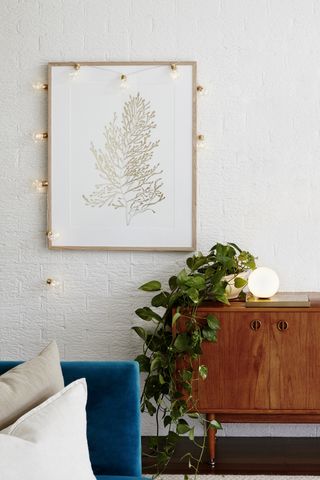 Fairy lights: the secret weapon of any interior novice, they are most definitely the easiest (and cheapest) way to create some ambiance with your lounge lighting. String them up over picture frames, along mantelpieces or around windows for some modern-day candlelight.
We love these Festoon Lights from Lights4fun. The micro fairy lights inside means that you get a warm glow rather than the bright light that you often get with carnival lights, plus the brass details are calling to us.
11. Embrace minimalist chic with a pared-down lamp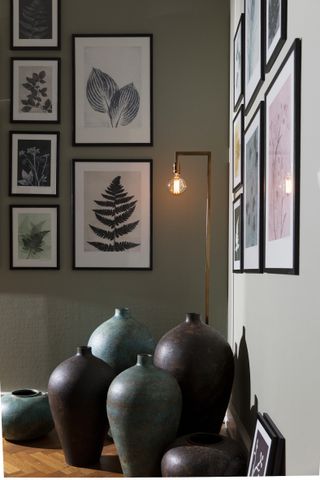 A statement floor lamp needn't be ornate to be effective as living room lighting. Go for a streamlined design and a nice, metallic finish. Voila, a versatile light that will elevate any living room design. Simple and stunning.
12. Pick an over-scaled floor lamp for drama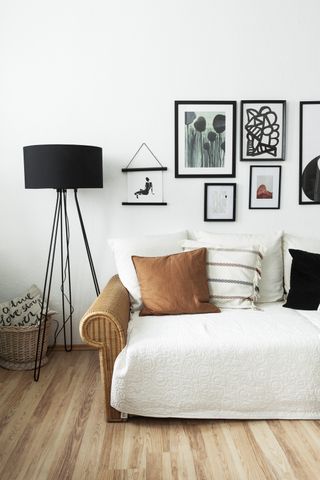 This type of lamp isn't going to cast bags of light about (in fact, black shades throw light up and down but not out); however, it will create an eye-catching focal point in a room. Pick a large scale shade for the biggest impact.
13. Centre a low lamp over a coffee table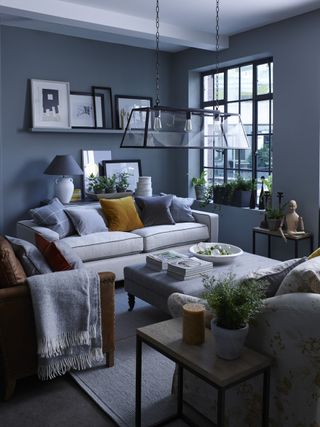 Why do this? Placing a low-slung lamp over a coffee table – or indeed dining table – makes that piece of furniture the focus of the room. And what do we want a living room to feel? Social! And by focusing the attention on the sofa/coffee table zone with a low-lit lamp, you're creating the perfect spot for hanging out. Like a moth to a lamp... guests will be drawn in its direction.
14. Put a lamp where it's not expected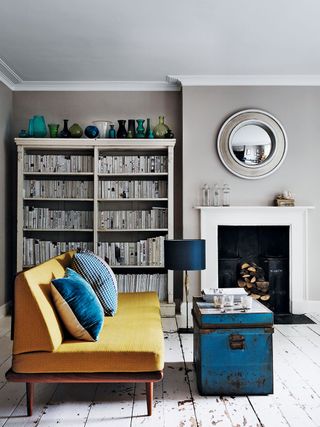 Got a new lamp you love? Treat it like you would a pot plant, a sculpture or a favorite objet, and put it somewhere you wouldn't normally to show it off. At the end of your coffee table? Next to the mantle? In the center of a bay window? Totally up to you how statement you make it.
15. Put a spotlight on your favorite pieces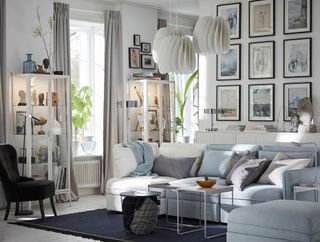 This living room lighting trick is so easy to do with stick-on spotlights – you don't even need an electrician. Plus, those pleasing pools of light washing over your favorite finds will just contribute to the laid back look of your lounge.
16. Go for a standout chandelier as living room lighting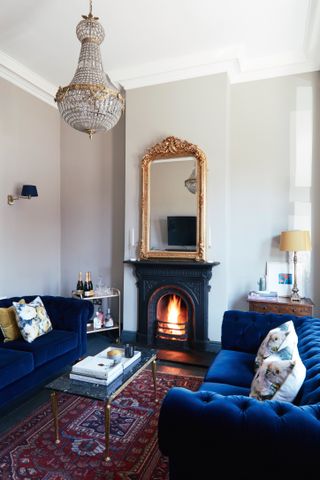 You just can't go wrong with a chandelier, they suit any space, modern or traditional. If you have a contemporary living room a really traditional, detailed chandelier can actually create the coolest of features as it contracts the rest of the space. In a traditional living room, a chandelier is just a must. Check our eBay for some stunning bargains.
17. Replace a pendant light with an arc light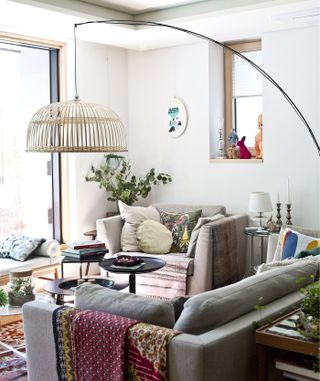 Arc lights can act like pendant lights in that they can hang in the center of your room, but unlike an overhead light they create a lower, more focused light so create a cozier space. They are also a great living room lighting idea if you want to zone your space but not totally rewire your overhead lights and you can move them around the room to focus on one space.
This would be perfect if you have an open plan kitchen with a mini living room in it as you can create a softer, more welcoming lighting in a room that elsewhere needs bright, task lighting.
18. Add in some fun neon lights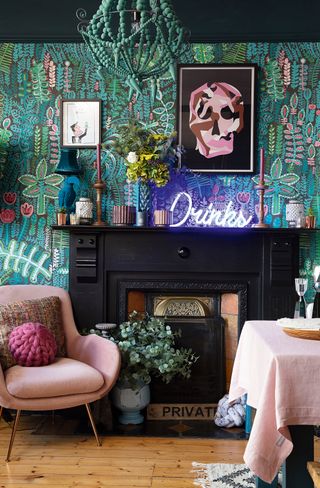 Neon lights hey? Who knew there would be making a comeback, we thought we'd left that vibey LED-lit room with a lava lamp in the corner and tie-dye wall hanging back in the '90s, but according to Pinterest they are back for 2021.
Bring just a hint of tasteful neon (if that's possible?) into your living room with a cute LED neon sign. You can get smaller lights like this one above or you could get something larger and more statement in your fave quote and make it the focus of your living room.
19. Hang low pendant lights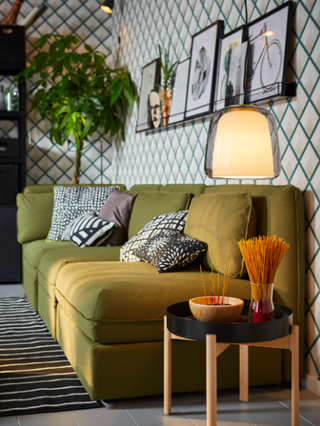 An adjustable pendant light that you can pull down to bring a soft light above a side table is a fab alternative to a table lamp. If you need a bit of extra light to read by, you can just pull down the light to a height that suits, but then you don't have the impracticality of it hanging at eye level full time.
20. Add spotlights for extra brightness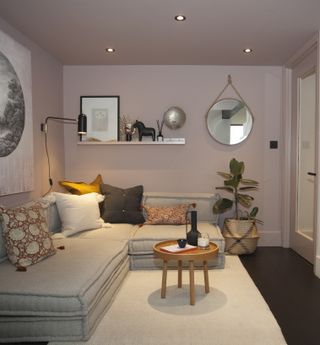 If you living room really lack natural light, spotlights can bring in that extra all over glow. Just be sure to add in some different light sources too warm up the space – wall lights and a floor lamps will do the job. Oh, and if you can make your spotlights dimmable even better!
21. Clash of the chandeliers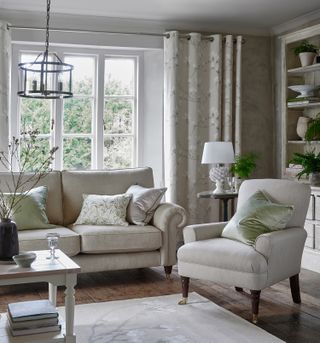 'When it comes to the living room, don't put practicality over style. Playing with different designs, textures and materials is a great way to add depth and show off your personal style. Try adding fun accents, a pineapple lamp adds a little quirk and amusement, perfectly juxtaposed with a striking chandelier. Clashing metals make a strong design statement, so don't be put off by pieces that once might've been seen as opposing.' Adds Buchanan.
How to plan living room lighting
Living rooms look their best at night when lit with layers of light. So, you'll rely on the typical three types of artificial lounge lighting: ambient, task and accent.
Ambient light
This mimics natural daylight and can be created with pendants, lamps and wall lights for soft pools of light and a relaxed atmosphere.
Task light
This is a focused light, whether in the form of bright ceiling downlights, or a desk or reading lamp.
Accent light
Created with spotlights, downlights and uplights, among other styles of lighting, this is especially used to highlight design features such as alcoves or artwork, but can also be created with table lamps to create zoned pools of light, especially in an open plan space.
Plan living room lighting around how you use your space
Before you start designing your living room lighting scheme, consider the practicalities.
Natural daylight: How much natural daylight does the room get, and when? South-facing rooms tend to be bright all day long – and, in summer, well into the evening – while north-facing living rooms might receive a minimum of daylight from morning to night.
Browse our specialist guide for more tips on how to design a north-facing living room.
Your room's proportions: Ceiling heights will affect the room's natural light levels, as well as the surfaces you're planning on fitting in the living room – light-colured walls, flooring and furniture will all bounce light around and lessen the need for artificial lighting.
When you use the room: Consider what time of day the room will be used, and how. You can then begin to plan in and adjust how much ambient light the room needs to be functional and relaxing, and what kind of task lighting would suit your family's needs. Seating areas, for example, require targeted lighting such as a directional floor light or a pendant light that provides a central overhead source.
Eliminating dark spots: Think about natural dark spots, too. For example, if you're planning a kitchen extension, the area in the deepest part of the extension, perhaps the living space, will lack natural light, and might need lighting during the day. However, it's worth talking to your architect first about improving light levels with glazing, bi-fold doors and rooflights.
Highlighting features: Once you've got your ambient and task lighting sorted, get creative with accent lighting to show off the features of your room. 'Accent lighting comes into its own when highlighting structural details and lines,' says interior designer Ben Rousseau. 'Consider illuminating inner spaces, such as alcoves and under cabinets, or along architectural details, such as supports and joists, by using the same "temperature" of light for a fun design.'
Check out our living room lighting ideas for more inspiration.
Consider how your living room lighting will be controlled
With a rough idea of the lighting effects you want to create planned out, you can think about how your living room lighting will be controlled – and this is where a bigger budget will come into play.
If you are renovating your home from scratch, it is worth talking to a lighting designer early on to include clever control systems in your scheme. 'The lighting design needs to be finalized before the first fix electrics – around the time you are thinking about plumbing,' says Sian Parsons, senior lighting designer at John Cullen Lighting. 'This will ensure the scheme is fully integrated into the joinery and architecture of each room. The more information provided about the furniture layout and decorative scheme, the better the lighting will enhance your home.'
No living room lighting scheme will look its best controlled by one switch – putting your living room lighting on different circuits is a must. Here's what to consider:
How many circuits? An average living room will need three circuits: one for downlights or the central pendant; one for table lamps; and one for wall lights, for example.
How many zones? An open plan kitchen/living/dining space will need more circuits, because you should treat each zone's lighting individually.
Opt for dimmer switches to set the mood – cheaply
If you are designing a living room on a budget, dimmer switches are an inexpensive option and are great for changing the mood of a room.
There are several types: a touch dimmer, controlled by touching the light or switch plate; a switch dimmer, turned on by adjusting a rotating or in-line switch on the lamp or switch plate by hand; and a remote dimmer, usually a wall plate with a remote control-operated touch-sensitive switch. This last type can be programmed to remember your ideal lighting levels.
Dimmers can't be used with energy-saving bulbs, but the dimming itself will usually save energy. Halogen bulbs can be dimmed but may need a higher wattage dimmer than the total wattage of the light fitting – a qualified electrician can easily deal with this.
Beware if you buy LED lamps for dimming, as you may experience flickering or overheating. This might be a sign that either the lamp isn't dimmable in the first place, or the dimmer is only capable of dimming lamps from certain manufacturers, so check your bulb is compatible with your switch.
For more advice, check out our guide to LED lighting.
Create the best living room lighting with the right bulbs
Don't just consider how your fittings look and where to position them – the bulbs you use will have a major impact on the light they produce, too. Here's what you need to know:
Tungsten bulbs produce a warm, instant light, last about 1,000 hours, get hot when lit and are fully dimmable. They are being phased out in favor of bulbs with greater energy efficiency.
Halogen bulbs give off a bright, instant white light, last about 2,000 hours, become hot when lit and are fully dimmable. They also come in low-voltage capsule types for armed lighting, which may require specialist dimmers.
Energy-saving bulbs, also known as compact fluorescent bulbs (CFL), give off a warm, white light, take around 60 seconds to warm up and last for 8,000 plus hours; they are not generally dimmable, although there are some versions available, which are not recommended for touch lamps.
LED (Light Emitting Diode) bulbs last for more than 20,000 hours, give off a warm, white light, are cool to the touch and are as efficient as energy-saving bulbs. Dimmable versions are available, although they are not recommended for use with touch lamps.
Light color can impact dramatically on your scheme. LEDs have a color temperature measured in kelvins (or K) — daylight measures around 6,000-6,500 kelvins; candlelight comes in at around 1,800 kelvins. While you may want your LEDs to give off cool white light above worktops in a kitchen, warm white is much more relaxing for living areas.
'The most versatile color for kitchen lighting, for example, is 2,700 kelvins, which gives off a slightly warm light that is creamy enough to have on during the day but is still a comfortable warm light for evenings,' says Rebecca Hutchison of John Cullen Lighting.
'For lights within shelving units, you would most likely have these on of an evening for atmosphere and so you'd more than likely select strips with extra warmth and go for 2,400 kelvins.'
Can you install living room lighting yourself?
If you are on a budget, you might be tempted to install your own lighting, but if you are carrying out any electrical work in your home or garden in England and Wales, you will have to conform to building regulations.
This means using an installer who is registered with a competent person scheme to seek approval from a Building Control body. You do not need to tell Building Control about repairs, replacements and maintenance work, extra power or lighting points, or other alterations to existing circuits, unless the work is carried out in a kitchen or bathroom.
For more information, browse our specialist guide: building regulations explained. Then, go to the Government's planning portal at planningportal.gov.uk.