If your garden is feeling neglected and shabby, now is the time to get outside and start the revamp. Creating a stylish outdoor space has never been easier and one of our big tips is all about zoning. Identifying separate areas using different materials is a great way to make the most of your outdoor space, and that's exactly why we love garden decking.
A deck gives you a great outdoor space for lounging, entertaining, chilling out and simply enjoying some fresh air. But how do you make it look more than just a few planks of wood? Well, take inspiration from these incredible ideas for making your deck look just the business.
1. Add a pergola
If the sun ever does shine you'll want a little shade from it, so why not add a covered pergola? You'll also be able to flex your green fingers and grow a few climbers along the structure to break up the space and add some greenery. This homeowner has created a beautiful outdoor room area using an open weave seagrass along the pergola allowing just enough light to break through.
This interiors blogger – Dear Designer – has created a stunning outdoor space using dark wood furniture and a hand-built pergola. Cushions from Wayfair.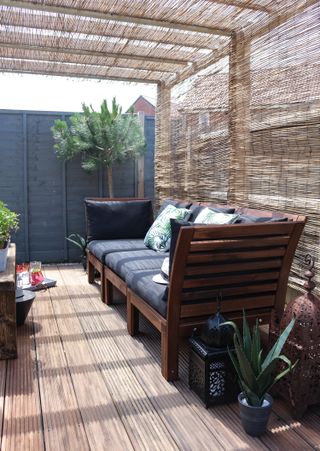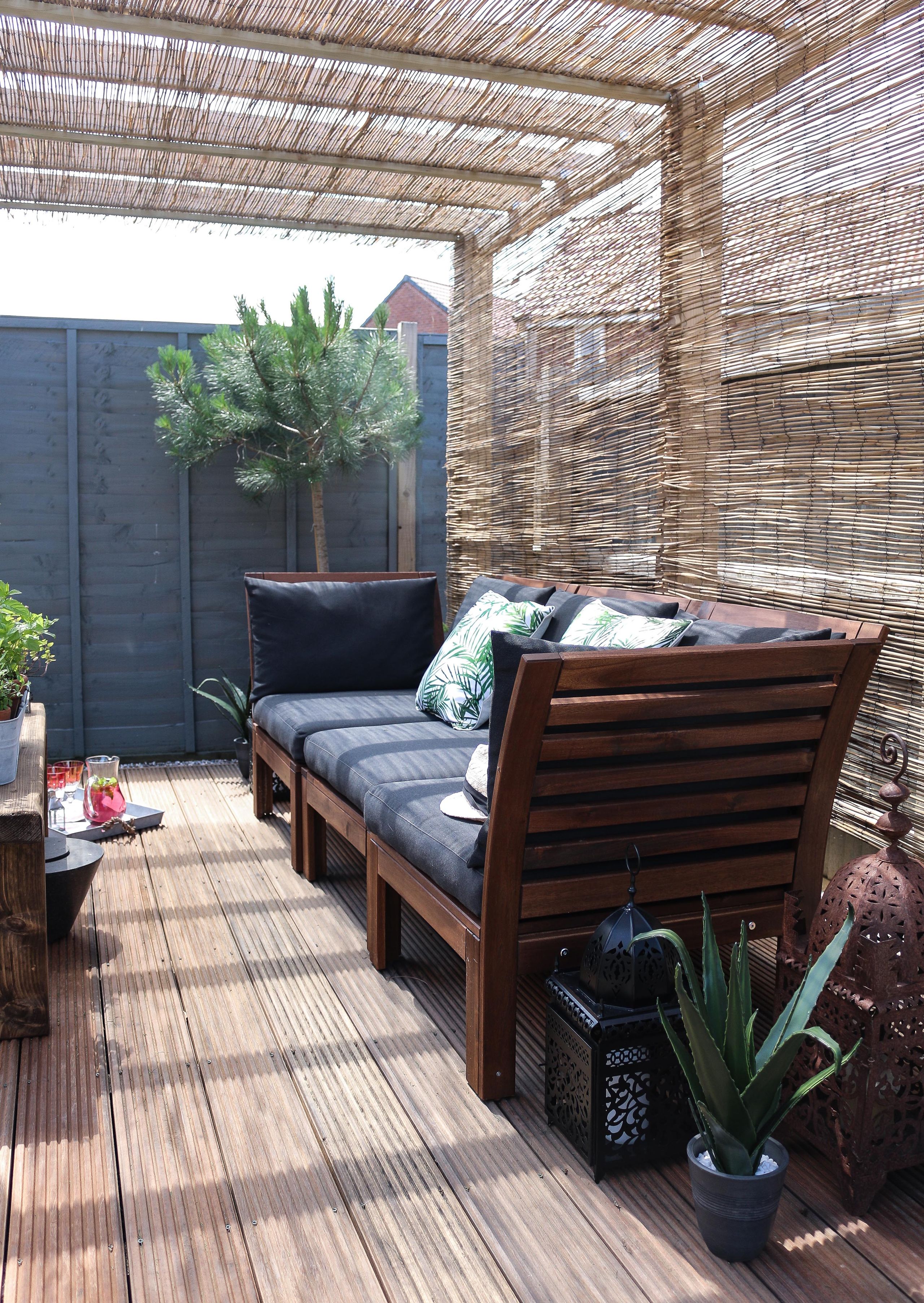 2. Keep it warm and cosy
The fire pit has become one of the most sought after decking accessories in recent years and for good reason. Add one to your deck space and instantly the area becomes accessible on cooler days and evenings allowing you to toast marshmallows well into the night as well as keeping you warm and cosy. Plus they look pretty darn stylish too.
This Garden Trading Idbury cast iron fire pit from Houseology is designed to rust over time and create a bespoke patina effect.
3. Deck railings
If you're lucky enough to have a raised area in your garden, it's the perfect spot for a railed decking area. Edge your decked space with railings that suit your garden style to help it feel enclosed, to offer safety and that all important zoning. Then start designing your space adding pieces for entertaining or relaxing, making it suitable for you, your guests and the family.
This wonderful decked space was created by Stacey, blogger at The Design Sheppard. Outdoor rug is from Dash and Albert , Palm Cube dining set from Kettler and sheepskins and blankets from Ikea.
4. Nautical but nice
The nautical look never goes away, and each season is refreshed and renewed. It's also an incredibly popular look for your outdoor deck; the wood and rich blue tones marry well together to create a stylish and on-trend feel. Add lots of soft furnishings in blues and creams, coupled with storm lanterns for an authentic vibe, and don't worry if your wood feels a little worn, that's all part of the charm.
House of Fraser have some great garden pieces in their SS18 collection including these outdoor round lanterns. Coupled with textures like the blue striped cushion it creates the nautical look we're after.
5. Colourful dining
Your decking furniture doesn't always have to be monochrome and by adding some colourful chairs you can really bring your deck area to life. Mix and match your colours – which is a big trend right now – and you'll have the most fashionable outdoor dining space you could imagine. It's fun, vibrant and maintenance free leaving you more time to sit, relax and enjoy.
The set of 8 vintage chairs and teak table is available at Out & Out Original and is designed for outdoor use. With a table measuring 220cm and eight chairs in total, the Vintage Pop Colour 8 Seater Dining Set is perfect for hosting summer garden parties.
6. Light it up
One aspect of decking design which you'll need to take into consideration, particularly in the UK, is the addition of deck lighting. If you want to use the area later in the evenings, then adding some lights makes it much more useable, and adds a wonderful atmosphere too of course. It's important not to dismiss ambience in our garden spaces and help create the right mood for alfresco drinks and dining.
Lifestyle blogger Antonia, from Tidylife has created a family friendly area using LED festoon lights and outdoor lantern from Dotmaison.
7. Feed your wood
If you love the look and feel of natural wood, then you must remember to stain it regularly. Most decks do require maintenance of some kind or another, but why not use your stain to make a feature of the space. In this garden, different coloured stains have been used on the decorative wood to create a very effective look which is easy to follow through to the deck itself.
This garden makeover featured different 'room' areas within a Victorian garden and an interesting use of wood and staining to create a natural yet vibrant feel. Find similar deck stains at Cuprinol.
8. Keep it natural
While we might not always have a Mediterranean climate here in the UK, we can connect to past holidays by creating a vacation inspired deck area. Using natural materials like bamboo in our furniture and accessories is just one way to ensure we maintain that summery vibe, and keeping colours muted can create a more sophisticated overall design.
This Arizona bistro set from George at Asda for SS18 sits well in a small decked spot outside the house.
9. Solar powered
There are so many benefits to solar lighting, the main one being the ease and simplicity around installation. Adding some solar powered deck lighting will really make the space a useable area and help shape the deck into fun filled, welcoming part of the garden. With an abundance of styles and types on the market, do your research and find those within budget that fulfil your requirements. The more varied a selection you can install, the better the overall effect.
Just as you would use lighting indoors, consider how to layer solar lights on your deck. Add fairy lights, festoon lights and lanterns, as well as deck spots, all solar powered like this new collection from Lights4Fun to add layers of light.
10. Decking storage
Treat your outdoor deck area just as you would any indoor room. Remember how clever storage can be a great way to display your favourite possessions? Well that's no different out on the deck, and a storage shelf will showcase your best plants and herbs to great effect. Add some lights and you've got the perfect practical look.
This B&Q garden shelving unit is part of the new SS18 Rural Collection which includes products of a rustic, handmade aesthetic, combining farmhouse styling with a polished contemporary feel.
11. Build a summerhouse
While you'd need to lay a gravel base, many summerhouses are built on a deck platform, which can look sophisticated and blend well with the design of the structure. This homeowner has created a retro chic space at the bottom of her garden, making the most of the sun but providing shelter and shade from the elements when they get too much.
Lifestyle blogger, Amanda from The Ana Mum Diary built a stunning summerhouse from Waltons and decorated it with mid-century accessories.
12. Add some colour
Deck colours don't have to be bland and brown. There are myriad deck paints out there which allow you to jazz up your outdoors and splash a little personality onto your deck. If you want sleek and sophisticated go for greys; bold and bright try an orange; or keep it more natural and choose a subtle green. The best news is the paint seals and nurtures the wood too.
Ronseal decking rescue paint comes in 10 different colours, smooths the rough surfaces and fills cracks, leaving your wood with long lasting colour and protection.
13. Keep it green
Soften the look of your wooden deck with the addition of plants and foliage. If you're green fingered, choose real, but there is a whole host of faux plants available now so shop around. Vary the height and style, and cluster your pots into groups for the best visual effect. Invest in good quality pots and don't forget your watering can.
You can always find a good selection of outdoor plants at Wyvale Garden Centres.
14. Decking wood
Decking wood comes in many forms and it's always worth researching what will work for your garden and for those who will be using the area. Consider how much time and effort you want to spend on maintenance too. This beautiful decked garden room was created for BBC's Getting the Builders In and features a composite decking material, in anthracite.
Sian Astley, interior designer and builder at Moregeous Design created this raised, covered area using composite decking. Available from retailers like Timbertech, composite deck boards don't rot, warp or splinter, and require very little maintenance.
15. Small, yet perfectly formed
If space is limited but you'd still like to create a decked area, then let this stunning decked courtyard inspire you. Packed with all the essentials including a bistro table and chairs, bench seating area, colourful plant pots and lights, added flair comes in the shape of the canopy. It's the perfect way to make use of an underused side return.
Blogger and interior stylist Maxine Brady has created this beautiful yet incredibly practical area at her sunny seaside home. Colourful plant pots are available at Homebase, and get a similar Bistro set from Wayfair.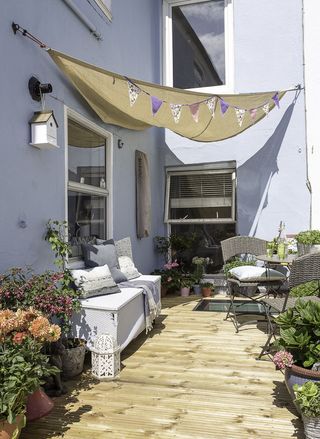 Kit out your garden decking with products from our expert buying guides: