These decking ideas will have something suitable for every decking style, and for every season. Yes, autumn is here, but that's no reason to stop enjoy your deck. We say: invest in a nice electric heater, throw on a couple of blankets, and carry on. 
Autumn can also be a great time to experiment with a new style: perhaps you'll make your decking area look more Scandi? Or you might opt for a sumptuous and colourful look with lots of cushions and Moroccan lanterns?
A great looking deck is about so much more than just the wood itself. Take inspiration from our brilliant decking design ideas for making your deck look just the business. 
Need more practical advice? Find out how to design a deck and how to install decking in our step by step guide.
1. Add a pergola for shade
If the sun ever does shine you'll want a little shade from it, so why not make a covered pergola your decking design idea #1? You'll also be able to flex your green fingers and grow a few climbers along the structure to break up the space and add some greenery. This homeowner has created a beautiful outdoor room area using an open weave seagrass along the pergola allowing just enough light to break through.
Feeling up for a DIY project? Find out how to build a pergola.
This interiors blogger – Dear Designer – has created a stunning outdoor space using dark wood decking furniture and a hand-built pergola. Cushions from Wayfair.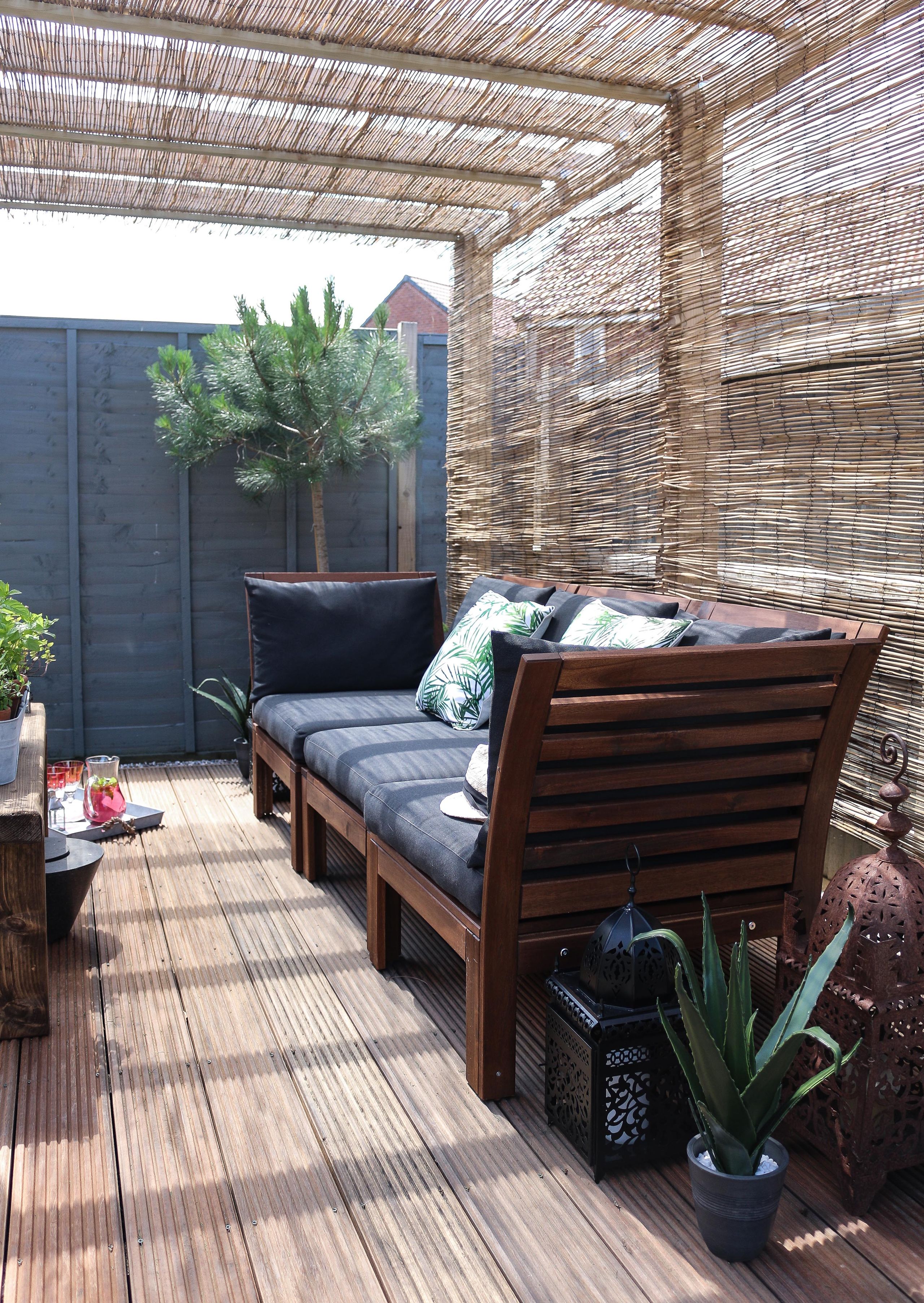 2. Keep the deck warm and cosy
The fire pit has become one of the most sought after decking accessories in recent years, and for good reason. Add one to your deck space, and instantly the area becomes accessible on cooler days and evenings, allowing you to toast marshmallows well into the night, as well as keeping you warm and cosy. Plus, fire pits look pretty darn stylish too. Protect the decking wood by placing the firepit on a large paving slab hearth.
The Garden Trading Idbury cast iron fire pit from Houseology is designed to rust over time and create a bespoke patina effect. 
You could also have a chimenea out on your deck. Take a look at out pick of the best chimeneas to heat up your outdoor space.
3. Raised decking ideas
If you're lucky enough to have a raised area in your garden, it's the perfect spot for a railed decking area. Edge your decked space with decking railings that suit your garden style to help it feel enclosed, to offer safety, and to achieve a zoning effect. Then start designing your space by adding pieces for outdoor living, making it suitable for you, your guests, and family.
This wonderful decked space was created by Stacey, blogger at The Design Sheppard. Outdoor rug is from Dash and Albert , Palm Cube dining set from Kettler and sheepskins and blankets from Ikea.
4. Create a nautical theme for your deck
The nautical look never goes away, and is refreshed and renewed every season. It's also an incredibly popular look for your outdoor deck; the wood and rich blue tones go well together to create a stylish and on-trend deck design idea. Add lots of soft furnishings in blues and creams, and accessorise with storm lanterns; don't worry if your wood feels a little worn, as that's part of the charm. 
House of Fraser have some great nautical-themed garden pieces, including these outdoor round lanterns. Coupled with textures like the blue striped cushion, they create the nautical look we're after.
5. Choose colourful outdoor dining furniture
The garden furniture on your deck doesn't always have to be monochrome; by adding some colourful chairs you can really bring your deck area to life. Mix and match your colours – which is a big trend right now – and you'll have the most fashionable outdoor dining space you could imagine. It's fun, vibrant and maintenance-free, leaving you more time to sit, relax and enjoy.
Find out how to choose garden furniture in our guide. 
6. Light up your decking
One decking design idea which you'll need to take into consideration, particularly in the UK, is the addition of lighting to your decked area. If you want to use the area later in the evenings, then adding some lights is a must. 
It's important to plan your garden lighting to create the right mood for al fresco drinks and dining. Next, consider the type of lights you will use. Solar decking lights are a popular – and eco-friendly – option, as are LED lights and candles.
Lifestyle blogger Antonia, from Tidylife has created a family friendly area using LED festoon lights and outdoor lantern from Dotmaison.
7. Covered decking ideas for private dining
A covered deck needn't mean giving your deck a roof – it can just mean giving it shelter with screening. If you love the look and feel of natural wood, then you must remember to use decking stain or decking oil – and do it regularly. Most decks do require maintenance of some kind or another, but why not use your stain or oil to make a feature of the space? In this garden, different coloured stains have been used on the decorative wood to create a very effective look which is easy to follow through to the deck itself. 
This garden makeover features different 'room' areas within a Victorian garden and an interesting use of wood and staining to create a natural yet vibrant feel. 
Find the best decking cleaners, decking oils, decking stains and decking paints in our buyer's guides. 
8. Keep to natural materials for furniture
While we might not always have a Mediterranean climate here in the UK, we can connect to past holidays by creating a vacation-inspired decking design idea. Choosing natural materials such as bamboo for furniture and accessories is just one way to create a summery vibe, while keeping colours muted can create a more sophisticated overall design. 
This Arizona bistro set from George at Asda works well in a small decked spot outside the house. 
9. Choose solar powered lighting for your decking
There are many benefits to solar lighting, but the main one is the ease of installation. Adding some solar decking lights will make the decking area functional and will help shape the deck into a fun-filled, welcoming part of the garden. There's an abundance of styles and types available, so do your research. The more varied a selection you can install, the better the overall effect. 
We have the best solar-powered lights for your garden.
Just as you would use lighting indoors, consider how to layer solar lights on your deck. Add fairy lights, festoon lights and lanterns, as well as deck spots, all solar powered like this new collection from Lights4Fun to add layers of light.
10. Tidy the deck with good garden storage
Treat your outdoor deck area just as you would an indoor room. Clever garden storage is a must to keep everything tidy, as well for displaying your best plants and herbs. Add some lights, and you've got the perfect practical look.  
This B&Q garden shelving unit is part of the Rural Collection which includes products of a rustic, handmade aesthetic, combining farmhouse styling with a polished contemporary feel. 
11. Build a summerhouse on your deck
Considering adding a garden room? While you'd need to lay a gravel base, many summerhouses are built with a deck platform, which can look sophisticated and blend well with the design of the structure. This homeowner has created a retro chic space at the bottom of her garden, making the most of the sun but providing shelter and shade from the elements when they get too much. 
Lifestyle blogger Amanda from The Ana Mum Diary built a stunning summerhouse from Waltons and decorated it with Mid-century accessories. 
Find 15 gorgeous garden rooms here to inspire you further.
12. Add some colour by painting your deck
Decks don't have to be bland and brown. There are myriad decking paints out there which allow you to jazz up your outdoors and splash a little personality onto your deck. If you want sleek and sophisticated go for greys; for bold and bright try an orange; or keep it more natural and choose a subtle green. The best news is that the paint seals and nurtures the wood too.  
Ronseal decking rescue paint comes in 10 different colours, smooths the rough surfaces and fills cracks, leaving your wood with long-lasting colour and protection.
Find the best decking paints, decking stains and decking oils in our buyer's guides.
13. Boost greenery with potted plants
Soften the look of your wooden deck with the addition of plants and foliage. Vary the height and style, and cluster your pots into groups for the best visual effect. Invest in good quality pots and don't forget your watering can. 
Find out more about container gardening for small spaces.
You can always find a good selection of outdoor plants at Wyevale Garden Centres. 
14. Choosing your decking wood
Decking wood comes in many forms, and it's always worth researching what will work for your garden and for those who will be using the area. Consider how much time and effort you want to spend on maintenance too. This beautiful decked garden room was created for BBC's Getting the Builders In and features a composite decking material, in anthracite. 
Sian Astley, interior designer and builder at Moregeous Design created this raised, covered area using composite decking. Available from retailers such as Timbertech, composite deck boards don't rot, warp or splinter, and require very little maintenance. 
Find the best materials for your deck in our guide.
15. Small garden decking ideas
If space is limited but you'd still like to create a decked area, then let this stunning decked courtyard inspire you. Packed with all the essentials including a bistro table and chairs, bench seating area, colourful plant pots and lights, added flair comes in the shape of the canopy. It's the perfect way to make use of an underused side return. 
We have more clever decking ideas for small gardens. 
Blogger and interior stylist Maxine Brady has created this beautiful yet incredibly practical area at her sunny seaside home. Colourful plant pots are available at Homebase, and get a similar Bistro set from Wayfair. 
16. Use decking to neatly surround a water feature
We love this idea – the style of the pond and the planting is good old country garden, but the neat decked edging gives the garden a distinctly contemporary appeal that's practical, too. Find out more about planning a water feature into your garden design.
17. Decking ideas for private spaces
Creating a strong vertical garden around your deck will give you a private space that's still spacious. Choose perennials that won't drop their leaves so that your decking remains secluded all year round. Use our guide to creating a vertical garden to find out the practical implications; our feature on creating privacy in your garden will give you more ideas, too.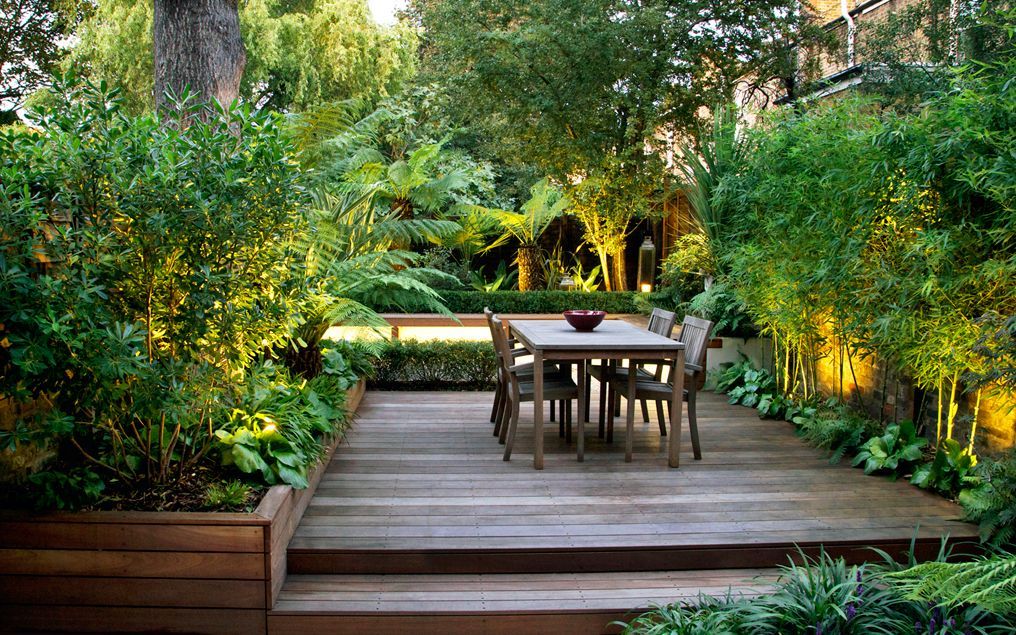 18. Cut out planted beds to create a deck with an irregular shape
Working decking around existing flowerbeds or creating new beds with your newly laid decking will help embed the deck itself within the garden (one decking design idea you really want to avoid is where your deck looks 'plonked in' with no connection to the rest of the garden. Here, the relationship between the decking and  flowerbeds is created to perfection.
19. Bespoke decking ideas with lights
Decking lighting is essential to a good-looking deck at night, and we have already covered fairy lights and solar lights for an instant effect. But there are lots of other lighting options, from traditional built-in spot lights to more unusual bespoke lighting options. 
This rooftop multi-level deck has been enhanced with integrated panel lighting that accentuates the steps. Designed by dSpace Studio. 
20. Hot tub decking ideas
Decking with a hot tub is a popular option, especially in climates where a swimming pool would not be practical for most of the year. There are several options for including a hot tub into a deck, but we think that a semi-covered hot tub is the best year-round option. 
This decking hot tub is sheltered under a Renson Camargue Louvered Canopy by Garden House Design. 
21. Enhance safety with a decking balustrade
Decking balustrades come in a variety of materials and designs, from simple wooden railings to sleek metal and glass panels. Our advice is to choose a balustrade that matches the design of your home and garden and looks like an extension of the facade. For traditional gardens and period properties, we think nothing works better than a simple wooden railing, such as the Softwood Handrail System from eDecks.
22. Choose composite decking for longevity
Like wood but want longevity? You can buy wood-effect decking with the durability of concrete, such as the Millboard Composite Decking Weathered Vintage from Garden House Design or  Marshalls' Woodstone sleepers.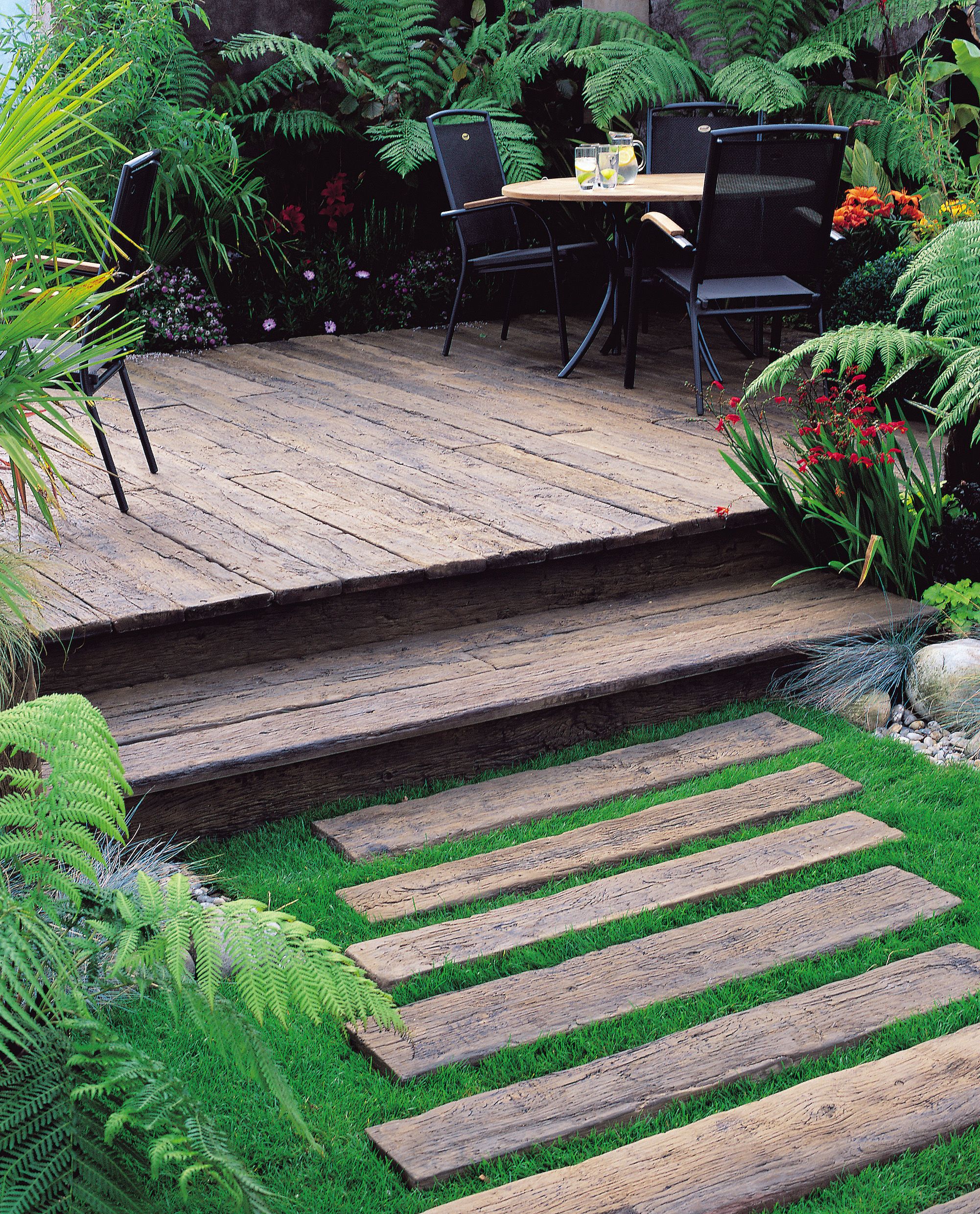 23. Decking sun shades: contemporary style and bags of protection
Here's a decking idea that makes sense in a heatwave: put up a sun shade above your deck – it's both a practical addition to your outdoor space, protecting you (and the deck) from excess heat, and a stylish solution that will emphasise your dining area and create a chic boudoir look.
24. Contrast warm decking wood with grey furniture
Blonde decking wood is a popular choice for contemporary garden design, but a warm shade can look just as smart. If you are going for warm wood, however, opt for light, cool-toned garden furniture – it'll give the whole look more of a 'lift'. 
This deck has been furnished with The Taavi Outdoor Sofa Set from Garden House Design. 
25. Combine decking lighting with heating
As the weather gets cooler, you'll likely be thinking about ways to keep your deck warm, so that you can still use it throughout autumn. Patio heaters are not always the best looking things, but many newer electric models combine great style with great infrared heating properties.
We like how the Baconton Patio Heater looks almost like an outdoor floor lamp; perfect for creating that indoor-outdoor living space vibe. 
More decking ideas
Considering railings? Bear in mind that they'll block your view of the garden beyond. If they will obscure an idyllic scene, consider a glazed balustrade. Richard Burbidge sells a wide range, from timber to glass and aluminium.
Split the levels to create visual interest and define different areas.
Hardwood or softwood? This depends on your budget, but even cheap softwood can look expensive if regularly cleaned and oiled. 
Grooved boards are less slippery when wet, but dirt will sit in the grooves; smooth boards are easier to keep tidy, but slippery.
Now kit your deck out with our best buys: