If your deck is looking a little sad, this is your sign to find a chic deck idea you like and finally action it. No one likes sitting on a creaky, mildewy deck with spiderwebs everywhere. From cute small decks turned into colorful outdoor rooms to sprawling wood deck ideas for large country backyards, we've left no style, shape, or size of deck uncovered.
Once you've picked out a look, you're definitely going to need some cute patio furniture (camper chairs just aren't the same as a bistro set or a good pair of loungers). You'll also want to consider who will use the space, whether you have pets that like to chill outside with you, or if you typically have friends around for weekend drinks and snacks.
Ready to uplevel your outdoor area? Check out the following deck ideas for mega inspiration.
1. Brighten up your deck with rainbow colored decor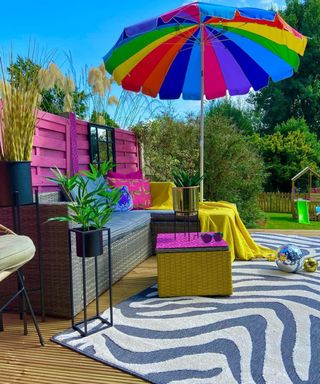 Bring a seventies-style disco vibe into your backyard with technicolor deck ideas like Kimberley Yates, color enthusiast and Instagram home renovator (aka @miss_mustard_design). Here,a traditional wooden deck scheme is given a dose of party vibes with with pink painted fences and a multi-colored umbrella. The square, black-framed mirror also works to bounce light from the sun to make the space feel bigger.
2. Use faux plants and cushions to decorate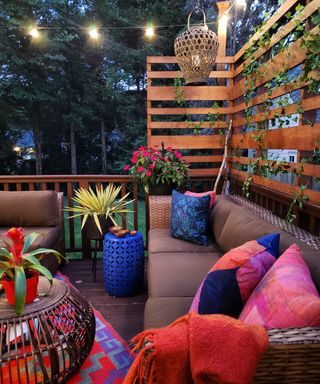 If your climate doesn't allow for the plants you want to grow or if you're a total beginner gardener, fake the look with artificial greenery. "This vine growing up the privacy wall is faux," says Seana on her Instagram account. "I ordered on Amazon because I thought it would take too long to grow plus I didn't want to attract extra insects."
3. Paint your deck using a pastel hue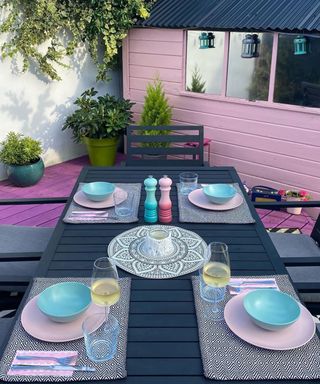 For a budget-friendly update, paint a deck yourself (with your landlord's approval of course). Instead of sticking to traditional shades of brown, gray, or green, add a color pop to your deck with purples and muted teals.
This purple decking idea by Saara McLoughlin has been matched by an equally cute and colorful tablescape. It suits summer BBQ and sweater weather and brightens up the grayest of fall and winter days.
4. Infuse Mediterranean details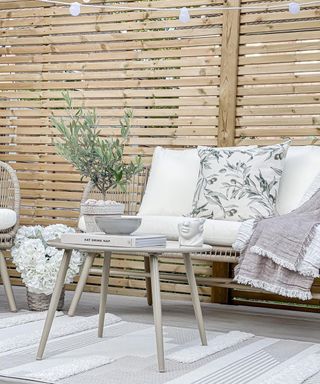 Craving a trip to Greece? Bring vacation vibes into your outdoor area with a white and light color palette with plenty of natural wood and stone textures. Even if you don't have a flight booked (yet), you'll be able to kick your feet up and relax with this look. Add an olive tree for extra bonus points.
5. Create a boho vibe with patterns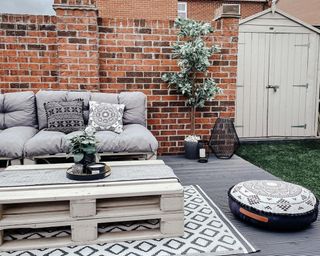 Boho decor is all about creating cozy vibes. To create this look, learn buy or make outdoor pallet furniture for more character. Then style it with playful outdoor cushions and other accessories like candles, trays, and faux plants. Before you know it, you'll have the perfect little lounging area.
6. Bring in a pergola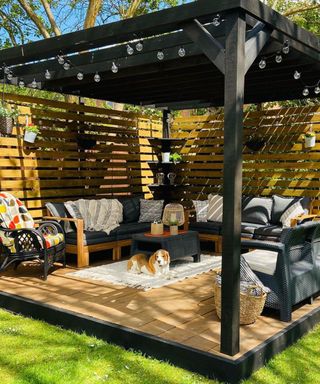 Whatever the weather throws at you, you can always rely on a sturdy pergola to provide shade, privacy, and respite in your outdoor space. Perhaps you want to sunbathe in peace or enjoy a few drinks outside when the weather is less than optimal — a pergola or a similar kind of temporary covering can do all of that, as Allie Wilson, of @allie_wilson_home's space shows.
7. Use stencils to create a decorative deck design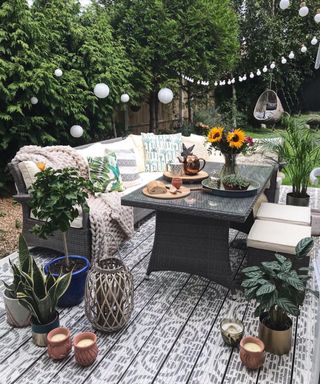 This gray and white mosaic design perfectly complements the clay earthenware, potted plants, and printed pillows adorning this fun deck. The secret? Using stencils. These ones are from Dizzy Duck Designs. Melanie Jade of Melanie Jade Design used them with paint and says that it completely changed her outdoor space.
8. Build your deck idea around nature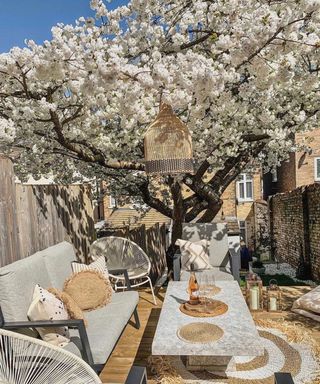 Vicky Smith of @prettylittlevictorianreno created the cutest outdoor space. With a gorgeous marble effect garden table, exposed brick walls, and the addition of a deck idea positioned under the beautiful Yosino cherry blossom tree, this setting is at its best in the springtime, making it a stunning and chilled spot to relax with a glass of rose. Though the ivy has been cleared, Vicky is hoping for it to trail up the wall to give it a fairytale feel.
9. Add crawling or trailing plants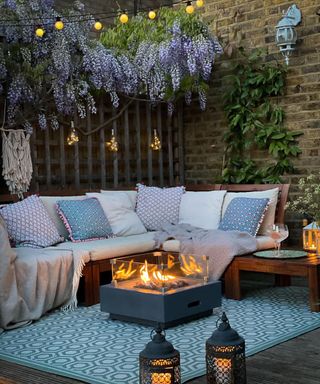 Not just for front porches, crawling and trailing plants make the perfect addition to decks, too. The plant was already here when Cara Mills, graphic designer and owner of @ginandinteriors, bought it. Although it's a little high maintenance the look is worth it. Pair with lilac pillows to coordinate the blossoms with your decor.
10. Use a table and bench for a cute dining set-up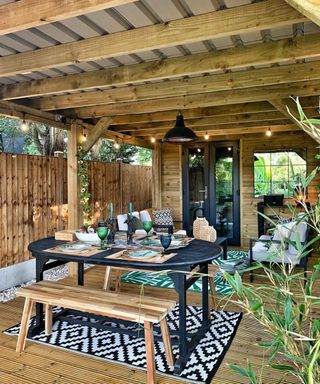 When the weather's nice, there's nothing better than eating outside. If you have space for more than a bistro set, opt for a bench. It's easy to move around and is perfect when you have friends over for pizza night or a mini BBQ. This stylish, global-inspired scene by Natalia of @marks_and_rowe_interiors combines black decor with light wood for a sleek and sophisticated alfresco scheme. We love it.
11. Create a Moroccan-inspired deck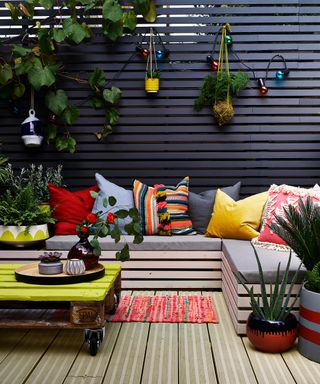 Vacations, especially long-haul trips, can be expensive, so bring your favorite parts of the world home by adding Moroccan-style rugs, lightbulbs in primary colors, and Berber-style cushions. Set it all off with tropical planting. Think palms, ferns, and fast-growing bamboo. Now all you need to do is rustle up a tagine and serve with some mint tea and baklava.
12. Use colorful accessories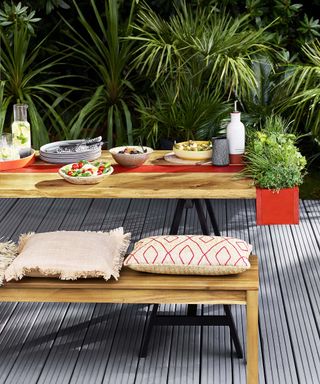 Just as dark walls are trending inside, dark decking is a hot look al fresco. If you already have a dark gray deck, pair it with a light wood bench and add color through bright pillows, a vivid table runner, and stand-out plates and cups. Pot your plants and create a vibrant-colored planters for extra oomph. Or keep your planting bright — fuchsias, dahlias, and geraniums look particularly vibrant.
13. Mix light and dark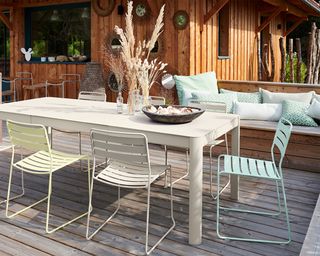 "Pastels are the perfect route to take outdoors, looking dustier in the summer sun," says Rob Abrahams, co-founder of COAT Paints. If you love this look, try painting a table or chairs in a light hue. Or if you can't paint, bring in pale yellow or light pink decor to get a similar look.
14. Nod to pastel shades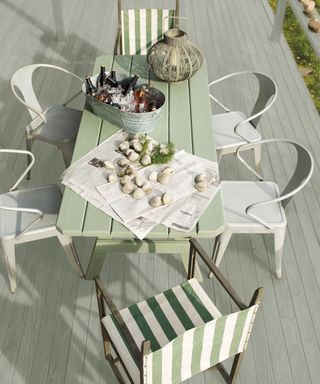 Looking for more pastel inspiration? Try out a super refreshing scheme composed of pastel green and creamy vanilla to create a tasty exterior space. With the stripe motif chairs and light gray deck boards, we're getting all the seaside vibes. Now all we need is the ice cream truck to come down the block.
15. Add a bistro set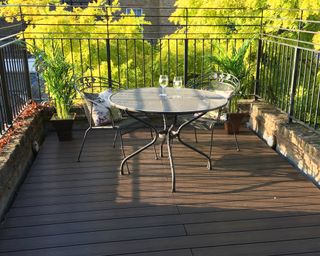 If you live in an apartment with a balcony, you'll know how lovely it is to sit outside and catch some rays during golden hour. To make the most of these moments, it's worth getting a table and chairs to extend how long you can chill outside. With the right bistro set, you'll be able to eat and work outside.
16. Mix and match your furniture and decor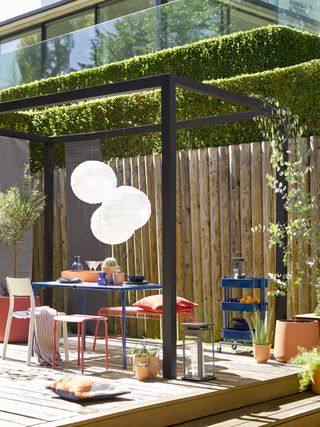 The best garden furniture doesn't always have to be monochrome. By adding some colorful chairs, you can really bring your deck idea to life. Mix and match your colors and you'll have a super on-trend outdoor living sitch. It's fun, vibrant, and maintenance-free, leaving you more time to relax.
17. Frame the space with color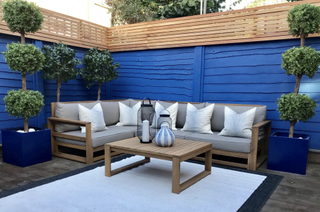 Make your deck pop by framing your seating area with a painted fence or wall. If you're renting, double-check with your landlord or get a temporary divider that you can paint for the same effect. The blue is warming and brings all the Med vibes to what is actually a really simple setup. One more secret... those topiary balls ain't real. Faux plants make it so easy to create a low-maintenance deck area.
18. Choose tiles for easy installation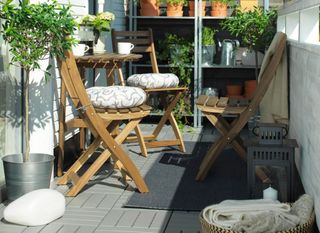 If you're trying to make an outdoor space feel more homey without ruining the chances of getting your security deposit back, you can have the best of both worlds by opting for deck tiles. Easy to install (they simply click together), the Runnen deck tiles from IKEA can be arranged in a cute pattern and come in a variety of colors.
19. Create a deck nook area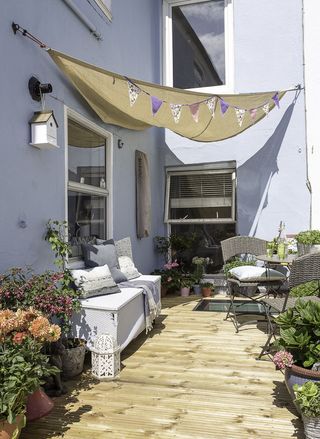 If space is limited but you still want to create a cute deck, then let this stunning little nook inspire you. Blogger and interior stylist Maxine Brady created this beautiful yet incredibly practical area outside of her sunny home. It's packed with all the essentials including a bistro table and chairs, a bench seating area, colorful plant pots, and lights.
20. Find furniture that could live indoors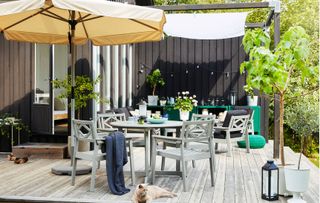 Looking to furnish your deck in a trendy way? Don't choose outdoor furniture that looks like outdoor furniture. Instead, pick out pieces that could be chic enough to live indoors. Better yet, choose furniture that mimics the style and design of the decor you have inside for a really cohesive look.
21. Keep it simple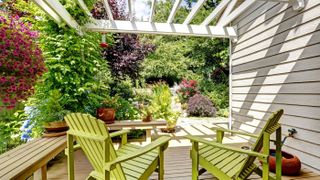 If you rent or have a tight budget for your outdoor space, options can feel limited. But don't let that sway you from sprucing up the deck. Keep it simple with a set of chairs that allow you to make the most of al fresco living but won't cause damage or making packing difficult if you move.
22. Incorporate multiple textures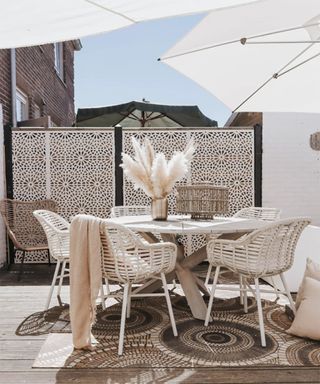 This pretty patio shows how you can make your outdoor living areas just as stylish as your indoor rooms. Layer up different textures with the help of weather-resistant throw pillows, blankets, and rugs. Add a few tabletop accessories, and this space will become Instagrammable in minutes.
How can I keep my deck looking nice all year round?
Deck maintenance is a must to ensure yours looks stylish (and spotless) in all seasons.
Remove any outdoor furniture, flowerpots and other items from the surface you want to clean. This will give you more uniform results.
Sweep or remove loose or large debris.
Connect up your pressure washer
Add stone or wood detergent to your pressure washer.
Start with a low pressure setting, especially on wooden surfaces, engaging the trigger gun away from the surface initially.
Using a sweeping motion, clean your deck or patio surface using long sweeps that overlap each other. This prevents inconsistent results once dry.
When cleaning wooden decking, always clean in the direction of the wood grain.
Corners are best cleaned when you aim the trigger into the corner, spraying any debris out in a long "L" shaped sweep.
What is your deck going to be used for?
It's important to consider what the deck is for as it might influence the choice of decking boards, as well as its proportions.
Does the deck need to fit plenty of outdoor seating, or just deckchairs for two? If it's an outdoor dining area, what size is the table and how many will be seated at it? Or perhaps the deck will be relaxing and eating space for lots of people?
Consider whether the deck is going to get wet other than when it rains. It might be an area where children play and so it's likely to get splashed. Perhaps it's going to be laid near a swimming pool, or maybe a hot tub will be positioned on it.
Think about family and friends, too. Does anyone who will be using the deck require an extra slip-resistant surface, or one that will be more forgiving if they do fall?
What size of deck do you require?
If your deck is home to a dining or seating area, then putting your furniture in place can help you plan the size of the deck.
Remember that, as well as space for the individual furniture pieces, individuals will need room to slide dining chairs away from a table, and to stand up and move away without either chairs or people tipping off the end of the deck.
Likewise, allow room for circulation to and from the area without having to step off decking.
A hot tub will need space for the tub itself but also to climb in and out comfortably from the deck, so also needs a generous area around it.
How can I make my deck interesting?
The best way to make your deck more interesting is through furniture and outdoor decor. Decide on a theme and color palette you love and go from there. It's less permanent (especially if you don't have control over the type of deck you have) and it allows you to change up your style with the seasons or if your tastes change.