If you don't already have one, then these bathroom en-suite ideas will have you considering this project very soon! You may think it tricky to add an en-suite to your space if you haven't got much room to work with, or if you have an awkwardly shaped space (or both), however, even the most unlikely of corners and loft spaces can make perfect en-suites...
From open plan en-suite bathrooms to more traditional looks, compact set ups and more, keep scrolling to help bring more function – and a little luxury – to your home this year. And for more bathroom ideas be sure to take a look at our marvellous feature.
1.  Opt for streamlined sanitaryware
Opting for streamlined sanitaryware in an en-suite is a practical option that maximises space while giving a bathroom a sleek and contemporary feel – a countertop basin with a simple silhouette is both a practical and stylish example. For more gorgeous modern bathroom ideas, check out our gallery. 
For similar fittings, try GSG Ceramics and for help with bathroom design we can help too.
2. Maximise awkward spaces
En-suite bathrooms, particularly those in a loft conversions, can be small, awkward spaces with tricky angles. It's important to plan your en-suite effectively in order to maximise space and come up with design solutions that tackle awkward angles. 
Transforming an en-suite into a wet room can be a great way of tackling this issue as it allows the installation of a simple shower screen (rather than a fitted shower unit), ensuring that awkward spaces are utilised effectively. If this idea takes your fancy go and have a read of our guide to wet room design. 
3. Design a scheme that complements adjoining rooms
When designing an en-suite, it can be a good idea to opt for a scheme that complements the adjoining rooms. This creates a sense of flow and continuity through the spaces, making them feel connected and well considered.
For advice on new bathroom costs take a look at our feature.
4. Consider opening up a space with a doorless frame
If you want to create an open feel between a bedroom and en-suite bathroom, consider choosing a doorless frame. This can help enhance the feeling of continuity between the two spaces, particularly when similar colours run through the schemes of both spaces.
Check out our edit for more bedroom colour ideas and inspiration.
5. Create the illusion of space with an open plan design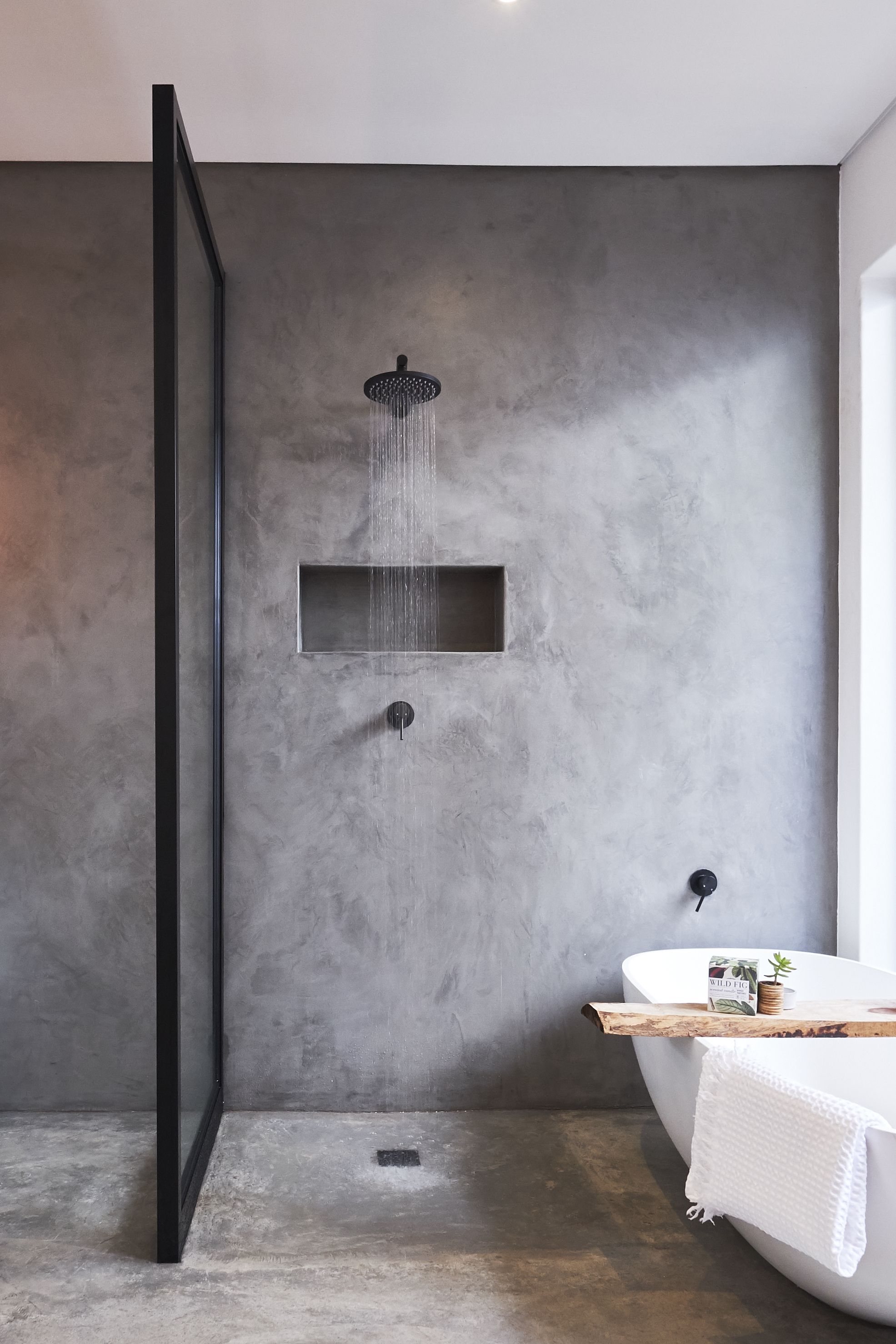 A minimalist, open plan scheme is a great option in a small bathroom design or en-suite, creating the illusion of a space that's large and light. Consider installing a recessed wall unit during the process of designing a bathroom, as this maximises space and makes for an effective bathroom storage solution.
6. Optimise storage with built-in units
If maximising storage is essential in your en-suite, it may be worth considering a built in or bespoke storage unit – we'd recommend opting for a sleek and minimalist style to prevent an en-suite from feeling boxy. No space? An under-the-sink storage unit can fulfil most storage needs in a small ensuite. 
7. Create a partition between your bedroom and en-suite with the addition of a stylish glass screen
A floor–to–ceiling glass screen can make for a stylish option if you're adding an en-suite and are concerned that doing so will compromise natural light within a space.  Plus, patterned floor tiles, like these London Funk Compass Tiles from The Baked Tile Company, help create flow between the two spaces. 
Find more bedroom ideas in our feature too.
8. Choose tiles that complement a space
Take time to consider a tile scheme that complements your en-suite bathroom – particularly if it's an awkward shape. We are obsessed with scalloped tiles at the moment, and these ones are called Syren from Topps Tiles. 
We have loads of inspiration for tile patterns and design ideas over in our gallery too so go and take a look if you want to recreate a similar look.
9. Go colourful and eclectic with a fun wallpaper
Enhance your en-suite visually with a colourful wallpaper. A particularly good option for loft en-suites, since the wallpaper with draw attention from the awkward shape of the room. You can go bold with your choice too, don't let the fact you are working with a small space let you be deterred, a wallpaper that has a lot going on can actually visual expand the room. 
Like everybody else we love Cole & Son's Jungle wallpaper and for more bathroom wallpaper ideas you can look to our feature.
10. Embrace a monochrome colour scheme
En-suites tend to be small spaces, and using colour contrasts is a good way to make them seem larger. Check out more similar designs in our black bathroom ideas gallery. 
We love the elegant monochrome juxtapositions in this en-suite by Britton Bathrooms. 
11.Choose a small (but statement) freestanding bath
Didn't think your en-suite could fit an elegant freestanding tub? Think again. There are so many models out there that are made for small spaces. Just look at this gorgeous little bath from Albion Baths, the Tubby Too is only 147cm long!
For more cool freestanding baths have a read of our dedicated feature. 
12. Go for an all white colour scheme for a fresh look 
Is there anything more Instagrammable that an all white room with a couple of stylish house plants? We don't think so, and it's a really easy look to achieve, especially in a bathroom where most of the essentials are obviously white. 
Make the space slightly less clinical with greenery and choose hardware – things like handles, taps, shower heads – in gold, silver or even black to create a bit of contrast. You could also add colour with a cute bath mat.
For the best indoor plants to buy check out our buying guide.
13. Add an ensuite into an alcove in a loft bedroom 
If you have a loft bedroom, it can be tricky working out how to fit in an en suite. This is such a fab idea though, use the eaves, the sections that might otherwise go unused. Just plan your bathroom around the proportions, for example a bath where the ceiling in lowest to create a cosy feel and a shower at the tallest part of the room.  If you want more en suite ideas, take a tour of this bungalow transformation what has been fitted into that small space is amazing.
For advice on loft conversion costs and planning check out our in-depth feature. 
Looking for more bathroom decor inspiration?