After three major home renovation projects over 12 years, Kate and Adam Lewis finally have the sociable family home they dreamed of. They met in London when Kate was at university, and bought a new-build in Widnes, Cheshire. Then, in 2007, they found a three-bedroom 1930s semi closer to their jobs in Chester. 'It felt bigger than our old house and we liked the character features like picture rails and parquet flooring,' says Kate. 'But it was at the height of the market, so we had to stretch ourselves.'
Before
The previous owner had already gained planning permission for a fourth bedroom, but the couple felt their budget wouldn't stretch to a two-storey extension. Instead they had the conservatory and coal shed demolished to create a single-storey rear extension.
Profile
The owners Kate Lewis (@k8s_home), a data protection officer, her husband, Adam, a finance manager, their children, Evie and Ella, plus Mac the sproodle
The property A four-bedroom 1930s semi in Chester
Project cost £187,800
'This enabled us to relocate the galley kitchen to the back of the house and open it up to the dining room with a small sofa area,' says Kate. 'The old kitchen was split to become a downstairs toilet and small room that held the washing machine, desk and toys.'
After
Living in the mess wasn't easy, though. 'What sticks with me was washing up
in the bath when I was almost nine months pregnant and coming home from hospital with my first child on the day the builders finished,' remembers Kate.
Five years later, thanks to a bigger than expected windfall from Kate's company share save scheme, a side extension was suddenly on the cards again. The five-month extension project created two children's bedrooms upstairs, while the former box room became the couple's en suite. Below they gained a playroom, utility and a room that could be knocked through to the kitchen at a later date when funds allowed.

'I used to call it the non-room, but it was handy when we got our kittens, for kids' parties or for working out.' At this stage the old windows were replaced to match the new, and the boiler was upgraded along with two hot water tanks in the loft.
Before
After
After three years of intensive saving, it was time to say goodbye to the non-room and remove the original back wall to create a large open-plan kitchen diner come lounge area with bi-fold doors. 'It was essentially knocking four rooms into one,' says Kate. 'We originally wanted the kitchen to be where the sofas are now, but the builders said it would be too expensive to move the services. It still works really well as a sociable space, though, and the sofas get moved around for children's parties.'
Sadly Kate's sister passed away a month into the build, but the new space has helped them spend quality time together as a family. 'It means my parents, my sister's children and us can be together without it just having to be a day trip, since we live two-and-a-half hours apart,' she says.
Kate's interior style has evolved over the years. 'It was very plain and cream to begin with, but I've gradually got bolder with colour, pattern and paper,' she says. 'I didn't get into Instagram until Covid hit, so I've been exposed to a lot more design ideas in the last couple of years. Next, I'd like to recover the sofas with patterned velvet fabric and add more wallpaper somewhere.'
Two years later, the family bathroom was replaced, the hallway painted blue and the front sitting room given a fresh look with a new gas fire, refurbished parquet flooring and alcove cupboards. Finally, with the children getting older and the need to work from home during lockdown, the playroom was split into an office and snug with a pocket door in between. 'It's used much more now,' says Kate. 'My husband works upstairs, so we have our own spaces.'
In retrospect, Kate admits she might have ended up with a different layout if the work had been done all at once. 'I love it when you walk into a house and you can see right through to the back,' she explains. 'But we couldn't justify moving the downstairs toilet that we'd installed during the first extension to accommodate that.'
Although Adam had a tight rein on the finances and they sold their old kitchen and conservatory on Ebay, the couple admit it wasn't cost effective to do the work in so many phases. 'We probably wouldn't get the money back if we sold it,' says Kate. 'But this is our long term home, and we're happy because we're enjoying the space.'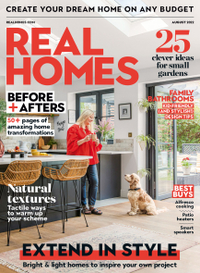 Subscribe to Real Homes magazine Want even more great ideas for your home from the expert team at Real Homes magazine? Subscribe to Real Homes magazine and get great content delivered straight to your door. From inspiring completed projects to the latest decorating trends and expert advice, you'll find everything you need to create your dream home inside each issue.