A bathroom design that delivers style and practicality can be yours – and you're in the right place to discover how. Whether you're thinking total transformation, or a cost-effective (and chic) update, we've got the lowdown so you can turn a dull, dated or drab room into a star turn.
Discover the steps you need to take to get your bathroom design right, check out all the features and fittings you might want to include, and get savvy about bathroom styles. You'll also find expert tips on storage, flooring, tiles, window dressings and more so you can get every element right.
To get answers to all your bathroom design questions, just keep scrolling, and make sure you take a look at our bathroom ideas, too, to get tons of inspiration for your new room.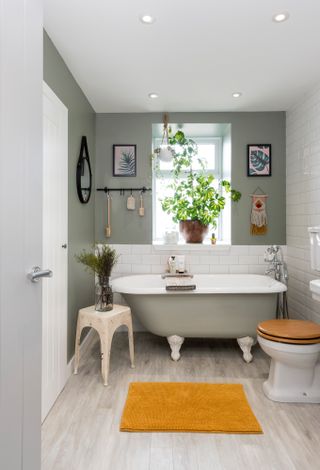 How much does a new bathroom cost?
You might expect to pay an average of around £6,000 for a complete bathroom transformation. However, a budget makeover could start from around £2,300. Bear in mind that prices will vary enormously between standard ranges and designer fittings, and according to where you live.
For a more detailed breakdown and for how to budget for your bathroom design, read our article on how much does a new bathroom cost.
Why a bathroom design needs careful planning
When you start to look at how to design a bathroom, planning is key. A bathroom is a practical space that's used frequently. Family bathrooms have multiple users, of course, sometimes at the same time, while en-suite bathrooms or wet rooms will see daily use from a couple or solo occupant. As well as coping with the traffic of all the users, a bathroom has to stay hygienic plus deal with splashes and humidity without becoming slippery underfoot or looking worn.
And while it used to be thought of as a functional space only, these days we like to design a bathroom to be a time-out area as chic as a spa. Despite these many demands, getting a great bathroom design is really achievable.
Of course, if you're not confident in designing your own bathroom layout, you could approach an interior designer to help, or visit a showroom that offers a bathroom design service. There are also lots of design and build companies which offer a bathroom design service as part of a contract to install a whole new bathroom.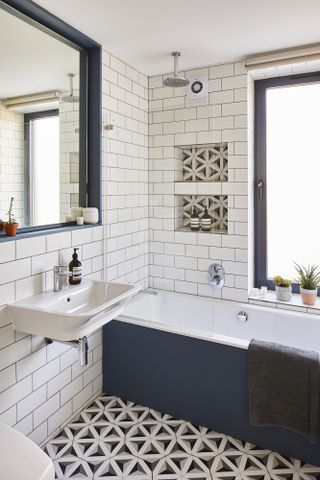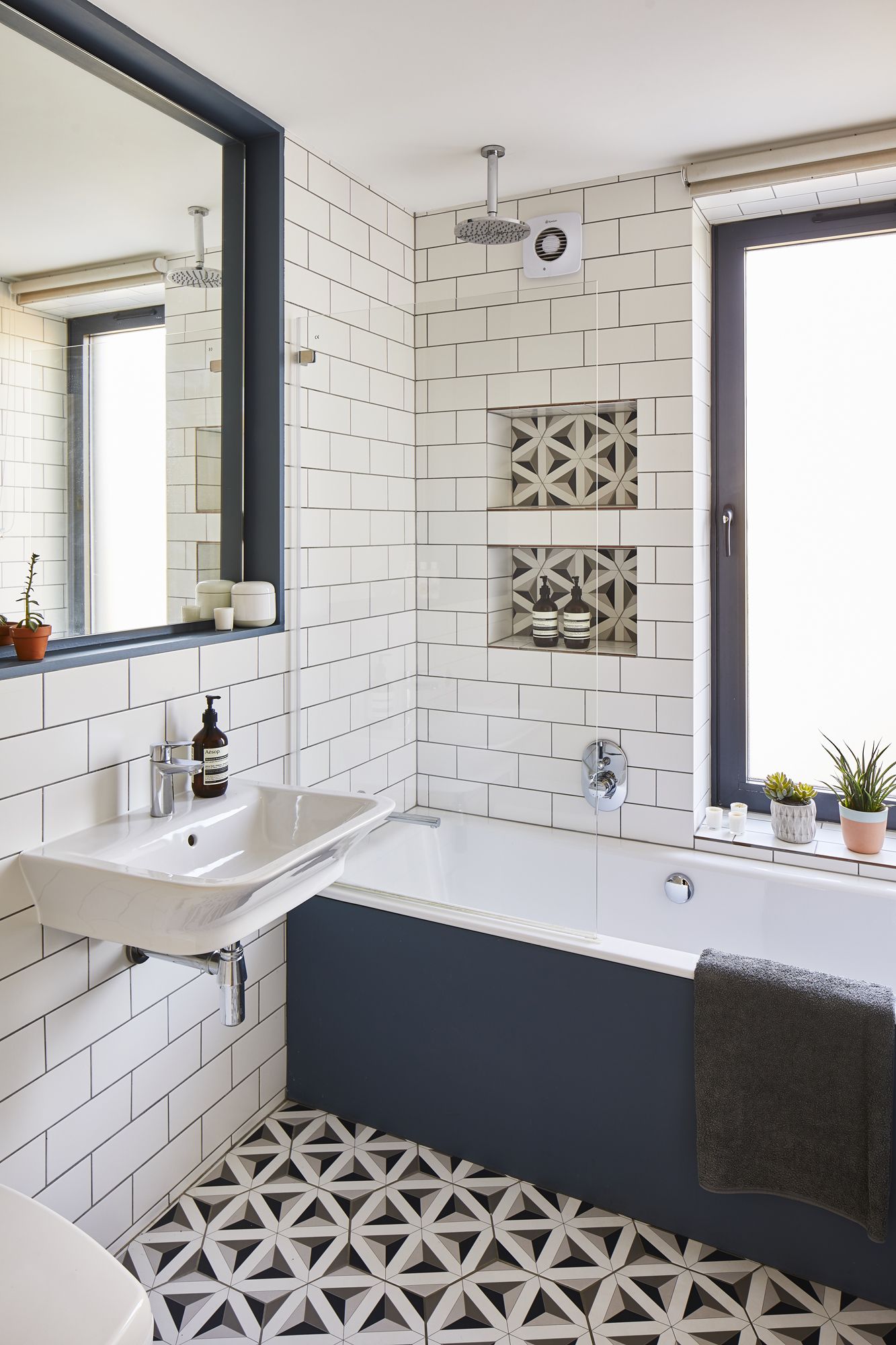 How to design a bathroom layout
Wondering how to design a bathroom layout? If you want a successful bathroom design, you'll need to think about which features your room should have, and how these will work together.
If the current fittings are arranged conveniently and the problem is that they're tired, you can take the easy route and replace them with new ones in the same position. This will also help you cut the cost of your new room. Visit our feature on bathrooms on a budget for more affordable ways to transform your room.
Layout doesn't work, or your room needs a new feature or more storage? Then you'll need to create a floorplan, which we'll explain how to do in the next section.
Draw up a bathroom floorplan
It's important to know exactly how much space you have to work with when designing a bathroom. A bathroom designer or architect can make scale drawings or you can create your own using graph paper.
The plan will help you understand where essentials like the bath and/or shower, toilet and basin can be positioned. Note, too, where the door is as well as any windows.
Even a very small bathroom design can be turned into a restful and practical space with some thorough planning. You can check out our in depth feature on small bathroom ideas if you are after more specific advice.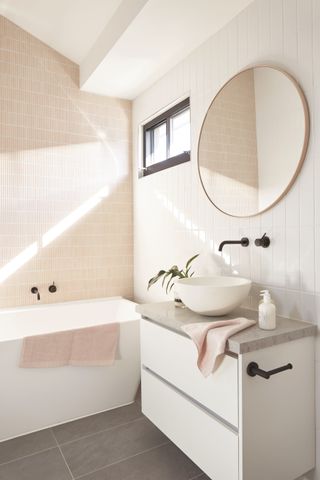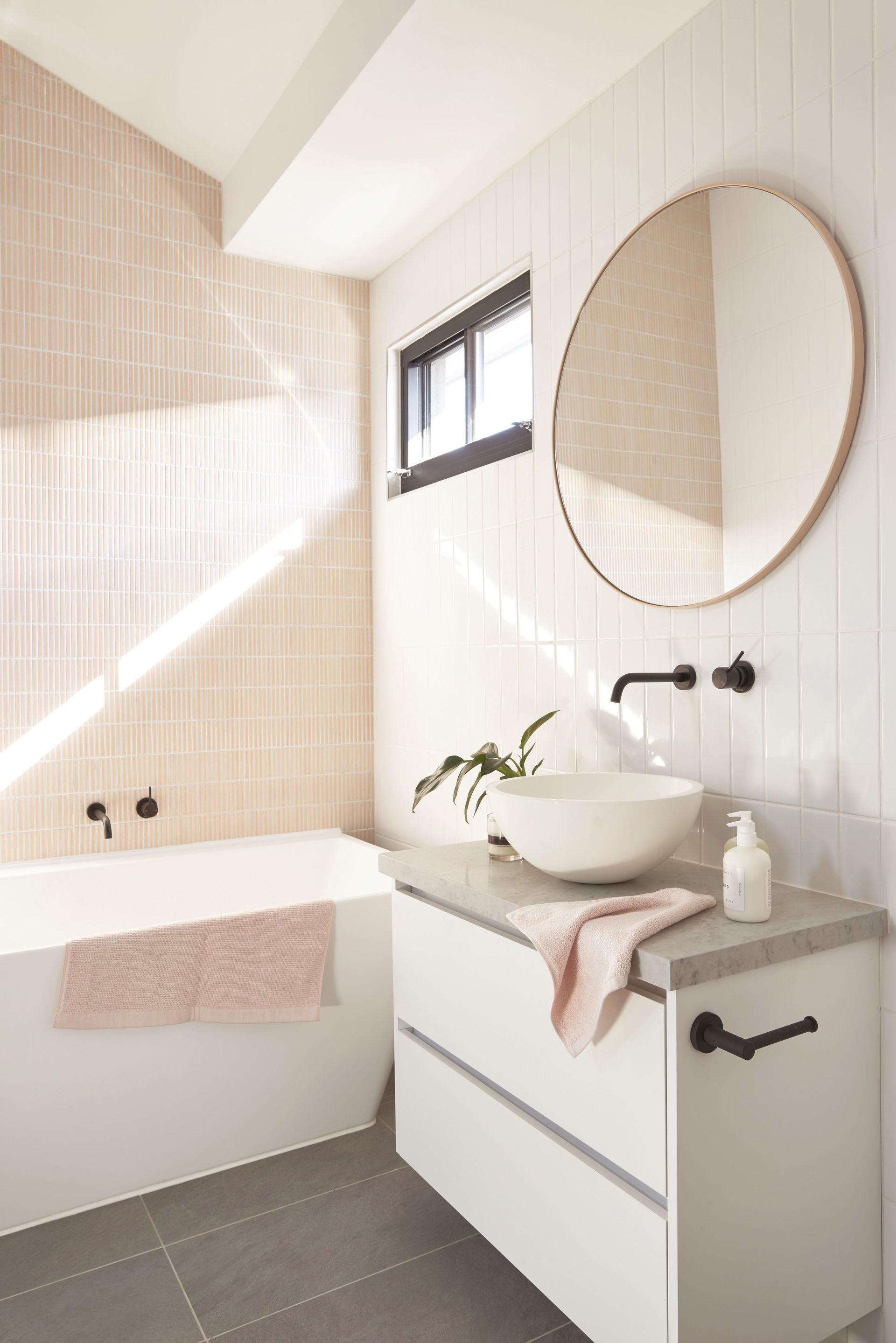 How to design a bathroom online
Get unpleasant flashbacks to school when graph paper is mentioned? Then you need to know how to design a bathroom online instead.
You'll find online planning tools easily available from bathroom manufacturers and suppliers. Some are even 3D, which may help you visualise your completed space better. If a little inspiration would help, opt for those with templates you can start from and adapt, or begin from scratch as you would on paper.
Decide on what to include in your bathroom design
To plan a layout, you'll need a list of what you'd like in your new bathroom design:
Bath
Freestanding bath
Shower bath
Spa bath
Over-bath shower
Separate shower
Pedestal basin
Console basin
Twin basins
Toilet
Built-in storage
Freestanding storage
Heated towel rail/radiator
Select a bathroom style
With the fittings you want in your bathroom decided, the next step in designing a bathroom is to consider the style you prefer. The overall choice is between a modern look and one that's more traditional.
For traditional bathrooms, baths, basins and loos with a classic or period look tend to be more decorative with ornate lines. Check out our traditional bathroom ideas gallery for more inspo.
Modern bathrooms can be either angular or curvaceous in appearance, but both are typified by clean shapes and an absence of extra detail. For more modern bathroom ideas head to our feature.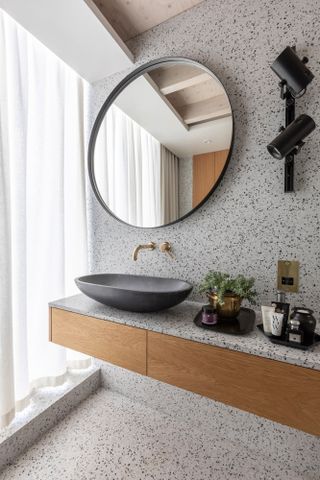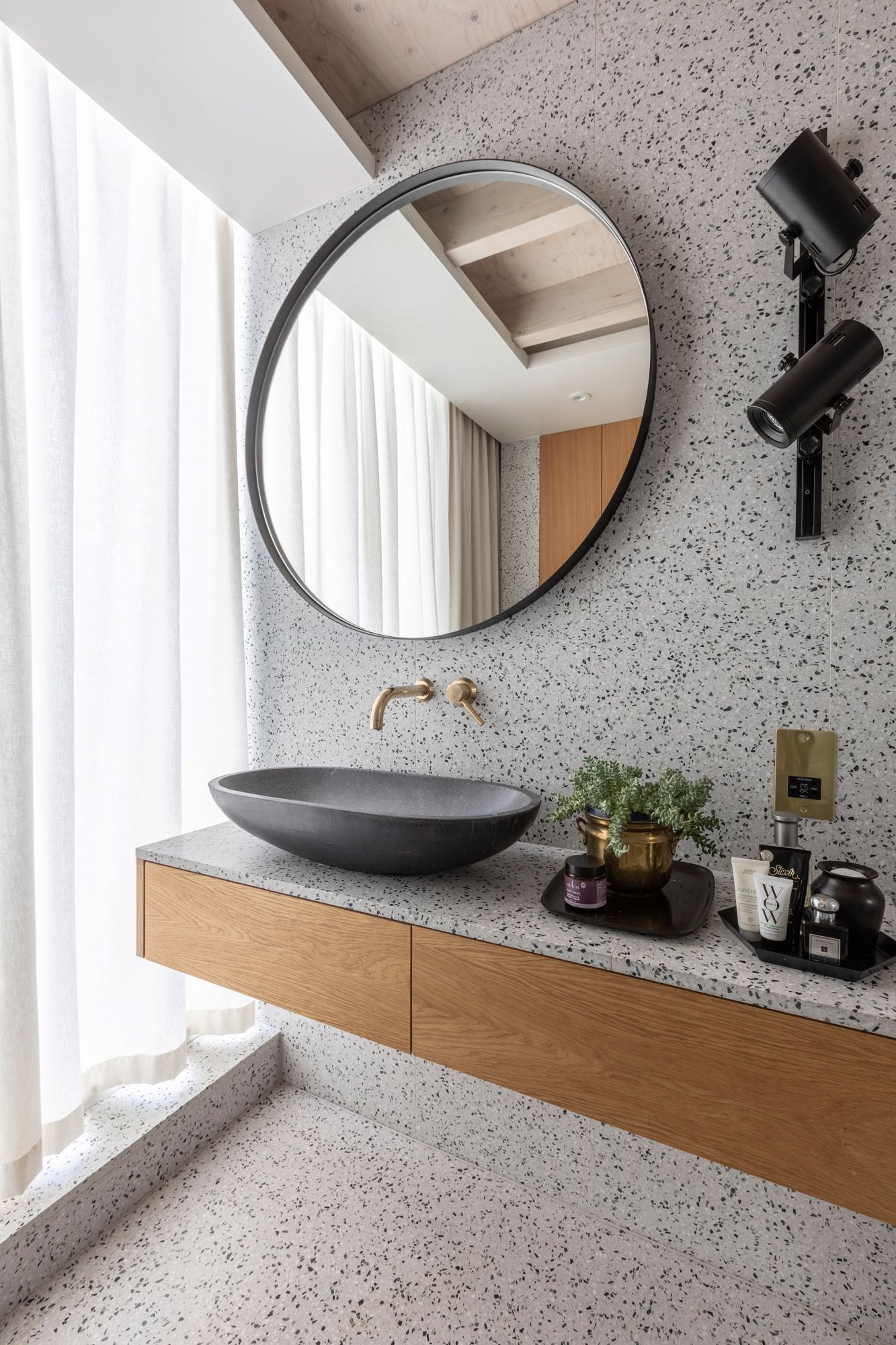 Which bath to choose for your bathroom design
Not sure how to choose the best bath for your bathroom design? For maximum space efficiency, a standard bath, which sits against the wall, is a neat solution, but it's not the only option when designing bathrooms. A freestanding bath can make the room look luxurious, and there are both traditional freestanding baths and contemporary baths available. If your floor plan shows there isn't room for both individual shower and bath, rather than losing one or the other, consider a shower bath that's wider at the tap end to make for a more spacious showering area than a standard bath provides.
You might like to also think about options such as double-ended baths. With the taps positioned in the middle, these make sharing a more comfortable experience so they're great for bathing young families.
For full-on luxury, why not opt for a spa bath? These are fitted with jets that'll massage you in the water.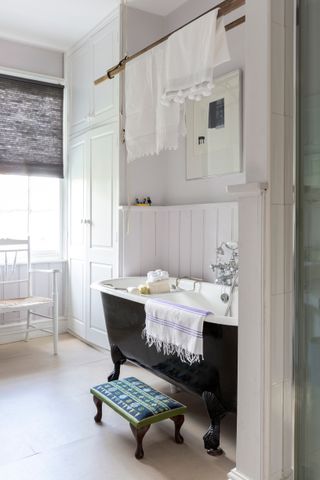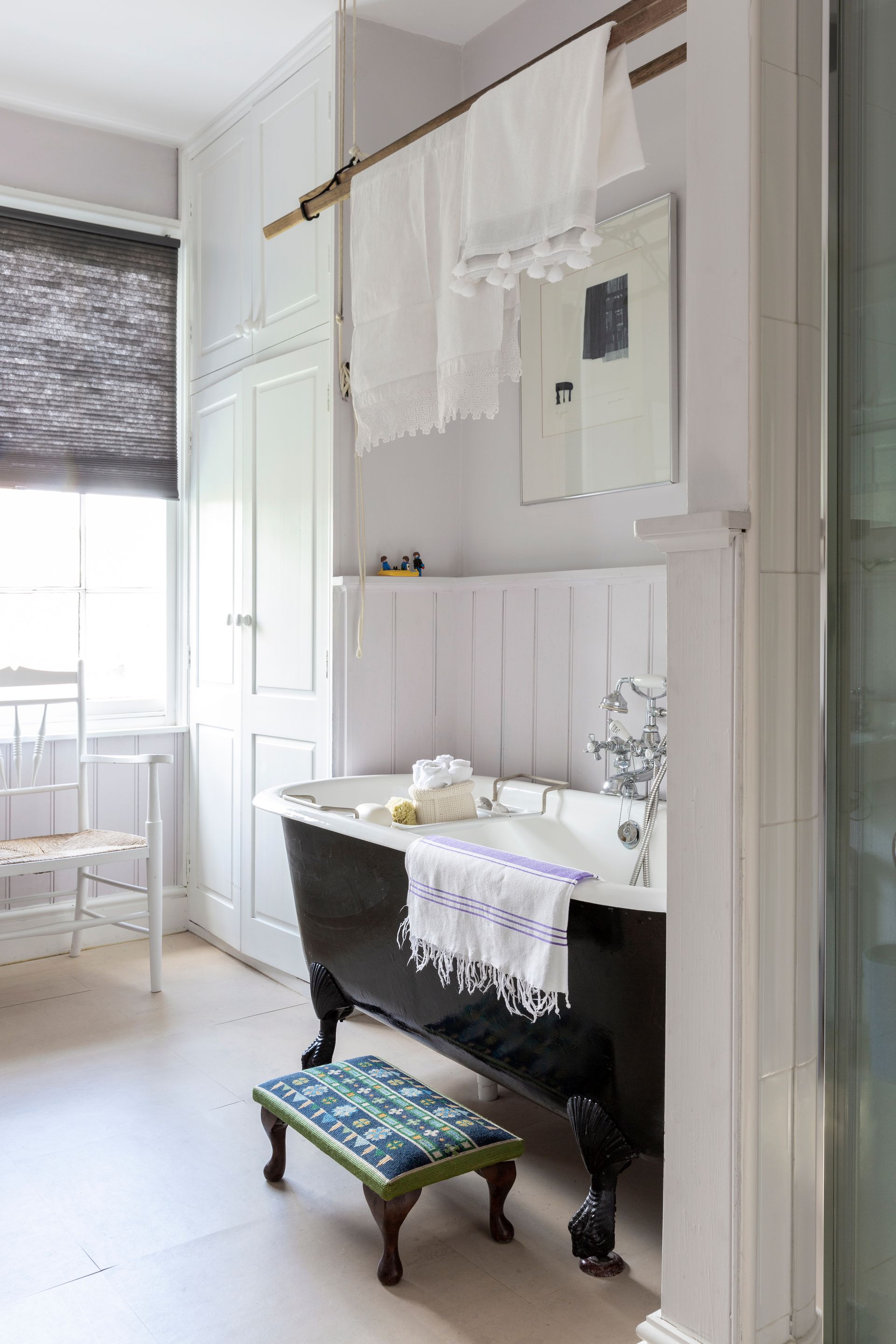 Including a shower in your bathroom design
When looking at how to design your bathroom, choosing the right shower comes down to more than just aesthetics as there are several logistical considerations too. For one, you will need to find a shower that matches the type of hot water system you have. Electric showers are popular as they run from a cold water supply and heat it on demand. Mixer showers use pre-heated water from a combi-boiler or hot water tank and can be fitted with a pump to ensure high-pressure flow rates. You might want to choose a thermostatic mixer than regulates the temperature (even if someone flushes the loo) – a safe choice for families.
An over-the-bath shower or one situated in a separate enclosure will make a family bathroom more flexible, while in small en suites, a shower will fit where a bath won't.
Choose between showers with exposed pipework, which can make an attractive feature, or those with concealed pipework, which leave just the controls and shower head on show.
You'll also need to think about how many shower outlets you want. For example, you may want to switch between a large drenching shower head and a handheld version (possibly on a riser rail). The latter are useful for cleaning the shower enclosure or bath. Body jets are another option if you like a massaging shower. Also check whether you are choosing the best low pressure shower head or the best high pressure showerhead.
Go for the perfect shower enclosure and shower tray
The different shapes of shower enclosures and accompanying shower trays mean you can maximise showering space. Square and rectangular enclosures can suit the dimensions of a corner of the room. Less space hungry are quadrant enclosures that provide elbow room inside the shower but – with a curved front – leave more floor space in the room itself open.
For a contemporary look, opt for a low profile shower tray. These can also make access to the shower easier for some users.
Shower doors come in a variety of styles to suit the room's dimensions, the position of other fittings and the mobility of users. Sliding doors are ideal if there isn't space to open outwards, and bifolds are space-savers, too. Hinged doors make access to the shower easy or, if there's less room, try a pivot door that uses space inside the shower as well as outside to open.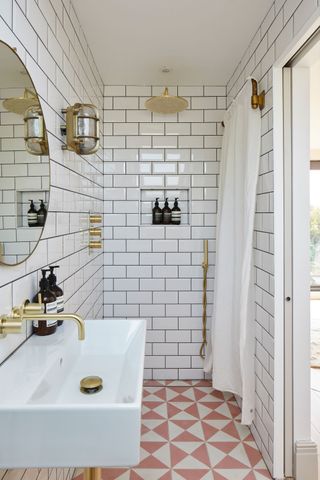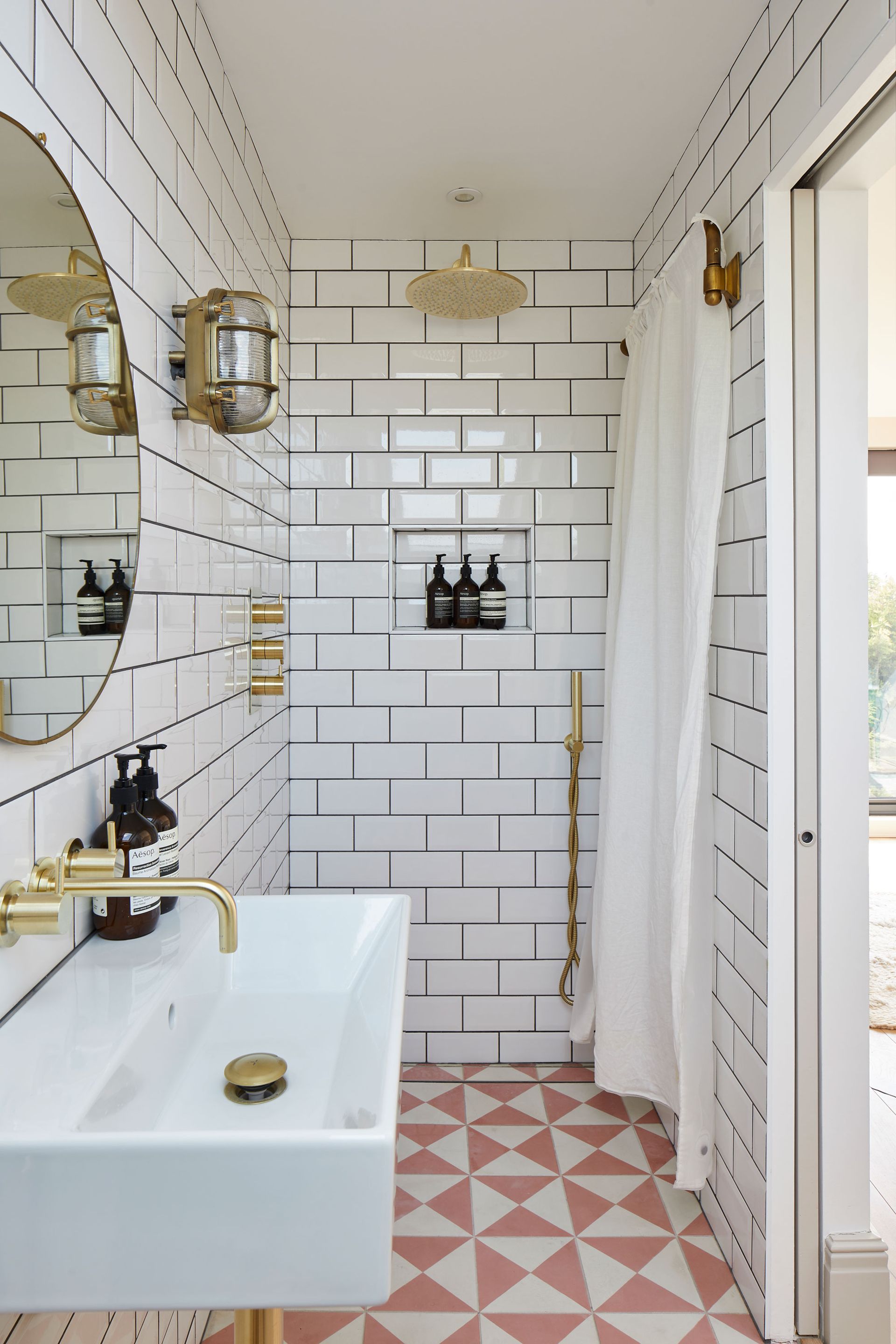 Creating a wet room
Knowing how to design a bathroom isn't just about those average rooms; if yours is particularly small, or downstairs, or a second bathroom, how about considering making your bathroom a wet room? The room will need to be tanked (that's fully waterproofed) if this is your aim. It's still worth thinking about fitting a shower screen, though, to prevent other areas from getting splashed. More economical than a full wet room is a walk-in shower that's luxuriously sized.
If you are after more tips on wet room design, head to our guide.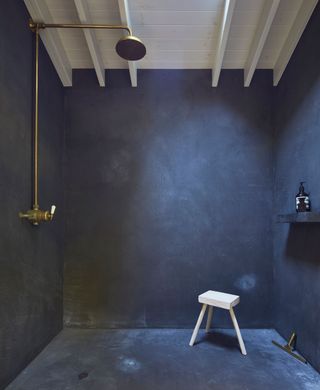 Pick top bathroom basin designs
Choosing a bathroom sink? Here's what you need to know:
Pedestal basins can make a great focal point and, with hidden pipework, have a fuss-free appearance.
Wall-mounted and semi-pedestal basins keep the floor clear. Use them to make a small bathroom feel bigger.
Counter-top or console basins are mounted on a bathroom worksurface. They make for a beautiful feature and can sit above open or closed storage for a more efficient use of space in the room.
Inset basins are dropped into the surface below giving a neat, contemporary effect.
For more tips on how to choose a bathroom sink head to our guide.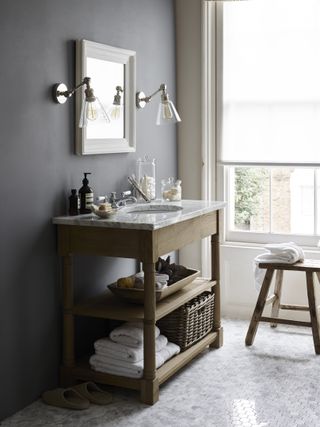 Take time over bathroom tap choices
It's also worth taking time to consider choosing the right bathroom taps for your bathroom. They can have traditional style or a modern look to complement the bath and basin.
Think tap finish as well as shape:
Chrome and stainless steel continue to be popular finishes and will create a sparkling clean effect.
Black taps are en vogue and can look striking against crisp white fittings.
Want to warm up a bathroom? Try metallics such as bronze, brass or copper, or beautiful rose-gold with its pinkish hue.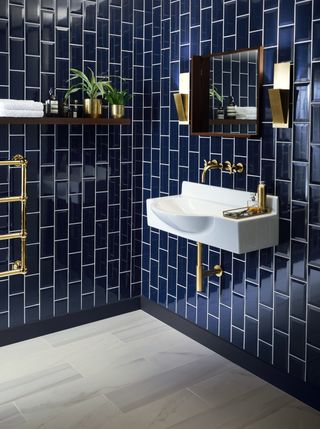 Choosing a new toilet for your bathroom design
Before we get on to style, there are a few technical things to consider when choosing a new toilet – having a read of our guide is a great starting point.
If you are replacing an existing one in the same place, minimise plumbing work (and costs) by choosing a toilet with the same rough in. This is the name given to the distance between the wall and the centre of the toilet's outlet pipe. You can find this by measuring between the wall and the closet bolts that bolt your current toilet to the floor.
Then decide whether you want a concealed cistern or not. This looks great when the toilet is mounted alongside fitted furniture, but do consider access to the cistern for maintenance (or dropping cistern blocks in).
Toilet design choices:
Close-coupled toilets, with the cistern sitting on the pan, can be stylish and practical and both contemporary and more traditional designs are on offer.
Go contemporary with a wall-mounted toilet, or streamlined back-to-wall design that doesn't leave a gap at the back to clean.
For historic style, choose a high-level cistern. Ceiling not high enough? A low-level version with a shorter flush pipe has the same look.
Include brilliant bathroom storage when designing a bathroom
Great bathroom storage is essential in the bathroom design process to avoid cluttering bathroom surfaces with toiletries, spare loo roll and fresh towels. When choosing bathroom furniture, consider a combination of:
Fitted bathroom storage that'll provide room for the whole family's essentials. Like fitted kitchen cabinetry, it can make the most of the space from floor to ceiling with clutter-swallowing cupboards and drawers.
Vanity units that contain basin and cupboard in one for a space-efficient footprint. Check out these gorgeous vanity units for inspiration.
Wall-hung cabinets that often have mirrored fronts that'll introduce another bathroom essential.
Freestanding furniture which may be designed for the bathroom, or for a more individual look, why not bring in other cabinet furniture?
For more inspiration take a look at our bathroom storage ideas, and don't miss the chance to incorporate good towel storage ideas, too.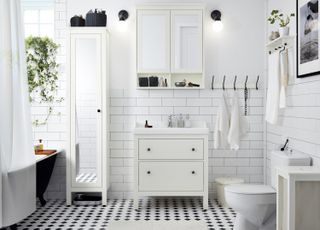 Go for the right bathroom flooring
When designing a bathroom, choosing bathroom flooring that is suitable for the room's users as well as good looking is vital. Kids and those who aren't steady on their feet need flooring with maximum slip-resistance to keep them safe, while the floor needs to be durable in the room's conditions – which might include frequent splashing depending on who uses it. Never use tiles designed for walls on a bathroom floor as they aren't suitable.
Porcelain tiles are practical, hard wearing and easy to care for. They can authentically reproduce the appearance of stone or wood.
Natural stone flooring looks timelessly stylish and is durable. Check with the supplier that the stone you want is suitable for a bathroom, and note that because it's porous, stone should be sealed.
Rubber is a sound choice for a bathroom used by young kids and will stand up to splashes. It's also forgiving of a fall. Make sure it has good slip resistance.
High quality vinyl such as luxury vinyl tile is comfortable and warm underfoot. It can look just like stone or wood and also comes in statement shades.
Laminate flooring is easy care. Make sure the design you choose is specifically designed for the bathroom, though.
Engineered wood has a structure that makes it more stable than solid wood, and some ranges are recommended as being bathroom suitable. However, it's best kept for an adults-only bathroom where it won't suffer many splashes and won't be left wet.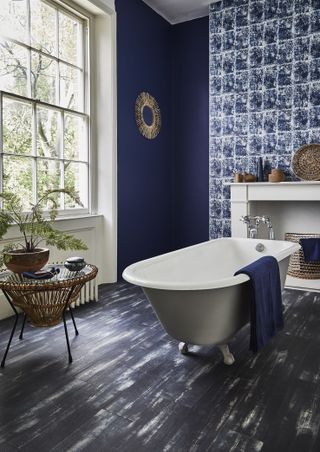 Select the right bathroom wall tiles for your bathroom design
Wall tiles are a bathroom design must-have to protect them from water, whether that's in the shower area, by the bath, or behind the basin. They can also be used creatively for an injection of colour or pattern. Try these strategies:
Use a change of tile colour to zone a space. For example, you could use white tiles all round then pick out the shower area with a pop of colour.
Hang the same tiles on the walls as the floor, but change the format with rectangular versions for walls and square on the floor.
Smarten up walls with high-gloss metro tiles and crisp white grout.
Create interest with a mosaic splashback.
Ramp up decorative detail with different tile shapes. Think hexagons, fish-scale or chevron patterns.
Fancy giving it a go yourself? Read our step-by-step guide to find out how to tile a wall.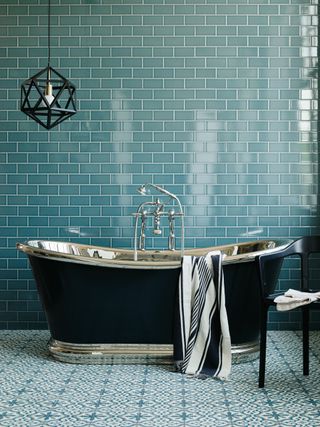 Choose the best bathroom paint
When you're designing a bathroom, colour will be a big factor, but there is more to consider. Bathroom paint has to be able to cope with moisture, and might need to be wipeable, too. You may want to think about finish as well. If your bathroom is on the small side, the soft sheen of an eggshell finish or satin will bounce the light around to make it feel bigger.
Loads of brands make bathroom specific paint now, so there's plenty of choice. If you need some guidance on where to find the best, check out our guide to the best bathroom paints.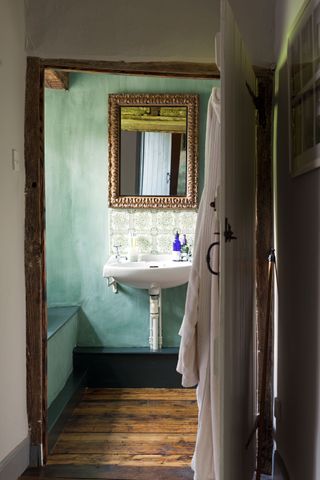 Opt for the best bathroom window dressing
It's vital that bathroom window treatments can stand up to the humid atmosphere of the room. Shutters are smart, and will regulate light and privacy effectively. Window likely to get splashed? Choose a bathroom shutter that's specially made to tolerate water without warping.
If you prefer blinds, louvred versions are also neat and effective, or try coated fabric blinds made to cope with the condensation in the room.
Check out all our bathroom window ideas in our gallery.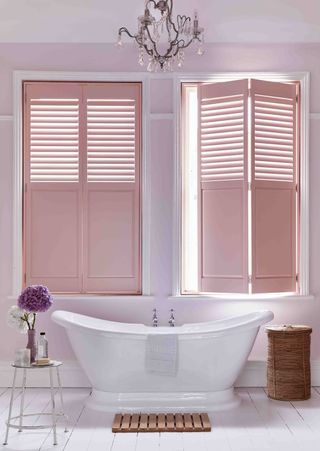 Plan bathroom lighting
Lighting is something you need to think about quite early on when designing a bathroom. A flexible bathroom lighting scheme will ensure the room's bright enough for tasks such as shaving and putting on make-up, but can have a relaxing ambience for bathing.
Downlights can provide the room with good overall light.
Task lighting around mirrors will make precision tasks easy.
Accent lighting can highlight a statement item like a designer radiator, or the base of the bath.
Dimmer switches enable a change of atmosphere from morning to night.
All bathroom lighting must be suitable for the zone of the room it's in, determined by its proximity to a water source, so always check before buying and work with a registered electrician. Find out how to choose the best electrician on our advice page.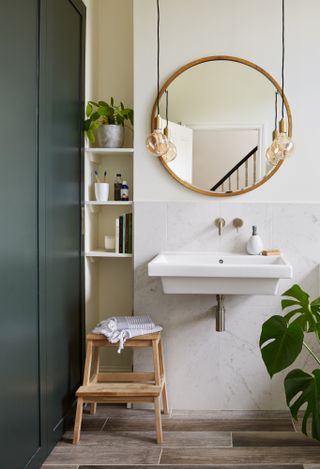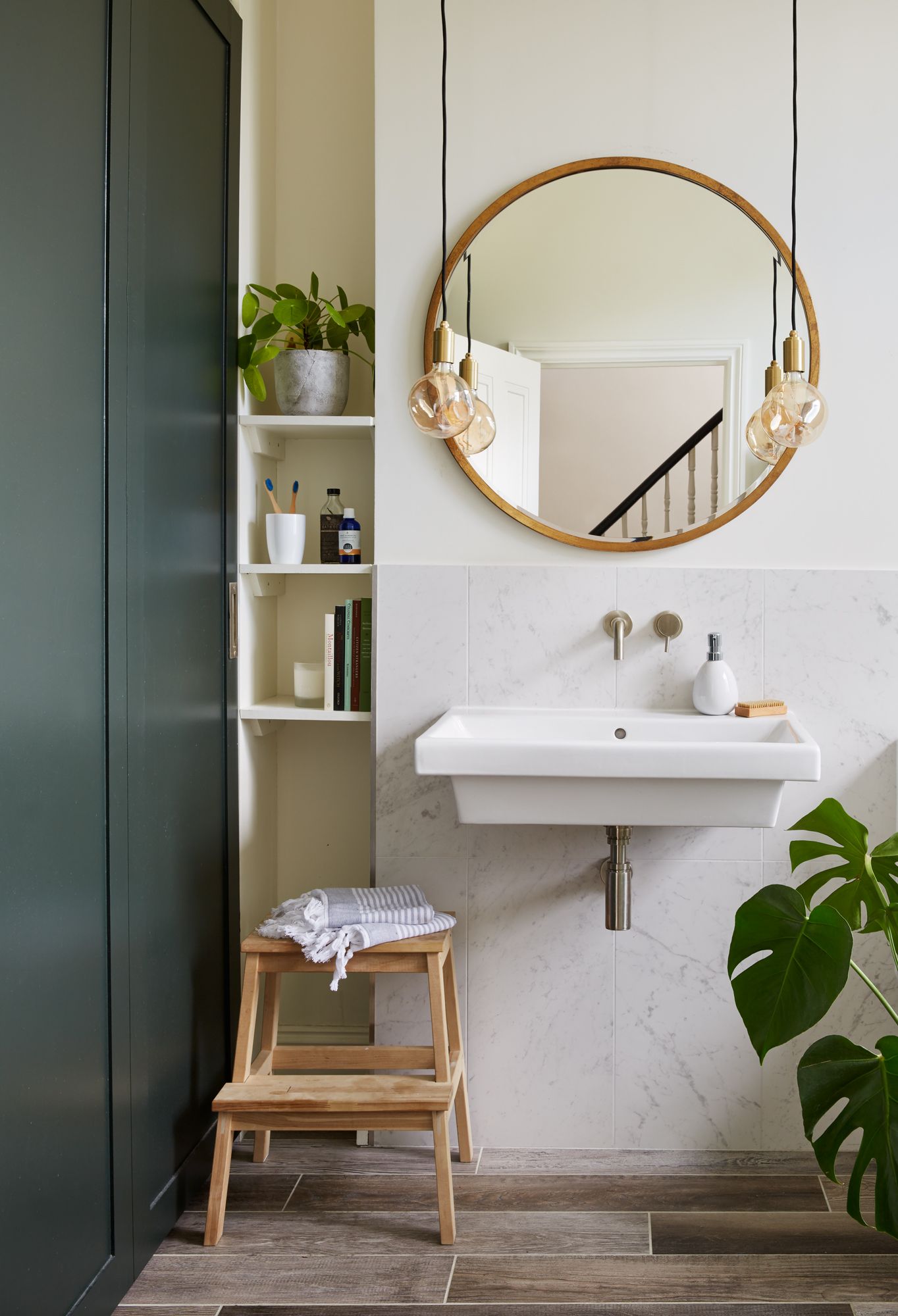 How to heat your bathroom
Knowing how to design a bathroom isn't all about aesthetics: you need to consider basic services, such as heating, early on, too. Underfloor heating is ideal for a bathroom, especially where space is tight. If your bathroom is part of a new extension, consider warm water buried underfloor heating as it's efficient with low running costs.
Electric underfloor heating mats are easier to install and ideal for bathrooms as they can be laid within tile adhesive. They are inexpensive to buy, but will cost more to run than a water-based system. In a large bathroom, you may need additional heating, such as a radiator or heated towel rail.
Will you need planning permission for a bathroom?
A new bathroom probably won't need planning permission, but installing a new bath, WC, shower or basin and changing electrics near a bath or shower are subject to building regulations.
If you are replacing existing plumbing work, it is not subject to building regulations approval, unless is it is near to, or involves electrics (such as an electric shower).
Who can fit a bathroom?
Working with a bathroom company? They can manage all the work for you, including plumbing, tiling and electrics. Otherwise you can employ the individual contractors needed for your project. Always ask for personal recommendations and look for accredited contractors.
More bathroom design tips and tricks