Tired of monochrome bathrooms? Our colourful bathroom ideas are here to inspire you to incorporate more rainbow hues into your space. So, whether you're ready to go bold with a bright accent wall, or think you'll just stick to a few funky accessories (for now, at least), there's something to suit every style and budget.
For more bathroom ideas you can rely on our feature for both practical advice, and beautiful inspiration.
1. Add peachy tones for some subtle colour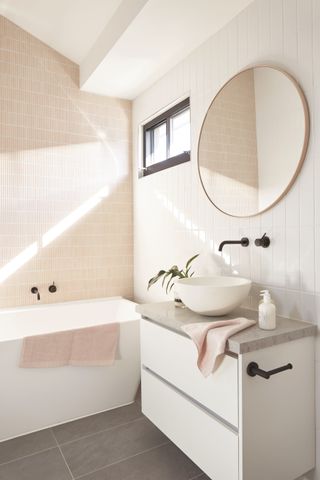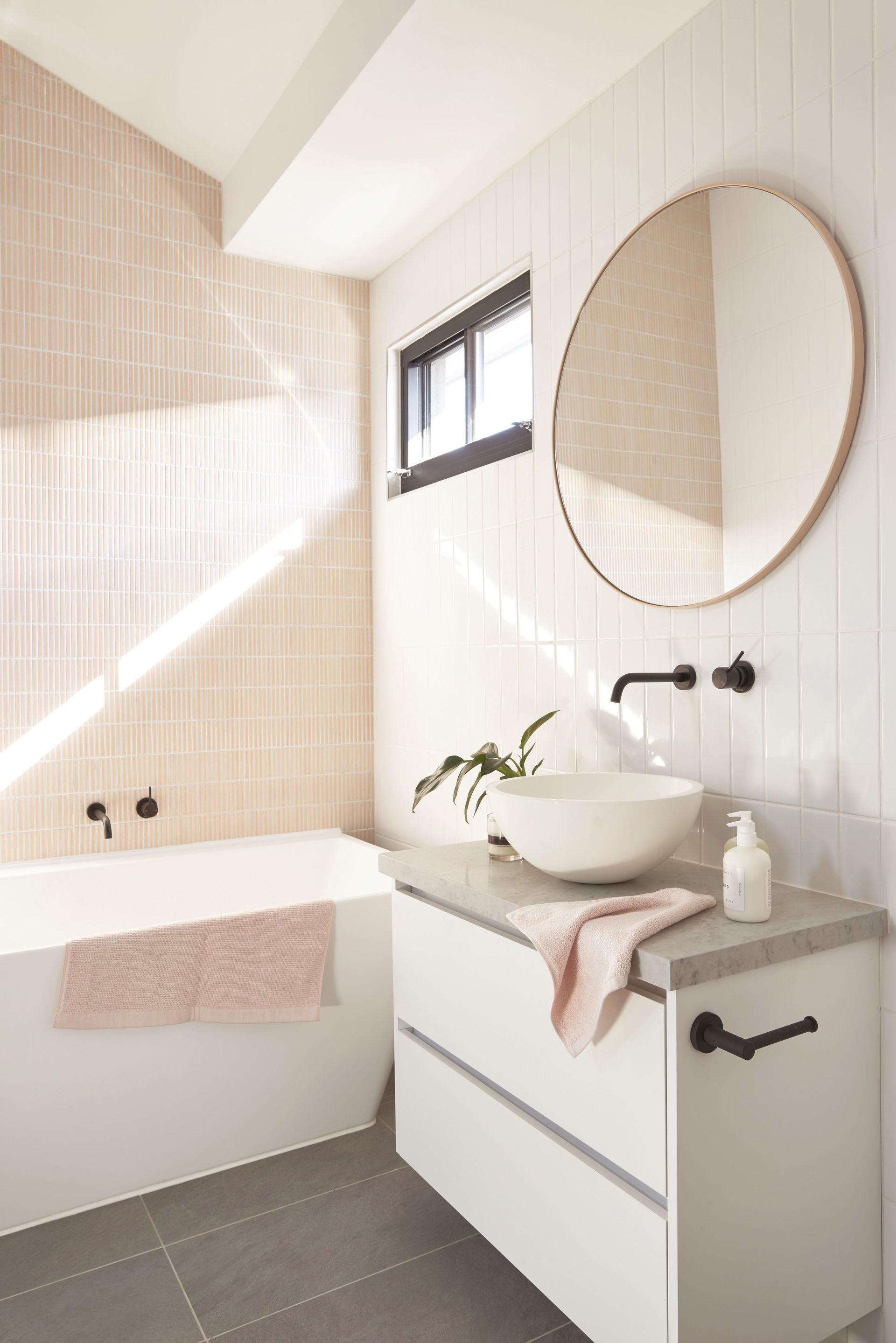 Want to just add a subtle hint of colour to your bathroom? Peach is basically a neutral but will just add some sunny warmth to your space. Pinch this colourful bathroom idea and tile one wall in a stylish peach (try Wall and Floors). You can make the colour pop even more by mixing in some accessories and towels in the same hue.
2. Create a sunset effect with floor tiles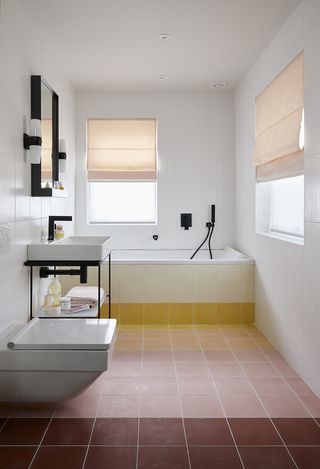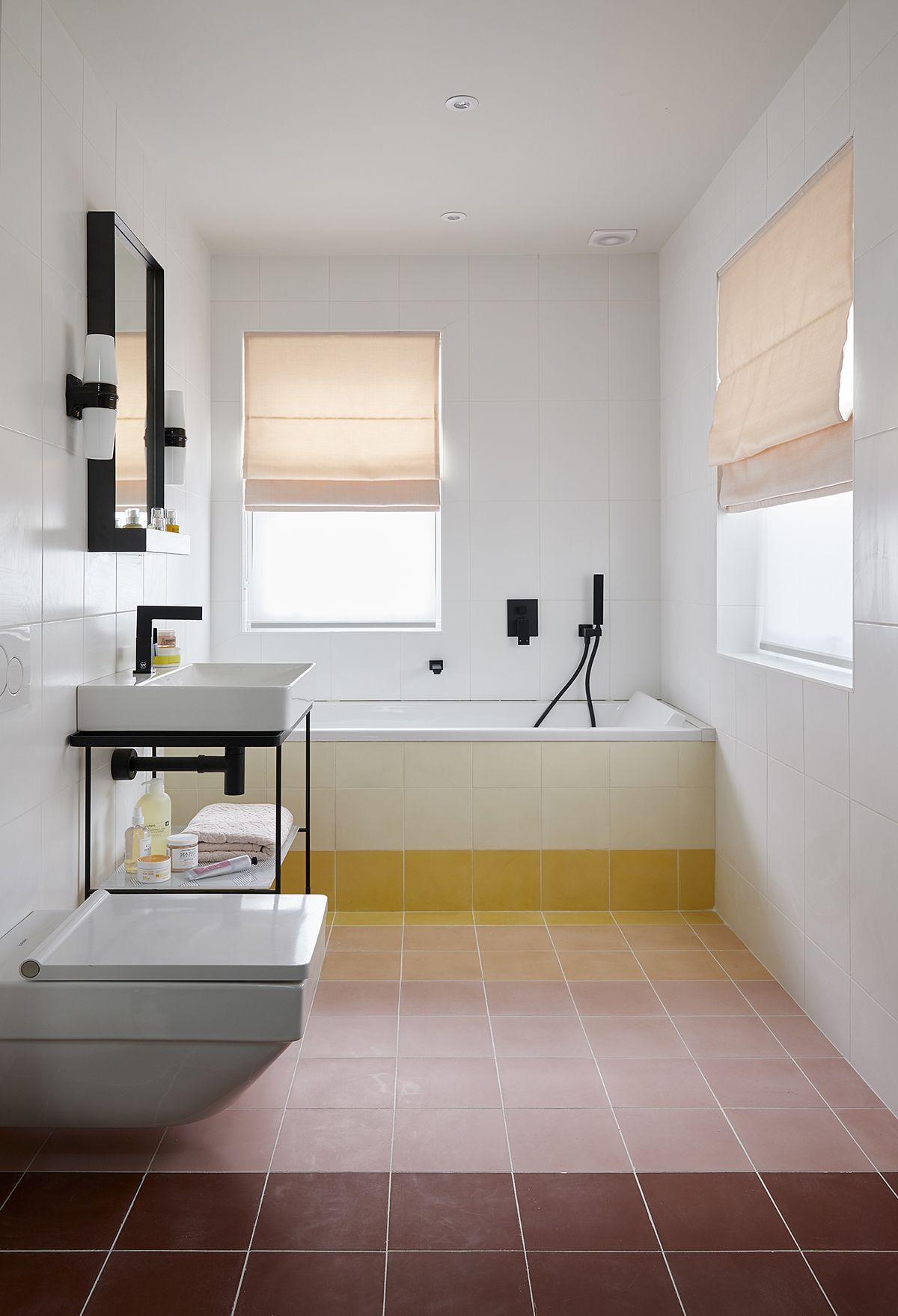 We love this colourful bathroom. Despite being a pretty small space, it's been made to look larger – and lighter – with the clever choice of floor tiles.
The fading colours draw the eye to the end of the room, giving the illusion that the room is longer than it is, while running the tiles up the side of the bath only add to lengthening the room.
If you're looking to totally renovate your bathroom in a bid to inject more colour into your space then be sure to read our tips and advice!
3. Draw subtle tones out of patterned tiles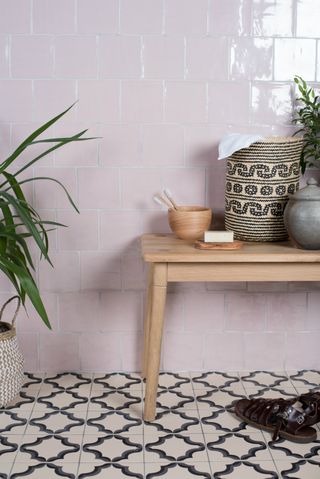 If you've decided on patterned floor tiles and want to design a bathroom with a cohesive colour scheme, consider opting for a bathroom paint colour that draws out the more subtle tile tones. This approach ensures a stylish finish, without the room feeling overwhelmed. Add interest to the space with house plants; they will successfully break up a room and prevent it from feeling too 'matchy.'
We've got loads more inspirational ideas in our best bathroom floor tile designs.
4. Combine complementary colours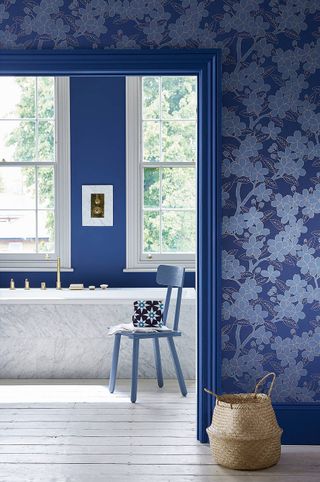 Modern printed wallpapers are a striking addition to a colourful bathroom; in particular those with high ceilings and abundant natural light. Opt for paintwork in a similar hue to ensure that a bold print or bright colour fits within the space.
This Camellia wallpaper is paired with Smalt Paint, both from Little Greene, for a modern floral feel.
If this blue botanical wallpaper has caught your eye, we have plenty more botanical wallpaper designs to inspire you.
5. Create a focal point with a coloured freestanding bath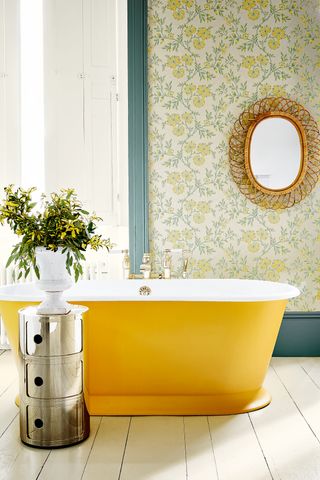 The addition of a brightly coloured, freestanding bath is an effective way of injecting colour and creating a striking focal point. We love this bold red tub, for a modern take on a traditional freestanding bath – and there's plenty more where this came from in our pick of traditional free standing bath designs.
6. Achieve a calming ombre paint effect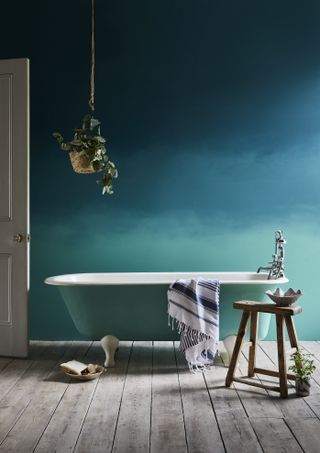 When it comes to colourful bathroom ideas, an ombre accent wall is a popular choice (and it's easy to see why). Stick to a variation of cool blue tones to create a soothing effect that encourages relaxation and an opportunity to unwind. Couple with calming house plants, fragrant candles and an at-hand stool that's perfect for storing fresh towels or (more likely) a glass of wine. Get ready to feel totally zen.
We love this calming combination of Ombre Aubusson Blue Wall Paint and Provence Chalk Paint, both from Annie Sloan. If you fancy giving the ombre effect a yourself, we've got a step-by-step guide for creating an ombre feature wall to help you out.
7. Create an iridescent effect for an understated injection of colour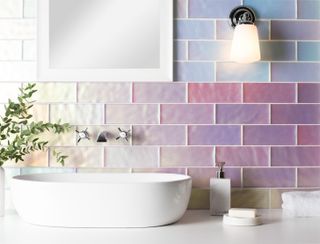 Striking yet understated, iridescent-effect bathroom tiles create a unique look in a bathroom with their colour changing slightly dependent on the light. A statement feature, this look is best achieved as part of a feature wall in an otherwise white scheme. Find out how to pick the right sized tiles for your bathroom.
Recreate this unique look using the Radiance Collection from Original Style.
8. Create a patchwork-effect tile wall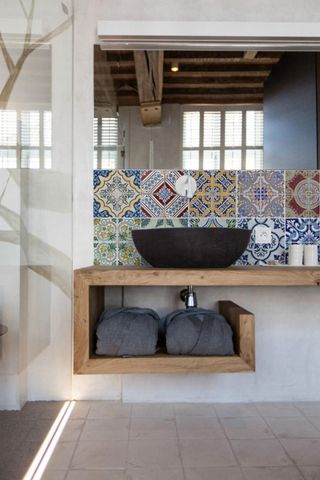 While patterned floor tiles are a popular choice for bathrooms, when arranged to create a patchwork effect they make an equally impactful addition to bathroom walls. Recreate this look by grouping an eclectic selection of patterned tiles or, as an easier option, opt for a tile-effect wallpaper.
We love this Portuguese-inspired, tile-effect wallpaper from Limelace.
Find out how to choose bathroom tiles in our practical advice guide.
9. Experiment with on-trend paint ideas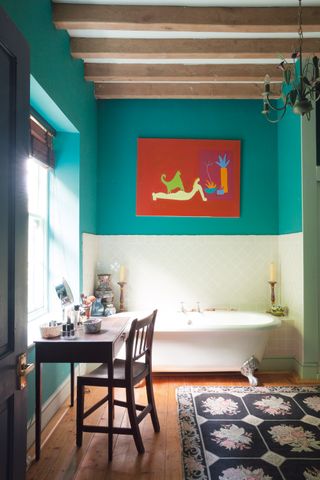 Colour blocking is an on-trend technique that's ideal for creating a colourful bathroom. To achieve this look, use natural breaks, such as corners, alcoves, shelving, dado or picture rails, to start and stop different colour choices. If you want to try this trend in other room of your home, check out these colour block paint ideas.
If you don't have a picture or dado rail, try using masking tape to draw a line at the height where there would be one. Choose a different shade for either side of the tape and paint accordingly. If this effect has caught your eye, you may want to take a look at our bathroom paint ideas for more inspiration.
10. You can colour block with bathroom tiles, too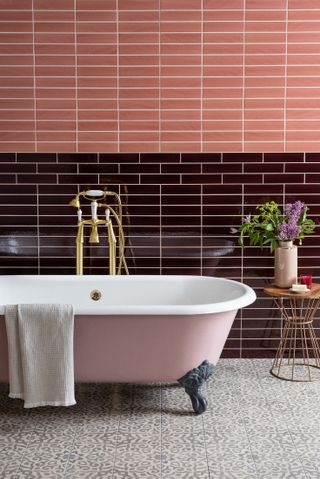 You can create the same stylish effect with colourful bathroom tiles, adding interest to a shower or behind a bath. We love the deep aubergine and coral pink working together here, plus those glamorous gold accents.
11. Pair bright accent features with deeper, moodier tones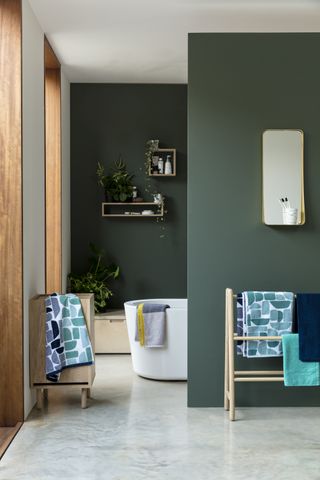 Break up a deeper toned, moodier scheme with brightly coloured accent features for added interest in your bathroom. To prevent the space from feeling overwhelmed, opt for a light wood or tiled flooring and other light coloured accessories.
12. Choose deep spicy shades for a bathroom lacking natural light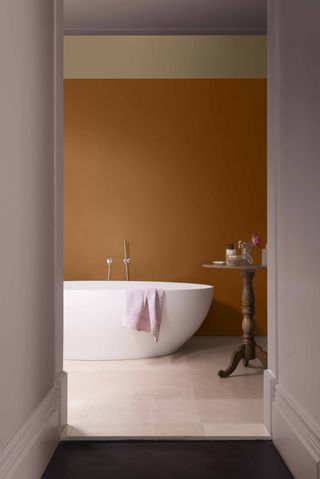 Don't let a lack of natural light dissuade you from using colour in your bathroom. Deep spicy shades calmed by muted naturals will make the room feel instantly welcoming. Ensure the bolder shades have earthy rather than citrus tones, and match them with flooring in a natural material and furniture in dark, richly grained wood for a look that oozes character.
13. Inject bright colours via stylish shutters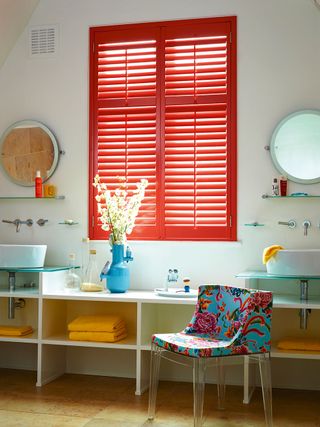 Shutters are a great solution for bathrooms, allowing daylight in and ensuring privacy when needed. If you have a neutral scheme, try using a bold colour at the window; tying the space together with vibrant accessories. Try painting old shutters yourself or find something similar at Shutterly Fabulous.
If shutters don't suit you style or budget, we've got your covered, with plenty more bathroom window treatment ideas.
14. Paint panelling for a period feel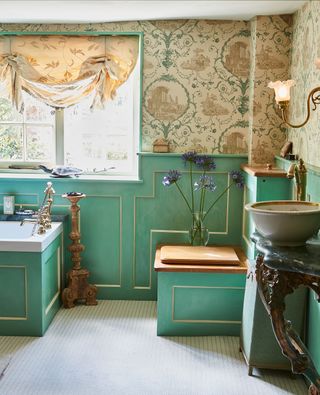 Wall panelling is a practical choice for bathrooms; you can DIY install it then paint to suit your scheme, whether period-feel or more contemporary. Want a bathroom that feels more like a living space than a bathroom? Match the panelling with bathroom-suitable wallpaper and put generous swathes of water-resistant fabric at the windows.
Find more wall panelling design tips and advice in our guide.
15. Create the most millennial bathroom ever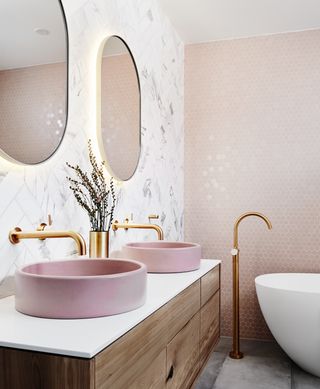 Two years later and this blush pink shade is still going strong. Pink bathrooms are the object of many a Pinterest dream, but what's holding you back from the real thing? If, down the line, you realise you have grown out of your Barbie bathroom, it's not the end of the world. So we say do it.
Think pink tiles, pink wallpaper, pink paint, pink accessories... And make sure you check out our pink room ideas feature for more tips.
Looking for more bathroom inspiration?