Make your kitchen glow gorgeous with functional kitchen lighting ideas and designs. Pendants, spots, and all manner of shades and chandeliers will not only direct the light where you need it most, but they will give your space ambiance and finish off your overall scheme perfectly.
After all, modern-day multifunctional kitchens require an array of versatile lighting solutions to switch on the sparkle as and when needed for specific tasks. Upping your lighting game is a must.
Kitchen lighting ideas to illuminate your cooking space
Perhaps your existing lighting is functional, but a little dated or dull? Or are you looking to enhance your kitchen ideas and inspire an entirely new decor scheme?
Susanne of Susanne Fox Design, luxury NYC interior designer, says: 'It's always a great idea to include a striking decorative light fixture in your kitchen. In addition to providing light, a decorative fixture will bring a kitchen from a utilitarian space to a high fashion space.'
From sculptural dangling pendants that pack a punch of zoned lighting for food prep and cooking duties, to discreet wall lights that create a firefly-like atmosphere for relaxed entertaining, nail your kitchen lighting to maximize functionality and set the mood.
1. Accessorize your space as you would your wardrobe
Consider your lighting design as the jewelry in your scheme. Choose the best kitchen lighting to be the dazzling pièce de résistance, whilst also creating the right ambiance or highlighting a task zone area.
Jennifer Harris, Allied ASID, Design Lines Signature, comments: 'Light fixtures dress up a space and act as a piece of art, all while providing a functional purpose. The style of your fixture should coordinate with furnishings selected for the space and reflect your personality. When selecting lighting, don't forget to consider the shapes present in the room, such as a round or rectangular dining table, as well as the scale of the room. Installing dimmer switches and separate controls for each source can allow for a wide variety of moods.'
Georgia Zikas, Georgia Zikas Design, agrees: 'Lights are the jewelry of a room. They add instant shine and impact to your space and can be as versatile or as stately as you like. In choosing your chandelier, I would recommend considering function and use. These elements will help you determine the style and size of the light fixture to choose.'
2. Make a statement with large scale chandeliers
Scale is everything when it comes to kitchen ceiling lighting ideas. In open-plan kitchens with an island, create a luxe, attention-grabbing focal point with a duo of striking, large-scale chandeliers that zone the space. Mix things up with exaggerated or explosive silhouettes in mixed materials to add dynamic, texture, and contrast with a contemporary attitude.
Malka Helft, Think Chic Interiors, advises: 'I love nothing more than adding statement lighting throughout various, even unexpected rooms and spaces, in my projects. My best rules of thumb are to choose distinct chandeliers for the room you're working in. If you have a more traditional design in a dining room but it makes sense to go more modern in your entryway, then don't be afraid to mix and match. I also think scale is important.'
3. Mix lighting styles for atmosphere and interest
Larger open-plan kitchens and multifunctional spaces often require multiple lighting solutions to serve different needs and occasions. For instance, you might want to suspend a group of task pendants over your island cooking hotspot, with a different statement design over your dining table or open space to create the desired focal point for dining or entertaining. But how do you prevent different designs from 'outshining' one another'?
Create a cohesive lighting scheme with different designs that share a common element or material. Shown here, stand-alone glass ceiling lights unite the scheme, keeping things light and bright (quite literally) without overcrowding the overall aesthetic.
Inspired by this design? For a similar look, shop Wayfair's selection of glass pendant lights and mix and match away.
4. Create optical illusions with caged designs
Add instant impact with caged style pendants in graphic formations. Available in a plethora of geometric shapes ranging from humble cube to faceted hexagon, these vintage-factory-inspired classics have been given a modern rethink in glamorous metallics and raw industrial tones. Swoon over Industrial Light Electric's amazing collection of industrial caged pendant lights, available in metallic and fun color finishes, to heighten interest in any style of kitchen – traditional, rustic, urban, or contemporary, with a gravity-defying effect!
Jamie King, JLK Interiors, comments: 'When it comes to lighting, I love experimenting with different finishes. My personal favorite style is a metal light fixture, whether it is bronze or gold it adds an elegant yet industrial component to the room. I also think having fun with the light bulbs is a great way to change the look of the fixture.'
5. Choose a design that reflects your kitchen's personality
Jennifer Markowitz, JNR Designs, comments: 'Choosing a statement light fixture can seem daunting but I always tell clients to take the design elements they love in their home and apply it to the light. If you have a coastal vibe going, then perhaps a rattan or other natural fixture will be the best fit, but if you have a more traditional space, then you might want to go with a beautiful crystal chandelier. The most important thing is to have fun with it, and make it your own.'
6. Incorporate three sources of varying light
When remodeling a kitchen, lighting is the key element that will make a space sink or swim. No pressure cooker there then! According to Julia Miller, founder, Yond Interiors, it's all about incorporating three sources of varying light.
'One - can or recessed lighting; two - task lighting over an island or work surface; and three - an additional source of ambient lightings, such as decorative lighting over a window or open shelf.'
She continues: 'If you can only sneak in two sources like a can or task lighting, just make sure you are getting enough directional and diffused light out of your fixtures. This typically works best with fixtures like a glass globe since most people don't like using can lighting all the time.'
Kerry Laird, interior designer at Fishpools, comments: 'Lighting falls into one of three categories: General, Task and Accent.'
She continues: 'Kitchen spaces are all about the task lighting. Food preparation areas, the hob, oven, sink, and fridge all require a high level of visibility, so spotlights or directional lights over these areas are often your best bet. Low hanging pendant lights can provide focused illumination whilst also offering a stylish focal point for your space.'
'Make sure other areas like cupboards are sufficiently lit too, perhaps with the aid of additional lighting. If you have a dining/breakfast area in your kitchen, treat this as a separate entity with the use of mood lighting.'
7. Set the party vibes with neon signage
Glow-up and giddy up your kitchen with motivational neon lights that brighten up your space as well as your spirits. Use these fun color pops to make a personalized statement with a playful, modern edge. Where there's a phrase, there's a color and way to light it up!
Courtney from Custom Neon, comments: 'Over recent years, especially with the pandemic compelling many people to stay home, we've seen a lot more of our customers using LED neon signs in their kitchens. They make the most gorgeous piece of lighted décor, which pairs well with downlights and other lighting features. It's also a great way to add an individualized and creative flair to your kitchen, making it a more inviting space overall.'
8. Work then relax with versatile ceiling lighting
'For those looking to incorporate ceiling lighting into their kitchens, a larger statement hanging light is the perfect option as it can act as both task and ambient lighting, especially when placed above a kitchen island. This type of lighting illuminates a specific area, making the completion of a task much easier. Flat rectangular panel luminaries are particularly popular and can be dimmed down to create more of a relaxed atmosphere for socializing or preparing food,' says David Amos, CEO at Amos Lighting.
9. Introduce a fluted glass fixture
Grey kitchen ideas have been the go-to for many residential family homes and commercial properties. This classic shade can do no wrong (in most instances). But if your cookhouse is looking a little cold, warm things up with a gold fluted glass chandelier design.
Gold is the obvious choice when it comes to glamming up a modern kitchen space, but the vertical grooves on the glass add trendy texture and decoratively distort the light.
We love the fact that this ribbed effect is continued and picked up in the vase and glass water bottle.
10. Go for a chandelier strip in smaller space
If you're dealing with a compact space, you'll need to rethink things with small kitchen lighting ideas. If your wish list declares a chandelier, think long and thin rather than something wide and showy.
This Pentabulous chandelier from Pooky (yes – penta – five lights) is imposing and stylish, without dominating the scheme. And because you need to add your own shades to this kitchen lighting idea, you can totally make it your own.
11. Mix marble with concrete for a design-led look
Some materials used in materials are just made to be shown off. Marble islands, for example, are one of many luxury kitchen ideas that look expensive and show that you're not short of a few dollars in your pocket.
While concrete usually sits on the other side of the spectrum as an industrial finish, its too-cool-for-school looks combined with marble's veiny appearance work together in harmony.
Look closely and you'll see this trio of bell-shaped Soprano pendant lights by Pooky have little nuances about them. Ripples of light and dark grey make them perfectly imperfect... And we think that's pretty deep for a kitchen lighting idea.
12. Brighten a dark kitchen with glass pendants
As dramatic as they can be, dark kitchens are a little less practical than their lighter counterparts when it comes to kitchen lighting ideas. But that doesn't mean that you should be discouraged from navy or inky blue kitchen ideas.
These Henry pendant shades mimic the look of gathered fabric, except they are made from glass. So whether you choose a clear, smoked, or colored glass kitchen lighting idea, this material is so versatile and can contribute to creating a really intimate atmosphere.
13. Match your lighting to your kitchen handles
OK... so black and navy shouldn't usually mix, but we're willing to make exceptions where kitchens look this cool. Situated around the island, these lights sit atop the Haddon shaker-style kitchen from Burbidge & Son's Kitchen Makers for a sophisticated look.
What makes this kitchen lighting idea smart is the fact that the brass fixture matches with the handles on the dark blue unit.
14. Don't forget to add light near alcoves
Our kitchens are more than just a place to prepare food. As social areas of the home where one too many parties may have taken place (guilty!), it's a place to show off your culinary skills and amateur chef equipment.
Whether you've got a new set of knives or some raw wood chopping boards, don't hide them away – show them off them proudly. Shown here, the alcove acts as a display area for kitchenware. A trio of pendant lighting ideas with their concertinaed detail brightens up the wide kitchen cubby, adding tutu-inspired silhouettes above.
15. Improve visibility by adding light near a dresser
Opt for cute, quaint, and dainty designs with exposed bulbs to highlight the pantry with an industrial nod. Match ceramic pendants in shades of plaster or natural terracotta, with cream kitchen storage and crockery to awash your scheme in gentle hues and warmth.
These beautiful lights will lift the mood of any sized kitchen space and attract much praise from guests – despite their diminutive appearance. Use this as an excuse to bring out nanna's pretty vintage hand-me-downs and put your best plate forward.
16. Mix and match light shades in the same finish
If you're looking to display a trio of kitchen lighting ideas – they don't have to be the same. Similar yes, but not identical.
Try copper-colored lights in different sizes for a play on scale and perspective that packs a shiny punch! Team metallics with a black kitchen scheme for a dramatic look oozing with depth and luxe accents.
17. Plan for form and function
Create a talking point above your island with a group of industrial-inspired pendants with exposed filament bulbs staggered at different heights. Experiment with different types of bulbs for an eclectic touch.
When it comes to kitchen island lighting ideas, multiple lights have more impact. Choose matching designs for a cohesive and balanced aesthetic, or mix things up with different shapes and tonal shades.
18. Make your kitchen lights work around you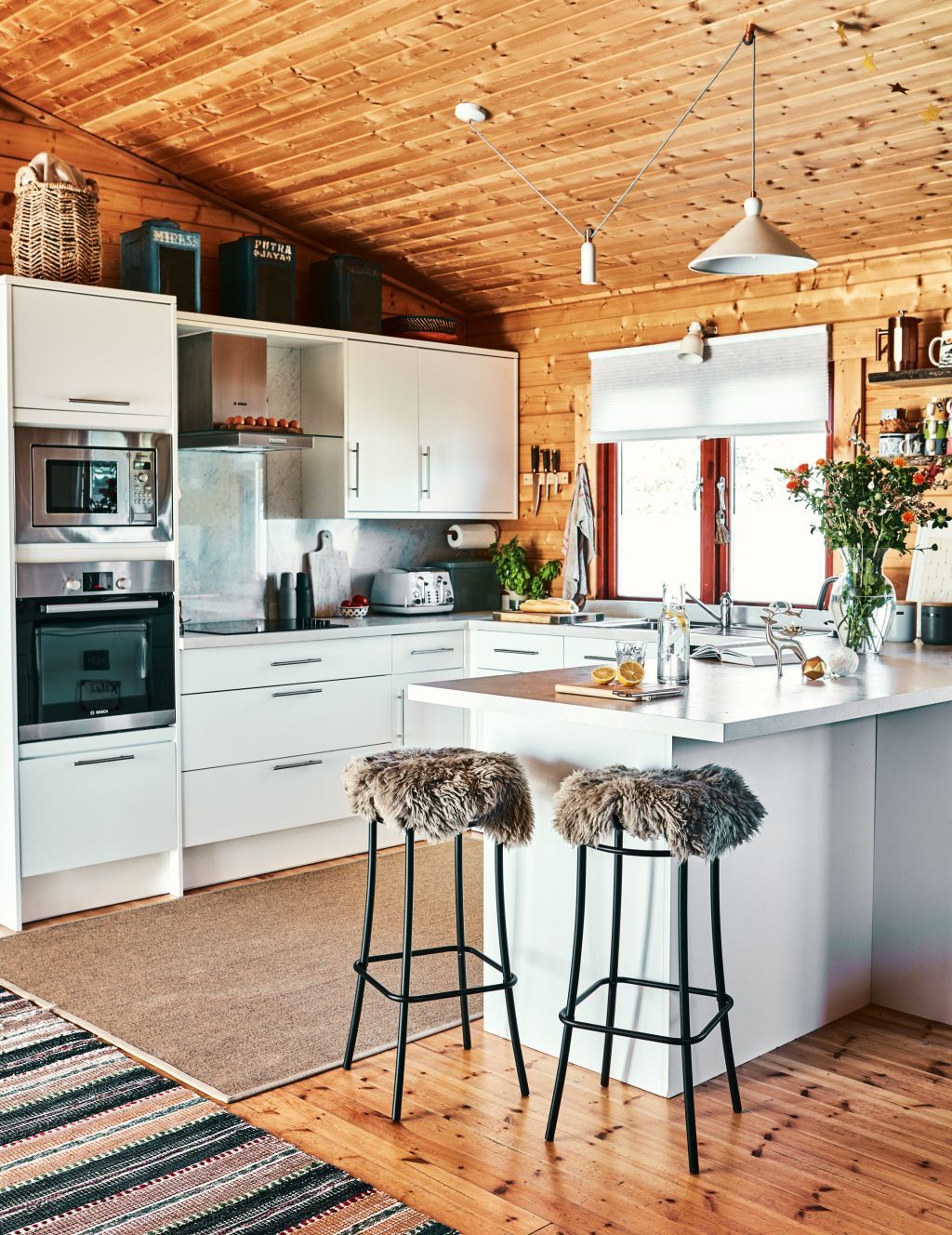 Of all the rooms in the house, the kitchen perhaps sees the most varied activities, and if it's combined with a dining and living space, the most action, too. Pay attention to how you use each part of the space to decide which kitchen lights you need where – especially lookout for spaces you use a lot and will need plenty of kitchen task lighting.
The overall look of your kitchen lighting should complement the kitchen's style, and by considering how you use each kitchen zone, you'll begin to see why getting the right kitchen lighting in the right places can really help make this space a success, whether you have a modern or traditional kitchen.
19. Remember to consider natural light in your kitchen
Working out orientation and how much natural light your room gets will help inform your kitchen lighting design. For example, north-facing rooms are likely to be light-starved; east-facing rooms will get little light in the afternoons; while south- and west-facing kitchens are likely to be naturally bright well into the late afternoon.
Think about natural dark spots, too. For example, if you're planning a kitchen extension, the area in the deepest part of the extension will lack natural light and might need lighting during the day.
However, it's worth talking to your architect first about improving light levels with glazing, bi-fold doors, and roof lights, keeping in mind the location wherein the kitchen would work best before you start planning the lighting scheme.
Ceiling heights will affect the room's natural light levels, as well as the surfaces you're planning on installing in the kitchen. Light-colored cabinets, flooring, worktops, kitchen paint colors, and high-gloss finishes, will all bounce light around and lessen the need for artificial lighting.
20. Work out the best position for kitchen lighting
When you're planning how to light a kitchen, working out the exact position of your kitchen units and furniture is a must.
'You'll want lights over worktops and not walkways. If you're planning a kitchen diner, you don't want the dining table where there isn't going to be any light. You need to know the height of your units too and whether you're going to want to light these spaces from above.' explains Rebecca Hutchison, senior designer at John Cullen Lighting.
Working this way will also help you pinpoint where your light switches will be; if yours is an open-plan kitchen layout with a diner and living space, you may want lighting controls at both ends of the room.
21. Highlight your kitchen island with plinth lighting
Plinth lighting can be subtly concealed beneath a substantially sized kitchen island to create an almost floating effect. In this kitchen lighting design, illumination also shows off the stylish parquet flooring.
22. Choose eye-catching kitchen lighting over an island
Looking for kitchen lighting ideas that are a feature in themselves? Pendant lighting above a kitchen island draws attention to the feature and can create a pool of light when it – or a portion of it – doubles as a breakfast bar or dining area.
This striking yellow pendant light really packs a colorful punch in contrast to the deep cabinets and marble countertops.
23. Add in plenty of kitchen task lighting
Kitchen task lighting needn't be dull just because it's functional. In this room, white SEKOND cord sets and RYET lightbulbs all Ikea, stand out against the dark tones of the wall to illuminate the worktops and kitchen backsplash, creating a moody aesthetic.
24. Light your kitchen cabinetry
When you're planning kitchen lighting, under-cabinet lighting isn't just a practical feature to illuminate worktops.
Position it at plinth level and it will sweep light onto the floor, whilst creating an attractive punctuation point between solid surfaces.
25. Highlight the dining table
We'd recommend planning kitchen lighting that works on a separate circuit over a dining table, so you can move attention to the meal you've created, and dim preparation area lights so pots and pans aren't a distraction. We love this kitchen light idea which mismatches geometric pendant lights.
26. Light the inside of kitchen cabinets
Lighting up cabinets is not only one of the most practical kitchen lighting ideas but it can also turn them into an interesting focal point within the space. If you have glass cabinets, fill them with your favorite glassware and crockery or why not pinch this idea and light up a well-organized pantry?
27. Brighten up shelving with clever kitchen lighting
If you are after super practical kitchen lighting ideas, this is one to copy. Strip lights along the edge of shelves will elevate tableware and condiments on display, or use them to brighten drawers and gloomy cupboard interiors. LED strip lights by Amazon can be installed without the need for an electrician.
28. Make a feature of a backsplash
A piece of top kitchen lighting advice? Put the focus on the room's best features. The gorgeous backsplash idea is a highlight of this kitchen, and downlights make it shine much more brilliantly than it would in daylight alone, showing off the textured subway tile design, too.
29. Get on-trend with dark kitchen task lighting
Kitchens tend to benefit from plenty of natural light, so make a great space in the home to try out an atmospheric dark scheme or the latest kitchen trend.
A dark pendant light is a great way to create a graphic contrast in your dining space – and if you find that it doesn't work, after all, pendants are easy to replace. Choose an organic-inspired mesh design for added texture.
30. Go for uniformity
This trio of matching industrial-style pendant lights presents a pleasing, unified look.
The placement is ideal to illuminate the kitchen island when in use and the choice of off-white shades complements the light semi-matte countertops in this open space.
31. Choose Crittall-style doors to define daylight
Think about how much daylight can be put to good use as you're planning kitchen lighting. This Crittall-style glass extension idea allows light to flood into the space, reducing the need for artificial light during the day.
32. Be bold with bulbs
Lightbulb moment! You don't always have to use shades in an open area of your kitchen to create a feature.
This kitchen lighting idea uses a mobile lighting fixture, complete with exposed bulbs for a streamlined, modern look that coordinates with the remainder mono scheme effortlessly. It's classy yet a bit edgy and works especially well in a white kitchen.
33. Dress your kitchen up with copper
Adding shine with metallics is a brilliant lighting idea to bounce and reflect light around your space. Ideal if you're trying to make a small kitchen look bigger. Here gleaming copper pendants in abstract forms add plenty of life to the space. A retro Smeg fridge in hi-gloss further reflects the light.
34. Go for all white kitchen lights
What a way to brighten up a breakfast bar. White kitchen lights will lift the light levels in all kinds of spaces.
These three pendants above the breakfast bar area of the kitchen island help to marry the other parts of the color scheme together, whilst adding 'wide awake' appeal.
35. Pick barely noticeable lighting
As we have mentioned, lighting kitchen counters with specific task lighting is an essential part of your kitchen design so you can... Well, see what you are doing when prepping food!
But they don't always have to be a standout feature in your kitchen, or take up space. Can you even spot the lights in this kitchen? A very small strip of ceiling spotlights hardly interferes with the quirky, colorful look of the space.
Check out Ikea for similar kitchen lighting.
36. Consider shadows and glare
Wondering what the number one most annoying kitchen lighting problem is? Standing at the worktop and not having a clear view of what you're doing because of your own shadow. This happens when ceiling lights have been positioned above the edge of the counter.
You don't need to rip lights out of the ceiling to solve the issue though. Simply install under-cabinet lighting and your view of the work surface will be good, and chopping veg will be a far safer job.
37. Set pendant lights at the right height
Pendant lights above a counter can be a stunning part of a kitchen lighting design, but what height should they be hung at?
As a rule, they should be around 32 to 40 inches above it, measuring between the base of the pendant light and the top of the counter. If the ceiling of your room is around 8 feet high, the smaller distance will probably suit, while if it's taller, it will be better on the higher side.
Bear in mind that what you definitely don't want is a light that blocks the view across the counter, so you might want to adjust depending on where the eye line of the tallest member of your household falls.
Want to make getting the height right really easy? Opt for a rise and fall light, like this Rise & Fall School Light 7200 from Davey Lighting, which you can adjust as needed.
38. Correctly space island pendant lights
We've talked about the height at which to hang pendant lights, but what about the distance in between them? Bear in mind when you're planning kitchen lighting that the rule isn't hard and fast and you should trust your feelings about how the lights look, but there are definitely guidelines to follow.
If there is room for an odd number of pendants over the island, then place the first light in the center – easy! Then hang the others so they're at least 24 inches apart. It can be more, though, and you should adjust depending on the size of the pendants; up to 30 to 32 inches should look good.
Small island and only room for two pendants? The easiest way to work this out is to place the center of each of the two pendant lights one-quarter of the way in from either end of the island.
39. Incorporate sculptural designs into your kitchen diner
One of our favorite kitchen diner lighting ideas is to consider a more decorative, sculptural pendant light over the dining table.
It will help to distinguish this area of the room where you sit down to relax and enjoy the results of your prep and cooking from the hard-working kitchen area.
40. Light up a breakfast station
Opting to keep small appliances like a coffee maker and toaster off the counter and in a breakfast pantry design in which they're concealed when not in use can help keep a kitchen tidy.
But if your breakfast station is going to be a success, it needs great lighting inside so you can concentrate on the task at hand (yes, we're talking task lighting once again.) This stylish design has internal downlights that make prepping breakfast easy.
What color should kitchen lighting be?
Planning a successful lighting scheme is also about getting the light color/quality right, too. This is somewhat subjective, but you should choose bulbs that not only flatter the space but make it feel welcoming, too.
Light color can impact dramatically on your scheme. Take LEDs, for instance: their color temperature is measured in kelvins (or K) — daylight measures around 6,000-6,500 kelvins; candlelight comes in at around 1,800 kelvins. While you may want your LEDs to give off cool white light above worktops, warm white is much more relaxing for dining or living areas.
'The most versatile color for the kitchen lighting is 2,700 kelvins, which gives off a slightly warm light that is creamy enough to have on during the day but is still a comfortable warm light for evenings,' says Hutchison.
'For lights within shelving units, you would most likely have these on of an evening for atmosphere and so you'd more than likely select strips with extra warmth and go for 2,400 kelvins.'
Kitchen lighting design tips
Best places to buy kitchen lighting
Don't put lights too close to cabinetry as if you have low ceilings, the glare from the lights could discolor the veneer.
If you have low ceilings, you will need fewer downlights; too many and the light will be overpowering.
Use spotlights on dimmer switches so you can easily control light levels.
Include mood and task lighting in a scheme so that when you've finished cooking you can turn the bright lights down and have accents more suited to a sociable eating environment – not bright or harsh lighting.
Ensure light switches are compatible with the style of your kitchen.
Layer practical task and atmospheric mood lighting
Including different layers of light in your scheme will give you the best of all worlds: a kitchen that functions brilliantly, but one that looks good or that you can quickly conjure an atmosphere in, too.
Task lighting is purely practical and should be designed to allow you to prep and cook safely, and perhaps use an area of the room for reading or homework. Task lighting might be ceiling downlights and under-unit lights, well placed above worktops in order to illuminate task areas.
Accent lighting is used to highlight of softly light elements of the kitchen. So, if you're including a kitchen island or dining table, pendants both as a focal point and to focus a soft glow on the table will do the trick (hang pendants in odd numbers – they look better). Similarly, LED strips under breakfast bars, beneath 'floating' kitchen islands, over wall units or illuminating shelves within cabinets can provide accent lighting, highlighting these features while contributing a warm backlight to create atmosphere in the evening.
Ambient lighting – in other words, general background light – can be provided by wall and table lights, but also by your main task lighting if it's controlled by dimmer switches.
Put kitchen lighting on separate, zoned circuits
No kitchen lighting scheme will look its best controlled by one switch – putting your kitchen lighting on different circuits is a must. Here's what to consider:
How many circuits? An average kitchen will need three circuits: one for downlights; one for pendants; and one for under-unit lights, for example.
How many zones? An open plan kitchen/living/dining space will need more circuits, because you should treat each zone's lighting individually.
Which lights when? How will you use the space and what lights do you want switched on at the same time? For example, it makes sense to have the kitchen on separate circuits to the living/dining space, so that you don't have to look at the washing up while you're relaxing.
How bright should kitchen lighting be?
The brightness of lights is an important factor in kitchen lighting planning. Lighting levels are often measured in foot candles. So what is a foot candle? It's a measure of the intensity of the light and is defined as 1 lumen per square foot.
We know what you're asking now: what's a lumen? The answer is that it's a measurement of the quantity of light visible to the human eye from a light source per unit of time. The higher the lumen rating, the brighter the light.
The bottom line here, of course, is that your kitchen lighting needs to be sufficiently bright for all the activities that go on there.
To work out whether your kitchen will have enough light, start by calculating the square footage. As a guide, a kitchen will need 30 to 40 foot candles for general lighting. Multiply the square footage of the room by the above foot candle numbers and the result is the lumens required.
Bear in mind that this is the overall light for the room and working zones such as the cooking area and sink need task lighting, which should also be calculated and added on to your total. You'll require 70 to 80 foot candles for these areas.
If math isn't your strong point, you'll find calculators on line to help with planning your kitchen lighting.
Are LED lights good for kitchens?
LEDs are most certainly the way forward when it comes to lighting. In comparison to outdated halogen bulbs, they're a far more cost effective and eco-friendly solution. The low wattage of LED lights means that energy consumption is reduced, and they also last longer. LEDs will last for up to 40,000 hours compared to the 3,000 hour lifespan of halogens.
Get the right amount of lighting in your kitchen
How to get the balance right? A good electrician will advise on how many downlights you'll need but, as a guide, an average-sized kitchen, at around 4m x 4m, would need six.
Designing a kitchen on a budget? Track or monorail lighting can be a cost-effective alternative as you can position lights on the track to target the key areas you want to light.
Who can install kitchen lighting?
Your builder: if you're planning a kitchen extension, it's likely your builder will bring in an electrician to carry out the lighting work alongside the first fix of other electrical fittings, although you may want to engage a lighting designer to oversee the planning at the very least.
Your kitchen supplier: if it's a case of installing a new kitchen into an existing room, your kitchen company may offer a lighting design service as part of the package or as an added extra. 'For elements such as in-cabinet lighting, it very much depends on how you brief your kitchen supplier as to who is responsible for installing this,' advises Rebecca Hutchison of John Cullen Lighting. 'Bear in mind, though, that if this is provided and installed by your kitchen supplier, you might not have the same colour of light as the rest of the lighting in the room — whereas if you specify all of your lighting from the same place then the warmth and brightness will be consistent and you'll end up with a better result.'
Your electrician: if you're fitting lighting retrospectively or are project managing your kitchen renovation yourself, your electrician can do the work.
You: if you're fitting your own kitchen, you can take on some of the work yourself (for instance, chasing out walls), but only if your electrician is happy to sign it off. Be aware of what you can and can't do: Part P of the Building Regulations legislates for DIY electrical work and states that if a job is 'notifiable' – such as adding a new circuit or replacing a consumer unit – it either needs to be carried out or certified by a registered competent person, such as a NICEIC member, or inspected by building control.