Whether you're designing a new kitchen, or revamping your existing room, planning an effective kitchen lighting scheme can make a huge difference. Good worktop lighting will ensure food preparation is safe and easy; statement designs can draw the eye; and accent lighting will highlight the room's best features and add to its atmosphere. Discover the very brightest kitchen lighting ideas in our selection.
Planning your new kitchen from scratch? Make sure you have a read through our essential guide for more practical information.
How to choose kitchen lighting
Planning your kitchen lighting? Focus on the three types of lighting – practical task, general background light, and accent lighting – when you're planning your kitchen lighting scheme. Pay attention, too, to how you use each part of the space to decide which lights you need where. The overall style of your lighting should complement the kitchen's look, whether you have an industrial style kitchen, a contemporary kitchen, or a traditional country style kitchen. Don't forget to factor in both budget for the fittings themselves and, for most lighting, for an electrician either employed by you or your builder or kitchen supplier if they're not part of any price you've been given.
1. Make a kitchen island the focal point with lighting
Kitchen lighting can pull off some clever tricks, including the one seen here where a substantially sized kitchen island looks light as air. Plinth lighting is concealed to create the visual illusion, and the illumination also shows off the parquet flooring.
Concealed LED plinth lighting from Mr Resistor in bespoke kitchen, from £35,000, Roundhouse.
2. Choose an eye-catching kitchen pendant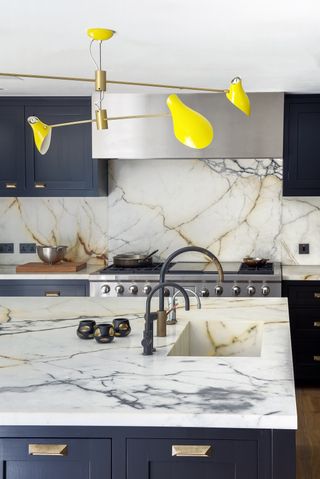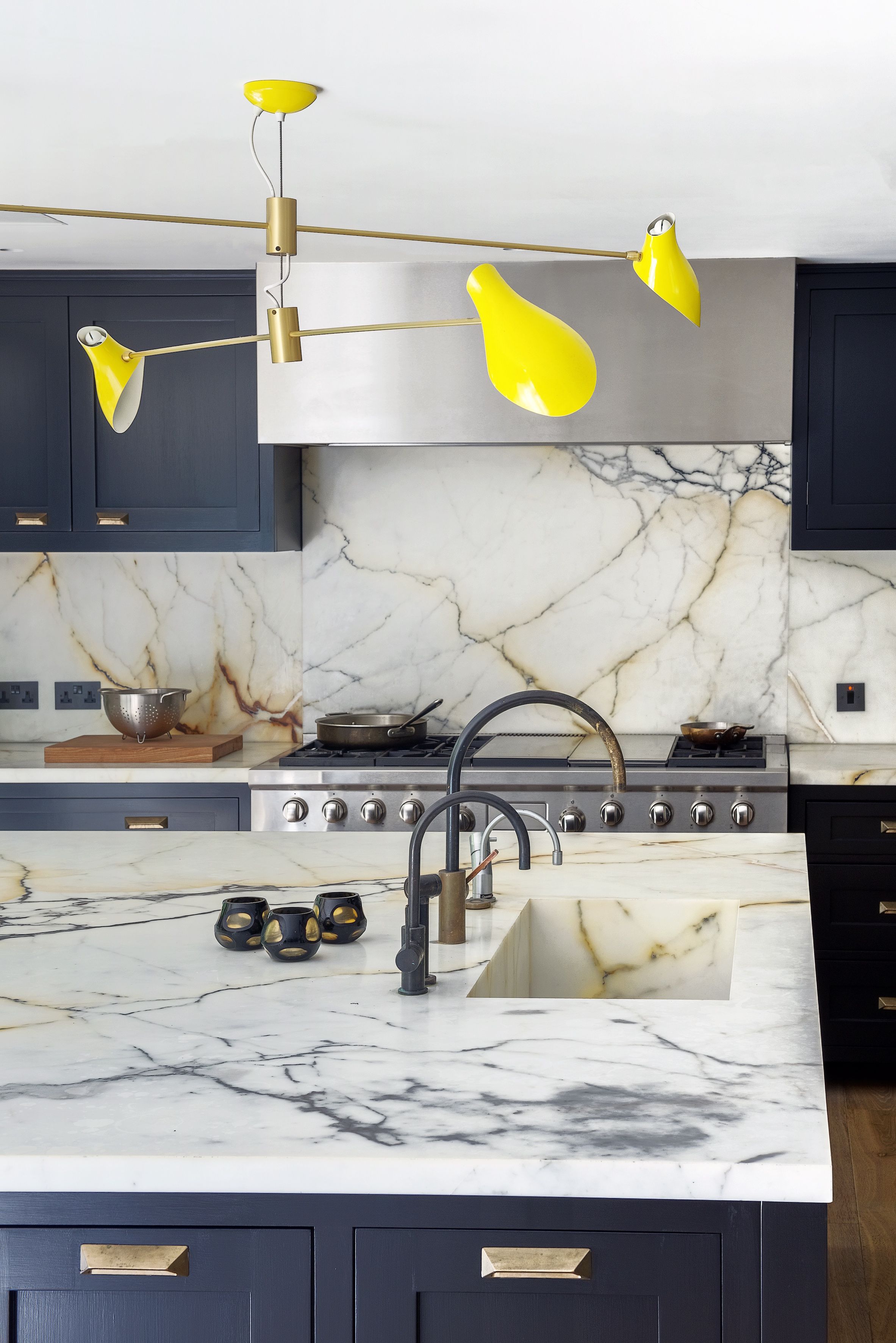 Looking for kitchen lighting ideas that are a feature in themselves? Pendant lighting above a kitchen island draws attention to the feature, and can create a pool of light when it – or a portion of it as here – doubles as a breakfast bar or dining area. Find similar lights at Christopher Wray and Holloways of Ludlow. Shoreditch kitchen by Charlie Kingham.
3. Add in plenty of task lighting
Kitchen lighting ideas – and task lighting in particular – needn't be dull just because they're functional. In this room, white SEKOND cord sets, £5, and RYET lightbulbs, £0.90, all Ikea, stand out against the dark tones of the wall to illuminate the worktops and splashbacks and add to the aesthetic of the room. If you love this kitchen splashback idea there are plenty more in our inspiring gallery.
4. Choose colour-changing lighting for your kitchen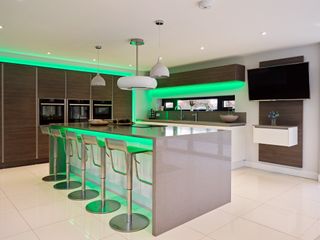 If you're planning an open-plan kitchen, colour-changing lighting can be a kitchen lighting idea worth considering, making a feature of the zone when it's not a work space. Swap between hues to take the mood from laid-back to more energetic. This Masterclass Kitchens H-Line Lumina was designed by LDC Kitchens. From £7,500 for a complete kitchen.
5. Let a kitchen hood do double lighting duty
If you're cooking at an island hob, you'll need an efficient extractor overhead. Here, the hood is an attention-grabbing pendant light as well as ventilating the room, and provides LED task lighting for cooking plus ambient light for the room.
Interstellar island hood in clear glass, £3,200, Elica.
6. Light your kitchen cabinetry
Under-cabinet lighting isn't just a practical feature to illuminate worktops. Position it at plinth level and it will sweep light on to the floor, plus create an attractive punctuation point between solid surfaces.
7. Delineate the kitchen dining table
Plan in lighting that works on a separate circuit over a dining table, so you can move attention to the meal you've created, and dim preparation area lights so pots and pans aren't a distraction.
We love the mismatched look of these geometric pendant lights from Pooky.
8. Light inside kitchen cabinets
We love this kitchen lighting idea: lighting up cabinets is not only practical but they can also turn them into an interesting focal point with in the kitchen. If you have glass cabinets, fill them with your favourite glassware and crockery or why not pinch this idea and light up a (well organised) pantry.
9. Brighten kitchen shelving
Strip lights along the edge of shelves will make more of tableware and condiments on display – or use them to brighten drawers and gloomy cupboard interiors.
These 3W LED strip lights by Markslojd, £22.99 each, Lighting Direct can be installed without the need for an electrician.
10. Make a feature of a splashback with lighting
The gorgeous splashback is a highlight of this kitchen, and downlights make it shine much more brilliantly than it would in daylight alone, showing off the texture, too.
It's part of the Integra Meteor Grey kitchen, from £2,882, Magnet.
11. Get on trend with a dark and moody pendant light
Feel like experimenting with the dark and atmospheric decorating trend that's becoming so popular lately? The good news is, a kitchen is a great space in the home to try out dark, since these rooms tend to have plenty of natural light to balance out the dark colours. A dark pendant light is a great way to create a graphic contrast in your dining space – and if you find that it doesn't work after all, pendants are easy to replace.
We like the lace-like effect created by the Wire and Thread Pendant Lamp in Black from Out There Interiors.
More kitchen essentials: