Recent updates
This article was last updated on the 29th of November. In the last update, deal prices were checked, and any that were out of stock or no longer on offer were removed from the guide. We changed our wording from Cyber Monday to Cyber Week to reflect the progression of the promotional period, refreshed the article's listing and hero image, and also added plenty more retailers to our 'Where to buy' section. Lastly, we have added some information on the benefits of aromatherapy-based scents in the 'What to consider' section, highlighting how some oils can affect mental health and mood.
Best reed diffusers: Quick Menu
Want to know why I invest in the best reed diffusers? Well, I'm a firm believer that the way your apartment/home/dorm smells is just as important as how it looks. Hence why I am obsessed with home fragrance — I'm Real Homes' resident expert, after all.
In my eyes, a reed diffuser is one of the safest ways to scent your home. Plus, they're pretty low-maintenance! You don't have to worry about a flickering flame getting out of control, black marks on your walls, or about where you're going to put your reed diffuser either. And, if you're particularly health conscious, you don't need to worry about inhaling paraffin-based wax or toxic chemicals. You see, I've tested out a bunch of reed diffusers, so I know what to look for when shopping for them.
From the likes of Nest New York, Rituals, and even Archipelago Botanicals, here are the home fragrances to scent your home with this winter and beyond. Now's one of the best times of year to grab a diffuser, as Cyber Week home deals are officially here. So, I've also rounded up discounts that are live on diffusers we love (starting from just $15.99), as well as on ones that are highly rated by shoppers.
Cyber Week reed diffuser deals
Want to make your place nice-smelling ASAP? These deals on reed diffusers that we love and that shoppers love are live.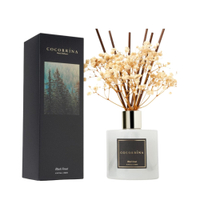 1. Cocorrína Reed Diffuser Set | Was $19.99 Now $15.99 (save $4) at Amazon
Bring a touch of the exotic into your home with this rich diffuser that has notes of vanilla, cedar, and licorice. Shoppers say that the scent is strong but not overpowering and that the baby's breath detailing, marble-style vessel, and black and gold labeling are also very stylish. This could make a great Christmas gift, as it looks more expensive than it is with the Cyber Week discount. It also comes with eight pure cotton reeds.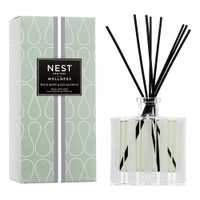 2. Nest New York Wild Mint & Eucalyptus Reed Diffuser | Was $60 Now $55.49 (save $4.51) at Amazon
For those of you who love using scents to freshen up your space, this NEST diffuser is a stylish choice. The fragrance works brilliantly in my bathroom, banishing odors while adding a touch of luxe to the space. It's also Amazon's overall pick for NEST reed diffusers, thanks to plenty of high ratings. As well as wild mint and eucalyptus, it also contains basil and Thai ginger for both herbaceous and aromatic appeal. The scent lasts for around 50-60 hours if you store it properly (ie: away from heaters/radiators that can evaporate the oils).
The best reed diffusers to buy for your home in 2023
Why you can trust Real Homes Our expert reviewers spend hours testing and comparing products and services so you can choose the best for you. Find out more about how we test.
Ready to get started? I've sectioned this out by our top three overall, seasonal scents (currently winter fragrances), the best scents, and the best per room.
Our top three reed diffusers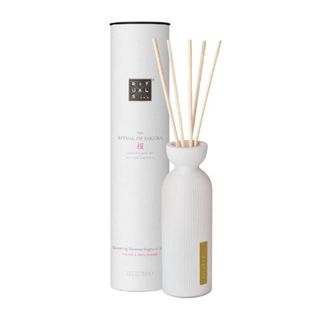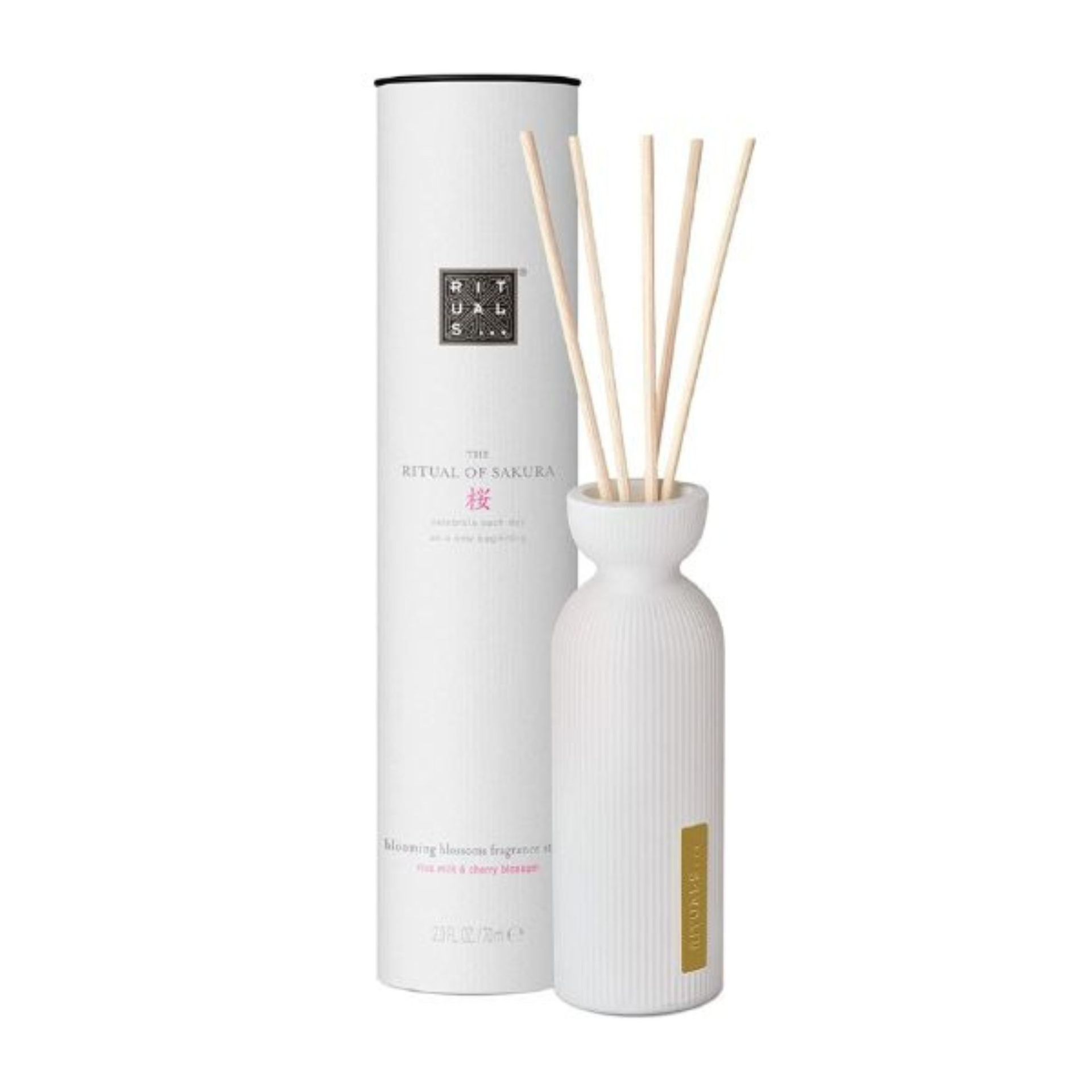 Our favorite
1. Rituals The Ritual of Sakura
Size: 1.6 oz./7.7 oz.
Scent: Oriental
Refill available? Yes
Price: $21.50
I've been obsessed with this Rituals reed diffuser for almost a year now, and its strong oriental notes of rice milk and cherry blossom always wow me. Plus, it makes a pretty good year-round fragrance and you can buy refills for it so you need only buy the ceramic vessel once. There's no need to flip your reeds regularly as the diffuser will stretch its aroma from one side of your room to the other. The smallest size also lasted me way longer than the recommended five weeks and the fragrance sits inside a luxurious white ribbed container.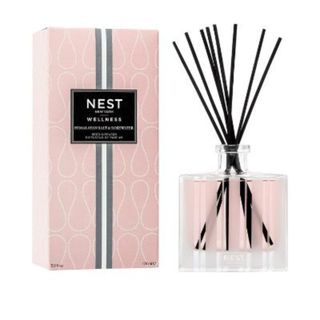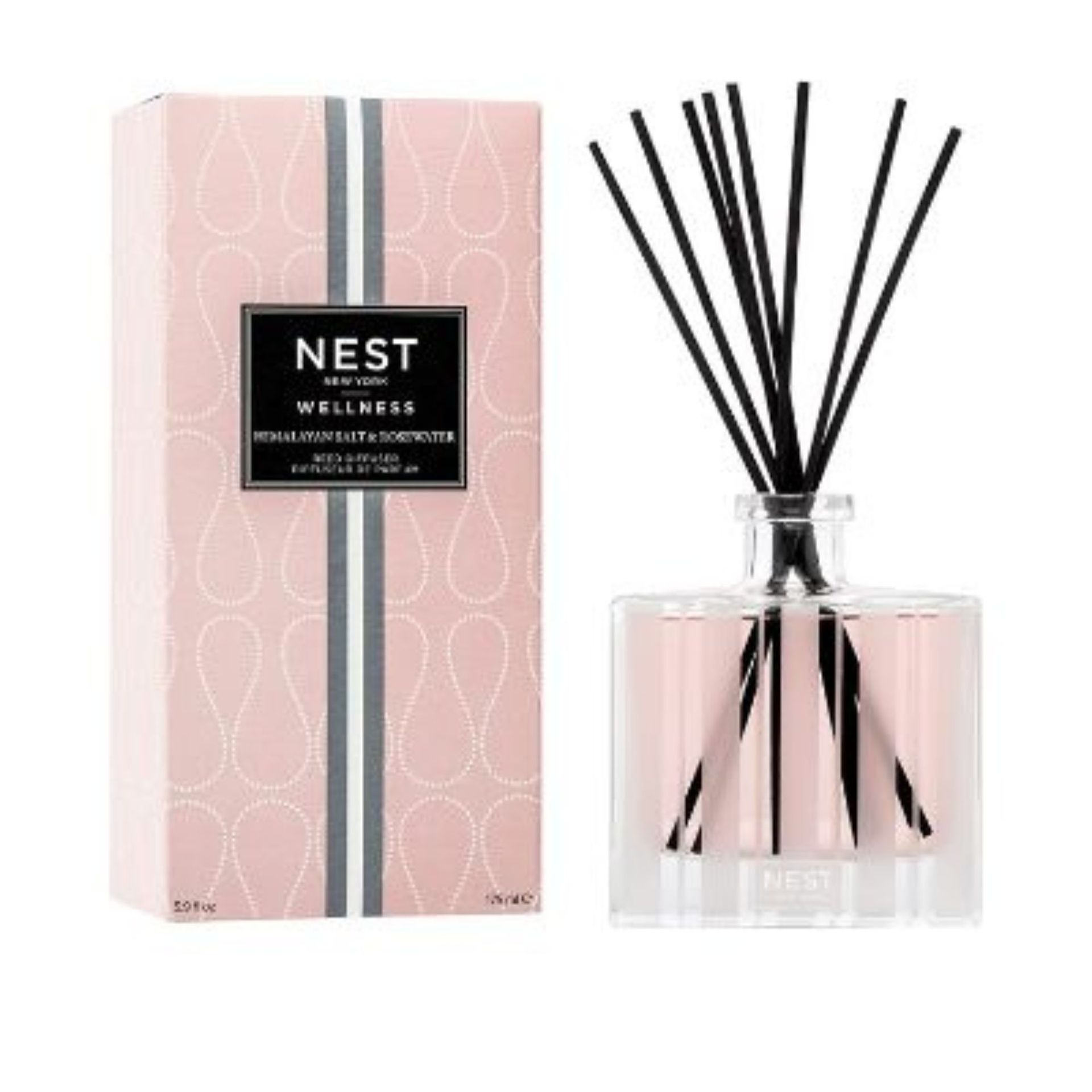 Pretty in pink
2. Nest NY Himalayan Salt & Rosewater
Size: 5.9 oz.
Scent: Floral / Fresh
Refill available? No
Price: $58
Impressively scented to be floral and fresh, this is one of my favorite candles that also happens to come as a reed diffuser. I really rate it for use throughout spring and summer and honestly, when I say that I cannot get enough of this scent, I truly mean it. This blend of rosewater, geranium, and salted amber is perfect for enjoying in an entryway or a bedroom, and its striped frosted glass bottle screams luxury. It's cruelty-free and it comes in recyclable packaging, though bear in mind it's not refillable *cries.*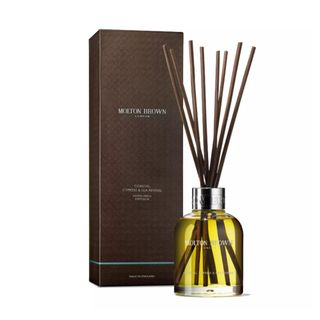 Fresh fragrance
3. Molton Brown Coastal Cypress & Sea Fennel Aroma Reeds
Size: 5 oz.
Scent: Fresh
Refill available? Yes
Price: $55
This Molton Brown scent is one of my favorite reed diffusers. I am yet to try it in reed diffuser form, but if it's anything like the candle then I can guarantee you'll be obsessed as It's the perfect fresh fragrance that's anything but underwhelming — and it's ideal for any room, and any time of the year. Even better? It comes in a glass bottle and its packaging is made from 50% recycled material, plus you can buy refills. It would make the perfect, fail-safe gift as it's a scent that most people will enjoy.
The best reed diffusers for winter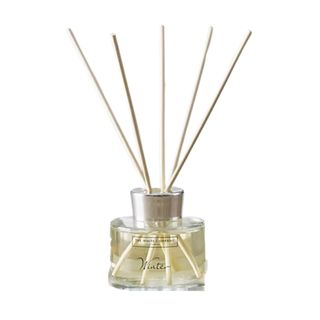 Warming
4. The White Company Winter
Size: 5.1 oz.
Scent: Spicy
Refill available? Yes
Price: $44
This reed diffuser will make any room feel warm and cozy, with spicy scents of cinnamon and cloves matched with sweet orange. Staff writer Eve Smallman was amazed at how well it filled her whole home, being able to smell the delicious scent even when she'd had guests around or had been cooking dinner. The guests she did have actually always complimented her on it, thanks to its rich, distinctive scent. It is pricey, but it lasted Eve the whole of the winter season. She suggests placing it in your entryway as a way to create an inviting, nice-smelling small space.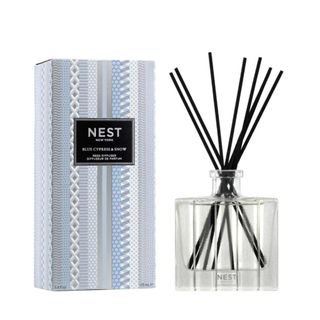 Cool and crisp
5. Nest NY Blue Cypress & Snow
Size: 5.9 oz.
Scent: Sweet and smoky
Refill available? No
Price: $60
Winter schemes typically call for warm hues and spicy mulled fruit, but if you have a neutral scheme (or even have a preference for pastel decor), don't think you have to stick with a cinnamon-scented green and red reed diffuser. With notes of crisp blue cypress, juniper berry, and hints of smoked vanilla bean, this cool-weather scent is an eclectic cocktail of sweet, woody, cozy, and sultry. If you're worried that the Blue Cypress is going to be too tree-like, rest assured that our head ecommerce editor Christina Chrysostomou tried it and said that it balances that outside-in fragrance perfectly.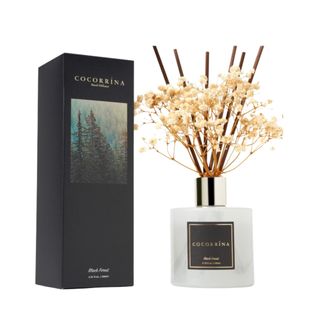 Shoppers' favorite
6. Cocorrína Black Forest Set
Size: 6.7 oz.
Scent: Sweet
Refill available? No
Price: $19.99
Want your reed diffuser to work as hard for your room's decor as it does for your room's fragrance? This black forest diffuser will make any small space look luxe, with its baby's breath flowers with a sleek white vessel. We haven't tested this one ourselves, but over 3,300 Amazon reviewers have given it five-stars. They love how lightly sweet it is without being overpowering, its long-lasting fragrance, and how well it works as a finishing touch — especially in bathrooms.
The best reed diffusers for fall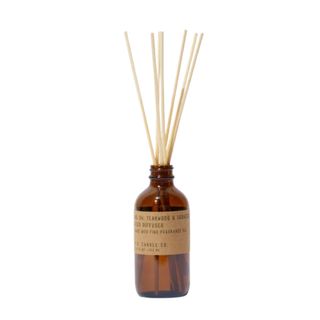 Earthy
7. P.F. Candle Co. Teakwood & Tobacco
Size: 3.5 fl. oz.
Scent: Woody
Refillable: No
Price: $29
Our former editor-in-chief Melissa Epifano is obsessed with this reed diffuser. In fact, she says it hits the nail on the head for her. "I am not a floral person and prefer more musky masculine scents. Its scent isn't too overpowering (which is another pet peeve of mine) but it's subtle and earthy." It'll be sure to give your apartment a cozy feel. It lives in a chic amber glass bottle and is a low-maintenance fragrance for the colder months.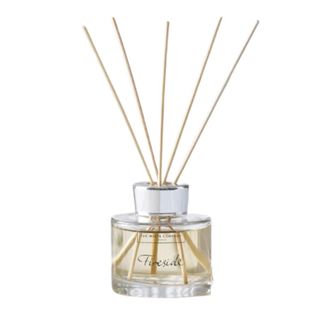 Cozy
8. The White Company Fireside
Size: 5 fl. oz.
Scent: Woody
Refillable? No
Price: $44
I am obsessed with this woody fragrance from The White Company. So much so that it makes a recurring appearance in my apartment every single fall. It makes your home smell like you have a fireplace, and no matter how large your room is, its scent will reach every corner. It will forever be my favorite reed diffuser for the colder months, and I love it for my living room or bedroom. You can also recycle its glass vessel after use.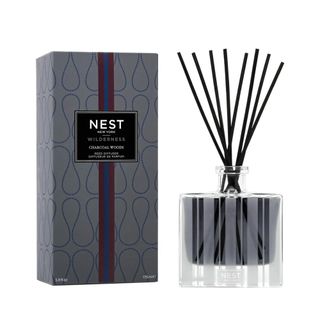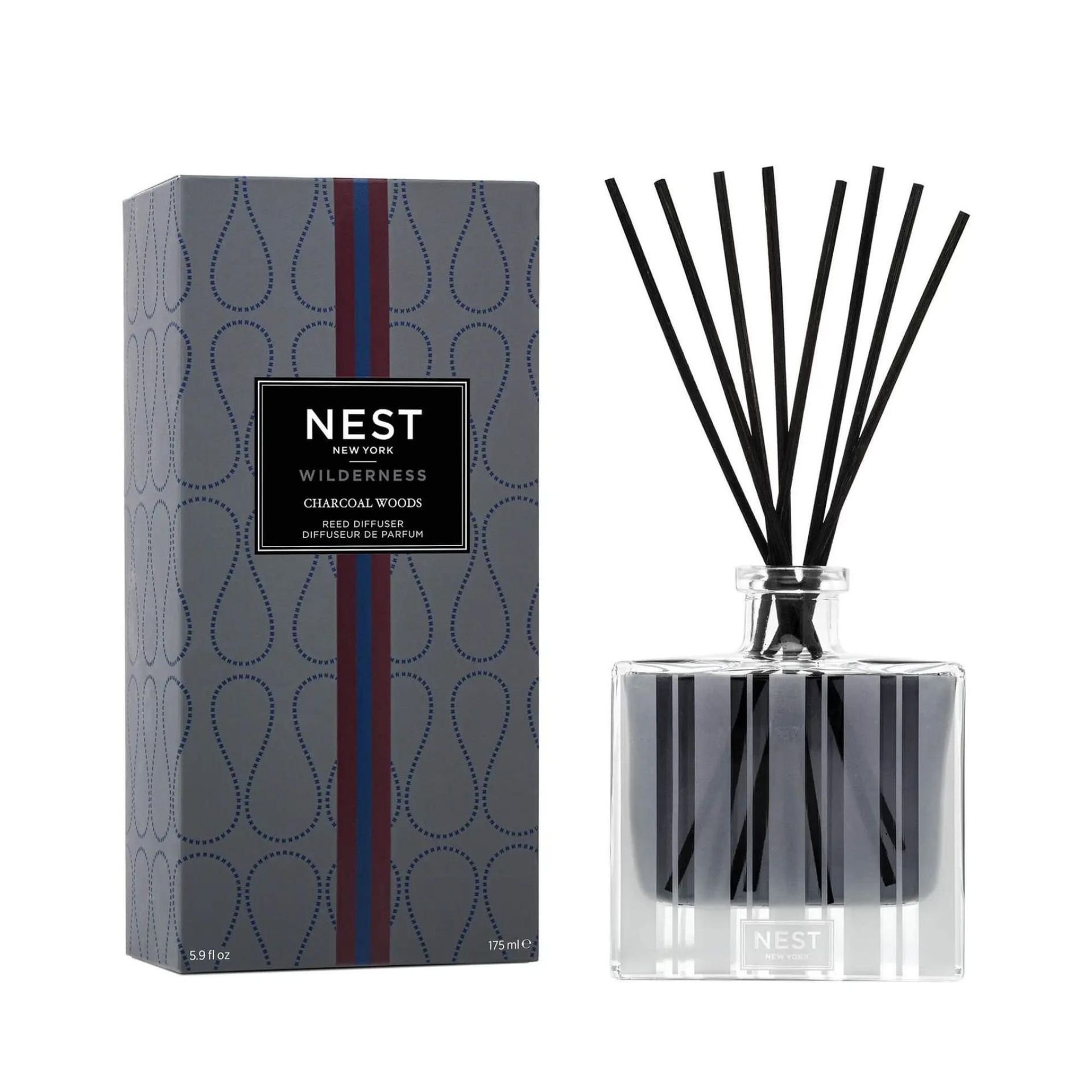 Luxe
9. NEST NY Charcoal Woods
Size: 5.9 oz.
Scent: Woody
Refill available? No
Price: $60
This woody and smoky fragrance offers a pleasantly mysterious scent and fills the air with notes of labdanum, patchouli, cedarwood, charred birchwood, and a hint of black truffle. We can vouch for the fact that it masks unpleasant odors and has a spicy, almost cologne-like aroma. It's also cruelty-free and alcohol-free, though you'll want to use it in a larger room as it's pretty heavy.
The best reed diffusers by scent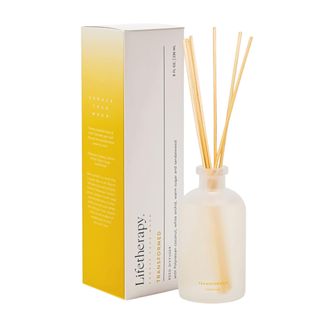 Sweet
10. Lifetherapy Transformed Reed Diffuser
Size: 2oz.
Scent: Sweet
Refillable? No
Price: $65
Looking for a diffuser that will fill the whole room with its scent? This Lifetherapy diffuser has notes of coconut, orchid, warm sugar, and sandalwood, which create a sweet scent that's rich and inviting. Our staff writer Eve Smallman used it in her home office, and said that every time she walked into it, she was greeted with a gorgeous scent. She also said that it lasts ages, with the oil hardly going down even after two months. Eve did test the mini one, but she now has the larger one on her wish list.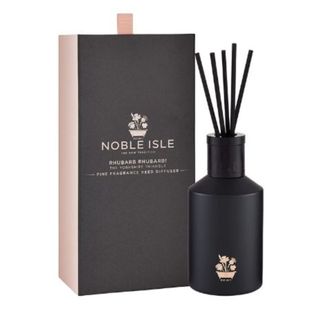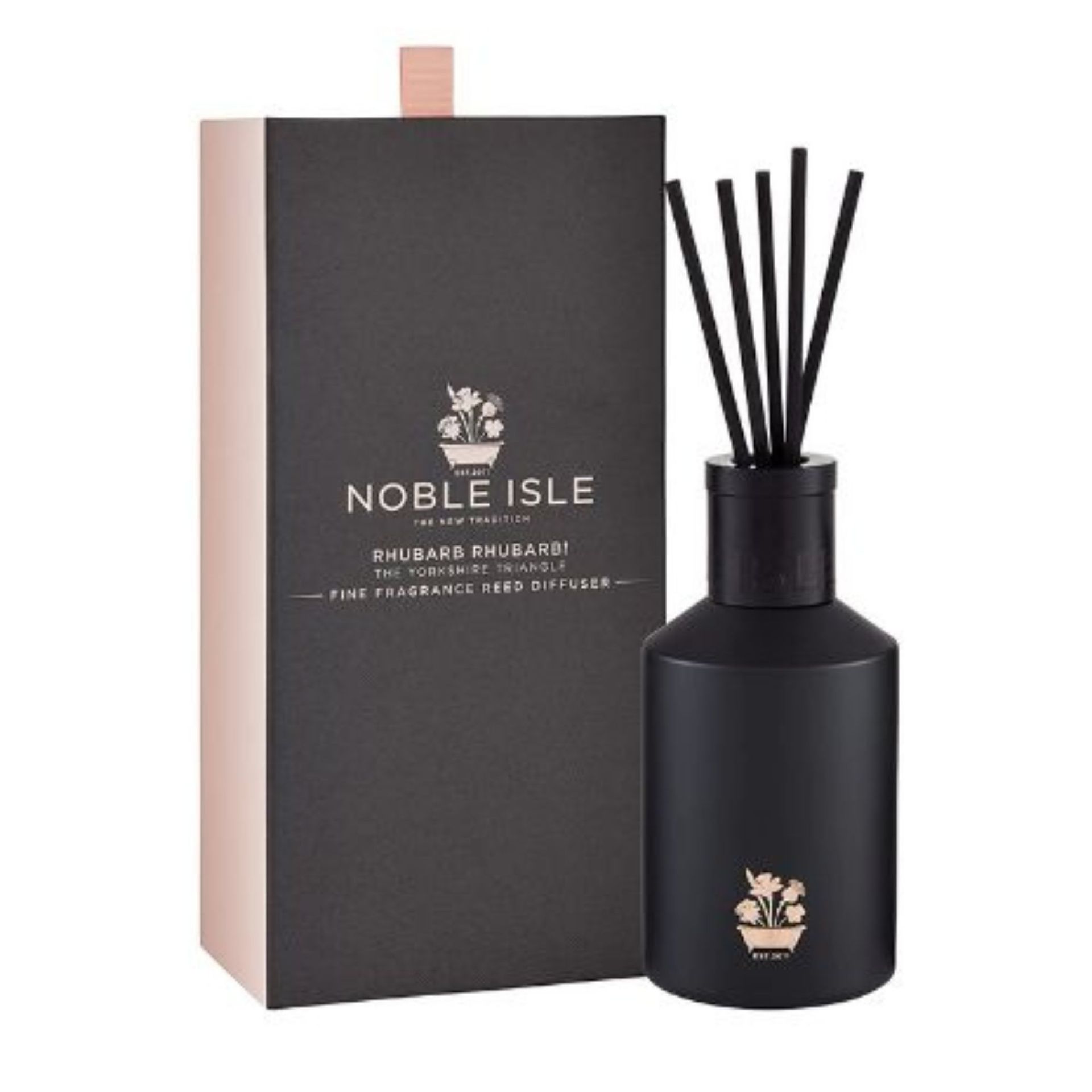 Floral
11. Noble Isle Rhubarb Rhubarb!
Size: 3.38 oz.
Scent: Sweet, floral
Refill available? No
Price: $48.50 refill, $60 diffuser
If you love a sweet fragrance then I can recommend this incredible long-lasting diffuser that has a gorgeous floral yet slightly sweet aroma, fueled by rhubarb, sour juniper berry, and fresh muddled rosemary. It's the perfect non-invasive floral scent that never smells cheap. I really love it for use in my entryway or living room, and its cruelty-free and vegan fragrance ticks all the boxes. It's simply the perfect reed diffuser for your home for spring and summer, plus it's housed in an elegant black glass vessel with black silk reeds you'll rarely need to flip.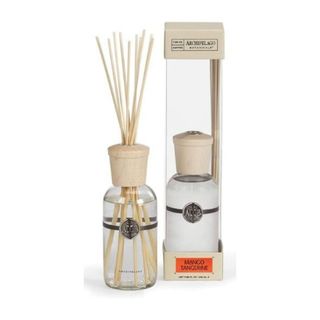 Fruity
12. Archipelago Botanicals Mango Tangerine
Size: 7.85 oz.
Scent: Fruity
Refill available? Yes
Price: $49
As approved by a previous member of the Real Homes team, this powerful diffuser is long-lasting, sweet, and refreshing without being overwhelming. It's scented with everything you love to eat in the summer, including mango, tangerine, passion fruit, and pomegranate. Its aroma manages to reach each corner of a room, and we think that its minimal bottle lends itself to the fragrance. Oh, and it's recyclable and refillable. I'd avoid it in colder months, but it's really great for scenting a bedroom or dorm room as it's super uplifting.
The best reed diffusers by room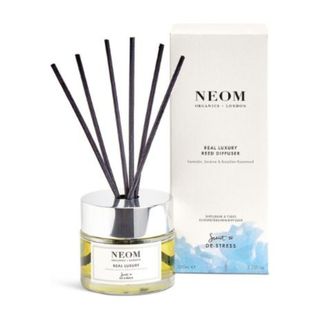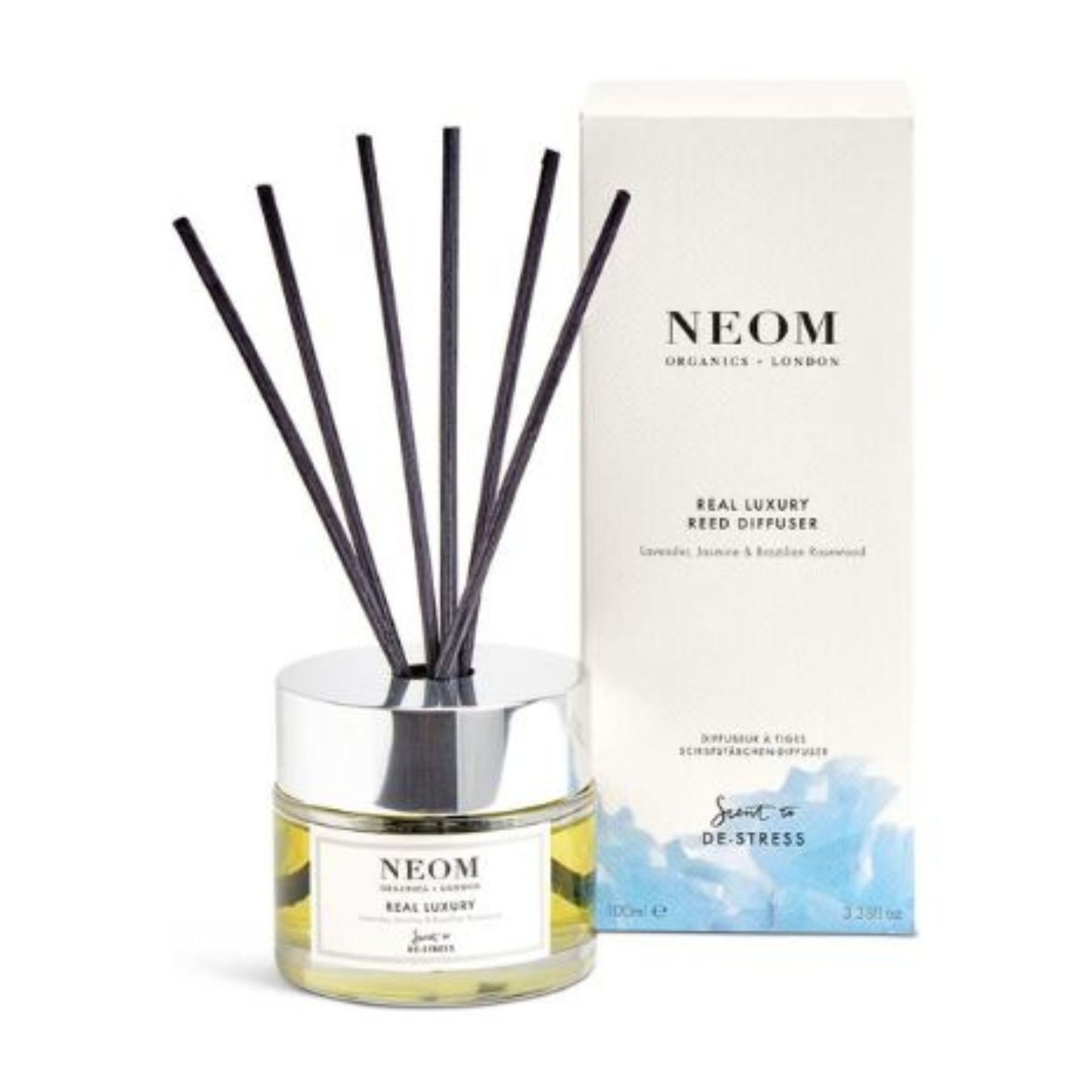 For bedrooms
13. Neom Organics Real Luxury
Size: 3.38 oz.
Scent: Floral
Refill available: Yes
Price: $29-$43.50
Subtle enough for your bedroom, I love using this reed diffuser to help lull me to sleep. However, I do move it out of my room before I sleep if the reeds have recently been flipped as our dog sleeps on our bedroom floor. It's scented with lavender and balanced with jasmine and rosewood and I like to think of it as a low-key fragrance that's never too in your face. It's 100% natural if that's your thing, and its fragrance is pretty much a year-round scent.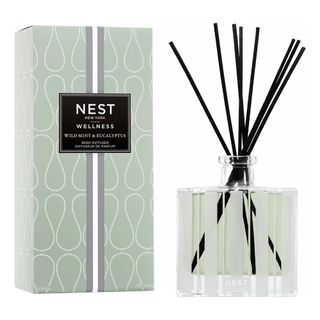 For bathrooms
14. Nest NY Wild Mint & Eucalyptus
Size: 5.9 oz.
Scent: Fresh
Refill available? No
Price: $60
I'll admit that I wasn't immediately sold on this reed diffuser — until I moved it into my bathroom. This fragrance perfectly fits this space and it's strong enough to banish odors as they come. It's super fresh yet anything but boring thanks to the addition of wild mint. The eucalyptus is also noticeable and helps it strike the perfect balance. My bathroom is windowless, so I didn't use all of the reeds, but its luxury-looking vessel definitely looks on point 24/7.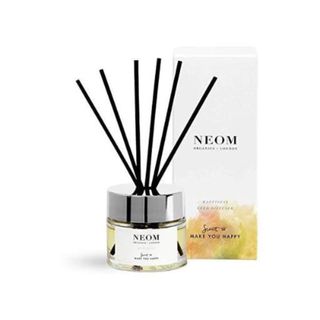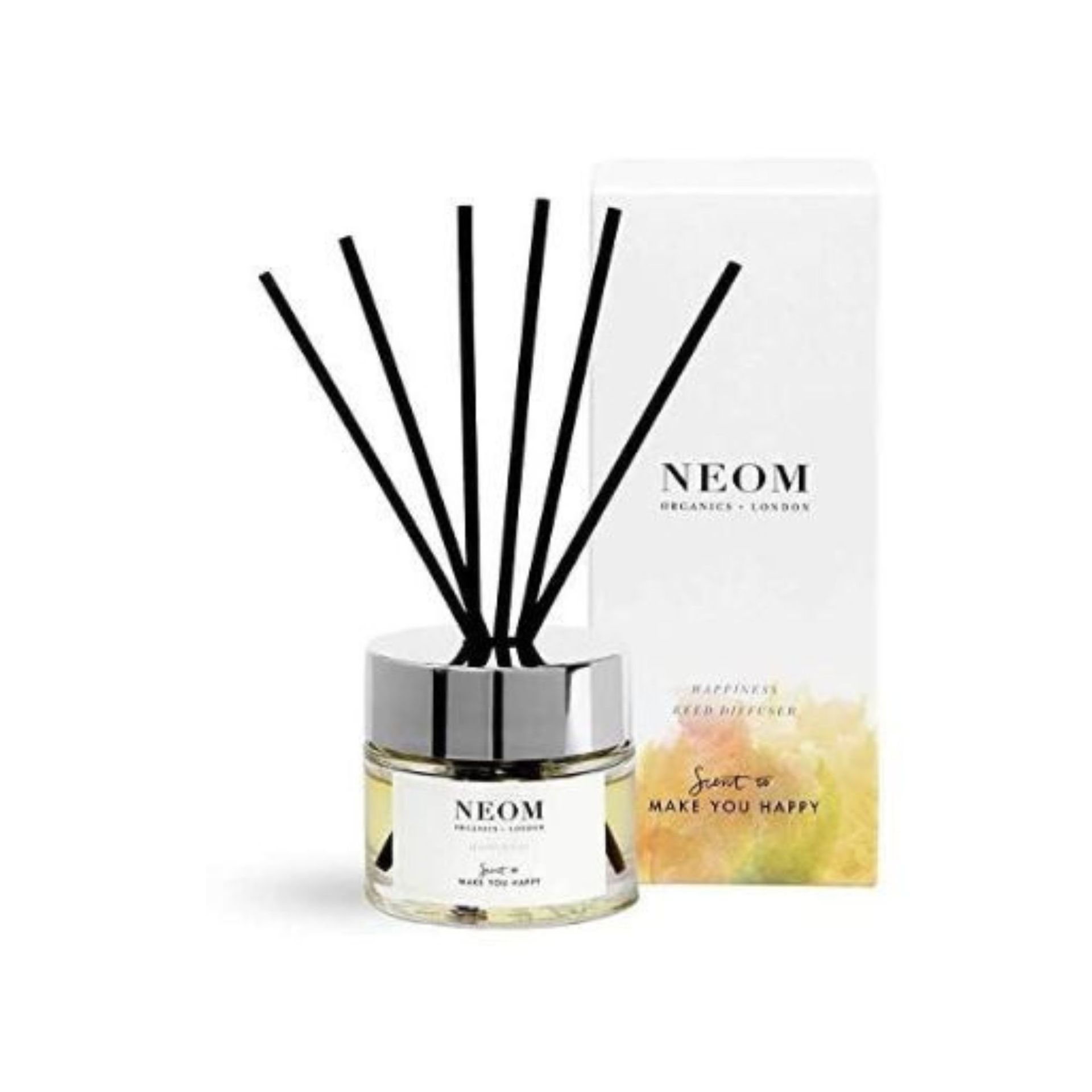 For kitchens
15. Neom Organics Happiness
Size: 3.38 oz.
Scent: Citrus
Refill available? Yes
Price: $43.50
This is one citrus-based fragrance I can't get enough of. The Neom diffuser offers a welcoming and uplifting boost that's scented with neroli, mimosa, and lemon essential oils. It's refreshing but not too powerful and works best in smaller spaces (I found that it's perfect for kitchens and bathrooms). Again, its fragrance works all year round but is particularly fitting for spring and summer.
What to consider when choosing a reed diffuser
1. Is it refillable?
With candles, once they're gone, they're gone. Not so with reed diffusers, which can be topped up with new fragrance oil when it runs out. Just make sure that when you buy a diffuser refill you discard your old reeds and buy new ones as they'll be saturated with all the scent they've soaked up from the first round of oil and won't soak up anymore.
2. Think about scents you normally like
If you don't know what you like, choosing a fragrance can be the hardest part of shopping for a diffuser, but looking for individual scent families is a good place to start. Florals are fairly self-explanatory, though some of them might get a bad rap for being too strong. For a more unexpected home fragrance, consider something from the woody or spicy families, or on the other end of the spectrum, a fresher, "greener" scent. Alternatively, if you're feeling stressed or anxious, you may benefit from picking an aromatherapeutic reed diffuser. Scents containing sage and rosemary can offer focus and clarity when dotted around the home, and lavender is known to be particularly calming if you're having trouble relaxing or sleeping. On the contrary, zingy citrussy scents can be energizing if you need a little pick-me-up. Peppermint has a similar uplifting effect.
3. Check its size
I've listed the size of each reed diffuser above. The larger the diffuser, the longer it will last. And don't forget that the more reeds in the fragrance, the quicker it will empty. Plus, the more often you flip the reeds the quicker the fragrance will need to be refilled or replaced, too. It's worth bearing this in mind when looking at the price of a reed diffuser — when will you next need to pay to refill or replace it?
4. Consider its design
Make a point to buy a reed diffuser that will fit in with your home decor, because it will have to be placed in the center of a room. Also, be sure to check if its vessel is recyclable after use, and if not, then you might want to ensure refills are available so you won't have to throw away the whole vessel. Most reed diffusers are eco-friendly as they are made using glass and bamboo wooden sticks.
5. Does it come as a candle or a room spray too?
If you like your home to smell the same throughout, then be sure to check whether the reed diffuser you have picked comes as a candle, a wax melt, or an air-freshening room spray, too. This might appeal to you if you live in an open-plan or small apartment and don't want different scents to merge. However, some people call it scent layering!
How we test reed diffusers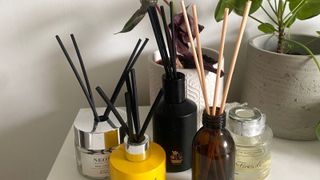 Home fragrance expert
Home fragrance expert
That's right: I've (Annie) tested the majority of these reed diffusers at home. I have been testing home fragrances for years now in my spacious two-bedroom apartment that, as you can imagine, smells like a total dream. While using the reed diffusers above, I always move them from room to room, and I like to use them until they are half empty before making my mind up. My favorite ever reed diffuser for year-round use has to be Rituals' The Ritual of Sakura.
Otherwise, a couple of reed diffusers in this guide have been recommended by other members of the Real Homes team.
FAQs
Should I wait until Cyber Week to buy a reed diffuser?
If you're looking to buy a high-end reed diffuser such as a NEOM one or a Nest NY one, you might want to wait until Cyber Monday, as these are often discounted on sites such as Amazon. We have already added early discounts to this page and will continue to update it as more come in. We check all discounts through Google Shopping's price insights and Camelcamelcamel to ensure that you're getting the best deal possible.
What is the best reed diffuser?
If you are searching for a great all-around pick, then the Rituals The Ritual of Sakura Reed Diffuser is my favorite option. It's powerful and works in pretty much any room — though it is way too luxurious to leave in a bathroom or kitchen. You can also buy refills, so you only have to buy the vessel once!
What's the best reed diffuser for covering pet odors?
Pet odors can be really strong, so the best reed diffuser for removing them will be any ones with rich scents. We recommend Neom Organics Happiness, as the zesty scent is perfect for refreshing any room.
Buy this reed diffuser from Amazon.
How much should I spend on a reed diffuser?
How much you should spend on a reed diffuser depends on your budget. Lower budget diffusers can start at as little as $5, medium budget diffusers can start at $20, and high-end diffusers can start at $50.
What is a luxury reed diffuser?
A luxury reed diffuser is a reed diffuser that upscale hotels and restaurants use in order to make a small space smell nice. For example, Cowshed reed diffusers like this Cowshed winter reed diffuser are used in Soho House, and the scents chosen are inspired by locations.
How do reed diffusers work?
Reed diffusers work in a really straightforward way. The reeds absorb the scented oil from the vessel and then release that into the air. This then gives off a subtle but consistent scent into the space.
What is the point of a reed diffuser?
Reed diffusers continuously add scent to a room, without any maintenance whatsoever (apart from occasionally flipping them). Simply unpack your diffuser, place the reeds in it, and you can instantly smell the difference.
Do you pour all the oil in a reed diffuser?
You don't need to pour all the oil in a reed diffuser. Instead, fill it to about two-thirds or three-quarters full. This allows for proper absorption by the reeds. Adding too much oil can oversaturate the reeds, leading to a strong smell that may be overpowering.
Are thicker diffuser reeds better?
The thickness of reed diffuser reeds can affect the throw of the fragrance. Thicker reeds can absorb and release more fragrance, which can provide a stronger smell. However, the effectiveness of this can depend on the shape and size of the room.
Where should you not put a reed diffuser?
Make sure not to put a reed diffuser next to a heat source such as a radiator or a heater, as this can cause the oil to evaporate quicker than normal.
What are the disadvantages of a reed diffuser?
The disadvantages of reed diffusers can include them being not as potent as fragrance options like candles. They also need to be flipped regularly and the oil stains can stain surfaces if not handled carefully.
Are reed diffusers better than plug-ins?
Reed diffusers don't require electricity to run, whereas plug-in fragrances require electricity in order to provide a continuous fragrance in the air. Therefore, in terms of energy efficiency, reed diffusers are better.
How long is the lifespan of a reed diffuser?
The lifespan of a reed diffuser varies based on factors such as the size of the bottle and the amount of oil used. Normally, an average reed diffuser can last anywhere from several weeks to a few months. However, factors like room temperature, ventilation, and the number of reeds can influence how quickly the oil evaporates.
How often does a reed diffuser need to be changed?
How often a reed diffuser needs to be changed does depend on the brand and size of the diffuser you buy. However, six months is the average time to change them. Before you re-buy, be sure to check if your reed diffuser has a refill option, as this is a more sustainable route due to only needing to buy the vessel once.
Can you buy refills for reed diffusers?
You can buy refills for reed diffusers, but this will depend on the brand and what they offer. If your reed diffuser doesn't have a refill option, can also buy refills for a different reed diffuser and place it in your vessel, for a sustainable refill option.
What room of the house should I put a reed diffuser in?
Reed diffusers work well in rooms that you want to keep scented nicely and often have bad odors that need removing, such as the kitchen or the bathroom. We like using reed diffusers in all rooms of the house though, switching between fragrances to set a different tone in each space.
Should I flip reeds in a reed diffuser?
Flipping reeds in a reed diffuser is important to do if you want a strong fragrance in your home. You can do this every week to revitalize the scent in a room.
How many reeds should I put in my diffuser?
How many reeds you should put in your diffuser depends on the size of your room and how strong you want the scent to be. The more reeds you put in, the more powerful the scent will be. Six is a good amount for all rooms, but eight would be better for those with larger spaces.
How can I make my reed diffuser last longer?
If you want your reed diffuser to last longer, don't flip your reeds as frequently. Once a month will still work well, and if you live in a smaller space, you won't need to flip them at all. You can also put a stopper in the reed diffuser if you're happy with the strength of the scent in the room.
If you haven't kept the stopper from your reed diffuser, you could use one from a shop-bought set instead, such as from these Feel Fragrance Glass Diffuser Jars on Amazon.
---
If you're into DIY, then see our guide on how to make a reed diffuser to create your very own concoction with essential oils, available from Amazon. This is a great hobby and makes a great gifting idea if you're short of cash this season. You can very easily personalize your presents by buying colored glass bottles and switching up the scent, depending on the recipient. I love the color of this expensive-looking Refillable Glass Diffuser from Vipolish at Amazon, but if you're making something for a younger person, it's got to be this ombre pink container from Darklove Store on Amazon.
If mist is more your thing, consider one of our best essential oil diffusers for an aromatherapeutic experience.
Where to buy reed diffusers
Still searching for the perfect reed diffuser to gift or use in your own home? Browse more buys online from some of Real Homes' favorite brands and retailers. We've provided a good mix of budget, mid and high-end stores to suit all budgets.