Finding the best types of floor tiles for your home comes down to more than just taste. You need to consider the exact placement of the tiles and how much footfall there will be as some as more hard-wearing and resistant to cracking than others.
Whether they need to stand up to humidity or running children, there are manmade options like ceramic or porcelain tiles now available in a wide array of designs to impress all styles and budgets. While some stick by natural stone tiles like travertine, granite and slate – especially in a historic home – as their favorite when looking for new types of flooring materials.
Harriet Goodacre, Tile Consultant at Topps Tiles, offers advice and insight on what you should be considering when selecting different types of floor tile for your home 'There are many variations of tile available, whether that's in terms of material or style, meaning that everyone can create a look that's personal and suited to their tastes at home. It doesn't matter if you want to create a classic, neutral look or something bold and brave, there's a tile for every project.'
Manmade floor tile materials
Why you can trust Real Homes Our expert reviewers spend hours testing and comparing products and services so you can choose the best for you. Find out more about how we test.
Natural stone tiles have unique textures and tones, but are more likely to crack or scratch than a manmade materials, and may need sealing once laid – and resealing in future. Manmade materials are usually more affordable types of floor tile and come in a wide range of designs, but tend not to have natural stone's character.
1. Ceramic tiles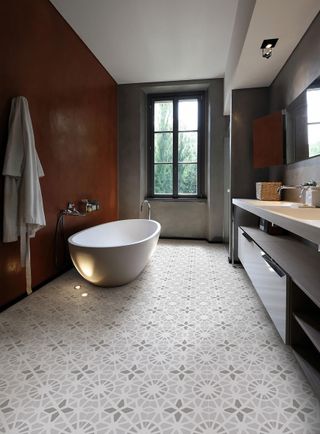 Ceramic tiles are generally more affordable than other types of tiles, come in a wide choice of designs. A little more prone to chipping and wear than porcelain tiles, they are hardwearing and will work for most rooms as they are water-resistant. Ceramic is softer and better suited to interior, low traffic areas.
Most ceramic tiles cost from £30 to around £80 per m² in the UK. And in the US, from $0.50 to $35 per square foot. Particularly decorative examples can be found for over £100 per m², but ceramic is generally very low cost compared to different types of solid wood flooring, real stone and even porcelain as it's a little softer, so you'll easily be able to find something to fit your budget.
On the downside, apart from being cold underfoot, the tiles' hardness means that anything dropped on the floor, such as glass and tableware, is easily broken and ceramic tiles in particular can be susceptible to cracking if a heavy object is dropped on them.
2. Porcelain tiles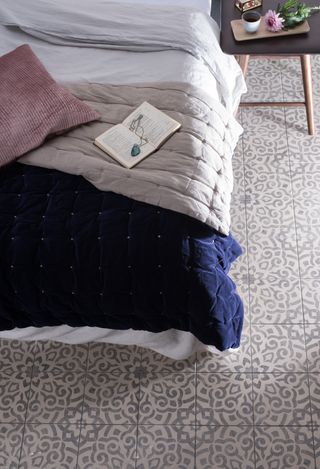 Porcelain tiles are dense, smooth and impermeable, making them suitable for all rooms, including the garden. They can mimic the look of wood, encaustic patterns, natural stones and even concrete.
'Lots of people tend to use porcelain tiles as their starting point as they are the ultimate choice for fuss-free flooring. As well as being extremely durable and easy to wipe clean, these tiles come in a huge array of colours and styles, covering everything from bold patterns through to striking block colors that can be used in an array of laying patterns' adds Goodacre.
Note that while porcelain tiles may look almost identical, and made using natural clay, to ceramic types of floor tile, the main difference is that they are produced using a slightly different manufacturing process. Porcelain has finely ground sand added, so it is denser and less porous than ceramic. Porcelain is also hard-wearing and suited for areas of heavy traffic, such as hallways and kitchens, and both indoor and outdoor use.
Porcelain tiles range from £67.28 per m2 in the UK for nice but basic options, to £50.00 per m2 plus in the UK for patterned tile options. In the US expect to pay from $3 to $35 per square foot.
Both ceramic and porcelain floor tiles as mentioned can be laid anywhere inside, and porcelain tiles can even be used outside. It is definitely worth considering installing underfloor heating as tiles can be cold to walk on, so in the case of rooms such as living rooms, dining rooms and bedrooms, it will really make a difference.
3. Quarry tiles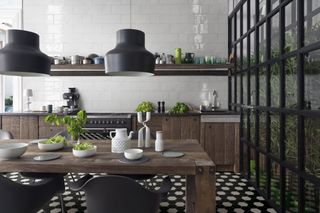 Quarry tiles, usually made from a mixture of clays and fired at an extremely high temperature. They are unglazed and require sealing. Hardwearing and durable, they are perfect for hallways, kitchens, living spaces and outdoors.
If you shop around, you can buy basic tiles for under £20 per m², with the average price being from £40 to £80 per m²/ $5.00 /sq. ft. You could end up spending upwards of £100 per m²/($88 /case) if you are opting for handmade, reclaimed or tiles with a particularly unusual finish or color.
There is now no reason you can't lay a quarry floor in an in any other room if paired with underfloor heating. They heat quickly and hold warmth, so you won't have to worry about getting out of bed, or the bath, on to a cold tiled floor.
Quarry tiles are very robust and are less porous than terracotta. As a result, they are usually frost-resistant, making them ideal for outdoor use,
4. Terracotta tiles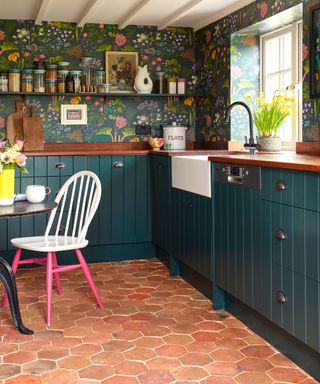 Terracotta tiles, like quarry, are made from a mixture of clays, but fired at a lower temperature for a more rustic look. Available in a range of earthy colors, they need sealing. Terracotta however isn't always recommended for outside.
You will find that both quarry and terracotta tiles come in a range of colors, from warm red and gold through to heather tones, brown, grey and black. As well as their traditional square appearance, they come in a brick form and other shapes, such as hexagonal, sometimes with decorative colours and inserts to create patterns. Choose anti-slip surfaces for wet areas and bathrooms.
Once terracotta types of floor tiles are sealed, you can treat them with a wax or sheen product after they have been laid. Your supplier will be able to advise on suitable ranges and also recommend the best cleaning product – any that aren't recommended could leave behind a film, which could attract dirt. Different sealants and finishes can affect the colour and tone of the tiles so it is imperative to check first. Sweeping regularly will keep loose dirt away.
5. Encaustic tiles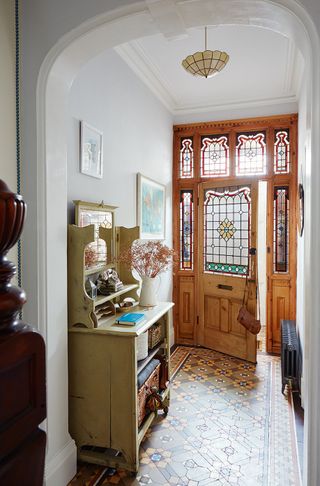 Encaustic tiles are ceramic tiles, with the design not a product of the glaze but of different color clays used. Typically used in hallways, they need regular sealing to help stop them cracking but are otherwise hardwearing.
Modern options are usually made from cement combined with pigment before molding. Both traditional and late version are recognizable by their matt, non-slip finish.
6. Cement tiles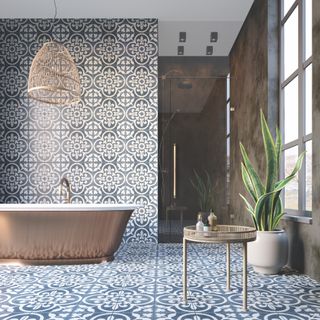 Cement tiles have gained more popularity recently because of the interesting colors and patterns they can produce over time as a result of their porous nature. They are tricky to install but once down and sealed correctly, to stop any acids from water and the like cracking them, they are incredibly hardwearing. They are a good choice for contemporary living spaces and kitchen diners plus although it's best to keep them to low-traffic areas just to protect their beauty. In saying that, much like with different types of wooden flooring, you can actually sand and reseal these types of floor tiles.
7. Quartz tiles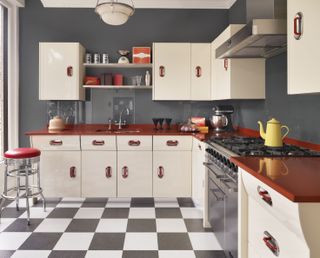 Quartz tiles, made from a composite of resin, quartz, sand, color pigment and mirror flecks, come highly polished. Hardwearing and perfect for contemporary kitchens and bathrooms.
8. Glass tiles
Glass tiles offer a tough, durable, easy to clean floor for bathrooms. Glass is prone to scratches, however, and will break if something heavy is dropped on it.
9. Mosaic floor tiles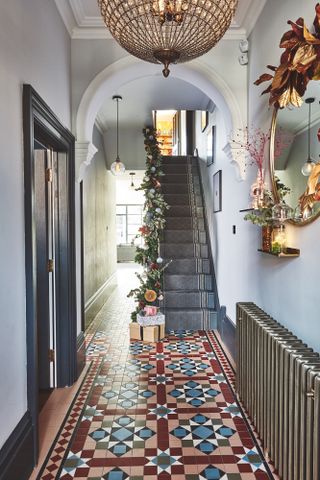 There's nothing like the charm of a mosaic tile. With so many variations in color and style, they work to add a design accent to every space. You usually find them on the wall and they are often used when tiling a backsplash also but they can work equally as well when installed on a kitchen, living room or hallway floor.
Natural stone tiles
Natural stone flooring tiles typically come in natural, honed or polished finishes. Natural surfaces tend to be matt with texture and pitting; honed tiles are smooth but matt; polished tiles have a smooth sheen. The higher the polish, the more water-resistant, but also the more slippery the tile will be. Goodacre adds 'For something slightly more premium, using natural stone tiles in the home can help to create a luxurious feel. It's worth keeping in mind that they may require more upkeep and need sealing correctly to ensure they stand the test of time. If you're after something with modern appeal, stone effect tiles, or natural stone like granite, travertine, or slate, can offer a chic design edge to any floor. Stone effect tiles offer hyper-realistic replicas of their real stone counterparts but easier to maintain than the natural material.'
10. Granite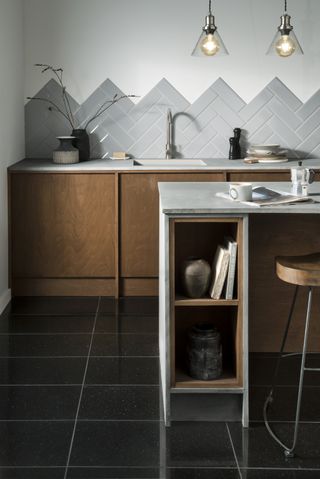 According to Topps Tiles, granite tiles are the most durable. It's very hard, available in many colours, and if sealed and polished, resists scratching. However, it can crack. Ideal for kitchens, living and hallways.
11. Marble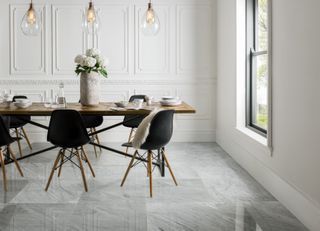 Marble is porous so choose honed or polished finishes, particularly in a kitchen. Available in a range of colors, it's a good choice for bathrooms but will work equally as well in a dining room or hallway.
12. Limestone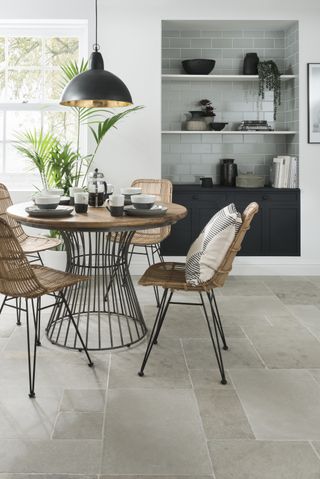 Limestone comes in earthy shades and both textured and polished finishes. It can stain and scratch, so avoid putting it in high traffic areas, such as kitchens.
13. Slate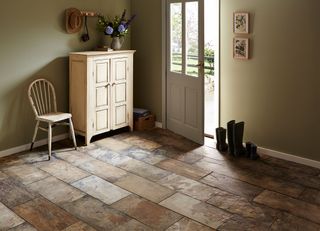 Slate is durable and comes in a range of dark, earthy shades. Its surface is naturally textured, but honed, smooth finishes are available. A good option for kitchens, bathrooms and living rooms.
14. Travertine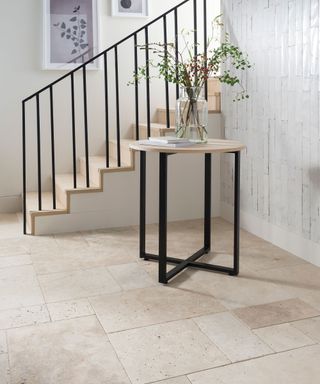 Travertine is soft and porous with a natural pitted surface, although honed and polished tiles are available. It can scratch and stain, so reseal regularly, and put in bathrooms rather than kitchens.
Fitting floor tiles
Tiling a floor is a job that even beginners to DIY can tackle. Simply start by finding the center of the room and laying out the first four tiles with spacers around that point. Then, lay out a few more tiles in each direction to ensure you don't end up with any awkward, thin slivers of tile at the edges of the room. This done, you can apply adhesive in small sections to keep it from drying out.
The difficulty comes in the cutting, with some materials trickier to tackle than others: porcelain is harder to cut than ceramic, and natural stone, in particular thicker tiles, is more heavy-going than porcelain. So it's important to invest in tile cutting tools appropriate to the material. And, if you've chosen expensive tiles, we'd recommend you call in a professional.
Installing underfloor heating under floor tiles
Tiles heat up quickly and retain heat well, making underfloor heating an efficient option. Tile thickness has an impact on the heat-up time, with a thicker tile taking slightly longer to warm-up than a thinner one. Use a flexible adhesive and grout to allow for normal thermal movement. The finish you get is only as good as your subfloor, which must be clean, flat and movement-free before you start laying the tiles. Larger format tiles need the subfloor to be absolutely perfect to lay flat; smaller tiles will give you a little more leeway with minor imperfections.
'Underfloor heating is something more and more people are looking to incorporate into their homes as well and certainly adds an element of comfort and luxury. This type of heating best suits stone or porcelain tiles as they transfer heat most effectively.' Advises Goodacre.
Maintaining and cleaning floor tiles
Vacuuming or sweeping regularly will help keep your tiles scratch-free, while cleaning up spills quickly will help avoid staining. Manmade tiles can usually just be mopped with a mild detergent for floor tiles, but use warm water only for natural stone to avoid removing or dulling the seal, or damaging the stone's appearance. Terracotta tiles can also be resealed to maintain their soft sheen appearance.
Floor tile trends
Choose large format tiles to complement a big, contemporary or industrial-style room; smaller tiles are perfect for a vintage, homely look in a more compact space. Bold colors or monochromes in graphic designs are among the most. popular tile trends of the year ahead, as are wood-effect tiles in a parquet layout. Goodacre adds 'Alternatively, wood effect tiles have grown in popularity in recent years and bring warmth, color and durability to any living space with the added convenience of easy maintenance.'
Want to stretch space visually? Laying tiles diagonally will trick the eye into seeing the room as larger than it really is. Also, consider how the layout of the tiles on your floor might contrast with or complement that of your wall tiles.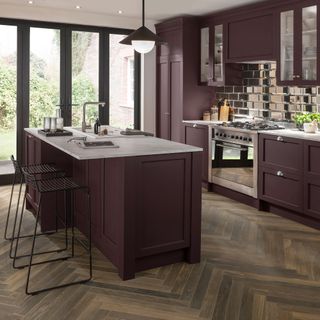 Which tiles are best for flooring?
Choose a material that will suit how busy the space you're tiling is and of course, select the floor tiles that best reflect that room's personality, paying attention to budget also. Goodacre notes how size plays an important part when choosing the best floor tiles for your space too both visually and from a practical maintenance point of view. 'The size of the tile you choose is also something you need to keep in mind. In high traffic areas like kitchens, living rooms and hallways where there will be a lot of footfall, opting for larger format tiles can be a more practical and low-maintenance option. Smaller tiles can give you more flexibility to be creative with your laying patterns, so if you want to create something that is truly unique, choosing mosaic or brick shaped tiles can be a great option.'