A budget kitchen doesn't have to be bla bla bland. Sure, creating a cooking spot on the cheap, that still has the look you love, as well as all the functionality the space needs, might seem like an impossible task but we're here to tell you that a practical and stylish cooking hot spot can be all yours for less.
Whether you're looking to spice up an under-appreciated, snug studio 'kitchenette,' or want to sprinkle some life into your new rental, clever choices and nifty design strategies can ensure a limited budget goes much, much further than you might think, and that you can create great results.
Now pull up a stool at the breakfast counter and take a sneak peek at our kitchen ideas to inspire with tips on everything from layout, to where to find kitchen essentials that are kinder to your pocket.
A truly fabulous kitchen awaits you (just like this leading cracker by @thewhitehome.)
1. Pretty up countertops with playful accessories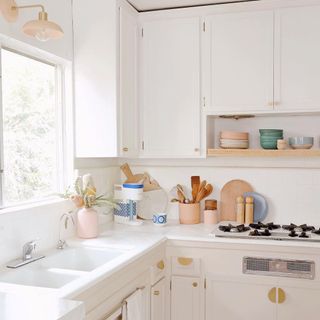 Apartment rental with a small, bland kitchen ring any bells? Perhaps the existing backsplash and countertops are on the wrong side of retro, BUT there's a lot you can do with just a few practical picks of happiness! So instead of choosing 'make-do' kitchen essentials, invest in beautiful, unique, and sustainable kitchen products. Think shapely wood and marble chopping boards, gorgeously grainy wooden utensils, and hand-of-the-maker ceramic storage jars — your countertops will be perked up ASAP and you'll be very distracted from the not-so-pretty countertops you can't swap out.
2. Introduce texture with statement lighting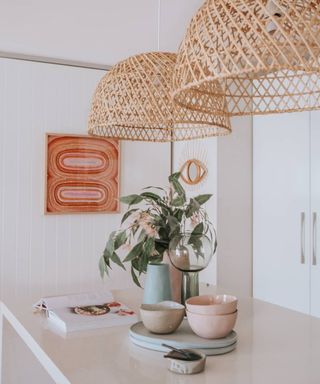 If you're short on floor space, but want a quick and simple kitchen glow-up, look up and think about switching your current kitchen light shade for an oversized design (or two) in natural woven materials. Trending textured lighting with boho soul is cooking up an interior storm right now and we can see why! These lightweight shapely beauts introduce texture and rustic vibes, without the hefty price tag — just the ticket to add some authenticity to a landlord-heavily converted apartment with zero personality.
3. Make a style splash with a DIY tiled backsplash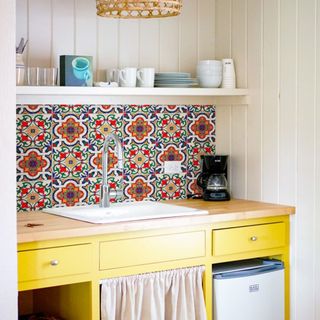 Put the punchy into practical and jazz up your kitchen space with a creative backsplash idea. Whether you prefer an experimental fusion style cuisine with patterned mix-and-match tiles in exotic brights or favor more of a chic look with scalloped designs in calming pastels, there's a tile personality for all and every space.
DIY to save on the cost of calling in a professional and learn how to tile a backsplash yourself. If you rent, there are a ton of peel-and-stick wall tile designs to choose from that make for even simpler installation too...
4. Make an attractive display with small kitchen storage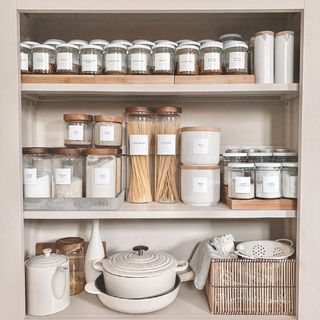 In all cooking spaces, especially in tiny apartments, getting the kitchen organized for a functional and aesthetic finish is the zen mantra.
"I upcycled an old bookcase to create my pantry because I couldn't afford a bespoke unit" says Hayley @bricks.and.ivory whose display proves that utility basics can be a feature in their own right. Adding, "My tip would be you don't need to spend a lot of money to achieve a high-end look. Sometimes you just need to think outside of the box."
We've rounded up a bunch of super handy small kitchen organizers for you to browse if you're interested.
5. Inject personality with playful touches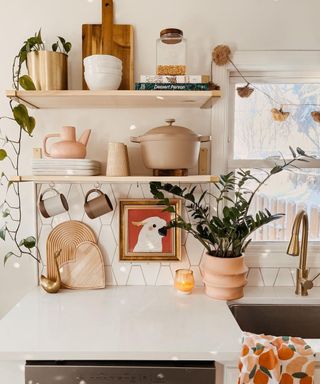 It's the little things that really do make the difference! You might not have the budget to pay for an interior designer, but adding a flourish of decorative touches can work wonders. Try introducing personality to a shelf or counter with items you already have like potted houseplants, fresh or dried florals, framed prints, patterned kitchen towels, vintage finds, and/or quirky objects. The result will be a unique and playful space that reflects your style.
6. 'Wine not' get creative with a gallery wall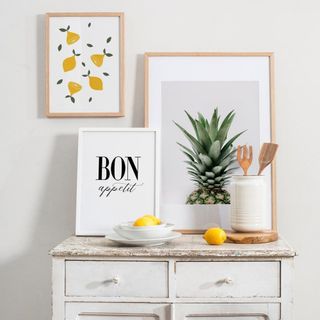 Gallery walls aren't just for hallways and living areas! Why not liven-up a blank staring wall with a curation of wanderlust prints in different sizes and frames? Stick to one theme for impact and continuity, or channel your maximalist side with a narration of eclectic pieces featuring favorite faces and different places.
7. Entice the magpie with metallic accents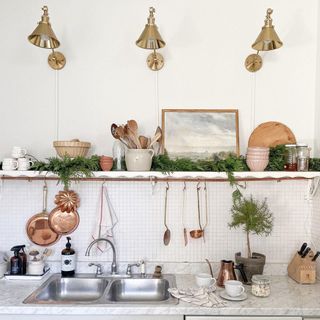 Want a luxe look for less? Take inspo from the above by @viagiulian, and introduce a few shiny Midas touches with metallic wall lights and a counter-space saving rack to hang lust-over copper pans and utensils. Metallic accents will also bounce the light — ideal for dark or dingy kitchens lacking in natural daylight.
8. Bring cafe culture home with a coffee station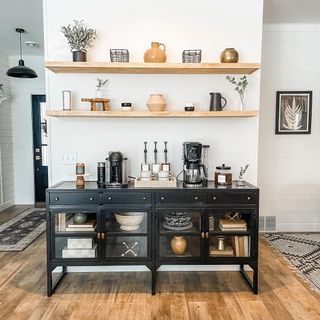 Okay so it might not be your 'forever home', but you can still feel like you're winning those adulthooding goals in your 'for now' rental apartment with your very own DIY coffee station or nook (and it's the ultimate incentive to cut down on those pricey daily coffee shop pit-stops!) All you need is a cozy corner or spot on a dresser or counter, THE best coffee machine for dorms and small kitchens, and some gorgeous reactive glaze mugs. And if a frothy bean-buzz isn't your thing, try setting up a tea station with wholesome blended infusions and a stylish kettle instead.