High-pressure Shower Heads: Quick Menu
Been holding off buying one of the best high-pressure shower heads? Well, with a handful of Cyber Week deals still live, now is the time to splash out, or make do with a dribbling device. But don't worry, you won't be pouring money down the drain as we've got intel on the powerful and high-performing models.
Before browsing the picks I've found below — some of which are highly rated by shoppers and one has been reviewed by our editor — go and check if you need a fixed showerhead (that attaches to the wall) or a handheld showerhead that attaches to a hose.
Honestly, switching your current, old shower head for a high-pressure pick is a purchase you will not regret. And your landlord should approve so long as you keep your old shower head (but check in case). Otherwise, these specially designed heads are created to increase your water pressure without the need to rip your entire bathroom out. Or to redecorate. Or to spend hundreds of dollars. Some will even soften your hair and skin, so I recommend you make this (small) investment before buying all of those expensive creams and conditioners.
Either way, you'll be in a win-win situ, with less money taken from your account, and a more powerful shower to clean yourself with. With prices from $19.95 this Cyber Week. What are you waiting for?
Cyber Week high-pressure shower head deals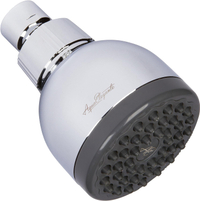 1. Aqua Elegante Shower Head | Was $39.99 Now $19.95 (save $20.04) at Amazon
This shower head has a whopping 36 silicone rubber nozzles to help blast your water out at a higher pressure, is a great buy. It's got over 10,000 five-star ratings from happy shoppers too.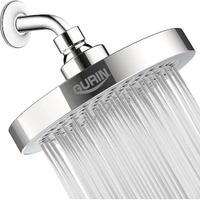 2. GURIN Shower Head High-Pressure Rain, Luxury Bathroom Showerhead | Was $29.95 Now $19.99 (save $9.96) at Amazon
Get your playlist ready, because I promise you'll be singing in the bathroom with this spa-quality shower head. The 90 easy-to-clean silicone nozzles won't clog in hard water areas, and the head can be rotated 360°, so you can angle it to suit your needs.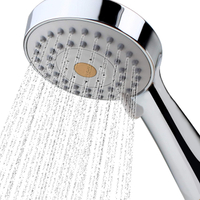 3. HO2ME Handheld Shower Head | Was $31.99 Now $25.43 (save $6.56) at Amazon
With over 21,000 ratings from impressed shoppers, this shower head, which creates a powerful rain sensation, is a super popular buy. Admittedly, with 21% off, it only has a small discount on offer, but it claims to soothe aches and pains, so will be cheaper than a professional massage.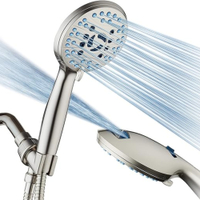 4. AquaCare Shower Head | Was $79.99 Now $39.99 (save $50.01) at Amazon
Not only is this a great high-pressure showerhead for humans, but the Hotel Spa Store also recommends that this can be used to hose down your pet's grubby paws and fur. And, if you've got an in-tub shower setup, this powerful accessory can blast off any gross soap scum and hair that is stuck to the enamel. Save 50% on the satin nickel, or oil-rubbed bronze models (although the latter is a little more expensive).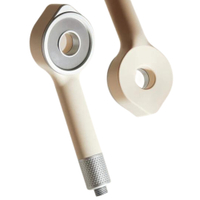 5. Hello Klean Showerhead | Was $84 Now $61 (save $23) at Hello Klean
PSA: Our head of e-commerce, Christina Chrysostomou hasn't shut up about this high-pressure showerhead since she installed it in her small bathroom. She can vouch for the healthy hair and skin claims and noticed how her keratosis pilaris (aka "chicken skin") has cleared up considerably. It's a powerful head that has lots of fine nozzles, but you do need to replace the filter every four months.
The best high-pressure shower heads you can buy
Why you can trust Real Homes Our expert reviewers spend hours testing and comparing products and services so you can choose the best for you. Find out more about how we test.
TikTok high-pressure shower heads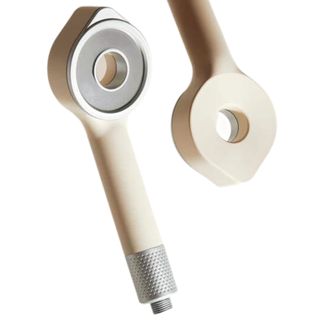 As seen on Instagram
1. Hello Klean shower head
Type: Handheld
Finish: 1 color
Modes: 1
Price: $84
OK, so here's how my experience with the Hello Klean showerhead went. I saw a bunch of Instagram influencers with super shiny hair and dolphin-smooth skin. The IG ads kept on retargeting me, and each time I wanted that 'filter-without-the-filter' appearance. And that's what I got! The girls at the office always compliment my shiny hair, plus, I'm constantly asking my husband to touch the back of my arms. Because bumps be gone, baby. Yes, it would be great if it came in a few more colorways, but the benefits outweigh the one-shade option. Scientifically speaking, the built-in KDF 55 filter reduces water-soluble, skin-drying metals such as lead, iron, copper, mercury, and nickel, it's enriched with amino acids to filter nasties, and the activated carbon fiber reduces trihalomethane (a contaminant found in treated water). Note, that it does feel heavier after you've showered, so I like to dismantle mine from the shower pipe/hose (takes 30 seconds) and let it drain out. Oh and FYI, you do need to replace the filter every four months or so (based on a 2-person household) so factor that into your costs.
Read our Hello Klean showerhead review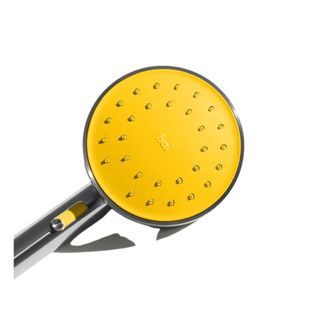 Bluetooth shower head
Type: Handheld
Finish: 6 colors
Modes: Range
Price: $199
If you care about how your shower head looks, then this Hai one is the pick for you. Our editor Melissa has one in her bathroom and says that installation was a piece of cake (though she did have to buy a wrench on Amazon!) and the switch on the handle allows you to find the perfect spray setting for you, from a light mist and to a more powerful stream. What makes this pick even more unique is its indicator light which turns green when the water is warm and ready, and stays that color to notify you if your water consumption is at a sustainable level. It'll turn orange if you've used a little too much. This then links up to an app on your phone to help you lessen your footprint on the planet and it's kind of become a game for me to see if I can keep my water usage low. There's a small container on the side of the shower head that allows you to pop in capsules for an aromatherapy shower to make you feel as if you're at the spa — she loves the Relax infusion from Hai for de-stressing. Her sister-in-law also said it's the most luxe shower she's ever used. The only reason it's not first is its high price tag.
Read our Hai showerhead review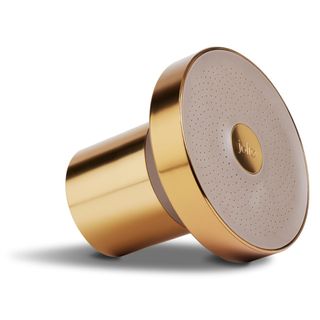 Gwyneth Paltrow-approved
3. Jolie Filtered Showerhead
Type: Fixed
Finish: 4 colors
Modes: 1
Price: $169
Similar to the Hello Klean showerhead, the Jolie removes chlorine, heavy metals, and other contaminants from your shower water, to improve your skin, hair, and wellbeing, also uses a KDF-55 filter, while also providing strong pressure. No shade, but did find that the "Tiny but Mighty" wrench is actually made from metal (unlike HK's plastic provision). This high-pressure showerhead also came in a very giftable presentation box, with the "Cutest Tape in the World" (a roll of plumbers tape), a scented ceramic, and a beautifully-illustrated how-to guide. While Hello Klean is half the price, this wall-mounted fixture comes in five colors (Brushed Steel, Matt Black, Modern Chrome, Vibrant Red, and Gold) which adds to its aesthetic appeal. The latter has been featured on Goop, which means that it's got Gwyneth Paltrow's attention. The modern round shape reminds me of my Dyson diffuser!
Currently in review
Handheld high-pressure shower heads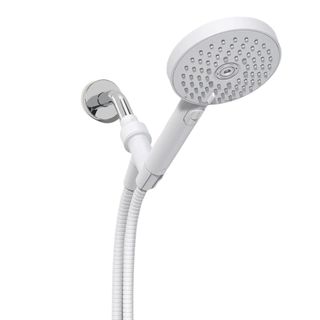 Perfect for renters
4. Sproos! Minimalist Showerhead
Type: Handheld
Finish: 4 chrome-free colors
Modes: 3
Price: From $69
Known as the "damage-free and deposit-friendly" high-pressure shower head, The fixture can be installed without drilling or screwing into your shower wall and uninstalls without fuss too. It comes with the tools and supplies you need for a stress-free setup, ready to go in five minutes flat. Whether you select black, white, red, or yellow, you're guaranteed to modernize even the lousiest of leases. And, seeing as showering is such a personal experience, this head comes with a choice of three spray settings and — wait for it — a pause button. Perfect for saving water and any ritual interruptions. The height-adjustable slide bar is a great feature when deciding whether you're just washing your hair, lathering from head to toe, or going all out with an "everything shower".
Currently in review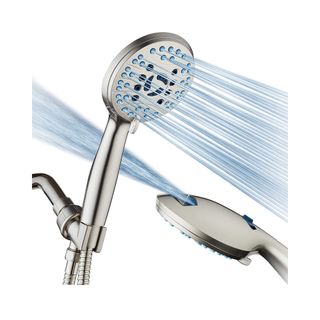 Antimicrobial nozzle
Type: Standalone
Finish: Oil-rubbed bronze/premium chrome/satin nickel
Modes: 8
Price: $39.99
Our top pick overall is backed by almost 35,000 reviewers with many saying it transformed their bathroom for a budget price. It has eight modes to flick between, plus it's fitted with anti-clog nozzles. The best part? It has a separate nozzle on the back of its head, which shoots a powerful jet of water to help clean soap scum from your tub or shower tray with ease. Game changer. It comes with a six-foot hose, making it an ideal pet shower (for whichever breed you own). You might have seen this particular model on TV and it's the #1 selling shower head in America, according to the brand. Spray settings include: Wide Rain, Massage, Soft Mist, Mix One, Mix Two, Pause, Wide Fan, and Point Jet.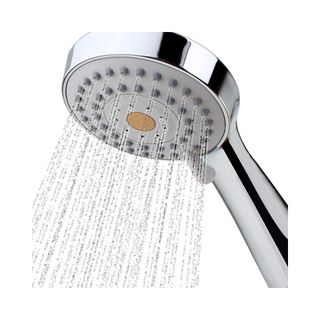 Standalone and wall mounted
6. HO2ME Handheld Shower Head
Type: Standalone & wall mounted
Finish: Polished chrome/brushed nickel
Modes: 3
Price: $27.99
If your water pressure is low, you probably can't remember the last time a hot shower relieved your muscle aches and pains. The HO2ME Handheld Shower Head will bring back that sweet feeling of relaxation. It delivers super strong spray action and has a multifunction option that allows you to choose between various spray strengths including powerful shooting and pulse massage. The hose on this shower head is also said to be very neat and compact so it doesn't take up too much space in your shower cubicle. A bracket is included, so you can use it as a standalone head or on a wall-mounted fixture.
Fixed high-pressure shower heads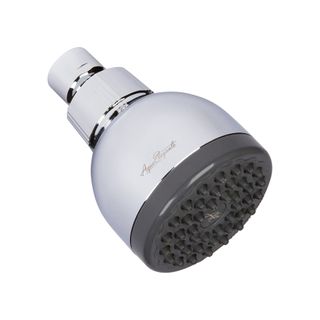 Amazon's Choice
7. Aqua Elegante Shower Head
Type: Fixed
Finish: Chrome/brushed nickel/oil-rubbed bronze/polished brass
Modes: 1
Price: $19.95
As far as style goes, this is our favorite for wall-mounted shower types. It boasts a whopping 36 silicone rubber nozzles to help blast your water out at a higher pressure, plus it has a removable flow limiter, which should be taken off by anyone who has a low water pressure system to get the best results. The shower head body is made from lightweight and extremely durable ABS plastic and the surface is coated with an attractive metal finish that will match most other bathroom fixtures. It has been designed to work well in hard water areas as it has a self-cleaning nozzle to prevent calcium buildup.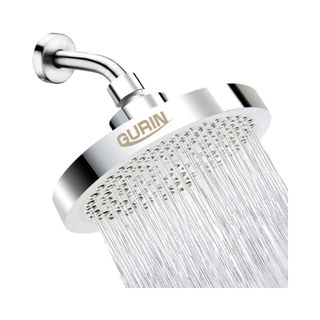 Luxury
8. Gurin Shower Head High Pressure Rain
Type: Fixed
Finish: Chrome
Modes: 1
Price: $29.95 $20.95
This shower head promises to combine high-pressure and a luxury rainfall feel. There is no shortage of rave reviews to back up its power either. Using anti-clogging silicone jets allow this shower head to push water out faster and is extremely efficient so you should be using less water as you rinse. Unique to other wall-mounted models, this shower head is also very easy to adjust from left to right, so you can get the perfect angle.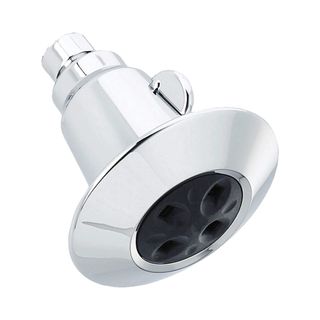 Basic
9. Delta Water Amplifying Adjustable Shower Head
Type: Fixed
Finish: Chrome
Modes: 1
Price: $48.85 $25.01
Users are evangelical about this shower Head, crediting this pick with giving them "a whole new shower experience." With a simple choice between high or low pressure, it doesn't boast a ton of modes but all reports say it does the basics incredibly well. Reviewers were left really impressed (and squeaky clean) by the shower head's efforts and found it really easy to set up. It's worth noting that many shoppers recommended having some Teflon pipe tape on hand for the job.
What to consider when picking a high-pressure showerhead
Whether it's your plumbing that has low water pressure or it's down to your shower head getting clogged with limescale, a good shower head will be self-cleaning to minimize maintenance as much as possible. As well as this, here are a few other factors and questions to consider.
1. Which type of shower head do you need?
When investing in a high-pressure shower head, you need to think about where and how it is being installed. Some options are handheld, which means they sit on your current shower setup, and you can pop them on a stand or use them as a handheld shower head. These are also usually super easy to fit as it's just a case of unscrewing your old head and screwing on the new one. Other shower heads, such as fixed ones, need to be attached directly to the shower hose that's wall-mounted in your bathroom.
2. Consider your water bill
If want to cut back on your water bill, it's worth looking at an option that reduces water usage. Otherwise, switch your shower to eco mode and invest in our strongest pressure shower head, which benefits your bill and the environment.
3. Consider how hard your water is
Depending on where you're based, the hardness of the water varies. Some models might struggle with harder water, however, there are some choices that are well-equipped. For this reason, it is worth checking how the water in your region compares to others before buying a shower head.
4. Think about modes and settings
If you're looking for a new shower head to enjoy different settings, think about how many you'd realistically use. There's no point having six modes if you know you'll only ever use two. Think about what you will use these modes for. Those with children might want to ensure their new shower head offers a mist mode for light pressure, or anyone with pets might want a jet mode to tackle muddy paws. Our top pick has six settings, which has the most out of the options we chose.
FAQs
Is Cyber Week a good time to buy a high-pressure showerhead?
It can be, but if you've got a poor-performing shower, you might want to sort out the issue more urgently. We search the net for discounts and use price trackers like Camelcamelcamel to evaluate whether you're getting a good deal on the day, so make sure to keep checking this page where we will display the most competitive prices.
Can a shower head increase water pressure?
Yes, that's part of the charm of a high-pressure shower head. Confusingly, these can be called high-pressure shower heads or low-pressure shower heads. They both mean the same thing, just phrased differently. Suited to homes with low water pressure (hence the name), they push the water out at high pressure, compensating for the low water pressure in your home.
A good example of this is the Aqua Elegante Shower Head, which has an impressive 36 holes.
How do you increase water flow in a shower head?
A clogged shower head can also lead to weak water flow. Don't miss our guide on how to clean a shower head for help with this. What else? If your shower itself offers more than one setting, try your shower on different settings with your new shower head. Switch your shower setting and switch between your shower head modes until you find one you like.
You might also find that water flow improves based on how high or low your shower is sitting on your wall. This isn't applicable to wall-mounted shower heads as these can be a pain to move, but standalone options might perform better placed higher towards your ceiling. Give it a try!
Otherwise, watch our TikTok tell-all below:
How often should I replace my shower head?
We asked the experts and it's safe to say that this answer will depend on the quality of your shower head, as well as how hard the water is in your area.
"Shower heads get overly covered with sediment, mold build-up or black spots, and become a breeding ground for bacteria that can cause respiratory illnesses," said Plumbing expert Stephany Smith from My Plumber, a Fantastic Services company. "Because of the millions of germs thriving in your shower head, you will hear the medical experts recommend getting a new shower head installed at least once or twice per year."
However, Rikki Fothergill, Content Specialist at Big Bathroom Shop begs to differ, arguing that they can last for ten years when looked after properly. "They are easy to clean, using household products such as white vinegar and bicarbonate of soda. This is an easy task if done regularly, we suggest once a month, and is also much more cost-effective."
So, keep your shower head clean and you won't have to replace it for years. Sounds easy, huh?
How we review high-pressure shower heads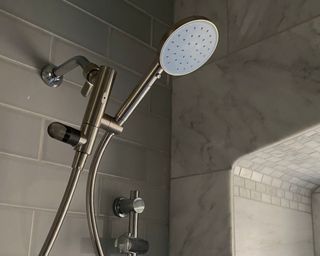 We're working to test these high-pressure shower heads, so for now, I've handpicked five out of six of these products based on their customer reviews. This means that everything featured in this guide has been approved by homeowners, renters, and others looking to improve their showers.
I've been testing high-pressure shower heads for our UK guide, so I know what to look for and what to avoid when it comes to this purchase. While choosing products for this guide, I've been sure to include something for everyone, whether you're on a budget or want something super fancy — there's even a wall-mounted shower head in there.
Otherwise, two shower heads in this guide have been reviewed so far.
Christina is our head of ecommerce and she's currently using the Hello Klean showerhead in her home, to take her self-care regime to another level.
Melissa is our editor in chief and she's currently using the Hai Smart Shower Head in her home, to upgrade her bathroom.
Where to buy high-pressure shower heads
Here's a list of retailers where you can shop for a high-pressure shower head online.