Looking for the best radiators to heat your home? Whether you're after better energy efficiency, like the idea of swapping a boring design for something with style, or are building an addition to your home and need to extend your home heating system, you might be surprised about just how much choice there is.
You'll need to select from radiators fuelled by electricity or those that use the hot water made by a boiler to heat individual rooms. But you can also choose from radiators made from different materials, a host of styles, and a range of finishes, too, including attractive colors.
We've taken a look at all the options available here, and we've asked the experts to share their advice so you can make the best choices for your home.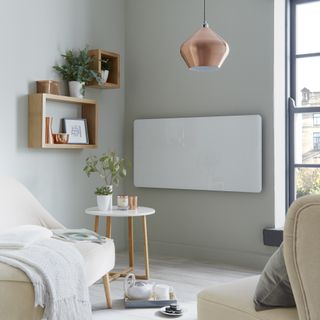 The best radiators: types, materials, styles and sizes
Why you can trust Real Homes Our expert reviewers spend hours testing and comparing products and services so you can choose the best for you. Find out more about how we test.
In order to pick the best radiators for your home, you'll first need to think about whether it's an electric or plumbed in version that's required. After that both what it's made from, and its heat output are important factors. Aesthetics count, too, as a radiator is a relatively large feature within a room. Our guide has all you need.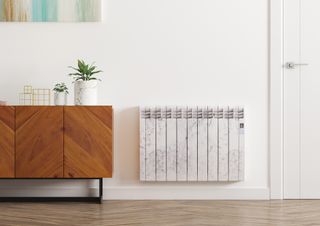 What type of radiators are there?
There are two types of radiators – plumbed in and electric – and the best type for your home will depend on your current situation.
Plumbed-in radiators make use of the hot water created by the boiler to emit heat. They're controlled centrally as part of the heating system.
Electric radiators work in individual rooms and use mains electricity. Some versions are plugged into a socket, while others will need to be fitted by an electrician. You'll also see infrared electric radiators on offer. These have a high heat output and are slim, so can be a good small space solution.
You might need replacements within an existing heating system or to extend it. However, if you have plumbed-in central heating, don't rule out adding in an electric radiator to heat a space that's not currently covered by the system.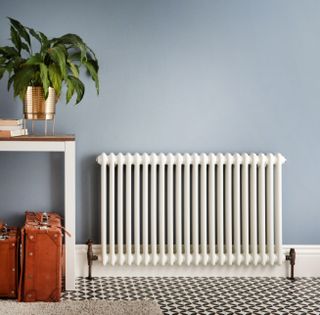 How to choose the right size radiator
Getting the right heat output for the space is vital. Radiators come with a BTU rating, which tells you the heat output calculated in British Thermal Units. You can use an online calculator such as this one from The Radiator Company or call on a heating engineer to work out what's required.
Don't forget that to create even heat large spaces may need more than one radiator if the room doesn't have another heat source such as a stove.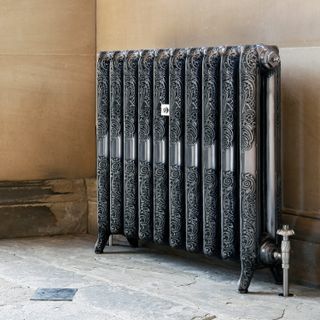 What about pairing radiators with a heat pump?
If you have a heat pump rather than a boiler in your home, this does need to be kept in mind when choosing the best radiators. 'Heat pumps generally work on lower temperatures than conventional gas boilers so as a consequence radiators generally need to be bigger to compensate,' explains Nick Duggan, director, The Radiator Centre.
'This is not necessarily a problem as there are plenty of radiators out there which are designed to get the maximum amount of heat from the smallest amount of warmed water.'
Can you use old or reconditioned radiators?
It's possible to use old cast-iron radiators in a modern heating system. However, they'll need to be flushed of debris and tested to ensure they are up to the job.
Not blessed with original designs? You could bring in reconditioned models. Consider, alternatively, going for modern radiators that have the same period looks but 21st century efficiency.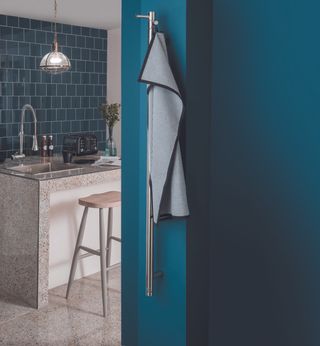 What materials are radiators made from?
Modern radiators are frequently made from steel and traditional versions from cast iron, although there are other materials on offer.
Steel is extremely durable, and has high heat output and efficiency. It's generally the most budget-friendly option. 'Steel radiators will heat up and cool down quickly providing manageable control,' says Simon Morris, marketing manager at The Radiator Company.
Cast iron suits industrial-style schemes and older homes. It heats up more slowly but retains heat for longer once it's switched off. The material is heavy, though, which will affect where these radiators can be located.
'Traditional cast-iron radiators have been the staple material in period homes and schools since the Victorian age,' says Simon. 'Their dense heavy structure takes time to reach optimal temperature but remains hot long after the central heating is turned off – perfect for cold drafty period homes.'
Aluminum is light, which increases the possibilities when it comes to where you can hang these designs. It heats up – but also cools down – quickly.
'Aluminum is a highly efficient conductive material that will heat up instantly after the central heating is turned on, giving you total control over your central heating system,' says Simon.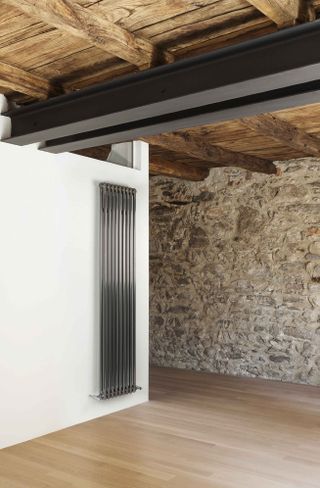 What shapes do radiators come in?
Horizontal radiators are the classic option. They're generally easy to fit under windows or wall shelving, so can help make room layout space-efficient. Slim designer versions will fit under low windows.
Vertical radiators are frequently used in bathrooms but there's an array of vertical designs for every room now on offer. They can fit into awkward spaces and also make a stylish feature.
Column radiators consist of vertical pipes that may be set, for example, two, three or four columns deep. The more columns, the higher the heat output but the more space the radiator will take up.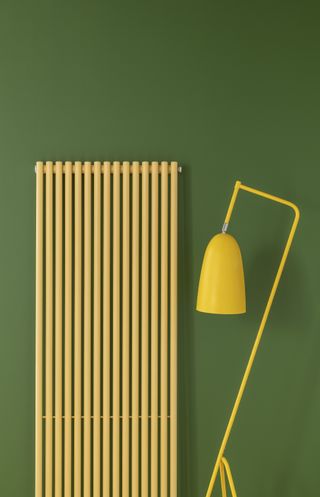 Towel radiators come in classic ladder designs as well as a whole host of other styles these days. They'll warm towels and the room. Choose from those plumbed in to the heating system, electric versions, or dual fuel. The latter are plumbed in but also have a switch that allows you to turn on the electric heating element when the central heating is off in summer so your room is warm for showering or bathing and towels are dried.
Don't forget to consider the depth of the radiator when you're picking a design for a room. Whether a radiator is single or double panel will influence how far it juts out. Single panel designs are, of course, slimmer. These have lower heat output, so are more likely to be the right choice for a smaller room. Double panel radiators produce a lot more heat for the same surface area and will intrude further into the room.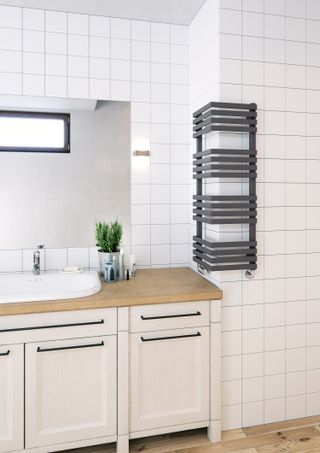 What radiator colors and finishes are there?
There's definitely no need to pick a white panel when you're choosing the best radiators for your rooms. Radiators come in a huge array of colors and finishes these days. Make it a focal point in a bold shade, subtly blend it with a wall paint color, or opt for a sleek and sophisticated modern look in gray or black. There are also a whole host of metallic finishes you might like including gold, silver, copper, bronze, brass and so on. And there are even amazing patterned radiators, those featuring artwork, and textural finishes on offer these days.
And if you aren't ready to replace a white radiator but like the idea of a revamp, you can discover how to paint a radiator to update a dull design.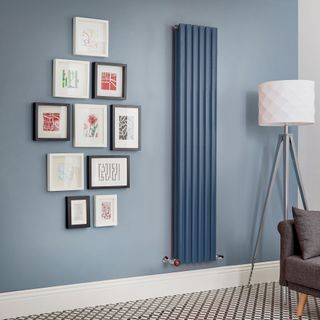 Do you need radiator valves?
Radiator valves, which control the temperature of individual radiators, are essential for giving you flexibility room-by-room. There are different styles of valve available so you can complement the choice of radiator design. You might hear them referred to as thermostatic radiator valves (TRVs).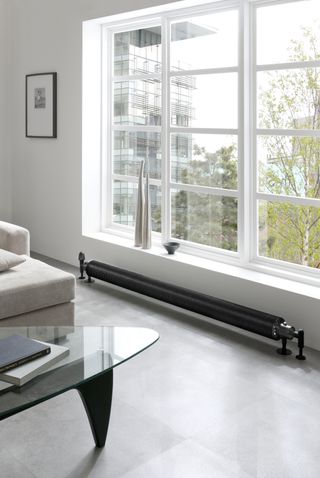 Where should radiators be positioned?
Radiators are frequently to be found under the window to counteract cold drafts. However, if your home is double or triple glazed, this certainly isn't the only option, making room layouts more flexible.
Bear in mind, however, that if you're swapping radiators into an existing system, the pipes may well be placed with the traditional radiator location in mind. This doesn't mean you can't re-position them, but it will entail additional work.
The wall itself is also an issue when it comes to the location of the radiator. Masonry, brick or block walls are strong, so the radiator options available are considerable. Studwork walls require that the radiator is hung from the studs, so this can limit both size and shape of radiator.
Don't block the radiator by putting a couch or other large piece of furniture in front of it as this will stop it heating the room efficiently. Draping curtains over it is also a bad idea.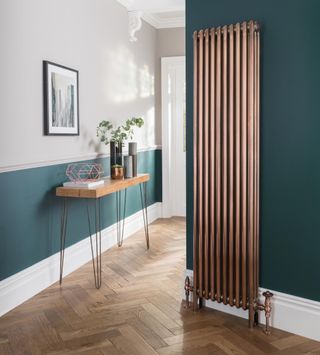 Are traditional radiators efficient?
Traditional radiators can retain heat for a long time, so despite taking longer to heat up compared to modern column radiators, they can still warm your home efficiently. Smaller cast-iron designs even boast the same heat output as larger steel or aluminum models.
Usually made from cast-iron, traditional radiators are heavy, but bring a very charming aesthetic to a home, and particularly to Victorian buildings.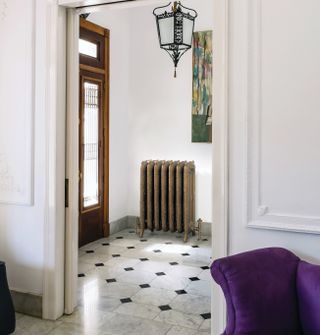 Maintaining radiators
Air can build up in a plumbed heating system, which will stop it working efficiently. Gurgling radiators or one that is cold at the top or has cold patches are all giveaways and, if you live in a two-storey house, you may begin to notice that the radiators upstairs aren't getting as hot as those downstairs. To counteract this, you need to know how to bleed a radiator, which releases the trapped air.
Another issue you might encounter is that some radiators heat up fast while others take a while. If that's the case, knowing how to balance radiators could solve the problem, ensuring water from the boiler is distributed evenly.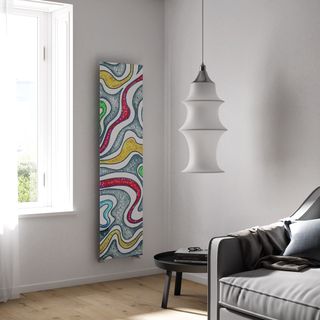 Which radiators give out the best heat?
You might want to opt for cast iron or aluminum radiators for the best heat. 'In terms of retaining heat, an old-school classic cast-iron radiator is a strong choice,' says John Lawless, content marketing manager of BestHeating. 'It is slow to get going, but it will hold on to its heat for a far longer period than steel or aluminum alternatives will, which helps efficiency as they can be turned off if at an appropriate temperature. Plus, because of the nature of the material, you will find a range of more ornate and detailed designs in cast iron than you will in any other range.
'If you are looking for speed, aluminum radiators heat up the quickest. As a superconductor, aluminum is amongst the most effective materials for warming a space quickly and efficiently. However, as quickly as it heats up, it will cool down again just as fast, which could be considered a bad thing, but arguably makes it perfect for achieving the ideal ambient room temperature, too.'
Which radiators are most energy efficient?
Electric radiators are the most energy efficient. 'With 100 per cent of power being converted into heat, electric radiators are more energy efficient,' says Jordan Chance at PlumbNation.
However, bear in mind that when it comes to the energy bill for heating the whole of your home, it's how much you pay for the fuel that powers the heating that counts. Where electricity is more expensive than the gas or oil that fuels a boiler then electric radiators could work out to be more expensive if used for every room.
For plumbed-in radiators, you might want to opt for aluminum versions. 'Designed to heat up quickly and run at a higher temperature than traditional materials, this makes them generally more cost-effective,' says Jordan.
What are the best modern radiators?
Vertical radiators are a modern choice that many people have fallen for. 'Sleek and contemporary or elegant and traditional, vertical radiators are dominating the market,' says Jordan Chance. 'Vertical radiators offer more than just a way to heat your home, they create a super stylish focal point too, especially the more decorative radiators.'
However, the beauty of modern radiators is there a huge variety of designs, sizes, and colors so you can select the one that best suits your room, as well as being energy efficient.
In general, radiators aren't such a dominant feature of a room as they used to be. 'Radiators have become far better at producing heat and consequently smaller,' says Nick Duggan. 'Heat from radiators is the result of "surface area", with the greater the surface area the more heat, so a lot of research has gone into the design and manufacturing process in order to achieve this.'