Hunting for realistic small bathroom ideas is a challenge that most of us face. After all, a sound small bathroom design that is practical but still stylish is key to making, what is usually, the tiniest room in your home work for you.
Whether you're looking for powder rooms, ensuite bathroom designs or a downstairs WC, we'll make sure your bathroom is everything you want it to be – luxurious, functional and simply and actually a nice place to spend time in.
With loads of expert advice and some gorgeous small bathrooms from real homes, we can prove just how much you can do in a snug space.
Small bathroom ideas to squeeze into your wash room
'Working with a small sized bathroom just means you have to be a lot cleverer when designing it,' explains Yousef Mansuri, head of design at C.P. Hart (opens in new tab).
'You've got to really think about which products you would like in the bathroom vs what products will actually fit well in the room. There's no point in wishing for a large separate bath and separate shower if this means sacrificing the space for the basin and toilet, nor is it wise to fit a large double basin if it means sacrificing the only room in the house that can fit a bath. Therefore the perfect balance between what you want and what fits in the room is crucial.'
1. Upcycle an old locker for storage
This room's transformation is such a lovely example of what you can do with a tiny, tired beige room, with some imagination.
'Our little pink and green en suite is one of my favorite rooms,' says Sam of @my.interior.tales (opens in new tab).
'The floor tiles are my favorite tiles of all time. I will never get bored of them. They were from Artisans of Devizes (opens in new tab) and make such an impact on the space. My second favorite item in this room is that gorgeous green locker. I thrifted it from Ebay (opens in new tab). It was grey and unloved and cost very little. A couple of coats of green paint and voila! We have one very on-trend, snazzy bathroom storage unit.'
2. Decorate your floors with a stencil design
In small bathroom ideas, it can seem more work than it's worth to install an expensive bathroom flooring idea. And it can often be a Catch-22. While doing the work yourself will prove substantially cheaper, it'll cost you your patience, time and weekend plans. Get a contractor to do it, and you may find yourself paying through the roof for labor that exceeds the cost of the raw materials.
Here, award-winning interiors and DIY blogger, Hayley Stuart (aka @iamhayleystuart) (opens in new tab) got to work with stenciling her small bathroom floor with a little help from Dizzy Duck Designs (opens in new tab) and some exotically-sourced items.
'The sink unit is an IKEA (opens in new tab) wall unit. I made the sink out of a concrete planter, the rug is a vintage Turkish rug I picked up on Etsy (opens in new tab) and the gown hanging on the ladder is from Stay Undressed (opens in new tab) and made out of recycled Saris. One of my favorite things are the shutters from Jali Design (opens in new tab) but as a whole I love how everything ties together.'
3. Experiment with green shades and textures
In this green bathroom, the alligator pear, or avocado shade that was once the signature style of the seventies has been given a trendy, real time, transformation.
'After pulling dozens of different stunning tile samples, we settled on Rosemary (opens in new tab) in a 2×8 size,' says Erin Kestenbaum (opens in new tab), freelance photographer who works in New York City and Connecticut.
'It's a warm green that has the perfect amount of saturation, a glossy finish, and some light crazing on the surface. This tile also has some color variation, so it has this amazing depth when it's all installed on a bigger wall. The long and skinny proportions are elegant and elevate the space.'
'Since this bathroom is so petite, I knew I wanted to use one continuous flooring throughout the bathroom to visually expand the space. We also wanted a curbless shower and didn't have the depth for a linear drain, which meant we needed to use a small scale tile on the floors.'
'We landed on the Tanngent Hive tile in Calcatta marble (opens in new tab) by Walker Zanger. The shape of the tile is interesting and the color mix of marble was very well distributed.'
'I love how the small scale of the floor tile is balanced by a medium sized tile on the walls and a large scale wallpaper. It helps to make the bathroom feel more expansive than its 40ish square feet.'
'Since this bathroom is used by guests, I wanted it to feel more like a powder room. Using a wallpaper by Sandberg Raphael (opens in new tab) was a big tool in achieving that, along with Farrow & Ball's Card Room Green (opens in new tab).
4. Don't be afraid to mix and match tiles in small spaces
The internet is full of interior myths which can often hinder and crush our small bathroom ideas. So if someone has told you that you can't get creative because of the size of your washroom, throw those thoughts down the drain.
This bathroom by Liz (aka @prettyprospectcottage (opens in new tab)) is just 1.35m wide by 2.5m long. Here, she has used two types of tile by Walls and Floors (opens in new tab) in her blue, black and white bathroom and beautiful Lily pad tiles in Denim by Ca Pietra (opens in new tab).
5. Create a dark, moody space
Would you believe that this small bathroom was originally a bedroom with a rather questionable sink and an assortment of different carpets? One couple took on the mammoth task of a bathroom remodel, stripping this room back to brick to insulate it and hide all of the new pipework. Resembling a cave at one point, it got a lot worse before it got better, having to rewire the entire house and rebuild a few walls.
'Our bathroom inspiration came straight from Instagram. I knew I wanted a dark, moody, spa-like space and after searching through hashtags and saving posts that I liked, I designed the space in my head,' says Laura, of @our_journey_at_81 (opens in new tab).
'I went on the hunt for the perfect tiles. They were one of the biggest splurges in the bathroom and after picking up what felt like a million tiles I found the perfect ones in Porcelanosa (opens in new tab).'

'We mixed these with old wooden pallets which I painstakingly sanded and varnished. Our vanity unit is also made from old pallets which means it's completely bespoke and could be designed for the space. The rest of the bathroom suite was chosen from a few different shops online - I love my bath from Victoria Plum (opens in new tab)!'
6. Nod to aqua accents
Starting off with a green Formica (opens in new tab) countertop and an outdated, pinky-beige bathtub, oversized shower and above-head skylight meant that Grace of @gracecottagehhi (opens in new tab)had her work cut out remodeling a has-been seventies small bathroom idea into a beach cottage masterpiece.
To transform this space, aqua tiles, which take on different shades (depending on the light), give this blue bathroom a calm, coastal feel. Switching out a thick framed cubicle for ultra-thin glass doors also helped to make this space look much larger and let light shine in from the windows and rooflight windows.
Switching out a built-in bath for a freestanding bath also gives the illusion of openness while also allowing space for a small wooden table for decor and storage purposes.
7. Keep it minimal
It's all about paring back and understanding what you actually need in your small space. Stick to the bare essentials so you have as few built in or bulky items in there as possible – if they're taking up that precious floor space, they'll make the room look smaller.
All you really need in a small bathroom is a toilet, a sink and a bath or shower. Small bathroom storage ideas are vital too, but think about how this could be built around your basin or choose wall mounted cabinets that won't take up any of that floor space we mentioned.
8. Create a feature wall using a mosaic tile effect
If you're dealing with a small bathroom idea, it can seem too labor-intensive to source, cut and install tiles – even those that appear to appeal to tiny spaces. Instead of trying to shoehorn a metro or herringbone style tile into a titchy scheme, mosaic tile design can create a picturesque backdrop to brush your teeth and wash your hands.
This bespoke small bathroom tile idea is a take on Chinoiserie, featuring a matt blue background, decorative pop of jewel-like glass shards and even 24 carat gold for added bling.
Inspired by Greco-roman design with an Asian twist, this design by Virginia-based luxury mosaic company New Ravenna (opens in new tab) will make you feel like a God or Goddess as you go through your self-care routine at morning or night time.
9. Or squeeze in a tiny bathtub
Desperate for a stylish roll top bath as part of your small bathroom design? And why not – they look good, and, because they're not boxy like standard fitted baths, therefore, they can enhance a small bathroom space.
If you don't like the thought of switching out a tub for a shower appliance – you don't have to. This Tubby Torre (opens in new tab) miniature bathtub is perfect for bathing animals and small children.
The fixture, as with other Albion roll top baths can be finished in any Dulux Trade (opens in new tab), Farrow & Ball (opens in new tab) color, or one of Albion's three metallic finishes (gold, iron or bronze) so that your soak can be bespoke.
Remember however, that small bathroom ideas can build up grime more quickly, so discover how to clean a bathtub for sparkling results.
10. Opt for wall-hung fittings to enhance space
Wall-hung sanitaryware is one of those clever small bathroom ideas that creates the illusion of a larger bathroom, precisely because you can see the floor beneath the fittings. Further exaggerate the effect by picking minimalist, back-to-the-wall fittings, and choose the best bathroom flooring you can afford in a light color.
11. Pick a frameless shower in a small bathroom
Give the illusion of more space in compact bathrooms by cutting out a bulky shower tray and enclosure and go for a frameless glass shower. This will reduce the visual clutter in a small space and allow light to easily flow around the room. Frameless, walk-in showers also give a really lovely, luxurious feel, as well as being a really practical small bathroom idea.
'There are plenty of design choices you can make to help your small bathroom feel bigger and brighter. Adding a clear and frameless shower enclosure will give the illusion of more space, allowing light to pass through and reach every corner of the room.' explains George Holland, bathroom design expert at Victorian Plumbing (opens in new tab).
'Additionally, opting for a compact bathroom suite can help scale down your space's larger components, making your bathroom feel less busy without sacrificing any functionality. '
You can see here how to the tile continuity both on the floor and the walls really stretches the space and doesn't break up the room. Placing a huge bathroom mirror idea above the sink massively helps too.
12. Consider an unfitted look in a narrow bathroom
While fitted bathroom units are a great option if your priority is maximizing storage, they can make a small bathroom feel boxy. An unfitted look not only has the power to make a small bathroom feel spacious, but also creates a more relaxed feel.
Like the idea of making a statement with an unfitted vanity? Browse our pick of the best vanity units.
13. Pick slimline bathroom fittings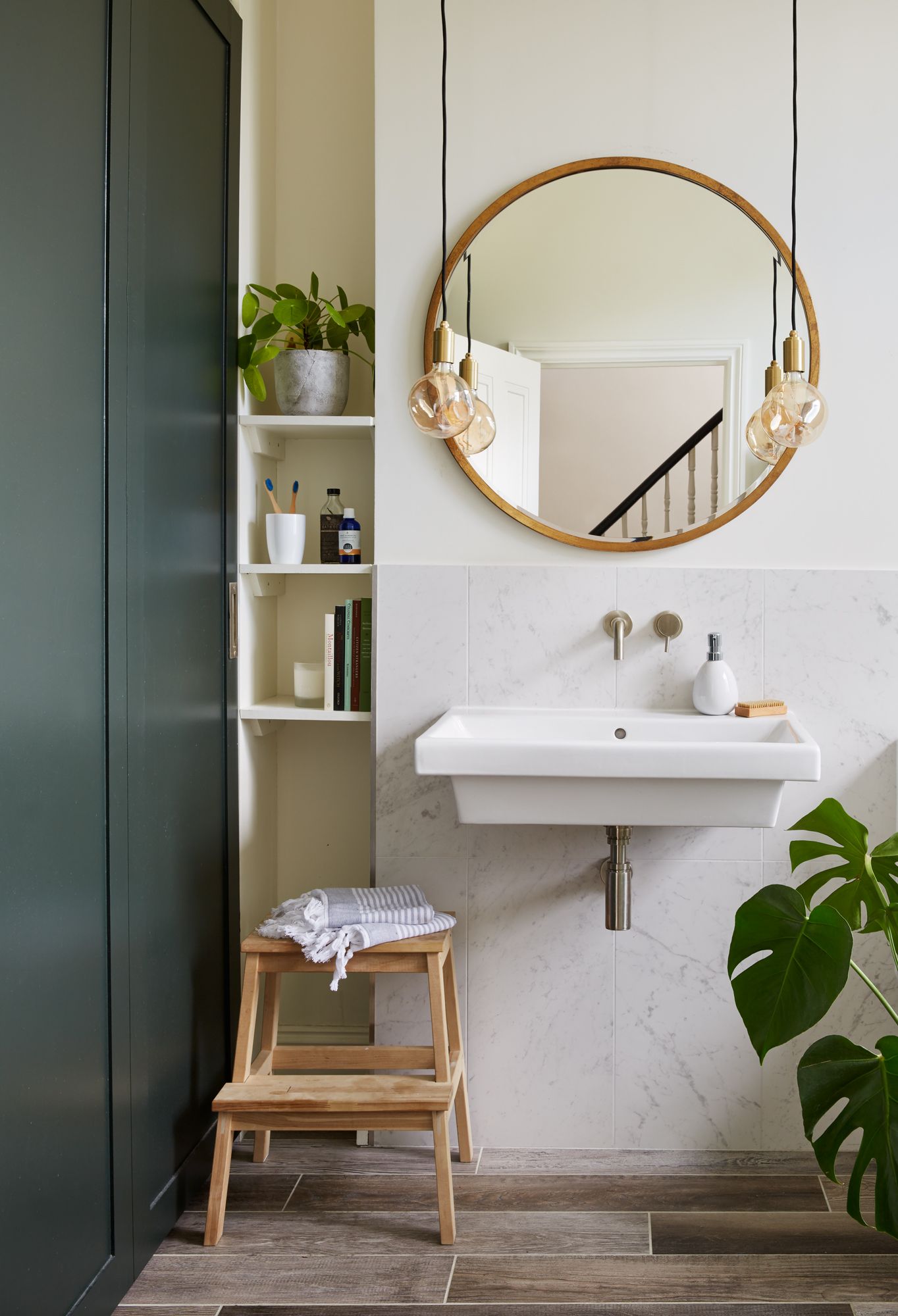 If space is at a premium, consider scaling down sanitaryware and opting for slimline solutions. Whether that be a slimmer model of toilet, towel rail or bathroom storage, gaining a few extra inches and reducing the 'packed in' feel will make all the difference in a small bathroom.
For example, the best bathroom sink doesn't need to be huge; ultimately you just need to have ample space for hand-washing, brushing your teeth and washing your face.
14. Maximize vertical space with a ladder shelf
A small bathroom design must include clever bathroom storage ideas and we love the addition of a ladder shelf to a small space which, in addition to being slimline and maximizing vertical space when propped up against a wall, it creates an attractive design feature. Basic ladder shelves are great for towels, or choose one like this with shelves to max out your display opportunities.
15. Expand a small bathroom with floor tiles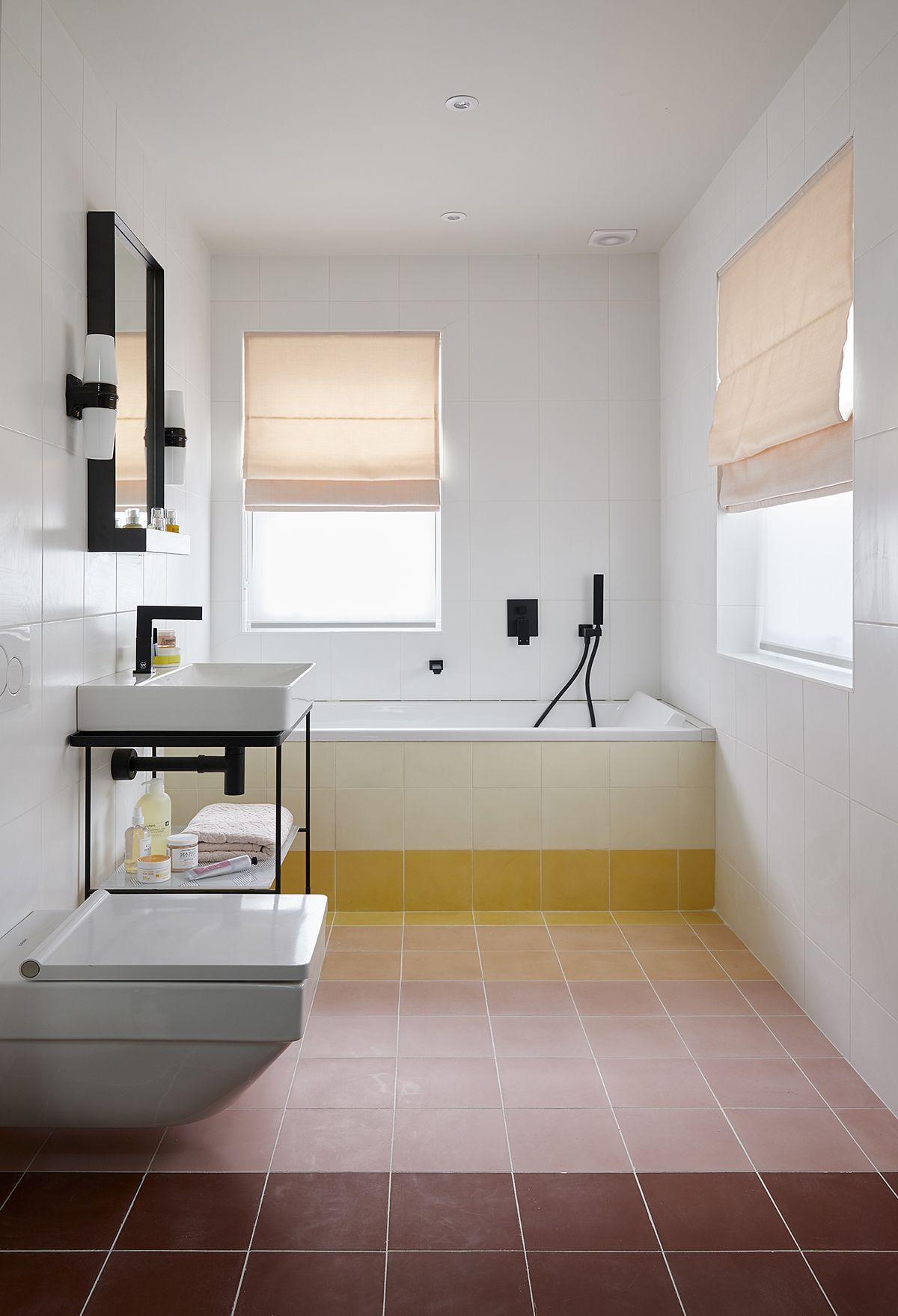 How cool is this bathroom tile idea? And it's actually a pretty small bathroom too, it's just been made to look bigger with the clever flooring placement.
The fading colors draw the eye to the end of the room, giving the illusion that the room is longer than it is and running the tiles up the side of the bath only adds to lengthening the room. We love the sunset colors used here but if you are more into a monochrome bathroom this would work really well fading black into white.
16. Choose uniquely designed bathroom furniture
Making use of even the most awkward of nooks and crannies is something we all have to face with a small bathroom space. Be sure to consider furniture that can fit into what might otherwise be dead space – such as a small awkward corner or alcove – you'll be surprised with what you can find, and what looks good too!
17. Consider a light color scheme to boost natural light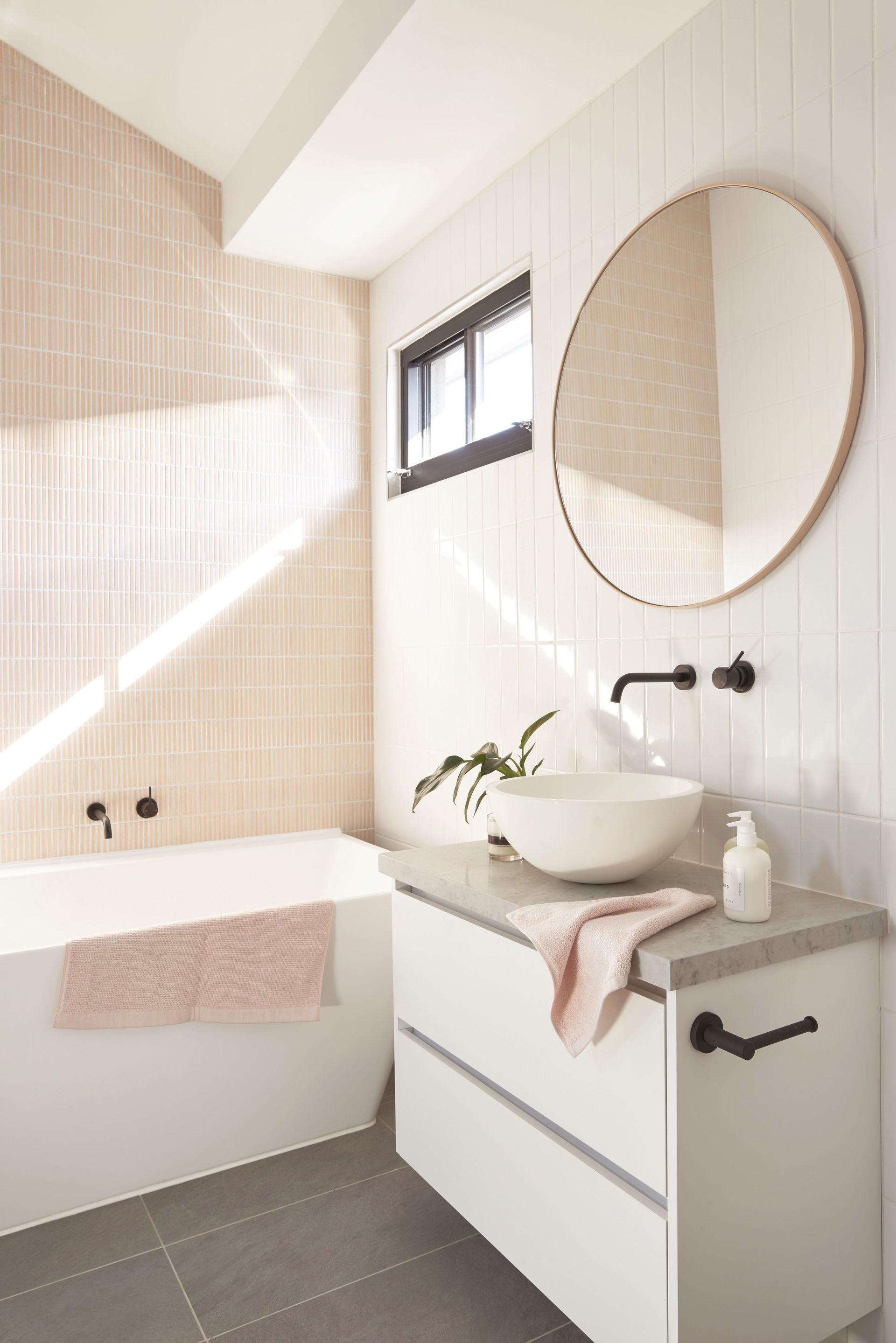 If a small bathroom is not designed effectively, a lack of natural light can quickly bring any dark and dingy features forward. For an easy and effective solution, consider a pale scheme, complete with either fitted or unfitted sanitaryware that (almost) blends in with the rest of the space.
This compact bathroom uses natural colored and white tiles as the basis for its scheme. That said, the same space-enhancing effect can be achieved with white or another pale paint, in which case you might want to take a look at our pick of the best paint for bathrooms.
Alternatively, bold color can nod to a maximalist look and help bring more personality to a small space.
18. Opt for open shelving to avoid a 'boxy' feel
Open bathroom shelving ideas are another effective set of small bathroom accessories worth considering if you're worried about fitted units making a bathroom feel boxy.
With a relaxed, unfitted feel, it not only offers ample storage, but makes for a stylish design feature if styled with house plants, folded fresh towels or other attractive small bathroom essentials. Opting for recessed shelves, as seen below, also helps make the most of an awkward shaped small bathroom, with shelves blending into a scheme if painted in the same shade as the rest of the bathroom.
19. Choose the right sized tiles for your small bathroom
Knowing how to choose tiles for a small bathroom, whether for walls or floors, will have a big impact on making your small space feel bigger and brighter. A small bathroom can actually benefit from a large tile. With fewer grout lines the walls and floor are less cluttered and the room visually expanded.
Using smaller tiles, such as mosaics, will give you lots of grout lines, which can give walls a grid-like appearance that can promote the feeling of being boxed in – making your already small bathroom feel ten times tinier.
This doesn't mean you have to completely rule small tiles out. If you've fallen for some beautiful mosaics, you can mix it up a bit by using different sized tiles in different zones of your bathroom, with smaller tiles being limited to the showering area, a larger format tile used in the majority of the room, and mosaic tiles in alcoves or recesses (spaces you don't expect to feel generously-sized).
20. Exaggerate space in a small bathroom with a mirror
Here's one very easy small bathroom idea to give the illusion of space. Simply hanging a large mirror idea in a small bathroom will help it feel more spacious, especially if you've chosen a dark and dramatic color scheme. Picking a round mirror will create a softer feel than a square or rectangular one, and choosing one that's frameless will add a more luxurious element to the room also.
21. Install good bathroom lighting
It's very likely you'll be making use of this small bathroom space when it's dark. So, ensuring your bathroom lighting ideas are good – and not just relying on a single overhead bulb – will make it feel bigger when it's dark outside and when you can't rely on natural daylight.
'Lighting zones are a key consideration, as getting the lighting right can make all the difference to the ambiance and the look created in your bathroom. I always recommend installing multiple layers of light, so you can control the atmosphere in the room, however, this is not always possible in smaller-sized bathrooms.' recommends Yousef Mansuri, head of design at C.P. Hart (opens in new tab).
'Think about a dimmer switch instead, so that you can still control the intensity of light depending on your mood without taking up any extra space. Alternatively, if you've wall-mounted your vanity unit, you can fit an LED strip light beneath it that will provide you with ambient lighting.'
22. Add pattern to a small space with wallpaper
You can enhance your small bathroom visually with a colorful bathroom wallpaper ideas, and this is a particularly good option for awkwardly shaped compact bathrooms as the pattern will take the focus away from the smaller size of the space. You can be bold with your choice, as a wallpaper that has a lot going on can actually visual expand the room and add that grand element of drama sometimes missing from a tiny bathroom.
Like everybody else, we love Cole & Son's Jungle wallpaper (opens in new tab).
23. Make a small bathroom feel taller with paneling
Making your bathroom ceiling feel taller can create the illusion that the room is bigger. A really easy way to do this is with wall paneling, or if it isn't an option, painting your wall halfway up. If you go for a slightly darker color for the lower section and keep it light on you create the feeling that there is a larger distance between the halfway point and the ceiling.
You can even DIY the look with just some decorative beading and wood glue.
24. Turn to chic wall-mounted storage
As you've probably gathered, storage is key in a small bathroom, but it can also be a stylish design feature too. Keeping your minimal floor space as clutter-free as possible will help the space feel bigger, so when choosing storage, look for something wall-mounted.
Pick something that's going to add to the space too – if you like a modern industrial vibe, a black wire shelving unit like this one will add style as well as practicality. Equally a cute rattan storage unit will add to a boho space, a cute vintage cabinet will enhance a traditional bathroom.
25. Blur edges with plenty of houseplants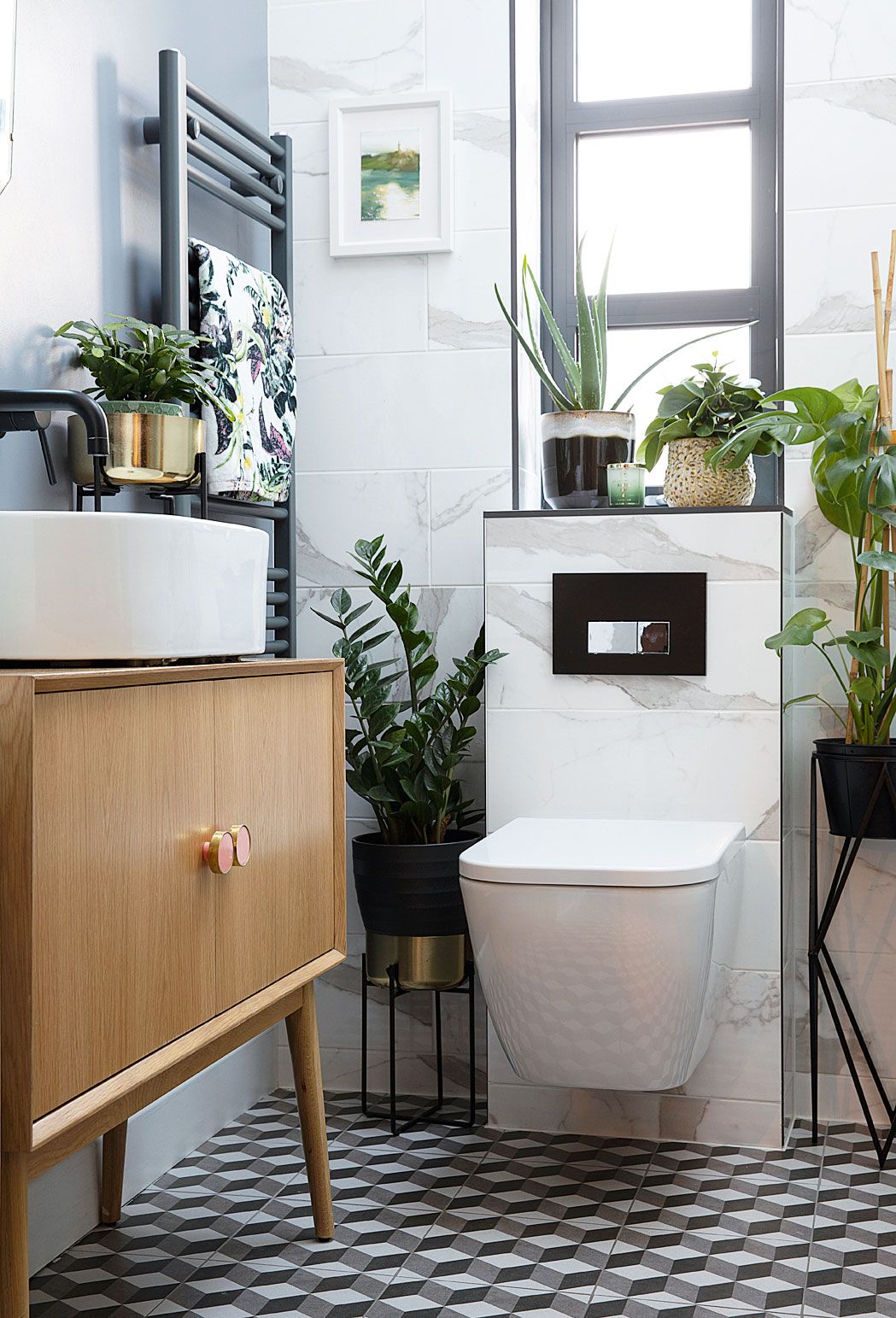 You can't go wrong with houseplants, even if they are of the faux variety they bring in color, texture and literally life to even the smallest of spaces.
They can actually help to make your space feel bigger too if you place that strategically. Put taller, more statement plants in the corners of the room and they can soften the edges of the room making the smaller dimensions less obvious. So whatever the size of your space, the benefits of houseplants can be enjoyed by all.
26. Wallpaper your bathroom ceiling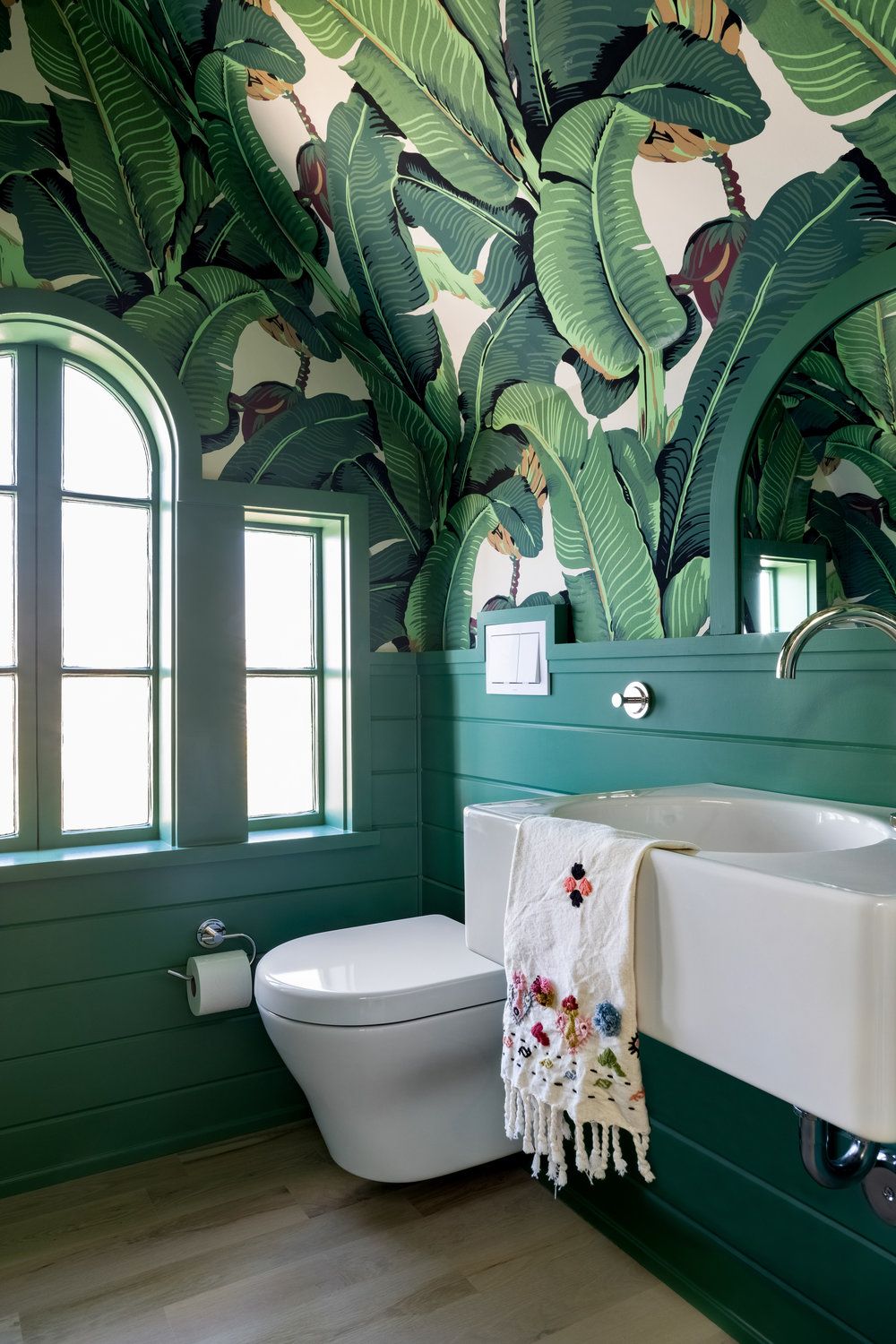 Now this is a look. Wallpaper on a ceiling has been a bold design trick for years, but we have recently since an increase in this trend over the last few months. And yes, it can totally work in a bathroom so long as it's well ventilated and you do your prep.
Going for a bold busy print actually works really well in a small bathroom too because it can blur the lines of the edges of the room. It's a really popular look in downstairs toilets, cloakrooms and powder rooms too.
27. Or 'tile' your bathroom ceiling
Yep, tiling the ceiling is totally a thing. Tin ceiling tiles are often referred to as Brooklyn tiles and you can find both new and vintage offerings online – these homeowners decked out their ceiling with tiles from American Tin Ceilings (opens in new tab), but check out eBay (opens in new tab) for some affordable secondhand options too.
Obviously, a reflective ceiling is going to bring loads of light into the room, but we think it's got to be the most stylish way to do so. This look is so glamorous in a fabulously vintage way, it brings in texture too and a tin ceiling can work with so many different styles.
28. Float your sink for a minimalist look
If you can, avoid 'boxy' sanitaryware in a small bathroom, you want as much light flowing around the space and nothing takes up too much room visually. This sink is a great example of what you can go for instead.
The floating sink doesn't come too far out into the room, by wall-mounting the taps you save on space there too, and yet simple shelving style means there's still room for some storage.
The space underneath the sink has been put to good use too with a shelf that mirrors the one above. It looks really chic but also provides some extra space for hopefully a bit more than a single towel, a back scrub and a bowl of pumice stones...
29. Don't be afraid to go dark
It's design 101 to go light in a small space, so it makes sense our go to is keep our color schemes in small bathrooms bright and airy. BUT that's not to say you can't go for a dark bathroom idea in a small space.
Picking a deep moody hue like blue or dark blue for your bathroom walls and ceiling creates a cozy space that feels stylish and inviting. Give the space a bit of a lift by going lighting with your bathroom flooring and warm up the space with wooden accents and metallics.
30. Allude to space with horizontal tile patterns
If you are wanting to visually stretch your small bathroom, making it feel less narrow, choosing horizontal patterns is the way to go. Here, a horizontal(ish), chevron-style stripe makes this smaller space feel wider and by having all that pattern on the far wall it actually makes it feel longer too as that is where the eye is drawn. Match with large format, fuss-free floor tiles for the floor so as not to overwhelm the room.
31. Play with color and texture
If you like the idea of adding color to your bathroom but want to start small, accessories are the way to do it. This bathroom doesn't get a lot of natural light, so it made sense to keep the color palette pretty neutral when it came to the walls and falls, but something as small as a funky print and some colorful lighting can add the perfect pop of color and make the space feel more fun and creative.
32. Paint your current bathroom furniture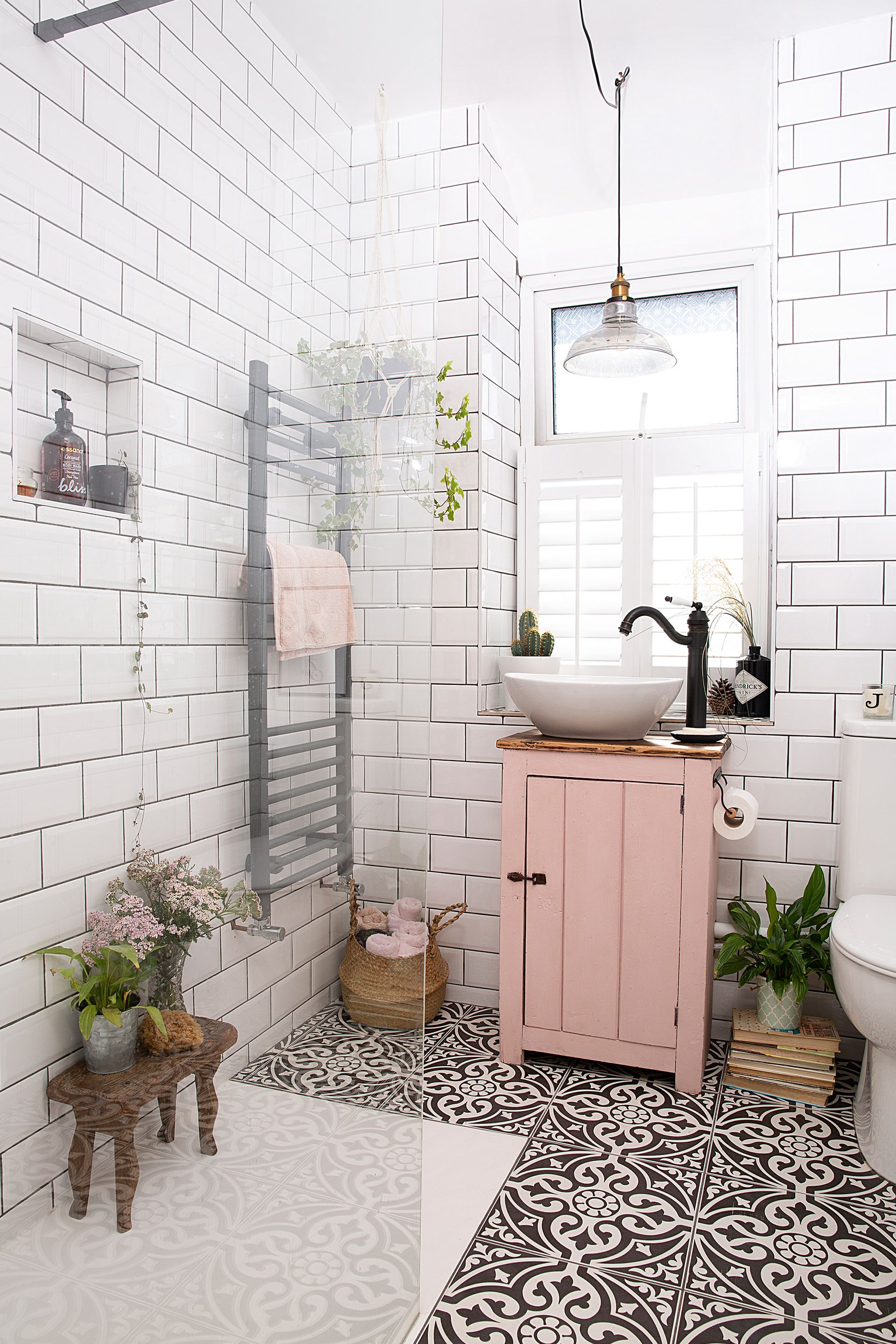 Blush pink is still having its moment and we love how it looks in this otherwise pretty monochrome bathroom. It softens the space and gives it more of a country vibe, plus gives the room a focal point too.
You could actually recreate this look in your current bathroom if you too have a washstand or a vanity unit you could paint. To tie the color in, just dot around some matching rosy accessories.
33. Add personality with vintage finds
It can be tricky to bring in personality to a small bathroom, as there's not usually a ton of room for decor, so let your quirky furniture choice add interest instead. Have a hunt of your own home and scour vintage stores to find pieces that could work in a bathroom, whether that be a cute crate for some storage or a compact chest that could be transformed into a vanity.
34. Tile all four walls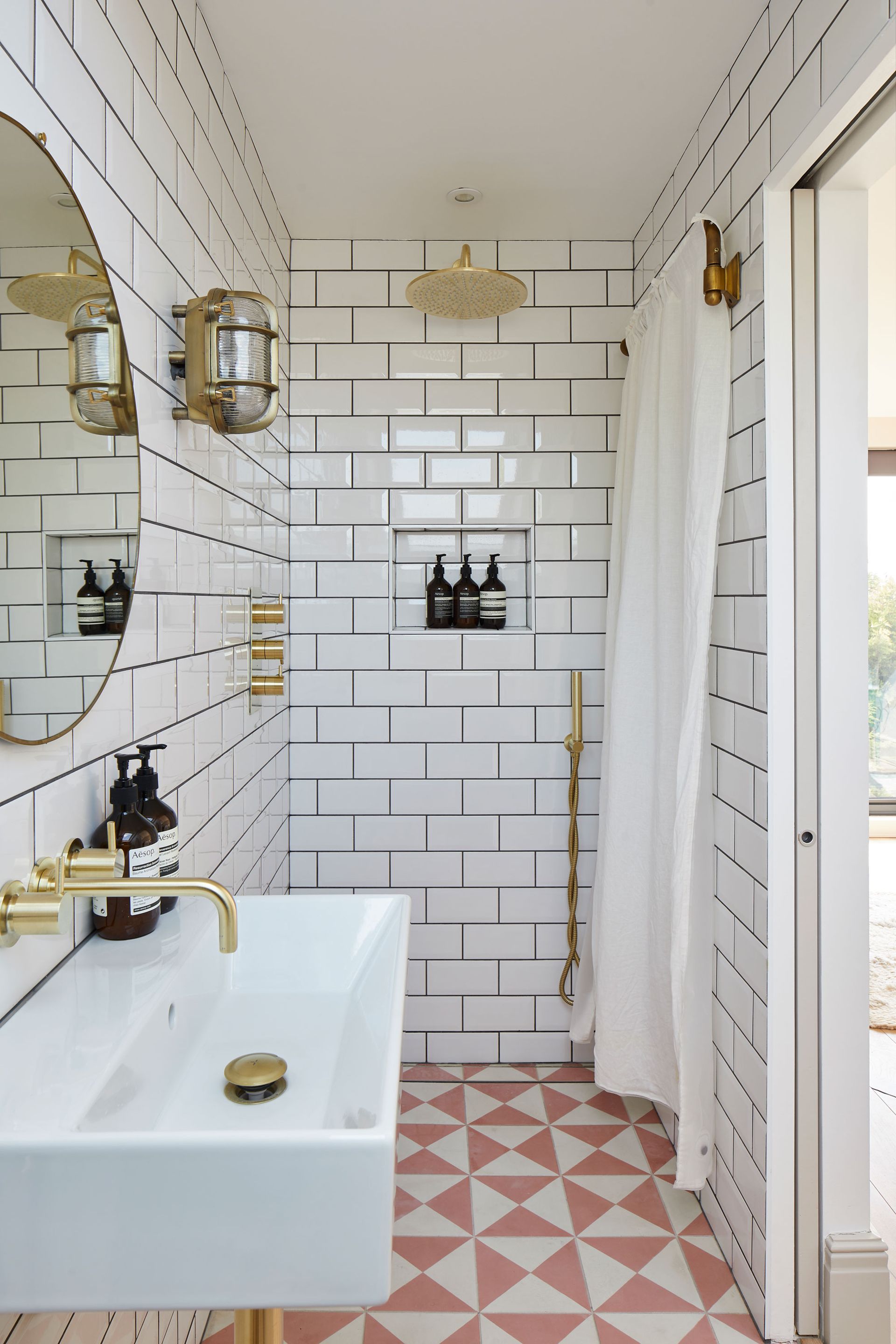 Noted, subway tiles on all four walls in the wrong space, can give butcher's shop vibes, not cute, but in a small, narrow bathroom they can totally work. It's practical too, especially if you want to opt for a walk in shower so you don't have to divide up the space with a shower enclosure.
The pinkish floor tiles and all the lovely gold hardware in this bathroom work to warm up all those white tiles, so you get a more chic hotel bathroom than a clinical vibe.
35. Keep all your sanitaryware to one wall
This is a top tip if you are designing a small bathroom from scratch, especially if your space is narrow – keep all your sanitaryware to one wall. Sinks, showers, lighting, mirrors, the lot. This will free up as much floor space as possible and give the room a less boxy feel.
Again, wall mounting the taps is also a way to save yourself a bit more space and you can hide away all that ugly pipework and avoid having to choose a pedestal basin.
36. Mix tiles and wallpaper
Not only does tiling or paneling halfway up a wall add the illusion of height to your bathroom, it also gives you the opportunity to do something bold with this other half of the wall. Wallpaper is our top choice! It's the perfect way to bring in pattern and color without taking up any actual space, your walls are still free to hang mirrors, lighting and storage.
37. Go bespoke
One of the most effective ways to really make the most of your space in a small bathroom is to have elements that are designed specifically for your room. For example, check out this bathroom. Having a vanity unit built for the exact measurements of the alcove has meant fitting in a double sink and ample amount of storage too.
38. Use kitchen fixtures in the bathroom
'Few people appreciate pink more than Emily Murray, founder and editor of The Pink House (opens in new tab). Here she demonstrates its natural affinity with polished brass to create a warm, inviting shower space,' says Emma Joyce, bathroom brand manager at House of Rohl (opens in new tab).
'Where Emily has been especially imaginative is in her choice of basin tap. Emily wanted a piece with real character to complement her statement wash bowl and fitted a Perrin & Rowe (opens in new tab) Aquitaine kitchen tap.'
'It works perfectly and has made Perrin & Rowe consider whether the Aquitaine should now be featured in our bathroom brochure as well as the kitchen.'
How do you maximize space in a small bathroom?
To successfully maximize space in small bathrooms you need to be completely familiar with what you've got to work with. Draw up a wish list of elements to include in your bathroom, but be prepared to compromise if space will not allow.
Always begin your project by getting accurate measurements of the room and getting it down on to graph paper (or an online planner tool). From here, you can ascertain what you will actually have room for.
'Smaller bathrooms really benefit from clever storage solutions such as storage units and baskets to give you back some of your space,' explains Holland.
'In bathrooms, we tend to keep everything in bathroom cabinets, but this isn't always the best solution for smaller spaces. Look above your bathroom door - you'd be surprised how much room you might have higher up. Adding storage in a strategic position can give you back some shelf space in your cabinets or under your sink basin.'
'You will have to weigh up the pros and cons of removing a bath from a personal perspective, as they're great for family households and those with dogs too,' says Richard Roberts, director at Sanctuary Bathrooms (opens in new tab).
'The other consideration is that if you're renovating to sell the home, a bath is a potential buying benefit. If you're looking to just have a shower in your space, consider a walk-in.'
'The fact that walk-in showers are built for easier accessibility makes them advantageous when it comes to extending the room so it looks bigger, compared to a standard shower enclosure, which blocks out an area of the room.'
'Some people choose to build their walk-in shower using the same flooring as the rest of the bathroom, which provides a continuous pattern or style. If this isn't possible or not to your taste, shower trays for walk in enclosures create the illusion of more space with the entire bathroom floor being on a similar level. The almost-near ground level glass also allows the entire bathroom to be visible.'
'You could also look at reducing down your toilet, bath and basin into more compact versions, specifically designed to fit smaller bathrooms. Cloakroom basins are generally anything less than 700mm in size, compared to standard basins.'
'Baths vary in size with the largest being up to 2 metres/6.5ft long but you can get smaller baths, if you've got a cramped space. Compact toilets also come in a variety of styles including wall-hung and back to wall, providing flexibility in design and fixing.'
What is the best layout for a small bathroom?
Naturally, the layout of your small bathroom will be determined by its unique size and shape, but, here are some general tips and key pointers to help you get it right:
Can you move the waste pipe? A small bathroom design will usually be governed by the positioning of your waste pipe and therefore the positioning of your toilet; it can, of course, be moved to make more room, but this will up the cost.
Have the door opening out from the bathroom if possible so it does not use the internal footprint, or collide with sanitaryware when opened. Or perhaps you could fit a pocket door that slides into a wall cavity?
Save space to dry yourself or move around. Don't cram the space with fittings that make it impossible to use the bathroom comfortably.
Underfloor heating will save valuable wall space that radiators may use, but a slimline heated towel rail is a nice touch for warming and holding towels. If you do include a heated towel rail in your design, position it so that you can fit a cabinet to the side, or choose a short rail that you can put a cabinet above.
A over-bath shower is ideal if you want a shower and a bath. Avoid doing away with the bath in a family bathroom, especially if it is your only decent-sized bathroom – it is a necessity for bathing children and a small bath with overhead shower can sometimes be more space-efficient than a shower.
Choose a wall-hung sink and loo to create a feeling of greater space.
Same goes for wall-hung storage: leaving the floors as free of clutter as possible will make the space feel larger.
Look for smaller fittings where practical: shorter or narrower baths, corner sinks and loos designed for small bathrooms are all available.
'Maximizing space is key. Adding a slide-pocket or folding door will provide you with more space than a traditional hinged door. Also, consider your needs. A large bathtub may be aesthetically pleasing, but will take up twice the amount of space as a shower enclosure. Try to keep the space as open plan as possible, and add some bright ceiling lighting that draws the eye upwards to make the space appear larger.' continues Holland.
What is the best color for a small bathroom design?
While a light, bright palette will help reflect light and make a compact bathroom feel bigger, avoid going overboard with white which can make the room feel cold or clinical, so consider more adventurous bathroom paint shades.
Use patterned wall tiles or colorful accessories to bring warmth and interest to the space. And if you're up for a little DIY, painting a bathroom yourself is easy and budget-friendly too. The odd house plant looks great in small bathrooms too and will thrive well in the warm, humid environment.