Hunting for realistic small bathroom ideas is a challenge that most of us face. After all, a winning small bathroom design that's practical but still packs a stylish punch is key to making what can be the tiniest and often forgotten room in your home, work for you.
Whether you're looking for pretty powder room plans or ensuite bathroom designs that unexpectedly add delight, these ideas we've found will ensure your bathroom is everything you want it to be — pretty, functional, and a space-savvy hidden gem.
1. Install an alcove shelf
Is that dead space above your bathtub staring at you glumly? If so, put it to good use with a simple feature that will maximize your bathroom storage space, aka a recessed alcove. It's the perfect spot for bath salts, a candle, and that natural sponge. And don't stop there — if coastal grandmother is your kinda look, add some sea-inspired decorative accents.
2. Get graphic with a two-tone scheme
Transform a bland, snug space into a striking sanctuary with a two-tone color scheme. As demonstrated here in this punchy little black-and-white bathroom from @renovation_at_5a, graphic patterned floor tiles coordinate with a black vanity sink (featuring built-in storage), a black-painted small bathroom window idea, a large round wall mirror to ping-pong the light, and houseplant pops to elevate the overall aesthetic.
It's easy to see how this kind of look can enhance a small space, adding depth and interest.
3. Channel boho warmth with accessories
In snug spaces, let the details deliver the difference. Hug your scheme in earthy warmth with cozy boho-inspired accessories for an instant hit of color and texture. Assorted patterned tiles can create a character-fueled backsplash, especially when it's partnered with budget-friendly bath towels and a bathmat to pile on the tactility.
4. Take storage above and beyond
When you're limited on floor space, take storage solutions to the walls with bathroom shelving ideas that double up as a place for organization and personal touches. Renters can also set up this kind of layout through adhesive wall-mounted shelves.
5. Splash out on materials
"Small can still be beautiful and the benefit of small is wall and flooring material costs are less (as less space to cover) so you can splash out on some really gorgeous choices here," says Kate Whitfield, founder and interior architect at An Artful Life.
As shown here, continuing the patterned floor tiles onto the bathtub enhances the sense of open space and continuity, transforming an otherwise bulky and bland bathtub.
6. Embrace a moody palette
"Don't be afraid to go a little moody with colors for small bathrooms," says Lilli Morgan, co-founder and co-principal designer at LS Design Studio. "Many people are scared of making a small space feel smaller when using any color other than white, however, sometimes going a bit bolder can give the space a really cool feeling."
Morgan used a stormy blue-gray on the walls, but the addition of the brass hardware gives a flashy accent and prevents the space from feeling closed in or monotonous.
7. Max out potential with concealed storage
"Consider concealed storage to hide away items such as spare toilet rolls and cleaning products," says Whitfield. "We've designed hidden cupboards behind toilets before, above and to the sides of a concealed cistern. There are many options for neat little basin units out there, but make sure you choose a tap size that suits." Water all over the floor of a tiny bathroom is not something you want to deal with.
8. Don't be afraid to mix and match tiles in small spaces
The internet is full of interior myths that can crush our small bathroom ideas. If someone has told you that you can't get creative because of the size of your compact room, pour those thoughts down the drain. Get experimental with space-enhancing small bathroom tile ideas to create a cool sanctuary of calm and color.
This bathroom by Liz (aka @prettyprospectcottage) is pretty tiny. Here, she has installed two tile designs by Walls and Floors in her blue, black, and white bathroom, complemented with beautiful lily pad tiles in Denim by Ca Pietra.
9. Squeeze in a tiny bathtub
Desperate for a stylish tub to add a wow factor to your small bathroom design? With the right small bathroom bathtub idea, you can slip a tiny one into a petite space effortlessly. Style with a tray and keep a pile of fluffy luxury bath towels nearby, too.
If you don't like the thought of switching out a tub for a shower appliance, you don't have to. This Tubby Torre miniature bathtub is perfect for bathing animals and small children.
Remember, however, that small bathroom ideas can build up grime more quickly, so get comfortable with how to clean a bathtub for sparkling results.
10. Choose wall-hung fittings to enhance space
Wall-mounted furniture is one of those clever small bathroom ideas that can create the illusion of a larger bathroom. This is because you can see the floor beneath the fittings. Keep the effect going by picking minimalist wall fittings, and choose the best bathroom flooring you can afford in a light color.
11. Maximize vertical space with a ladder shelf
A small bathroom design always needs clever bathroom storage ideas. We love the addition of a ladder shelf to a small space as it's both an attractive design feature and a handy storage piece. Basic ladder shelves are great for stylishly displaying luxury bath towels, or choose one like this with shelves to max out your display opportunities.
12. Get your shelfie on with open shelving
Open bathroom shelving ideas are an effective way of storing and displaying essentials. It gives small spaces a dose of personality and prevents too many harsh angular lines.
With a relaxed, individual look and feel, open-shelving solutions provide ample storage and make it easy to create shelfie content when styled with house plants, fresh towels, and other attractive small bathroom essentials.
Choose a standout piece as shown above to add contrast to your space, or create a blended look by painting open-shelving in a shade that mirrors the existing scheme.
13. Make a small bathroom feel taller with paneling
Create the illusion of added height with bathroom wall paneling ideas that add another dimension in a jiffy. Or if it isn't an option, paint your wall halfway up. Combine a darker color on the lower section with a light contrast shade on the upper half (extended onto the ceiling), to create the feeling that there is a larger distance between the halfway point and the ceiling.
For a simple weekend project, have a bash at creating your very own accent wall with an easy-peasy DIY board and batten wall.
14. Create a mini jungle with houseplants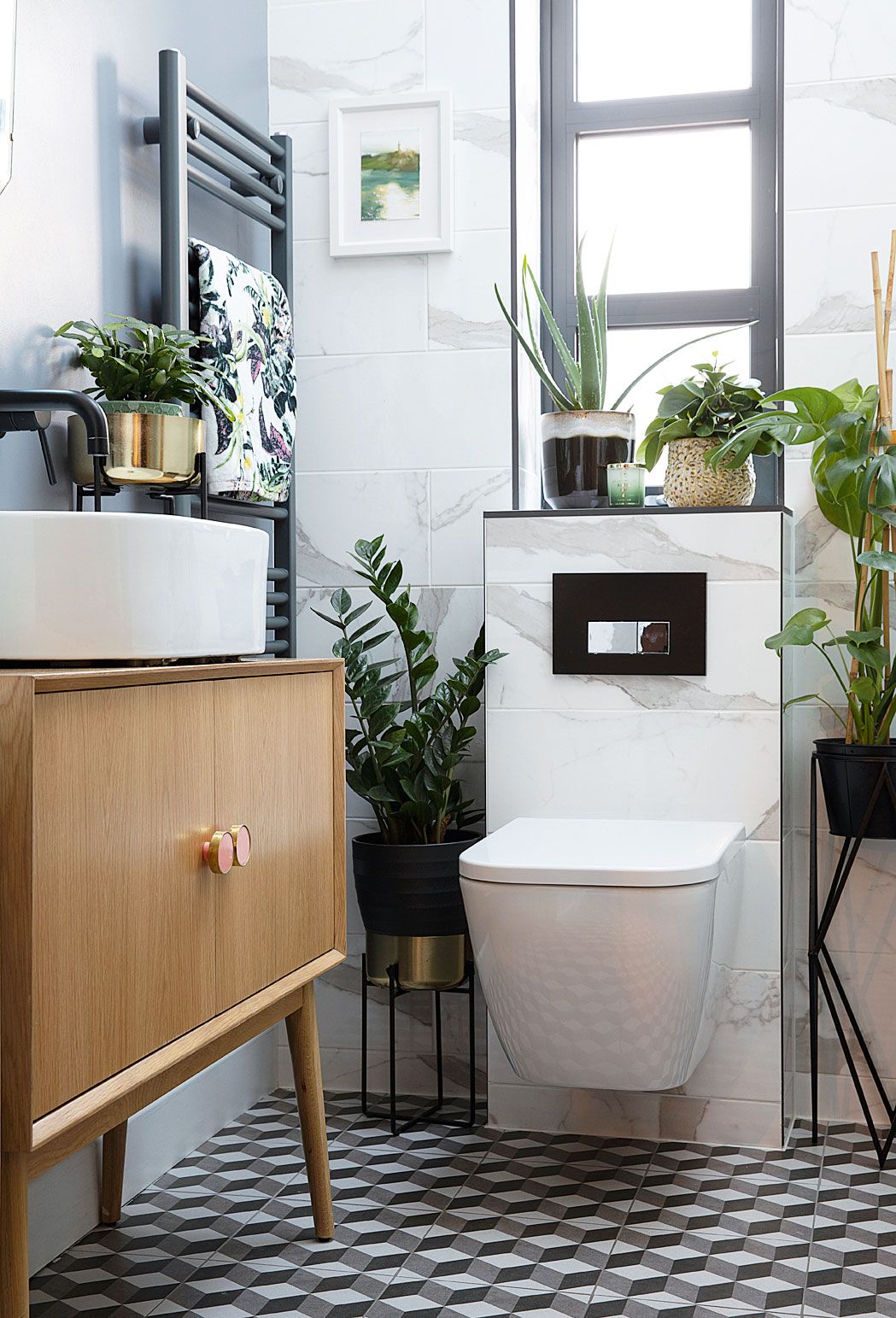 You can't go wrong with houseplants! Real or faux, they instantly bring in color, texture, and literally life to even the smallest of spaces.
They can actually help to make your space feel bigger too if you place them strategically. Put taller statement plants in the corners of the room so they can soften the edges, making the smaller dimensions less obvious. Whatever the size of your space, the benefits of houseplants can be enjoyed by all.
15. Allude to space with horizontal tile patterns
Visually stretch your small bathroom and make it feel less narrow with horizontal patterns that "widen" a space.
Shown here, a horizontal(ish), chevron-style stripe opens up this smaller space, and by having all that pattern on the far wall it actually makes it feel longer, too. Match with large format, fuss-free floor tiles, or rustic flooring so you don't overwhelm the room.
16. Mix tiles and wallpaper
Not only does tiling or paneling halfway up a wall add the illusion of height to your bathroom, but it also gives you the opportunity to do something bold with this other half of the wall. Wallpaper is our top choice! It's the perfect way to bring in pattern and color without taking up any actual space, your walls are still free to hang mirrors, lighting, and storage.