When people talk about indoor-outdoor living, they are usually describing a number of factors that add up to the feeling of a house well connected to the garden. The most common are large bi-fold or sliding door openings and patios immediately adjacent to the house with a level threshold, so it seems like a perfect continuation of the space inside.
When you get it right, you are more likely to spend your days with the doors open, enjoying lots of daylight and fresh air. So, when designing a new extension or remodelling your living area for an open-plan space, consider these key points to link indoor and outdoor spaces.
Then, learn more about extending a house in our ultimate guide and visit our dedicated garden pages.
Just how open should your living space be?
The longing for indoor outdoor living is often inspired by properties found in hotter climes, but the UK weather is far more unpredictable, so when it rains, you are likely to close the doors to stop the interior getting wet. Consider extending the roof to cover more of the patio, so you can leave the doors open yet remain sheltered – just ensure the overhang doesn't make it too dark inside; and if it does, consider using glazing for the overhang.
Learn more about creating the perfect patio.
A retractable sun canopy is a flexible shelter solution. Think about adding one at an early stage and go for a bespoke design for a contemporary look. Pick one with a weather sensor – they are more expensive but will automatically retract if it gets too windy, which can cause damage. Use windows to frame garden views; picture windows and large windows with slim surrounds work well.
Update doors for maximum light
Bi-fold doors with narrow framing are a popular choice for creating a seamless indoor outdoor link, with many styles, colours and sizes available. However, other options could offer a better solution for your needs.
If the aim is to introduce more natural light, sliding doors are also worth considering. With fewer mullions, they let in more sunlight, and, as they can only be opened half the width of bi-folds, they offer a good comprise if you just want half of the back of the house opened up to the garden. Think about how much of a link you really want to create: do you really need a 6m opening in the back of your house, allowing the wind to blow all your stuff around?
French doors work well on period properties, and they let in twice as much light as a window, while Art Deco or warehouse-style Crittall windows work well as a pair of doors between glazed side panels.
Check out our buyer's guide to metal doors and windows.
Bear in mind that, from inside, darker frames are less obtrusive than white-painted ones.
If you have a healthy budget, you can afford to be more creative. A giant horizontal folding window which doubles as a protective canopy is a great two-in-one solution.
Consider your choice of flooring
Flush thresholds are key as by recessing base tracks and frames into flooring, your furniture can span the threshold, and there is nothing that you have to step over. Using the same flooring inside and out is an age-old trick to make the inside feel bigger. For a twist on this, try the same material treated with a different texture outside, such as tiles in the same shade and size, but with a honed finish.
Find out how to choose tiles for an outdoor space.
Rather than one large paved patio area across the width of the house, divide it into a series of zones. Each can have their own floor finish, to be used for different activities, such as cooking, outdoor dining and relaxing.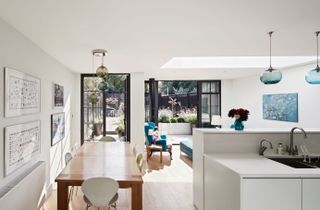 Choose materials carefully
When decorating, use 'indoor' materials on external features. For example, put wall tiles on planter boxes outside – but check that they are frost-proof first (porcelain tiles usually are). Use rougher textures indoors, such as exposed or painted brickwork, to give the impression you've let the outdoors influence your interiors – watch out for wallpapers and tiles to re-create the look. Hanging a waterproof pendant light above an outdoor dining area is great for summer parties.
Greg Toon is the founder of architectural design business Potential etc. He specialises in providing affordable concept designs to help homeowners and buyers visualise the potential of their properties. He writes a regular column for The Sunday Times' Home supplement on designing solutions for readers' problem houses.
Read more: