It's natural to think of home and garden as two separate entities with a strict boundary in between. But linking indoor and outdoor spaces – even if it's only a tiny garden or terrace – can help an interior feel larger. With the exterior connected to the house your eye sees further and a garden-facing room appears larger.
When you get it right, you are more likely to spend your days with the doors open, enjoying lots of daylight and fresh air. Pulling off this clever trick doesn't have to mean a huge spend, either.
For a modest cost, decorative choices can successfully blur the boundary between indoor and outdoor spaces. Dedicate a bigger budget to improvements, however, and you could put up a home-stretching garden structure, or swap to glazing that improves the feeling of space and makes garden access far better, allowing you to make more use of your plot. Even additions that take up some of the garden can end up making both in and out seem sized up.
So, when designing a new extension or remodelling your living area for an open-plan space, consider these key points to link indoor and outdoor spaces.
Then, get more garden ideas at our dedicated page.
1. Introduce more glazing
Boost the glazed elements at the back of the house and you'll make both garden and sky views part of the room. You may be able to add rooflights to an existing space and they can be designed into an extension.
Find out how to choose the best rooflights for your project.
More costly is a glass roof, and if you're ready to push the boat out, glass beams can reduce the indoors-outdoors barrier further. Consider installing windows with garden views if the house's original design skimped on these; it's often achievable under permitted development, but check your circumstances with local planners.
Windows can create an unexpected view of a garden feature or landscape, so use glazing as a frame.
2. Use the same flooring indoors and out
A floor that extends from indoors to the exterior will draw the eye outside thanks to the continuous finish. Bear in mind that tiles used outside must be suitable for use in all weathers. They need to be frost-proof and have extra slip-resistance so they're not a hazard when it's wet. Make sure grout's the same colour as well for an uninterrupted floor.
Flush thresholds are key as by recessing base tracks and frames into flooring, your furniture can span the threshold, and there is nothing that you have to step over.
Find out how to choose tiles for an outdoor space.
Rather than one large paved patio area across the width of the house, divide it into a series of zones. Each can have their own floor finish, to be used for different activities, such as cooking, outdoor dining and relaxing.
3. Put in an internal courtyard
Extending into the alley alongside the back of a period terrace or semi is a relatively simple way to grow the size of your house. The downside? The window or glazed door of the room in the centre of the house is lost, leaving it gloomy and enclosed.
One way round the problem is to leave an internal courtyard between the side return extension and the middle room. That way, it keeps its window or French door, plus an outside view – and even the smallest internal courtyard can feature beautiful planting.
4. Add a canopy
The longing for indoor outdoor living is often inspired by properties found in hotter climes, but the UK weather is far more unpredictable, so when it rains, you are likely to close the doors to stop the interior getting wet. Consider extending the roof to cover more of the patio, so you can leave the doors open yet remain sheltered – just ensure the overhang doesn't make it too dark inside; and if it does, consider using glazing for the overhang.
Learn more about creating the perfect patio.
A retractable sun canopy is a flexible shelter solution. Think about adding one at an early stage and go for a bespoke design for a contemporary look. Pick one with a weather sensor – they are more expensive but will automatically retract if it gets too windy, which can cause damage. Use windows to frame garden views; picture windows and large windows with slim surrounds work well.
5. Lose the wall
For maximum connection to your outside space, swap a solid wall for one you can see through using contemporary glazed doors.
Bi-fold doors with narrow framing are a popular choice for creating a seamless indoor outdoor link, with many styles, colours and sizes available. However, other options could offer a better solution for your needs.
If the aim is to introduce more natural light, sliding doors are also worth considering. With fewer mullions, they let in more sunlight, and, as they can only be opened half the width of bi-folds, they offer a good comprise if you just want half of the back of the house opened up to the garden. Think about how much of a link you really want to create: do you really need a 6m opening in the back of your house, allowing the wind to blow all your stuff around?
French doors work well on period properties, and they let in twice as much light as a window, while Art Deco or warehouse-style Crittall windows work well as a pair of doors between glazed side panels.
Check out our buyer's guide to metal doors and windows.
Bear in mind that, from inside, darker frames are less obtrusive than white-painted ones.
If you have a healthy budget, you can afford to be more creative. A giant horizontal folding window which doubles as a protective canopy is a great two-in-one solution.
6. Choose materials carefully
Incorporating finishes outside that are usually regarded as choices for indoors, and vice versa, effectively blurs boundaries between the two areas. An exposed brick wall or brick slips in a kitchen-diner, for example, can link it to the exterior of the house.
Alternatively, paint garden walls and fences in shades often used inside – just make sure it's an exterior paint or stain suitable for your surface. You can also put wall tiles on planter boxes outside – but check that they are frost-proof first (porcelain tiles usually are).
Hanging a waterproof pendant light above an outdoor dining area is great for summer parties.
7. Design the spaces as one
Building on to your home? Consider the addition and the garden as one space, design accordingly, and they'll inevitably feel more connected. Bench seating could extend from indoors to out, for example, while kitchen worktops might be positioned in a run that carries straight on from inside the extension to form an outdoor kitchen.
Built-in raised planters in the same material as the extension will also make two distinct areas into one harmonious whole.
8. Be clever with your lighting
Don't let your garden disappear once the sun goes down. A good lighting scheme will help you appreciate the space until you go to bed. Just like indoors, an exterior lighting scheme should be made up of layers.
Think of lighting paths, and the edge of beds, and washing light up or down walls
and fences. Highlight features such as plants with architectural form, a tree, or a garden sculpture. For atmosphere, think outdoor fairy lights hung from a pergola or following the shape of a tree.
Plan your new garden lighting scheme with our guide.
Outdoor pendant lights can be suspended over a dining table, while exterior table lamps make outdoor seating areas cosy and intimate.
9. Surround yourself with plants
Adding greenery where the house meets the garden is a clever way to merge the
two for a space-stretching impression. If you want to take this approach from the inside, position plants by the window.
Sizeable specimens are essential, but think about the shape and density of foliage to maintain views and keep light coming in – palm-like or spiked leaves can work a treat.
Outside, bring garden planting close to the house to make the two spaces feel like one. Build raised beds up to window height so plants are at eye level when you're seated at a table or on the sofa, or choose tall planters.
10. Create an outdoor room
Take the living room into the garden to make your home feel bigger all summer. Furnishing the exterior space as you would the indoors makes it feel like a continuation: think supportive upholstered sofas and armchairs.
Made-for-outdoors lounge seating will stand up to garden life, and you can pick from a corner sofa that will zone the living area, or create sociable groupings with sofas and chairs facing or at a right angle.
Check out our buyer's guide to the best rattan garden furniture.
Gather seating around a coffee table or introduce side tables to keep drinks to hand. Consider adding an outdoor rug, too: opt for pattern and you can give the seating space a decorative twist as well.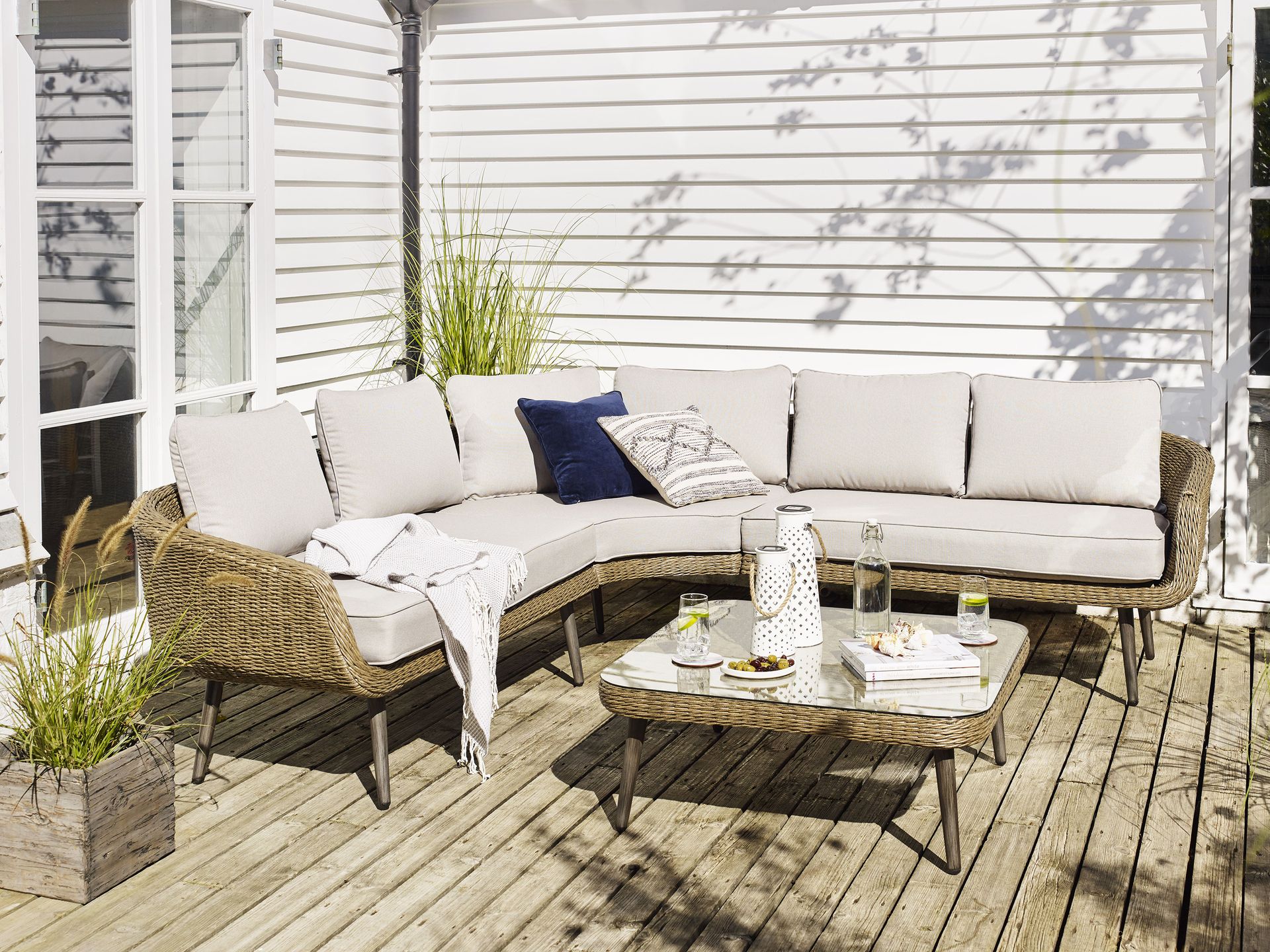 11. Add a pergola right outside
A pergola or other structure built on to the house is a simple way to give the impression of an outdoor room that extends your house. The vertical element will help define the space in a way a terrace or deck alone can't achieve, and it can introduce welcome shade that's either created by the design of the structure itself or the plants grown up it.
The structure makes it easy to add lighting, and you could drape fabric from it for shade and style. It can make hanging a hammock or swing easy, too.
Read more: