With their modern style and easy-to-adjust slats, Venetian blinds are super versatile and will work in just about any room.
They offer privacy while still allowing the light to flow in, work perfectly in small rooms, and are also fairly low-maintenance, simply requiring a good dust now and again. If you are decorating on a budget they are one of the most inexpensive window treatments out there.
So now we have convinced you you immediately need to replace all window dressings with Venetian blinds, here's a quick guide on how to make the right choice.
To explore more options, consult our buyer's guide to window blinds and visit our window treatments hub page.
How to measure for Venetian blinds
Why you can trust Real Homes Our expert reviewers spend hours testing and comparing products and services so you can choose the best for you. Find out more about how we test.
Blinds can sit either inside or outside a window recess, so it's important to decide which look you prefer and what works with your windows before taking measurements. If you'd prefer your blinds to sit inside the window recess, measure the width at the top, middle and bottom of the recess.
Measure in centimetres and round down rather than up to ensure that your blinds fit within the recess space and don't snag. If you prefer a blind that hangs outside the window recess, measure the width at the top of the recess, then add at least 7 cm on each side, so that the blind overlaps the window symmetrically.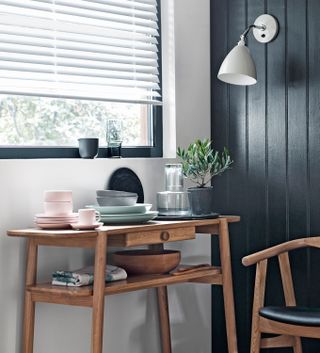 Choose the right Venetian blind material for your space
When choosing a Venetian blind, consider what material would work best in your space. This style usually comes in a choice of wood, plastic and metal (usually aluminium.)
Aluminium or metal blinds are the most practical, they are your best bet for a kitchen or bathroom as they are splash proof, won't warp with moisture and you can wipe them clean.
Wood blinds bring a softer, more organic feel to windows than aluminium blinds. While they are great for bedrooms, living rooms and home offices, just bare in mind if you are going for real wood they're not the best choice for kitchens or bathrooms, where moisture could do damage.
Fallen in love with the plantation shutter trend? A simple white wood Venetian blind can be a sneaky way to get a similar style for less.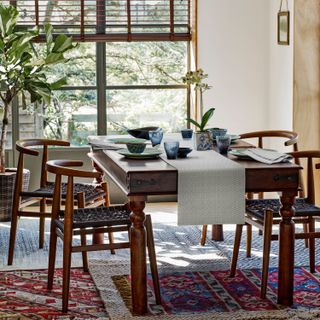 Get the right sized slats
As a general rule, we would say the bigger the window the bigger the slats – hundreds of tiny slats will look crowded on a huge window whereas large slats may overwhelm a small window. That being said, it does also depend on the look you are going for. Small slats tend to look better in a modern space, whereas wider slats give off a more traditional vibe.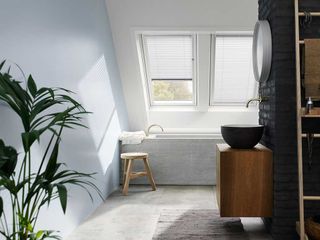 Cords or tapes?
Choosing between cords or tapes tends to be down to personal preference. However, one advantage of taped versions is that they cover the holes created by the cords, letting less light through and making them ideal for a bedroom. Taping also means you can add a contrasting colour to neutral blinds, helping to tie them into the colour scheme in the rest of the room.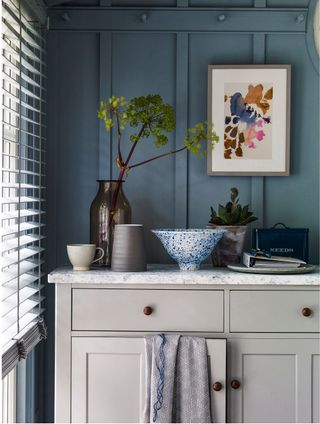 Off the shelf or made to measure Venetian blinds?
Venetian blinds can be made bespoke to fit almost any window but even if you go for off-the-peg blind, you may be able to adjust the width and length yourself – but go slow and take care not to trim too far, there's no going back once you've started! Check out this guide to cutting blinds before you attempt it.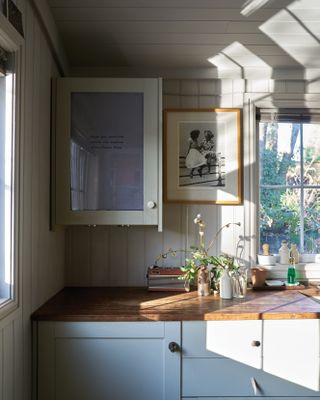 Looking for more window treatment inspiration?