Looking to deck yourself out with some top kitchen gadgets? Whether lockdown boredom has officially set in, or maybe you are someone who often struggles with cooking meals? We've found 10 best kitchen gadgets you need in your cupboard. These will make cooking (and cleaning, and prepping) a lot easier, and they can make your kitchen look instantly tidier. These buys also make great Christmas gifts for foodies – and some of them are stocking filler-worthy cheap.
From Amazon to John Lewis, these kitchen gadgets can be ordered now and delivered (or picked up in-store) from tomorrow. Don't spend any more time in your kitchen without them...
10 best kitchen gadgets to make dinner times easier
Why you can trust Real Homes Our expert reviewers spend hours testing and comparing products and services so you can choose the best for you. Find out more about how we test.
1. An extendable dish rack WITH a draining plug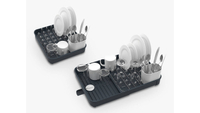 (opens in new tab)
Joseph Joseph Extend Expandable Dish Rack | £50 at John Lewis & Partners (opens in new tab)
Whether you have a dishwasher or you prefer to hand wash your dishes – perhaps you do both? This extendable dish rack will prove handy when you have large items to wash every now and then –vases, roasting tins and more. It can extend to twice its size, it comes with a cutlery basket and it has a plug for easy draining. No more stagnant water build-up...
2. A small handheld zester for cheese, ginger, chocolate, lemons and more – no need to wash up that giant four-sided grater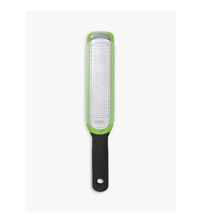 (opens in new tab)
OXO Good Grips Etched Fine Zester | £15 at John Lewis & Partners (opens in new tab)
This handheld zester is here for when you've got a small job to tackle, or if you don't fancy having to wash up that four-sided grater again. Perfect for parmesan, garlic, limes and more, it's a helping hand when cooking and baking. It also takes up less space in the dishwasher...
3. An automatic pan stirrer so you can chill on the sofa while your food is cooking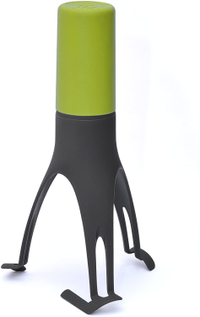 (opens in new tab)
üutensil Stirr Automatic Pan Stirrer | £18.99 at Amazon (opens in new tab)
After a long, hard day of working (from home) no one wants to stand in their kitchen stirring their dinner in the pan for 20 plus minutes, right? With this automatic pan stirrer, you needn't worry. It has three speeds, it comes in three colours and it's dishwasher-safe. Simply pop it in your soup, risotto, pasta sauce or whatever else and put those feet up.
4. An egg cutter for the most perfect boiled eggs – get your soldiers ready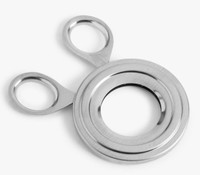 (opens in new tab)
John Lewis & Partners Stainless Steel Egg Topper | £5 at John Lewis & Partners (opens in new tab)
Has anyone ever successfully (and tidily) cut the top of an egg off? Not without using this egg topper, that's for sure. Essentially, these are scissors for your boiled egg. And they work a treat – no eggshell remnants insight.
5. A VERY easy to use vegetable chopper – for cutting onions, carrots, herbs and more, in a flash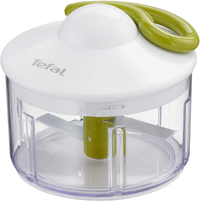 (opens in new tab)
Tefal K1330404 Manual Food Chopper | £14.99 at Amazon (opens in new tab)
This food chopper will make your life ten times easier while in your kitchen, and you needn't get your knifes dirty. Simply add your ingredients, close the lid and start pulling the handle. The more you pull, the finer your ingredients will come out. Simple.
6. An avocado tool for de-seeding and slicing the good stuff – for very Instagrammable breakfasts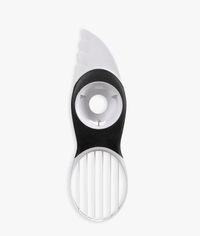 (opens in new tab)
OXO Good Grips 3-in-1 Avocado Tool | £5.99 at John Lewis & Partners (opens in new tab)
Avocado lover or not, this is a handy kitchen tool to own. And it can prevent a nasty avocado seed accident with ease. Use one side of this tool to de-seed the avocado, and the other side to slice perfectly. For toast, salads and more.
7. Invest in the best knife sharpener to prevent cut fingers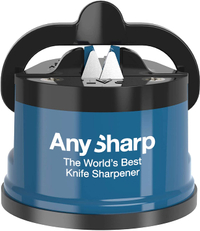 (opens in new tab)
AnySharp World's Best Knife Sharpener | £8 at Amazon (opens in new tab)
You're most likely to cut yourself on a blunt knife than a sharp one, so it's smart to give all of your knives a quick health check every now and then. Use this sharpener to do so hands-free, and it'll fit in your drawer after use.
8. Buy this easy to use squeezer for a mess-free experience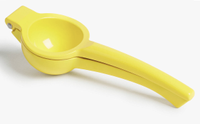 (opens in new tab)
John Lewis & Partners Lemon Squeezer | £7.50 at Amazon (opens in new tab)
A lot of recipes require fresh lemon or lime juice, and unless you fancy getting your hands sticky or losing half of the juice to your kitchen surface, you should probably buy one of these squeezers. This one is dishwasher-safe and it doesn't let the pips out.
9. Some cute fridge storage to keep your tomatoes away from your carrots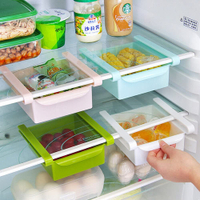 (opens in new tab)
HapiLeap Plastic Kitchen Refrigerator Fridge Storage | £11.95 at Amazon (opens in new tab)
Reorganize your fridge so it's easy to navigate with help from these storage racks. They slip onto your shelves and can be used for storing everything from cheese to fruit and veg, eggs and more. They also come in different colours if you want to colour code your food types – one colour for dairy items, another for meat, a certain colour for fruit and a different colour for veg. This ought to keep you busy in lockdown.
10. An over-the-cupboard bin for veg peelings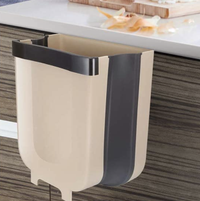 (opens in new tab)
NiLooki Hanging Trash Can | £8.99 at Amazon (opens in new tab)
Peeling fruit and veg is all fine and dandy until you have to carry it from your worktop to your bin and it drops all over the floor. Buy a hanging trash can and pop it over your cupboard, and use it to scoop your peelings inside as you cut. Then, take it to the bin to empty and wash and collapse it ready for its next use. Sunday roast cleanup just got 100 times simpler.
Also see: