A successful driveway design is essential to enhance your home's curb appeal and there is lots to consider, beyond creating enough space for your car, when planning yours.
Driveways are one of the first things you and anyone visiting your home will see, so whether yours is built with pavers, gravel, asphalt or another material, you'll want to ensure the result is harmonious with your home's exterior and the surrounding neighborhood.
Think of your driveway as an integral part of your front yard. It can be modern or traditional, minimalist, or surrounded by luscious front yard landscaping. The choice will depend on the style of your home and your preferences. This advice will help you create a driveway that's both practical and beautiful.
How can I improve my driveway?
Designing yours from scratch will make a big difference but you'll need to budget for new driveway costs which can vary greatly depending on the size of the space you're working with, the amount of preparation work needed, and the material chosen. Andrew Gill, of Brett Paving, says when calculating the cost of high-end materials, you must factor in the labor needed to install it also.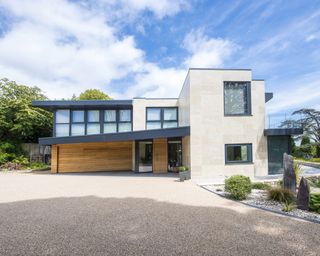 How big should the driveway be?
There are rules and regulations defining the minimum size that a front yard space should be, to be able to incorporate a driveway. For a driveway design to work practically, it needs to be a minimum of 10-12 feet (3 meters) wide to allow for an average-sized car, wider if you are parking more cars and turning.
Which material is best for a driveway?
Adding a paved driveway is the easiest way to landscape a front yard without plants. However, your driveway materials should echo your home's exterior and any walls in your front of house also; all this will also affect the material's color, with darker shades suiting both contemporary and traditional properties and being practical for hiding oil spills.
Mixing and matching complementary materials will add interest to your driveway design, especially if your house has an understated facade. If your home's exterior is detail-packed, choose a plainer finish.
Drainage considerations will affect your material choice, as will ease of replacement – blocks and paving being simpler and cheaper to replace if damaged than poured surfaces.
There are many driveway surface and paving materials to choose from depending on how you want your drive to look and function. Here are the key types:
Loose materials
Choosing gravel or pebbles is a good-value and ecologically friendly option, as they retain rainwater rather than sending it into the drains. Gravel also acts as a security feature because you can hear when people are approaching your home. But it will require regular maintenance, such as replacing and sweeping the gravel that's gone astray. Gravel also is not suitable for a sloping site.
Water-permeable, it comes in a range of colors and sizes and is best used with a cellular grid (see below) to keep it in place. For larger driveways, laying angular gravel in three or four layers, each one rolled and given a day to settle, will minimize the gravel's movement.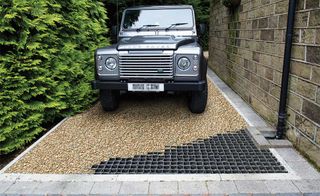 Block paving
Usually made from molded concrete blocks, clay bricks or natural stone, paving can be permeable to allow water to drain away. It's worth checking whether the paving needs sealing as this will add to costs and may change its appearance; find out too if it is truly slip-resistant.
Using paving allows you to be creative with your new driveway design – shades of terracotta and grey being the most popular. 'Block paving is both durable and easy to maintain,' says Emma Stone, at Marshalls. However, bear in mind that having paving patterns laid will add to your costs. Learning how to lay block paving is possible on a DIY basis, if you are confident.
Hardwearing concrete blocks are available in a range of colors, textures, and finishes, but can fade; durable clay blocks also come in a range of finished and won't fade; natural stone is durable, too, but if you're on a budget, look at Indian sandstone.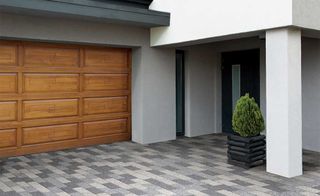 Concrete vs asphalt
These may not be the prettiest options, but they are low cost, durable and low maintenance which is why homeowners often find it's a toss-up between the two. You can find permeable concrete and asphalt, which allow water to drain away. They also make ideal bases for more attractive top layers, such as resin-bound paving. Both materials can fade and stain, and cracks can open up in them due to tree roots or freezing weather. Both are suitable for sloping sites and can look very contemporary in the right setting.
Resin-bound gravel
This is a single-stone layer, created by applying a film of resin onto the surface, and scattering clean, dry aggregate on top – meaning it is quite rough and there may be some loose stone. Newer products are permeable; it's suitable for slopes; is available in different colors and textures, and even can be laid over existing asphalt and concrete.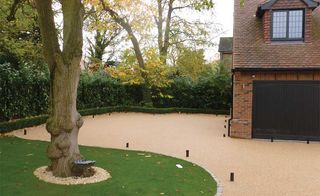 Self-binding gravel is another alternative to loose gravel. It looks natural, is permeable and can be used on gentle slopes – plus it's very affordable.
Grass is ideal if your home is a country idyll that would be spoilt by hard landscaping. Plus, it's an eco-friendly, permeable material. However, you can't just drive over a conventional lawn - you'll need to use a sub-base (try Marshalls' Grassguard Permeable Paving).
Can I create a drive if I don't already have one?
You need to be aware of any municipal requirements in your neighborhood before designing a new driveway, to ensure your plans abide by local by-laws. This is if your driveway stops at the limits of your private property. If you're planning for any part of your driveway to be on publicly owned land, that part of it will be the responsibility of your municipal authority.
You also will need to consider the drainage needs of your area. Driveway drainage is, of course, important not just for your home and front yard but also for the wider neighborhood. Joe Raboine, director of residential hardscapes at Belgard comments: 'depending on the materials you choose, water may pool on the driveway and seep into the ground or run off into the street and flow into municipal sewers. This can lead to issues, which is why many municipalities have guidelines on building driveways and doing so with permeable materials. Be aware of any municipal requirements in your area before starting a driveway project.'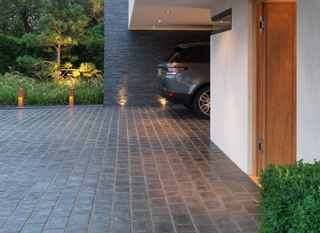 If you have a home in the UK, you won't need planning permission if a new driveway of any size uses a permeable or porous surface that allows water to drain through, such as gravel, permeable concrete block paving, or porous asphalt; or if the rainwater is directed to a lawn or border to drain naturally.
If the surface to be covered is more than five square meters, then planning permission will be needed unless the surface is Sustainable Drainage Systems (SuDS) compliant.
If you need a drop curb (crossover) installed to access your new drive, then you will need to apply for planning permission from your local authority. This is because the curb may also need strengthening to protect any services buried underground, such as water pipes. The labor and materials for this are supplied by contractors hired by your local council. Once you have had the curb dropped and the new driveway installed, the council will come to check that water is being drained effectively.
What do I need to know about drainage and driveways?
As mentioned, good draining is key. And, this is reflected in the growing number of permeable driveway products becoming available. 'Permeable surfaces allow water to quickly pass down into the sub-base, where it must be stored, channeled, or slowly released, which helps to prevent flooding,' says Andrew Gill, from Brett.
Water cannot be allowed to drain into the main carriageway or the drain in the road; instead, it must drain into a flowerbed, soakaway, or into the drains of the property itself. If possible, remove a 20cm strip on either side of your drive, and fill it with decorative stone, allowing good natural drainage.
'You could use gravel or direct water from an impermeable surface to a grassed area, which can absorb the water,' adds Emma Stone, from Marshalls. 'Or use permeable block paving, porous asphalt, or concrete.'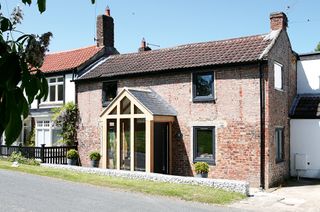 Designing the driveway
Straight vs curved driveway layouts
When planning the driveway's shape and layout, you may actually be very limited. A small front yard may have space for nothing more than the car itself – in which case, all the driveway design work will go into material choices and landscaping.
For a slightly larger space, a half-moon-shaped driveway with gates to enter and exit will give you more room for parking, and allow for softening planting at the edges.
For larger front yards, long, straight driveways will look smart and formal, especially if lined on either side with clipped topiary. For a country home, a curved driveway, lined with cottage plants, will look more natural.
Placement
According to Joe Raboine, 'ideally, a driveway should be no more than 20 feet from the front door, with a sidewalk that leads to the door to avoid you or your guests stepping on wet grass or fresh plants.'
Length and width
Raboine advises that 'generally, a driveway should be a minimum of 10-12 feet wide, offering extra room for drivers and passengers. However, the length and width will depend on how far back in the property you want the driveway to extend, the shape, and if there is a garage or other structure that needs to be considered.'
Limiting the parking space
Assuming you have room to choose, pick a parking area away from the front door and the main living room window. Ideally, you don't want the car looming through the windows when you're inside, nor blocking access to the front door. Limiting where cars can drive in and park will also give your more room for planting, creating a finish that's sympathetic to your home's exterior design.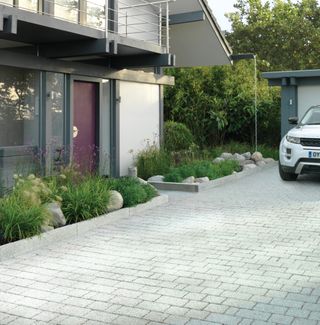 Access on foot
Consider your driveway as part of your front yard's design, not separate to it. But don't just design in nice walkways without thinking how practical they are: how quickly will you get from the front gate to the front door (without having to squeeze past a car)? Is it easy to move from the car to the house without having to journey around the garden's borders to arrive at the front door? And will you need to get to a garage or the road from the car?
Softening the driveway's impact
If you've chosen the right material for your driveway, this should be a piece of cake. Plain driveways can be given more character with garden edging (bricks, curbs, stones, setts, and treated timber), while well-thought-out garden borders soften the landscaping's harder edges and, of course, provide drainage opportunities.
Lighting the driveway
This is something to include early on in planning a driveway when you're choosing materials. For a subtle scheme that won't bother the neighbors and will show off planting, choose up-lighters; posts or lights set into walls are handy for lighting up the driveway's entrance (and may help you avoid the odd scrape); drive-over lights are contemporary and subtle. Whichever you go for, outdoor security lights with motion sensors will be more energy-efficient than those left perpetually illuminated.
What is the cheapest way to design a driveway?
Joe Raboine recommends focusing on three affordable and durable materials when designing a cost-effective driveway:
Concrete: it 'can be installed quickly and is affordable' though there is a downside: 'it may crack in certain situations – such as cold weather like in the Northeast or Midwest.' However, if this isn't an issue, concrete is a great option and 'can last between 20-25 years.'
Asphalt also is 'typically more affordable, but it doesn't have the longevity of concrete. It needs to be resealed regularly and has more of an industrial look.'
Pavers come in a variety of sizes, colors, and textures, offering more design options. Pavers 'can last between 60-80 years since they are developed in a controlled environment, as opposed to outdoors. Pricing will depend on availability and local labor rates, so it's always good to do initial research and consult with a professional.'
Why is gravel good for a driveway?
Whether a gravel driveway is right for you will very much depend on your requirements – and how much maintenance you're prepared for. Raboine doesn't necessarily recommend gravel as the best material for driveways. Although 'gravel appeals to homeowners that are looking for a more traditional, authentic style driveway', the thing to remember with gravel is that it 'may need to be replaced frequently based on various environmental factors.'
Gravel will eventually grow weeds and develop potholes, and if you live in an area that has snow in winters, cleaning may be more difficult than with paved gravel.
Gravel driveways are an excellent option if you are concerned about flooding, provided that you choose permeable gravel. Gravel driveways also compact well – less initial work for you. However, they don't look as polished as paved driveways. And – while gravel 'is usually affordable, pricing will vary based on the type of stone selected.'