Your driveway is the first thing people see when they approach your home, so it's a vital part of creating a good first impression when you're transforming your home's exterior.
Not only can a new-look drive add kerb appeal, but it can also add value to your home. Certain materials, such as loose gravel, which crunches underfoot, can also improve security – both for your property and vehicles.
How much will a new driveway cost?
The price of a new drive varies greatly depending on the size of the area, the amount of preparation work needed, and material chosen. Andrew Gill, of Brett Paving, says when calculating the cost of high-end materials, you must factor in the labour needed to install it.
Groundwork should cost around £20 per square metre, with the cost for surfaces range from £4 per square metre for gravel, to £54 per square metre for resin-bound paving.
Which material to use for your driveway?
'It used to be that all new drives were either concrete or tarmac,' says Andrew Singleton, sales director at Bradstone. 'Nowadays, the choice of materials available is far greater, meaning there's more opportunity to add personality.'
There are many materials to choose from depending on how you want your drive to look and function. Here are the key types:
Loose materials
Gravel or pebbles are a good-value and ecologically friendly option, as they retain rainwater rather than sending it into the drains. Gravel also acts as a security feature because you can hear when people are approaching your home. But it will require regular maintenance, such as replacing and sweeping the gravel that's gone astray.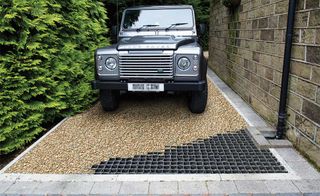 Block paving
Usually made from moulded concrete blocks, clay bricks or natural stone, paving can be permeable to allow water to drain away. It allows you to be creative with your design – shades of terracotta and grey being the most popular. 'Block paving is both durable and easy to maintain,' says Emma Stone, at Marshalls. Find out how to block pave a driveway in our easy-to-follow guide.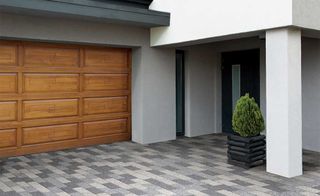 Concrete and asphalt
These may not be the prettiest options, but they are low cost, durable and low maintenance. You can find permeable concrete and asphalt, which allow water to drain away. They also make ideal bases for more attractive top layers, such as resin-bound paving.
Resin-bound paving
This is a non-permeable, single-stone layer, created by applying a film of resin onto the surface, and scattering clean, dry aggregate on top – meaning it is quite rough and there will be some loose stone.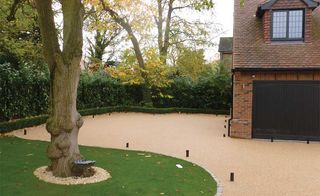 Can I create a drive if I don't already have one?
You won't need planning permission if a new or replacement driveway of any size uses a permeable or porous surface that allows water to drain through, such as gravel, permeable concrete block paving or porous asphalt; or if the rainwater is directed to a lawn or border to drain naturally.
If the surface to be covered is more than five square metres, then planning permission will be needed for laying impermeable driveways that do not provide for the water
If you need a drop kerb installing to access your new drive, then you will need to apply for planning permission from your local authority. This because the kerb may also need strengthening to protect any services buried underground, such as water pipes. Once you have had the kerb dropped and the new driveway installed, the council will come to check that water is being drained effectively.
What do I need to know about drainage and driveways?
The importance of good drainage is reflected in the growing number of permeable driveway products becoming available. 'Permeable surfaces allow water to quickly pass down into the sub base, where it must be stored, channelled or slowly released, which helps to prevent flooding,' says Andrew Gill, from Brett.
Water cannot be allowed to drain into the main carriageway or the drain in the road; instead, it must drain into a flowerbed, soakaway or into the drains of the property itself. If possible, remove a 20cm strip either side of your drive, and fill it with decorative stone, allowing good natural drainage.
'You could use gravel or direct water from an impermeable surface to a grassed area, which can absorb the water,' adds Emma Stone, from Marshalls. 'Or use permeable block paving, porous asphalt or concrete.'
Top: The smooth surface and curved lines created using Beta paving in Silver Haze and Brindle makes for a modern look. It costs approx £30-35 per m2, Brett Paving
More on transforming your home's exterior: