If you are lucky enough to be considering the best kitchen island ideas for your cooking space, you want to make sure you get it right, as yours will undoubtedly become the epicenter of family life and the place that everyone gravitates towards.
Kitchen islands equal, for most of us, ultimate kitchen success. Visions of having your friends and family gathered around this beautiful feature, sipping tea or something a little stronger, and being able to cook, dine and socialize all in the same space – it just sounds so ideal.
Kitchen island ideas to inspire
The more you start looking into islands, the more you realize how much they can enhance the other kitchen ideas and design elements present in your space.
It's definitely not a 'one size fits all' scenario, and the style, colors and layout that you can choose from really are endless. Interior designer Shannon Conner says, 'Islands are workhorses in the kitchen so if you can fit one, you absolutely should do so.
Efficient use will be different for every kitchen and it really just depends on what you need/want.' Will yours be a space for eating, storing dinnerware, prepping food or all of the above?
One thing's for sure, a good quality island will last a lifetime so it's well worth the investment, but that's not to say that you can't find more budget-friendly designs that fit the bill for both beauty and function also.
1. Paint your kitchen island a fun and vibrant color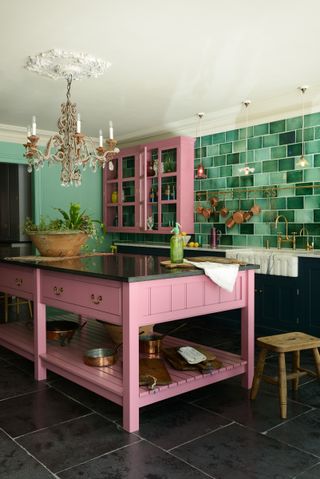 'Islands offer a great opportunity to choose either a complementary finish and style or a contrasting finish and style to the rest of the kitchen,' says interior designer, Shannon Connor. And here the bright pink kitchen island contacts beautifully with the navy cabinets and green tiles for a stand-out space.
The kitchen island is a great place to get experimental with color. Many furniture and kitchen companies will have several different shades for you to choose from before you purchase, so consider going a little wild with your choice. If you've already got a kitchen island and it's looking tired, give it a fresh and vibrant coat of paint. It's simple to learn how to paint kitchen cabinets yourself for very little cost, and the steps you take are dependent on what material you're painting. We love this pop of vibrant pink from DeVOL, giving a traditional-style island a modern twist.
2. Add height to your space with island legs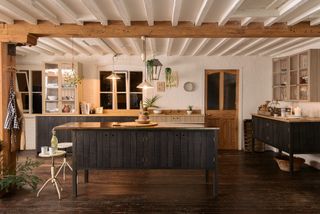 If you're tight on space, freestanding kitchen furniture, such as this kitchen island on legs, can work to visually largen your room. Lifting the piece off the ground means that more flooring is visible, and this works to trick the eye into making your space feel bigger than it is. This rustic Sebastian Cox Kitchen sideboard by deVOL is the perfect mix of streamlined shape and rugged material for a look that ticks all our boxes.
'Clean islands are similar to made beds, the rest of the kitchen can be messy but if the island is clean and perhaps even accessorized, the whole kitchen looks better,' says interior designer Shannon Connor. So ensuring your kitchen island has ample storage for any odds and ends is definitely a good idea.
3. Turn your kitchen island into a comfy dining area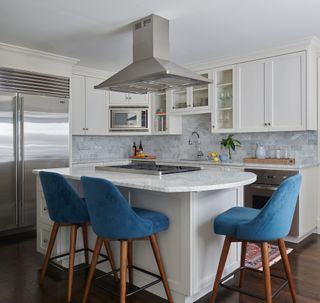 If you want to be able to dine at your kitchen island, you should consider kitchen island seating from the start of your design process. From aesthetic industrial style wooden bar stools to more comfy, padded velvet designs, or even dining chairs that would require a split level island, ask yourself if you want a simple perch for grabbing a coffee in the morning, or if you want enough comfort to be able to lounge all evening.
These bright blue designs add a welcome pop of color to the otherwise neutral kitchen, and the wooden scandi-style legs bring a touch of warmth too.
4. Add grandeur and elegance with trim detail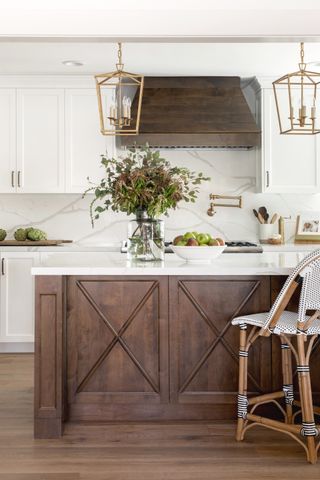 Ensure your kitchen island blends in with the look, feel and period of the rest of your home. In an older, more historic property, an ornately paneled kitchen island like this can work to make your space feel more authentic, and blended with your home's natural bones. Many people choose to frame their kitchen island with overhead pendant lights, and for good reason, as kitchen island lighting is a really important consideration. You want both task and ambient lighting and these gold pendants fit the bill, bringing warmth and elegance to the space. Try Pooky for similar lights.
5. Use your kitchen island for an extra sink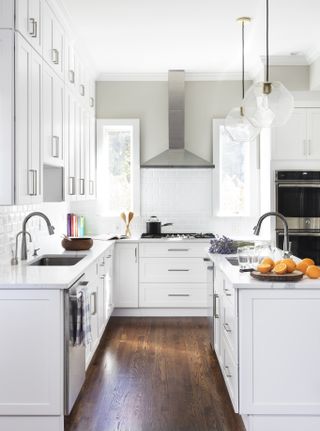 This may seem like a bit of a luxury, but using your kitchen island to house a second sink is guaranteed to be a game-changer in your kitchen. You'll have to keep in mind that extra plumbing will be needed to install a sink in the center of your room, which could be quite costly, but we bet it'll be worth it.
'If you have enough room, then a sink in your island may be a great option. Keep in mind that you don't want to design a small sink just to fit it into the island. You want to ensure that you'll have enough room on the left and right of the sink to stage dirty/clean dishes. One other consideration is what is near the sink as water tends to splash out and around this area, especially if yours is a spray faucet,' notes Emery.
6. Opt for an L-shaped island layout in a larger space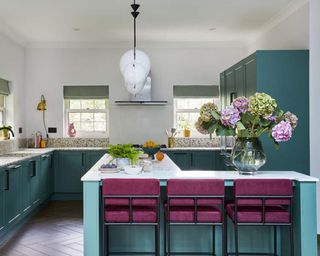 When planning a kitchen island, begin by looking at the shape and size of your space, and work out what kind of island will work best. For larger spaces, a rectangular island could leave you with too much empty and wasted room, so an L-shaped island like this could be the answer. The seating area creates a clear division between the kitchen and the adjoining living room, helping to clearly zone the spaces while keeping the open plan feel.
'The best way to decide on your kitchen island size depends on how your kitchen is laid out. You want to ensure you have at least 3'-4' feet around the island so that it is easy to get around and so that it doesn't look crammed in. An island can be in the center of the kitchen or a peninsula island depending on your kitchen layout,' Kim Emery, owner and designer at Clipper City House.
'When deciding the most efficient use for your island, always keep the kitchen triangle in mind - cooktop, sink & refrigerator,' adds Emery. This means that all three elements will be within easy reach of each other for simple and efficient cooking.
7. Incorporate a wine fridge into your kitchen island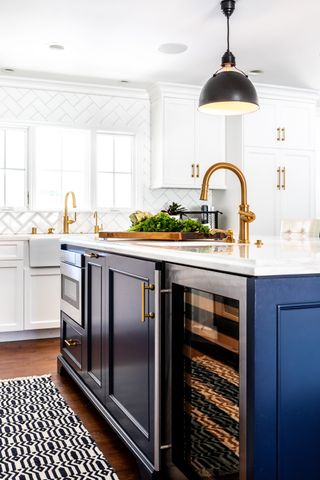 Your kitchen island is the perfect height for fitting in a wine fridge. Available in a range of sizes including very narrow designs for smaller islands, if you're a bit of a wine connoisseur it's only right that your precious bottles of vino have the perfectly regulated home they deserve.
8. Create a statement with a waterfall worktop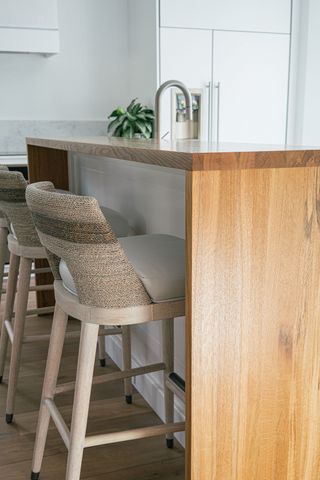 Extending your kitchen worktop down the side of your kitchen island is a great way to add extra texture to your space and create a statement. Whether your worktop is wooden, marble or stone-effect, using pattern and texture to the max like this prevents a space from feeling cold or clinical.
'The waterfall countertop is a stunning trend in a kitchen. If you don't want to splurge on the additional quartz or wood, you can buy board and batten molding at relatively low cost to add interest in a different way,' says Emery.
9. Build your cooker into the design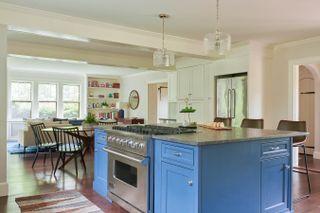 Going bespoke and integrating your best range cooker into your island is super popular nowadays. Of course, that means considering sockets and storage to incorporate into the space also. The cooker is a key player in this food-oriented space, so it makes sense to put it in the center of your room, giving you easy access from any part of the kitchen. If you do decide to incorporate your cooker into your island, the extra wiring work involved could be tricky, so that's definitely the time to call in the professionals to get it done right.
10. Make space for seating with an extendable worktop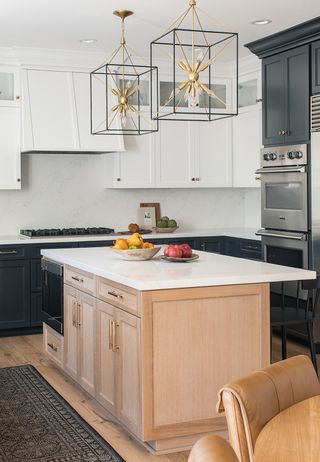 It's a simple but effective solution – choosing a worktop that extends out further than your cabinets creates an instant bar area. Here you can tuck your stools neatly out the way, or sit comfortably while someone else does the cooking.
11. Make a statement with a splash of gold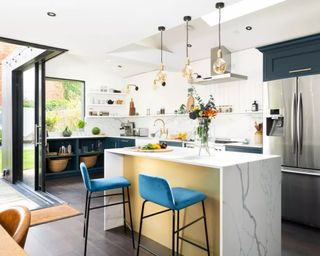 Think outside the box for a real statement space. In an open-plan kitchen diner, chances are the side of your kitchen island will be a key sightline when you or your guests are gathered around the dining table. So make sure the view is a pleasant one. This gold metallic panel brings a contemporary, luxe vibe to the scheme and contrasts beautifully with the rich blue stools.
12. Install a raised worktop to add dimension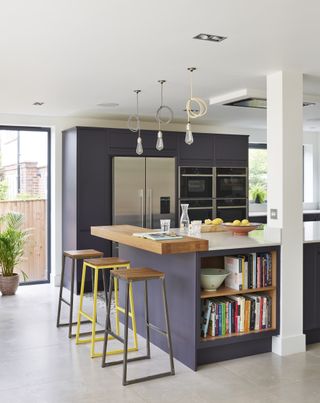 If you want your island to be a space for cooking and dining, make each separate purpose crystal clear by choosing two different worktop materials and placing them and crying heights. Here, the wooden worktop is slightly raised, creating a perfect and comfortable space for eating your dinner or having your morning coffee.
13. Get the positioning and sizing of your kitchen island right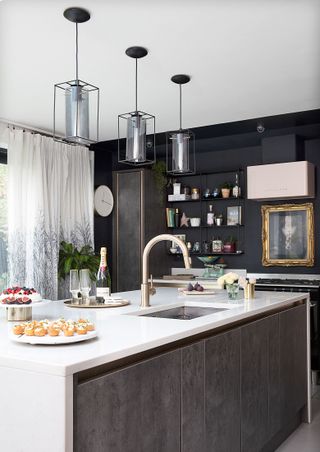 The best kitchen islands are carefully positioned to aid easy travel around the kitchen – especially in high-traffic areas around the fridge and sink.
Don't forget to allow space for dishwasher doors and extending drawers. Incorporating a sink and/or hob helps to centralize food preparation, bringing the chef into the action.
Conner weighs in 'I don't think primary sinks are a good choice for islands because invariably there will be dishes piled up in and around it. A small bar sink is a great option. But if you can put a second sink/bar sink elsewhere in the kitchen then I would go with no sink in the island - that way it provides maximum prep, lay-off, storage or eating space.'
14. Use a kitchen island to create a rustic look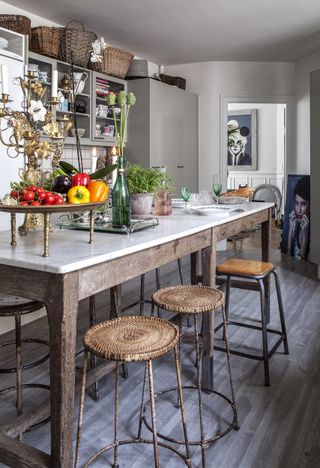 If your kitchen cabinets have to prioritize function over style, let your island be the focal point and bring in your personality to the space.
We love the rustic look of this island and how it works with the mismatched chairs to bring in an eclectic, rustic look. The marble top gives it an edge of luxury too as a nice contrast to the rugged wood.
15. Create a floating island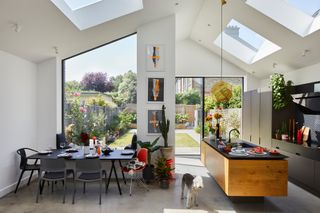 This kitchen island is so striking we were almost distracted from the adorable dog! It looks like it's floating but it's actually standing on a pedestal that's much smaller and sits underneath the island.
It stops the island from feeling too heavy and blocking light in the narrow space of the kitchen. If you love this kitchen be sure to check out the rest of this gorgeous minimal and modern kitchen extension.
16. Use something unexpected as a kitchen island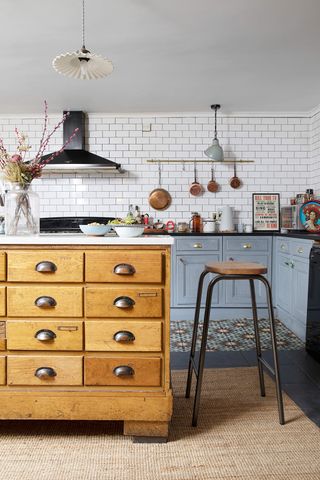 A kitchen island doesn't have to be labeled as a kitchen island. If you find the perfect table, butcher's block or piece of storage while trawling the antique shops, see if they would sit well in the middle of your kitchen. This chest of drawers brings a charming and rustic edge to the space, and is really practical for storing smaller items too.
17. Add warmth with wooden-lined shelving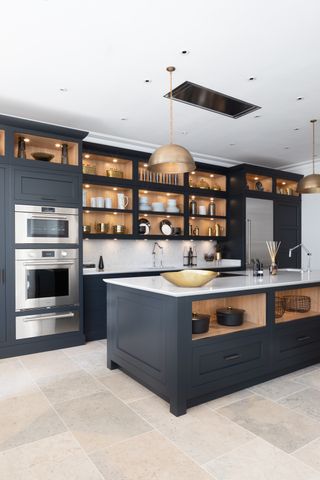 Bring more warmth and texture to your island by giving your open shelving a little lift, lining them with wood for design interest. This creates a lovely backdrop to show off your favorite pots and jugs and becomes a real statement design feature too,
18. Cover your kitchen island in tongue and groove paneling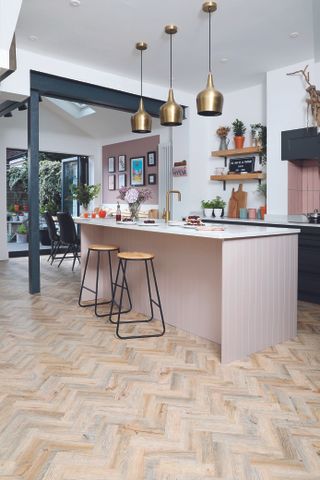 Another easy way to contrast textures in your kitchen is to panel your kitchen island. You could keep it subtle like this one and go for a grooved design, or you could DIY the look with wooden planks for a more rustic look. DIY kitchen island ideas are a great way to mimic the look of more expensive models, but at a much lower cost.
19. Build in shelving for cookbooks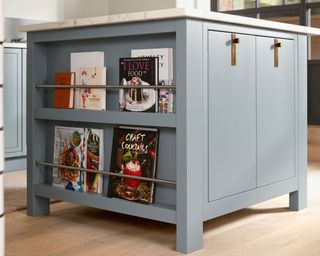 When designing your kitchen island always try and include a mix of different types of storage – drawers, cabinets and open storage. If you love a good cookbook and you use them all the time, make the most of the side of your island by building in narrow shelving. This is the perfect place to store and display your cookbooks and even turn them into a design feature too.
20. Keep your countertop space beautiful but minimal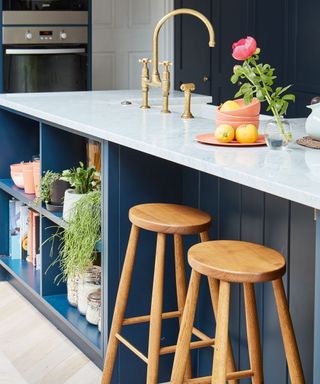 Conner notes how 'Clean islands are similar to made beds, the rest of the kitchen can be messy but if the island is clean and perhaps even accessorized, the whole kitchen looks better even if there are dishes piled in the sink that is not in the island…'
So by keeping your countertop space free from clutter and with just a few artistic additions, you'll decorate your space without making everything look disorganized.
A great takeaway idea from this kitchen island is to arrange any decor on your island on a tray so you can move it around the space with ease, should you need the surface for prep.
21. Wallpaper a section of your island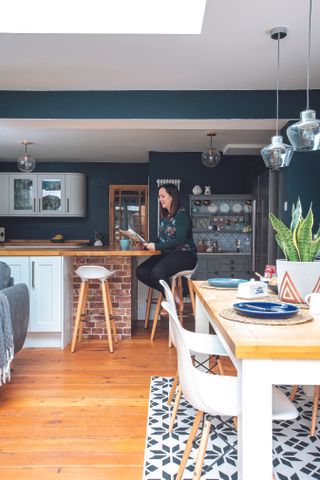 Want a quick update for your kitchen island? Wallpaper. There are many kitchen wallpaper ideas to add a pop of pattern to your space, but using wallpaper on the underside of your kitchen island is a simple way to add a quirky twist. A realistic brick effect wallpaper or even a paneling wallpaper to bring a rugged and rustic feel to your space with minimal expense and faff.
22. Make storage a priority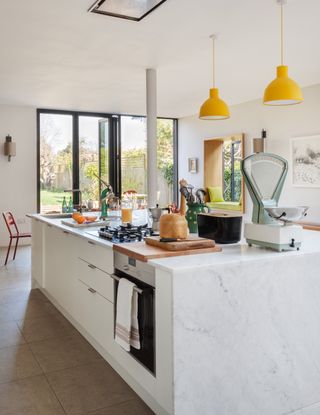 When it comes to kitchen storage ideas, the idea of getting rid of all wall cabinets can work so well in an open-plan space. If they are big enough, you can fit in all your appliances plus storage and create a really open, social space. You can always add a dresser if you need extra storage space.
23. Go for a classic country look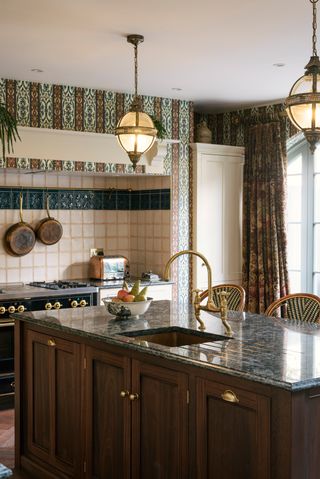 How dreamy is this deVOL kitchen? It belongs to the founders of House of Hackney, whose style we are already obsessed with. We love the really distinctive, classic style of this island – the dark wood and grey quartz aren't a combo you see very often anymore and the result is almost retro.
24. Warm up a cool kitchen with a wooden island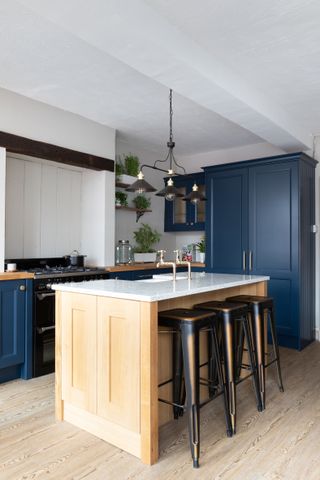 Going for a blue kitchen? Or a cool grey? Warm up the space with a contrasting wooden island. Make the look all the more cohesive by picking a wooden worktop to match the wood of the island – then you can pick a more statement worktop for the island like marble or a copper would look cool.
25. Go for glass doors in your kitchen island unit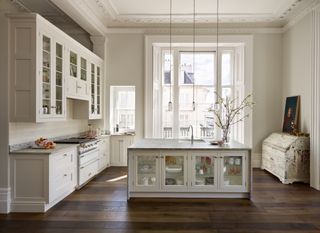 Nobody ever complained of too much kitchen storage, but it needn't all be purely practical when it comes to kitchen island ideas. Glass doors provide a pretty dresser-style display feature that's perfect for showing off vintage glassware and treasured ceramics.
26. Keep one thing the same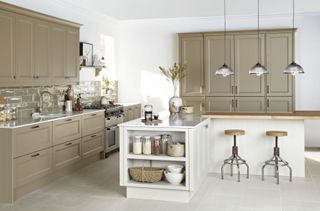 If you want to choose two different colors for your kitchen island and the rest of your cabinets, keep the overall scheme consistent by using the same style cabinets. Here, shaker-style cabinets are used throughout the space to create a coherent and cohesive scheme. Alternatively, you can choose to mix up the style of your kitchen cabinet ideas, but keep the same handles, as this works to visually unite the space in a similar way.
27. Make your kitchen island a sink station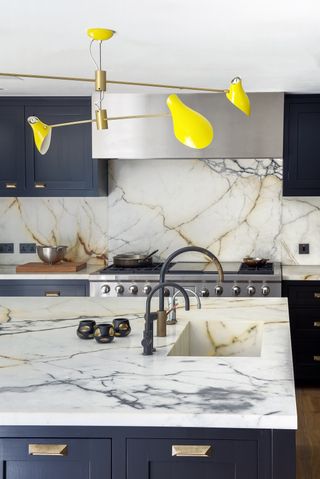 Installing the sink in your kitchen island is a sociable option that allows you to look out into the room – and possibly garden beyond – while you work. This bespoke under-mounted sink is in the same honed Arabescato marble as the countertop for a sleek, seamless finish. Add a boiling water tap for speedy brews.
28. Minimize the kitchen island unit's proportions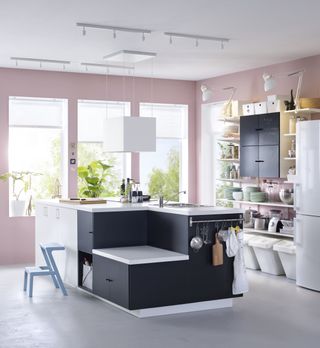 It's tempting to think big when choosing a kitchen island but really large designs can prove overpowering. Dropping one corner unit creates a far more dynamic shape that feels less bulky. Add a cushion for a snug seating nook and choose a simple duo color scheme to help the unit pop as a whole.
'My favorite popular kitchen island trend right now is a dual-tone island. This could be either stained or painted but it stands out as a statement in the rest of the kitchen,' says Emery.
29. Choose an island with curve appeal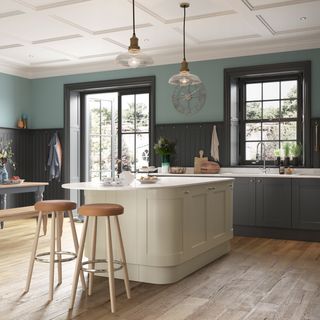 When you're looking for kitchen island ideas, think form, too. Gently curved kitchen cabinetry softens the sharp lines and hard surfaces often found in cooking spaces, and they make great small kitchen ideas to improve the natural traffic flow around the island. They're far kinder on small children's foreheads too...
30. Hang one bold pendant above your kitchen island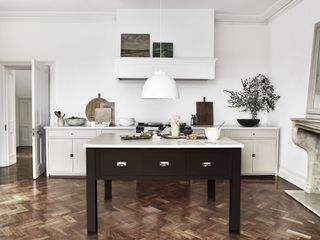 Lighting can take your kitchen island to the next level. Use dramatic kitchen lighting ideas and fittings to anchor your unit and ramp up the wow factor.
A line of pendants can be especially effective – odd numbers work best – or go for a single outsized shade to really impress and create a clear focal point in your space.
31. Opt for dual countertops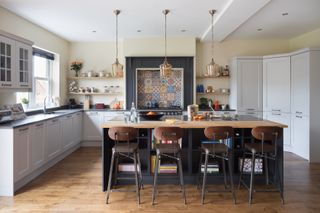 Opting for split surfaces is a simple but incredibly effective way of adding interest to your kitchen island. Here, the breakfast bar is made from solid wood, which is kind on elbows and crockery, while the hardworking prep side is a more durable composite quartz surface.
32. Incorporate a butcher's block into a small space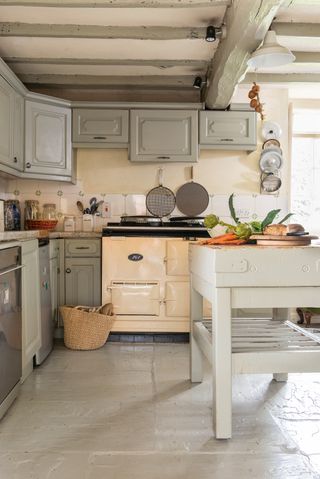 Fitting a whole island into a small kitchen design isn't the most realistic plan, but if you love that flexible, freestanding look that an island brings to a space, you can always create a similar effect with a butcher's block.
They are much more compact than an island but can still give you extra surface space and extra storage, plus of course, they act as an important focal point in the room, however small.
You'll find lots of great kitchen trolleys so you're sure to find one that suits Or you could of course pick up a lovely reclaimed or secondhand one on eBay. Our advice? Keep it color light – that way the room won't feel crowded.
33. Stretch space with a mirrored kitchen island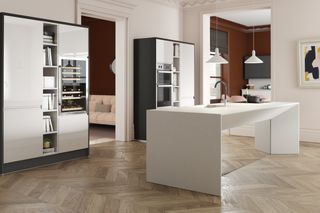 Keep the kitchen island unit love alive by thinking outside the box in terms of both shape and materials. This mirrored island is a compelling combination of geometric quartz and mirrored glass that can't fail to impress.
34. Give your kitchen island an industrial edge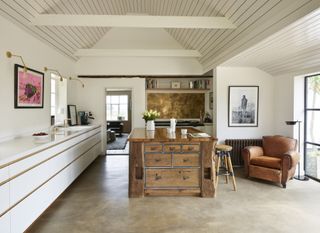 Looking for kitchen island ideas that are just a little bit different? Deliberately contrasting old and new can prove extremely arresting, and often a little kinder on the environment, too. This rustic, industrial-style kitchen island unit is made from salvaged oak beams, fused with hand-welded metalwork for an on-trend industrial touch.
35. Go for a contemporary take on the rustic look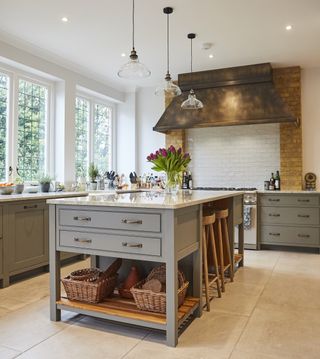 Get the balance right between contemporary and rustic styles by choosing a freestanding kitchen island idea that combines traditional craftsmanship with a modern feature, such as a sleek contemporary – and very practical – countertop.
Easy and cheaper to install because these types of islands don't require plumbing or wiring for sinks or hobs, they're the perfect prep spaces for the keen cook. This design cleverly accommodates kitchen island seating and storage.
The clean lines and on-trend – but also forever classic – grey kitchen cabinetry combine with the sleek countertop to create the perfect combination of contemporary and traditional design.
36. Go all-marble for maximum design impact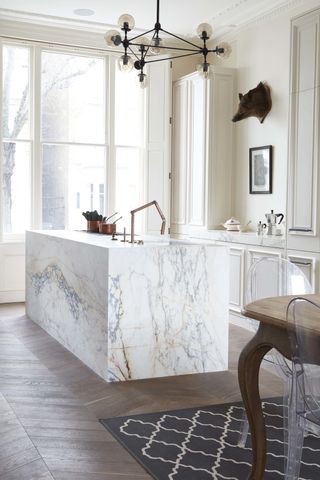 Kitchen islands come in a wide variety of materials and finishes, but for maximum design impact, nothing beats an all-marble island.
This kitchen by Blakes London has been taken to the next level with a marble island that showcases the unique veined pattern in the stone; luxurious yet understated.
37. Or mix marble with other luxe materials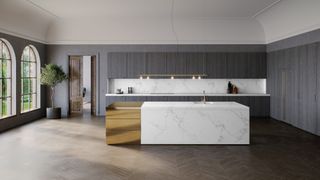 Marble continues to be one of the most popular stone styles for luxury kitchen countertops – and we can see why: sophisticated and stylish, it adds a timeless feel to any interior.
If you're remodeling a kitchen with a luxe, yet contemporary feel, consider combining a stylishly understated white marble with contrasting, stand-out elements – we love this use of an on-trend metallic, but introduce velvets and concrete too to enhance the look.
38. Add bar stools to your kitchen island unit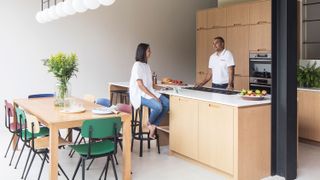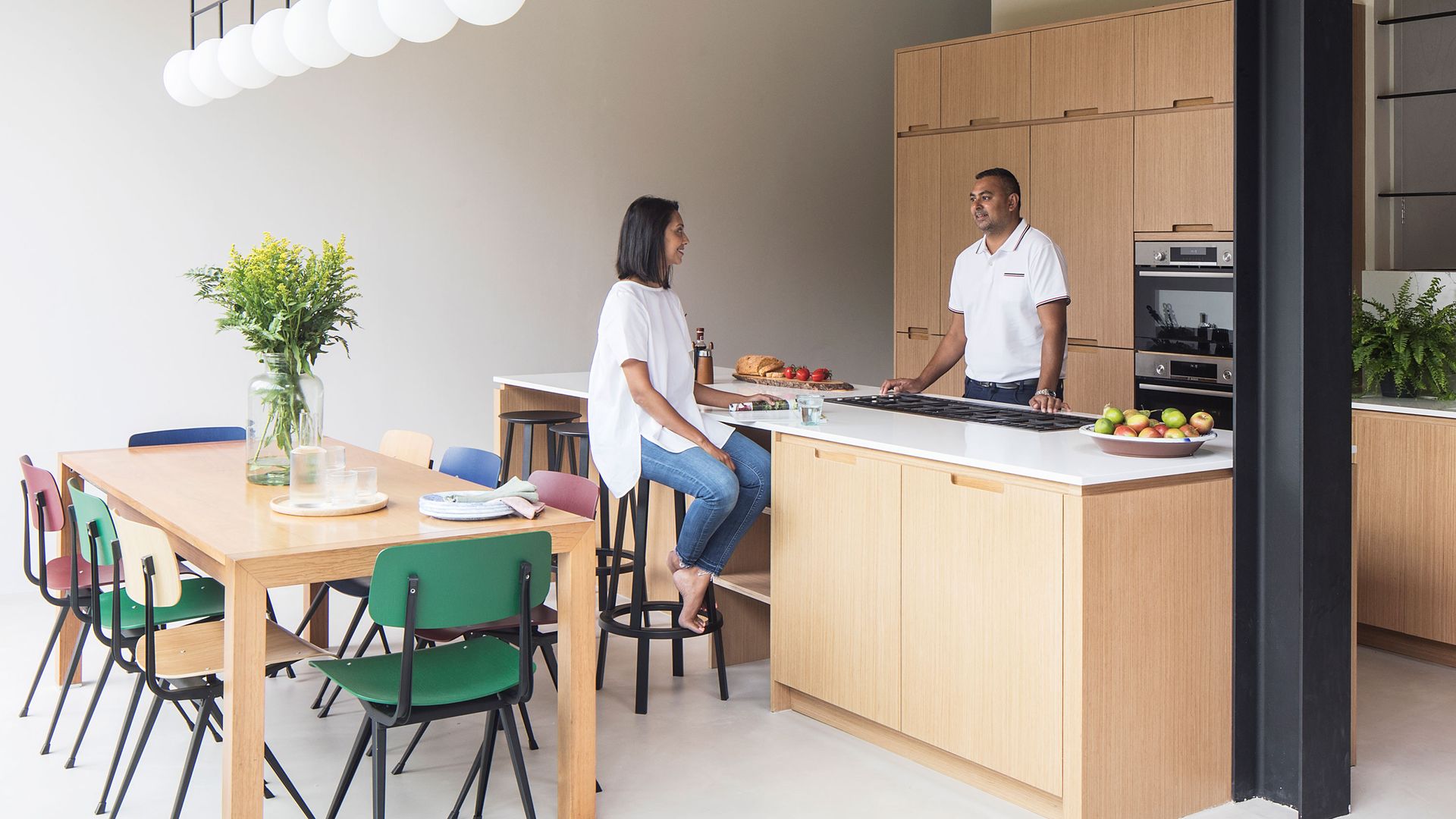 When you first start planning, work out the best place for your bar stools to sit. Consider which way you want them to face. Do you want you or your guests to sit facing the chef, or sit facing out the window? In smaller spaces, it's a good idea to plan in a space where you can push your bar stools out of the way and out of sight. Here the sleek, modern, steel legs of the bars stools match the dining room chairs, creating relaxed yet very appealing uniformity.
39. Opt for wheels on your kitchen island for flexibility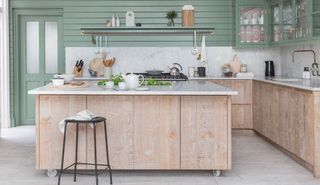 We love the genius idea of having a contemporary kitchen island on wheels! This means that you can make your space even more multifunctional – keep it in the center of your room for a family buffet, then roll it out to the side to make more room for dancing!
40. Nod to freestanding kitchen island options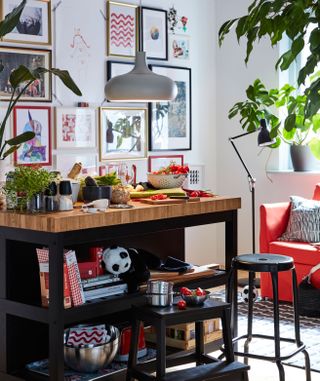 If wheels aren't for you but you still want the option of portability, a model like the VADHOLMA from Ikea will serve you well.
Freestanding kitchens give you the freedom to move pieces where you want them – so you can design your space to suit your changing needs. Plus, if you move house, this one's easy to pack into the removals van and take with you.
41. Choose an unusual, stand out finish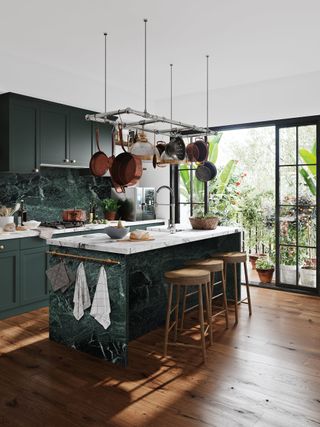 Give your kitchen island extra special treatment with an all-over stone or stone-effect pattern. This rich green eye-catching design features Verde Tinos Carrara marble slab. Using marble for the whole kitchen island is definitely not a budget choice, but it's one that'll last a long time and is sure to become the talking point of everyone that walks through the door.
For a less expensive alternative, choose marble-effect slabs, or you can even buy marble-effect vinyl stickers to stick on to your existing island.
42. Integrate open shelving into your island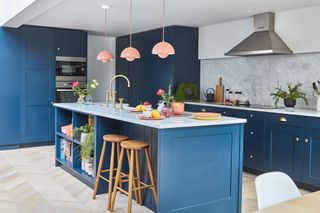 We're super envious of homeowner Lingjing Yin's gorgeous kitchen, but her blue island is the real showstopper, complete with open shelving to display cookbooks, plants and trinkets.
Is open shelving too hazardous with little ones around? Try glazed cabinets – we promise they're coming back onto the kitchen scene.
43. Contrast your kitchen worktops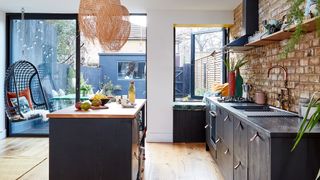 If you prefer your island to stand out rather than blend in, opt for a different worktop material or color to your main kitchen units. Here, homeowner Lily Pickard has chosen a subtle twist for her island, contrasting a black composite countertop with a wood-topped island.
44. Pair a wooden island with a daring splash of color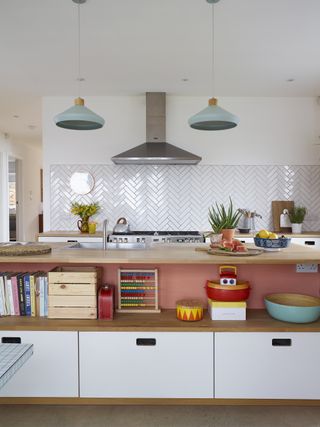 Homeowner Rhiannon Payne used her kitchen island as an opportunity to introduce color to an otherwise neutral kitchen – and pairing the splash of pink with the natural tones and texture of plywood makes for a subtle take on a bolder scheme.
45. Build your whole kitchen into an island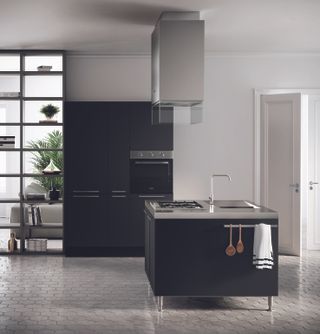 Although this kitchen appears to be in a generously sized open plan apartment, the actual kitchen area is small, with only one run of base and wall units, so the island is key. This design houses both the hob and sink which is a great way to make the island the workhorse of the kitchen – especially when space is at a premium.
46. Swap a big design for a smaller island come diner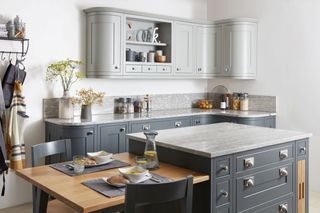 Make the most of your space and fit in a low-level dining area too by positioning them next to each other. Paint the chairs in the same color as your units to tie the look together.
Magnet's experts say, 'If you're working with a more compact space or a galley kitchen, a larger island may be out of the question – but there's always room for a smaller island if you're clever with your layout.'
47. Carve out and define the dining area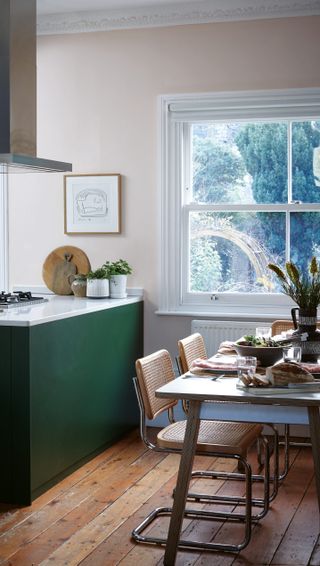 If your kitchen space is open plan you can use a peninsula as opposed to an island to better define the dining area. Magnet's experts explain, 'For a smaller square-shaped kitchen, a peninsula may be the most suitable solution. It can offer additional storage or seating and add that valuable element of sociability to mold your kitchen into a modern, multifunctional space. '
It won't impede on your space, but rather enhance it by creating a countertop that can be used from both sides which can be particularly useful if you love to entertain a lot. We love the bold green shade, you can use this as an accent color and carry it through into the dining table with bottle green napkins, plates or glassware.
48. Build appliances into your kitchen island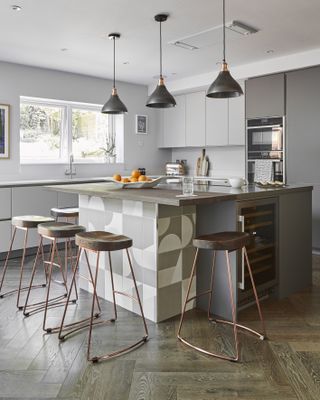 When you are limited with how many units you can fit into a small kitchen then fully utilize your kitchen island instead. Appliances like dishwashers, and fridges can be housed in it, and if you have the room add that dreamy breakfast bar too.
Another great tip to enhance a more compact space is to add an accent area of detail, like this tiled section, to tease the eye away from the surroundings.
49. Double up a console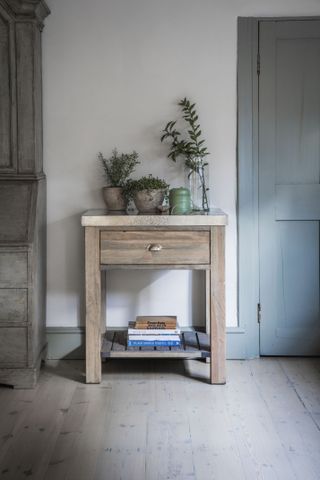 If you are stuck with a teeny tiny kitchen and have used up all of your creative storage skills, then do consider a butcher's block. They are a great alternative if you can't fit an island. Most have a good solid wooden or marble top that can be used as an extra countertop and opt for one that has at least a drawer or two, plus a shelf. Anything is a bonus that takes the pressure off your space, storage-wise.
50. Pick something special for your island countertop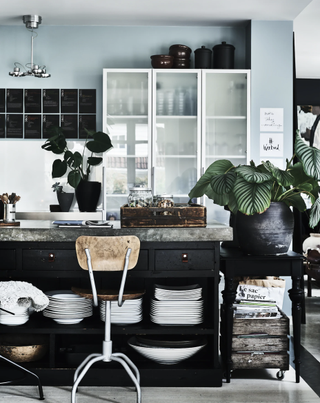 Be that a detailed marble, a piece of polished wood, a slab of concrete or hammered metal, you can go bold with your kitchen island countertop. This might be the area where you decide to splurge, since it is a relatively small section, but could become the focal point of your kitchen, making it 100% worth your investment.
Is a kitchen island a good option?
'If space isn't an issue a kitchen island is a great way to get more out of your space. Entirely functional, islands are great at offering alternative storage opportunities, the ends can be used to store and display cookbooks whilst drawers and typical cabinetry can make the body of the island. It also provides often much-needed additional work surface area, this can be used for preparation, entertaining or dining. With a larger island, it is possible to add appliances and sinks, streamlining the look and maximizing the potential of the kitchen. Alternatively, a freestanding island is a compact solution that offers storage and work surface space that can be moved freely around the room creating added flexibility. If you have less room to work with, adding a peninsula to your kitchen design will simply elongate the work surface and create extra room for food preparation. If you have an open plan kitchen and dining room, this is also an effective and simple way to divide the room visually,' comments Graeme Smith, head of retail and commercial design, Life Kitchens.
While Tom Howley, design director, Tom Howley Kitchens says: 'Whatever its size or style, the kitchen island, as its name suggests is a centralized feature.'
'It's in a handy position that allows you to utilise every inch of space. By centralizing cooking or preparation areas, it makes the kitchen much more sociable, allowing the chef to talk to others as they get dinner ready instead of standing with their back to family and friends.'
Can you just buy a kitchen island?
Many kitchen companies have ready-made kitchen islands that you can buy almost off the shelf, and these are complete with all the essential storage, slots for appliances, and often room for barstools too.
If you buy one outright, just be sure to plan accordingly, taking size and the function of your island into account to know how big yours can physically be plus, whether you'll need to connect any appliances or plumbing outlets if want to include a sink and so on.
Conner notes how 'scale, proportion and function are very important.' It's key to measure out your space precisely and work out what the ideal size island will be. Too small, and your island will look lost and won't function efficiently, too big, and you won't have enough space to move around the room.
What can I use for a kitchen island?
As long as your piece of furniture allows you to prepare food and store things, there are no set rules as to what you can use as a kitchen island. If you're looking for something a little different, you can use a vintage chest of drawers, a desk, an old cabinet, a butchers block, or any similar piece of furniture as your kitchen island. We'd recommend covering wooden furniture in a waterproof sealant or paint to protect from inevitable kitchen splashes.
Are kitchen islands out of style?
In a word, no. The kitchen island has certainly been around for a while, hundreds of years in fact, but this is a sought-after feature that isn't going anywhere, any time soon. More and more of us are leaning towards open-plan living, and kitchen islands are the perfect way to merge your cooking, dining and relaxing areas. We're seeing a surge in the 'anti-kitchen,' which is, essentially, kitchens that don't look like kitchens, and kitchen islands are very much a key player in this emerging trend too.
Is it better to have a kitchen table or island?
'Islands offer extra storage,' says Howley.
'Many have cupboards to ensure your kitchen is clutter-free. Deep pan drawers can provide space for all of your cookware while other designs offer display shelves for personal pieces or to showcase high-end kitchenware.'
'The kitchen is such a dynamic space that your island could be designed to have many uses from a place to prep dinner to an area where kids do their homework. Adding a selection of drawers is an excellent way to keep the clutter at bay, especially manuals or those odd bits of kitchenware we tend to hoard.'
'Keep cutlery close to hand if it's where you'll be serving dinner or save a drawer for your paperwork if your island doubles as a desk.'