As icons of luxury living, it's little wonder that an island unit tops our 'most-wanted' list when planning a new kitchen. An attractive island can prove a real saviour in open-plan spaces, providing the perfect link between the kitchen and living/dining areas. In smaller kitchens, a slimline island will really make the most of every inch, adding essential prep space and, with a small overhang for barstools, the opportunity to rest between chores.
The best islands are carefully positioned to aid easy travel around the kitchen – aim for at least a 90–110cm wide walkway in high traffic areas around the fridge and sink. And don't forget to allow space for dishwasher doors and extending drawers. Incorporating a sink and/or hob helps to centralise food preparation, bringing the chef into the action. Be unashamedly bold with your island lighting to ensure it takes centre-stage.
1. Glass displays
Nobody ever complained of too much storage in the kitchen, but it needn't all be purely practical. Glass doors provide a pretty dresser-style display feature that's perfect for showing off vintage glassware and treasured ceramics. Bespoke kitchens from Martin Moore's English Collection start from £35,000.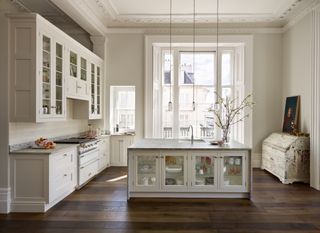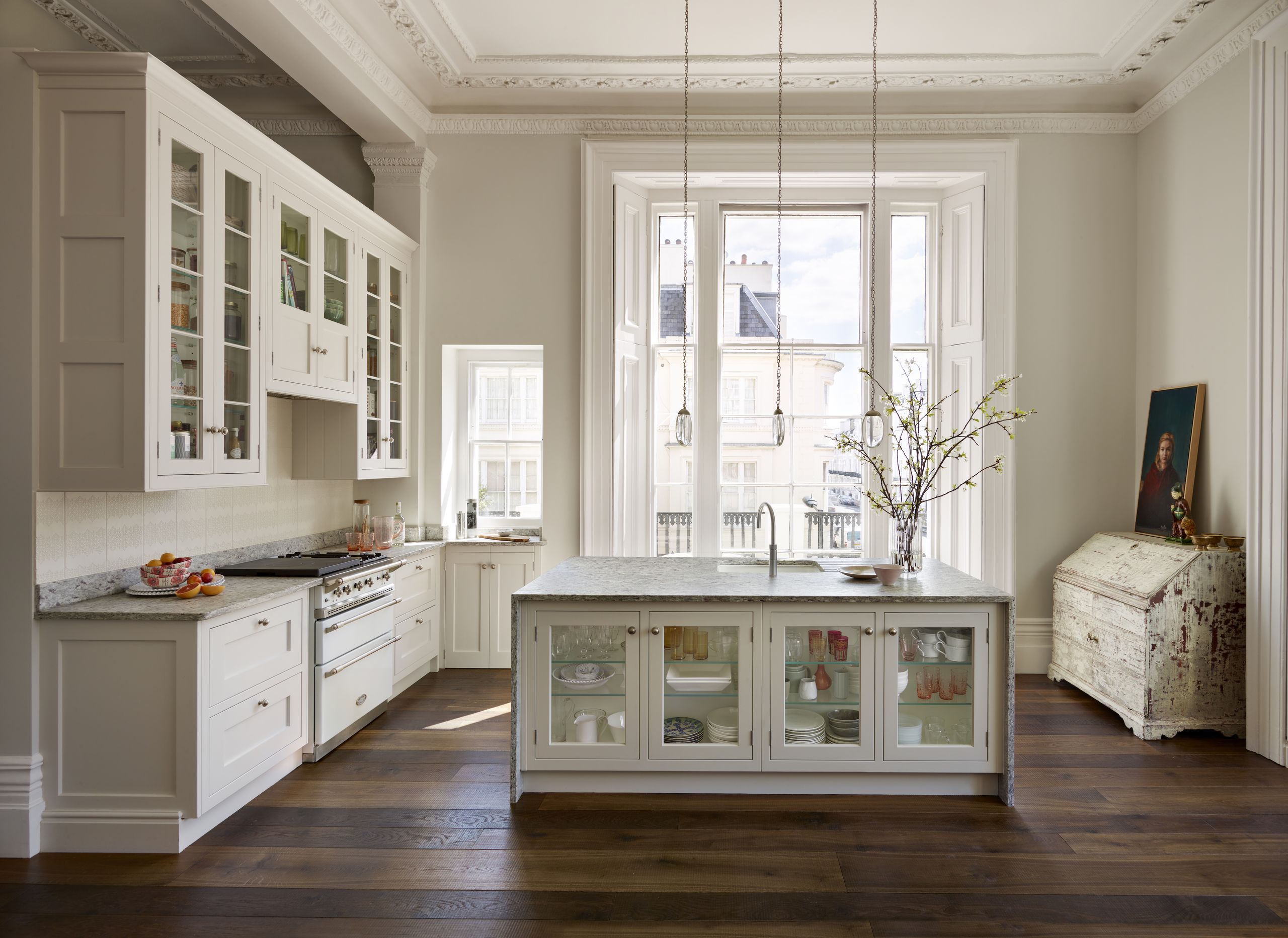 2. Slim fit
If space is tight, a freestanding sideboard can be repurposed to add extra prep areas and storage without crowding you out. Do make sure the rear of the cabinet is smartly finished (some have back panels in a cheaper, thinner board). We love the aged copper worktop added to this Sebastian Cox Kitchen sideboard by deVOL, priced from £2,700.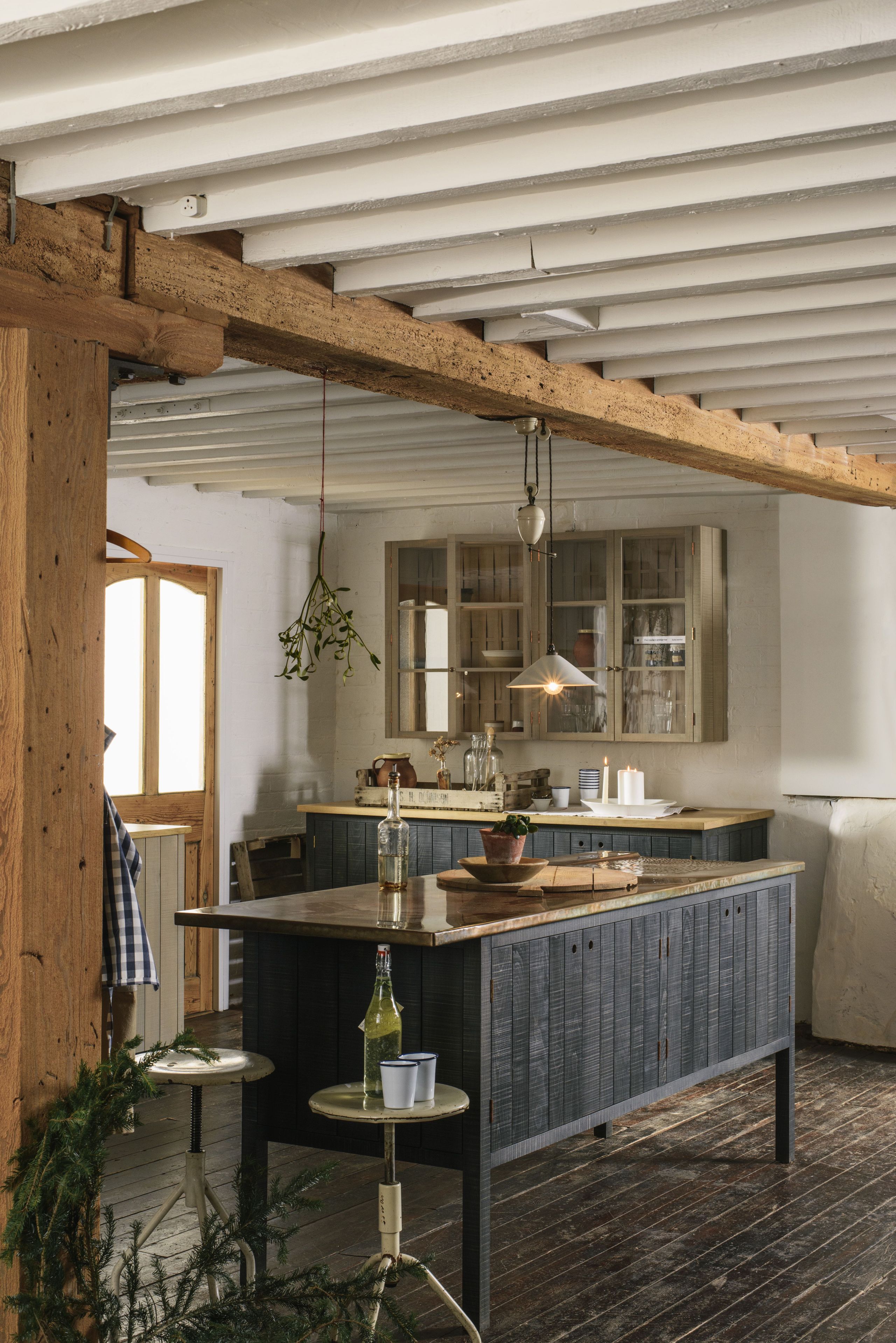 3. L-shape divide
In a large open-plan kitchen, an L-shape island is a fantastically flexible way to define the cooking area while adding oodles of worktop. This stylish design features a generous breakfast bar – the perfect spot to park guests while you rustle up supper. Burbidge's Gresham range in Antique grey Chamois and Putty starts from £12,000.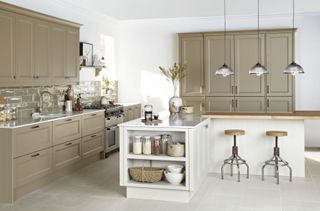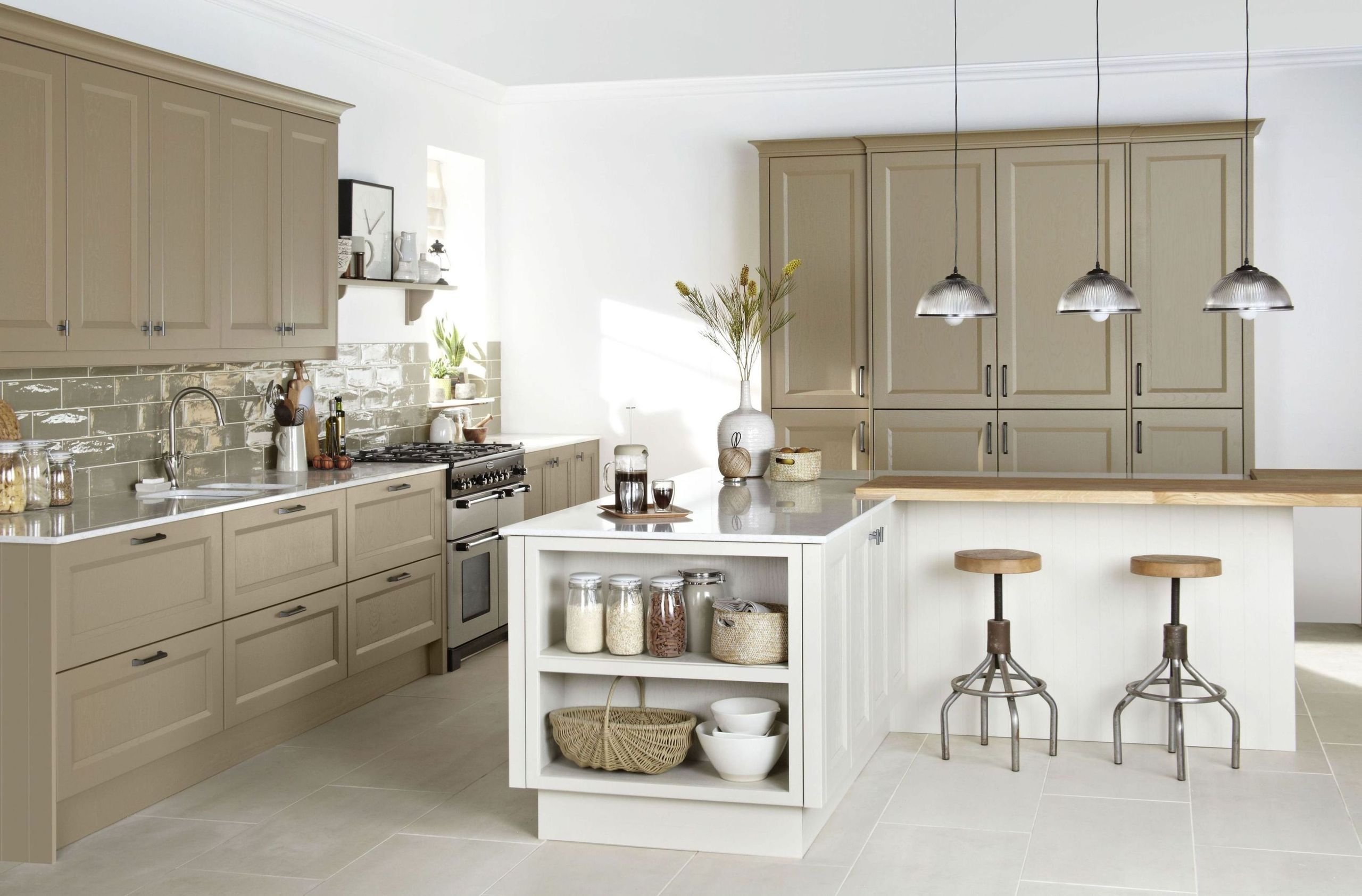 4. Sink station
Installing the sink in your island is a sociable option that allows you to look out into the room – and possibly garden beyond – while you work. This bespoke undermounted sink is in the same honed Arabescato marble as the worktop for a sleek, seamless finish. Add a boiling water tap for speedy brews. Charlie Kingham's Shoreditch collection starts from £20,000.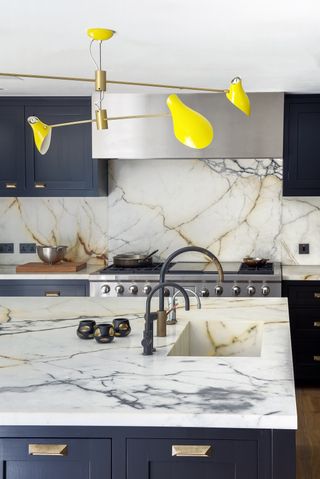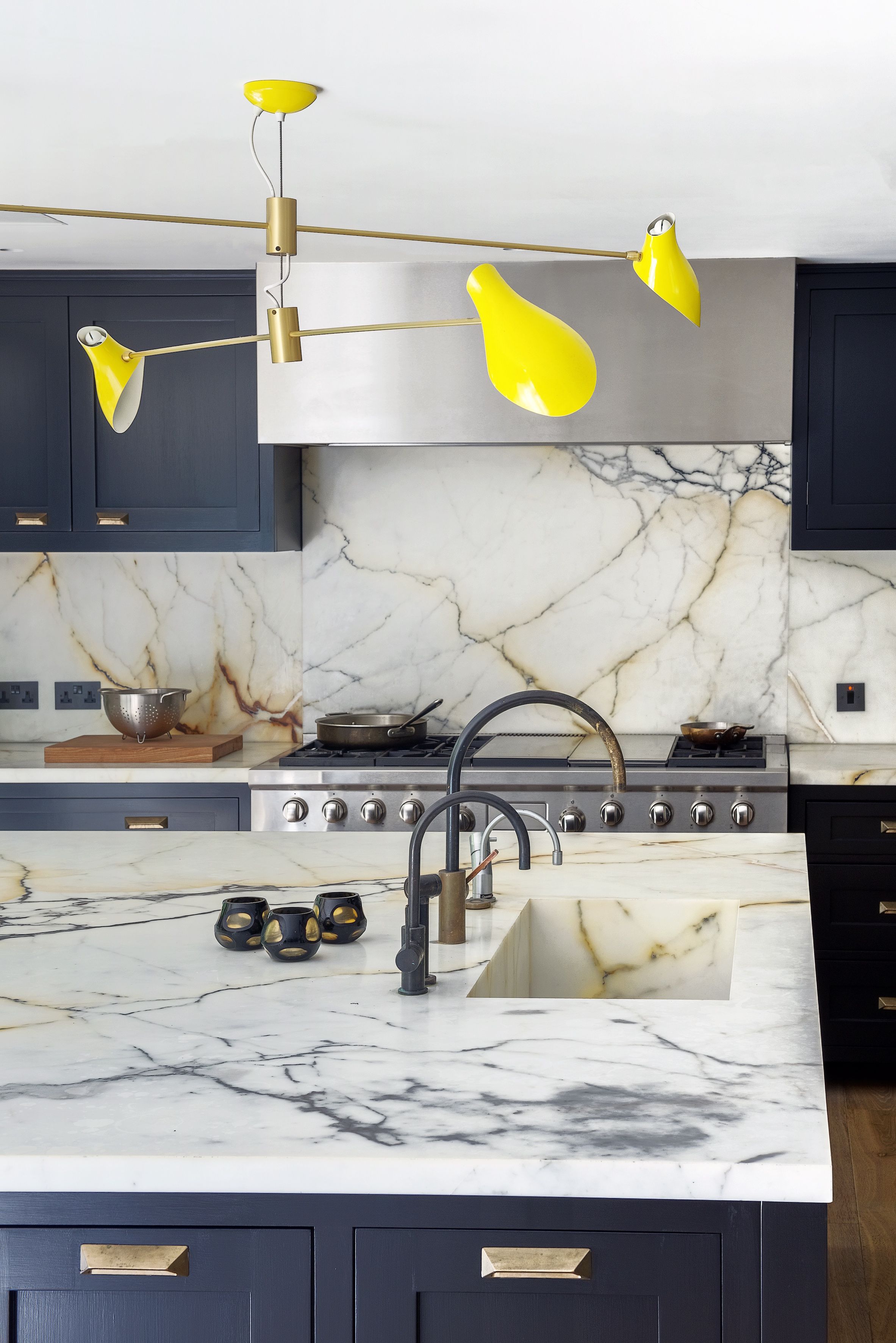 5. Shape shifters
It's tempting to think big when planning an island but really large designs can prove overpowering. Dropping one corner unit creates a far more dynamic shape that feels less bulky. Pop on a cushion for a snug seating nook. This island features Ikea's Uddevalla blackboard door, from £15; Ringhult door in high gloss white, from £22, and Säljan worktop in white, from £40.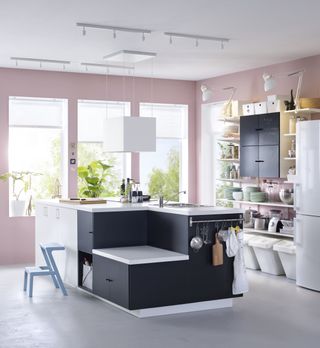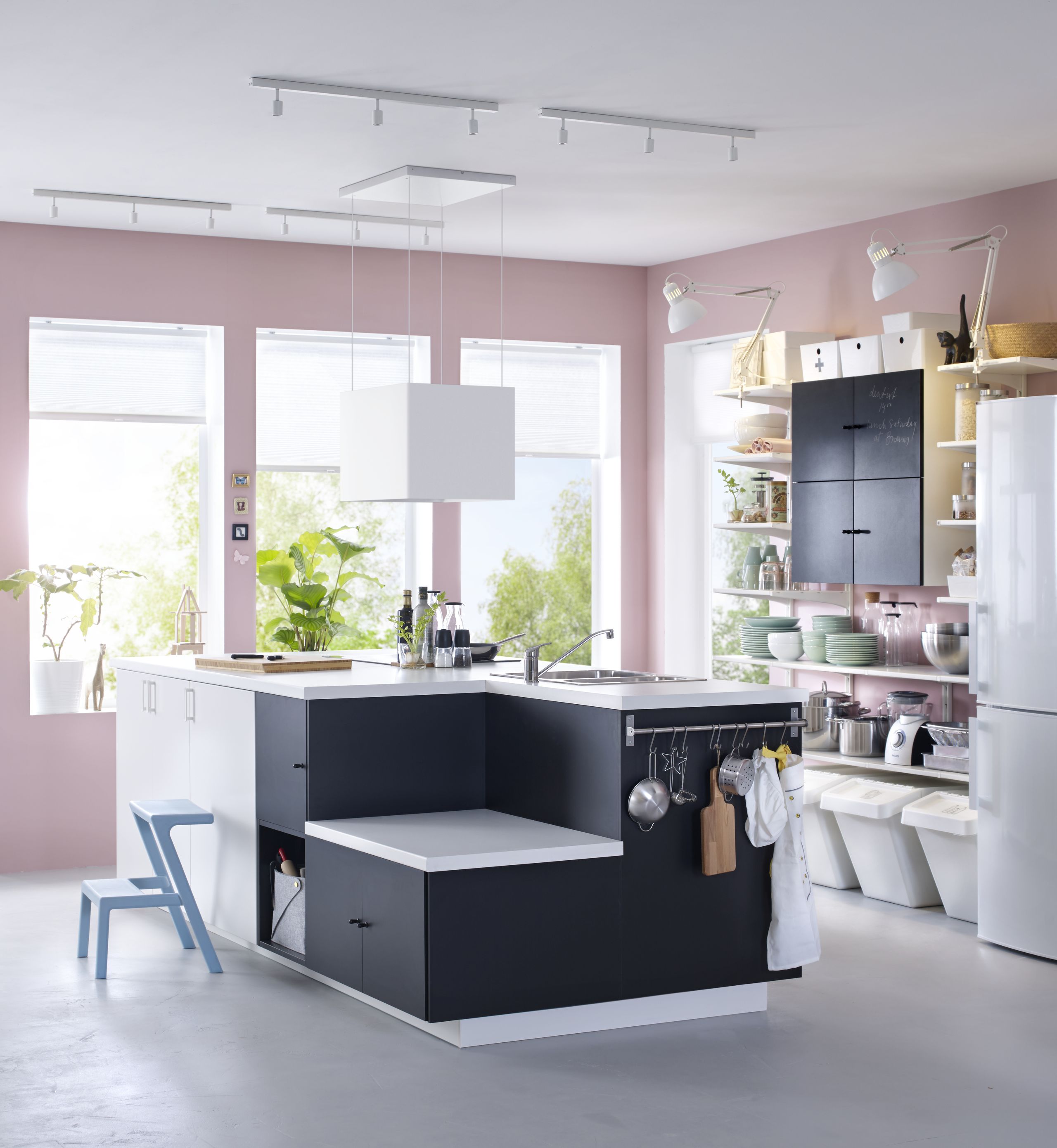 6. Curve appeal
Gentle curves soften the sharp lines and hard surfaces found in kitchens, and will improve the natural traffic flow around the island. They're far kinder on small children's foreheads, too! Magnet's Somerton Duck Egg kitchen starts from £847 for a 60cm base unit.
7. Bold island lighting
Use dramatic light fittings to anchor your island unit and ramp up the wow factor. A line of pendants can be especially effective – odd numbers work best – or go for a single outsized shade, like this Byron Pendant , £150, to really impress. Neptune's Suffolk kitchen starts from £16,000.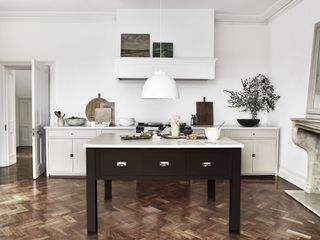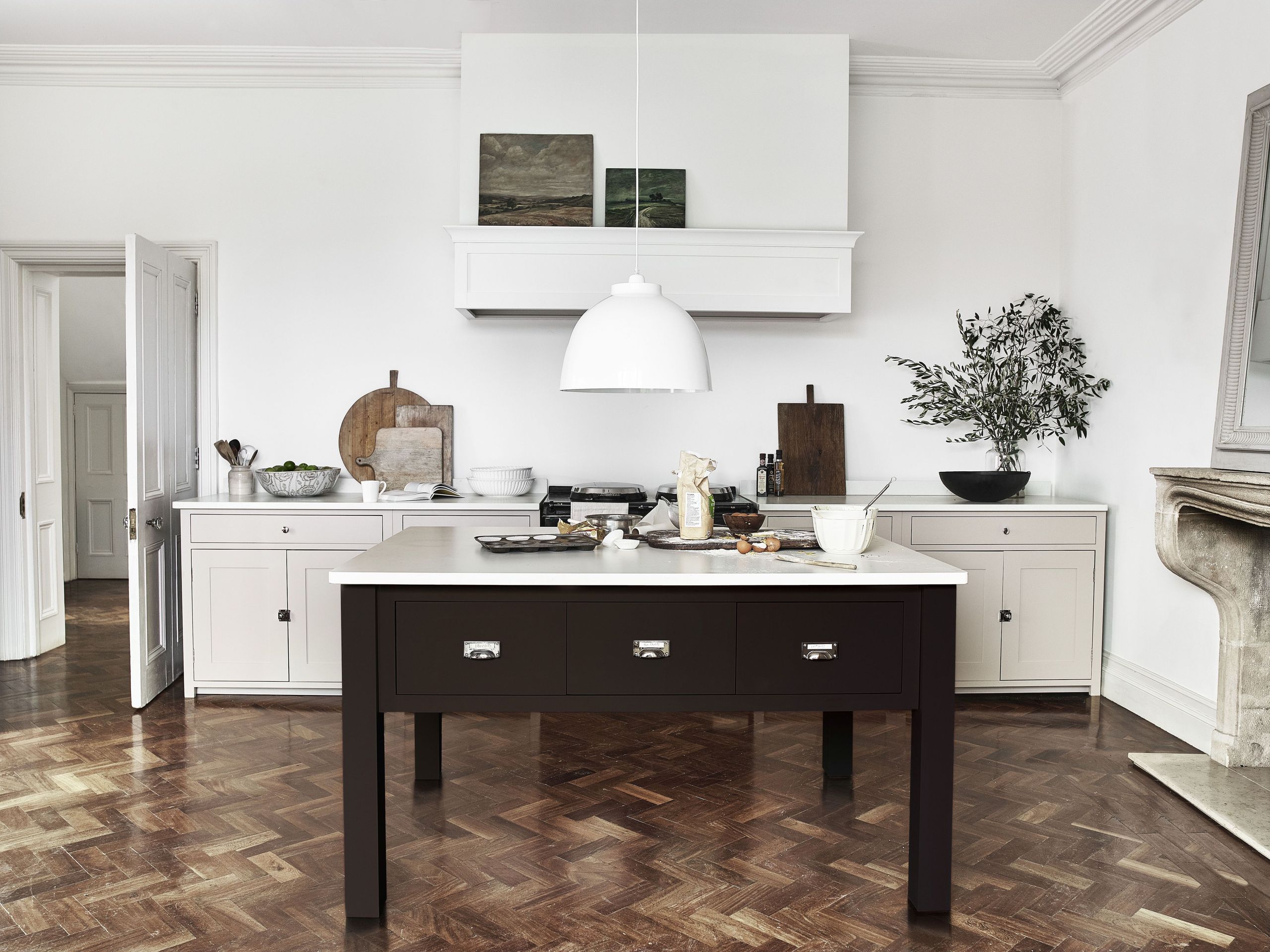 8. Dual worktops
Opting for split surfaces is a simple but incredibly effective way of adding interest to your island. Here, the breakfast bar is made from solid wood, which is kind on elbows and crockery, while the hardworking prep side is a more durable composite quartz surface. Masterclass Kitchens' Ashbourne range, shown in Graphite, starts from £7,500.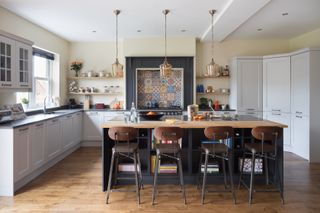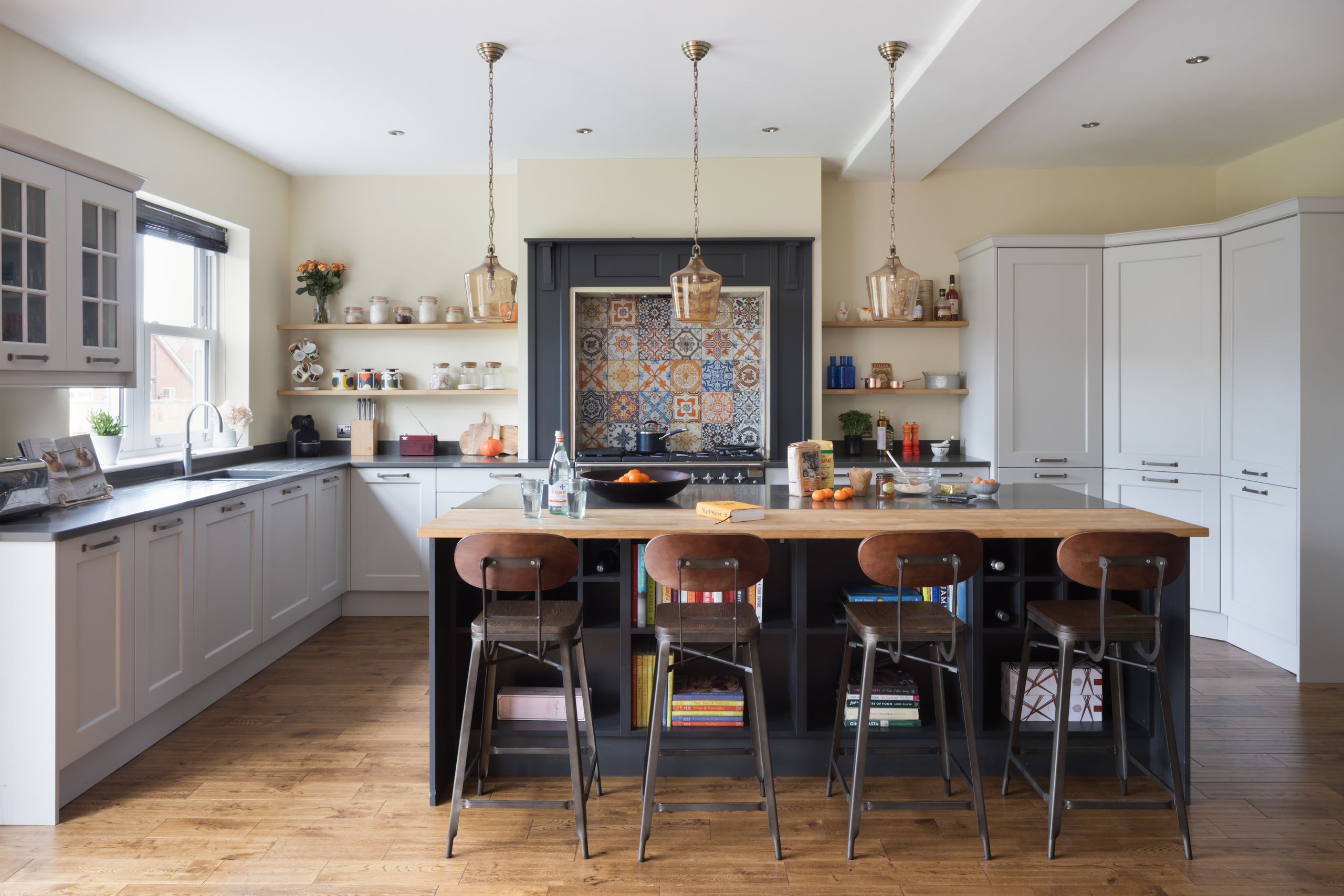 9. Feet first
Elevating an island on legs is a fast-track way to give modular furniture a lighter appearance and make the most of statement flooring. Mowlem & Co's Virtuoso kitchen, painted in Farrow & Ball's Railings, starts from £30,000.
10. Mirror magic
Keep the island unit love alive by thinking outside the box in terms of both shape and materials. Wren's Mirage Island, £4,948 as shown, is a compelling combination of geometric quartz and mirrored glass that can't fail to impress.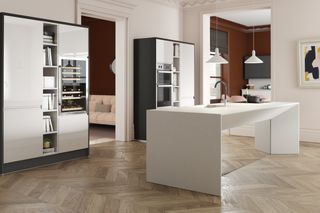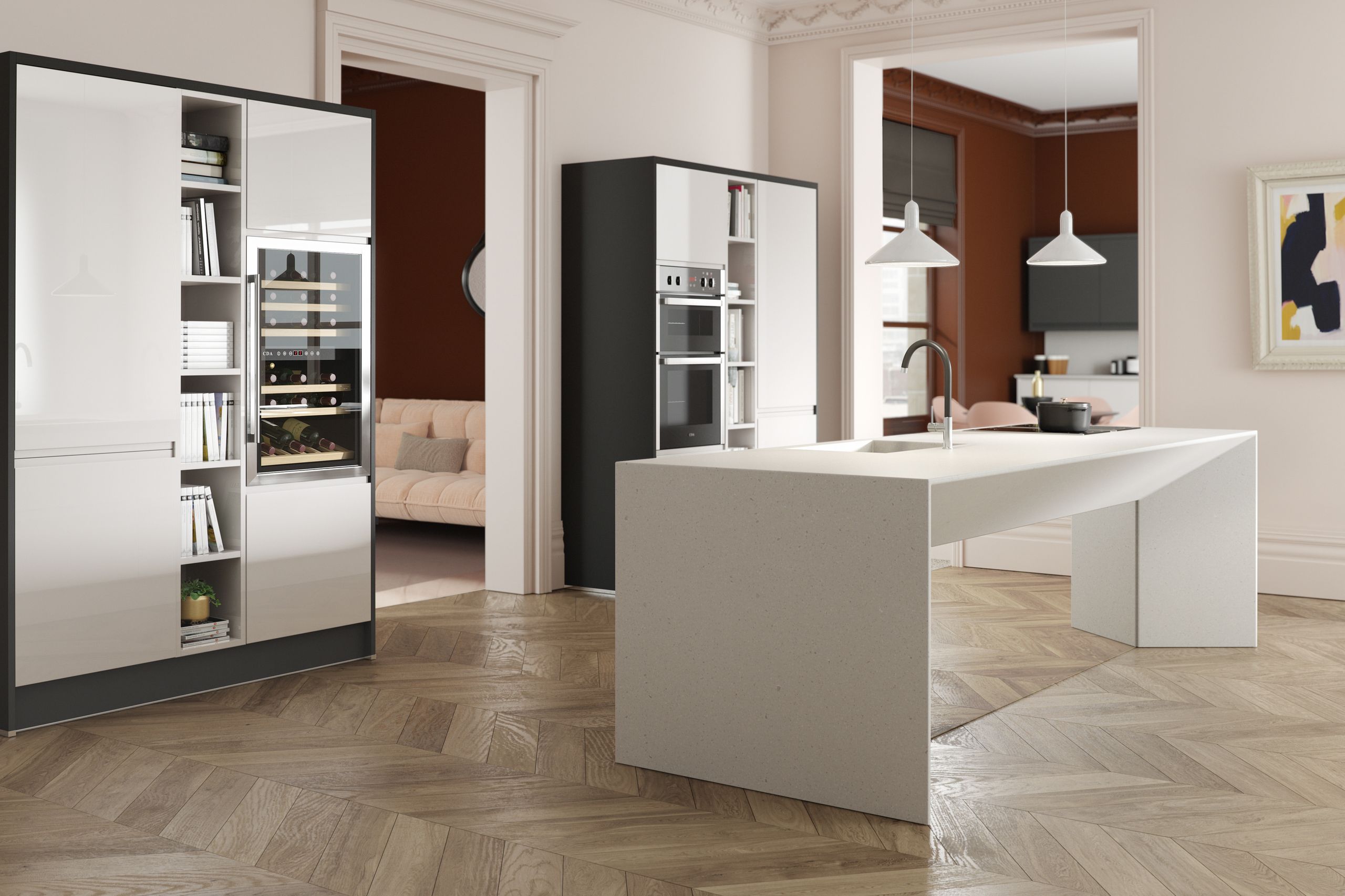 11. Industrial edge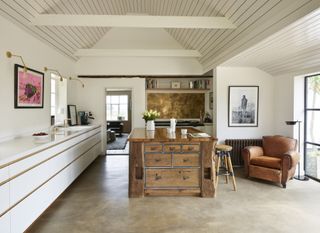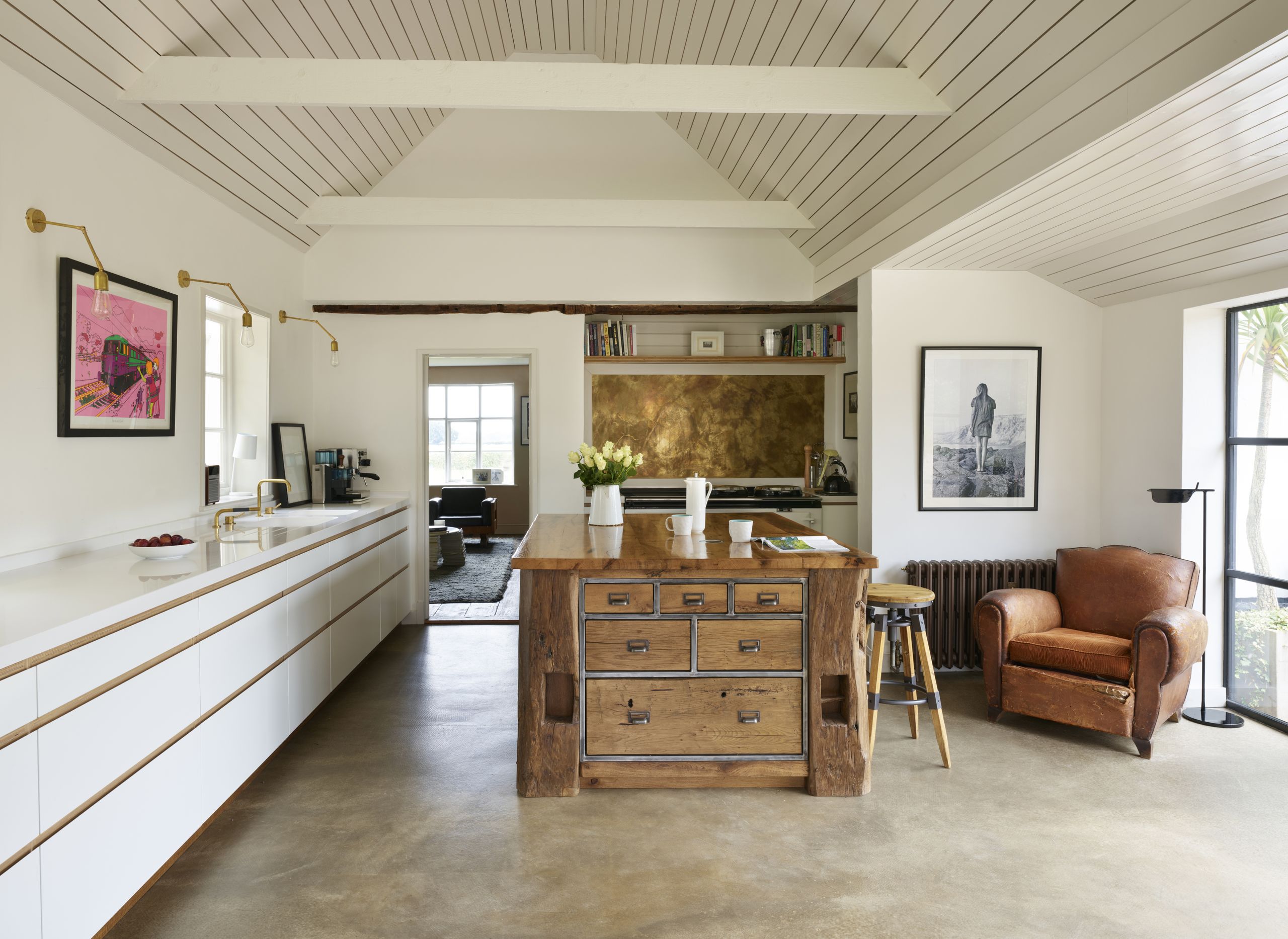 Deliberately contrasting old and new can prove extremely arresting, and often a little kinder on the environment, too. This rustic, industrial-style island unit is made from salvaged oak beams, fused with hand-welded metalwork for an on-trend industrial touch. Bespoke kitchens start from £21,000 at Clayton Cabinets.