In the market to buy the best vacuum cleaner in 2020? You know what they say: new decade, new small appliance.
So, you'll be pleased to know that we've tried and tested a range of vacuums – from the best models for large homes to lightweight stick vacuums and robot vacuums better suited to quick clean ups – and can report back on the best vacuums from top brands such as Shark, Dyson, Vax and more. The best vacuum cleaner for you awaits below.
Keep scrolling to see our rankings – all models have been reviewed by our appliance expert Sarah, and nothing with less than 4.5 stars has made the list.
Looking for a speedy bargain? Find one of the best vacuum cleaner deals on our dedicated deals page.
What is the best vacuum cleaner?
We think the best vacuum you can buy is the Dyson Big Ball Animal 2. It's powerful, easy to manoeuvre, compact, but not lacking in the might required to clean a big home full of pets. It got a five-star rating in our review.
Level pegging is the Miele Complete C3 Total Solution PowerLine – another five-star vacuum cleaner. With cleaning power to match, but a much bigger dust tank, it might suit larger homes, but while it handles pet hair well, it isn't a pet model. If you do want a pet model, you can see our best vacuums for pet hair.
These are both cylinder vacuum cleaners but we have a wide range of types in our list below including cordless stick, robot, upright and even a handy hybrid in the form of the Shark DuoClean Powered Lift-Away cordless. If you know you definitely want a stick cordless though, you can't beat the Vax Blade 2 Max on power and price. We love it.
Here is a full list of all the vacuums in this guide:
Best vacuum cleaner: Dyson Big Ball Animal 2
Most ergonomic vacuum cleaner: Miele Complete C3 Total Solution Powerline
Best cordless vacuum cleaner: Vax Blade 2 Max
Best vacuum for pet hair: Dyson Ball Animal 2
Best bagless vacuum cleaner (if you don't want a Dyson): Miele Blizzard CX1 Cat & Dog Powerline
Best vacuum Shark: Shark Duoclean Powered Lift-Away with Truepet cordless
Best lightweight vacuum: Dyson V8 Absolute
Best vacuum for carpet: Dyson Light Ball Multifloor
Best robot vacuum: Dyson 360 Eye
Best robot vacuum cleaner for pet hair: iRobot Roomba i7+
Best vacuum on a budget: Henry (NUMATIC HVR200-11)
How to buy the best vacuum cleaner
Vacuums come in three main formats: upright, cylinder or handheld, and these can be broken down further into corded and cordless vacuum cleaners, and bagged and bagless vacuum cleaners.
The best vacuum cleaners also come with an extensive range of attachments so take a look at what is included before you buy. And think about the types of floor you are cleaning and whether you will need a motorised brush head for working dirt out of thick carpets.
You can find out more about picking the right type in our tops tips at the bottom on the page on buying a new vacuum cleaner.
The best vacuum cleaner to buy for 2020
Best vacuum cleaner you can buy: especially brilliant for pet-owners, this vacuum is a great all rounder
Specifications
Best for: All-rounder
Type: Cylinder
Bagless?: Yes
Cordless?: No
Weight: 7.9kg
Capacity: 1.5ltrs
Reasons to buy
+Powerful removal of dust and pet hair+Easy to move, use and empty+Great on all surfaces including hard flooring
Reasons to avoid
-Quite rigorous carpet cleaning might make it hard work for some
For a large house with a few pets, we highly recommend the Dyson Big Ball Animal 2. Simply the best vacuum cleaner for pets, its clever brush heads pick up all the hair our furry friends leave behind, without getting tangled up, and the motorised brush bar gets out stubborn dirt from muddy paws.
Unbeatable suction
This cylinder model from Dyson is a firm favourite with anyone who wants a quick but highly effective clean. The pneumatic cleaner head automatically adjusts to different floor types for the most efficient clean we have seen. The vacuum is preset to easy mode with a max mode for extra stubborn dirt, but our reviewer found the easy mode was more than enough – in fact, the suction was so good that it did take a little bit more of a push over carpets. However it brought carpets up looking good as new, so you can't complain too much about a bit of additional effort.
Great range of attachments
Stairs and furniture are easily cleaned with the right attachments. Rotating heads pick all manner of fluff and debris from surfaces and it has a turbine head for finer dust which is great for hard floors. The generous hose makes it easy to reach every nook and cranny.
Manouevrability
Dyson's signature ball makes this vac very easy to move. Although it is not the lightest, the compact design means it can be carried with ease – even up and down stairs which can be tough with a cylinder vacuum. If you do prefer an upright however, we also rated the Dyson Ball Animal 2 highly which is the upright version of this machine. This one got half a star more. Why? It was a little bit easier to manouevre – especially in high-suction mode.
Shop more Dyson vacuums at Amazon
Best vacuum cleaner for ergonomic design: neatly stowed tools and a slick exterior show off Miele's renowned design prowess
Specifications
Best for: Ergonomic design
Type: Cylinder
Bagless?: No
Cordless?: No
Weight: 7.26kg
Capacity: 4.5ltrs
Reasons to buy
+On-board tools for easy use+High capacity dust bag+Very effective on all sorts of floors and debris
Reasons to avoid
-Powerful suction leads to some noise
The Miele Complete C3 Total Solution PowerLine deserves its lengthy name – it really is a powerful vac with great reach and a tidy design that keeps all your tools to hand. Miele are well known for producing great quality products and as this one has been about for a few years now, the price is very reasonable.
A practical and reliable clean
If you like a cylinder vacuum and are happy with using a bagged model, the Miele Complete C3 range will serve you well. It suits hard and carpeted floors well and the suction can be adjusted as you move around the home.
Easy to handle
Miele really do think of everything when designing their vacuum cleaners to ensure that cleaning is less of a chore. Foot controls on the body of the vac mean no bending over. All of the tools are conveniently stowed away in the vacuum cleaner so you don't need to carry them about – and losing them is less of a risk. On that note, it has a great range of tools for everything from upholstery to crevices and a delicate brush for dusting.
While it isn't lightweight, it is fairly easy to handle and the long-reach cable and hose give better freedom of movement.
Thorough clean
Mud on tiles and bits on carpet is no match for this vacuum cleaner. It handles all debris very thoroughly and while it isn't a pet model, it handles hair with no trouble. Mud on carpet needed a little bit more going over but the machine did the job and left no remnants.
Miele engineering at an affordable price
Now this model has been out for a while, meaning it is about £100 cheaper than the latest models. That is not to say it is worth £100 less – it does the job, it does it very well and is certainly built to last.
Shop all Miele floorcare on AO.com.
Best cordless vacuum cleaner: three times more suction than most cordless vacuum cleaners
Specifications
Best for: Cordless
Type: Stick
Bagless?: Yes
Cordless?: Yes
Weight: 3.1kg
Capacity: 0.6ltrs
Reasons to buy
+Light and easy to move around+Has a light so you can see underneath furniture+Great at sucking up hairs+Works well on all floors+Handy for the car
Reasons to avoid
-When on max, can be loud-Won't do a big home in one charge
An extremely impressive piece of kit, VAX's Blade 2 MAX has almost three times more suction power than any of their other cordless vacuums, and you can tell by the fact that it'll actually try to suck up your flooring while you're cleaning. You will love this if you are a fan of uprights but want something lighter and easier to use, without the hassle of wires holding you back.
Supreme clean
Ideal for those with pets or anyone who regularly finds hair scattered around the house, it has a special head designed to pick up every bit of dirt including leaves, bits of small paper and big crumbs. Our reviewer found it also tackled mud on a tiled floor with ease.
Quick and easy vacuuming
Not only does it perform well, it also has a light so you can see under your furniture while vacuuming. The head has a good range, so moving it around the home is a breeze. It does the stairs a treat and if you get the Cordless Pro kit you get all the attachments you need for furniture, crevices, blinds and upholstery.
Cordless pro
It does the job and more, and only needs three hours to charge, after which it will run for 45 minutes. In our opinion, this is the best cordless vacuum cleaner you can buy right now. It easily converts to a handheld too, which is great for cars and dust busting on the spot.
Shop more vacuums a John Lewis
See all of the best cordless vacuums in our dedicated buying guide.
Best vacuum for pet hair: great suction for fans of Dyson uprights
Specifications
Best for: All-rounder
Type: Upright
Bagless?: Yes
Cordless?: No
Capacity: 1.8ltrs
Noise: 80dB
Weight: 7.34kg
Reasons to buy
+Powerful suction so great on carpet and hard flooring+Ball makes it easy to move+Long cord
Reasons to avoid
-Can be noisy-It isn't the lightest to move
For a large, family home with a few pets, we highly recommend the Dyson Ball Animal 2. Its clever brush heads pick up all the hair our furry friends leave behind, without getting tangled up, and the motorised brush bar gets out stubborn dirt from muddy paws. Expect cleaning power comparable to the Dyson Big Ball Animal 2 above, but in an upright package instead of cylinder.
Powerful suction
This vacuum cleaner is a great all-rounder that delivers on hard flooring, carpet and stairs with ease. Our reviewer found it handled both normal and deep pile carpet, but did mention that the strength of the suction can make it an effort to push.
This vac handles mud and light debris without scattering it around, leading to a quick and thorough clean where muddy paws have been.
Tools
The Dyson Ball Animal 2 comes with a two-in-one tool for dust and cobwebs, a stair tool and a turbine tool that is tangle-free – perfect for handling all types of pet hair. The latter will help get fur (and other debris) off upholstery, too.
Ease of use
The cleaner head reaches right to the edges of the room. It is also low profile so it fits under furniture with ease. Its telltale ball means you can manoeuvre around obstacles with ease and the generous cord (over 10m) speeds up the process as you do not need to keep moving the plug to different sockets. The handle allows for ease of use in high corners and makes cleaning the stairs an easy job.
Shop more Dyson vacuums at Amazon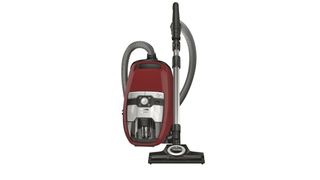 Best bagless vacuum cleaner for Miele lovers: want bagless cylinder but don't want a Dyson? This is the best.
Specifications
Best for: Easy emptying
Type: Cylinder
Bagless?: Yes
Cordless?: No
Weight: 8.71kg
Capacity: 2ltrs
Reasons to buy
+Powerful bagless convenience+Great on pet hair+Handles all surfaces like a pro
Reasons to avoid
-Quite heavy-Expect a workout if you don't turn the suction down on carpet
Expect an expert clean in bagless format from the Miele Blizzard CX1 Cat&Dog PowerLine. This vac shows that you don't have to join team Dyson to enjoy going bag-free and it is super easy to empty. It did not score quite as highly as the Miele Complete C3 in our review, but if you don't want to be tied to buying vacuum bags, it is for you.
Ease of use
As well as a great clean, this has been designed for a super easy clean, too. As with nearly all Miele vacuum cleaners the tools are stored in the body of the vac so you shouldn't lose them as you go. While it isn't the smallest of models (or the lightest), the unit is efficiently designed and won't take up too much space either.
You flip the foot control to adjust the brushes and the cable retracts at the push of a button so using the machine is quick and low-labour. It works really well on all surfaces, but like other super-suction models, you might want to turn it down to make carpet easier to clean.
Pet hair and allergies
Pet hair is no problem for the Miele Blizzard CX1 Cat&Dog. And, if you have a mucky pup you will be pleased with how it copes with dried mud, too. A lifetime HEPA AirClean filter (approved by Allergy UK) makes it a good choice for asthmatics or allergy sufferers, and while a bagless model can be a worry for these users, emptying the bin was mess-free. The model also has a self-cleaning function that can be activated when you've tackled a dust storm. The dust tank is also an impressive size for a bagless.
Manouevrability
Easy to move with a telescopic tube, people with back problems won't find this vacuum hard to use. However, it is on the weighty side, so if you have lots of stairs, you might prefer a lighter model – for a large bungalow though, it would be perfect.
Best vacuum Shark: feels like an upright, works like a cordless and converts to a handheld
Specifications
Best for: Upright fans in a cordless world
Type: Upright style
Bagless?: Yes
Cordless?: Yes
Weight: 5.7kg
Capacity: 0.6ltrs
Reasons to buy
+50-minute battery life+Versatile cleaning styles+Floor illumination+Battery can be charged separately
Reasons to avoid
-Long hair can get tangled-There are lighter cordless models
If you want the freedom of a cordless vac with the power and style of your old upright, the Shark DuoClean Powered Lift-Away with TruePet cordless vacuum is for you.
A new breed of cordless
Most cordless vacuums come in stick format which some people find a little hard to get used to. They might be much lighter than your average vacuum, but you essentially have to carry them like a massive handheld. If you prefer an upright – something you can push – then this will really suit you. It can also be unclipped and, as the name suggests, you lift away the dust canister for use on stairs or those hard to reach places.
The style does make the unit heavier than most cordless vacuum cleaners, but it is at its heaviest when you have it in upright mode in which case you would be pushing it anyway.
Power and charging
The battery life is on the generous side for a cordless at 50 minutes. This gives you plenty of time to whizz around and you can buy a spare battery to charge while the other is in use. The power is impressive and it is surprisingly quiet.
Dust and hair busting
It also comes with a great range of tools and has a button to adapt from hard flooring to carpet. And as the name suggests, it is designed to work well on pet hair, either with the main foot, or the attachments. Our reviewer noted that longer hair did get tangled in the brush, but it can be easily removed.
Using the boost button does shorten battery time, but for keeping on top of dirt and fluff every couple of days, this won't be a problem. Just make sure you have a second battery charged for a deep clean. It has a light too that is great for illuminating pesky dust particles.
Shop all Shark vacuum cleaners on Amazon.
Best lightweight vacuum: this lightweight model is pleasingly powerful
Specifications
Best for: Lightweight power
Type: Stick
Bagless?: Yes
Cordless?: Yes
Weight: 2.61kg
Capacity: 0.54ltrs
Reasons to buy
+Incredible power+Really lightweight+Easy to manoeuvre
Reasons to avoid
-Expensive-High power dramatically reduces battery life-Takes a while to charge
The Dyson V8 Absolute has been a firm favourite on the cordless vac scene (it is a thing in our world) for some time now. A healthy battery life and great suction, all in a neat and lightweight package make it perfect for speedy cleans.
Supreme clean
As well as high suction, the filter captures allergens with ease offering as thorough a clean as much larger vacuums. It has a good range of attachments and is well-designed for the car or spot cleaning so you could happily have it as the only vac for a small household, or a portable back-up in larger homes. That said, it holds its own so as long as you have time to charge it (five hours a pop) it could replace your standard vac.
Lightweight
Whether you have a lot of stairs or mobility issues, this vacuum is suitably lightweight. Despite it being lightweight, the power, battery and dust capacity have not been compromised. The style also means it will clean all those high up corners and crevices with little fuss.
Max power
It is great in standard mode, but you will need to switch it to max power for tougher jobs. This gives it super suction but does result in a couple of drawbacks. Firstly, it cleans so well you find yourself emptying the bin and cleaning the filter very regularly. Secondly, max power does decrease the battery life so you can only use it in short bursts. This isn't a problem if you keep on top of grime every couple of days, but if you are more of a fortnightly/monthly deep clean kind of person, you probably shouldn't get a cordless.
See all our top rated Dyson cordless vacuum cleaners.
Best vacuum for carpet: a multi floor superstar, but a winner if your home is mostly carpeted
Specifications
Best for: Carpeted floors
Type: Upright
Bagless?: Yes
Cordless?: No
Weight: 6.9kg
Capacity: 1.6ltrs
Reasons to buy
+Great edge-to-edge clean+Long cable+Restores carpet
Reasons to avoid
-Light but proves cumbersome if you are of smaller stature
While the Dyson Light Ball Multi Floor does what it says on the tin (makes light work of multiple floor types) it reigns supreme on carpet. If you want a deep clean on all that pile, you will not be disappointed.
Conquers carpets
While this vacuum cleaner does a great job on all surfaces, if you have a lot of carpet this vacuum is a strong contender. The brush bar is on by default, perhaps showing a bias to carpet cleaning, but you can switch it off when you move to hard floors. Mud on carpet is no problem even on the preset mode, but you can whack it to max for anything really stubborn. Although it is not marketed for pet hair, it does a great job on that too.
Great range of movement
From the floor head that gets right to the skirting to the 9.4m cable, this vacuum has been designed to get everywhere with ease. It has just two extra tools (which can be fiddly to swap) but with one for the stairs and another that is a combo tool with brush and nozzle, it does everything you need without loads of extra bits of kit to mislay.
Our reviewer also described it as responsive, finding it very easy to manoeuvre. It is light and the handle on the slender body brings the machine close to your leg for carrying, but if you do have mobility issues or are shorter it might be a bit tall and unwieldy.
Tidy choice
The dust canister is amongst the most straightforward to empty – easy to detach and it's obvious what you need to do to open it. It also stores well. As mentioned before it has a small range of multipurpose tools and is a light and thin upright that tucks away well.
Dyson fans should check out our Dyson deals page.
Best robot vacuum: a robot vacuum cleaner with powerful suction
Specifications
Best for: Robot cleaning
Type: Robot
Bagless?: Yes
Cordless?: Yes
Weight: 2.4kg
Capacity: 0.33ltrs
Reasons to buy
+Detects drops+Great suction +Good battery life
Reasons to avoid
-A little noisy as it moves between surfaces-Small dust tank-Can't be your sole vacuum
While a robot vacuum cleaner might not replace your standard vacuum, if you like to do daily dust-busts or have a cleaner once a week, the Dyson 360 Eye is a good investment. Charging time is two and a half hours and battery life 40 to 90 minutes, but it returns to its dock when it needs more juice.
Super suction
The suction is really powerful on this robot vacuum and while it can't do stairs or clean your shelving, it will keep on top of everyday dirt a treat. The convenience of popping it on when you go out or while you are busy is matched by its cleaning power. Be it kitchen crumbs, or pet hair, you will return to a well-vacuumed space. The brush is the full width of the unit meaning it gets to the edges of floors with ease.
The drawback of this thorough cleaning power is that the dust tank will fill up frequently, so it is a good job it is easy to empty.
Mobility
Some robot vacuum cleaners can not be left to their own devices – they get stuck under things or run in to difficulties that remove the point of them being automated. However, the Dyson 360 Eye is great at mapping its space, rarely bumps into things and can even handle 2cm ledges. It is smaller than a lot of robot vacuum cleaners and has no trouble getting under furniture or between obstacles. If it does get stuck, it will call for help.
Perfect for the time-poor and single-level living
If we were to describe the person this vacuum is best suited to, they have plenty of money for a secondary vac (at over £700 it isn't an impulse buy), maybe a cleaner who comes weekly and very little time to do regular cleaning themselves. It is also a good buy if you live in a flat or bungalow where you can just set it off and know it will have your whole home cleaned in a short time. The battery life is impressive and it heads back to charge itself when needed so whether you use the app, Alexa, or a cleaning schedule to operate it the whole job is very hands off.
See all of the best robot vacuum cleaners.
Best robot vacuum cleaner for pet hair: with its Clean Base, this machine even empties itself!
Specifications
Best for: Contactless cleaning
Type: Robot
Bagless?: Yes (but the clean base has a bag)
Cordless?: Yes
Weight: 3.8kg
Capacity: 0.5ltrs
Reasons to buy
+Self-emptying+Great room mapping +Smart compatible (Alexa and Google) and remote controls
Reasons to avoid
-Loud-Expensive-Does not handle deep pile rugs
The iRobot Roomba i7+ deserves that plus mark with its lifesaving Clean Base to create the most hands-off robot vacuuming experience possible. It empties itself which is amazing, but its cleaning power is pretty impressive too, handling all flooring (apart from shag rugs) and all debris (apart from feathers).
Clean Base
This robot vacuum cleaner not only cleans with little input from you, but also empties itself. When its dust tank is full, it returns to the Clean Base to unload the dirt into a bag in the base. This needs emptying by you but our reviewer found it held about 30 loads of dirt and in her six-week test, it took just two bags – even after having been used to clean every day.
Comprehensive cleaning
The criticism of most robot vacuum cleaners is that they can only really keep on top of light soiling and a bit of fur. This model handled all of the flooring types in our reviewer's home (from carpet to concrete) and also tackled the dust and dirt that has come with her ongoing renovation project. She set it to clean once a day while she was out and on the few occasions it got stuck it would message her for help. It also alerted her to a blocked tank – note to self, robot vacuum cleaners should NOT clean up bits of rubble.
While it could not get right into corners, it got all the way up to the skirting and the only hurdles (aside from ledges of course) it couldn't overcome were deep pile rugs and feathers stuck on carpets. Pet hair, dust and even lentils were no problem.
Easy to use
Setting the iRobot Roomba i7+ up is quick and simple. Plug in the base, fit the dust bag to the tank and connect the robot to your home Wi-Fi. It took our reviewer less than two minutes to get going.
The i7+ has great room mapping. After a few trips round the home it creates a virtual map of your home and allows you to select particular rooms for cleaning. It also has a Virtual Wall that can be used to create an uncrossable barrier between rooms, or for a halo effect when placed by pet bowls to keep the vacuum away.
11. Henry (NUMATIC HVR200-11)
Best vacuum on a budget: a family favourite, Henry has a huge capacity and is an affordable price
Specifications
Best for: Budgets
Type: Cylinder
Bagless?: No
Cordless?: No
Weight: 8kg
Capacity: 9ltrs
Reasons to buy
+Budget-friendly+Surprisingly powerful
Reasons to avoid
-A little heavy and cumbersome
This happy chap is a real classic, and it's not hard to see why. The two-speed Henry vacuum cleaner is reliable and powerful, quite unfazed by carpets or hard floors, and is easy to set up, use and store; making it the best vacuum cleaner if you're on a budget.
So user friendly
With specs like 620W or 1000W of power and a hefty 6 litre capacity, Henry is ever the under-rated wonder. Perfect for those who want a simple vacuum that just works and works well, it's a name you can trust to have your cleaning done in no time.
Expert cleaning on a budget
There is a reason Henry and his Numatic family are so widely used by professional cleaners. They can clean for hours and hours before they need emptying, and the bags are easy to fit and empty. The range or attachments is good too, so he's an all-round brilliant buy for homeowners on a budget. Quite a few of the Real Homes team have a Henry as a second vac for the really tough jobs. Think renovation dust, giving the car a deep clean after a muddy dog walk, or filthy carpets. If you have the room, he is a great back up for the nasty jobs.
Quality
While we wouldn't necessarily recommend him for those with mobility issues, as he can be a bit heavy to lug around, Henry is certainly built to last. This is a vac that will stand up to everything life throws at it and if you do a lot of DIY and need a heavy-duty buddy for dust busting, he's your man.
Find more cylinder vacuums at AO
Top tips for buying a vacuum cleaner
About our reviews – and our reviewer
Our vacuum reviewer is Sarah Warwick, a homes, property and interiors writer with 20 years experience in the industry. Sarah is a serial house revamper who has written for nationals, magazines and websites. She gives the vacuum cleaners she reviews a serious run for their money over various surfaces, from floors to upholstery.
Which type of vacuum cleaner should you choose?
Handheld vacuum cleaners are always cordless, but you can now get larger cordless vacuums which do more than just sucking up a few crumbs off your car seats. Their battery life is much better than a decade ago and they make quick cleaning very convenient. Cordless are a good buy for small homes; they're often lighter and smaller, so easier to store and whip around than bulkier models. Larger, more powerful vacuum cleaners tend to be corded, and these are what you want to choose for larger homes or if you need a really powerful vacuum cleaner (you have, for example, kids who tread biscuit crumbs into carpets or dogs that shed like you wouldn't believe).
Cylinder vacuums, although occasionally less energy-efficient, are best for:
Small homes lacking storage space to keep an upright (cylinders can often be taken apart so the cylinder can be stored in a low cupboard and the pipe and foot stowed elsewhere if needed);
Getting into corners or under beds;
Easy use on stairs and landings.
Upright vacuum cleaners are usually heavier, although there are lightweight models available, but they tend to have a larger capacity, meaning you have to empty them less frequently than cylinder or, of course, small handheld vacs. They are therefore best for:
Prolonged use in larger spaces;
Easy use – you push the whole unit, rather than needing to tug the cylinder along after you;
Quick use – the larger foot (often with rotating brushes) makes quick work of cleaning up pet hair and dust.
Bagless vacuum cleaners can be messy to empty (we'd advise doing so outside, near the bin), but the ongoing cost of bags for traditional bagged models will make them more expensive in the long run, so this comes down to preference and budget.
On top of all this, you should also look out for the following special features:
HEPA filters for allergy sufferers;
Advanced filtration systems for pollen and dust;
Vacuum cleaners for pets (extra powerful suction and a non-tangling brush);
Deep clean: some models specialise in this.
Cleaning your vacuum cleaner
This might sound like an odd one, but don't forget that to maintain max suction you need to keep your vacuum cleaner clean. Emptying the bag or tank regularly is key, so you may prefer a larger capacity that allows you to clean more of the house before this needs doing.
Most vacuums also come with a filter that may need washing every so often. This needs doing well in advance of use so that the filter is completely dry in time. If this sounds like a faff, check out filterless vacuums.
Not sure where to start with a new vacuum?
Use our guide on how to vacuum like a pro before you buy to ensure you choose the best vacuum cleaner to suit your cleaning needs. For more cleaning advice, tips and buys, check out our hub page.
See all our vacuum buying guides: