Getting your hands on one of the best vacuum cleaners will make light work of (at least) one of the regular household chores. Having a vac or two nearby will mean that little and big messes can be vacuumed up quickly, too. Yet with so many to choose from, it's hardly surprising that when it comes down to finding the best your money can get it can get somewhat overwhelming. Here's where we can help.
Why you can trust us
Our vacuum cleaner testing process is editorially independent. We research and test new releases to share our experiences with you throughout our guides and standalone reviews.
How we test vacuum cleaners
We test a lot of vacuum cleaners. In fact, you'll see from the adorned gold badges that we have tested all but one of the vacuum cleaners (which is in progress) in this guide. This is how we know what is the best vacuum cleaner. Our top 10 is reserved for the seriously impressive, from Dyson, Shark, Beko, Miele, and Hoover. We have included many of the best cordless vacuum cleaners in this overall guide, as well as some classic canister and upright models that will suit the whole family.
Every aspect of what makes a good vacuum cleaner has been considered which has meant that the set up, performance and ease of use has all be reflected in our vacuum cleaner reviews. In some instances we are gifted the vacuum cleaners which means that we can continue to use them over the months / years, giving us the opportunity to share how they stand against the test of time, too.
Keep reading to see if any of our top nine can help with your search for the best vacuum cleaner. And then, take a look at the best carpet cleaners to finish off the job!
Our top 9 best vacuum cleaners to buy in 2022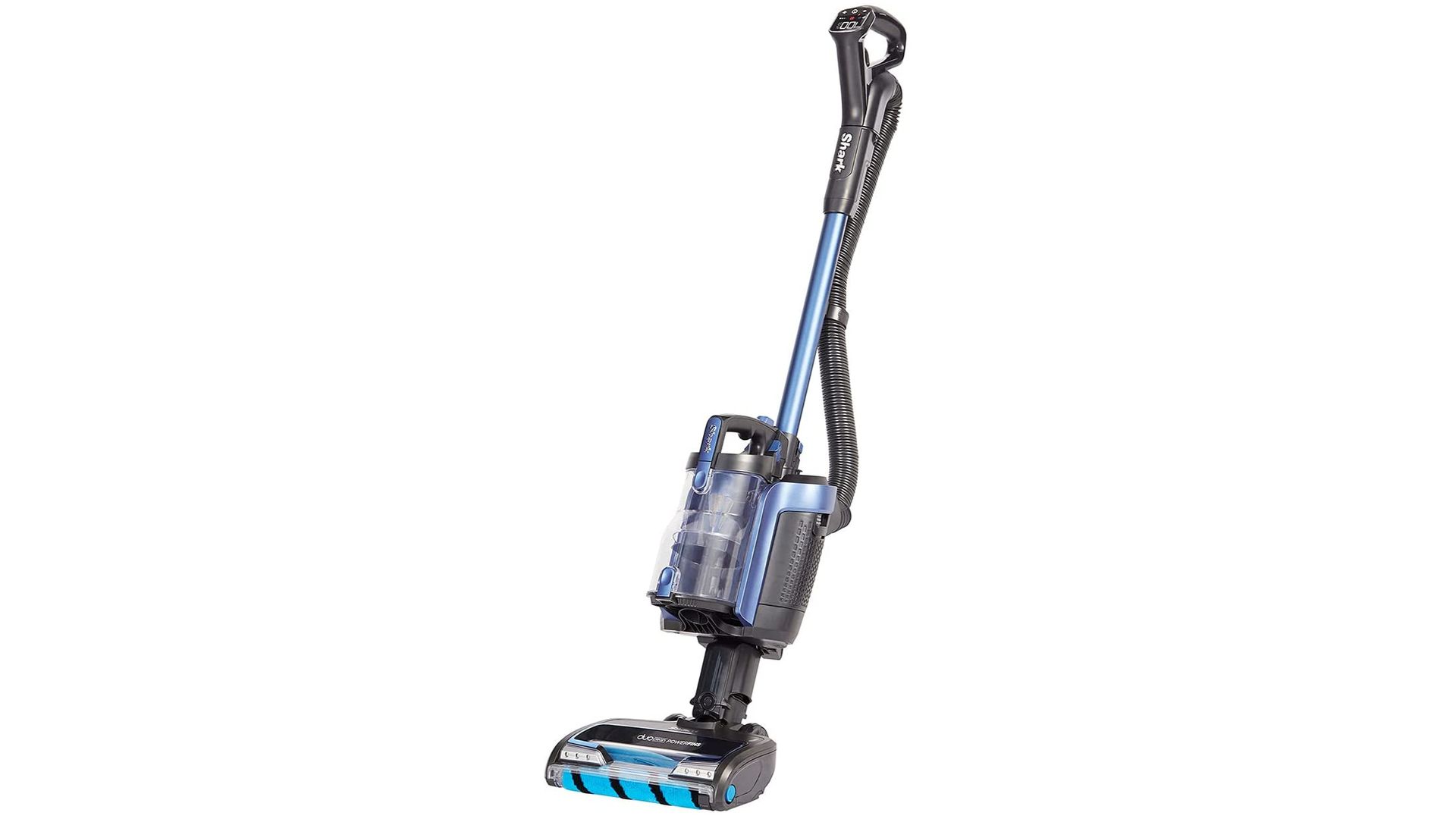 The Shark ICZ300UKT Anti Hair Wrap Cordless Upright Vacuum Cleaner boasts to have all the power of a corded vacuum, but in a cordless model. It has a removable battery which lifts out to slot into an external charger, and it can lift away to clean the stairs and upholstery without the stick.
Pet power
When we tried the Shark ICZ300UKT Anti Hair Wrap Cordless Upright Vacuum Cleaner on a pet hair-filled floor, it left a visible line of bright cream carpet after just one pass. That was on the regular power mode, but it is even more impressive when put into boost mode.
Stable and sturdy
The Shark ICZ300UKT Anti Hair Wrap Cordless Upright Vacuum Cleaner can be left standing upright thanks to the heavier lower side of the stick. That makes it ideal for storing when it's not in use.
Easy to switch
Toggle between carpet and hard floors without the need to switch attachments. You can do this using the LCD control pad at the handle of the vacuum. This switches down the brush to work on your hard floors, or lowers the PowerFins to reach deep into the carpets.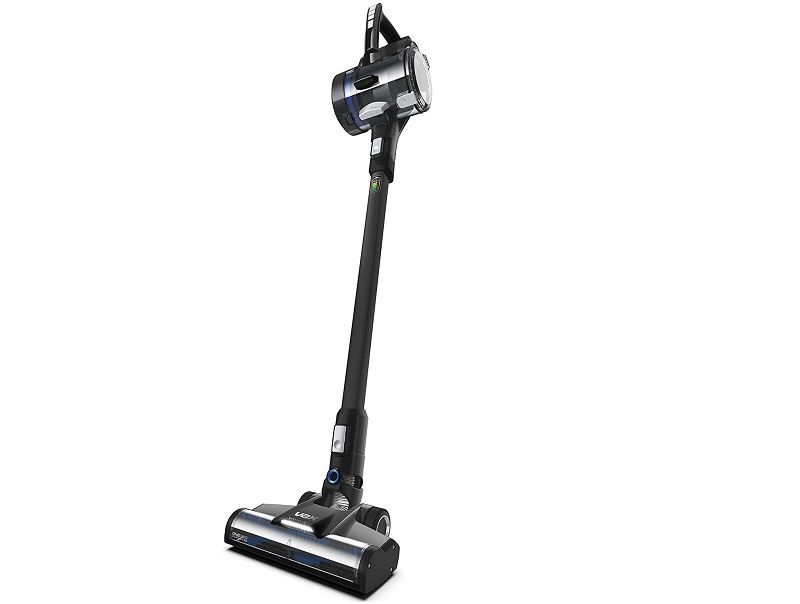 This cordless vacuum gets our vote for the best cordless vacuum cleaner. It has almost three times more suction power than any of their other cordless vacuums – it lifted everything it was faced with, even mud, when our reviewer put it to the test!
Supreme clean
Ideal for those with pets or anyone who regularly finds hair scattered around the house, it has a special head designed to pick up every bit of dirt including leaves, bits of small paper and big crumbs. This model also have DustTracker LEDs so you can easily see what else needs a clean.
Quick and easy vacuuming
The floorhead of the Blade 4 easily rotates which means that getting it exactly where you want it to go to is never a struggle. It's also low enough to glide under furniture, and light enough to carry up and down the stairs. The handheld doesn't drop is power, nor is it heavy either: it weighs just 2kg.
Cordless pro
It does the job and more, and only needs three hours to charge, after which it will run for 45 minutes. As with slightly older Vax models, additional batteries can be bought which is great if you need a longer run-time. In our opinion, this is the best cordless vacuum cleaner you can buy right now.
If you have pets, the Vax Blade 4 PET vacuum cleaner has recently been released which has an antimicrobial coating to help prevent bacteria growth for a hygienic clean time-after-time, and a mini-motorised tool for removing pet hair.
Read our full Vax ONEPWR Blade 4 cordless vacuum cleaner review for more information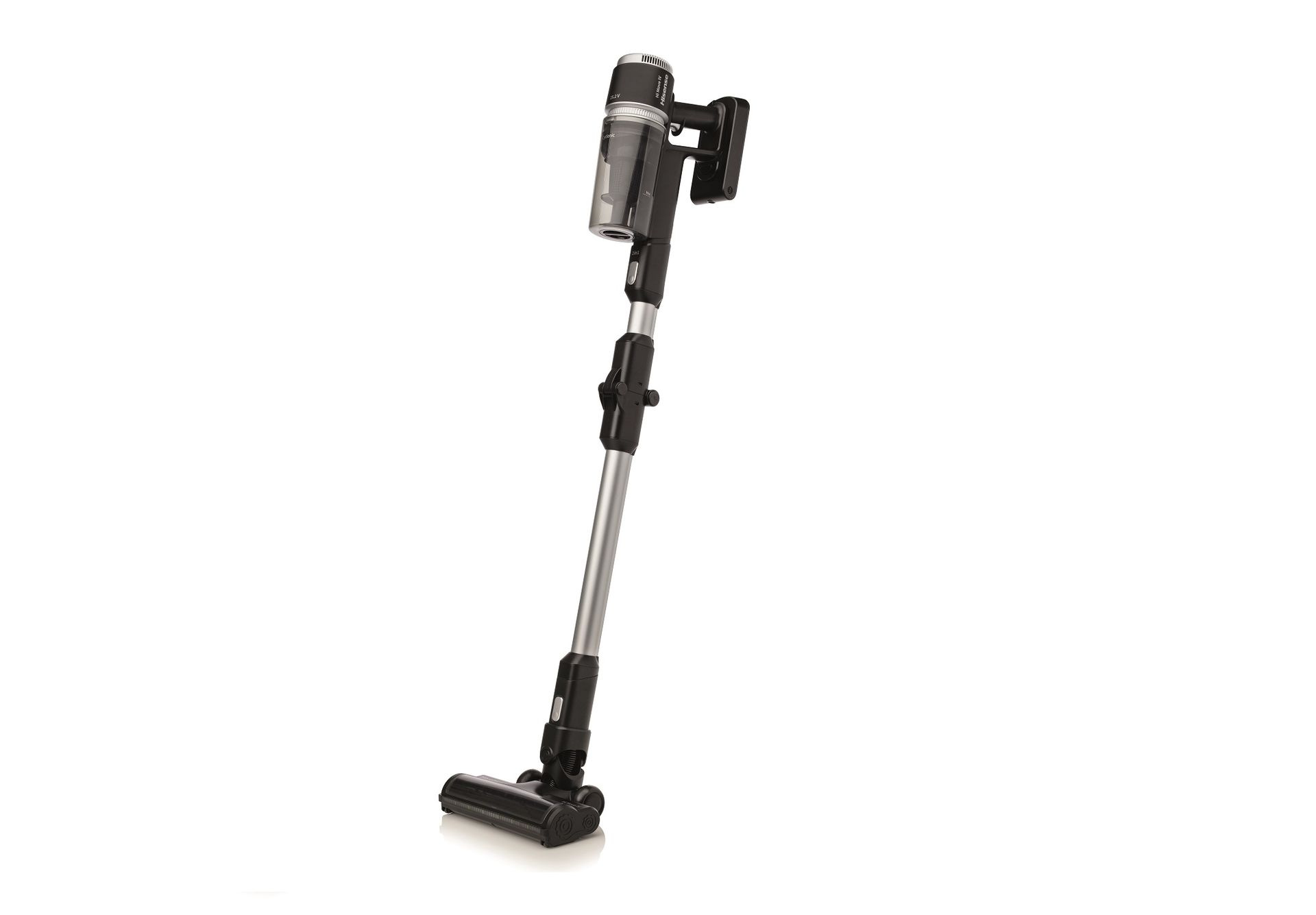 On paper, the Hisense HVC6264BKUK Hi-Move certainly ticked a lot of boxes for me. And upon testing, it most certainly delivered. For a vacuum under £200, it is probably the most affordable cordless vacuum cleaner I've come across in a long time and it has some of the same features you see in the more premium vacs.
Performance
There's two settings which you can use as either an upright-stick or handheld vacuum. I used the higher setting when vacuuming carpets as an upright stick, and the lower setting when using it as a handheld. The suction is FAB (on the higher setting) but this does mean that the vac is thirsty so I only ended up getting a runtime of 19 minutes and eight seconds, which was just about long enough to vacuum the upstairs carpet in my house.
The 0.4 litre bin size is ideal for small clean ups but bigger messes will see you wanting to empty it more frequently.
Versatility
A design feature which is useful for vacuuming under furniture is the flexible wand, although this was stiff when quickly trying the bend it, and an LED floorhead. There's plenty of attachments, too, such as the Motorized Bed Nozzle, Flexible Tube, Brush Nozzle and Crevice Nozzle which means that all areas of the home can be cleaned.
Vacuuming the stairs was a challenge with the motorized bed nozzle and the floorhead due to angles / size, but you may have better luck than I did with this because our stairs are very steep. Being just 3kg in weight it really was very easy to move around.
Things to note
There's a drop in suction when the battery is running low, and it spits out debris if you fill the bin up past the 'max' point.
Read our full Hisense HVC6264BKUK Hi-Move Cordless Vacuum review (opens in new tab) for more information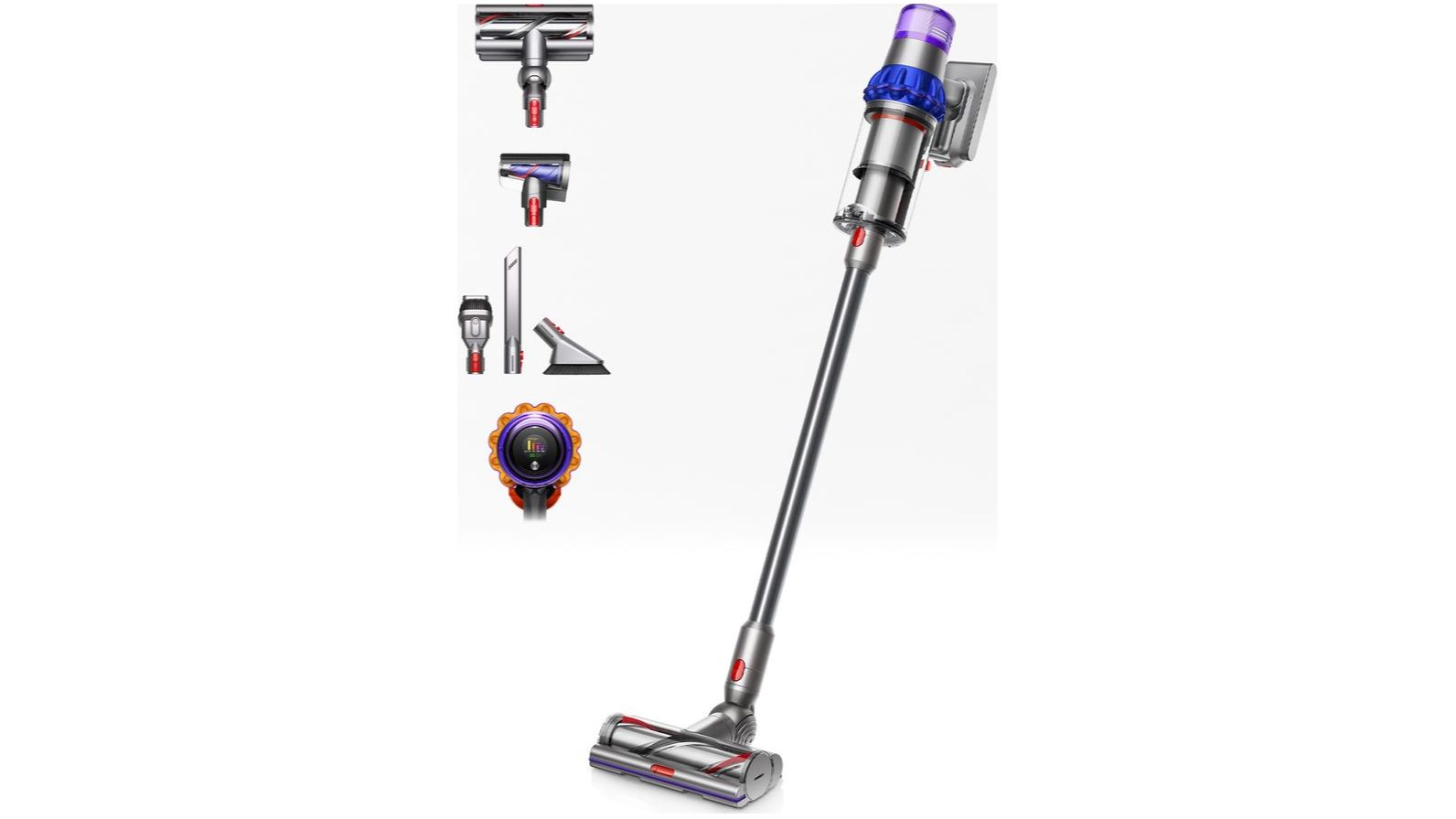 Hello, new Dyson! The Dyson V15 Detect truly has scored five stars all-round, and we're no exception to this since we awarded it the same number of stars on our sister site Homes & Gardens. When we tested it, it wowed us with its Piezo sensor that tells you the real-time dust particle collection. Gross, but cool.
Deep cleaning technology
Dyson wanted to give customers proof that the vacuum really was cleaning their homes, even if the dirt isn't always visible. Their solution? A Piezo sensor and LCD screen which gives you a dust particle count, in real time.
This works in tandem with a green laser, which illuminates the dust on hard floors to show how well the V15 Detect works. In our experience, that's very well indeed.
Using the V15
You simply press the trigger (there's no continuous mode) to activate the Dyson V15 Detect. It's minimal in its controls, which makes cleaning straightforward.
The 60 minute runtime was sufficient to clean our space, but as you'd expect, the Boost mode shortens battery life.
Anti-tangle tech
Pet-lovers really have reason to rejoice with Dyson's new anti-tangle. How it works? An anti-tangle conical brush bar. This works like a screw, gathering hair and filtering it up and towards the bin, preventing it from getting tangled around the brushroll itself.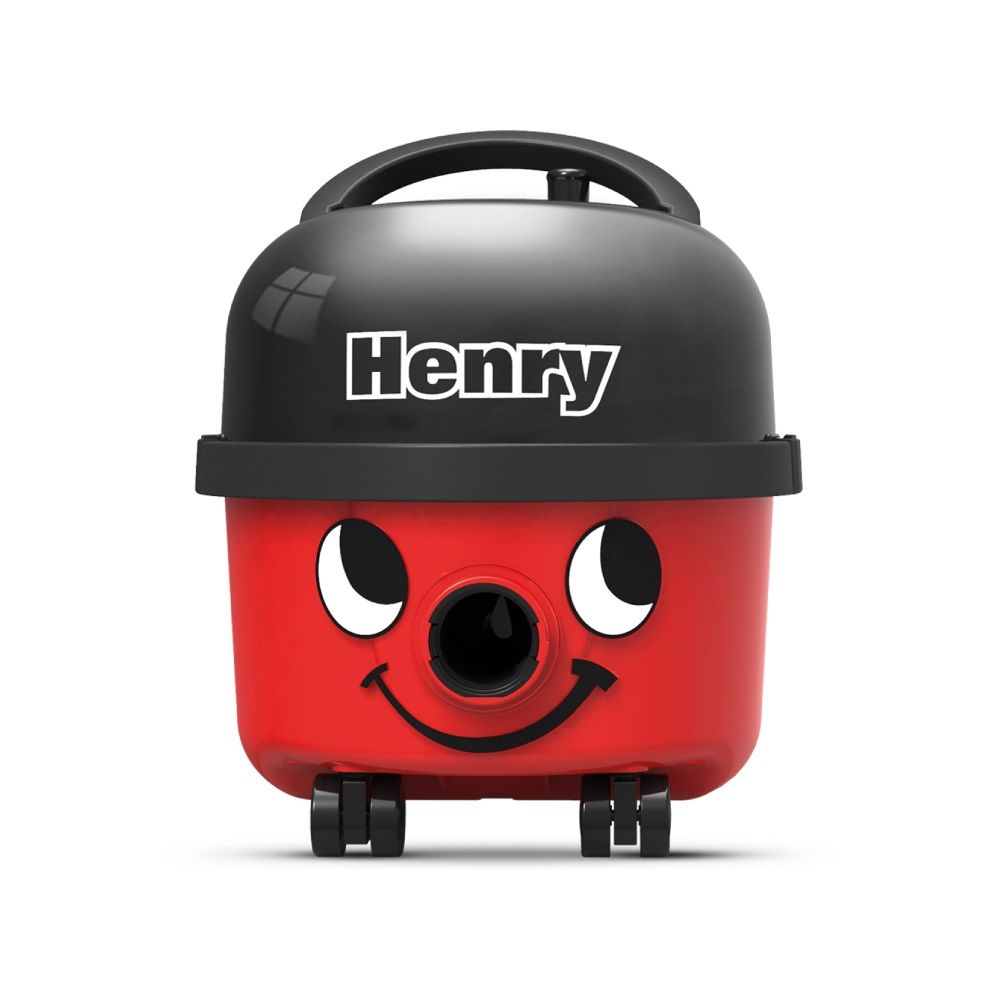 This vacuum cleaner is a real classic, and it's not hard to see why. If you're looking for the best vacuum on a budget, we recommend the Henry.
So user friendly
Henry is ever the under-rated wonder which keeps things simple, in a really good way. Perfect for those who want a vacuum that just works and works well, it's a name you can trust to have your cleaning done in no time.
Expert cleaning on a budget
There is a reason Henry and his Numatic family are so widely used by professional cleaners. They can clean for hours and hours before they need emptying, and the bags are easy to fit and empty. The range or attachments is good too, so he's an all-round brilliant buy for homeowners on a budget. Quite a few of the Real Homes team have a Henry as a second vac for the really tough jobs. Think renovation dust, giving the car a deep clean after a muddy dog walk, or filthy carpets. If you have the room, he is a great back up for the nasty jobs.
Quality
While we wouldn't necessarily recommend him for those with mobility issues, as he can be a bit heavy to lug around, Henry is certainly built to last. This is a vac that will stand up to everything life throws at it and if you do a lot of DIY and need a heavy-duty buddy for dust busting, he's your man.
Prefer another Henry? We have more on our best Henry vacuum guide who could fit into your lifestyle just fine, but this one is our #1.
Read the full Henry HVR160 review for more information
The Beko Powerclean VRT94929VI has three levels of strength, but we found that the lowest level was more than sufficient for tackling dirty carpets and dusty floors. When boosted to a higher level, it was able to pick up dust from between old floorboards. We were very impressed.
Fully adjustable
The vacuum does it all, really. It has a range of attachments, including an elbow attachment for reaching on top of shelves and cupboards, a dusting attachment, a mini motorised brush head, and a crevice tool.
You toggle the settings using the plus and minus buttons, which sit above the trigger start. This is easy to accidentally switch on when emptying the bin, because it's very sensitive. It's a little annoying, but hardly a problem.
For all floor types
This vacuum is designed to work on hard and carpeted floors. The hard floor roller was incredibly efficient in reaching into small and tricky spots, picking up dust and crumbs in just one pass. The carpet roller is also very powerful, and it resists the buildup of hair well due to the v-shaped bristle design.
Switching between the two takes a minute. You need to twist out the bracket that holds the roller in place and switch them out. It's not effortless, but we were also happy to use either brush head for both floor types when doing the occasional mid-week sweep.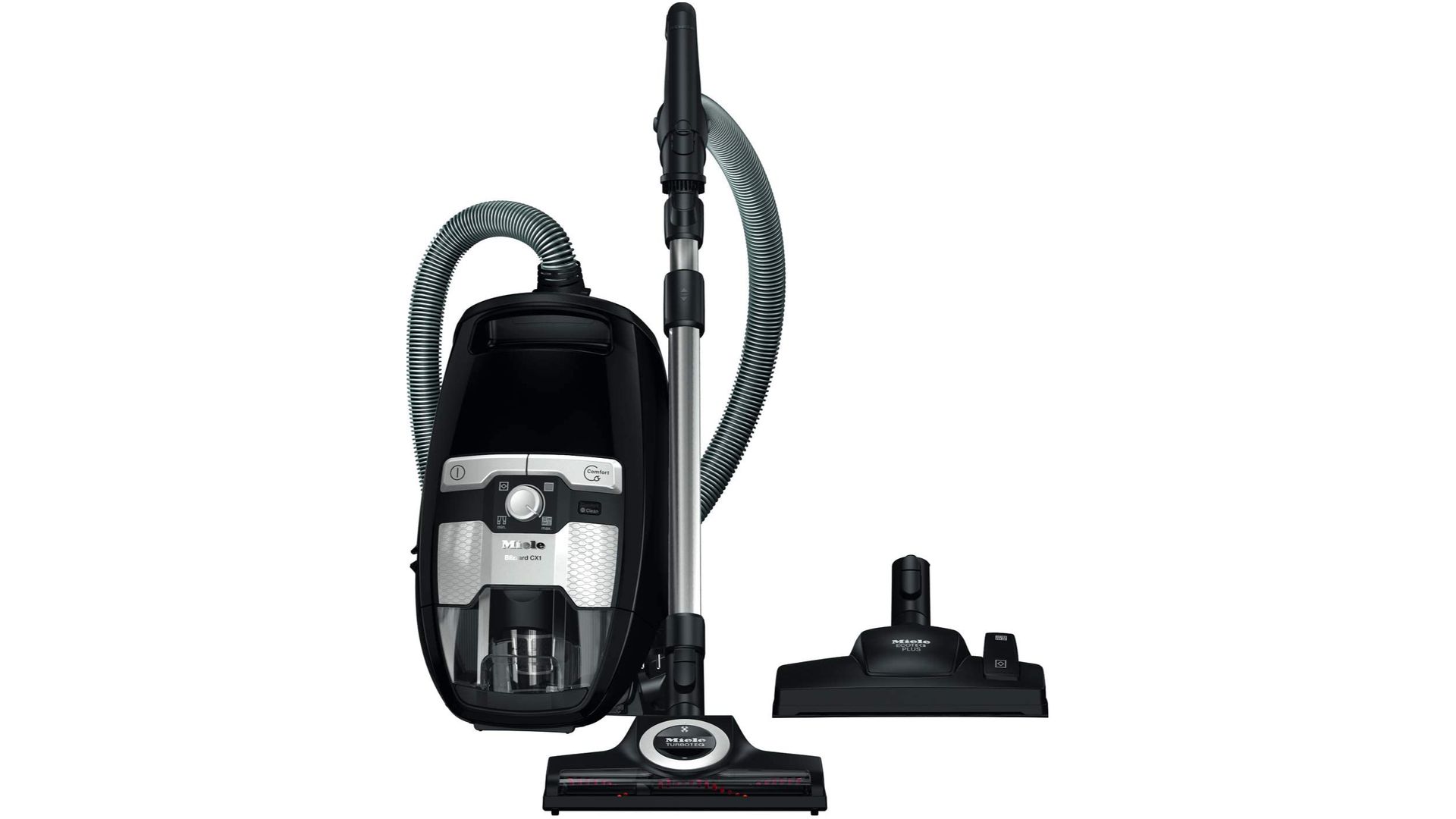 If you want a canister vacuum to keep on top of pet hair and family-size messes, look no further than the Miele Blizzard CX1 Cat & Dog Bagless Vacuum Cleaner.
All the power
The Miele Blizzard CX1 Cat & Dog Bagless Vacuum Cleaner comes with a turbo brush attachment that's extra powerful on pet hair and trodden-in carpets. It's got some immense power, and comes with regular attachments that can also be used on hard floors and carpets.
Self-cleaning
Cleaning out the filter on a vacuum has got to be one of the most tedious tasks, and it's pretty messy, too. We love that the Miele Blizzard CX1 Cat & Dog Bagless Vacuum Cleaner has a self-cleaning filter, but this did mean it stopped to self-clean every now and again.
Suitable for all
Tall or short, you'll love the extendable telescopic tube. If you suffer from allergies, you'll enjoy the British Allergy Foundation-approved filter, which will keep spores and dust at bay.
Read the Miele Blizzard CX1 Cat&Dog PowerLine vacuum cleaner review (opens in new tab) for more information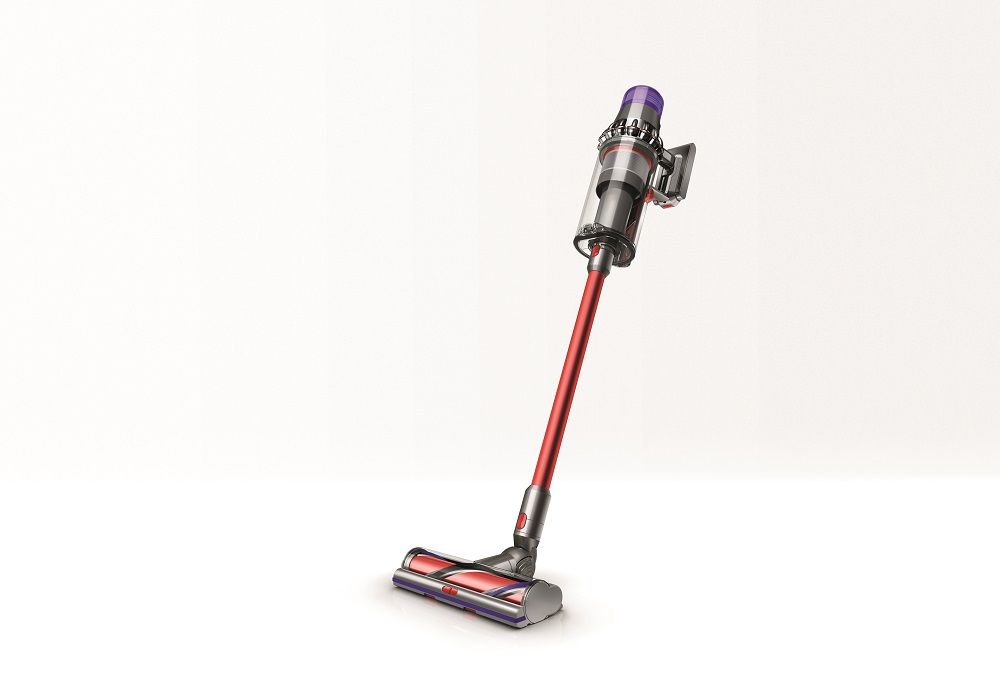 After recently completing our Dyson Outsize Absolute review for Homes & Gardens, we are super pleased to include this vac in our roundup. It boasts a 150% bigger bin and a 25% wider cleaner head than the Dyson V11 which makes it a fab choice for large homes, or if you just want to clean up big messes quickly.
Impressive suction
As with all Dysons you can expect some impressive suction, on flooring especially. The Dyson Outsize Absolute has 20% MORE suction than the V10 thanks to a powerful Dyson Hyperdymium motor and 18 Dyson cyclones which generate forces of more than 79,000g to fling microscopic particles – such as pollen, dust and bacteria – into the bin. This blew me away during testing as it sucked up everything in it's path, even a small 60cm diameter rug so it's probably best to avoid taking the Outsize onto anything less weighty.
Running time
It has a 60-minute runtime if you use it on Eco mode. There are three modes to choose from - Eco, Auto and Boost - which, unsurprising, will use more juice. These modes can be easily switched between using a button at the top of the vac. You can even check the battery levels as you clean thanks to the really neat LCD screen. Oh and charging back up to full takes up to four hours, which isn't long at all.
Attachments
There's a lot of attachments which come with this cordless vacuum with no where to store them, although it could come in useful if you have a large home with lots of places for dirt and grim to gather.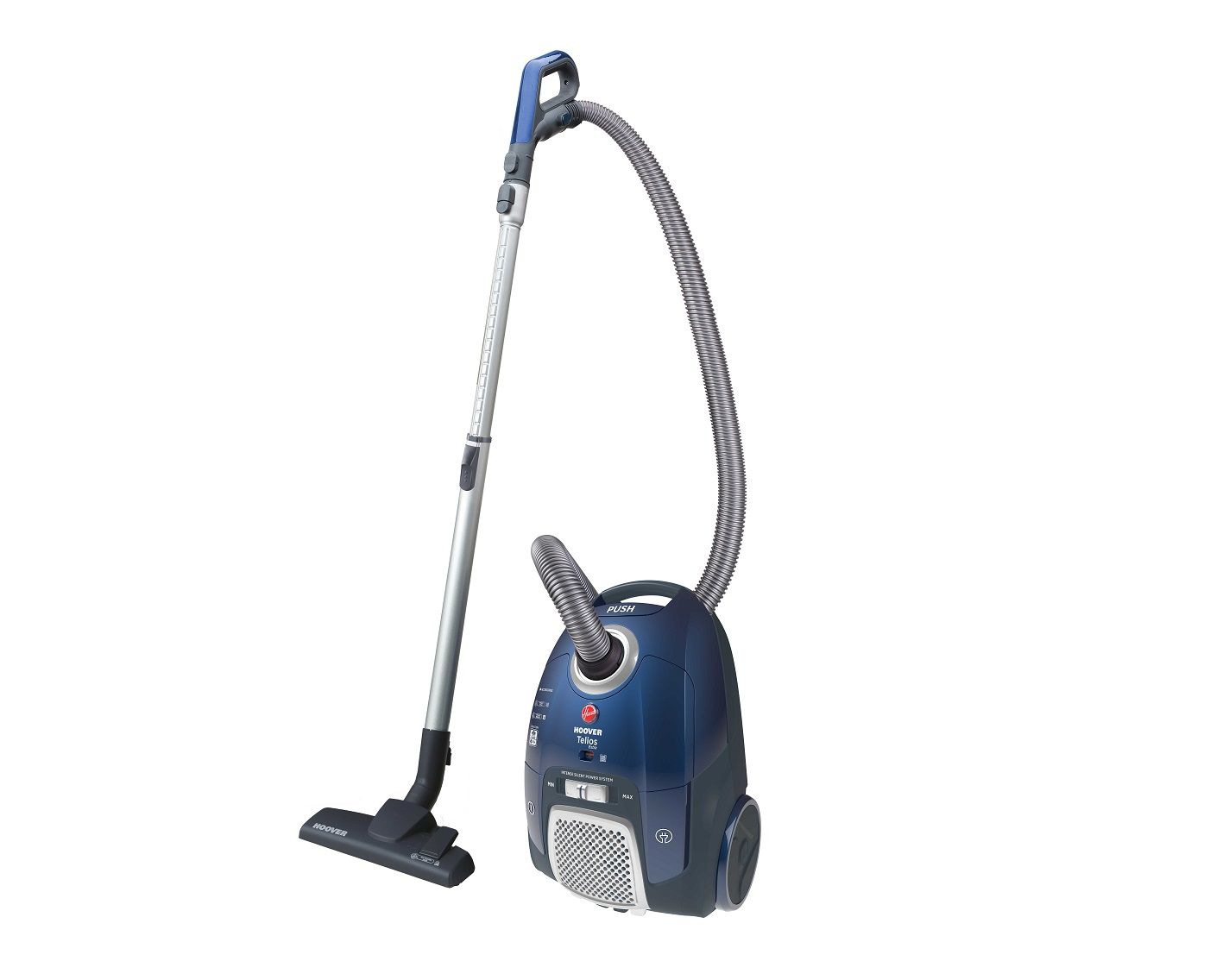 If you prefer a bagged vac and/or have pets, we highly rate the Hoover Telios Extra TX50PET.
Great suction, across all floor types
The floorhead on this Hoover is suitable for carpets and hard flooring. It can be easily adjusted by a Floor Type Selector Pedal which is on the floorhead – this raises the brushes when you go onto wooden or ceramic flooring.
As for the suction, our reviewer was very impressed with just how much was picked up. You know it's good when it gently lifts the carpets and rugs as your vacuuming!
Plenty of attachments
Arriving with a Crevice tool, Furniture nozzle and Dusting brush, you'll be able to clean all areas of the home with ease. The attachments all get stored on board, too, so you always know where they are.
Manoeuvrability
The Hoover has a (very) useful 360 degree oscillation of the telescopic tube, which itself is extendable. The power cord can extend out to give you a cleaning radius of up to 10m.
Read our full Hoover Telios Extra TX50PET cylinder vacuum cleaner review for more information
How to choose the best vacuum cleaner
When you start for search for the best vacuum cleaner, deciding which type of vacuum cleaner you would prefer which go a long way in honing in on what is the best make and model for you.
Handheld vacuum cleaners are always cordless, but you can now get larger cordless vacuums which do more than just sucking up a few crumbs off your car seats. Their battery life is much better than a decade ago and they make quick cleaning very convenient. Cordless are a good buy for small homes; they're often lighter and smaller, so easier to store and whip around than bulkier models. Larger, more powerful vacuum cleaners tend to be corded, and these are what you want to choose for larger homes or if you need a really powerful vacuum cleaner (you have, for example, kids who tread biscuit crumbs into carpets or dogs that shed like you wouldn't believe).
Cylinder vacuums, although occasionally less energy-efficient, are best for:
Small homes lacking storage space to keep an upright (cylinders can often be taken apart so the cylinder can be stored in a low cupboard and the pipe and foot stowed elsewhere if needed);
Getting into corners or under beds;
Easy use on stairs and landings.
Upright vacuum cleaners are usually heavier, although there are lightweight models available, but they tend to have a larger capacity, meaning you have to empty them less frequently than cylinder or, of course, small handheld vacs. They are therefore best for:
Prolonged use in larger spaces;
Easy use – you push the whole unit, rather than needing to tug the cylinder along after you;
Quick use – the larger foot (often with rotating brushes) makes quick work of cleaning up pet hair and dust.
Bagless vacuum cleaners can be messy to empty (we'd advise doing so outside, near the bin), but the ongoing cost of bags for traditional bagged models will make them more expensive in the long run, so this comes down to preference and budget.
On top of all this, you should also look out for the following special features:
HEPA filters for allergy sufferers;
Advanced filtration systems for pollen and dust;
Pet hair tools (extra powerful suction and a non-tangling brush);
Deep clean: some models specialise in this.
How we test vacuum cleaners
We test the latest, the trendiest and most innovative vacuum cleaners out there. We're talking everything from the best cordless vacuums for those who like stick format, to the best robot vacuum cleaners for a handsfree clean and the best vacuum for pet hair – so we can help YOU find the most suitable make and model for you.
We have always judged vacuum cleaners not just by their price tag but also what it is EXACTLY that you get for your money. We look for how well they lift dirt from deep pile carpet, if they can easily manoeuvre around furniture, whether or not they can be easily carried up and down the stairs and how they perform on hard floors. We also take into account the attachments, packaging and delivery so you get the complete overview of what you can expect.
The majority of the vacuum cleaners which you have seen featured in this guide have been tested in our homes, or up to two months. After this time frame they are either returned to the brand, or we are gifted them so we can continue to use them. Should this happen, we will update the relevant review about how the vacuum cleaner has performed over time and if there has been any unforeseen issues along the way. This is the same process we follow every time, for each of the robot vacuum cleaner, cordless vacuum or handheld vacuum cleaner we've managed to get our hands on.
See how we compare cordless models in the shoppable video below.
Cleaning your vacuum cleaner
This might sound like an odd one, but don't forget that to maintain max suction you need to keep your vacuum cleaner clean. Emptying the bag or tank regularly is key, so you may prefer a larger capacity that allows you to clean more of the house before this needs doing.
Most vacuums also come with a filter that may need washing every so often. This needs doing well in advance of use so that the filter is completely dry in time. If this sounds like a faff, check out filterless vacuums.
Not sure where to start with a new vacuum?
Use our guide on how to vacuum like a pro before you buy to ensure you choose the best vacuum cleaner to suit your cleaning needs.
Which is the best vacuum cleaner in the UK?
To recap... if you want to buy the best vacuum cleaner (in our opinion) we wouldn't hesitate to buy the Shark Anti Hair Wrap Cordless Upright Vacuum Cleaner which has consistently been one of our top favourites for a while now. It's perfect for cleaning large homes, especially if you have pets. Don't forget to use one of our Shark discount codes (opens in new tab) to get the best price.
You've reached the end of the page. Jump back up to the top^