Hoping to replace your vacuum cleaner with one of the best models around? We get it ⁠— you're about to spend (potentially) a lot of money on a new appliance, and you want to know that it will last for years of use and that it will actually get the job done. Well, whether you've got your sights set on a cordless vacuum or a corded model, we've reviewed a bunch of vacuum cleaners and the ones below are all suitable for smaller spaces. So anyone with a tiny closet to store their vacuum cleaner (or no closet), listen up. We've also included pet-friendly vacuum cleaners pet parents, too.
How can we help?
Because this is our best-of list, we've only included vacuum cleaners that we've rated 4.5 stars or higher. There is something for everyone, whether your budget is $300 or $1,000.
What to look for when buying a vacuum
Why you can trust Real Homes Our expert reviewers spend hours testing and comparing products and services so you can choose the best for you. Find out more about how we test.
Along with each vacuum cleaner we've included below, here are the features to look out for:
Type — Stick vacuums are cordless, upright vacuums are usually corded, and robot ones are cordless too, same goes for handheld models.
Bagless — Having a bagged vacuum means more waste, although it does trap allergens and dust from escaping when you empty your vacuum. So it's great for allergy sufferers. You rarely find a bagged cordless vacuum, though it's common for upright and cylinder models.
Cordless — These tend to have a smaller footprint, though they do come at a higher price than a corded vacuum.
Weight — if you have stairs, bear this number in mind. If not, then still choose something lightweight if you want to use it as a handheld model with its accessories.
Capacity — The bigger your home, the bigger you want your dust bin capacity to be. Corded vacuums usually have the biggest capacities. Robot and handheld vacuums naturally have smaller dust bins. If you have a pet, go for a bigger dustbin.
Size — If your closet is small, then this is the floor space required for your new vacuum. Some models fold to store and have onboard storage.
Charge time — This is only applicable for cordless vacuums. If you're someone who vacuums every day, then go for a vacuum cleaner with a short charge time. If you don't mind charging yours overnight or you vacuum just twice a week, charge time isn't a big deal.
Battery life — Only applicable for cordless vacuums, but you should consider the size of your home and how often you'd be happy charging your vacuum.
Cord length — Only applicable for corded vacuums, but check how many sockets you have and check the length of the vacuum's cord will reach around your home.
Price — You probably have a budget in mind already, so choose your vacuum and then patiently wait for a sale like Black Friday or Amazon Prime Day and watch its price (hopefully) drop.
The best vacuum cleaners to buy in 2023
Pet owner or not, this one is for you! Our head ecommerce editor Annie (and her pug, Doug) gave this new Shark vacuum a run for its money and discovered that it works wonders on pet hair. Even better: It's the easiest vacuum cleaner we've ever used. A big claim that we don't say lightly. We know that it's pretty expensive at $499.99, but it's a lot cheaper than our top-rated Dyson, and its quality will last for years of cleaning.
In review
It's super easy to use as it adapts its suction power depending on what you're cleaning. It picks up her pug's hair with ease, as well as Annie's hair without getting any tangled around its brush roll. Its battery life is long enough for her to clean her spacious two-bedroom apartment two to three times, and she loved its LED lights for cleaning underneath furniture. That and the fact its stick bends to reach underneath furniture were both game-changing features for her. This moves us on nicely to the fact it takes up little space in her coat closet as it folds down to store. She found it boasts impressive suction on both hard floors and carpets. It's not the lightest vacuum ever, but that's expected with all of the technology bundled inside it. It's easy to lift and it's super light when used handheld with attachments, too.
Good to know
Clean Sense IQ technology adapts the vacuum's suction based on how dirty your floors are, making the vacuum work harder or decrease its suction without you having to push a button. This vacuum works with recyclable pods to emit a nice smell as you clean (which is great for busting pet odors) and to prevent that awful vacuum cleaner smell (you know the one we're talking about). This particular model comes with a pet hair removal tool, a bag for keeping all the tools together, and twin batteries. The vacuum arrived with fully recyclable packaging, and you can buy an additional battery to extend the battery life to up to two hours — each battery has a life of one hour. You can charge its battery in two different ways.
Read our full Shark Stratos IZ420UKT review (known as the IZ420UKT model in the UK).
Looking for a cordless vacuum that's perfect for your apartment, or for squeezing inside a tiny closet? The Tineco Pure One S12 offers similar features to our top pick from Shark, though it has a slightly shorter battery life and a smaller dust cup. It can definitely still cope with a smaller space, though, and it's a lightweight vacuum that boasts a sleek (and not to mention quite stylish) design. Our reviewer Courtney really loved it.
In review
Courtney found that the 50 minutes of runtime is more than enough to get you through your clean for quick pick-ups, although she found that the battery would drain a lot faster when using the vacuum on its highest setting. She loved how lightweight it is and although the 6-liter dustbin looks small, it was surprisingly roomy and it still managed to collect the mess her three kids and dog left behind. It's easy to use, and even easier to empty, plus its sleek design makes it easy to store in a closet. The only thing we didn't like? Its brush roll gets tangled with hair, so Courtney had to get her scissors out to sort this.
Good to know
Tineco's signature iLoop Smart Sensor technology detects hidden dust and debris and auto-adjusts suction power in real time. You can see it as an LED ring that changes from red to blue to indicate clean floors and guide you along. It's a true standout feature that gives a visual confirmation that your floors are getting cleaner. It's not a must-do, but the onboard LED display can be connected to your phone via the Tineco app, to monitor cleaning progress, battery levels, and suction performance — for additional insight into your cleaning experience. It comes with a suite of tools that are handy to use when cleaning your home and your car.
Read our full Tineco Pure One S12 review.
If you're looking for a wet and dry vacuum to clean your floor of debris and do the job a mop can do at the same time, then the Tineco Floor One S5 is your best buy. Our reviewer Alex loved it for cleaning her home, which is fitted with hard floors throughout, and claims it makes your floors cleaner than you thought possible.
In review
Alex raved about this wet and dry vacuum, saying that it's so easy to use and it even manages to reach the corners. It's self-propelling so it essentially drags you along with it, and in 'auto' mode it adjusts suction power, roller speed, and water flow depending on how dirty your floors are. She found that the 'max' mode is best for dealing with heavy messes and spillages. Although the battery life lasts only 35 minutes, Alex found that she managed to clean her entire 1,600-square-foot house and still had half of the battery life left (though she did have to refill the clean water tank). She really enjoyed using its digital display, which detects and displays how much dirt, grime, and debris covers your floors by displaying a circular band — when the band is red your floor is dirty, when blue it's clean. Her only complaint? It's not the best for getting into tricky spaces (besides the toilet, under the bed).
Good to know
We also tested its predecessor, the Tineco Floor One S3, but this model was much better. You can connect the S5 to your phone via an app, to see cleaning stats and more, but it's not necessary. Though this vacuum does have a Self-Cleaning button on its handle, which takes only five minutes to complete, it also requires other maintenance after each use — just something to bear in mind. It also comes with a compact charging base that can hold the extra brush roller and HEPA filter, as well as the 3-in-1 cleaning brush.
Read our full Tineco Floor One S5 review.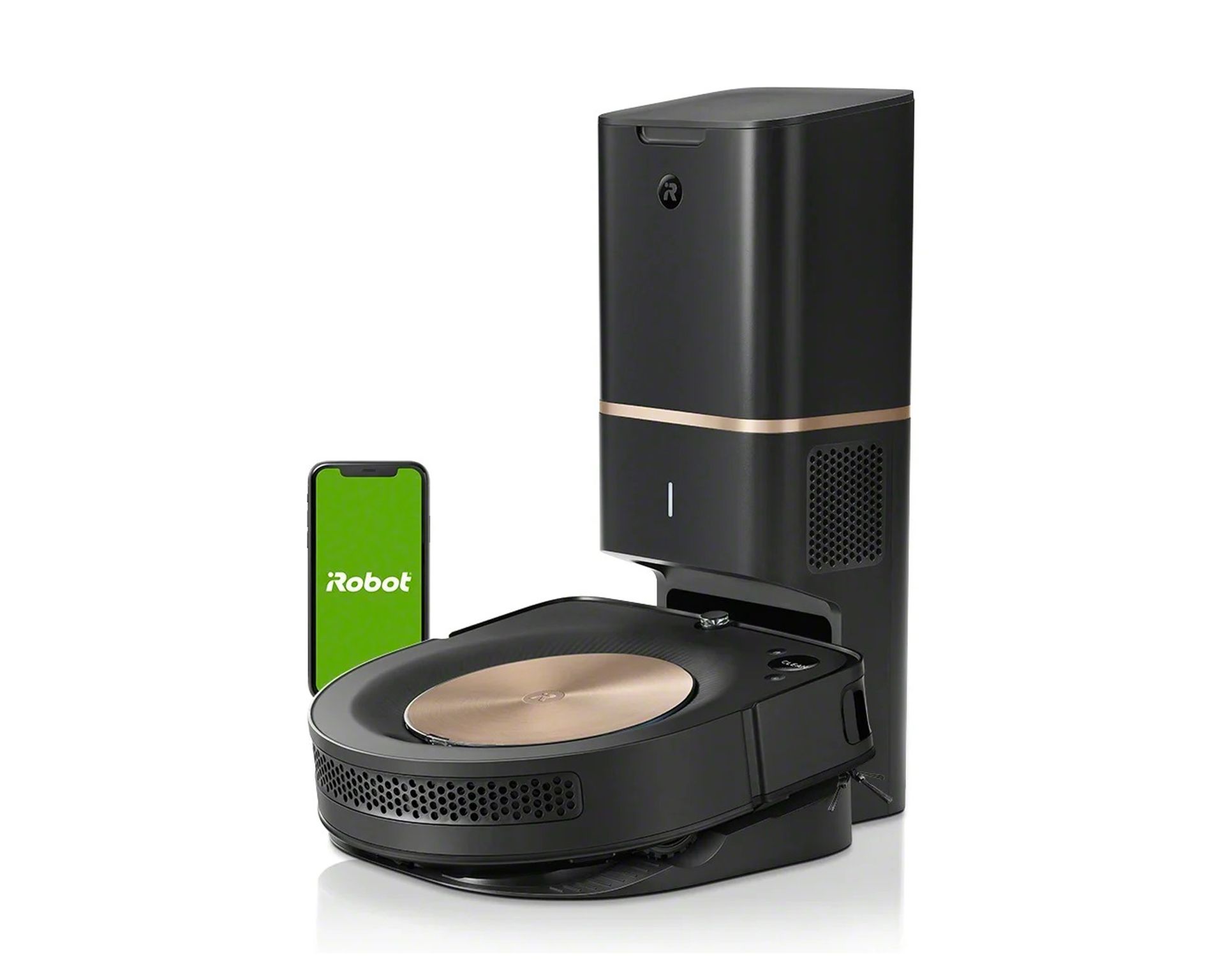 The iRobot Roomba S9+ is a self-emptying, automatic vacuuming delight. It is great at picking up dust and more around the house, and it's even good at navigating corners, making it (without a doubt) the best robot vacuum you can buy. Now, we know our reviewer Linda rated it five stars, so it should be higher on our list. The only reason it isn't is that lots of people would prefer a vacuum they can control ⁠— and it has quite a hefty price tag.
In review
Linda found that this iRobot vacuum was a breeze to get along with, with a great app or the option to use the manual controls on top of the unit if you'd prefer. It took three tries to map the ground floor of her home and she loved how you can label each room and send it there when a mess (inevitably) occurred. She also scheduled this vacuum to clean whilst she was dropping the kids off at school and enjoyed the fact she could set zones that she didn't want it to go near, such as the dog's bowl. Another feature she was impressed by? It automatically adjusts its suction when cleaning carpets, ensuring it preserves battery power when gliding across hard floors. It also managed to collect an incredible amount of dust and can get right into the corners, plus it does pick up hairs. Though she did note that it will wrap hairs around its brush roll, as she had to attack it with scissors. She was amazed by the fact that when it's done cleaning, it takes itself back to empty its bin and charges itself and said it could empty itself around 30 times. It can clean rugs, but it will get stuck on tasseled rugs and can be tricky to navigate over some long pile rugs.
Good to know
It won't miss a spot thanks to its unique shape which allows it to get into corners, plus it has a protruding brush to make sure it's gathering up all of the dust it should be. It sits on its own charging dock so you will need to dedicate a space (not in a cupboard) in your home for this vacuum to live. This also needs to be near a socket for continuous charging.
Read our iRobot Roomba S9+ review.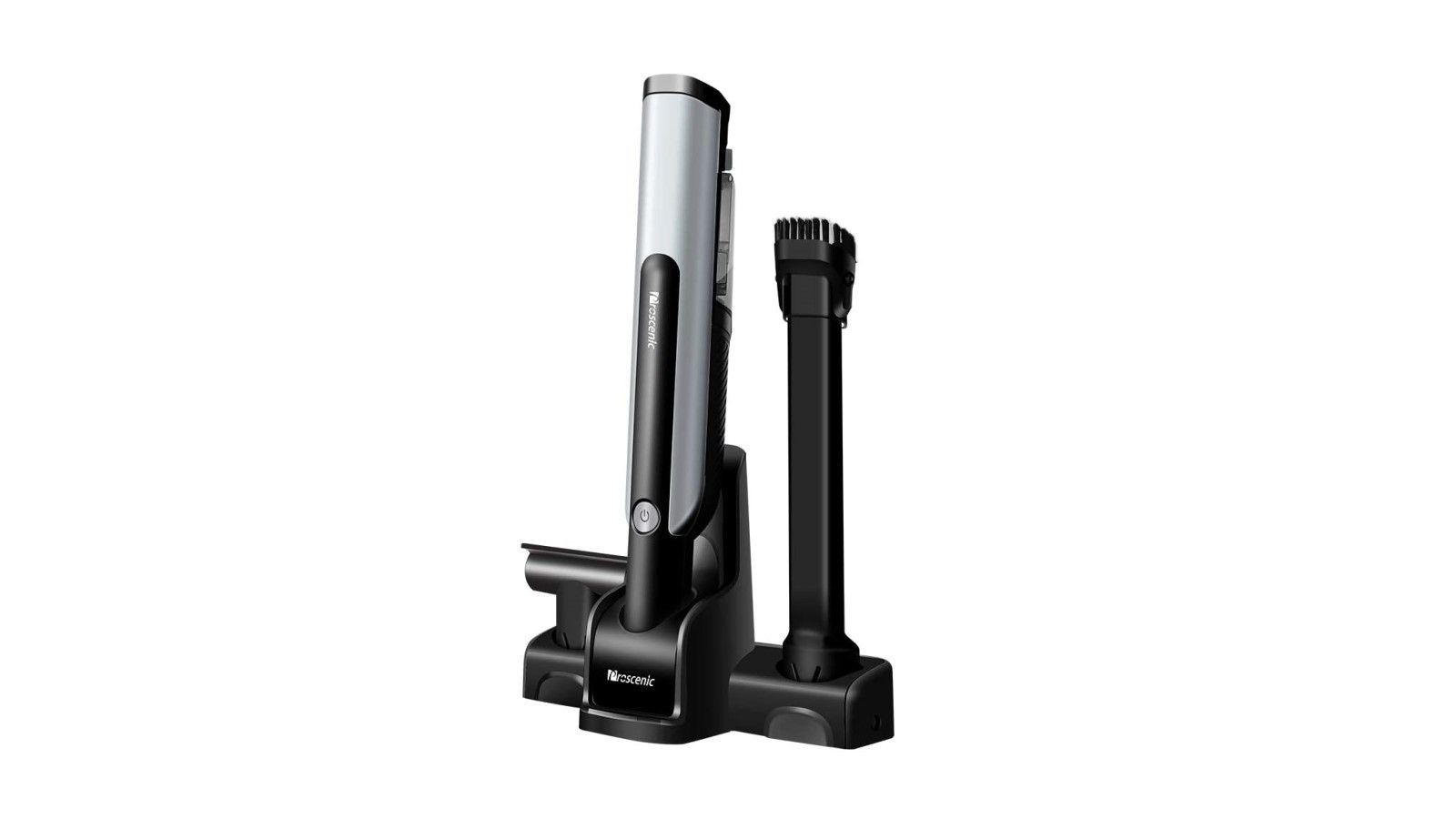 If it's a handheld vacuum that you're searching for, then your hunt ends here. This is rated our top model for smaller jobs, and it comes with tools included for less than $100. Our head of reviews Millie rated it highly, and it promises up to 30 minutes of power and a sizeable dust cup.
Our verdict
The S1 did a great job in our tests of picking up particles big and small. Millie found the two suction modes were plentiful for dealing with an array of messes, though choosing the lower power setting definitely helped the vacuum run for much longer. When it comes to attachments, the brush nozzle was excellent for working on upholstery, while the crevice nozzle was unrivaled for reaching corners in her high-ceiling home. In practice, Millie confirmed it lasted 26 minutes on the lower setting, which is pretty good.
Good to know
It has a running time of 15–30 minutes depending on the mode that you're using it on. While this might not sound long enough, it is the longest of the handheld vacs that we've reviewed. When it comes time to charge, the S1 can be housed on its charging dock or via its USB-C cable.
Read our full Proscenic S1 handheld vacuum review.
If you only have a couple of hundred dollars to spend on a vacuum (completely understandable) then consider this one from Levoit ⁠— you definitely won't regret it. Yes, it's ideal for smaller spaces but our reviewer Courtney tested it in a family home with no worries at all. It even managed to collect pet hair in the process.
In review
For its affordable price tag, this vacuum offers so many incredible features. Courtney rated its suction to be impressive on both carpets and hard floors, and the fact it automatically adjusts its suction based on how dirty your floors are was a game-changer for her. She raves about how easy it is to use, which a lot of vacuum cleaners these days are not. It also comes with an add-on for its stick which allows it to bend underneath furniture with ease, and with that, its headlights illuminate your path. Courtney found it handy that the LED screen displays "max" when the dust bin is full but does admit this can be a little messy. She also addressed its battery life, which only lasts 40 minutes, meaning it's perhaps better for smaller homes and apartments unless you don't mind charging your vacuum after every use. It only comes with two attachments but for $300, you can't really complain. Courtney found both attachments to be useful.
Good to know
It takes four to five hours to charge, which might be a pain if your home is large and you've run out of power halfway through cleaning. If your home is larger, this would be a great secondary vacuum for spot cleaning.
Read our full Levoit VortexIQ40 review.
We LOVED the Dyson V15 Detect while it was in review. Its Piezo sensor tells you the real-time dust particle collection. Gross, but cool. Our reviewer Jaclyn said its suction is really quite impressive on all floor types ⁠— and it works well to pick up pet hair. Why is it not higher on the list? Though it scored full points during testing, look at the price! It is a high-end buy, so we wanted to profile a few products that give you a fab clean for a bit less, first. Do know that it's our best-rated Dyson vacuum, though.
In review
The Dyson V15 Detect replaced Jaclyn's previous vacuum cleaner — the Dyson Outsize — which does have a dust bin that's twice the size but it's also heavier to use. Both vacuums have the same suction performance, which leads us to how impressed she was with the V15 Detect's suction — it offers pickup that you'd expect from a traditional upright vac. She was obsessed with the green laser on the Dyson Detect's floorhead and found that it really helped to ensure her hard floors were truly clean (and all of the dog hairs had been picked up) but it doesn't work on carpets, FYI. The Piezo sensor still counts collected dirt whether you're on carpet or hard floors and it assures you that your vacuum is still picking stuff up, even when you might be hovering over floors that look quite clean. Best of all, she liked the range of attachments it came with, and the fact it weighs under 7 pounds made it so much easier to lug up her stairs. It has three power modes, but she recommends using the 'max power' mode in short bursts as it decreases battery life fast.
Good to know
The vacuum's LCD screen lets you see your stats, and it alerts you when the bin needs emptying or if an air channel is clogged. On this screen, you can see everything from a run-time countdown clock to a real-time count of the collected particles from the Piezo sensor. It comes with high torque cleaner head to swap in for deep carpet cleaning, as well as a range of attachments that you can use to clean high and low. Dyson DLS technology automatically senses a change in floor type if you move from hard floors to carpeted areas. This vacuum has a specially-designed head that doesn't get clogged with pet hair.
Read our full Dyson V15 Detect review.
If you're in the market for an upright vacuum, perhaps for a large, family home that's prone to accidents and spills (and maybe a few pets), we highly recommend the Dyson Ball Animal 2. Its clever brush heads pick up all the hair our furry friends leave behind, without getting tangled up. Our reviewer Sarah says it delivers on carpets and hard floors, reaching the edges with ease. Though do be aware its suction is strong, which makes it a little harder to push around. Plus, it's a Dyson that costs less than $500.
In review
Our reviewer Sarah found this Dyson vac handled large debris and mud on hard and soft flooring well, and she found that it actually managed to deep clean her carpets, pulling up hair and dust she didn't know was still lurking. She also found it easy to use to clean her staircase. She loved how easy this upright vacuum was to empty and that its bin capacity was quite large which made for infrequent trips to the trash can, plus she said the cord length was generous so she never felt tethered. She did note that it was quite heavy, so you won't want to lug it up and down the stairs every day. Its ball definitely made cleaning easier, though, as this vacuum was easy to maneuver and although it doesn't bend or have a telescopic handle, she still managed to use it for cleaning underneath furniture.
Good to know
Expect that you'll need the usual amount of storage space an upright vacuum would require, and this one's cord winds up behind the vacuum for ease. A corner in a closet would be enough. The Dyson Ball Animal 2 comes with a two-in-one tool for dust and cobwebs, a stair tool, and a turbine tool that avoids tangles — perfect for handling all types of pet hair. The latter will help get fur (and other debris) off upholstery, too.
Read our Dyson Ball Animal 2 review.
Normally, you'd find that most cylinder vacuums are bagged, which for most people can be annoying. But the incredible Miele Blizzard CX1 Cat & Dog PowerLine isn't, plus it's so easy to empty. It's definitely best for anyone with a large family home (ideally with pets inside) but it does come at a hefty weight and price. Our reviewer Sarah claimed it lives up to its name on pet fur and everything else a family home will require it to clean up.
In review
Sarah used this vacuum to clean tiled and parquet floors, as well as carpet and she loved how changing from one type of surface to another just needed a flip of the foot control to adjust the brushes of the floorhead. Hard flooring was easy to clean, but carpets required slightly more effort from her, and she had to turn down the suction. She did rate its suction as impressive, though, saying it can vacuum everything from dried mud to large debris with total ease. Sarah did note that it wasn't the best for cleaning her staircase, not only because it's quite heavy but because it was just a faff to maneuver around each step, this is where a handheld or stick vacuum would come in handy. Sarah loved the telescopic tube which is adjustable so you don't have to bend down as much. When it comes to emptying, she said this was very easy although if you have a smaller bin it might be messy. It came with tools that you can store onboard and when it comes to storing it away, its suction hose attaches to the main unit. It's not massively bulky but it does require a bit of floor space.
Good to know
While it isn't the smallest of models (or the lightest), the unit is efficiently designed and won't take up too much space either. A maintenance-free HEPA lifetime filter makes it a good choice for anyone with asthma or allergy sufferers. It also has a self-cleaning function that can be activated when you've tackled a dust storm. The dust tank is also an impressive size for a bagless at just over a half-gallon capacity.
Read our Miele Blizzard CX1 review.
---
FAQs
What is the best vacuum cleaner on the market?
We think that the Shark Stratos Cordless with Clean Sense IQ IZ862H is the best vacuum you can currently buy. It's part of a new line of Shark vacuums and this particular model is great at tackling pet (and human) hair, plus it automatically adapts its suction based on how dirty or clean your floors are. It has a bendable stick so that you can reach under furniture, and this means it can be folded away to store. It also works with recyclable scent pods to emit a lovely smell while you clean. The battery life is great and it comes with attachments, too. It's a great all-rounder which is suitable for the majority of homes.
Buy the Shark Stratos IZ862H from Best Buy.
Buy the Shark Stratos IZ862H from Target.
Buy the Shark Stratos IZ862H from Lowe's.
Cordless or corded vacuum?
Cordless vacuums are a good buy for small homes; they're often lighter and smaller, so easier to store and whip around than bulkier models. Their battery life is much better than a decade ago and they make quick cleaning very convenient. You might find it handy to own a cordless vacuum alongside a corded version for spot-cleaning a larger home, too.
Larger, more powerful vacuum cleaners tend to be corded, and these are what you want to choose for larger homes or if you need a really powerful vacuum cleaner (if you have, for example, kids who tread cookie and cracker crumbs into carpets or dogs that shed like you wouldn't believe). These vacs are normally bagged and will take up more storage space. They tend to be quite heavy, too.
Bagged or bagless vacuum?
Bagless vacuum cleaners can be messy to empty depending on the size of their canister. Most stick models are easy and usually mess-free, but bagless canisters and upright vacuums might make a mess. The ongoing cost of bags for traditional bagged models will make them more expensive in the long run, and not to mention this waste is not very good for the environment. Most people with allergies opt for a bagged vacuum cleaner as they seal the dust and allergens as soon as they are cleaned up. It's all down to personal preferences and needs.
Which type of vacuum cleaner should you choose?
If you're not sure where to start when choosing a vacuum cleaner, here are a few things that you'll need to look out for.
Upright vacuum cleaners are usually heavier, although there are lightweight models available. They tend to have a larger capacity, meaning you have to empty them less frequently than a cylinder or small handheld vacs. They're best for prolonged use in larger spaces as you can use them for as long as you require, just bear in mind that you are tethered to a cord.
Stick vacuums are a lot more common these days, they are quite slimline, resembling a broom. Commonly they are cordless, but they usually can't stand upright on their own. They are known for being lightweight, easy to maneuver, and simple to store. They'll usually come with some sort of wall dock for easy hanging in between cleaning sessions and with lots of tools as the majority of them convert to be a handheld vacuum. Apartment owners, this is the type of vacuum cleaner for you.
Canister vacuums (aka cylinder vacuums) tend to be less energy-efficient but are best for deep cleaning as they usually have large dust bins and are corded so that you can clean for as long as you like. When it comes to storage, they can often be taken apart so they can squeeze into tight spaces. They are also usually bagged so they're great for allergy sufferers.
Handheld vacuum cleaners are great for picking up quick messes, but many of today's stick and cordless models convert to easy handheld designs. A vacuum that's specifically only handheld will be a lot smaller than that of a handheld unit of a cordless model. They also usually come with a stand and they're quite affordable at around $100.
How to clean your vacuum cleaner
Don't forget that to maintain suction power you need to keep your vacuum cleaner clean. Emptying the bag or tank regularly is key, and most vacuums have a filter that may need washing every so often. This needs to be done well in advance so that the filter is completely dry in time for vacuuming.
Otherwise, every vacuum is different when it comes to cleaning. If you have a Dyson or Shark, see our top tips below.
Real Homes review process
All of the cordless vacuums featured in this guide have been tested by one of our editors or freelancers in the UK or US. We're always testing a vacuum, and we make sure to review the latest, trendiest, and most innovative models out there. We're talking about everything from cordless vacuums for those who like stick models to robot vacuum cleaners for hands-free cleaning, so we can help you find the most suitable make and model. We appreciate that there may be slight differences between the models across the pond such as the model number or attachments that are included in the box.
These vacuums are tested for a minimum of two months in our own homes. In total, we've tested 60+ vacuums but the nine models featured above are just our favorites so far. The majority of the vacuum cleaners which you have seen featured in this guide have been tested in our homes for up to two months. After this time, they are either returned to the brand or we are gifted them so we can continue to use them. Should this happen, we will update the relevant review about how the vacuum cleaner has performed over time and if we've had any issues. This is the same process we follow every time, for each of the robot vacuum cleaners, cordless vacuum, or handheld vacuum cleaners we've managed to get our hands on.
Meet our in-house vacuum reviewers:
Annie is our head ecommerce editor and she tested our no #1 vacuum, the Shark Stratos Cordless with Clean Sense IQ IZ862H. Annie lives in a two-bedroom South East London apartment, which she shares with her husband and her pug (who loves to shed). This vacuum has officially replaced her old one, and she loves every single thing about it.
Millie is our head of reviews across Future homes titles. She has tested many vacuums in her South London apartment, including the handheld Proscenic S1. She rates this as the best handheld vacuum you can buy.
Jaclyn was previously ecommerce editor across Future homes titles, including Real Homes. In this guide, Jaclyn has reviewed the Dyson V15 Detect. Jaclyn's home features a mix of hardwood floors, carpets, and area rugs. A small non-shedding dog lives in the house but still manages to track in his fair share of dirt.
Meet our freelancer vacuum reviewers:
Sarah is reviewed both the Miele Blizzard CX1 Cat&Dog PowerLine and the Dyson Ball Animal 2. She lives in the UK and in her home you can find all types of flooring, from parquet to tiles and carpet, making it the perfect vacuum testing space.
Linda is a freelancer for Real Homes and she tested the iRobot Roomba S9+ in her busy home in Devon to find out how well they perform across various floor types and how well they cope with busy family life and her three super-fluffy, world-class-molting dogs.
Courtney is a mom of three young kids and a dog, so naturally, crumb trails follow her everywhere. It's safe to say she's spent a small fortune testing vacuums, so reviewing the Tineco Pure One S12 and the Levoit VortexIQ40 Flex was right up her alley. She lives in a four-bedroom home with all types of flooring (carpet, hardwood, and tile), the ideal environment to test and challenge a cordless vacuum.
Alex is a freelancer for Real Homes, and she reviewed the Tineco Floor One S5 for us. Alex lives in Texas and her home is roughly 1,600 square feet in size and is fitted with hard flooring throughout. She doesn't have any pets.
What we look for when testing vacuum cleaners
When reviewing all vacuum cleaners, we use criteria in order to rank them. We consider five main features and compare each vacuum with its competitors. We think about:
1. How easy is it to set up?
We unbox all of our vacuum cleaners, lay out their accessories, and snap a few photos. If it needs to be connected to an app, we'll be sure to explain how easy its setup was.
2. How easy is it to use? How many modes does it have?
Sounds pretty straightforward, and for those vacuums with only one or two modes, it is. But for anything a little more technical (Dyson V15 Detect, we're talking about you) we test every single feature and mode, comparing one to another and on different floor types. The ease of use test also includes how heavy it is to lift it upstairs (if our reviewer has stairs) and how easy it is to clean underneath furniture and maneuver around furniture legs. We also check if it has LED headlights for illuminating darker spaces.
3. What is its battery life like? How long is its cord? How big is its dust cup?
Yes, we know that each manufacturer tells us this, as well as the charging time, but we always check that this number is true by timing how long each vacuum can be used. We're also sure to comment on what we thought of the length of the cord if it's a corded vacuum, and if we thought it could be longer. The same goes for its dust cup, though this is a lot harder for us to test as it's all dependent on how clean or dirty our homes are. We will suggest a size home that is best for the vacuum. So, if we think that something is only really good for small spaces as it has a shorter battery life or a smaller bin, we will say so.
4. How easy is it to store and maintain?
Yes, all vacuum cleaners, whether they are $200 or $900, need to be cleaned. Ugh. But, some are a lot easier to clean than others. Some have washable filters which makes life easy, and we always note how easy it is to empty each vacuum cleaner's dust cup. When it comes to storage, this will be dependent on the type of vacuum it is. Stick vacuums are the easiest to store.
5. Which attachments come with your vacuum?
Some of us don't have the space to store a handheld vacuum and a main vacuum, which is totally understandable. So, we're sure to test out all of the accessories that come included with our vacuum cleaners, and we explain what we used each one to clean. As a general rule, vacuums usually come with a crevice tool for reaching corners and a brush tool for cleaning baseboards and surfaces. Less is usually more in this case, as you need to think about where you're going to store these accessories. Some have onboard storage whereas others will need to sit in a bag in your closet.
Lastly, we try to carry out pantry tests with each model, to deliberately challenge these vacuums with cereal, rice, and sugar across different floor types. We've found that this is a really great way of quickly, neatly, and (semi) professionally showing you just what the vac is capable of achieving.
Up next: Don't miss our guide to how to vacuum like a pro (yep, there are techniques to get it done quicker and better).