Redoing your kitchen is fun, exciting, and incredibly rewarding. If you're lucky enough to be stripping out your existing cabinets and rebuilding your space from scratch, you'll get the chance to create a cooking space that works perfectly for you.
With that in mind, you're probably in need of a few kitchen remodel ideas to get the inspiration flowing. First, you'll want to consider how you need your kitchen to function. What do you use your kitchen for most? Are you a big fan of hosting friends and fam and need plenty of space for appliances? Or do you not really like cooking but you want your kitchen to be more of a social space?
It's these functions that should drive the design of your kitchen — from the layout to the storage and from the appliances to the seating. There are so many kitchen ideas out there that it's easy to get choice overload, so having a primary goal for your space in mind is a good way to keep you on track.
Here is a list of fabulous kitchen remodel ideas to get help you achieve your dream cooking space.
1. Begin with your cabinets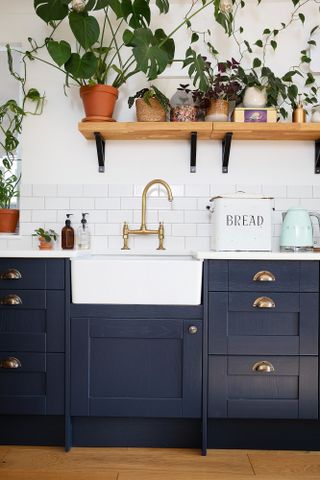 David Mason, interior designer at The Knobs company says that when you begin thinking about your remodel, you want to start with the defining elements of the space, like kitchen cabinet ideas, to add more style and function that will last. "The cabinets are the bones of a kitchen," he says. "If they're outdated, it's hard to change the overall look of a room. If possible, replace them all — it's usually less expensive than refacing or staining."
Additionally, new cabinets add value to a property, whether you own or rent. "There is no replacement for real wood or natural materials," says Mason. "Even in a rental, people like the warmth and richness that wood gives. It's beautiful and has such high value in resale."
2. Don't be afraid to mix and match textures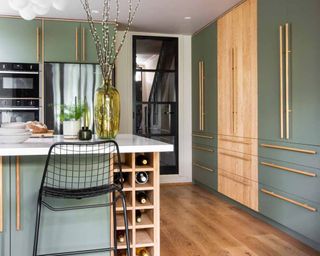 A kitchen without texture (even with the warmest of colors) can look a little cold and clinical. Simple, clean lines and sharp edges are all well and good for a calm and collected space, but there's a very fine line between simple and boring.
One of the easiest ways to add some texture, depth, and interest to your space is by using wood. Here, the addition of exposed wood, and a built-in pantry with matching wine shelves warms up the modern green kitchen instantly and creates a more relaxed and friendly feel.
3. ...and mix up colors too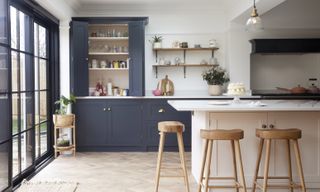 When deciding on the colors of your kitchen cabinets, don't think that you only need to choose one. Two tone kitchens – using two contrasting colors for your walls cabinets and island like this, is a great way to break up the space and prevent the mass of cupboards from overpowering the room.
It's a good idea to choose a darker color and a lighter color, rather than shades of a similar hue, so they can amplify, rather than fight against, one another.
4. Scale everything down for a smaller space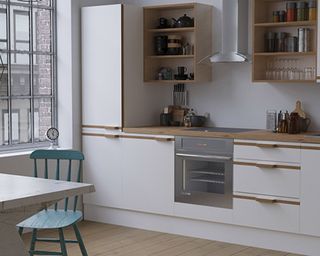 Lots of us have to deal with smaller kitchens, and so we must learn to adapt. It's important to buy everything – from your appliances to your furniture to your lighting – in a size that works perfectly for your space. If your kitchen is especially small, chances are you won't need a massive oven to feed the five thousand, so save on cabinet space by choosing a smaller version.
Although we are true color lovers here at Real Homes, there's no denying that white kitchen ideas are a great place to start when looking for design inspo for your smaller space.
5. Turn your cabinets into a feature with lighting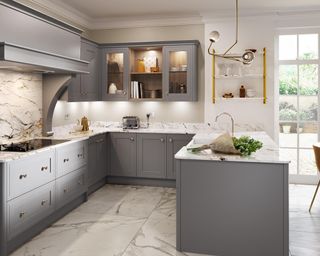 You can be forgiven for thinking kitchen storage ideas are all about organizing and tidying away pots and pans, but consider how your storage can become a design feature in its own right too. These wall-hung units, tucked away from any direct natural light, could create a dark and dingy corner. But with glass inserts and internal lighting, the units act like an intriguing piece of art work, with an ambiante glow drawing attention to books, plants and ceramics.
6. Camouflage your cooker hood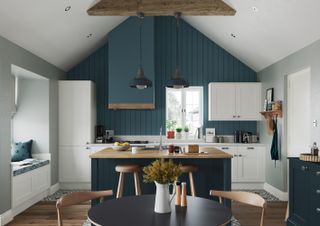 Cooker hoods are an essential part of a kitchen remodel but, let's face it, they're not the prettiest. This clever shaker kitchen design has matched up the vibrant color of the walls with the color of the cooker hood so it blends in seamlessly with the space - so much so that you hardly notice it. When remodeling your kitchen, it's always a good idea to invest in new appliances, too.
"Reduce the amount of energy you consume in the kitchen by upgrading your older appliances to more energy-efficient versions," says Austin Fain from Perfect Steel Solutions. "Refrigerators and dishwashers with the Energy Star badge have met or surpassed the Environmental Protection Agency's energy efficiency standards and are recommended for use in homes."
7. Maximize space with a galley style layout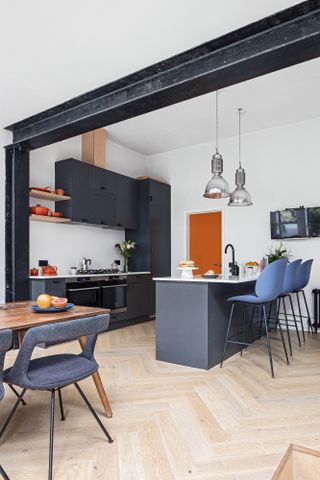 Galley kitchens are great for a) making the most of a long, narrow space and b) being a room divider in an open-plan space. The image above is a perfect example of the latter. The peninsula island divides the space between the kitchen and the living area, forming clear cooking and socialising zones.
8. Keep your design symmetrical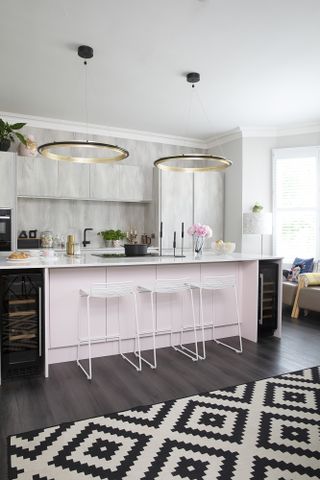 If there's one failsafe route to a good kitchen design, it's with symmetry. The design above uses its kitchen sink as its central focal point from which everything else works around.
Even the kitchen island works in harmony with the symmetrical space – with matching wine coolers on either side, a hob bang in the middle and two statement island hoods drawing the look together. Even the kitchen island seating is perfectly central too.
9. Work around your light sources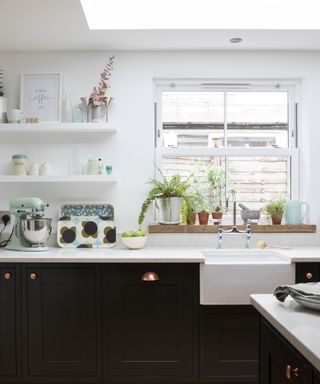 When looking at how to plan a kitchen, begin by looking at where your windows are and consider how you can plan your design to maximize this natural light source. If you're working with a kitchen diner, position your seating area near your window for a more comfortable dining space.
'I always advise putting the sink under a window if at all possible to make the most of the natural light and because looking out while washing the dishes is a great respite when you are doing a big load,' says Joe Flanagan, interior design enthusiast and founder of 90s Fashion World.
10. Resurface faces instead of replacing them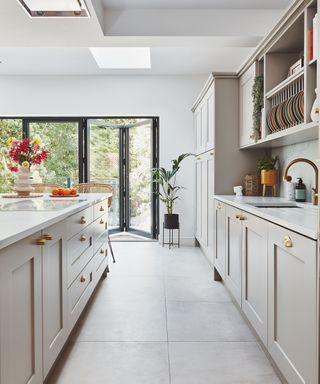 'If your kitchen has a stone or even a laminate countertop, it can be resurfaced instead. I also recommend that homeowners spend time considering the layout, size, and surface of their kitchen table. It's one thing to have a cool dining area with a fabulous chandelier. But what's the table's surface? A quality pedestal or trestle table can add a lot to a space,' comments Mason.
Architect Amanda Gunawan of LA-based architecture and design studio OWIU says, 'consider refinishing faces such as floors or cabinets as an alternative to replacing them. This option still provides the flexibility to achieve the look you are looking for, but for less.' Plus, it makes it easier to incorporate any kitchen trends that have caught your eye.
11. Explore different layout options for more space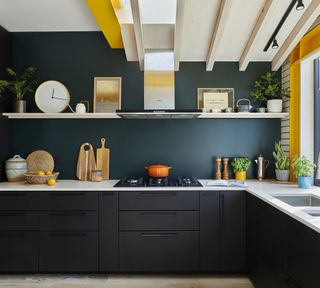 In George Woodrow's beamed kitchen transformation, they created a sociable space for him and his family with a kitchen addition. In this remodel he chose an L-shaped layout to replace the previous galley. This opened up the area, letting the family roam a little more freely around the space – even with kids' toys on the floor.
'The wall with the boundary is slightly angled. We played into that by making storage along it either side of the bench seat, with varying depth and width,' mentions Woodrow.
12. Tap into different wall coverings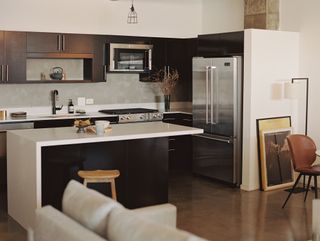 'Instead of covering an entire wall with tile or similar materials, create visual interest by creating a feature wall instead. Using finishes like raw concrete or opting for Venetian plasters for backsplashes are both excellent options that can be much more budget-friendly than using tiles or other expensive materials,' says Gunawan.'
13. Choose light cabinetry for fresh and airy look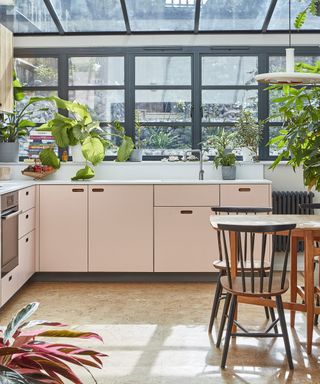 Though not a conventional kitchen remodel, Rosie Rockel made light of a house addition refusal by opting for a glass light-filled conservatory kitchen instead. The brighter the better in our eyes and choosing lighter cabinet fronts simply adds to the bright, light, and modern appeal of this space. You could even consider painting kitchen cabinets to refresh your existing units.
'Typically, replacing cabinet doors will make a significant difference. Opting for high gloss white doors will give a modern and luxurious feel, especially when teamed with low-level lighting,' says architect and founder of Architecture Lab, Anton Giuroiu.
14. Factor in clever storage solutions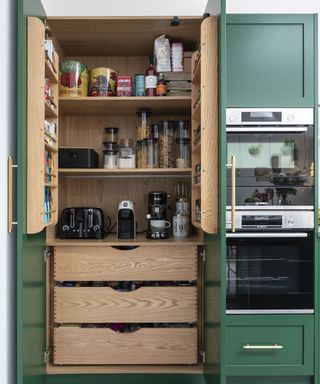 The invisible kitchen trend is still going strong and so incorporating a clever pantry storage idea into your remodel is a surefire way to embrace the look. Make use of inside cupboard doors and choose durable materials that are easy to keep in good condition. See more of this gorgeous green kitchen and find out how they stayed on budget whilst creating this beautiful space.
From shelves within shelves to swiveling corner drawers and ingenious spice rack ideas, there are so many ways to maximize the space you've got.
15. Work around your kitchen island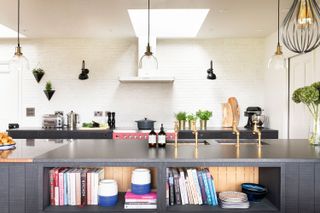 Anna and Rob were able to incorporate shelves into their kitchen island idea to make for both a unique display and more storage – think cookbooks, candles and other trinkets that add character. Anna is an interior designer and was wise enough to choose an island that had a slight overhang also, letting it double up as a breakfast bar where they keep just a couple of stools – enough to complement the nearby dinner table.
Gunawan recommends introducing an island in the early stages of your kitchen remodel to help define next steps. 'An island makes a huge aesthetic difference, so in that way you can still use the stove, sink, appliances etc. It's also much easier to undo/ hide if you decide on the wrong wood color or decide you would rather go in a different direction or colorway,' she continues.
16. Choose floor to ceiling units to enhance space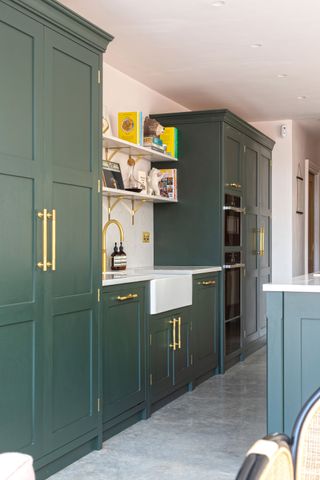 It's no secret that drawing the eye up is a great way to add the illusion of space, particularly useful in small kitchens, or in any other room for that matter. Be inspired by Isobel and Jeremy Thomson-Cook's colorful kitchen where they made use of all the vertical space for both a little trompe-l'œil and awesome storage combined.
17. Add windows above for more light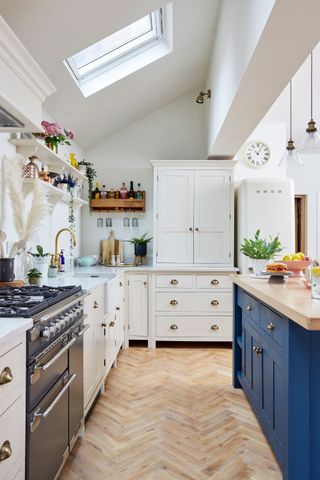 By installing velux windows above the kitchen units in this kitchen remodel, Rachael Ball and her husband, Adam introduced plenty of light, transforming what was a dark and dingy kitchen space into an airy and inspiring place to cook and socialize in.
Light flooring, wall color and cabinetry help bounce more light around while the style of the units and handles let the space retain its charming period character
18. Create indoor outdoor color cohesion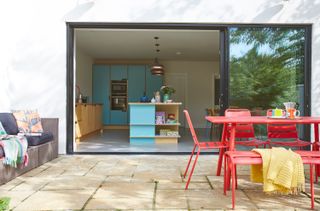 Introducing a bright kitchen color scheme is an amazing way to add interest and inject energy into a cooking zone. Nod to summery vibes, year-round, as Clara Felce and Liam did with a bold design from UK Wood Works Brighton.
Bright blue cabinetry is sure to be a talking point for guests, creating a cool and cohesive view from the outside where contrasting pink patio furniture complements the space perfectly.
19. Position your sink in an unexpected place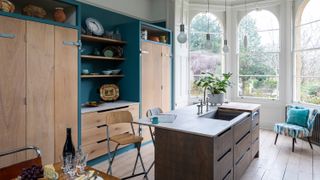 Vivianne Wallace transformed her tiny kitchen, located under the stairs in her home into a colorful, open-plan space ripe for entertaining.
One admirable design feature is how she integrated the kitchen sink into the island, allowing her to max out her use of the space available. Plus, as she chose a particularly deep sink, meaning she is able to hide pots and pans – ideal when guests are over.
20. Embrace open shelving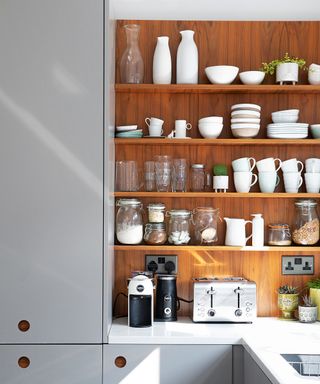 'Instead of installing closed cabinetry which requires more material and more time to build, using open-shelving for upper cabinets can not only save on material and labor costs, but also offers a great opportunity to display beautiful dishes and glassware that are often hidden,' says Gunawan.
In this Scandi-esque kitchen addition, choosing bespoke a kitchen shelving idea idea removed the need for additional wall cupboards and helped keep the space light and airy. It's also created the perfect space for a small coffee bar – making your morning brew a little easier.
21. Keep some existing features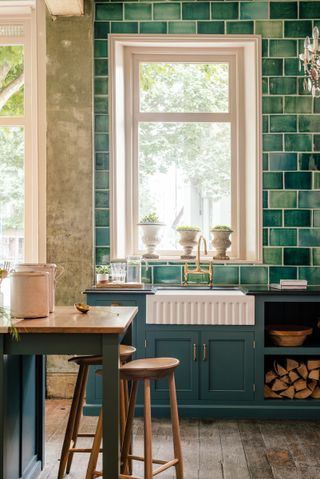 Salvaging what you can from an old kitchen is a great way to save money on your kitchen remodel and to keep some of the character from any of your old kitchen's look that you may not actually want to lose.
Gunawan recommends this approach also, 'Salvage anything you can such as plywood, flooring, cabinets, and more as these materials can be quite expensive, especially right now.'
This kitchen tile idea helps to create a rustic and homely feel in the space.
22. Factor in statement lighting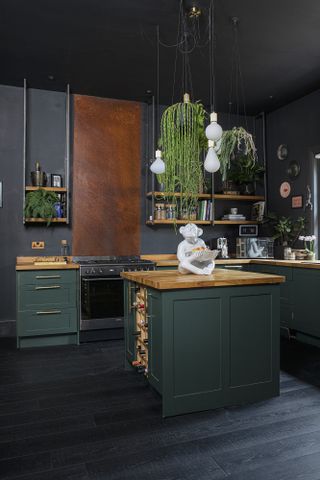 Ally and James created this dark and daring house but it wasn't without pops of reflective elements, like the bespoke backsplash and cabinet handles, or without a winning statement kitchen lighting idea. 'Lighting can really transform a kitchen and can be used to highlight features or working areas. Opt for lights that can be positioned after installation to achieve the maximum effect,' says Giuroiu.
If you have high ceilings, long pendant lights can make a real statement and add heaps of function also. Hang your over an island for design interest and to pull the entire look together.
'Long-term energy savings can be achieved by switching from incandescent to LED lighting fixtures too,' says Fain.
23. Invest in marble countertops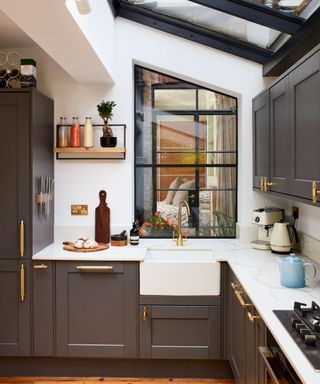 Lois and Guy chose marble countertops in their kitchen remodel which brightened up the design, in keeping with the indoor-outdoor feel of the space. Although marble is more expensive, investing in quality kitchen worktops and saving on other aspects of your remodel can keep your budget intact, without compensating for the longevity or beauty of the finished design.
'Like the cabinets, the countertops define a kitchen. Most people like natural materials because of their beauty, texture, and warmth. So a granite or marble countertop will give you that luxurious look you're going for already.' Comments Mason.
Cleveland-based Interior Designer Colleen Primm adds 'Want the marble look but don't have the budget. Consider going with a marble laminate look. It's the same look but without the high cost.'
24. Paint or treat floors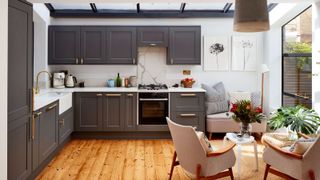 Kitchen flooring ideas can make or break your kitchen design. If you're lucky enough to have hardwood floors, simply refinishing or painting them for a modern edge can be a great way to add interest to your remodel without ripping out the entire floor.
'Upgrading floors can be costly. An inexpensive and stylish alternative is using floor paint. The floor itself will need preparation before you begin but there is a wide range of affordable paints for both wood and concrete floors,' says Giuroiu.
25. Order in peachy tones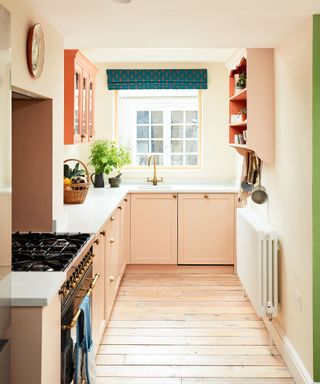 It's no secret that a lick of paint can transform tired spaces quickly and inexpensively, paint will likely be a key element of a remodel so why not experiment with different kitchen color schemes?
The fresh peach wall and lower cabinet color here is set off by the darker hung wall cabinets to create a calm yet vibrant space, perfect for cooking and even entertaining.
26. Don't dismiss concrete elements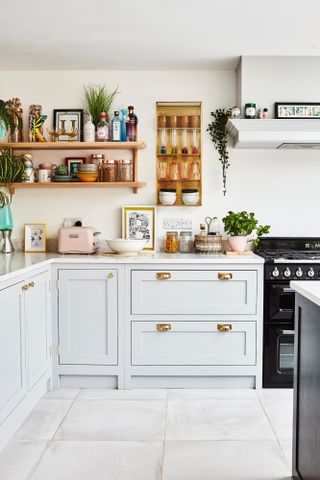 Gunawan says to consider concrete flooring as a stylish flooring option, 'As an alternative to wood and more expensive options, concrete flooring is a great option for those looking to save on material costs. For those worried about the space feeling cold or industrial, add warmth with rugs, plants, and lighting.'
27. Combine all the natural materials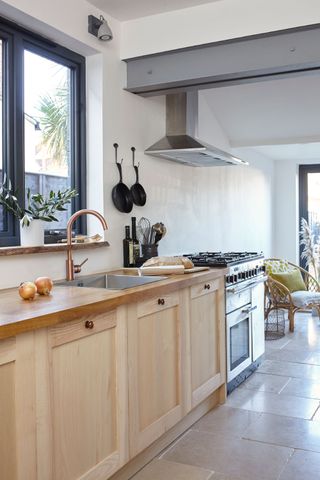 This kitchen was the first area to tackle in a total house restoration and as it was a dark prone space, couple Olivia and Mark kept it warm and inviting by choosing natural tones and textures with wooden cabinetry and a tumbled sandstone kitchen floor tile idea that give a cozy Nordic finish to the overall space.
The space was much smaller prior also, and two non-load-bearing walls were removed, making way for contemporary French doors that match the window above the sink.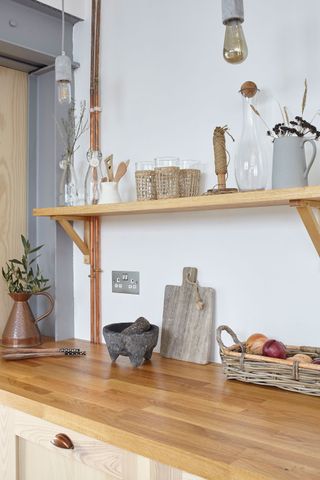 28. Build in a breakfast bar to define an open plan layout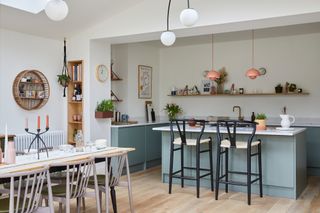 An island come breakfast bar makes perfect sense if you're remodeling for an open plan kitchen space. Offering up additional storage and extra surface area for prepping food, entertaining or WFH, an island can also help ground very open plan kitchen ideas, giving the layout extra appeal and functionality
29. House appliances intelligently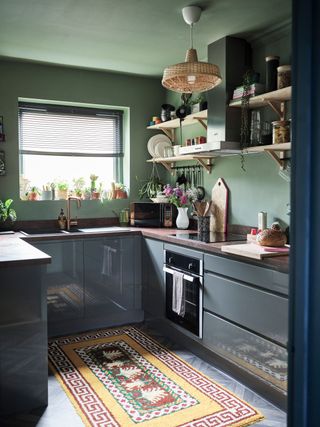 Primm recommends thinking very carefully about where you position kitchen appliances so that your kitchen remodel works best for you.
'When looking at layout, is the homeowner right or left-handed? Take this opportunity change the placement of the dishwasher to better serve a right or lefthanded cook. If you are left-handed move the dishwasher to the left of the sink for easier access.' And, if you have a bad back, 'Consider placing your dishwasher wall unit off the ground. This way when you unload you are not bending down as much.'
Combine these design considerations along with the concept of the kitchen work triangle and your remodel is golden.
30. Include DIY accessories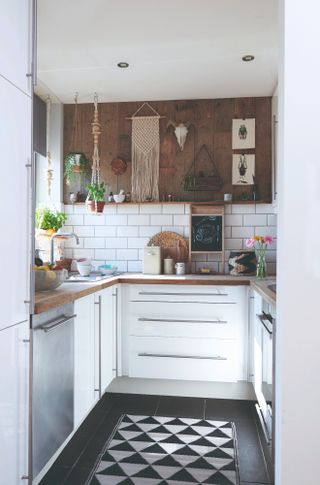 What would a kitchen remodel on Real Homes be without a little creative input? A DIY kitchen splashback idea or even a small feature wall can be all you need to add warmth and character to a polished kitchen space.
Here we love the combination of subway tiling and upper wall paneling, primed for trinkets, artwork and more that most certainly can belong in a kitchen.
31. Enhance space further with curved counters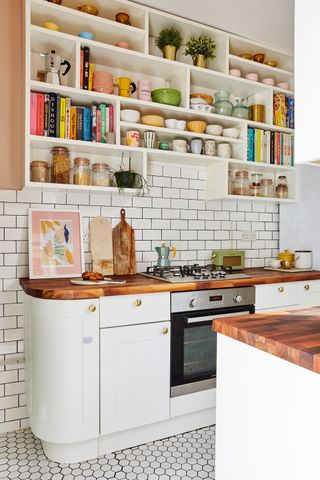 This uplifting kitchen remodel is clever in so many ways. There's added height in the bespoke shelving but for even more interest and to enhance space, the end cabinets are curved, giving a streamlined finish that nods to storage furthermore.
32. Choose a peninsula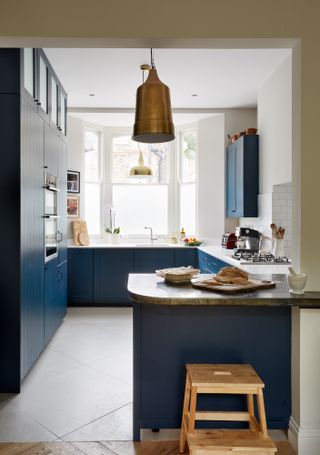 If you're battling between a kitchen island or peninsula, simply consider the size of the space you are working with and choose your most realistic option. A peninsula is an instant room divider, still offers extra surface area, and can define a smaller kitchen with heaps of design interest also – an option not to be dismissed!
33. Define your cooking zone with subway tiles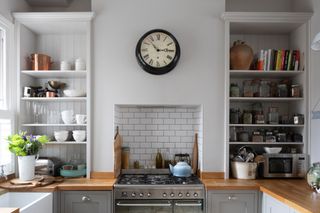 Defining the cooking area in this home, where the kitchen and living room area are in fact one, was done by means of a cool metro tile idea.
Interior designer and CEO, Maggie Clarke, of full-service design firm Maggie Clarke Interiors HQ in Memphis, TN comments, 'Subway tile is an inexpensive way to add interest in your kitchen. It's often 1/4th of the price of other choices like marble tile, yet you still achieve that classic + elegant look. Try having your tile company install it in a non-traditional way such as a step ladder or herringbone pattern. You could also choose a beveled subway tile, which gives off a sparkly shine.'
34. Make changes that are semi-permanent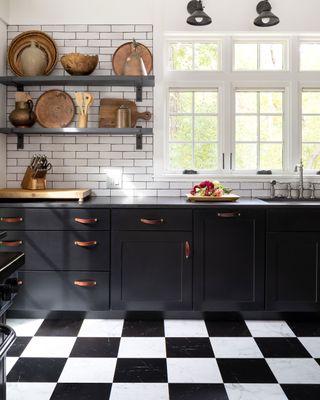 Elizabeth Rees, founder of Chasing Paper is pro-non-permanent kitchen remodel ideas. 'Peel-and-stick wallpaper and flooring is a great way to makeover a kitchen! Perfect for a renter or a phase 1 renovation, both the wallpaper and the flooring are designed to last for as long as you need them to – from months to years – and will easily remove without residue when the time comes. Our peel-and-stick wallpaper and flooring are sold in panels instead of by the roll, which makes it great for small or large projects, from a full room outfitting to a refrigerator makeover.'
'If you need to cover a dated floor or want to add a fun backsplash, the peel-and-stick flooring will create a lasting impact in a matter of hours. Made of fade- and water-resistant vinyl, you can choose to use 12" x 12" tiles for smaller projects or 2' x 4' panels for larger projects. You can choose from a colorful basketweave to tried and true favorites such as black and white marble.'
What order should you remodel a kitchen?
Leonard Ang, CEO of iPropertyManagement, the online resource guide for landlords, tenants, and real estate investors takes a four-fold approach to remodeling a kitchen.
1. Start by deciding what can stay.
'There are times when completely gutting a space is the only solution, but in many remodels, there are certain pieces that either are new enough to be worth keeping or simply not in the budget.'
'These pieces will often dictate your design decisions for the rest of the space. If you're keeping your newest major appliance, for example, you'll likely be buying your others to match. The same goes if you're keeping a nice section of countertop, a backsplash, a light fixture, or flooring. The rest of your choices should be built around these.'
2. Establish a theme
'Once you know what you're keeping, you can take steps to decide on the other colors, patterns, and styles you want to include in your new kitchen.'
3. Shop for appliances
'Appliances are going to dictate the rest of the space, affecting the height of cabinets and countertops, so making these decisions will let you lay out the rest of the space.'
4. Consult with contractors
'This is the point when you have the key pieces of information you need to reach out to contractors with design parameters.'
Gunawan comments also, 'I would recommend dividing the project into two parts. If renovating the entire kitchen, I would start with the island and then the cabinets.'
How do I remodel a kitchen on a budget?
Clarke recommends the following cut down on kitchen remodeling costs still with great results:
1. Cut the middle man: If you have extra time on your hands, look into hiring tradespeople on your own without going through a general contractor. Keep in mind you will need to do a little bit of research to ensure each company is licensed and has a good reputation. Perhaps reach out to anyone you know in the business to get referrals for their favorite tile installer, countertop company, and electrician.
2. Look into installing butcher block countertops. Depending on your source, butcher block is considerably less expensive than its other counterparts (pun intended!), such as granite or marble... It also provides such warmth in an otherwise utilitarian space.
3. Paint overdated kitchen tiles. If you have beige square tile from the early 2000s and it's time for an update- consider painting it in a black and white checkered pattern. Manufacturers make paint specific to floors and sealants to go on top for protection. Try hiring professional painters to do this or attempt our painting tiles DIY. Either way, it's considerably less expensive than hiring someone to remove the old tile and place it with new.
Houghton offers some more ideas for remodeling your kitchen on a budget:
1. Choose quality over quantity. If you need to make big changes in the design of your kitchen, think about what is really going to matter to you. Save money by using more inexpensive cabinets and a DIY countertop in less visible areas of the room, such as the backsplash or under the sink.
2. Use small appliances more often. Small appliances like microwaves and coffee makers might not seem like they belong in a remodeled kitchen, but if you are remodeling your kitchen on a budget, these small appliances can be an affordable way to improve your cooking space without breaking the bank.
3. Store your tools in a decorative way. If you have limited storage space or are looking for ways to save money when remodeling your kitchen, consider repurposing open shelving or armoires with glass doors for use as storage. You can store pretty much anything in here from small kitchen appliances to pots and pans, towels and table linens. As long as you keep it organized, this can be a great way to save money when it comes time to remodel your kitchen without taking up too much space.
Designer tips to consider when remodeling a kitchen
Primm shares more expert advice to take on board:
If you are picking a countertop that has a lot going on, consider a simpler backsplash with one color. This way the countertop stays "The Boss" of the kitchen and the backsplash complements it and doesn't compete.'
When getting your countertop material ask to have a cutting board made out of your material. It adds an extra level to your new kitchen.
Grays are officially out so don't buy gray cabinets, you will regret it by the time the remodel is done!