Finding the best kitchen cabinet ideas for your space is mighty important and so we've rounded up our favorite ideas that are both gorgeous, and functional, to help point you in the right direction.
If you're looking for kitchen remodel ideas, you'll often start with cabinet doors inspo.
Experts at Wren Kitchens say, 'The arrangement of your cupboards and cabinets can change the entire look and feel of your kitchen. 'It's key to arrange your cabinets and plan a kitchen layout in a way that will suit your lifestyle and your taste, so that the next time you reach for whatever it is you need, it's in the exact right place.'
Explore our favorite kitchen cabinet designs below and get creative for your own space. From floor to ceiling kitchen cabinets to open shelving or drawers for the best storage options, we have plenty of clever ideas below and you're sure to find the perfect fit.
You'll find more kitchen ideas and inspiration on our gallery, but keep scrolling for the main event.
How to choose the best kitchen cabinets
The place to start is by looking at your kitchen design and overall style. Begin with an easy question: do I prefer modern or traditional kitchen design?
If it's a timeless look you're seeking, a Shaker kitchen door is the classic choice, while a more traditionally paneled Georgian kitchen door will provide a slightly more stately tone.
For modern kitchens, it has to be a plain slab door and go without handles for an even more contemporary look.
Of course, the kitchen cabinet door design or even color/finish is not where the decisions end.
The most successful kitchens are fitted with cabinetry that is meticulously planned, both inside and out.
Kitchen storage needs to be thoughtfully allocated – divide and conquer using dedicated dividers, shelves and baskets. Integral lighting can be used to boost the impact of interesting materials.
And don't forget the handles – they should never be an afterthought. Even recessed handles can bring a design dimension via color-contrasting shadow lines or interesting placement.
1. Choose an on-trend black on black kitchen cabinet design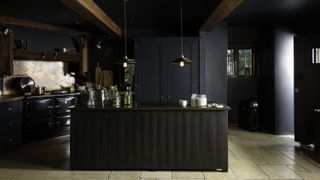 On the kitchen cabinetry design catwalk, black is the new black, and the new grey for that matter. Easy to combine with almost any other shade, black is your quickest route to drama and depth.
Why not channel your inner Abigail Ahern and paint your kitchen ceiling black, too? This is The Real Shaker Kitchen with Bella Brass handles and Staved Iroko countertops, from deVOL.
2. Go handle free with your kitchen cabinet design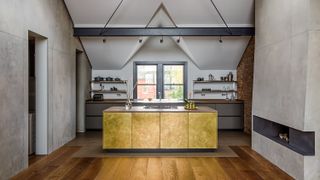 While handle-less cabinetry is an undisputed winner for achieving a slick, contemporary look, the minimalist aesthetic needn't lack interest.
Here, the golden glow of burnished brass puts push-to-open island cabinet doors firmly in the spotlight. A nanotech coating arrests the oxidization process to prevent tarnishing and make the doors easy to clean. This is the Form 6 range from Sola Kitchens.
See more luxury kitchen design ideas (that we'd copy if money were no object).
3. Mix up kitchen cabinetry materials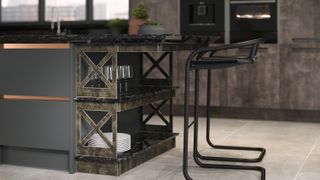 Interesting pairings – the more dynamic the better – can shake-up kitchen cabinetry design without breaking the bank.
Look no further than Wren Kitchens for a master class in mixing cabinetry materials.
This is the brand's Minerva island unit, which ends in a striking combo of industrial-look galvanized steel and dramatic Christus Granite. Paired with deep grey pan drawers with brass accents, the results are undeniably Insta-worthy.
4. Dress to impress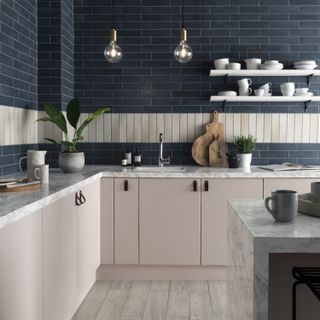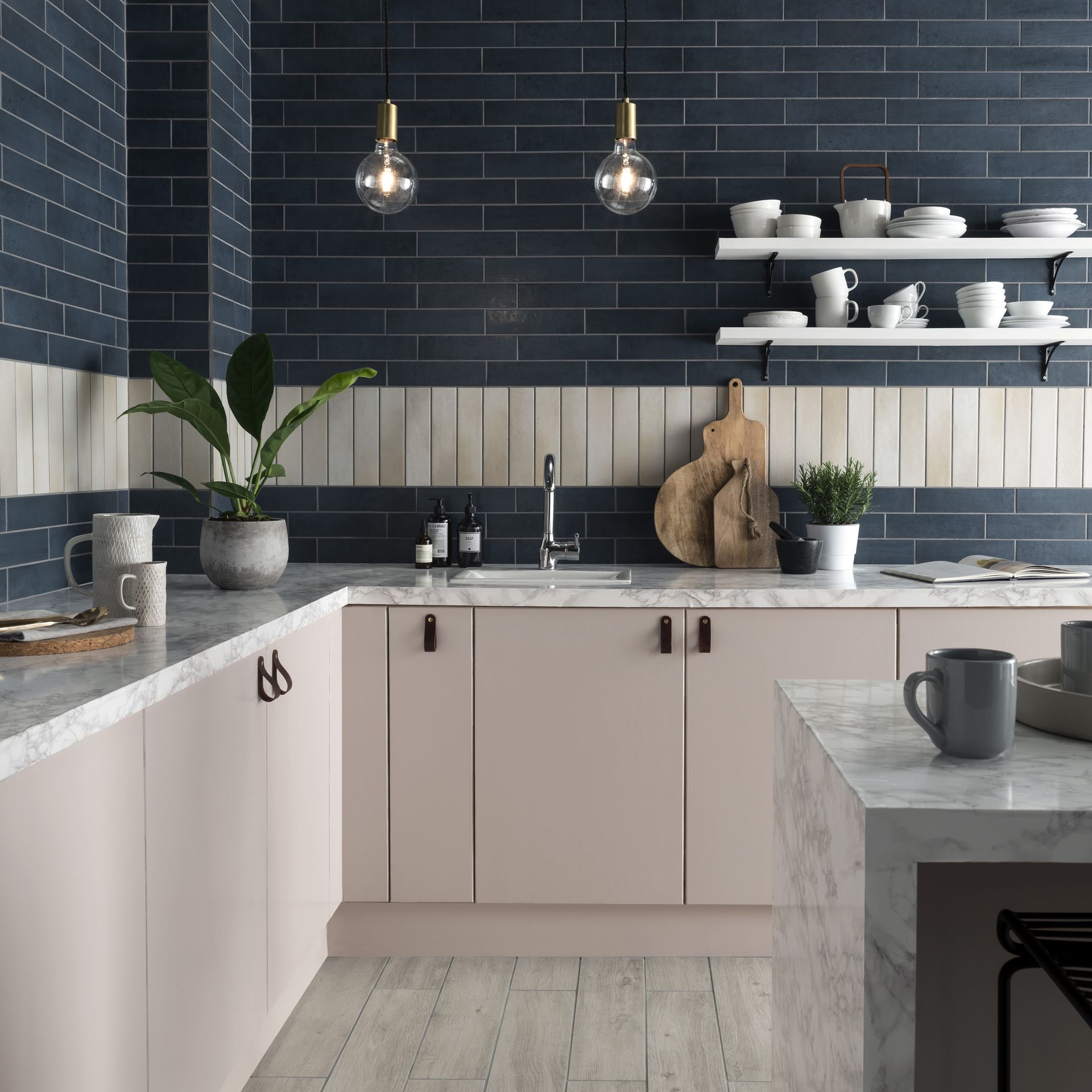 Think of handles like jewellery for your kitchen cabinet doors. Take time to find the perfect shape and finish to dress them up.
We love the leather strap-style handles on this simple flat-fronted door in on-trend millennial pink – find similar at Turnstyle Designs.
5. Kitchen cabinet ideas that make use of space: choosing drawers over base cabinets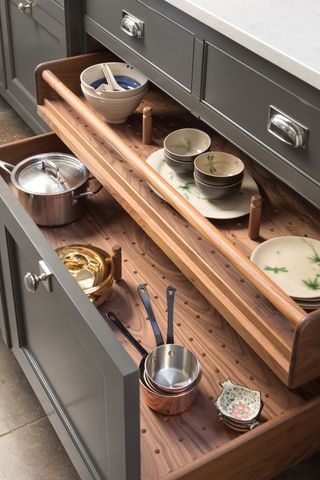 Deep pan drawers are considered far more efficient storage-wise than standard shelved base units.
The main pro: everything is brought nicely into view – say goodbye to getting down on your knees to reach into the depths.
The only disadvantage is that contents can slide around upon opening. Happily help is at hand via a classic peg and dowel drawer base that will keep everything neatly in place, and can be easily adjusted to fit different sized dishes.
This elegant kitchen cabinet design is by Smallbone of Devizes.
6. Find kitchen cabinet ideas that add interest with texture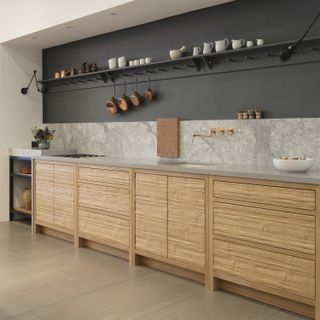 The smartest kitchen designers appeal to all the senses when choosing cabinetry. Introducing a textural element is essential for including a tactile treat.
One fashion-forward option is cross-sawn timbers, which leave the rugged marks of the saw blade un-sanded, and embrace rustic charm with a chic, modern twist.
Here, Roundhouse nails the look with River-washed ply doors on its Urban Metro range.
7. Make a statement with directional doors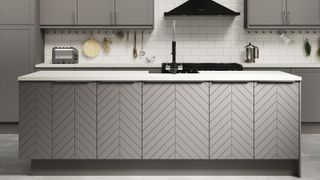 Bored of deliberating between classic Shaker versus modern flat-fronted doors? Now Magnet is offering a middle option that's neither overtly trad, nor uber contemporary.
It picks up on our obsession with parquet, one of the hottest flooring trends of the decade, and promises to bring a fresh geometric edge to the kitchen.
Avoid overkill by using it as a feature door on a kitchen island, or restricting to units below eye-level.
If you are planning on getting a kitchen island then make sure you check out more of these clever kitchen island ideas.
8. Kitchen cabinet ideas that use vertical space for added storage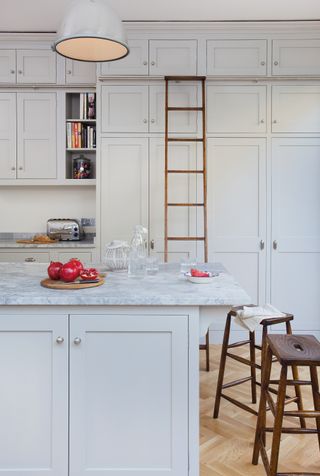 There's something wonderfully reassuring about a library ladder in the kitchen. So sophisticated, not to mention convenient.
The trend has stemmed from the need to access those handy yet awkward top cupboards for kitchen storage.
But it also brings a little definition to an otherwise relentless stretch of floor to ceiling kitchen cabinetry.
Match your metal to the cabinetry knobs, and the ladder finish could pick up on timbers used elsewhere, like the utilitarian bar stools here. What's not to love?
9. Hide clutter with pocket power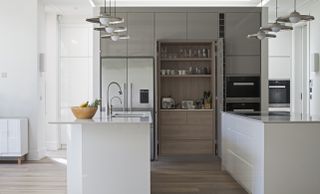 Pocket doors are a great kitchen cabinet ideas: brilliant for shutting everything away when not in use.
They are especially popular in open plan kitchens, where the workhorse side of things (appliances, taps etc) can look messy and, well, too kitchen-y, when relaxing.
Look for really good, strong runners for smooth action doors that are effortless to use, and plan an interior that looks good when open.
This smart example is clad in wood veneers for beautiful contrast. Made to Cave Interiors' design and specification by Ottima.
10. Up the style factor with edgy details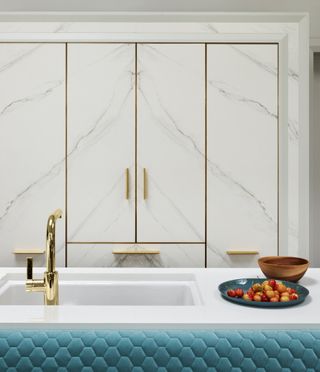 They say the Devil's in the detail and, in the case of Martin Moore's luxurious New Deco range, the detail is devilishly striking.
Each door is edged in brass to create a lavish outline that smartly frames solid panels of marble-look porcelain.
11. Fit open shelves for easy access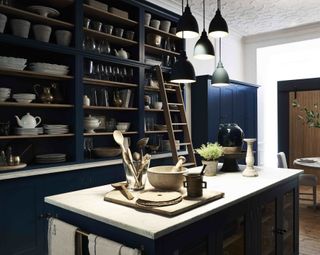 Channel your inner Downton by embracing open shelving, which is enjoying a style revival amid those seeking a pantry-led utilitarian vibe.
Be prepared to evict any outright ugly crockery but don't get obsessive with aesthetics – the most successful open cabinetry is purposefully uncontrived.
In fact, most kitchen designers recommend using open shelving for daily-use items so that the dreaded dust never gets a chance to settle. This is Neptune's Suffolk kitchen hand-painted in Teal.
12. Add warmth with burnished metals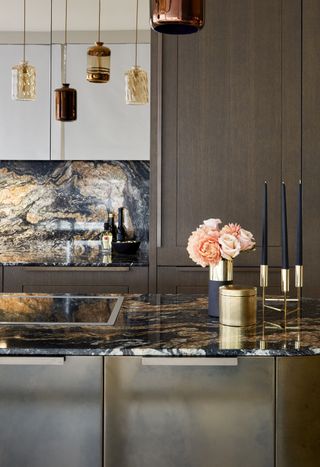 Love warm metals in the kitchen but ready to dial down the glitz of copper accessories? This season, burnished metal is making a play for attention.
On kitchen cabinet designs, the smart money is on the latest spray-lacquer metallic finishes, which are robust and easy to clean. And, unlike the real deal, won't tarnish or patina in time.
This is a bespoke kitchen in dark oak and metal-effect lacquer by Mowlem & Co. The countertop is Sensa granite in Orinoco, from Sensa by Cosentino.
13. On a budget? Try a DIY option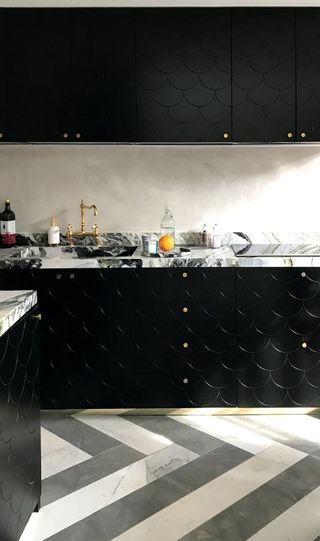 Buying your carcasses and doors from the same manufacturer is the most common way to guarantee the perfect fit.
However, Sweden-based Superfront is shaking things up with its clever kitchen cabinet idea that's opening design doors for adventurous DIYers.
Tailored to fit Ikea's most common carcasses, Superfront's beautiful collection of door fronts, handles, legs, sides and tops are simply a joy to behold.
For example, this kitchen designed by Aleksa Studio features Ikea cabinets with Big Fish doors in Pitch Black from Superfront.
14. Look for kitchen cabinet ideas that celebrate curves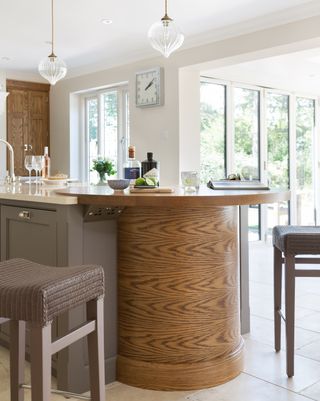 There's no better way to show-off the craftsmanship of bespoke kitchen cabinetry than with beautifully veneered curves. Use the direction of the natural gain to accentuate the shape.
This is Humphrey Munson's Nickleby range, featuring a stunning curved breakfast bar in smoked oak.
15. Work in a pantry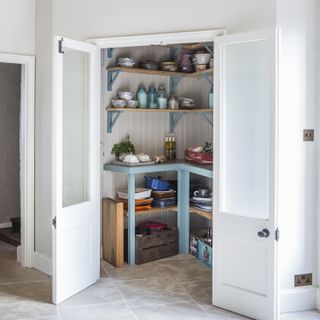 Walk-in pantries offer one-stop storage for all your dried and tinned foods, not to mention those outsized pans and culinary gadgets that won't fit comfortably in regular kitchen cabinets.
Pantries fitted to an external wall will stay relatively cool inside to provide useful ambient storage for butter, cheese and root vegetables. This impressive pantry is by Mark Taylor Design.
16. Devote space to a breakfast cupboard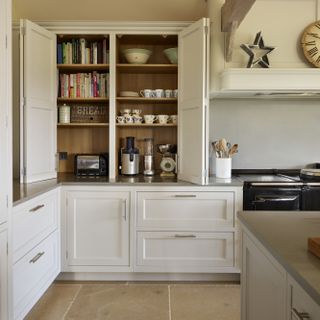 A breakfast cupboard with bi-fold doors is perfect for Marie Kondo enthusiasts who prefer to keep countertops clutter-free.
Fitted with sockets to keep the toaster and blender on stand-by, the doors can be left open without getting in the way.
Some versions come fully-loaded for hot beverages with a boiling water tap and coffee machine inside. This breakfast cupboard is in Davonport's Tillingham range.
17. Break up a solid run of cabinets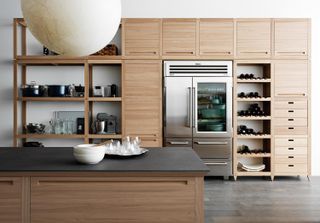 A mix of open and closed kitchen cabinetry will punch shape and style into a wall of units. Here, smart wine racks bring an extra dynamic that works to further soften the kitchen's contemporary design.
This is the Sine Tempore kitchen in elm from Valcucine.
18. Opt for modern industrial cabinetry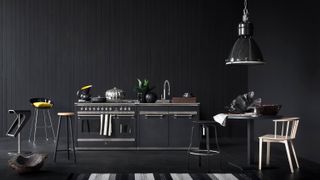 For a modern industrial-look kitchen with solid construction, look no further than Steel Cucine's modular kitchen units.
The Italian manufacturer is now offering a wide range of cabinets and prep stations featuring the same robust style and solidity of its celebrated range cookers.
The 120cm-wide cabinet with stainless steel countertop shown here is available in the UK from Bradshaw Luxury.
19. Plan and design kitchen lighting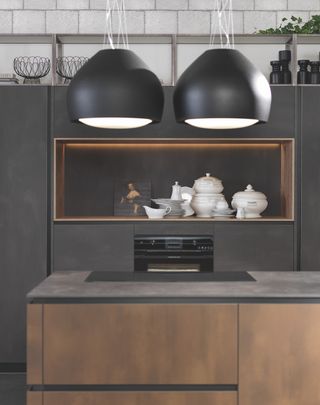 Advances in LED technology is taking the illumination of kitchen cabinetry to next-level exciting.
Task lights underneath your wall units are still de rigueur for safe prepping. But, for more decorative kitchen lighting ideas, concealed LEDs are where it's at.
Hidden under plinth lines, behind backsplashes or in recessed shelving units like this one, they emit gentle mood lighting that brings cabinetry to life. This is Rational's Tio range in metallic bronze and metallic anthracite.
20. Make use of a wasted corner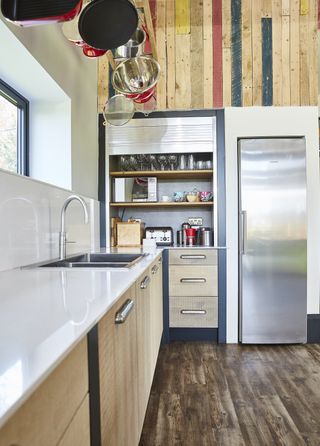 Fixed on a roller system, aluminium tambour doors glide up out of the way when not required – ideal in those often-wasted kitchen corners.
This bespoke kitchen in engineered sawn oak is by The Main Company.
21. Customize ready-to-paint units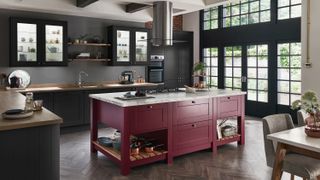 If you're happy to get your brushes out, this Howdens kitchen might be the answer to color-customisation on a budget.
Its Shaker-style Burford Paintable kitchen cabinet range brings an element of bespoke tailoring not generally expected from your local builder's merchants.
Find out how to paint kitchen cabinets and then make sure you choose the best paint for kitchen cabinets.
22. Choose a surprising paint shade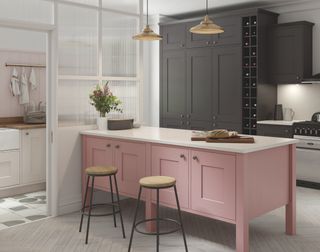 Living Coral may have been Pantone's Color of the Year for 2019 but we've still got a place in our hearts for 2016's Rose Quartz.
Or any delicate pink for that matter. In the kitchen, pink cabinetry can be used to soften dramatic blacks and moody greys. For timeless elegance, it's hard to beat Masterclass' Vintage Rose, one of the latest shades in its Solva Shaker kitchen range.
23. Re-purpose antique furniture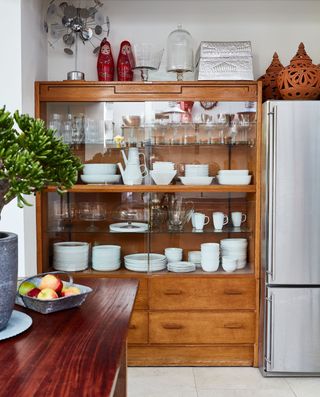 Kitchen cabinet design ideas don't all need to be brand spanking new, adding one or two vintage elements is a fast-track way to add character.
Hunting down the right pieces is all part of the fun. Head to salvage specialists like Retrouvius for reclaimed science benches and haberdashery displays. Antiques shops are also great resources, and the furniture can often be restored for you – try The Old Cinema.
24. Invest in drawer inserts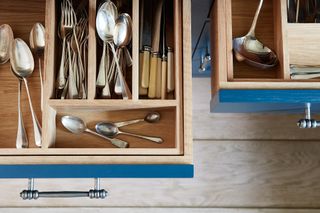 Dedicated silverware and utensil drawers are the chicest way to keep contents neatly in place.
Timber silverware inserts not only look fantastic, they also have a noise-dampening effect. For extra practical benefits, request removable silverware trays that can be carried to the dining table when it's time to lay up.
These oak drawers are part of a bespoke design by Naked Kitchens.
25. Create character with glass-fronted units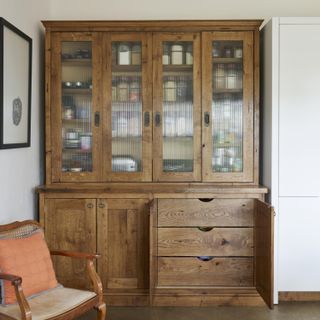 With its 1950s overtones, ribbed glass lends new cabinetry a comforting vintage feel. Happily, it also partially obscures contents, so you don't have to be too tidy when packing away the food shop.
In this bespoke fitted dresser by Clayton Cabinets, the sliding doors have recessed handles to allow them to be pushed right back when using the toaster inside.
Cabinetry is from Clayton Cabinets, designed in collaboration with Nikki Bailie Design.
26. Give an Ikea kitchen a bespoke feel with the help of Plykea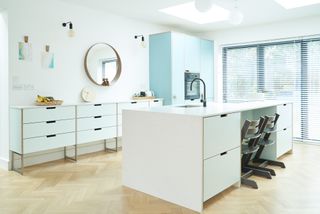 Are you designing a kitchen and want to achieve the look and feel of bespoke plywood units, while working from a flatpack budget? Or are you stuck with an outdated Ikea kitchen that needs an update?
Faced with these exact design dilemmas, Tim Diacon and Adam Vergette founded Plykea, an upscaling service that transforms Ikea Metod Kitchens with the help of bespoke and stylish plywood fronts and countertops; and the very affordable results don't disappoint. Get in touch with them for a quote.
27. Invest in timeless, bespoke cabinets that never date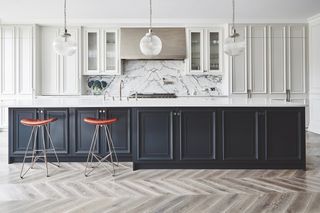 We say, a classic, detailed design showcasing quality materials and workmanship is always the best way to go. You can opt for a restrained Shaker-style design that will never date, or go as ornate and luxurious as you like.
We think these cabinets by Blakes London strike the perfect balance between understatement and luxury.
28. Create a versatile space with sliding doors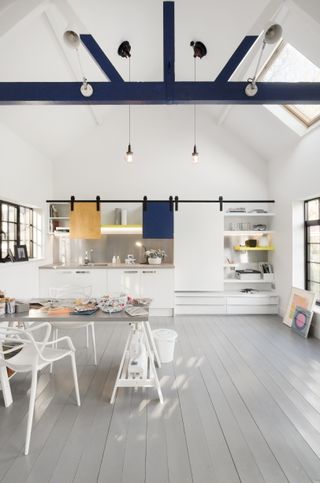 We love kitchen cabinet ideas with a mix of open and closed storage; it just breaks up a wall of cupboards and means you can keep some of you best kitchenware on show.
Of course, you could mix in some glass fronted cabinetry, or why not copy this kitchen cabinet idea and have sliding doors that can slot individually across the entire run?
In this kitchen, designed by Cream & Black, the cabinet doors run along a rail so you can switch up which areas they cover.