As soon as they walked through the arched entranceway of this beautiful 1920s property, Claire and Brad knew that this house was going to be their forever home. Despite its cold and unwelcoming décor, the couple fell in love with the period character of the house. They put in an offer within hours of viewing, and soon had the front door keys in their hands. Their aim? To transform this soulless house into a cosy and stylish home for their growing family.
The couple began decorating within weeks of moving in, and five years down the line, the work hasn't stopped. This DIY-loving pair took on the build themselves so they could stick to their modest budget. As an ex-builder, Brad tackled the extension with help from his family. The first big project was the kitchen renovation, overlooking the garden. Together, Claire and Brad have transformed this home into a modern open-plan space.
Inspired to tackle your own project? We have masses of ideas and helpful advice on what to do and where to start in our feature on extending a house.
Profile
The owners Claire Burres (@_house_77), a full-time mum, her husband, Brad Ellis, an instrument technician working offshore, and their two children, Ida, seven, and Buddy, three
The property A three-bed 1920s house in Cleethorpes, Lincolnshire
Project cost £60,000
'All the houses on our street are gorgeous, with so much character and original period features,' says Claire. 'We love the location, which is close to the beach and schools. By pure luck, we saw the For Sale sign going up outside this house, and we called the estate agent straight away as these houses sell immediately. We were the first to view it, and we made an offer within hours.
'We had £60,000 in our budget for renovations, which isn't much considering our grand plans for the place. But as Brad is an ex-builder, he took on the building works himself with the help of his dad and brother to save us money. In the summer of 2016, he started the extension across the back of the house. He worked really long hours, laying the footings, putting on the roof and fitting the kitchen. It was all on his shoulders, and I have so much respect for his work ethic.
'At first I went a bit crazy with my kitchen design and we were quoted £30,000! I had to drastically scale back my ideas to match what we could afford. Top of my list were navy kitchen cabinets, but I had to really hunt around to find them. To save money, I went for two different worktops with contrasting quartz and wood. I'm very happy with the overall design, especially considering our budget constraints. I have a plant addiction and my indoor jungle is growing all across the house. They love the daylight in here.
'Our extension is the most successful project we've done to date. The large open-plan room is ideal for our young children to play in, and it's such a sociable space. My style is a mishmash of eclectic pieces. I'm a magpie when it comes to interiors and love using reclaimed furniture in my rooms. I found these Ercol chairs locally for £75 for four and I paired them with our old Habitat dining table. On our to-do list is to build booth seating with a longer table to host dinner parties.
'We did the cane webbing on these cabinets in the sitting area during the March lockdown last year. I'd been planning them since we moved in but had never found the time. I designed them using Pinterest and Instagram for inspiration and my husband built them. We keep the children's toys in there so the living room stays clutter free.
'Our decorator tried to talk me out of painting this room navy. My advice is not to listen to anyone but yourself! As a north-facing room, the dark blue transforms it into a cosy spot. The armchair adds a bold pop of colour against the navy walls. I had it upholstered in a plush velvet for around £500, which is less than a new chair would cost. The oriental rug was an Ebay bargain for £100. I love hunting for great finds, and I've collected loads of prints from junk shops over the years – I look out for oil paintings or copies of iconic art.
'We inherited the bathroom suite, which was in good shape but felt clinical. The paint colour is called Canopy Green by Sanderson, and I painted the bath black to add a spot of drama. Using a tip I learned from interior designer Abigail Ahern, I painted the whole room green – the light switches, the woodwork, uPVC window frame and even the ceiling – for a seamless look. Plants hung all over the place finish off the room, I use them in all my room schemes.
'In Ida's room, I handpainted the scallops on the ceiling in Quiet Turquoise by Valspar. I found the drawers in a local antiques shop. She loves to craft and draw, so for a surprise Christmas present, little elves snuck into her room and made a desk for her from a plank of wood, a filing cabinet and an Ikea bracket!
'This is probably the most calming and relaxing bedroom I've ever slept in. I painted the walls and ceilings in Pointing by Farrow & Ball, which is a soft, off-white. We lifted up the laminate floor to reveal oak floorboards, which were sanded and oiled to be a similar tone to the walls. The retro G-Plan dressing table was given to us by some friends who were having a clear out. The silk Oriental screen was from Ebay – it's a vintage room divider that Brad hung on the wall for me. I was actually looking for a bamboo headboard but at £90 this was too much of a steal to ignore.'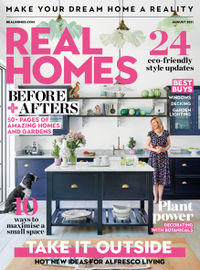 Subscribe to Real Homes magazine
Want even more great ideas for your home from the expert team at Real Homes magazine? Subscribe to Real Homes magazine and get great content delivered straight to your door. From inspiring completed projects to the latest decorating trends and expert advice, you'll find everything you need to create your dream home inside each issue.