Would you dare to go bold with your home décor? For many of us, the idea of a dark colour palette is a step too far out of our comfort zone. Despite the fact that dark walls can enhance the depth of a room and make it feel more cocooning, we're often too nervous to take the plunge.
Still, if anyone was going to inspire us to give it a go, it'd be Ally and James Dowsing-Reynolds. The owners of – you guessed it – home décor company Dowsing & Reynolds have a keen eye for design, and they aren't afraid to express themselves through their home. As a result, each room in their Victorian house is packed with ideas for how to embrace the dark side, combining deep shades of black and green with bright pops of colour, from the oxy fire red sofas in the living room to the tonal pink chairs around the dining table.
We learned loads from Ally, and now we're sharing her tips with you. So if you're taking on a house renovation in 2022, get a notebook and pen – you're going to want to write this down.
1. Don't give up when you get knocked back
Profile
The owners Ally and James Dowsing-Reynolds, who own home décor business Dowsing & Reynolds, and their daughter, Emily
The property A four-bed Grade II-listed Victorian end-of-terrace in Leeds
Project cost £83,100
'We'd just started the search for a new home when we spotted this house,' says Ally. 'It was in a bit of a state with no water, gas or electrics. The previous owner was a bit of an eccentric and had put uPVC windows in, which is against planning in a Grade II-listed property. Even though it was in a bad state, we saw through it: the building itself was really handsome.
'We were under no illusion about the costs – we estimated around £150,000 for all the structural work, new windows and so on. We couldn't do it all without a small mortgage, but when the lender saw the state of the house, he just said, "No, I can't do it." We were so disheartened and had to pull out – we thought we'd lost it. On a whim I called the estate agent to ask who bought it and found out it was a building company, so we struck a deal to buy it from them once they'd renovated it.'
2. If you're working with builders, prepare to negotiate
'Getting what we wanted from the renovation wasn't the easiest of processes. In a lot of ways it was good because it took away the risk from our point of view, but there were things we'd have done differently to the builders. They put in a traditional-style bathroom, for example, which we personally wouldn't have gone for. We had to negotiate quite a lot – we didn't want to move in and rip things out because that would be wasteful. There were clashes at times, but that's because both we and the builders wanted to do a good job and create a house we loved. It's good to be passionate about these things!'
3. Lost your design identity? Don't panic – it'll come back to you
'When we moved in, every wall was painted off white so it was a blank canvas – a dream for a lot of people. We wanted to live in it for a while to see how we felt in each room, but I think in hindsight we left it too long – two years, in fact. The neutral walls sapped our confidence a bit. We both like colour, dark hues, bold design and statement art, and the house didn't quite feel like our own, but we couldn't see the direction we wanted to go in.
'It was only when we went to Katie's house from @comedowntothewoods that we stopped and thought, oh – colour! Personality! This is what we love! We came home and were like, "We need to paint the whole place right now!"'
4. Small changes make a huge difference
'Because this is a listed period property we can't change too much of the layout. We'd love a more open-plan kitchen and to have the back of the house opened up, but with every property comes compromise. The builder suggested some really good changes: the bathroom was tiny, for example, so we knocked through to a little room off our daughter's bedroom to create a larger family-friendly space.
'We also opened up the window in the kitchen – it was previously a single window so the room felt dark and gloomy. We got permission for that because another house on the street had already done the same thing. James had pushed for a dark colour in there, hence the black kitchen, and letting in that extra bit of light allowed us to be more daring with our design.'
5. Renovating with a partner? Seek to learn from each other to make the process easier
'From the outside looking in, James and I have similar tastes, but we look at rooms in a different way. I'm diagnosed ADHD and James is diagnosed ADHD and ASD, so he visualises things differently to me. The process taught us a lot about our design personalities, actually. We decided that one person should take the lead on each room; I did the living and dining rooms and James did the kitchen and bathroom. We respect each other's design skills, so it worked well.'
6. Consider how you want to feel before you decorate a room
'We always look at three areas: use, personality and feel. Deciding what emotion you want in a room is so important. In the living room, for example, we want to feel inspired and creative during the day and cosy and cocooned in the evening, so we've traded neutral shades for a dark scheme with pops of colour.
'The hallway is a task-orientated space – we wanted to feel clear headed when we're trying to get our daughter out the door or coming back home from a day out. The home office is white with no bold art so we can focus and concentrate. It's all about learning how colours make you feel and how the room's going to project your personality. It's not always an easy process – the living room alone has changed colour about five times!'
7. Never stop planning!
'The next project is the kitchen. James is really into cooking and his dream kitchen would be something bespoke with a place for everything. We'd also like something more sociable. We always put Emily in the dining room to eat, but she wants to be in the kitchen with us while we're tidying up or getting ready for the school run. James would love to be able to face people rather than have his back to them while he's cooking, too. Other than that, who knows! James' mum is always asking whether we've finished decorating yet. The answer is that it never stops – but constant design exploration is the joy of having a home.'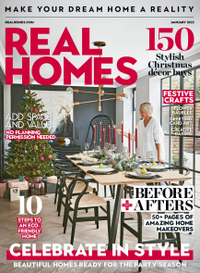 Subscribe to Real Homes magazine
Want even more great ideas for your home from the expert team at Real Homes magazine? Subscribe to Real Homes magazine and get great content delivered straight to your door. From inspiring completed projects to the latest decorating trends and expert advice, you'll find everything you need to create your dream home inside each issue.